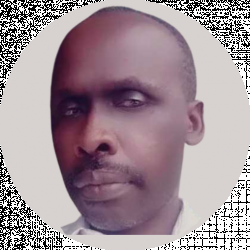 Latest posts by Paul Kirui
(see all)
Imagine watching beautiful little birds chirping happily in your backyard as they eat their favorite meals from your new bird feeders—a hummingbird, startled by falling seeds landing on an unsightly mess below, darts away.
Unamused by the hummingbird's behavior, the seed eaters stare at him briefly before continuing with their business. "They probably need a bird seed catcher," the hummingbird hummed while hovering over red flowers.
That's me years ago before I learned about seed catchers for bird feeders.
There are many choices on the market, possibly up to thousands, regarding bird seed catchers. Ideally, the seed catcher should catch all falling seeds from bird feeders and cages.
I did all the hard work to save you the trouble of surfing the internet for the seed catcher. That's why you are on this page getting all the nitty-gritty details about the best catchers currently on the market. It was not easy, though, reviewing and testing various seed catchers. 
My quest for the seed catchers took me to the experts, including backyard birders and the birds (literally).
To pick the best, I analyzed their features, including user-friendliness, quality, effectiveness, size, design, and functionality. 
Now to the Brass Tacks: the Best of the Best Bird Seed Catchers
My favorite bird seed catcher on the list is a pole-mount bird seed catcher by Brome. It's reasonably priced, classy, and captures 90 percent of falling bird seeds. And while doubling as a platform feeder, it is wide enough, drains well, and is sturdy enough for outdoor use. 
Since no single bird seed catcher is compatible with all bird feeders, here are my picks for the major bird seed catchers:
Why Do we Need to Catch Falling Seeds?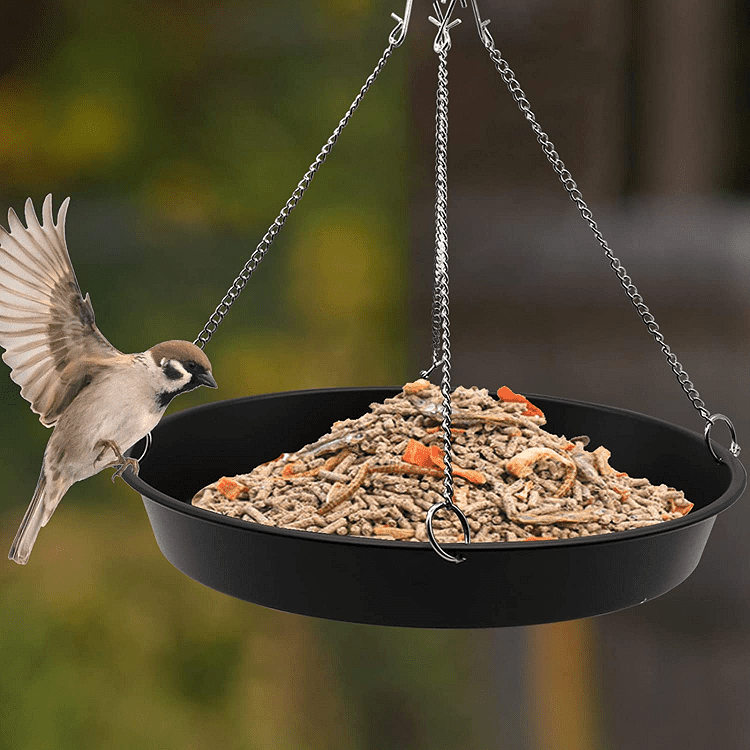 Birds are beautiful but messy feeders, selecting the best seeds and tossing away a huge chunk together with husks which form a mess on the ground. 
Birds will always be birds. And if you want to enjoy watching birds with the best experience, you need to catch the falling seeds for these reasons.
debris under a birdfeeder can lead to various problems, including diseases and heaps of dirt

Minimize wastage of bird food which other birds may not eat

Prevent unwanted plants and weeds from sprouting in backyards

Fallen seeds attract unwanted wildlife and pests like rats, mice, bears, raccoons, and squirrels

Fallen seeds may grow mold or mildew and cause diseases to ground-feeding birds
One of the best ways to keep the area under bird feeders clean is by preventing seeds and other debris from falling.
How to Choose Bird Seed Catcher
By now, you know that a good bird seed catcher is an excellent way to keep your yard and garden healthy and attract more birds. Yes, the market is rife with thousands of birdseed catchers. Some provide value for money, while others may break within a few weeks.
The ideal bird seed catcher should be sturdy enough to withstand the weather elements. Most importantly, it should be wide enough to capture falling seeds and debris, keeping your floor free of mess. 
Since we don't want the collected seeds to sprout or develop bacteria or fungal infections, the seed catcher should drain well. 
This is a no-brainer: it should be easy to assemble and disassemble for installation and cleaning.
Shape and Size Matters
Bird feeders come in various sizes and shapes, and so do seed catchers. A circular shape is the most common, with a few rectangles. Circle trays provide an excellent place for birds to perch as they feed and relax with their bums on the outside. 
The smaller the bird seed catcher, the fewer seeds it catches. If you want to capture a higher percentage of tossed seeds, naturally, pick a tray with a wider diameter.
Besides, a larger seed tray catcher attracts larger birds. So it's a larger tray for increased seed capture, attracting larger and more variety of birds.
Type of Bird Feeder
Before placing a birdseed catcher on a shopping cart, think about your feeder.
Some, like Aspect bird seed catchers, are only compatible with Aspect bird feeders. And others are compatible with a wide range of seed catchers. 
Netting bird seed catchers are explicitly designed for bird cages. But wild birds roaming freely in your backyard need a hanging or pole-mounted seed catcher.
To reap the maximum benefits of a bird seed catcher, buy a catcher well suited to your feeders. You'll find that some seed catchers are suitable for bird cages or wild bird feeders.
Are there Predators in Your Backyard?
Predators such as raccoons, chipmunks, squirrels, cats, and dogs impact the type of bird feeders and, ultimately, seed catchers. Low-level seed catchers and feeders are easy targets for predators.
In places with predators, choose high-up seed catchers, preferably the hanging type, and include baffles. 
Simple to Clean, Happy Birds
Birds are fragile and susceptible to diseases and stomach upsets, so ensure you pick a bird seed catcher that is easy to take apart for cleaning. 
Poor hygiene leads to mold accumulation of pathogens, causing diseases in birds. If your feathery friends get sick whenever they visit your seed tray, they will consider it untrustworthy and may not return to it. And we don't want that.
Designed to Keep the Seed Dry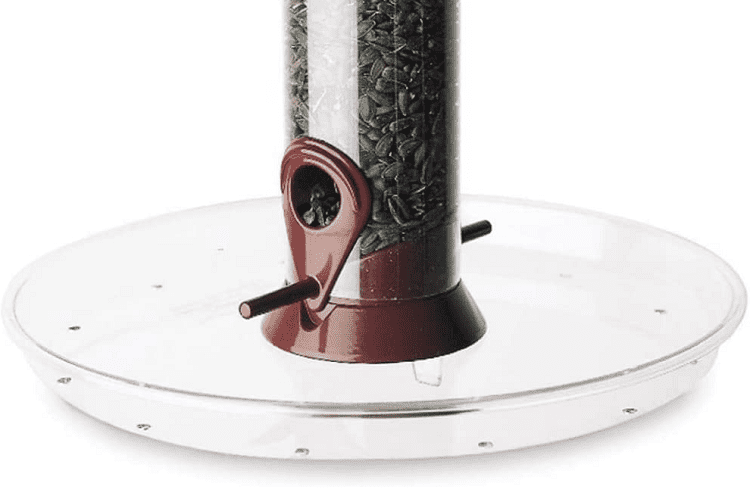 Because bird seed catchers for outdoor use do not have covers, they collect rainwater. Wet seeds often become moldy and develop pathogens that endanger the birds' health.
So as you select a bird seed catcher, check its drainage. Mesh basins are the best, but if it is a solid basin, check if it has drainage holes. If it does not have holes, drill them.
The drainage holes should be the correct size. Large holes drain very well but also allow tiny seeds to pass through. Small holes block all seeds from passing through but get clogged easily.
Think Long Term
Seed catchers for birds are manufactured differently. Some are durable, and those made in China are cheaper but could break easily. 
Whether you have permanent resident birds in your backyard or receive migratory ones, investing in long-lasting products is best. 
Poor quality seed catchers, while being insanely cheap, will force you to return to the shop sooner. They can break when the bird needs them the most, like in winter or during migration.
Customer Reviews
It's easy to get carried away by the thrill of a new product or service and not think through all the details. That's why it's important to get opinions straight from past users before buying a birdseed catcher.
The customer review section is great for getting past users' experiences. If you are not vigilant, you could waste money on expensive bird seed catchers that aren't as good as they look on the package. 
Pay attention to both positive and negative reviews.
It is worth buying if many users have positive comments about it. But if it has many negative reviews, you'd better stay away from it and look for a better brand.
Bird Seed Catchers Review
Here is a review of 13 top-quality bird seed catchers classified into four categories:
Seed Catcher Trays for Pole

Netting Seed Catchers for bird cages

Hanging Bird Seed Catchers

Attached Bird Seed Catcher
Seed Catcher Trays for Pole
Seed catcher trays for poles are mounted below hanging bird feeders. They are stable, withstand the weather elements, and attract the widest variety of birds, including sparrows, doves, starlings, grosbeaks, jays, and juncos. 
But they are also magnets for chipmunks and squirrels.
Brome Seed Catcher Tray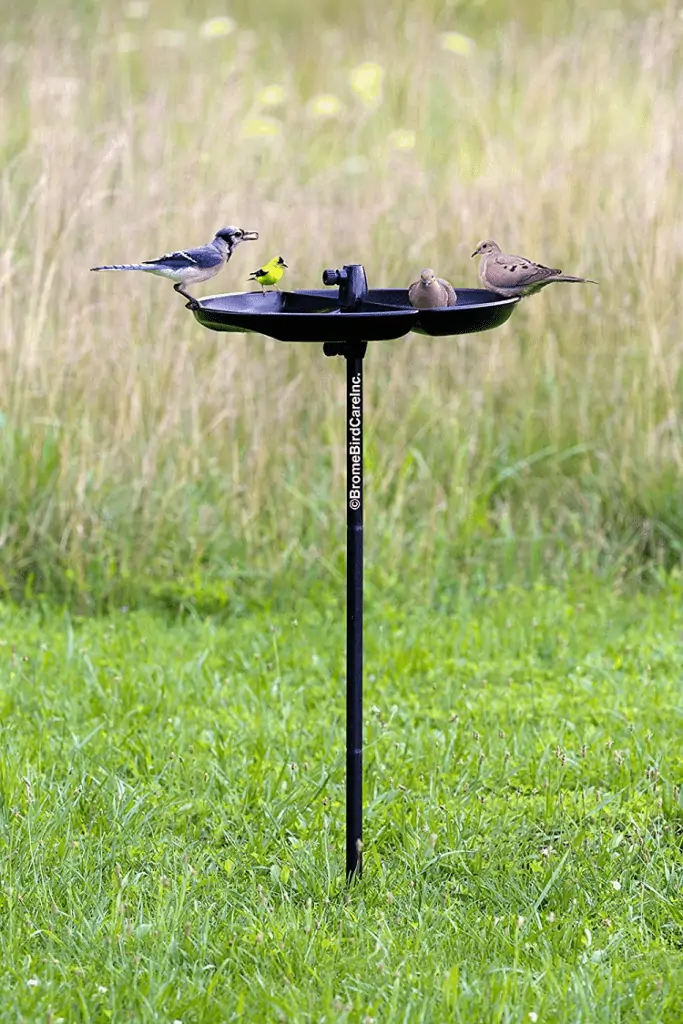 For good reasons, this splendid bird catcher tops my list of the best bird seed catchers. You may think it is because I have used it for years. Of course, I have used it for so long without disappointment (you will too).
It comprises a split tray making it easy to attach and detach from the birding pole, and clean and dispose of bird droppings and empty seed shells.
Despite its design limiting it to only one-inch poles, it is still a deal breaker. It is durable, and you will attract more birds to your yard with it.
It also doubles up as a feeder for the ground-feeding birds. Not all songbirds are comfortable on tube feeders; some prefer feeding at ground level.                                                                                                              
Pros
Easy to dismantle for cleaning

Durable, giving you value for money

It catches most falling seeds because it has a wide diameter of up to 24 inches

Good drainage prevents molds
Cons
Designed for one-inch birding poles, only making it impossible to mount on thinner or thicker poles

Can let smaller seeds than black oil sunflower pass-through
You can mount this bird seed catcher tray under a tube feeder to make an outdoor cardinal court for the clinging, perching, and ground-feeding birds to wine and dine together.
Roamwild Bird Seed Catcher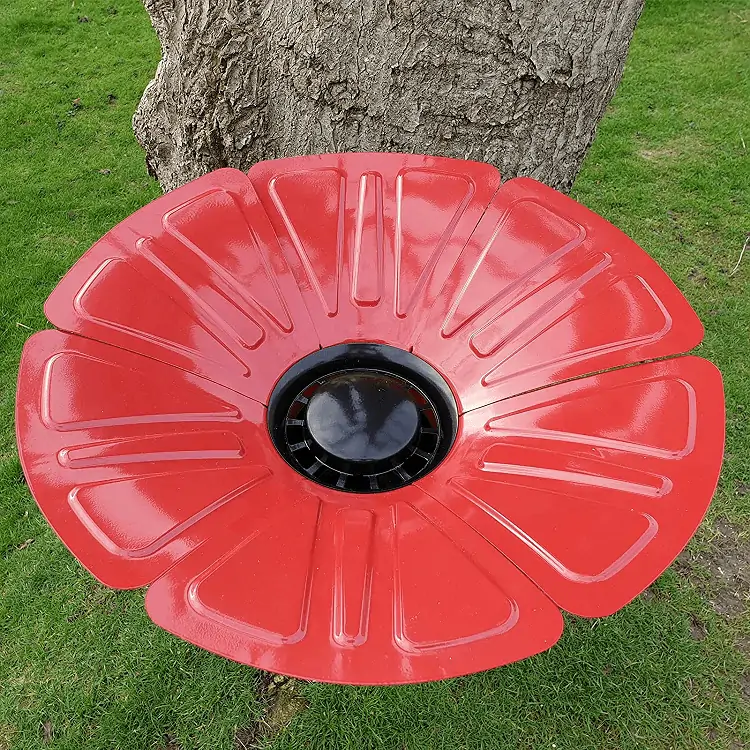 Even though the Roamwild bird seed catcher is not my top pick, it is an epic product. I like it, and you may like it too! It was designed to protect birds' health while adding a decorative touch to your home. 
Roamwild bird seed catchers come in green or red colors, so you can choose the one that best suits your backyard decor. 
Two mounting bracket styles make it compatible with most bird feeders and mounting setups, including trees and poles. 
Though it appears simple, this seed catcher solves the problem of falling seeds. Protects lawn grass, prevents mess under feeders, prevents unwanted seeds from germinating, and discourages unwanted visitors.
Features
Help keep birds healthy

– The ornate design catches dropping seeds and secures them inside, preventing healthy birds from consuming contaminated food.

Stainless steel –

it is made of stainless steel, making it perfect for outdoor use. It's windproof, tangle-free, and drains well

.

The sturdy materials ensure it will last longer while withstanding all environmental elements.

And with its heavy-duty mounting system, I don't have to worry about storms blowing over and messing with my garden.
It has all brackets and accessories for mounting on a post, tree, or ground.
Pros
It is compatible with most bird feeders

It is long-lasting and weather resistant, but it will cost you more
Cons
Though it is beautiful, the petals allow some seeds to fall 

Squirrels can get onto it and eat the caught seeds

Seed cups are too small, so you must clean them every day
Myard 18 Inches Universal Bird Seed Catcher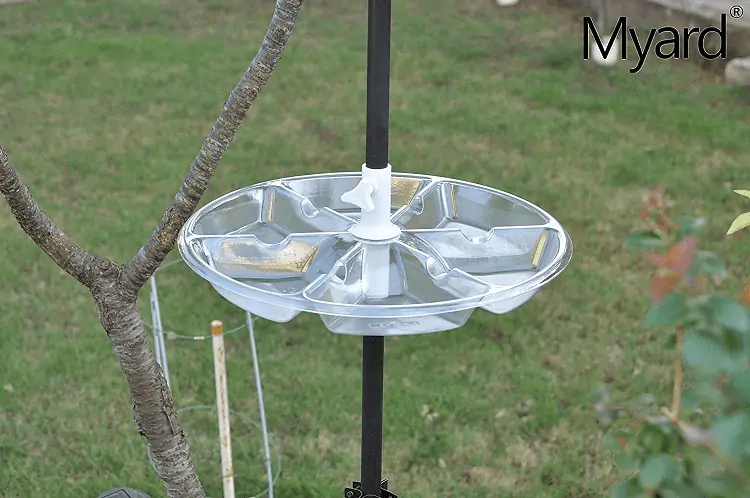 If you want all the benefits of a bird seed catcher without breaking the bank, I recommend this Universal Bird Seed Catcher by Myard. Besides serving as a bird feeder, it is also an easy-to-install bird seed catcher.
I love its flexible mounting design, which is easy to fix onto a birding pole with half an inch to one-inch diameter. An 18-inch catcher tray secured onto a birding pole using two clamp screws and two pole clamps ensures most seeds do not fall on the ground. 
Features
Good drainage

– It has drain holes at the bottom to keep seeds dry and six compartments to trap seeds while letting water drain.

A simple installation process – It fits birding poles of 0.5″ to 1″ diameter and comes with two pole clamps to secure the catcher tray.

And without tools, you can install it in quick and easy steps. 

Polycarbonate material –

It is made of polycarbonate, which is light yet firm and long-lasting. It is also anti-UV and transparent.
Pros
Doubles as a perch for birds
Cons
Poor drainage because of tiny and few holes
Netting Seed Catchers for Bird Cages
Netting seed catchers do a superb job catching scattered seeds, poops, and feathers, keeping the mess out of the floor. 
They are cheaper, easy to install, and clean compared to other seed catchers.
They are designed to cover the lower half of the bird cage so some mess can still land on your floor, though not much. I always overcome this challenge using two nets: one below and the other on top.
Universal Birdcage Cover Seed Catcher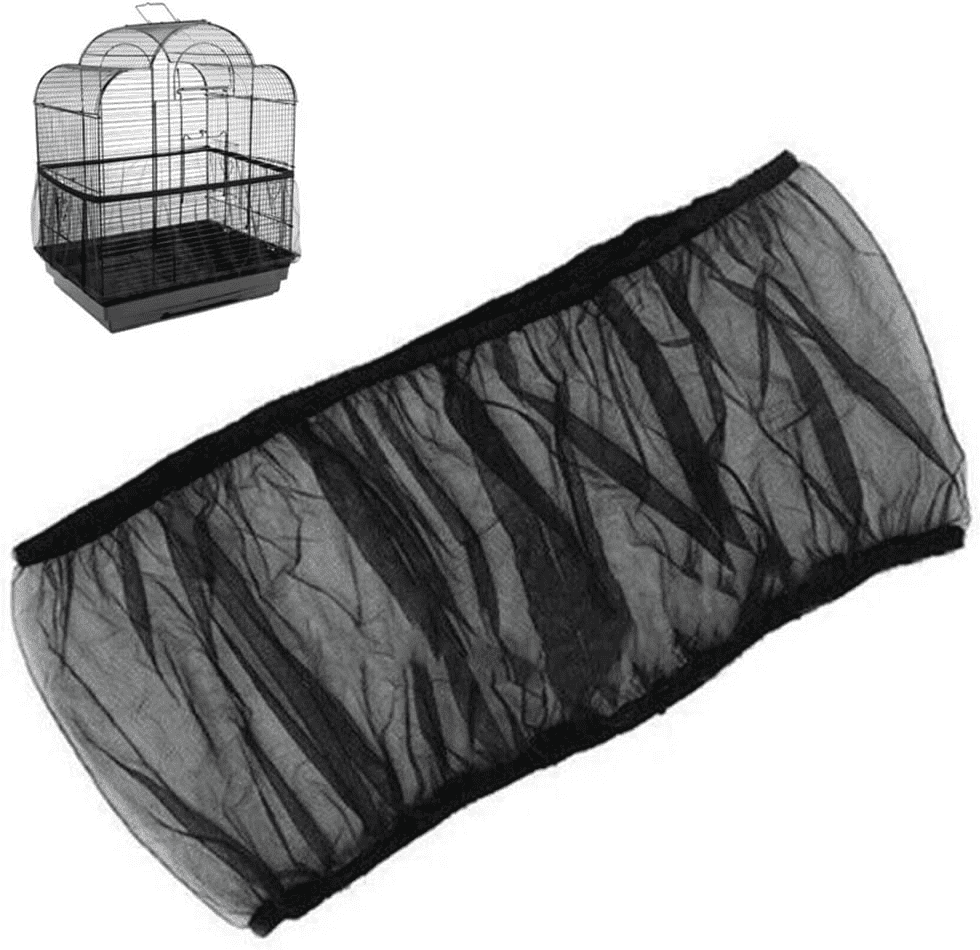 If you keep caged birds, I recommend this universal birdcage cover seed catcher. It is an adjustable seed catcher made of high-quality nylon mesh to capture scattering and falling seeds.
Features
An adjustable design –

comprising a drawstring design, elastic cord, and spring buckles on both sides for easy and firm installation. While the flexible design prevents slipping and shifting, an

adjustable circumference

of

59-119 inch and a height of 15.7 inches –

ensure the bird seed catcher fit different bird cages' sizes.

Soft and breathable material –

The material allows for proper air circulation and sufficient light to penetrate the Cage. As well as being lightweight and elastomeric, the material is also easy to carry and store. 

Mesh –

the mesh prevents feathers and seeds from being scattered all over, thus maintaining a comfortable and clean environment for you and the bird. 
Pros
Catch both falling seeds and floating feathers

Minimiser lighting glare

Affordable and easy to install

Provide privacy for the bird without interfering with your watching experience
Cons
Feathers get stuck on the mesh, making it cumbersome to clean
Tamu Style Bird Cage Seed Catcher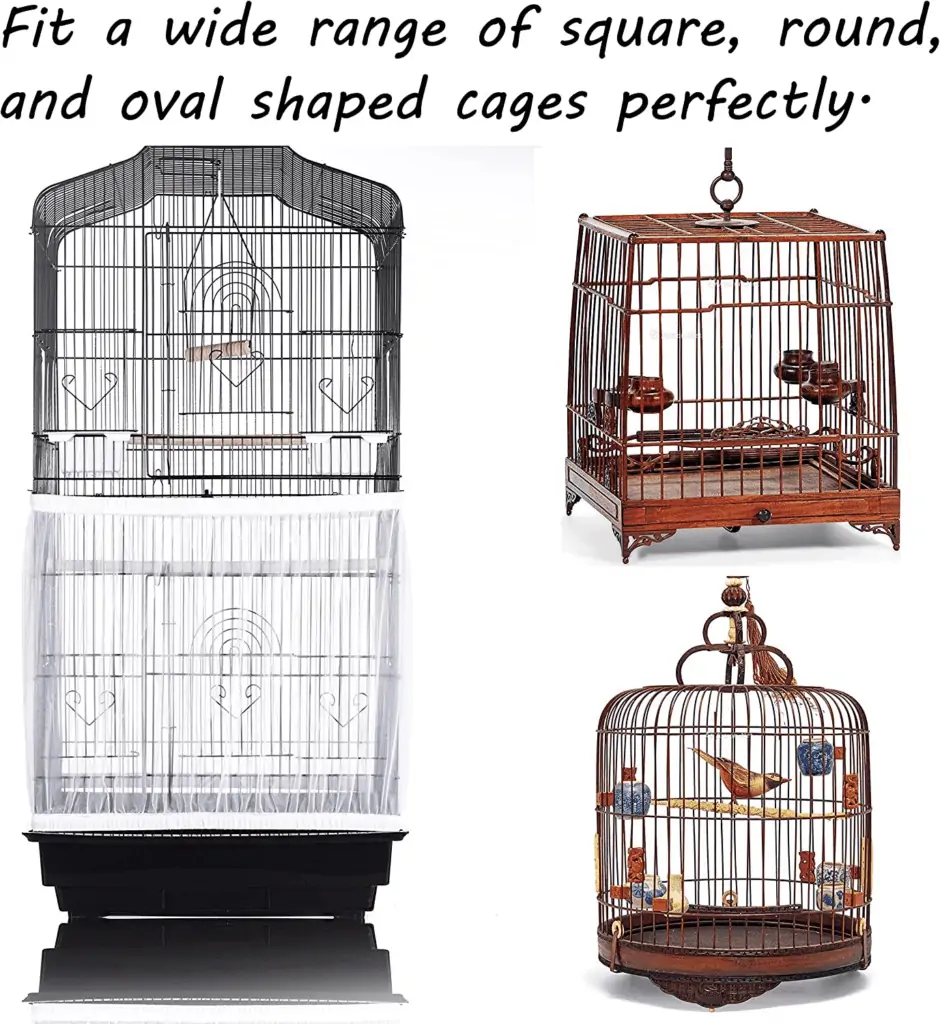 This is a stretchy-fitting mesh seed catcher suitable for indoor pets like parrots. 
Despite being lightweight, Tamu's breathable fabric helps to manage seed scatters and mess underneath the birdcage. In addition, it is super easy to clean and install, and its versatile stretchy material fits different types and sizes of bird cages. 
Features
100% heavy duty nylon material –

nylon is durable, easy to clean, and machine washable. The material also fits firmly around the bird cage, preventing seed spillage and scattered feathers around the floor.

Snug adjustable Fit Design –

Tamu birdcage net elastic design provides a snug fit for small, medium, and large indoor birds like parrots. Its 55″ to 100″ circumference and 16″ height make it

compatible with Most Cage Types

, including square, rectangular, oval, and round cages. 

Pet-Friendly mesh –

The fine mesh allows sufficient air circulation and enough light to penetrate for the health and comfort of the tenant. The fine mesh also will enable you to watch your feathered friend clearly while keeping the room clean and tidy.

Straightforward installation –

you do not need any tools or complicated procedures to install it. The snug elastic design means you slide the net over the Cage without tying a string or cutting it to fit.
Pros
Simple to install and clean

Affordable and durable
ASOCEA Extra Large Bird Cage Seed Catcher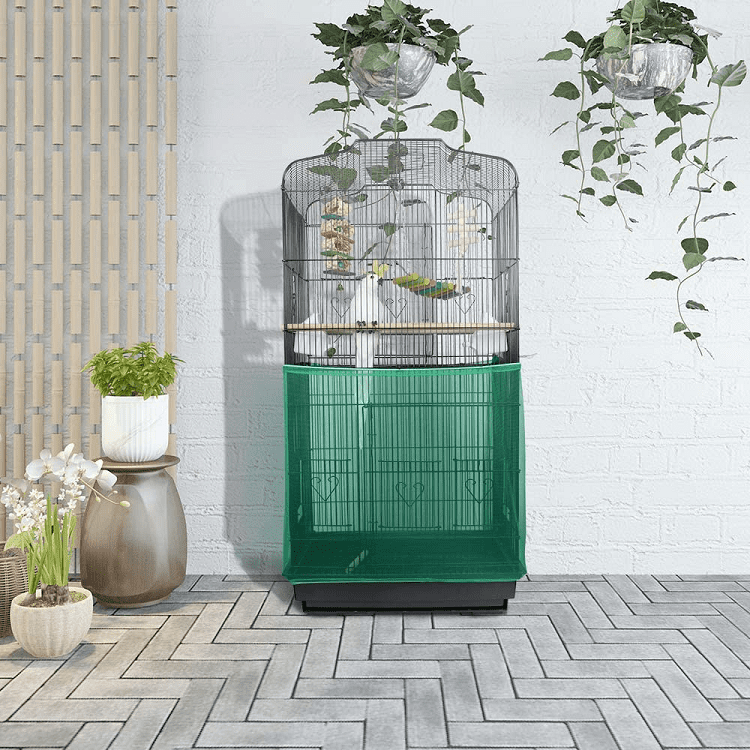 ASOCEA Extra Large Cage Seed Catcher is another brilliant solution for messy caged birds like parrots and others. The high-quality nylon fabric fits snuggly to prevent seeds and debris from falling on the floor.
What sets this high-quality seed catcher apart is its strong nylon fabric, yet cheaper and effectively prevents the mess under the Cage. The ASOCEA Extra Large Cage Seed Catcher is simple to install, with elastic straps and a drawstring design. 
Features
Nylon Mesh –

the mesh is lightweight, durable, easy to maintain, and affordable. It provides sufficient light and air circulation while minimizing glaring and providing a cozy environment for the bird to rest.

Large size –

the enormous size of up to 118 inches by 15.7 inches and drawstring design make it easy to fit small to large bird cages.
Pros
Catches feathers, poop, and seeds
Cons
Birds' nails can be caught in the net

It does not fit so well on smaller cages
Bonaweite Mesh Bird Seed Catche
r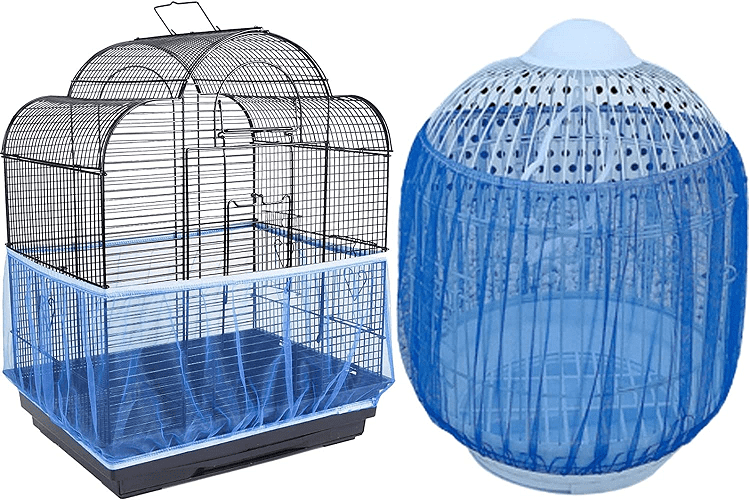 Bonaweite Mesh Bird Seed catcher works just as well as the Tamu, ASOCEA, and Universal catchers, but it comes in multiple colors, so you can choose one that matches your decor. Available in green, blue, white, and black to keep your birds happy while keeping your room vibrant and attractive.
Like the other netting seed catches, the Bonaweite seed catcher is simple to install. But while most seed catchers have elastic straps and drawstrings, it comprises a stretchy fabric that fits snugly in different sizes of bird cages.
Parrots often chew and tear apart netting materials. But they cannot damage the Bonaweite seed catcher because its nylon netting material is tough and bite-resistant. 
Features
Elastic fit design –

the stretchy fabric transforms into a universal bird cage seed catcher that fits small, medium, and large bird cages.

An adjustable bird cage skirt of 26 inches to 100 inches in circumference and 13 inches in height makes it a perfect fit for square, oval, and round cages.

Pet-Friendly cage accessory –

The fine nylon netting allows sufficient air and light to pass through, keeping the bird comfortable, and is transparent enough, enabling you to watch your pet.

Super simple installation process –

you can easily install this seed catcher without tools or complex steps. Slide the seed catcher over the Cage; its snug elastic design, and stretchy fit will hold it firmly in place. 
Pros
strong enough so you can wash it in your machine

Bite resistant so your bird cannot tear it

Available in black, white, green, and blue
Cons
Though it is a good product, I found it to be more pricey compared to other netting seed catchers
Hanging Bird Seed Catchers
Hanging bird seed catchers are built for hanging below bird feeders using chains or strings.
Like pole mount seed catchers, they double up as platform bird feeders and attract more outdoor birds. 
Multi-purpose Bird Seed Catcher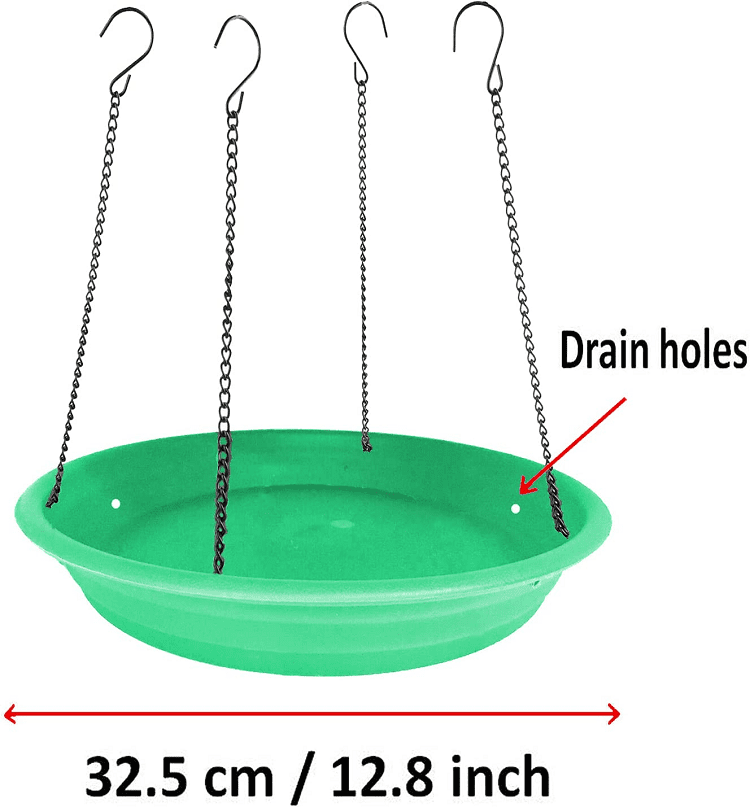 The Multi-purpose Bird Seed Catcher is an eye-catching bird seed catcher for outdoor use. With a colorful design that attracts birds, this seed catcher catches falling seeds and husks. 
Hang it and forget the mess under the feeder or attract unwanted guests to your backyard.
This bird seed catcher is lightweight and easy to hang.
Features
Universal design –

the

multipurpose bird seed catcher easily attaches to various bird feeders, including brands and sizes. 

Anti glaring chains –

Zinc-plated chains and hooks for hanging bird seed catchers glitter against light, damaging birds' eyes. But this multipurpose seed catcher has an anti-glaring mechanism comprising black chains and S hooks, making it friendly to birds.
Pros
Easy to clean

you can adjust the hanging chains
Cons
Easily blown by strong wind because it is very light

Poor drainage and may hold too much water  during rainy, making some seeds rot
Be-simple Bird Seed Catcher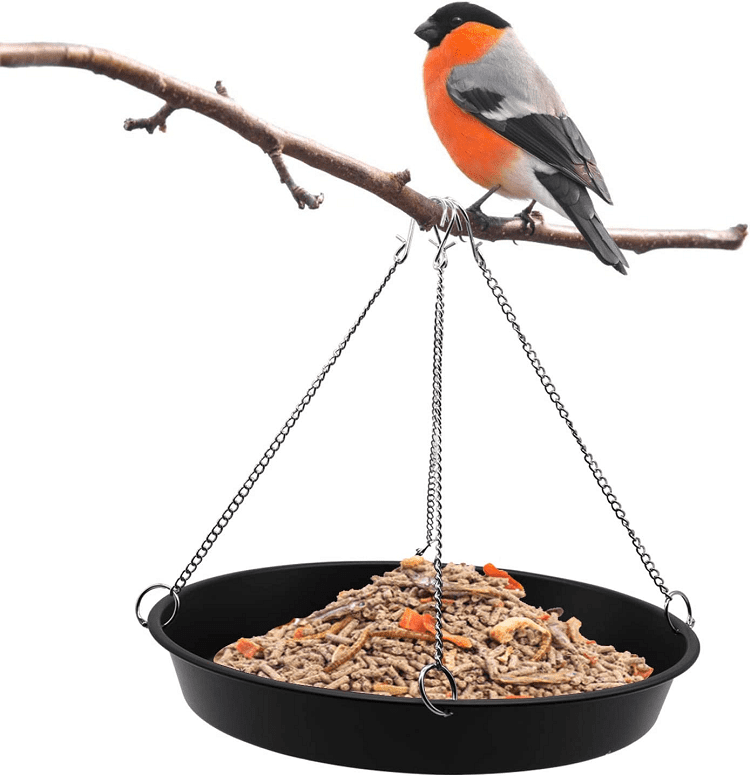 If you fancy small bird feeders, this Be-simple bird seed catcher is for you. Unlike most seed catchers in the market, it is made of alloy metal and will cost slightly more. 
Its classy appearance makes it suitable for backyards, gardens, and patios.
The alloy metal ensures the catcher is lightweight, rustproof, and shiny while sturdy and does not sway easily when windy.
Features
Alloy metal material –

the high-quality metal ensures you get a reliable and long-lasting catcher to minimize seed wastage and mess below the feeder. 

Simple installation

– unpack the seed catcher and attach it to a feeder using four chains in less than a minute.
Pros
Made of alloy metal for durability and to withstand weather elements

Adds aesthetic touch to a property

Easy to clean and shine

Does not sway in winds
Cons
Expensive than similar seed catchers made of plastic 

It is eight inches wide, making it NOT suitable for large bird seed feeders

Poor drainage because its three holes are on the sides but not at the center or bottom, causing a mess during rain
Hoop Seed Catcher and Platform Feeder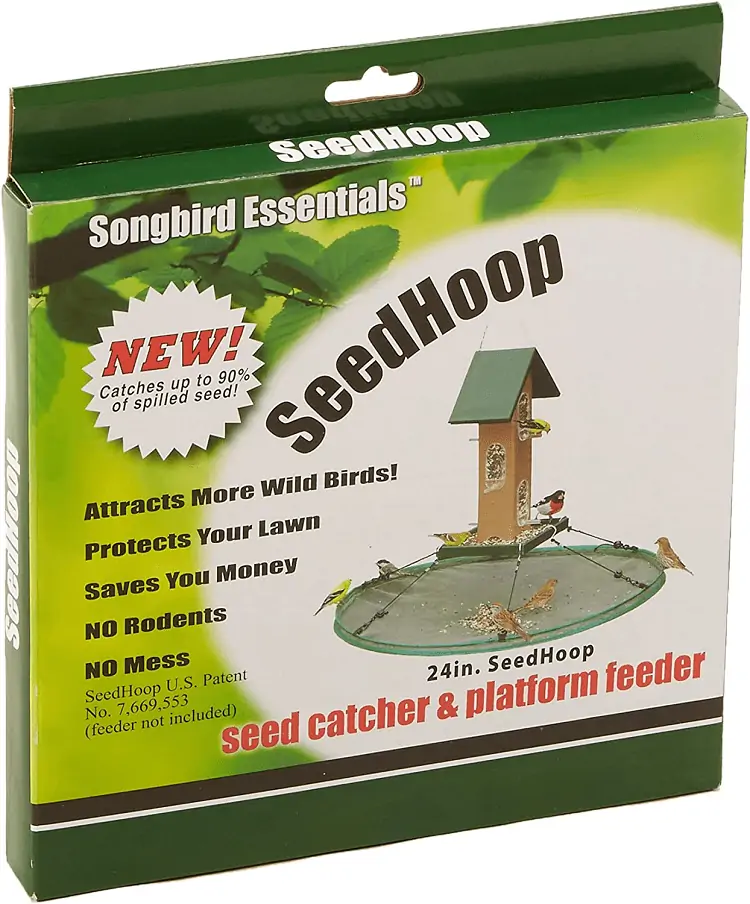 Hoop Seed Catcher and Platform Feeder come in three sizes. 16-inch and 24-inch sizes work best with small and medium-sized feeders. Larger 30-inch size works well with bigger hoppers and larger hanging feeders.
It is essentially a sturdy net with strong outer wires to give it a round shape. This means you will not have a problem with rotten seeds as it drains naturally. 
However, it is very light and gets tossed around like a sail during windy days. To overcome being tossed around and spilling seeds, I recommend you add some weight at the bottom.
I also like that it comes with four adjustable straps, which allow me to hang it closer or far from the feeder.
Don't be deceived by its light plastic. It can withstand harsh weather conditions—intense sun, snow, and rain.  
Pros
Strong enough to support several birds 

Excellent drainage

you can fold it into a third of its size for storage and shipment
Cons
It's easily blown by wind because it is very light

Not so attractive

Pricey compared to the competitors
Amauras Hanging Bird Feeder and Seed Catcher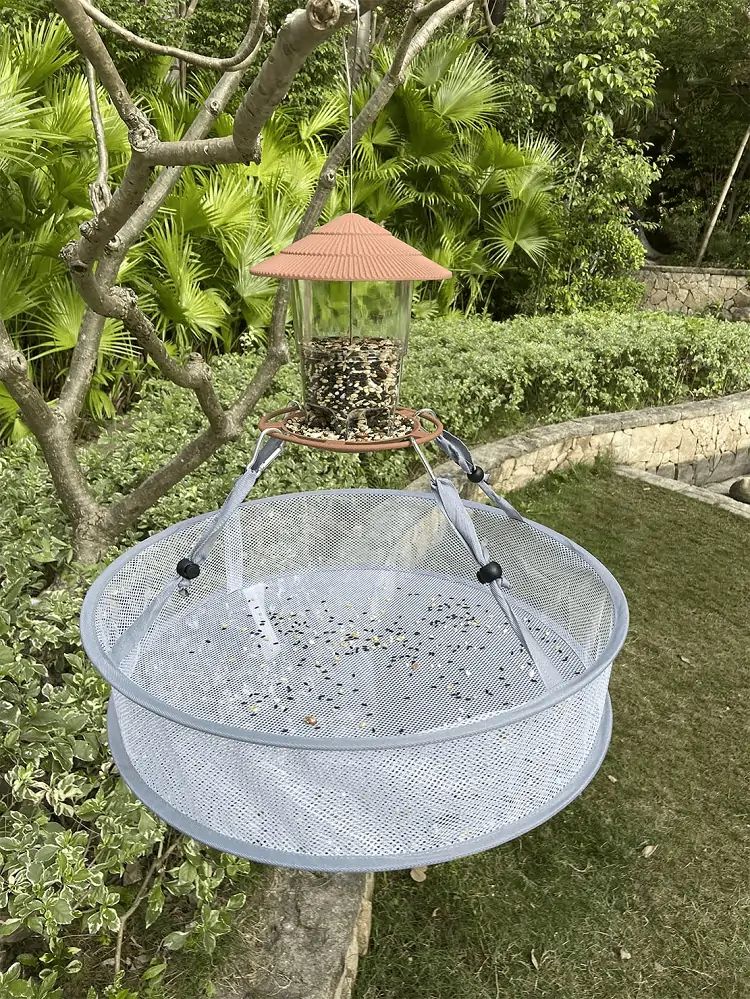 When buying a hanging bird feeder, you want to ensure it meets most of your needs. The Amauras Seed Catcher combines a seed catcher and a hanging bird feeder in one. 
What I like about this feeder — and you would like it too— is its durability, combination, and effectiveness, just at the right price. An ineffective bird seed catcher can mean messy lawns, unwanted rodents, and invasive weeds.  
Available either in blue or red, it catches falling seeds while serving platform bird feeders.
Pros
It's a combination of a bird seed catcher and feeder

Easy to clean and install 

Good drainage
Attached Bird Seed Catchers
This category comprises bird seed catchers designed to attach to a bird feeder's bottom.
Quick Clean Big Foot Tray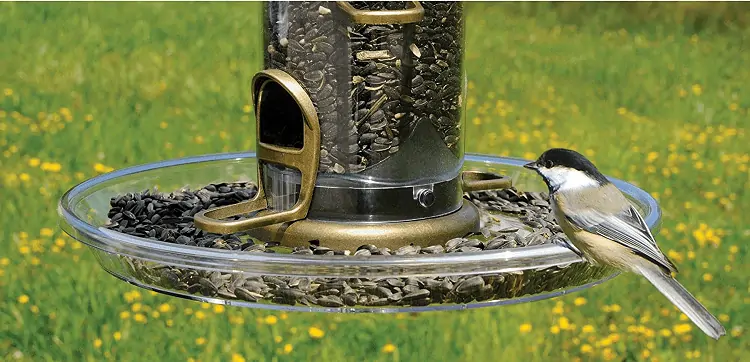 Quick clean big foot tray is a 12-inch seed tray explicitly designed for Aspect feeders. It captures falling bird seeds and provides additional perching space for birds.
The sturdy polycarbonate material lasts longer and withstands harsh weather elements while being affordable.
It comes with nuts and washers for quick fixing on the feeder. Attach firmly to the center of the bottom of the feeder with nuts and washers.
I love that it's made from sturdy polycarbonate material that lasts longer and withstands harsh weather elements. And as the quick clean name suggests, it is an innovative product that is easy to clean, making you forget the messes under bird feeders.
Pros
Provide more space for birds to move around

Like most seed trays attached to the bottom of the feeder, it does not have bird poop. This is because birds' butts hung off the edge of the tray. 

A clear tray so you can monitor seed level from a distance

Made of UV stabilized polycarbonate material to last a lifetime
Cons
It has a large drainage hole

Larger birds like doves could use the tray to access seeds on the feeder

It is shallow, so some seeds fall off

Not suitable with long tube feeders as many seeds end on the ground

It has a small diameter, so it needs frequent cleanup

Compatible only with Aspect bird feeders
Droll-Yankee Bird Seed Catcher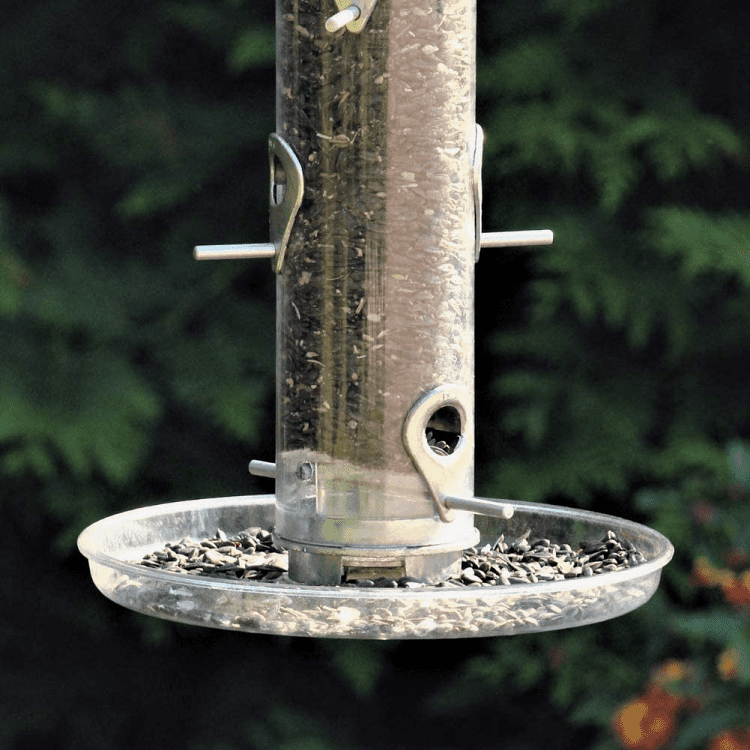 The Droll-Yankee seed catcher is like Quick Clean Big Foot Tray. They are made of plastic, serve the same purpose, and are attached to the feeder's bottom using nuts. 
But they have one major between them. 
Quick Clean Foot Tray is compatible with Aspect bird feeders. Still, the Droll-Yankee seed catcher combines well with various feeders, including Ring Pull,b Droll Yankees' Classic, Bird Lovers, and New Generation feeders.
It will also cost you less—nearly half the price—to purchase a DY bird seed catcher than Quick Clean BigFoot Seed Tray.
Features
Compatibility

– Using a threaded plug, you will attach this tray to various bird feeders,

UV – Stabilised plastic –

makes this product strong and suitable for outdoor use
Pros
affordable compared to a similar product
Cons
The drainage holes are big, allowing smaller seeds to pass through
Frequently Asked Questions (FAQs)
Question: Why Do Birds Throw Away Seeds?
Answer: There are two answers to this question.
First, your feeder could have poor quality food. This forces the birds to shovel out the poor-quality seeds as they look for excellent food. Birds always choose fresh and heavy oily seeds over dried ones.
Second, maybe you are providing them with the wrong type of food. Always identify the species around your backyard and get the seeds that they prefer.
Question: How Do I Prevent Birds from Wasting My Seeds?
Answer: You can prevent birds from scattering seeds using the following methods:
Installing a suitable bird seed catcher to capture falling seeds
Provide the birds with good quality seeds
Fill feeders with the right food according to the birds in your location
Ensure you are not using feeders with big feeding ports which allow seeds to fall. The suet feeder holds the seeds together, preventing them from falling. 
Question: What Can I Put Under My Bird Feeder to Stop Weeds?
Answer: It's frustrating to see invasive seeds sprouting in your garden. The best way to prevent weeds under your bird feeders is to install bird seed catchers.
The second option you can opt for is to buy seeds that do not sprout, like sunflower hearts, raisins, peanuts, peanut butter, plain suet cakes, and mealworms.
To prevent seeds from sprouting manufacturers treat or bake bird seeds.
All in All
I hope you have enjoyed this guide to the best bird seed catchers. This also marks the end of breaking your back, cleaning the mess under your bird feeders.
You may have a love-hate relationship with your backyard birds. They're so cute, but they also make a mess.
But all that is bound to change.
Bird seed catchers are great for collecting falling seeds and attracting more birds to backyards. Besides, you will have a clean compound and still enjoy backyard birding.
Seed catchers range from simple to complex designs with elegant colors to fit your preferences. 
Buying the right seed catcher for birds can make all the difference in your backyard birding experience. You want one that is easy to clean, efficient, durable, versatile, and attractive. 
I highlighted the most important things you need to know about bird seed catchers. I also reviewed 13 high-quality seed catchers so you can have an easy selection process.  
My favorite is the Brome bird seed catcher. It's easy to clean, versatile, efficient, durable, and sturdy, so you can use it outdoors without worrying.
References:
You May Also Enjoy Reading