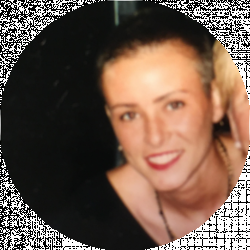 Latest posts by Richelle Tieman
(see all)
Growing up in New England, and especially summering at our camp in Maine, I came to be my grandmother's bird feeding apprentice through no efforts of my own! Trudging along behind her as she complained about either Blue Jays or Squirrels, I learned to regard both with great suspicion. They were the bane of her existence, and she was forever trying new and innovative ideas to rid her yard of these two wild pests.
I learned from her and, later, through my own experiences, the best bird feeder poles for different areas and feeders. She had a penchant for building her bird feeding structures from the ground up, and each item was analyzed for its usefulness. I tend to be the same way and favor function over form! I know now that I don't have to entirely sacrifice bird feeder beauty for effective functioning, but my instinct is to have something work well and then worry about how it looks!
I'll list the best bird feeder poles available, why I recommend them, their challenges, and the best ways to use them. Let's get started!
The Bottom Line Up Front
The best thing about bird watching, aside from the birds, is the versatility of the hobby. Time, effort, money, and location can all be scaled up or down depending on your preferences. Feeding birds has never been more popular since we all have been in our homes most of the time, and many more people are enjoying this accessible sport than ever before.  My bottom line recommendation for the best bird feeding pole is the 12 Arm All Inclusive Spring Action Pole. This is perfect for bird-watching from home, gives you twelve curled arms to test different feeders and food, and comes with a slinky squirrel deterrent. And it doesn't break the bank if you suddenly have to return to the office!
My Criteria for the Best Bird Feeder Poles
At a Glance
The hardware included with the pole must be solid metal
The entire pole must be rust resistant,  – that means enamel or powder coating, or anodized metal
If its vinyl, it must be weather and crackproof
There must be at least four ground stakes and preferably an auger (ground screw)
The pole must be at least one inch thick, and the arms must be at least 1/2″ thick
Sold by a reputable retailer with a realistic return policy
Have at least a 4/5 rating
Be at least 72 inches above the ground (this allows for arms to be several inches lower on the pole)
The pole must have a baffle or be ready to accommodate a baffle
Item cannot be out of stock
All of my choices will adhere to my guidelines above,  and I will list other helpful information in the descriptions.
Quick List of Top Picks for Best Bird Feeder Poles
Best Poles Under $100
Best Poles from $100 to $200
Best Poles Over $200
Bird Feeder Poles Can Make or Break Your Love of Bird Watching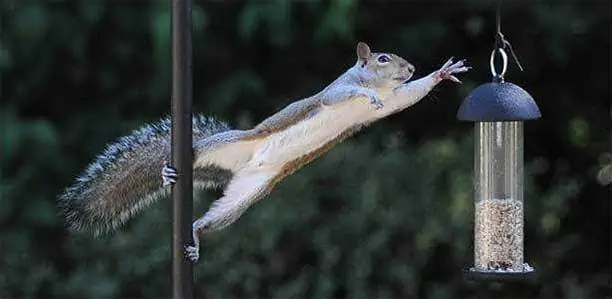 Looking at a feeder pole, it may seem to play second fiddle to the actual bird feeder, but understanding the factors involved in successful bird feeding will have you taking a second and third look at this often undervalued part of the system. I say system because distinct parts must work together to provide food to our airborne friends effectively.
Having a long history of seeing bird feeder poles at work, witnessing their daunting responsibilities, and observing them cave or overcome adversity, I have a specific mindset for what a bird feeder pole should and shouldn't be.
The two major responsibilities of a feeder pole are staying upright (not bending) and keeping the bird seed protected. Without those two things, you may as well not have a bird feeder! Finding a pole that is sturdy, durable, rust-proof, and strong enough to hold pounds of birdseed while keeping wildlife and weather away is no mean feat.
Staying Straight
Material: Opt for heavy gauge steel. or PVC pipe grade plastic. I have had the most success with metal bird feeder poles and have seen wooden feeder poles shredded by wildlife and the weather.
Thickness: The thickness of the metal pole is important for the stability of the whole structure and for keeping the arms of the pole balanced. I like one inch or more thicknesses that can hold ten pounds without bending. I can't count the number of leaning feeder posts and bent arms I have seen!
Ground Stabilizer: The bottom stakes that hold the pole in the ground are the backbone and crucial to the pole's function.  I like augers (ground screws) better because they are longer and screw into the earth much more solidly than the stakes. Augers keep the pole straighter, especially with heavier weights. I will make exceptions when I only have a few pounds to hang.

Protecting the Food
It's impossible to consider a bird feeder pole without considering a baffle. Besides hanging a feeder, the most important function of a feeder pole is keeping squirrels off it.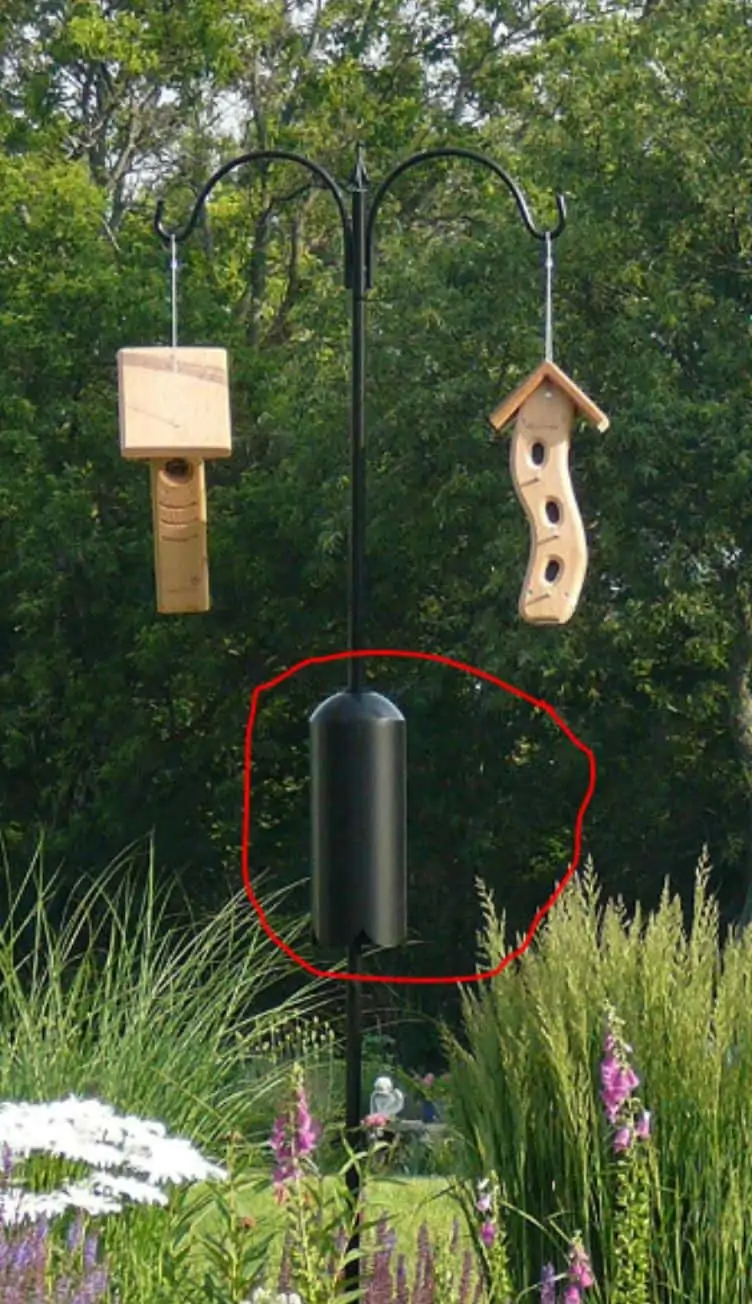 The most popular and effective squirrel deterrent is a baffle. If you already have a bird feeder pole and bird feeder, you will want to get a squirrel baffle.  Bottom squirrel baffles keep the critters from climbing up the post, and top squirrel baffles protect the feeder from squirrels jumping on top of your bird feeder.
A cylinder or torpedo baffle either comes attached to the feeder pole or slides over an existing pole and is mounted. The baffle is circled in red.
The most convenient solution is to buy a bird feeding pole with a baffle. That eliminates the need to measure baffle diameters and pole widths and appropriately mount the baffle. I will delve into those options in my top choices.
If you haven't yet bought a bird feeder for your pole, some excellent weight-sensitive feeders shut off the feeding ports once a squirrel gets close. That way, you don't need a baffle. Check out this "Squirrel Be Gone" Country Bird Feeder at Walmart.
Tips for Buying the Best Bird Feeder Pole
Now that I have shared my experiences and criteria, it's time to focus on the questions only you can answer!
Do You Like How the Bird Feeder Pole Looks?
First and foremost, you will look at your feeder pole every day, and the more you like it, the better the bird-watching experience will be.   Choosing a feeder pole that speaks to your style and preferences is essential to making your bird feeding system work for you.
How Much Time and Effort Do You Want to Spend?
You may want to get each item separately, so there is more control over which baffle, hook, bird feeder, polearms, and ground stabilizer you have. Or, if you're like me, you'll want everything you need in one neat package that is easy to put together and use. That means I will opt for a bird feeder pole system that includes all the necessary parts. Having an all-in-one system will be the easiest to assemble, also.
Invest in the Future
A final factor to consider when buying a bird feeding pole is its size and different functions. You'll want one that can accommodate all the birdhouses you have, and maybe a special arm for suet or a bird bath.  You might even want to hang a few plants next to your bird feeders when the weather permits.  Look to the future to determine how you will use your feeder pole and what features you may want several years down the road. A feeder pole system that grows with you increases its value and spreads the cost out over a period of years!
Did You Know?
Look for pole sections that have threaded joints for connection with all the parts. The "slip-in" connecting poles can be loose and easily pull out. If you already have a pole with no threading, use several rounds of electrical tape to snug up the fit.
Best Bird Feeder Poles Explained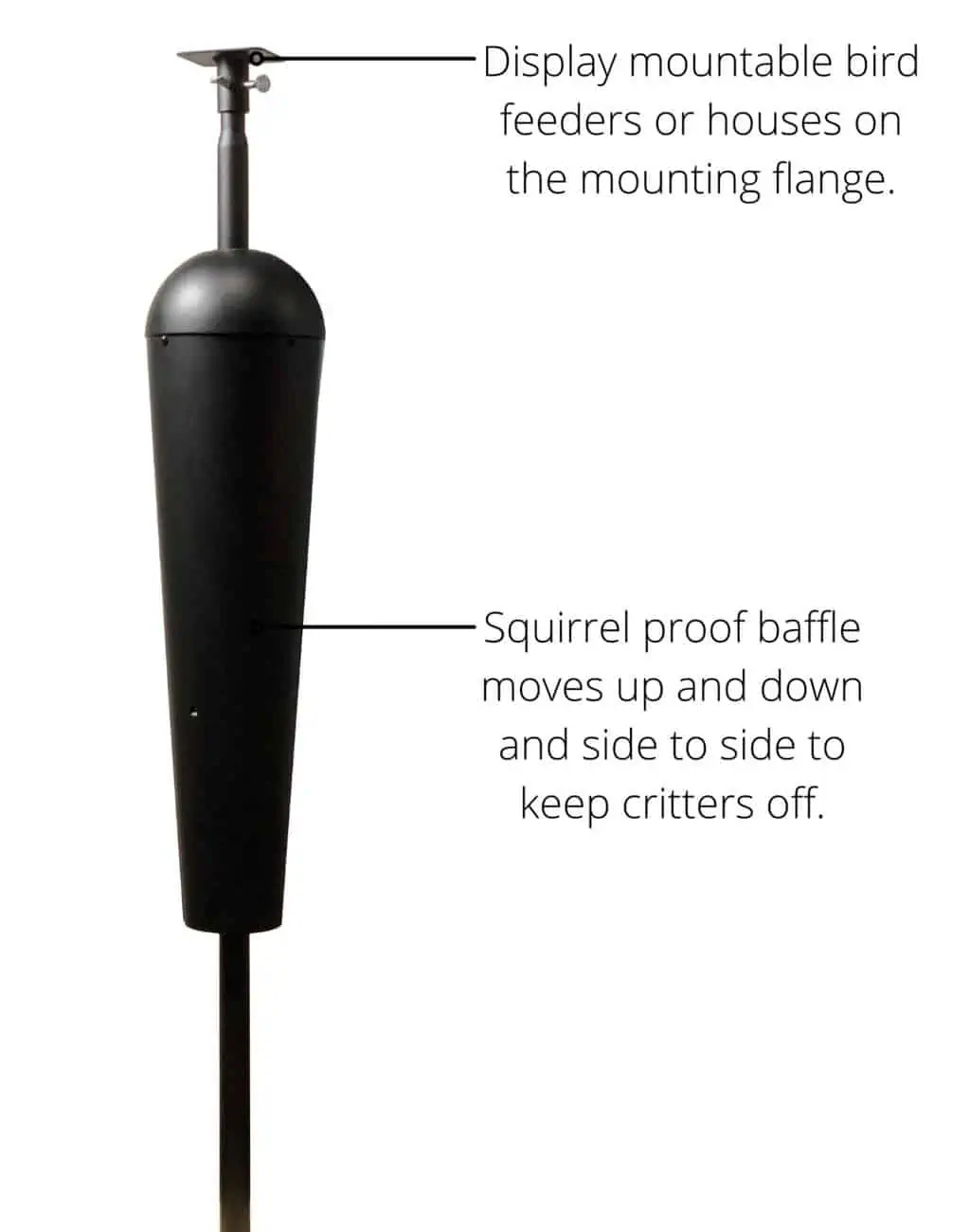 This bird feeder pole is for mounting a large hopper, platform, or tube feeder to its metal flange top. The Denali system by Duncraft is one of the best feeder poles due to its innovative 27″ squirrel baffle design that moves sideways and vertically, bobbing up and down to dislodge squirrels and raccoons. Duncraft is known for its decades of superior quality items, and this heavy-duty steel pole is no exception.  At 1.25″ in diameter, with a ground screw stabilizing the whole structure, it can hold 30 pounds. A one-year return policy and satisfaction-guaranteed customer service policy give you the same buying confidence they have for 70 years!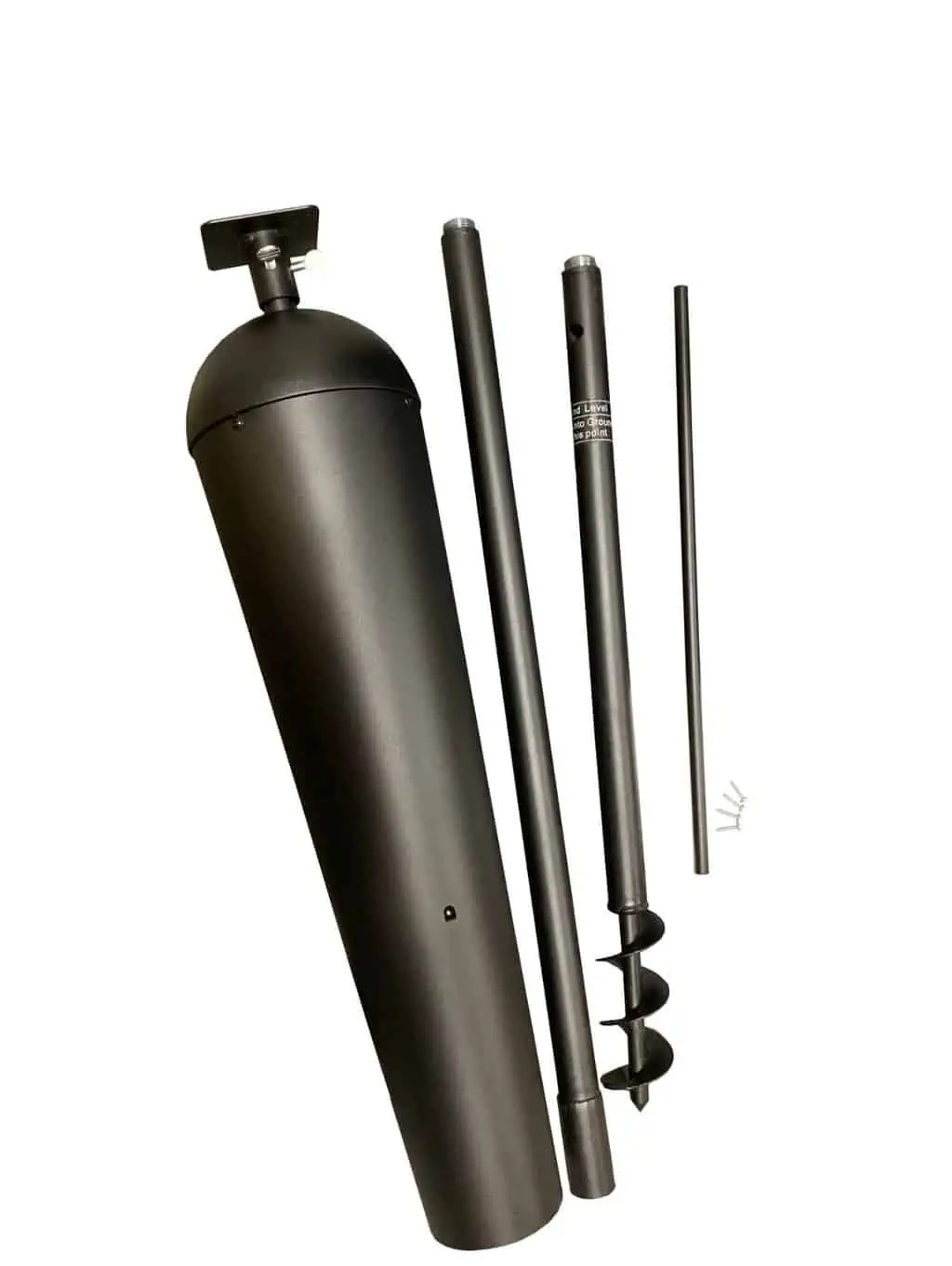 Why I like it
The patented baffle is 27″ long and guaranteed to keep squirrels and raccoons at bay
Powder-coated no-rust steel pole and hardware
Rod is 1.25″ thick
Threaded pole joints
Ground screw (auger) ensures stability
Two-way moving baffle ensures no squirrel can get past this
Easy to install with auger bar included
What I don't like
Above-ground height is only up to 58 inches
| | | | |
| --- | --- | --- | --- |
| Baffle included | Arms Included | Auger/Ground Screw | Above ground height |
| Yes | No | Yes | 53″ to 58″ |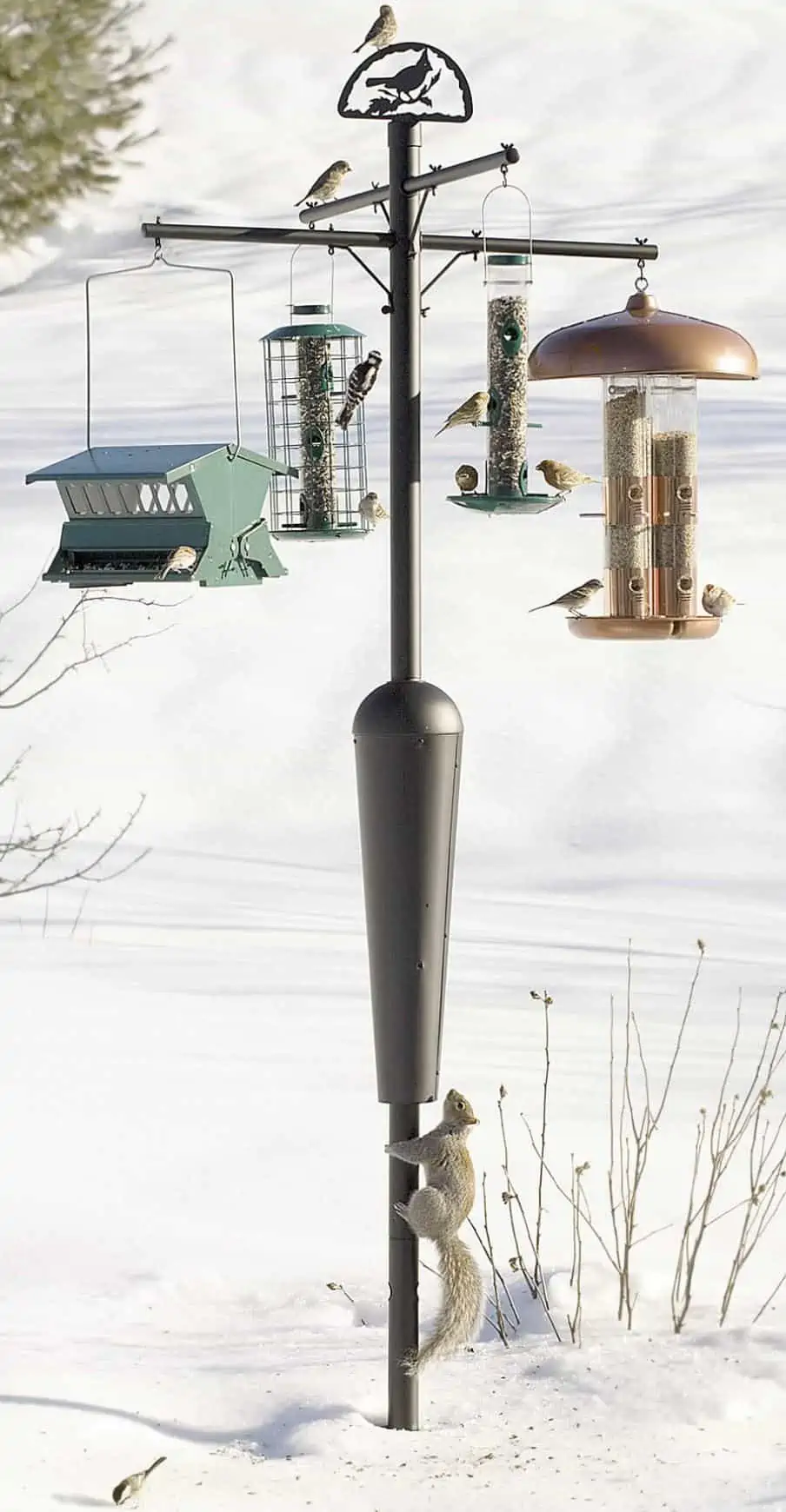 This is the most impressive bird feeder pole system available for serious bird-watching enthusiasts and is built to last a lifetime. Built of 2″ thick 16 gauge steel with powder-coating, it comes with the infamous squirrel stopper 27″ baffle and a twenty-inch ground screw that drives it solidly into the ground. I love that these arms can hold 30 pounds each! Threaded pole joints at the connections mean no twisting in the wind, while eight eye bolts and hooks let you hang all your bird feeders! This pole stands 8 feet off the ground, with the feeders hanging five to six feet off the ground.
Why I like it
Gorgeous Victorian elegance
Arms hold 30 pounds each
Two-inch thick steel pole
Threaded connection joints
Patented 27″ squirrel and raccoon baffle
Bird feeders included
Comes in Bronze, Pewter, and Black
One-year return money back guarantee
Easy to install with auger bar included
What I don't like
| | | | |
| --- | --- | --- | --- |
| Baffle included | Arms Included | Auger/Ground Screw | Above ground height |
| Yes | Yes | Yes | 8 feet |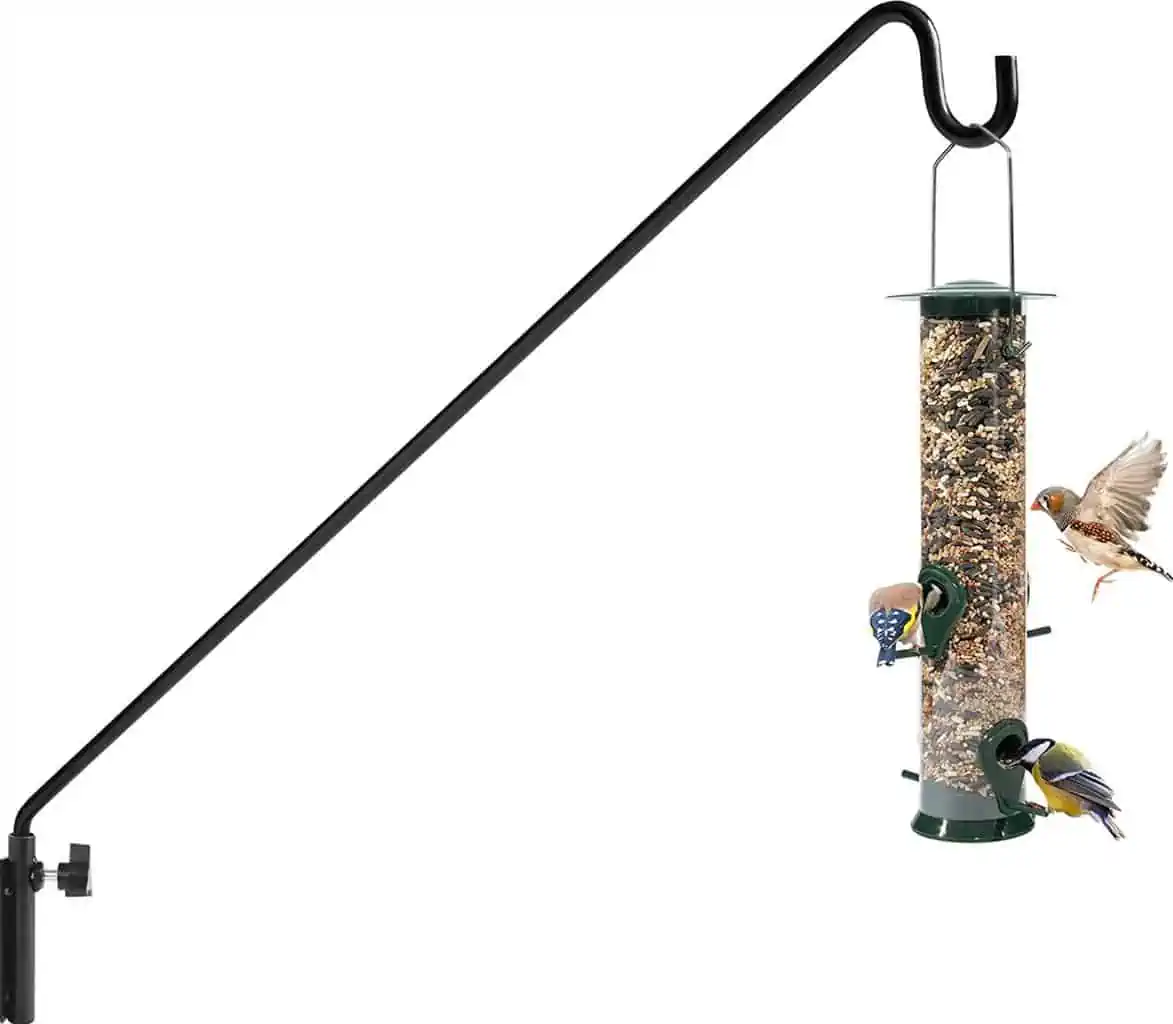 This powder-coated, heavy-duty steel bird feeder pole mounts to trees, walls, and deck railings with the included hardware.  It has been weather and rust-proofed and has a large easy-grip twist clamp. I love that it is 49″ long and has an adjustable swivel that alters the height and angle of the rod. This can hold 20 pounds, more than most railing-mounted feeder poles available. The long arm hangs away from your deck or wall, keeping it clean.
Why I like it
Rust and weatherproofed
49″ length keeps the area clean
Heavy duty steel pole
20-pound capacity
Large grip swivel for adjustable height
Also comes in a 37″ height
What I don't like
No info on the diameter of the rod
| | | | |
| --- | --- | --- | --- |
| Baffle included | Arms Included | Auger/Ground Screw | Above ground height |
| N/A | N/A | N/A | 49″ |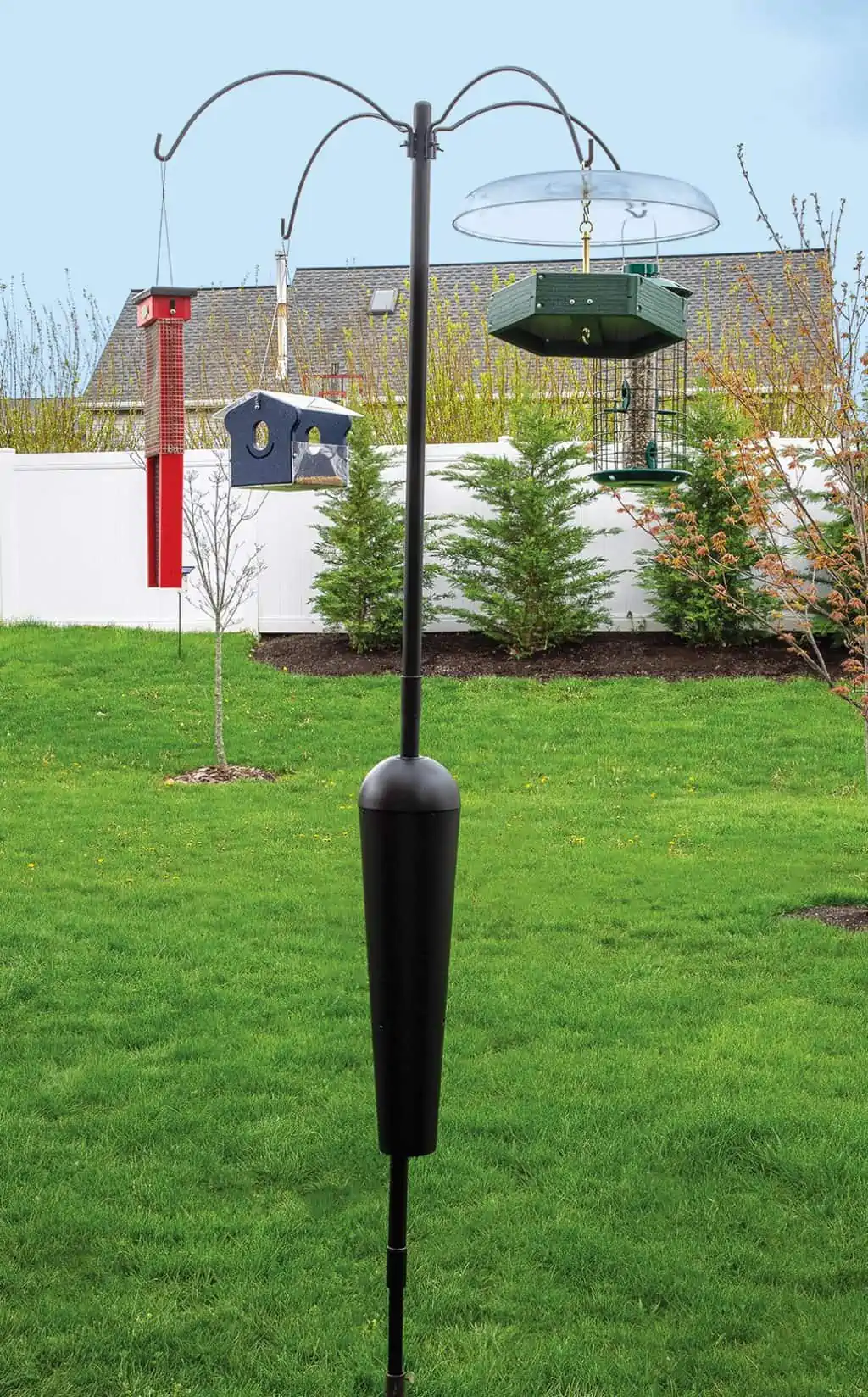 All the benefits of the patented squirrel baffle pole with the addition of graceful curving arms leaning to hang your feeders from. I like the graceful curves that give a simple but dramatic flourish to the pole, a bit of extravaganza amidst the innovative squirrel-proof function. The same 16 gauge tubular steel pole is weather and rust-resistant and has a 1.25″ diameter. The four attached poles can hold 15 pounds each, and an auger is attached for ground stability.
Why I like it
90″ above ground height
Feeders sit 6 feet off the ground
The ground screw auger is 20″
Four attached arms can each hold 15 pounds
Thick 16 gauge steel is rust-proof
One-year return money back guarantee
Two-way moving baffle ensures no squirrel can get past this
Easy to install with auger bar included
What I don't like
Arms seem out of proportion to rod
| | | | |
| --- | --- | --- | --- |
| Baffle included | Arms Included | Auger/Ground Screw | Above ground height |
| Yes | Yes | Yes | 90″ |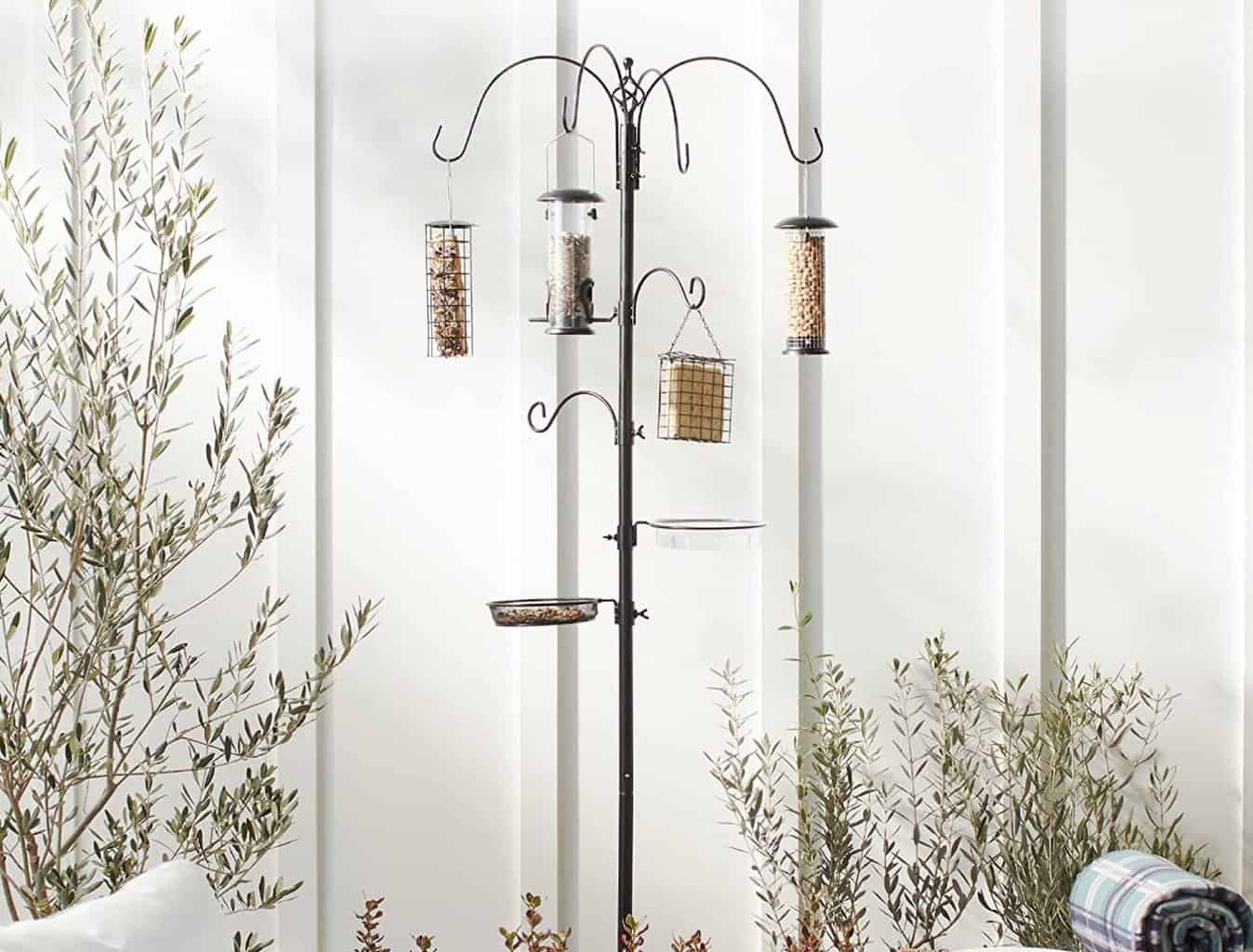 I love this artsy pole for everything it has to offer! Included are four bird feeders, a side water bowl, and a side mesh dish. This has five ground stakes 9 inches long for a steady footing and threaded pole connection joints to keep everything stationery. It has a decorative basket top, four arms, and two smaller arms below. This looks so sophisticated and comes with everything you could want to hang feeders.
Why I like it
Comes with four bird feeders, a bird bath, and a mesh dish
Has six arms for hanging
Threaded connection joints
Refined decorative style
Super tall
Basket Weave Finial
What I don't like
| | | | |
| --- | --- | --- | --- |
| Baffle included | Arms Included | Auger/Ground Screw | Above ground height |
| No | Yes | No | 90″ |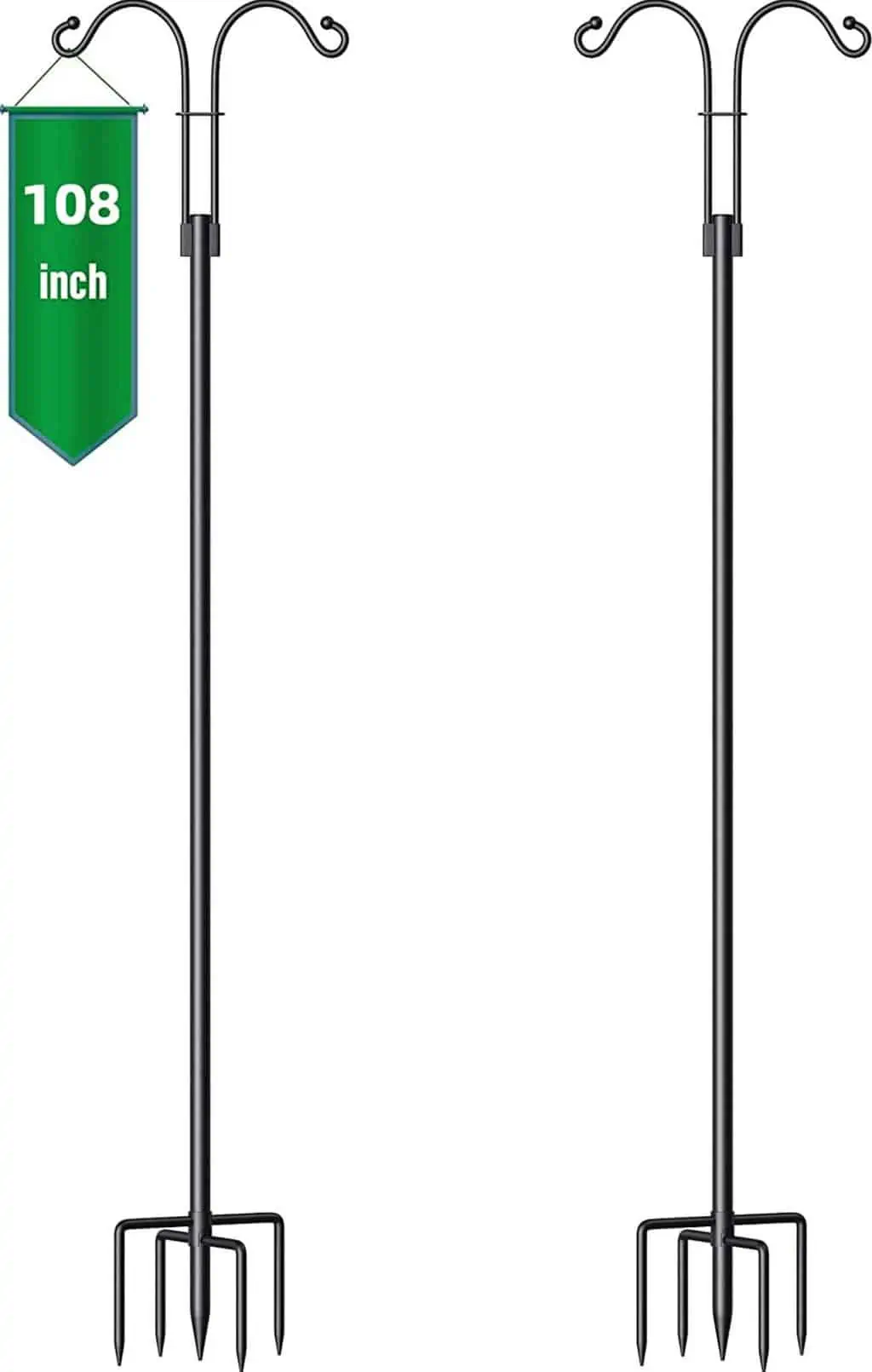 I love that these are 108″ high to keep birdfeeders far off the ground and birds safe! These are great for light bird feeders that don't hold much seed, and the five prongs have sharpened, pointed edges to drive them into the ground, which is helpful when the soil is mostly clay, like I have! I like the high hook arches that look like shrugging shoulders. The alloy steel poles are double powder-coated for weather and rust resistance, and each pole weighs seven pounds, which is quite hefty for a shepherd's hook! The arms are attached in the middle to prevent one side from bending farther than the other.
Why I like it
Double coated alloy steel increases durability
Five prongs have sharpened points for ground stability
Heavyweight
Arms are bend-resistant
Appealing and decorative
What I don't like
Pole is only 5/8″ in diameter
| | | | |
| --- | --- | --- | --- |
| Baffle included | Arms Included | Auger/Ground Screw | Above ground height |
| No | Yes | No | 108″ |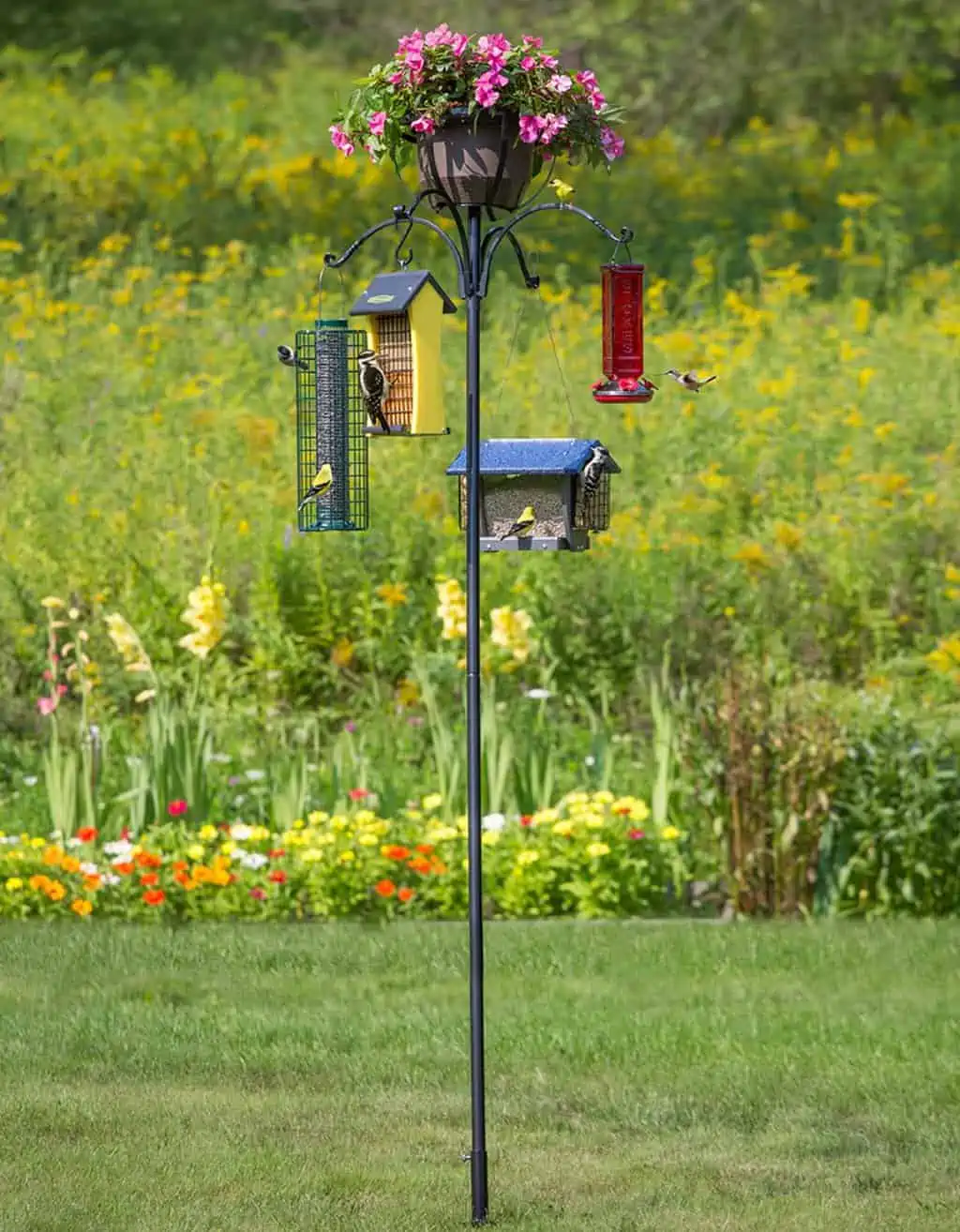 This is a great choice for not a lot of money and works well with many feeders for diverse bird groups. I love the slinky spring action that literally keeps squirrels off balance and on the ground! A coiled spring is attached at the top and hangs down about halfway, and when the squirrels climb up, they reach the spring, dropping them down to the ground! Then it pops back up again to wait for the next unsuspecting critter! This comes with a suet cage, bird bath, mesh dish, and three tube feeders, giving you plenty of opportunity to try different bird food!  It doesn't have a ground screw, and the weight capacity of each arm is, at best, a few pounds, but you can't beat this for a gorgeous curvaceous backyard statement with room to grow and a squirrel deterrent
Why I like it
Heavy duty steel pole and arms
Amazing visual appeal
12 curving arm hooks
Includes water bowl, suet cage, mesh dish, and three birdfeeders
Spring-loaded squirrel deterrent
Powder-coating and rust-resistant
Adjustable height
Many bird perches
90-day warranty and lifetime service
What I don't like
Low weight capacity of arms
No ground screw
Only 76″
| | | | |
| --- | --- | --- | --- |
| Baffle included | Arms Included | Auger/Ground Screw | Above ground height |
| No, but includes a squirrel deterrent Spring | Yes – 12 | No | 76″ |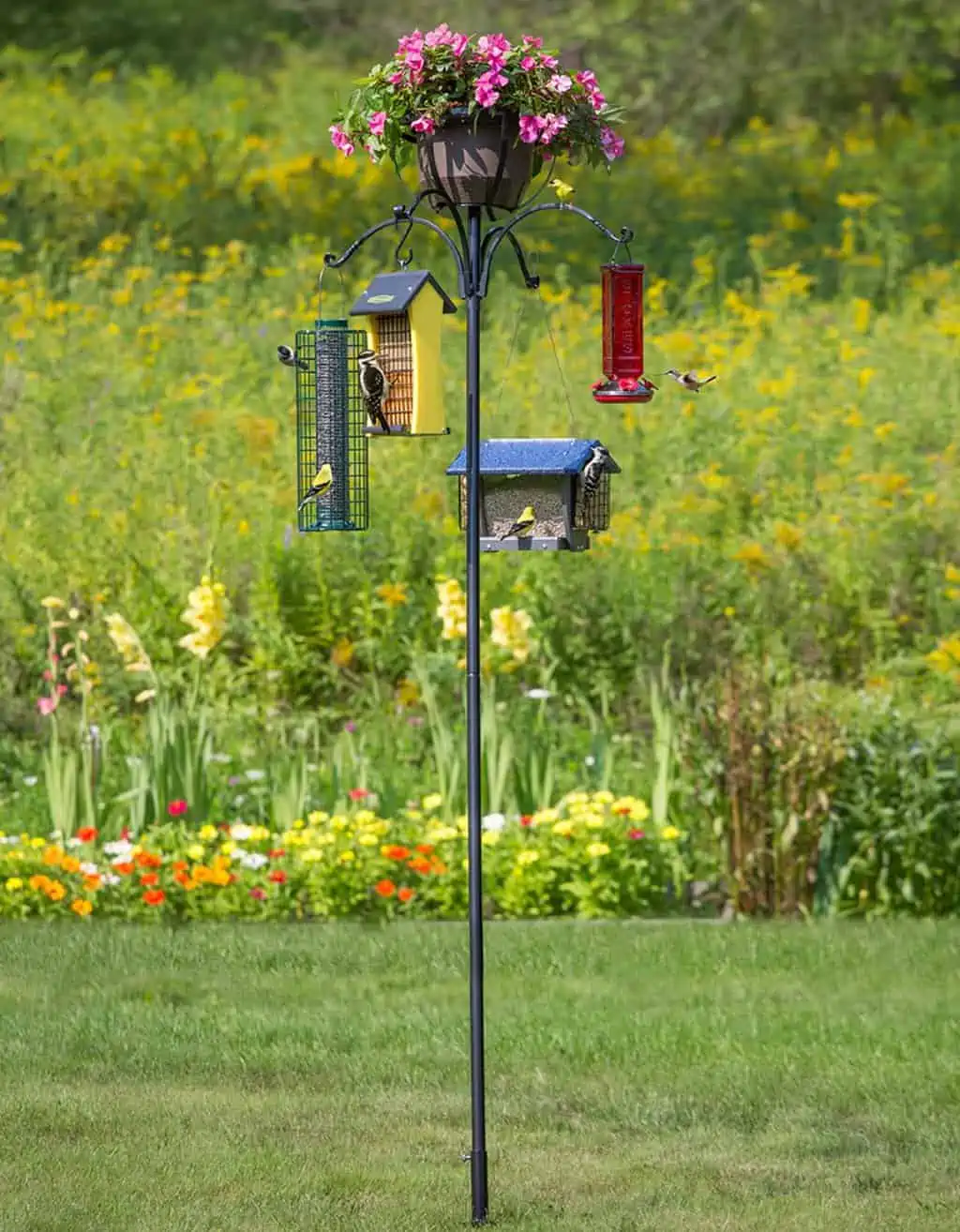 This may seem like a simple design, but Duncraft details like hand-forged wrought iron, one-inch thick pole, and 20″ ground screw auger make this a show stopper. The patented auger design holds the non-bending pole and arms firmly in place, and everything is powder-coated to resist rust. Each arm holds a whopping 15 pounds! The flower pot basket isn't just an afterthought; it's made with the same high-quality steel and has a large twelve-inch diameter. I haven't found any feeder poles with a flower basket that come close to the stability offered by this one.
Why I like it
Quality wrought iron one-inch thick pole
Deep ground screw auger
Powdercoating for rust-resistance
Twelve-inch diameter flower pot topper
Four arms that hold 15 pounds each
Made in the USA
One-year return policy
What I don't like
| | | | |
| --- | --- | --- | --- |
| Baffle included | Arms Included | Auger/Ground Screw | Above ground height |
| No | Yes – 4 | Yes | 68″ |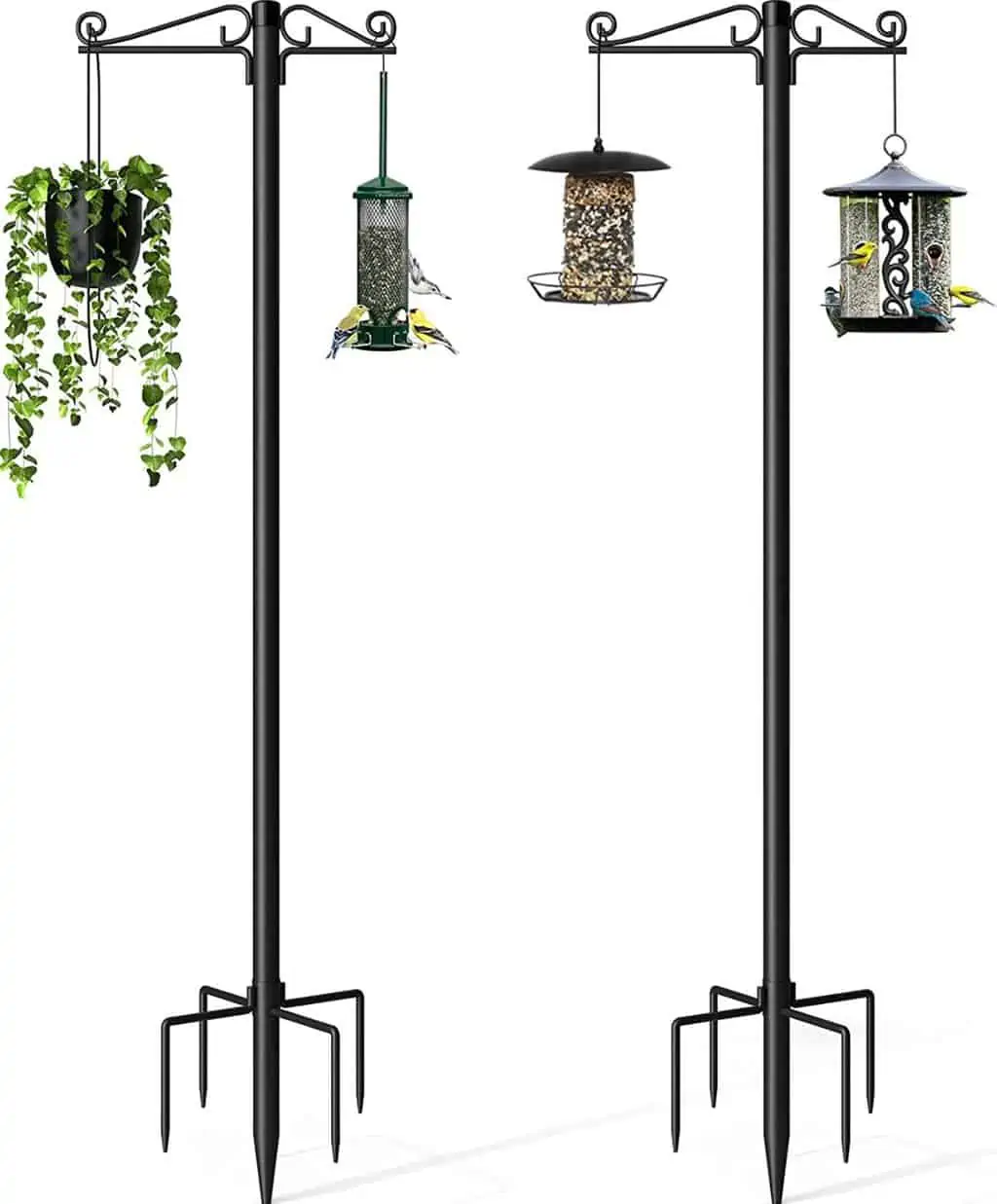 I really like the bracket-style arms with scrolling design on this five-prong feeder pole for its country cottage charm.  The middle ground stake is a foot long, which is longer than most other staked bird feeder poles, and the four other stabilizing stakes are 8″ each to provide secure footing. One of the arms extends 5″ and the other 10″ for a staggered placement style. The joints have screw-in threading to ensure they won't spin in the wind or slip out. Powder coating is weather and rust-resistant, and the height is adjustable for 64″ or 76″ above the ground.
Why I like it
Unique cottage-style brackets add charm
3/4 inch thick pole
Deep foot long center ground stake with 4 more eight-inch stakes
Powdercoating for weather and rust-resistance
Two staggered length arms of 5″ and 10″
Three-year warranty
What I don't like
No information on the weight limit for arms
| | | | |
| --- | --- | --- | --- |
| Baffle included | Arms Included | Auger/Ground Screw | Above ground height |
| No | Yes – 2 | No | 76″ |

This scrolled arm beauty stands almost eight feet tall above ground, and the four arms can handle ten pounds each! The 16″ squirrel baffle is included and stays in place with the included hardware. The steel is powder coated for weather and rust resistance and has curly details around the arms. The arms can hold feeders up to 22″ wide and stand out from the pole at 12 inches.
Why I like it
Victorian-like style
Sixteen-inch baffle included
Powdercoating for weather and rust-resistance
93″ tall above ground
Arms can hold ten pounds each
What I don't like
Only four ground stakes for stability
| | | | |
| --- | --- | --- | --- |
| Baffle included | Arms Included | Auger/Ground Screw | Above ground height |
| Yes | Yes – 4 | No | 93″ |
FAQs
Question: What is the Best Bird Feeder Pole?
Answer: The best bird feeder pole will stay upright and stable and protect the bird feeders from squirrels. The pole should be at least five feet off the ground and support at least five pounds on each arm. For larger bird feeders holding a lot of food, you will need to find a bird feeder pole with strong arms and a stable base to support them (look for five ground stakes or an auger). If squirrels pose a problem (they almost always do), you will need to consider a feeder pole with a baffle. For decades of enjoyment with a squirrel-proof feeder pole system, consider the Squirrel Stopper Series by Duncraft. This is guaranteed to stand tall and can support 30 pounds on each arm.
Question: How Deep in the Ground Should a Bird Feeder Pole Be?
Answer: Your bird feeder pole should be no less than 8 inches into the ground, with preference given to those 15-20 inches deep.  Depending on how heavy your bird feeders are, you could use a four-prong feeder pole for a few feeders with a total weight of no more than one or two pounds. Ground screws or augers are the best stabilizer for a feeder pole or post and won't need to be repositioned every week like so many shepherd's hooks are.
Question: How do you Keep Squirrels Off Your Bird Feeder Pole Without Spending Much Money?
Answer: This is the million-dollar question! Like this one from Amazon, you can mount inexpensive baffles on your pole at the top and bottom.  Some people have found that attaching one end of a Slinky to the top of a feeder pole will cause squirrels to climb it and drop back to the ground. This requires that you keep the Slinky tightly coiled, so the squirrels don't grab the pole in between the Slinky.
Another method for deterring squirrels is to offer food that squirrels don't like.  These foods typically include a form of hot pepper. Check out Wild Birds Unlimited for white proso millet, nyjer seed, and hot pepper bird foods.
Question: How Far Away From the House Should a Bird Feeder Pole Be?
Answer: A bird feeder pole should be at least ten feet away from buildings, bushes or trees, clotheslines, or telephone poles. Basically, ten feet away from anything a squirrel or cat could jump from.
Question: What is Too High for a Bird Feeder Pole?
Answer: Most birds will eat at a bird feeder that is five to seven feet high unless they are ground feeders.  That height range overlaps with almost all feeder birds' preferences. The total height of the pole will not matter as much as how high your bird feeders sit once they are hung or mounted to the pole. Most bird feeder poles will have information in the description. Where your bird feeders will end up also depends on how tall they are.
Question: How do I Keep my Bird Feeder Pole From Rusting?
Answer: Buying a bird feeder pole that is rust-resistant and powder-coated to withstand the weather will extend the pole's longevity. Information on what kind of metal is used and any rust-proofing features should be listed in the product's description, so be wary if you can't find it.  I find it helpful to have several cans of Rust-Oleum on hand to spray on my feeder poles several times a year.  Make sure the bird feeders are taken off before spraying any coating on the pole!
In Conclusion
It turns out there are quite a few things to consider when you're in the market for a bird feeding pole, and it helps to have someone you can trust explain why the pole plays such an important role in your bird-watching hours! I thought a "pole was a pole was a pole" when I first started out, and because I'm a "do it myself, and then I'll learn" kind of person, it took quite a few bent hooks and broken feeders before I started to shape up!
I love the convenience of one box setting me up with everything I need to birdwatch, and the Benba 12 hook station pole offers visual appeal plus function. It has enough hooks to accommodate all your bird feeders plus a few plants, has graceful visual appeal, includes a water bowl, suet cage, and four more bird feeders, and has a slinky-like squirrel deterrent!  Plus, you haven't broken the bank! I hope this article gave you some ideas to use in your yard.  For more information about birds, try reading these articles: