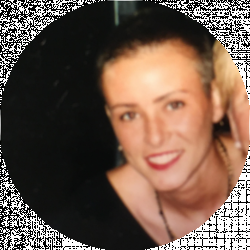 Latest posts by Richelle Tieman
(see all)
Do you bathe often? How often? After you clean yourself, are you able to move around better? I ask because if you are a bird, your answers will be, "Yes," "Every day at least," and "Yes."
I have a gallon jug with motivating words on the side that I use to calculate my daily water intake. Water is life-giving. For birds, too. If you love nature, you will want to feed the birds and give them access to a bath and drinking water. A birdbath lets them drink and cleans their feathers from parasites, dirt, and excess oil. It also allows them to cool down in warmer temperatures.
Birds are also able to fly better after bathing. This is true. Providing them with a bath will ensure they can remove themselves from predators more quickly. So, if you purchase a birdbath bowl, you are contributing to the longevity of birds.
Read on to find some surprising and one-of-a-kind birdbath bowls you didn't know existed!
Bottom Line Up Front
You can't go wrong with this unbreakable, year-round durable Red Cedar beauty! I love this because I don't have to worry about it being out in the snow – it's made for it, and it comes ready to attach to a railing! The heated bowl can rest outside your window on the balcony and attract birds all winter. This is excellent if you get ten feet of snow – instead of having it covered up by the white blanket, you can remove the heated top and set it close to your windows to enjoy the birds all winter long!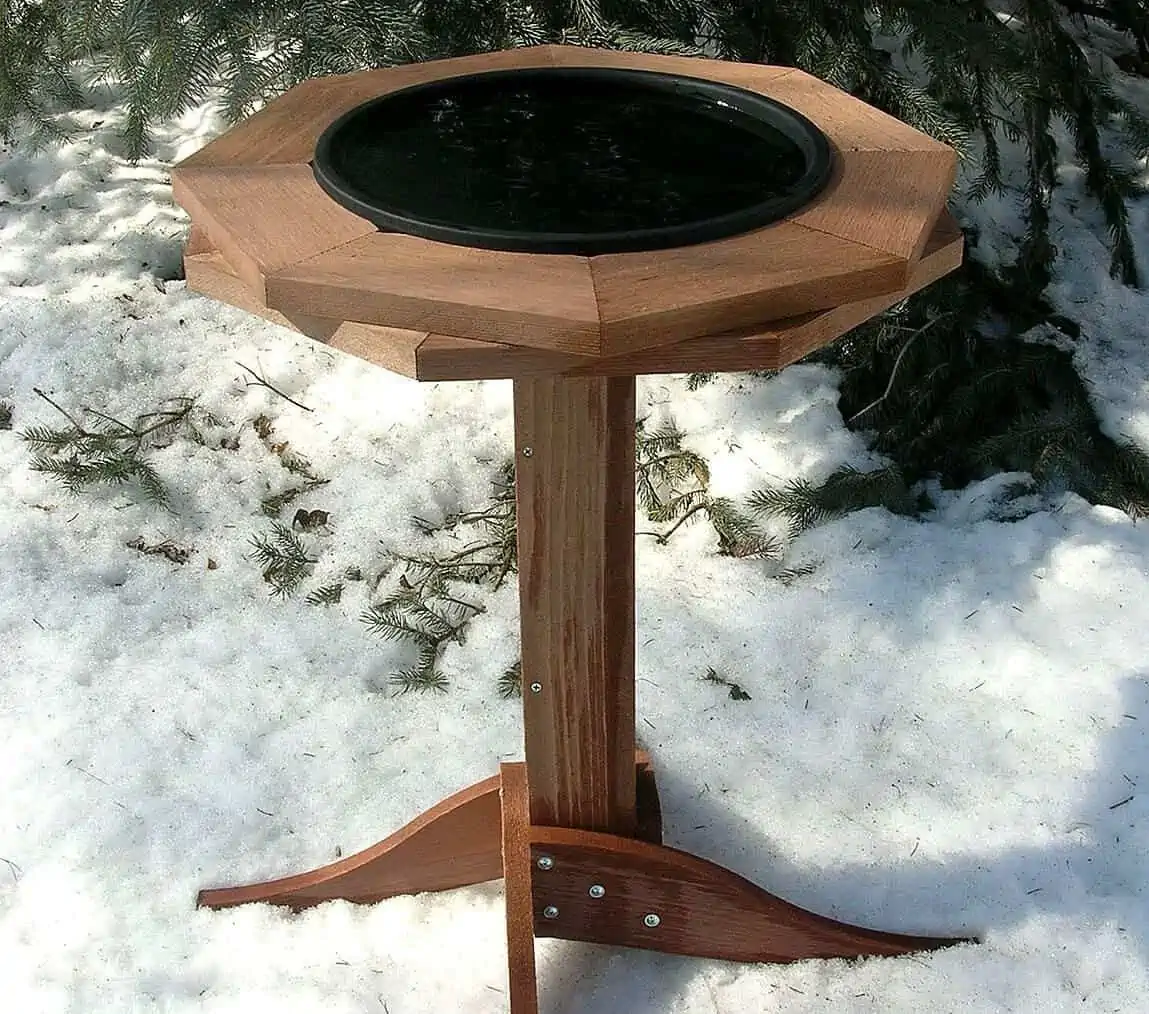 How I Chose My Top Birdbath Bowl Picks
Choosing a birdbath bowl seemed daunting years ago when I first tried to find one. I would only focus on how it looked and then realize all the drawbacks of why it couldn't go in my yard.
I loved the inexpensive hanging bowls until I got one, and the wind kept sloshing all the water out of it, and then it broke because it was glass and smashed against the tree in a storm—what a mess. Then I thought I solved the problem by getting a staked bowl. Nothing to bang against, and it was secured from the wind.
Then I discovered the ground was only about two inches deep where I wanted to put it. Then I had it too close to the walkway and found the walkway was six feet wide, but three feet of it was covered with grass. Whack! I struck concrete.
I then spent a whole bunch of money on a gorgeous ceramic birdbath bowl with a stand and placed it exactly where I wanted it. Wait for it…forceful gusts of wind and a hollow base equal a tipped-over and broken ceramic birdbath. What can I say – I'm a slow learner!
My mistakes equal your benefits for choosing an appropriate birdbath bowl.
My picks are broken down by type because that's probably something you have narrowed down based on where you want to put your birdbath. Things I look for in a birdbath bowl are weather resistance and durability, first and foremost. Freezing and re-freezing, hurricane winds, torrential rains, blistering heat, suffocating humidity, and ice encasement will destroy many birdbath bowls. I like convenience, which means not repeatedly buying new items for the same purpose!
Below is a list of all the things I consider when making my choices.
Weather-resistance
Bird appeal
Human appeal
Durability
Retailer reputation
Price point
Availability

Quick List for Top Birdbath Bowl Picks
Birdbath Bowls with Stand (Traditional)
Birdbath Bowls with Ground Stake
Hanging Birdbath Bowls
Wall or Railing Mounted Birdbath Bowls
Birdbath Bowls with Fountains
Birdbath Bowls with Planters
Birdbath Bowl with Lights
Heated Birdbath Bowl
Birdbath Bowl Materials
There are a surprising number of materials used to make birdbath bowls, and knowing what characteristics each one has is crucial to finding a birdbath that will last in your neck of the woods. I like metal, concrete, and polyresin for their durability, heft, and beauty, but you can find birdbath bowls in stone, cast stone, copper, glass, terracotta, and ceramic. It's all about whatever makes sense for you.
Metal
Metal can be lightweight or heavy, depending upon the type and thickness. I like metal for birdbath bowls because of its inability to break! Knocked over or wind-lashed against a tree, you can just put it back, and it's good as new.
Birdbaths made from metal can stand in four feet of snow and ice or be under the blazing sun for weeks. This is a great option for all climates. Remember that metal does get hot, however, and if you are going to subject your birdbath to weeks of relentless 100-degree days, it's best to put it in the shade so that the water will be cool enough for the birds.
Terracotta (Earthenware)
I love terracotta for the rustic, old-world style it has. The sun-bleached baked clay reminds me of living in Corsica, where giant terracotta pots filled with flowers and ferns stood on the marble steps leading up to the house. A terracotta birdbath bowl allows you to enjoy the natural beauty of your surroundings without an artificial item marring the landscape.
Terracotta needs to be glazed for weather resistance and waterproofing but is an exceptionally durable material that will last for years. Archaeologists have found terracotta that has been around for thousands of years! Once sealed, it should last through all temperature changes. Another great thing about having a birdbath bowl made of terracotta is the natural protection from mold, insects, and bacteria.
It is worth mentioning that terracotta is a type of ceramic. Ceramic means clay fired in a kiln and includes terracotta (earthenware), stoneware (ceramic), and porcelain clays.
Unless the terracotta has been double glazed or weatherproofed, I won't use it in winter climates with frequent freezing and thawing cycles.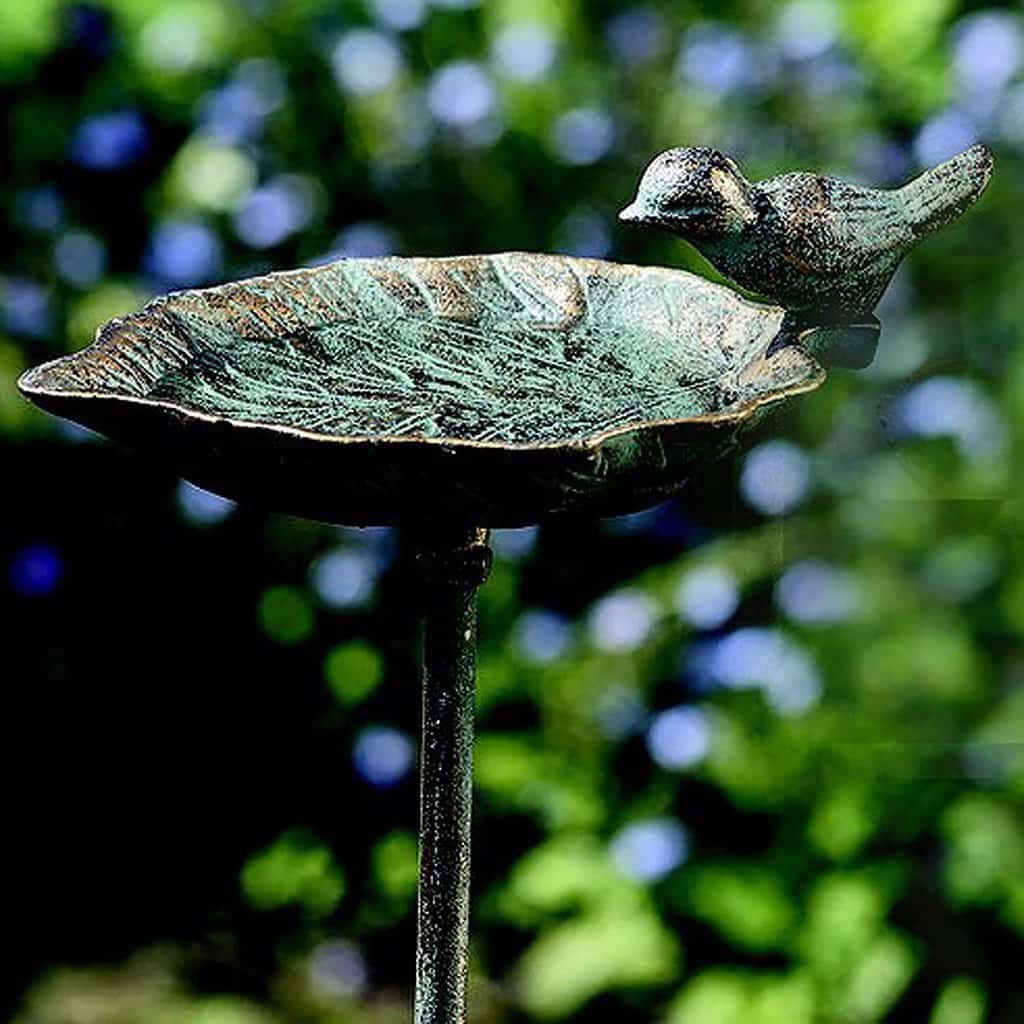 Ceramic (Stoneware)
When people think of ceramic, they almost always think of something more definitively called "stoneware." They are a higher density clay than terracotta and are extremely hard and durable. Almost always glazed at least once, ceramic stoneware tends to be shiny and smooth. It fares better than terracotta in sub-freezing temperatures. It is also more expensive than terracotta.
Porcelain (Porcelain!)
Porcelain is the densest and most durable of all the clay materials. It has been subjected to the highest heat and pressure treatments. The clay and other natural substances needed to withstand these treatments are more expensive; therefore, something made of porcelain will be expensive. Porcelain is the densest and most weather-resistant clay.
Glass
Glass is an elegant and versatile material conducive to hand painting and many unique designs. Durable when using a 1/2 "+ thickness, glass is best used mounted on a railing or hanging from a stake so it won't tip over or hit a tree and break.
Concrete
I love concrete because it is virtually unbreakable unless you drop it or drop something very heavy on it. This is probably the most common material for birdbaths because of its durability and weather resistance. Feel free to leave it outside in the harshest climates for a lifetime. I also love that the price tag is so low for something with so much life!
Cast Stone
Cast stone is a highly expensive material, but if you are making a birdbath investment, a cast stone material would be the way to go. This material is highly refined concrete that is made to resemble real cut stone. It is used for architectural details on buildings and is not permitted to have any air voids inside. The texture must be smooth like natural stone, and acid etching is used to achieve this. It will last a lifetime and more in any type of climate.
Resin
Resin is a popular material for birdbath bowls due to the limitless carvings and intricate detail available with this type of material. Resin is almost as durable as concrete and won't easily break. The price point can be all over the spectrum, depending on quality and craftsmanship. Resin would be the way to go if you want a truly ornate birdbath bowl.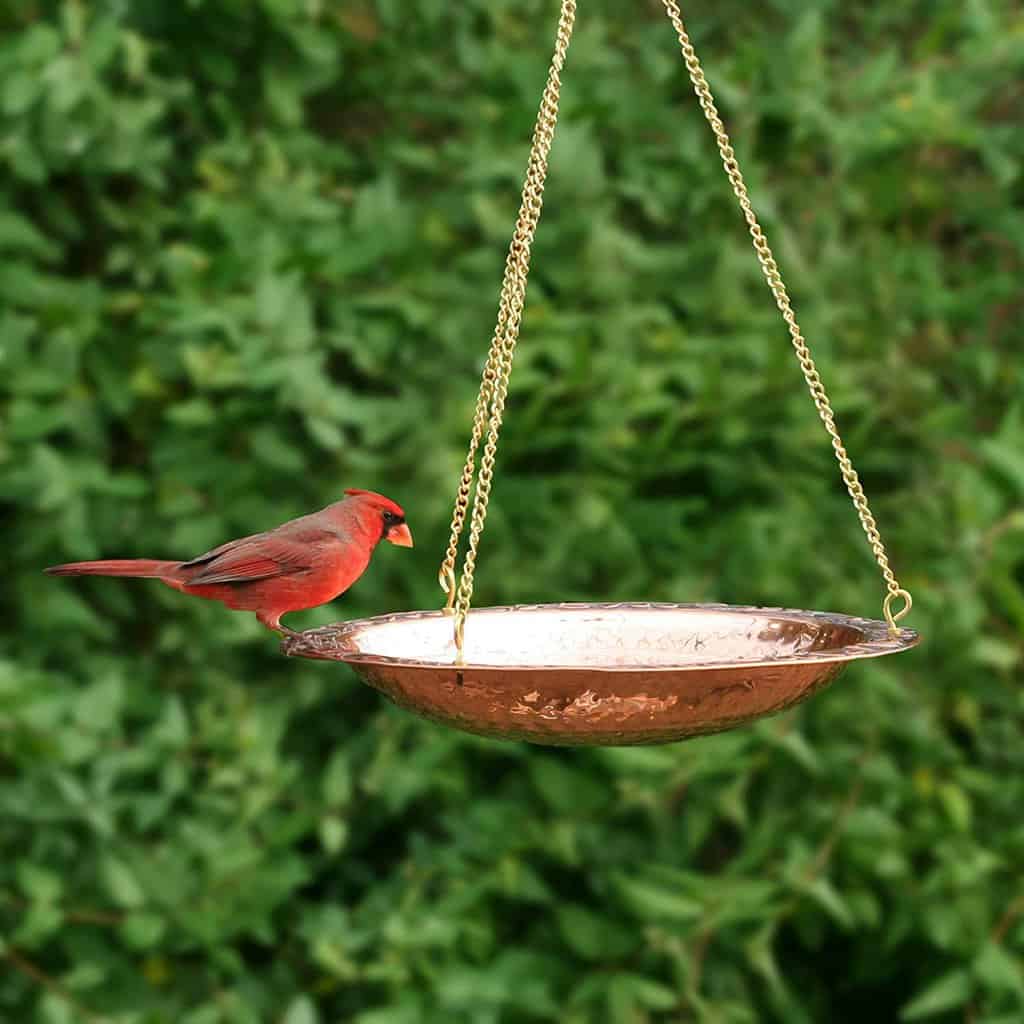 Birdbath Bowl Special Features
Everything has special features these days; some are worth it, and some aren't. Depending upon your budget, I would recommend having either a separate solar-powered fountain to put in your bowl or combining a fountain and birdbath bowl into one. Birds love the sound of running water, and your birdbath will attract more flying friends if the water is moving. Freezing temperatures will be less effective on your birdbath if the water isn't stagnant, and moving water makes it harder for insects and algae to grow!
Other options are up for grabs, and I would get them only if my budget permitted. A list of the most common features is below.
Water Fountain
The sound of water will attract birds that otherwise would not grace your birdbath. That means more specimens for you to watch! Either a free-floating solar-powered or a fountain made for birds to drink and swim!
Check out these fountain birdbaths at Target!
Lighted
Experts say this is helpful for birds to see in low visibility and at night and makes your birdbath easier to spot. Even the birds with poor night vision can see a lighted area better. This is also a great addition because it adds ambiance to the space.
Walmart lighted birdbaths
Planter Combo
Maximize your outdoor living space by adding flowers and plants to your birdbath! The birds and bees will love it, and it gives you more beauty to set your gaze on while relaxing! A neat trick is to fill the planter area with colored rocks if you are not keeping up with the watering!
Here are some great planter/birdbaths at Amazon!
Heated
I would recommend this only for very cold climates where lakes freeze for the winter. The heater can be built-in solar, or they also make electric de-icers you can use with any birdbath bowl. Most heaters automatically shut off. During the winter, when unfrozen water is hard to find, you will be surprised by the number of different birds that will come to your water!
Solar-heated birdbaths will only work in full sun, so I recommend buying a heating/de-icing electric-powered insert you can use in your birdbath. There are very few styles of built-in heated birdbaths, and most of them are glass bowls resting on wireframes.
Check out some heated birdbath bowls at Wayfair!
My Top Picks for Best Birdbath Bowls
Don't worry about your subzero winters, scorching summer heat, or the whipping wind that pushes over everything in its path. I will give you the lowdown on all the types of bird bath bowls that will meet your needs. Most birdbaths consist of a bowl and a stand, while others are just the bowl, so for further reference, I will say "birdbath" about anything with water in it that is made for birds to drink and bathe.
Birdbath Bowls with Stand (Traditional)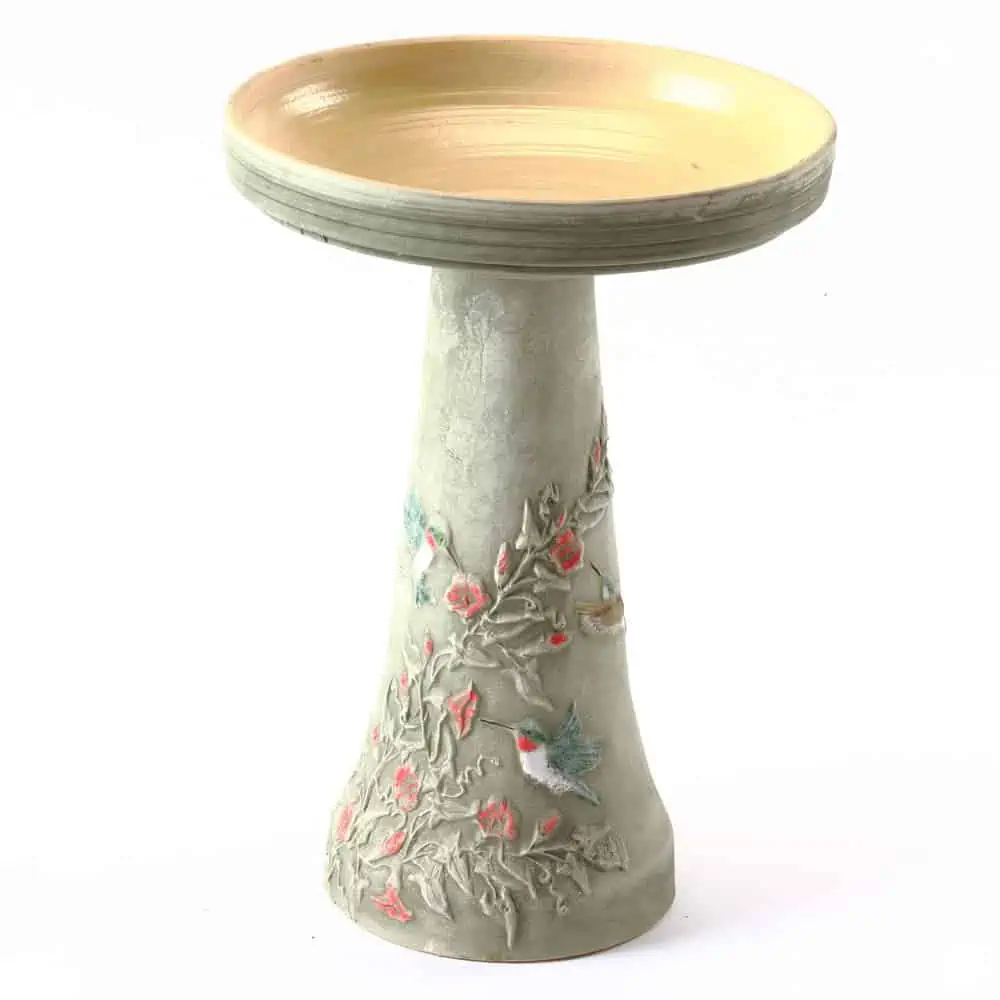 I adore the delicate vines and hand-painted details on this US-made clay birdbath! It reminds me of a graceful garden. This is a showstopper in any yard, and the hefty weight of 31 pounds means it won't get knocked over at every gust of wind. It's 17 inches in diameter and 24 inches high and sourced from clay mines in Ohio.
      What I Like
           What I Don't Like

Handmade
US-sourced
Heavy and sturdy
Gorgeously romantic
Large bowl for many birds

Description omits weather resistance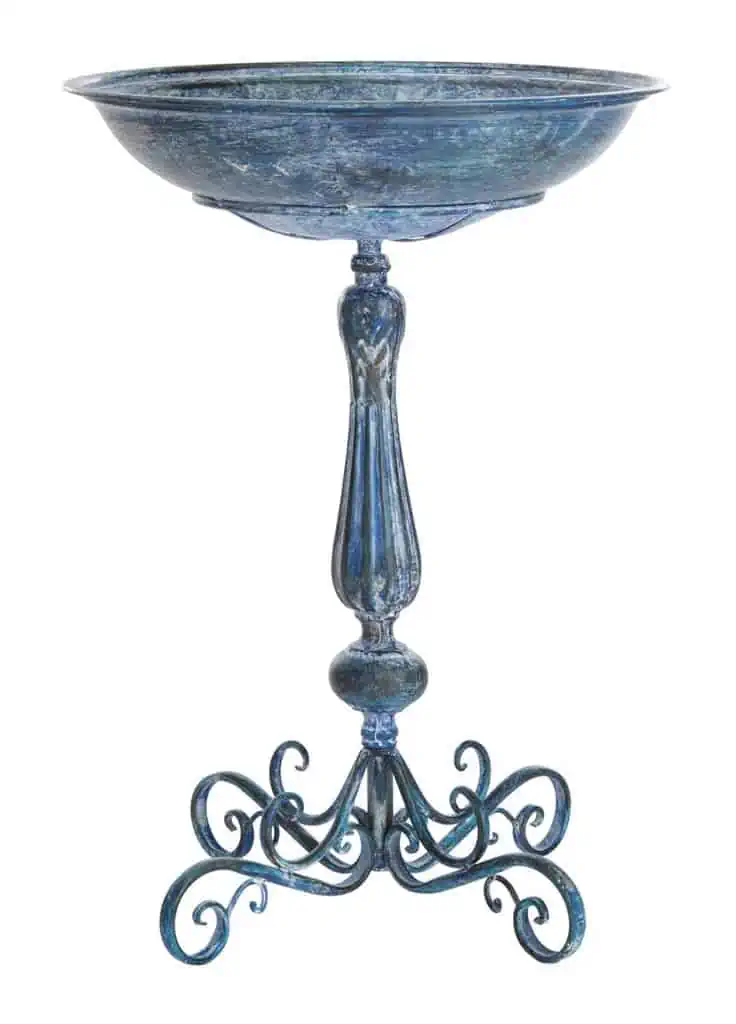 I love this weatherproof iron birdbath's English garden style and distressed blue finish! It evokes whimsical thoughts of the Victorian era allure. Curling iron feet and an ornate stand give this a lavish feel. This is from the well-known home decor manufacturer Safavieh.
What I Like
What I Don't Like

Weatherproof
Elaborate, luxurious Victorian style
Ornate detail
20″ wide bowl
Safavieh trusted brand
Won't break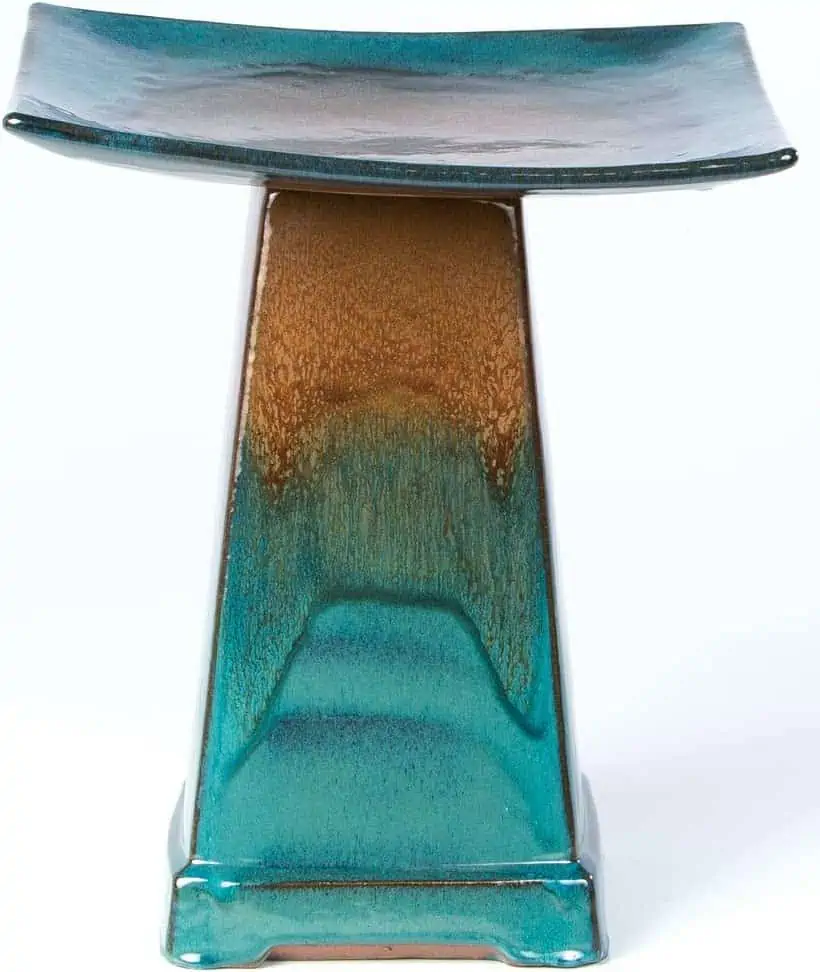 Swimming in cerulean blue and sea green colors, this handmade glazed ceramic birdbath exudes peace and tranquility wherever it sits. I feel like I'm swallowed up by the gleaming blended colors as if I'm floating in the water and the sand is below me. Better off for warmer climates, this piece of garden art will need to go inside when the temps dip below freezing.
What I Like
What I Don't Like

A work of art and a birdbath
Glazed for weatherproofing
Sturdy 20 pounds

Only 18″ tall
Cannot withstand harsh winters
I love this yoga pose birdbath; it looks like it's bending itself into a form for you! This graceful and unique iron birdbath is adorned with intricate leaf and bird designs on a stem with offshoots. I like the wide bowl that accommodates more birds, and the 27″ height is tall enough to make a statement in your yard! You are sure to receive many compliments on this extraordinary work of art.
What I Like
What I Don't Like

Powder-coated iron
Weather and rust-resistant
Remarkable curved artistry
Large bowl
Birdbath Bowls with Stake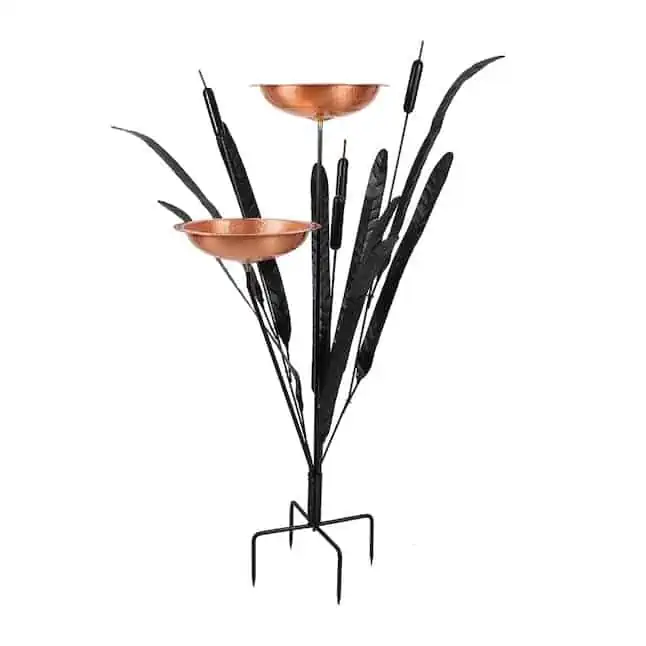 This gorgeous marsh-inspired work of art is also a double birdbath! I love the look of the gleaming copper bowls set against the black wrought iron of the cattails – it seems like herons and osprey should be flying overhead! This sculpture will add depth and stunning artistry wherever you put it. The four sturdy ground stakes keep it secure and balanced.
What I Like
What I Don't Like

Hand-crafted
One-of-a-kind design
Rust and weather-resistant
Double birdbath bowls
Won't tip over

It doesn't list bowl dimensions

This reminds me of the blown glass on the island of Murano in Venice. Gorgeous vibrant colors, a thick glass bowl, and a sturdy iron stake make this a steal for the price! Stunning fluted edges and swirls of detail make this a charming piece to stick in your garden or backyard. Almost 600 reviewers rated this 4.4/5 stars!
What I Like
What I Don't Like

Blown glass style
Stainless steel stake
4 secure ground prongs
Vivid coloring
Inexpensive

The stake is not rustproof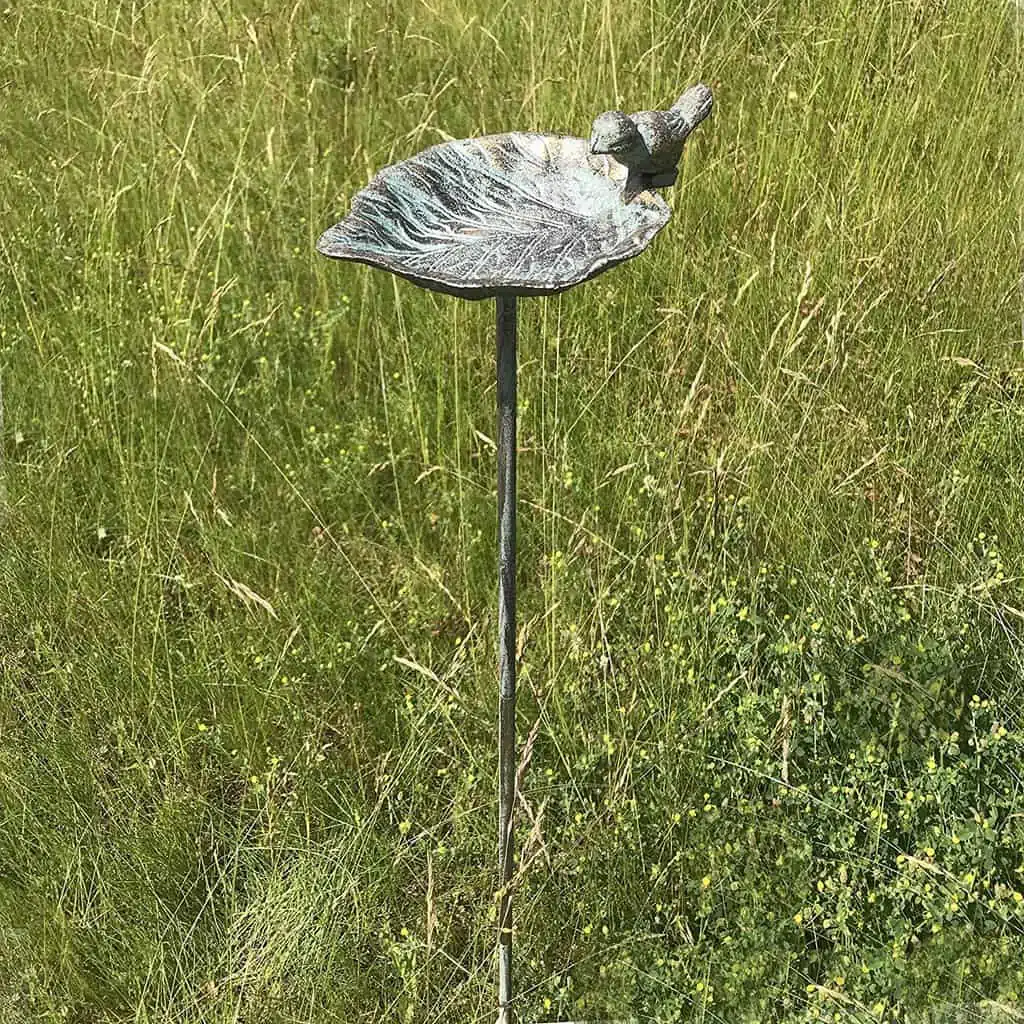 Fit for even the smallest yard, this tiny birdbath is an oval leaf shape made of weatherproof cast iron. It has a verdigris green finish and is unbreakable. Stenciling detail on the leaf and bird add depth and texture to this slim, sleek vintage style. I love how petite it is because I could put several in my garden at once and not be overwhelmed by the style.
What I Like
What I Don't Like

Durable cast iron
Age will give it a natural patina
Unbreakable
Good in small spaces
Dainty and antique-looking
Inexpensive

It will only hold several birds
Hanging Birdbath Bowls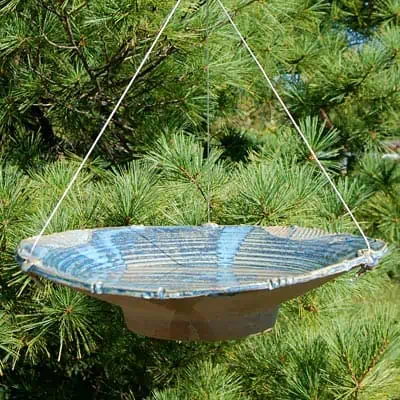 Show off your artistic personality with this handmade ceramic clay birdbath with blue ripples around it. Birds can perch on the bowl's textured lip, fired to maximum temperatures, and weather glazed for durability. This is a one-of-a-kind piece made in the US!
What I Like
What I Don't Like

Weather-resistant glazing
Strong Ceramic Stoneware
A stunning piece of art
Hefty 7 pounds
Made in the US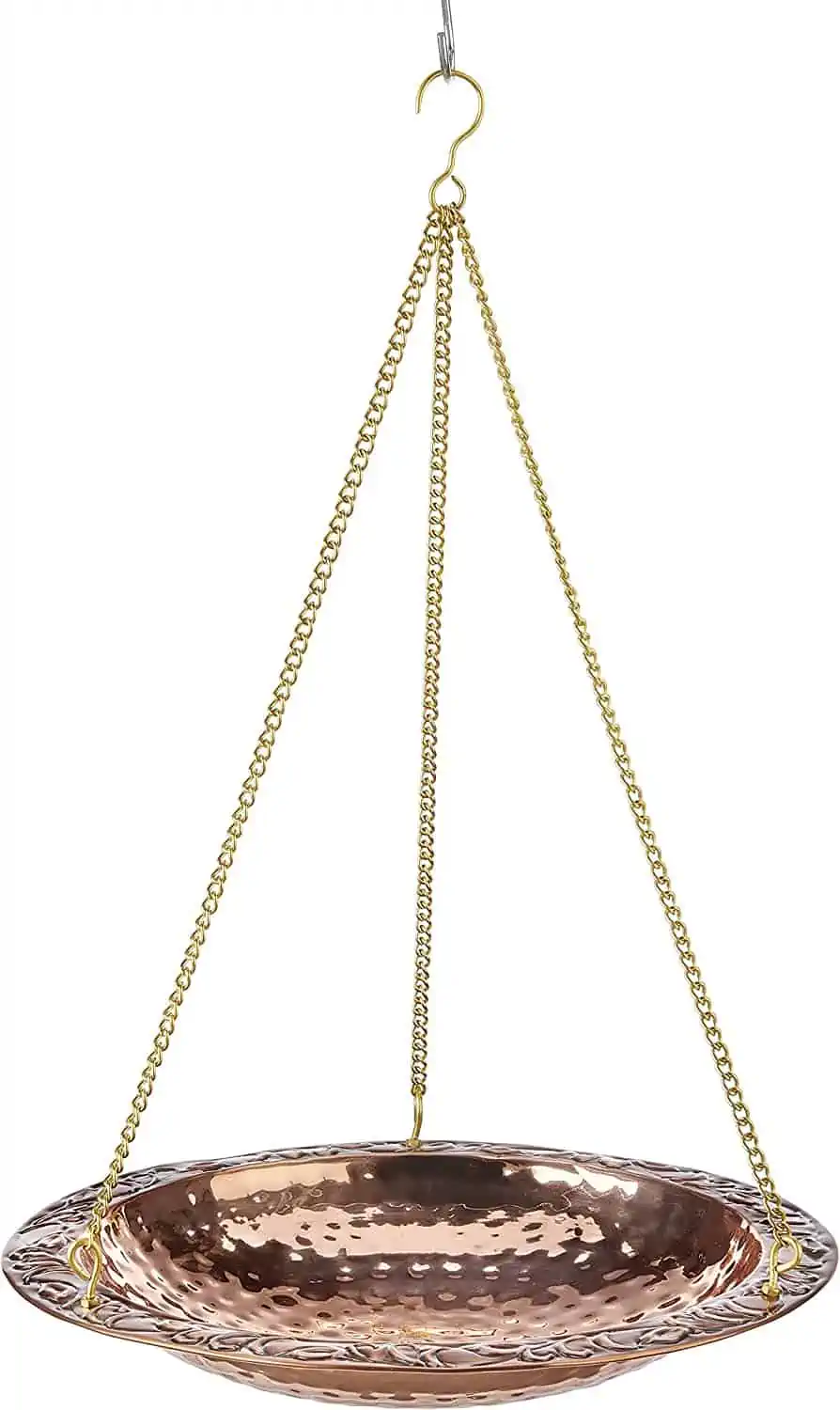 Nothing embodies warmth and nurturing like using copper decor. It feels organic and natural while also being sophisticated. The elegant gold hanging chain highlights the colors of the hammered metal, and this style won't break against a tree in the wind!
What I Like
What I Don't Like

Weather safe and unbreakable
Beautiful warm amber colors
Sophisticated style
5-star rating
Lifetime warranty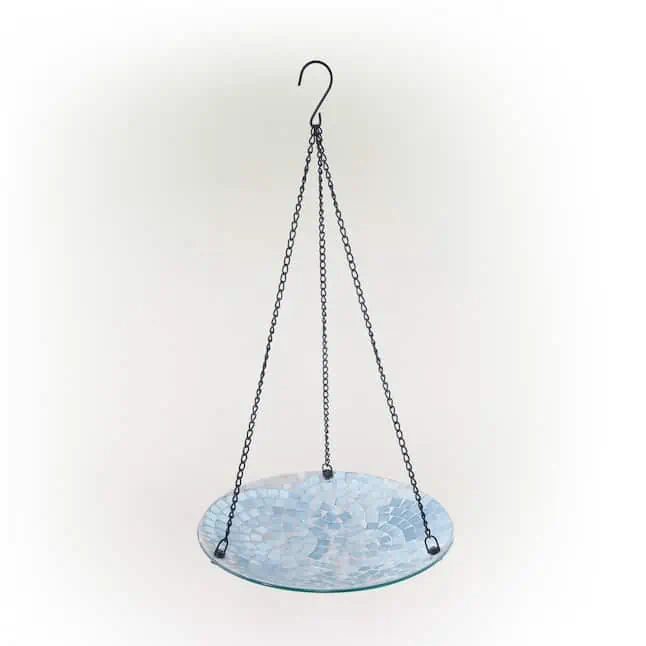 I'm a big fan of mosaics, and the dainty light blue shades of the tiles in this birdbath bowl are stunning. This shiny birdbath will naturally attract more birds with its sparkling gloss. The bowl measures 10 inches in diameter so that it will attract mostly smaller birds and fewer at a time. This is beautifully made of glass, great for small spaces, and has a one-year warranty. Plant some blue Hydrangeas or Forget me Nots to coordinate with this!
What I Like
What I Don't Like

Dreamy blue mosaic design
Hefty 2 pounds
19-inch metal hanging chains
One year warranty
Small space compatible
Inexpensive

It may be too small for larger birds
Wall or Railing Mounted Birdbath Bowls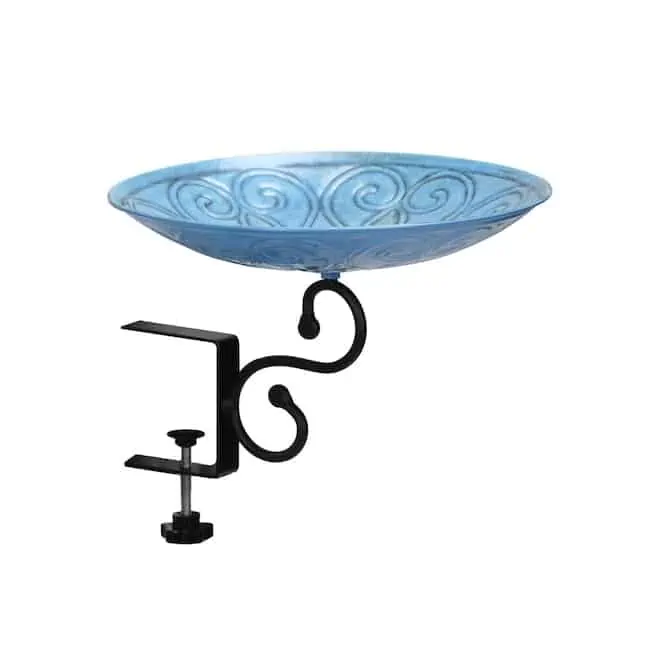 I covet this gorgeous blue swirly scroll birdbath! The price is amazing and small enough to spruce up the tiniest area. It's 12 inches across and 10 inches high, and the mounting is tucked underneath it for the top railing! This is well worth every penny!
What I Like
What I Don't Like

Super sweet, graceful design
Durable metal material
Unobtrusive mounting
Price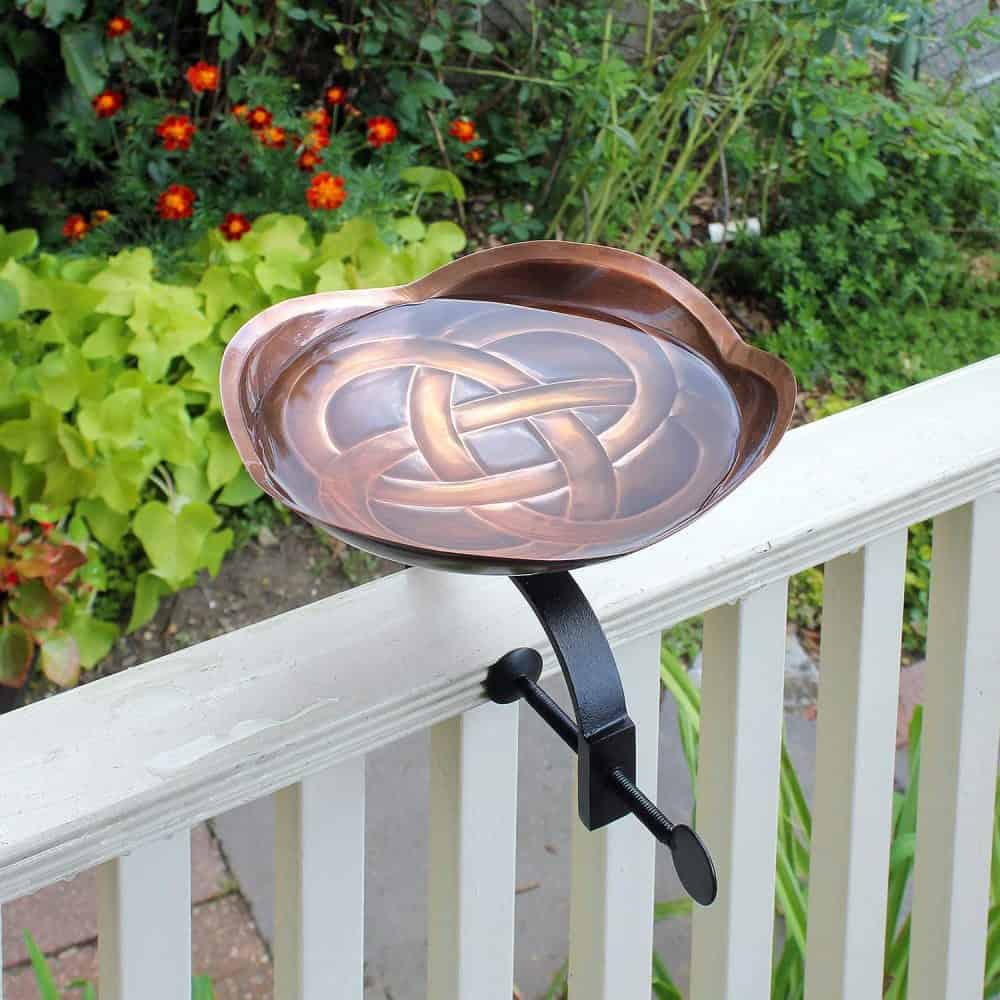 Copper is always a classy, pristine way to decorate, and I love this copper embossed Celtic knot signifying eternal life and everlasting love. The unique shape of this bowl reminds me of flower petals, and the small size is perfect for any space you want to dress up!
What I Like
What I Don't Like

Timeless design
Wrought iron mounting
Weather-resistant coating
Small size perfect for balconies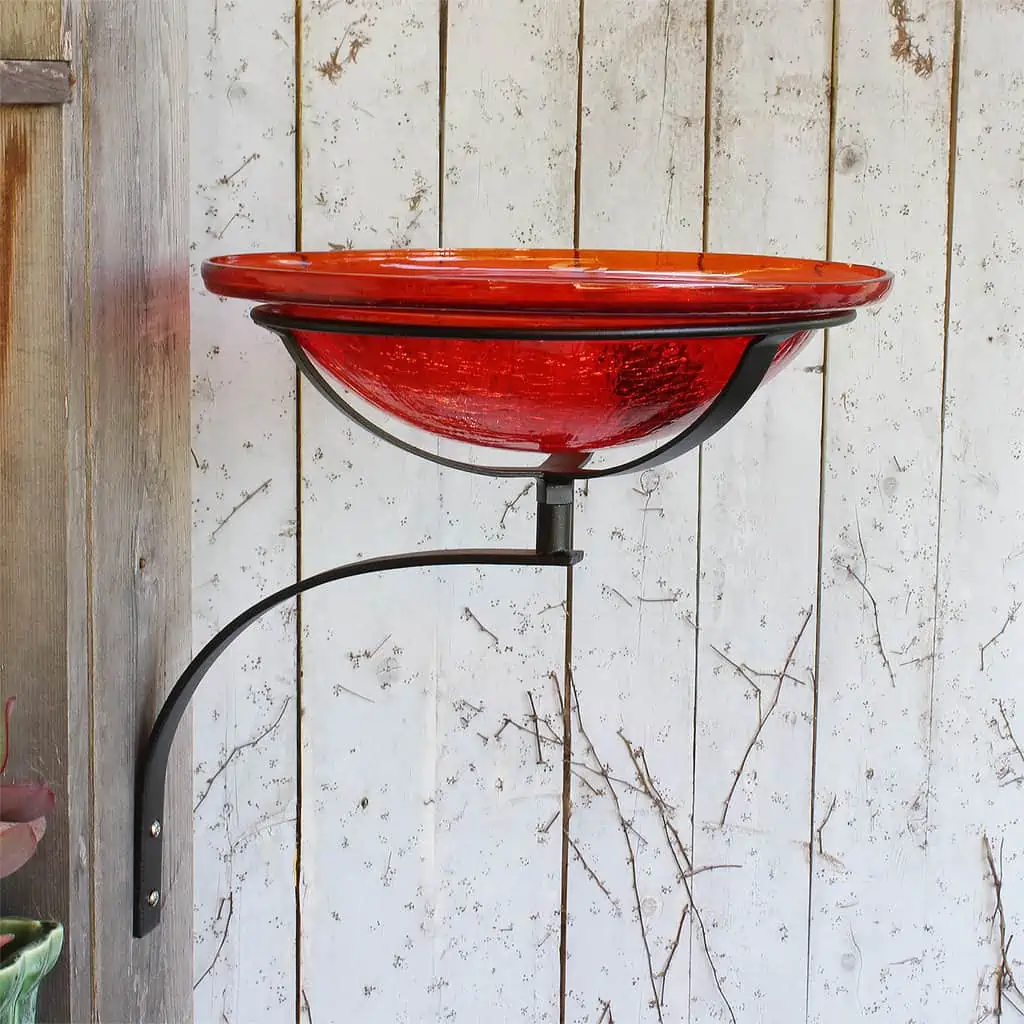 This artistic bowl reminds me of Polish pottery with all the bright colors and angular lines. The hand-blown glass and wrought iron mounting could blend nicely with many different decor and home styles, and I love the quality and durability that this is made with.
What I Like
What I Don't Like

Weather-resistant powder-coated wrought iron
Hand-blown art
Hefty 5 pounds of quality
Can attach to door, wall, or railing
Commercial Warranty
Birdbath Bowls with Fountains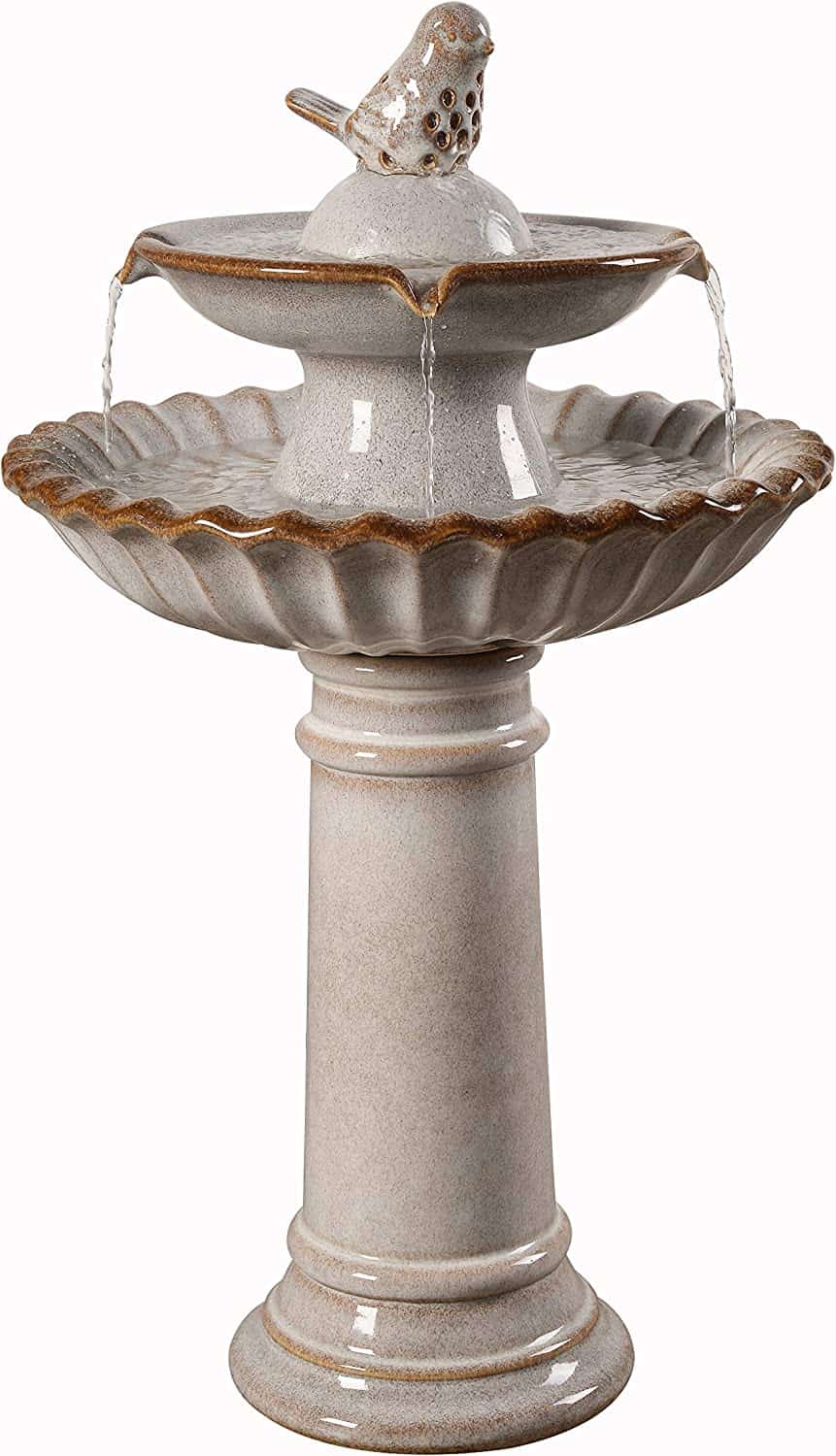 I love this french country glazed ceramic birdbath! This is elegant, charming, and functional, with two tiers for the birds and a fountain to attract more! The creamy ivory is distressed for an antique look and is weather and UV-resistant for many years of use!
What I Like
What I Don't Like

Luxuriously elegant
27 "x16" means more birds
Glazed ceramic is durable
Weather-Resistant
Hefty 22 pounds

I wouldn't trust it not to crack in 3 feet of snow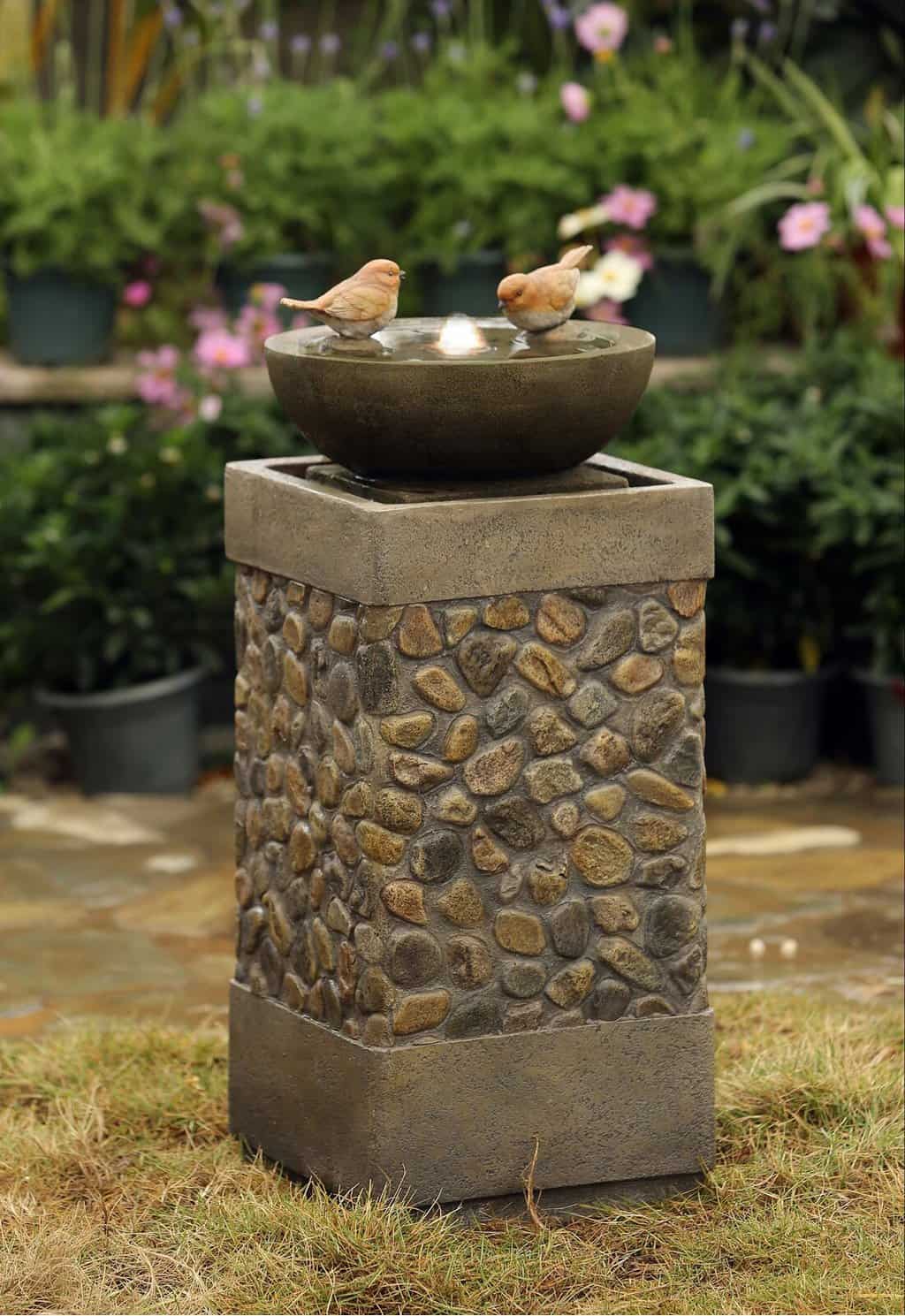 New York City, here we come! Giving off urban vibes with its stone column and birdbath bowl sitting on top, this extremely durable three-in-one birdbath is an amazing addition to any yard! The flow control fountain calls to birds while the light will never go out – allowing birdwatching at night! I love multi-functional items, and this one combines the most enchanting features with wildlife to immerse you in tranquility. During subzero temperatures, bring it under cover as a lighted fountain!
What I Like
What I Don't Like

Statuesque and Dramatic
Blends with country and urban styles
3 in 1 appeal
Water flow Control
Weather-resistant fiberglass
One-year warranty
Can be used indoors as a lighted fountain

Use indoors for subzero weather
Birdbath Bowls with Planters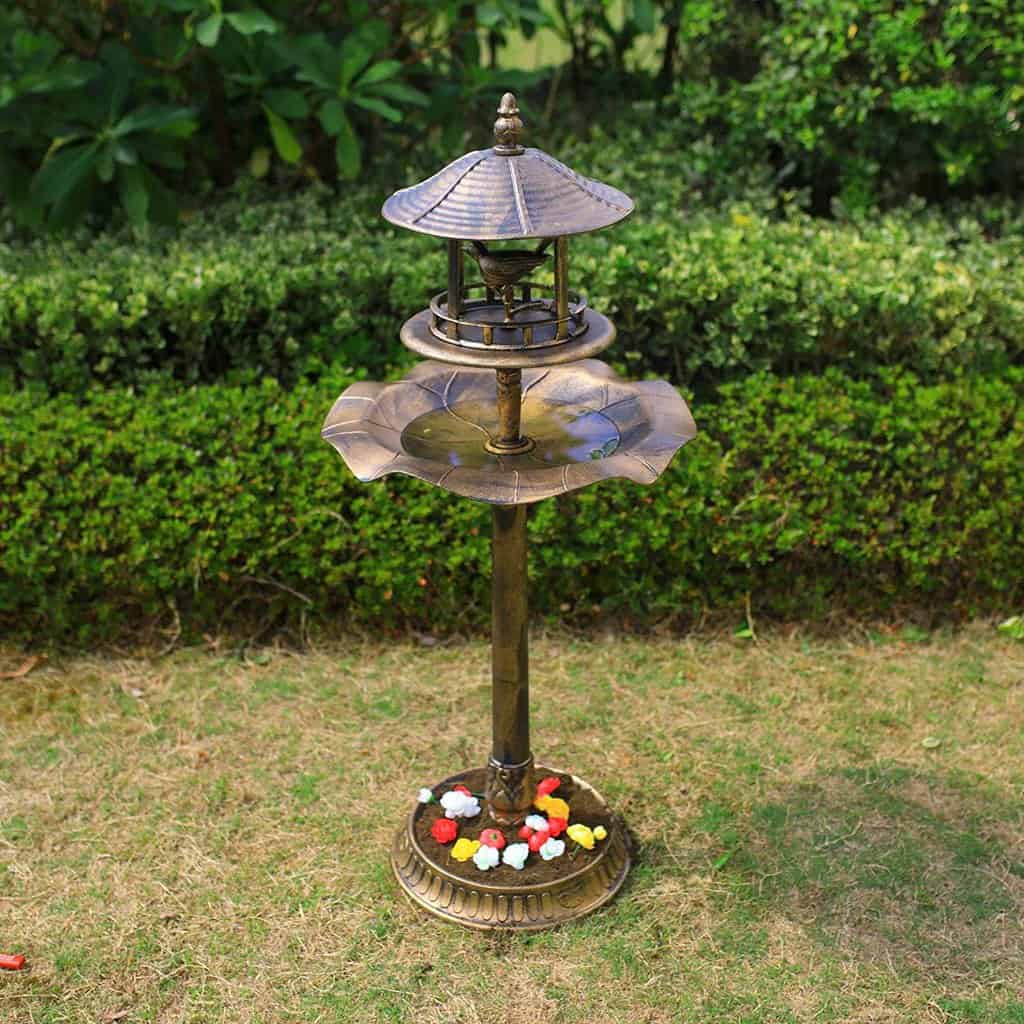 I am so excited by this polyresin weather-resistant birdbath because it is so pretty with its bronze finish and top gazebo bird! This reminds me of a zen garden and is very peaceful to look at with the bottom planter for flowers or colored rocks. The fluted edges look like a lily pad, and it has 9 pounds of heft to keep it from tipping over!
What I Like
What I Don't Like

Tranquil zen garden appeal
Planter included
Price Point
Extremely durable
4.5/5 stars
44″ high for bird safety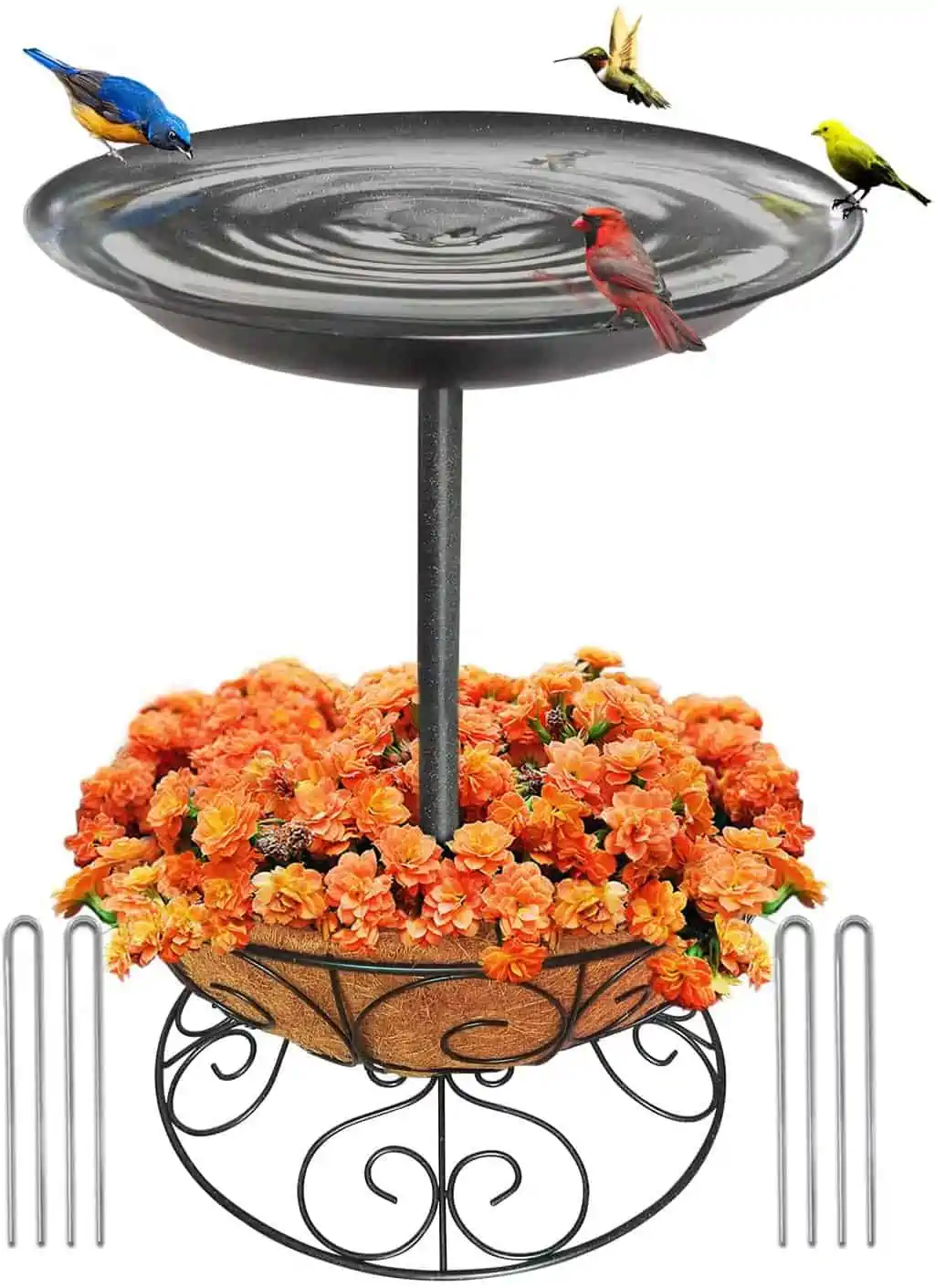 I love the simplicity of this tidy birdbath bowl with planter. It is graceful with clean lines and delicate scrolls at the bottom. This comes with the coconut fiber planter inset and four ground stakes to adhere it to the ground. This is a real space saver and adds beauty to your yard!
What I Like
What I Don't Like

Simple, clean appeal
Includes planter feature
Delicate scroll design
Four ground stakes included
Hefty 8-pound weight
Weather-resistant, won't break

The birdbath bowl could be larger
Birdbath Bowl with Lights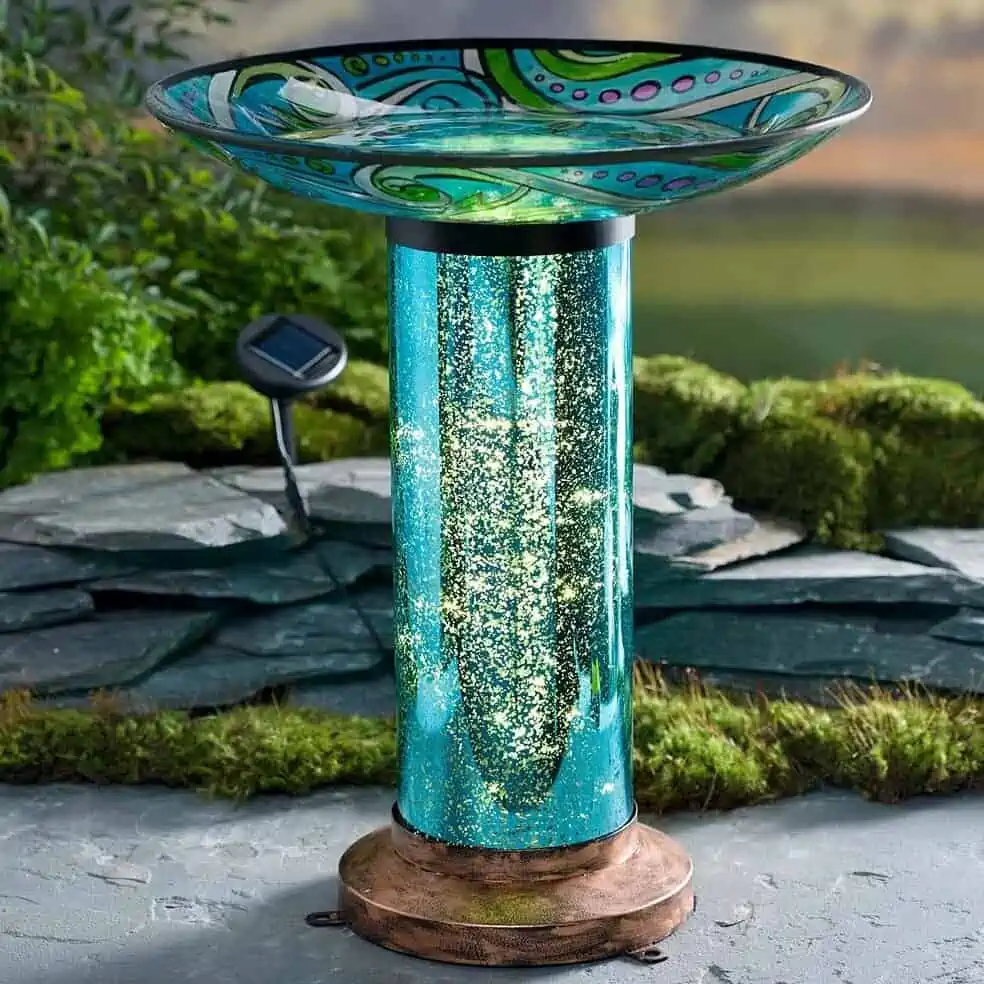 This is birdbath art deco at its finest! I love this retro mercury glass finish that lights up from within when dusk is near. The base is filled with luminescence and shimmers all the way out the top! The bowl has a fish motif, and the light is solar-powered.
What I Like
What I Don't Like

Captivating art deco style
Mercury glass finish
Copper patina base
Holes on base for stakes
Lighted
Fish motif in the bowl
Heated Birdbath Bowls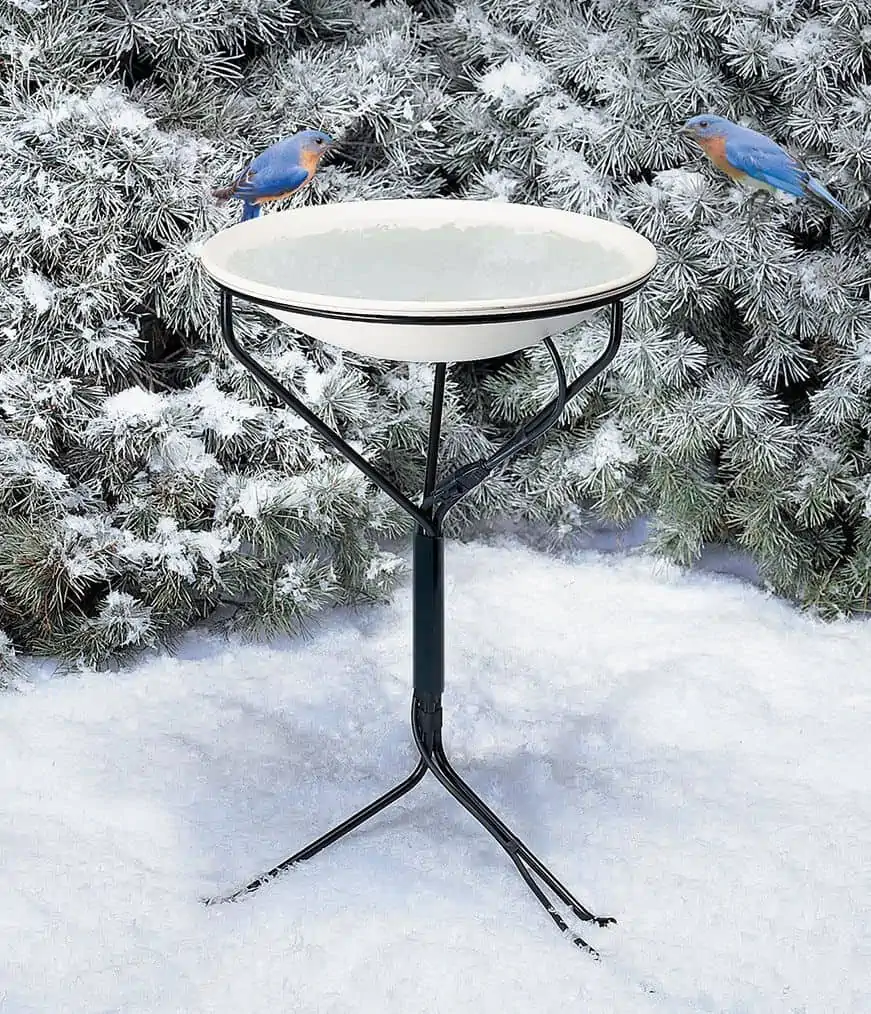 I love this antique-look heated birdbath!  It reminds me of my grandparent's farm in the Maine winters with their pond in the back yard and black and white metal birdbaths under the trees.  The black iron stand has stakes to securely attach it to the ground, and the 19″ round basin slopes to almost 1.75″, perfect for the birds.  When the temperature drops below 32 degrees, the thermostat kicks in and thaws the water.  Convenience at its best, the bird bath comes with rail mounting hardware should you want a closer view of the birds!
What I Like
What I Don't Like

Antique vintage style
All mounting hardware and ground stakes included
Water available year-round in all temps
Can be mounted to rail or stand in the yard
Tested in sub-zero weather for durability
One year warranty

The cord is only 12″ long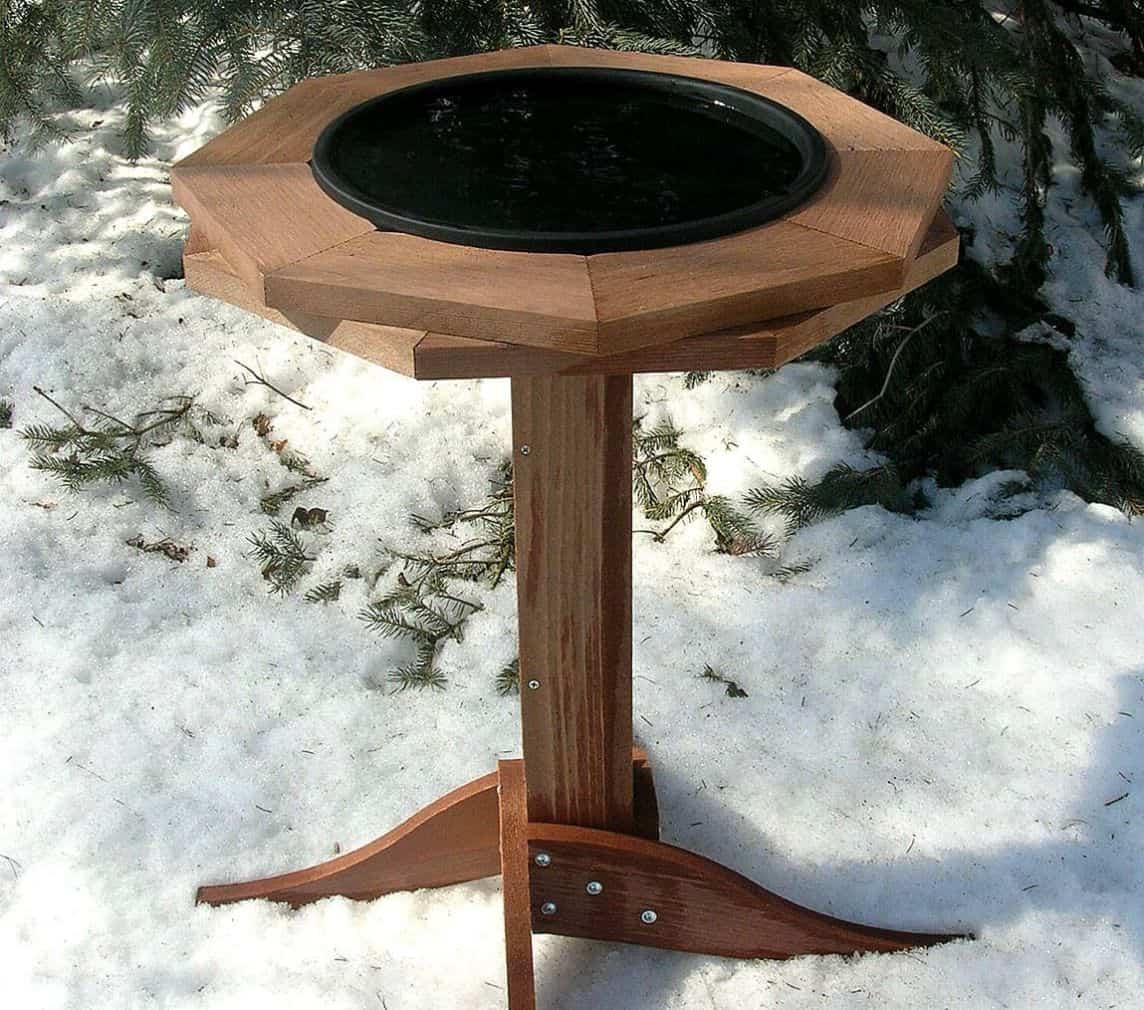 My top pick will allow you non-stop bird watching throughout the seasons with no fears of frozen water! I love the convenience and versatility of having a heated bowl that can be removed and mounted to your railing for closer inspection of birds! The electric cord is hidden in the hollow base and comes with 2 ground stakes to secure it.
What I Like
What I Don't Like

Automatic on and off
Thermostat
Alpine modern look
Durable and weatherproof
Safe and won't break year-round
Heated
Red Cedar wood
Can mount to the railing
FAQs
Question: Are heated birdbaths a good idea?
Answer: Heated birdbaths are a wonderful way to watch birds all year long and provide them with a vital need. During winter, water can be scarce, and birds use a lot of energy to melt water to drink (they could be using that energy to keep warm).
There are independent heating elements that you can use in any birdbath, or you can buy a heated birdbath. Usually, the thermostat will turn the heater on when the temperature is below 32 degrees, then automatically shut it off once the water is thawed.
I don't recommend using a heater with ceramic or concrete birdbaths as they are prone to cracking with a freezing and thawing cycle.
Question: Do birds like colored birdbaths?
Answer: Yes! Birds are drawn to bright colors resembling flowers' petals and shiny blues like natural water sources. Another attraction for birds is to get a birdbath in the color of the bird you want to watch! For bluebirds, get a sky blue or pastel blue that will look like other similar birds!
Question: Will birds drink out of a birdbath?
Answer: Yes! Birds are naturally drawn to freshwater sources as a vital means of keeping alive and for everyday bathing. Finding a water source is time-consuming for birds, and in the winter, they spend excessive energy melting ice to drink that they could be using to keep warm!
They will come running – or flying if you provide a safe water source! Make sure to place your birdbath near trees or bushes for easy perching ground once they have bathed. Trees, bushes, and high fences also provide a spot for them to escape a potential threat quickly.
Don't put more than 2″ of water in your birdbath. Most birds won't wade out that far, and smaller birds will be in up to their necks! Put stones or sticks in the water for a dry place for the birds to stand while drinking. Moving water attracts more birds, and buying a small solar-powered fountain to put in your birdbath will draw more birds. I love the fountain birdbaths for their constant water bubbling and tranquil style.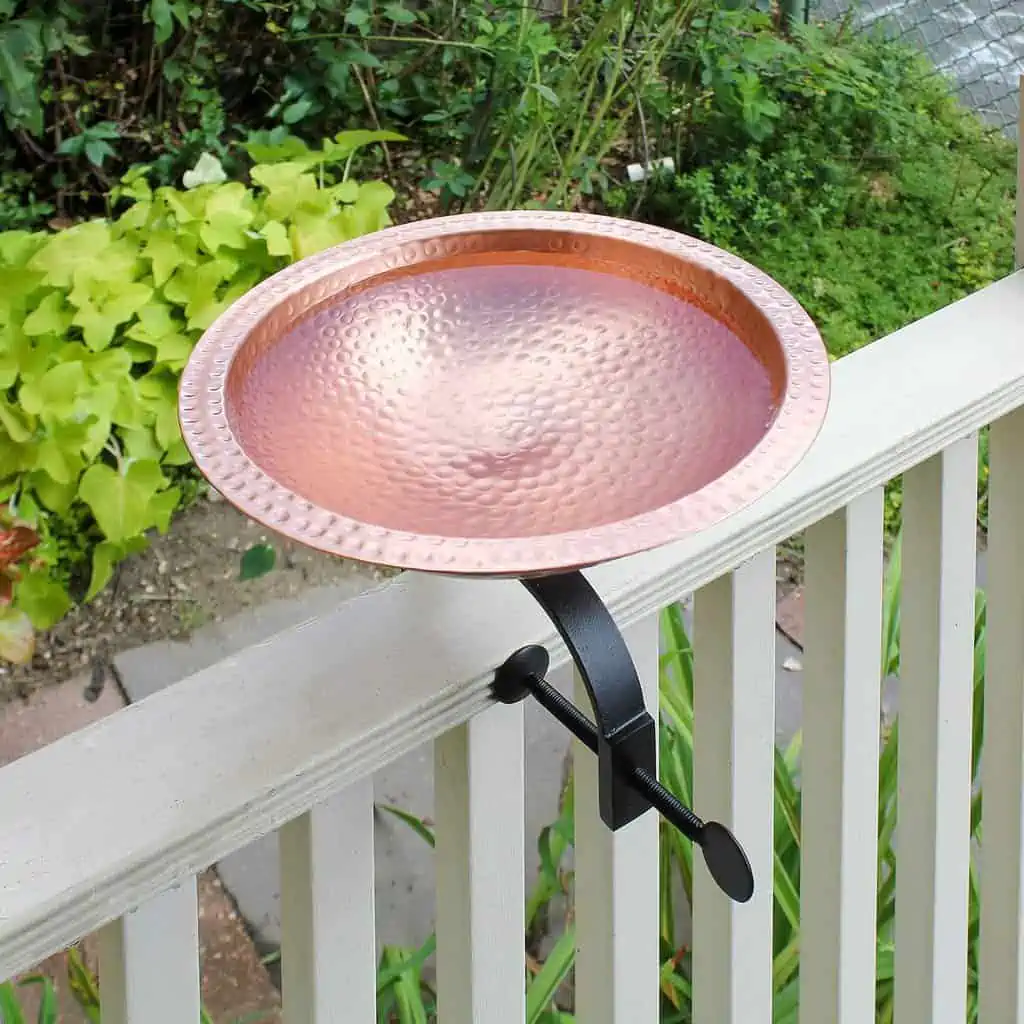 In Conclusion
I'll bet money that you can find a bird bath bowl that will fit your budget, your personality, and your birds in record time and offer you an opportunity to see wildlife as perhaps you never have! I love birdwatching, and providing them with food, water, and a safe place to live has almost become second nature for me no matter where I live.
Finding a sturdy, durable, and convenient watering hole for your backyard birds can be great fun and give you years of relaxation watching them twitter about, hop around, and play with each other in the water.
I suggest getting one birdbath that will last you through all four seasons for decades, blend in with any style, and provide thawed water during the winter months to sustain non-migratory birds.  That one birdbath would be the Red Cedar Winter Heated Birdbath Bowl. Amazing in its versatility, this can be standing in the middle of your yard or mounted to your railing for a closer view (and you won't have to trudge through the snow to fill it and clean it!).
This morning, my dog got me out of bed at 5:30 with her feisty digging up my bed like a flower garden. A cup of joe and her breakfast later, I was seated out back watching a myriad of wings and tiny feet jumping around in the birdbath over at my neighbors.
Yep, that's right – next door. I sauntered over to my birdbath and discovered there was no water in it. Filling it up, the birds started to line up on the fence, waiting for me to leave, talking a mile a minute. I hurried back to my post and contentedly drank my joe as they happily pranced around in the fresh, new water. This is what you have to experience year-round if you don't already!
For more interesting readings check out: