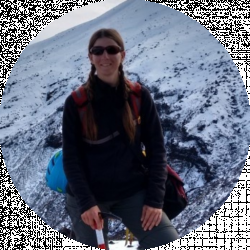 Latest posts by Kathryn Peiman
(see all)
If you have any outdoor space, you probably have birds using it in some way. With many of our streams paved over in urban environments, birds often lack places to bathe. This means you have an excellent opportunity to provide bathing spots for your backyard birds!
Beyond spending years studying birds as a biologist, I love watching birds in natural spaces and urban places. I've spent countless hours observing birds, and I read the scientific literature, so I know what makes them tick. Most birds need food, water, and cover – and while you can plant native trees and shrubs for cover and encourage insects and provide seeds for food, water for bathing and drinking usually comes in the form of a bird bath.
Bird baths come in many shapes, styles, and materials. Luckily for shoppers, most of these are available on Amazon. Unluckily for shoppers, the choice can be overwhelming! I've sorted through the good, the bad, and the ugly to give you the best bird baths available on Amazon.
Since moving water stays cleaner for longer and the sound can attract birds, I suggest adding a fountain to any bird bath that is deep enough – note that some of the shallower basins (under 2 inches) may not work for a fountain.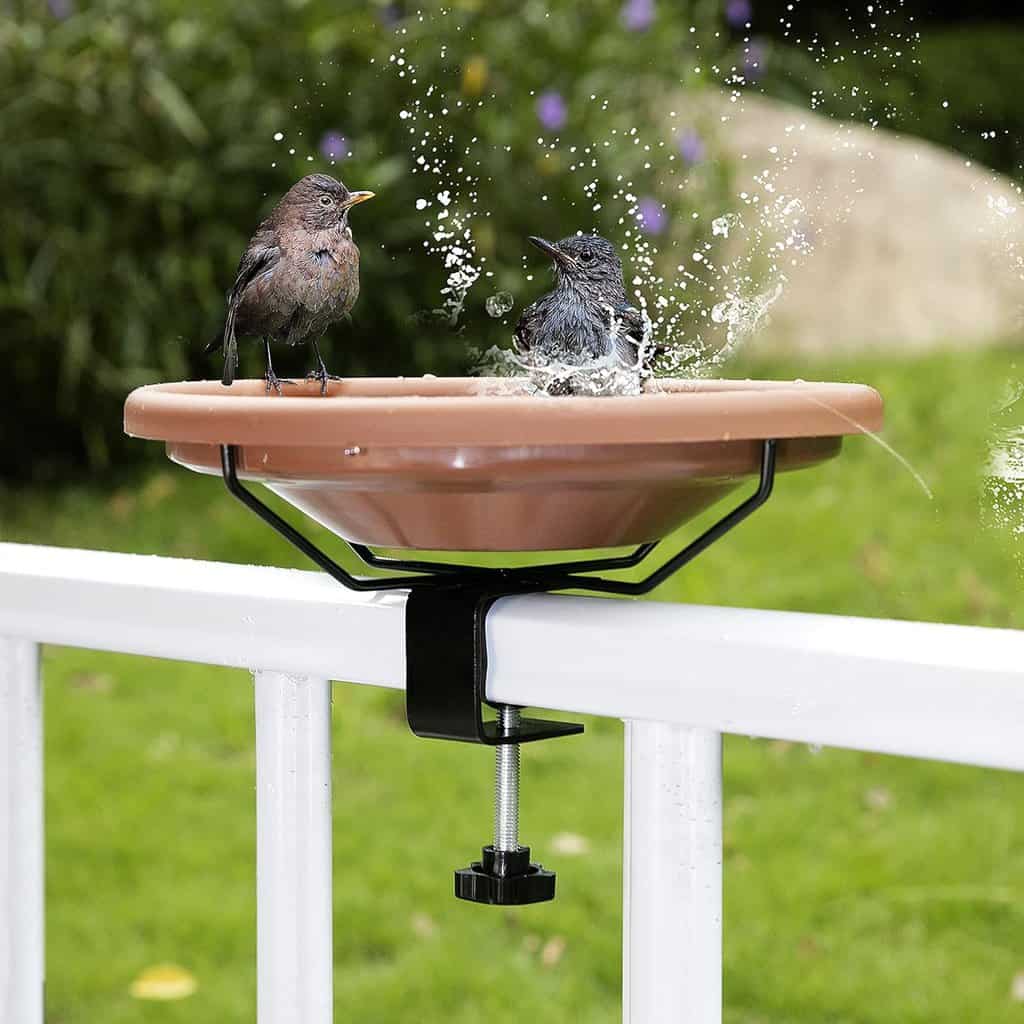 Bottom Line Up Front
In my backyard, I'd put a concrete pedestal bird bath – yes, it's expensive, but I believe in buying quality that will last. I find the design very attractive, and I would also put a solar-powered fountain in it. If I were sure I didn't have ground-based predators around, I'd add a concrete ground bird bath; I'm a fan of functional elements that look natural, and the way this bird bath mimics stacked stones gets high marks for realism.
Selection Criteria
All my selections had Amazon ratings of at least 4.3/5 stars. I also considered the reasons for low ratings within these; for example, those dealing with shipping issues were less important than those dealing with product quality.
For a product to make my list, it had to be:
rated at least 4/5 stars;
made from quality material;
durable (given the material);
easy to clean;
visually attractive.
Best Amazon Bird Baths Quick List
First, I sorted the bird baths by two criteria: price (cheap under $25, moderate $26-60, and expensive over $60) and style (wall-mounted, hanging, ground, railing, and pedestal). Price is important as everyone has different budgets (but remember, you get what you pay for – more expensive units generally are made from higher quality material and will last longer). Style is important for your backyard and space configuration.
Best Amazon Bird Baths by Price
| | | |
| --- | --- | --- |
| Under $25 | $26-$60 | Over $60 |
| | | |
| | | | | |
| --- | --- | --- | --- | --- |
| Wall | Hanging | Ground | Railing | Pedestal |
| | | | | |
Product Recommendations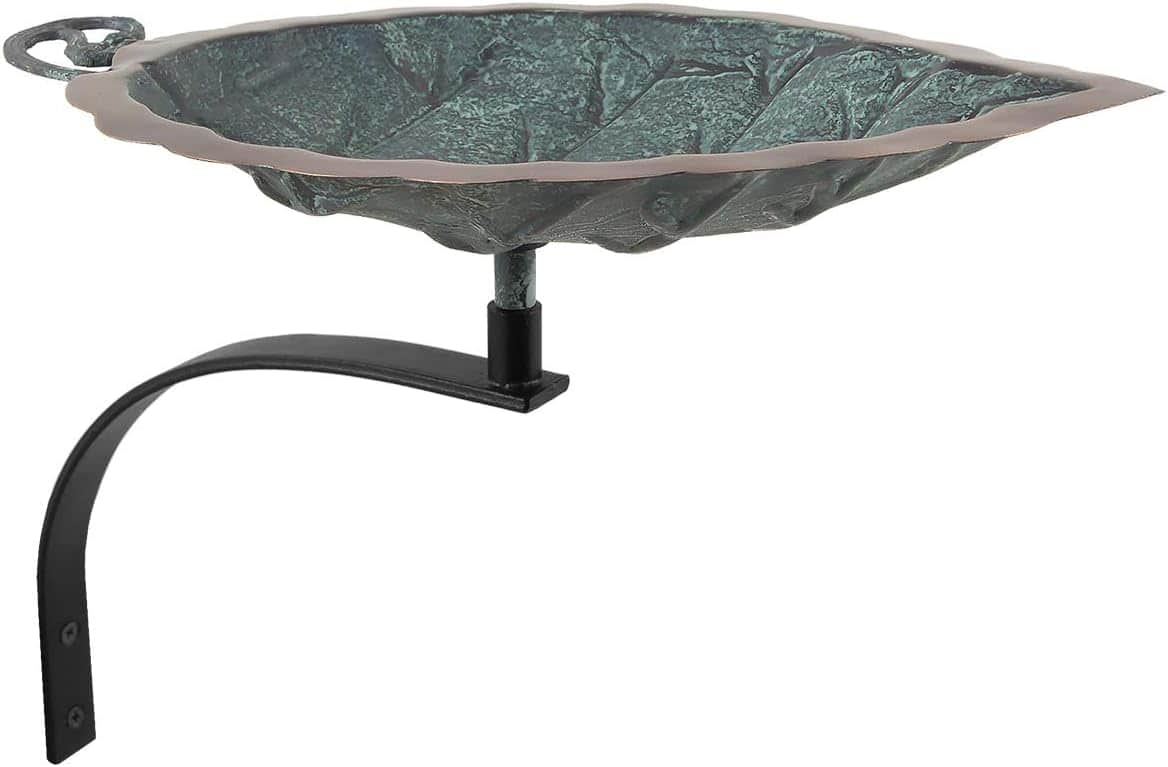 For those that don't have a yard for a bath, a wall-mounted bird bath is a great option, as long as you don't mind putting screws into your wall. The bowl of this bath isn't very deep, so you'll have to keep an eye on maintaining the water level, but it's made of brass so that it will last for years.
Pros
attractive leaf design
made from brass
no risk of leaking
Cons
shallow bowl (1″ deep)
have to unscrew the bowl to clean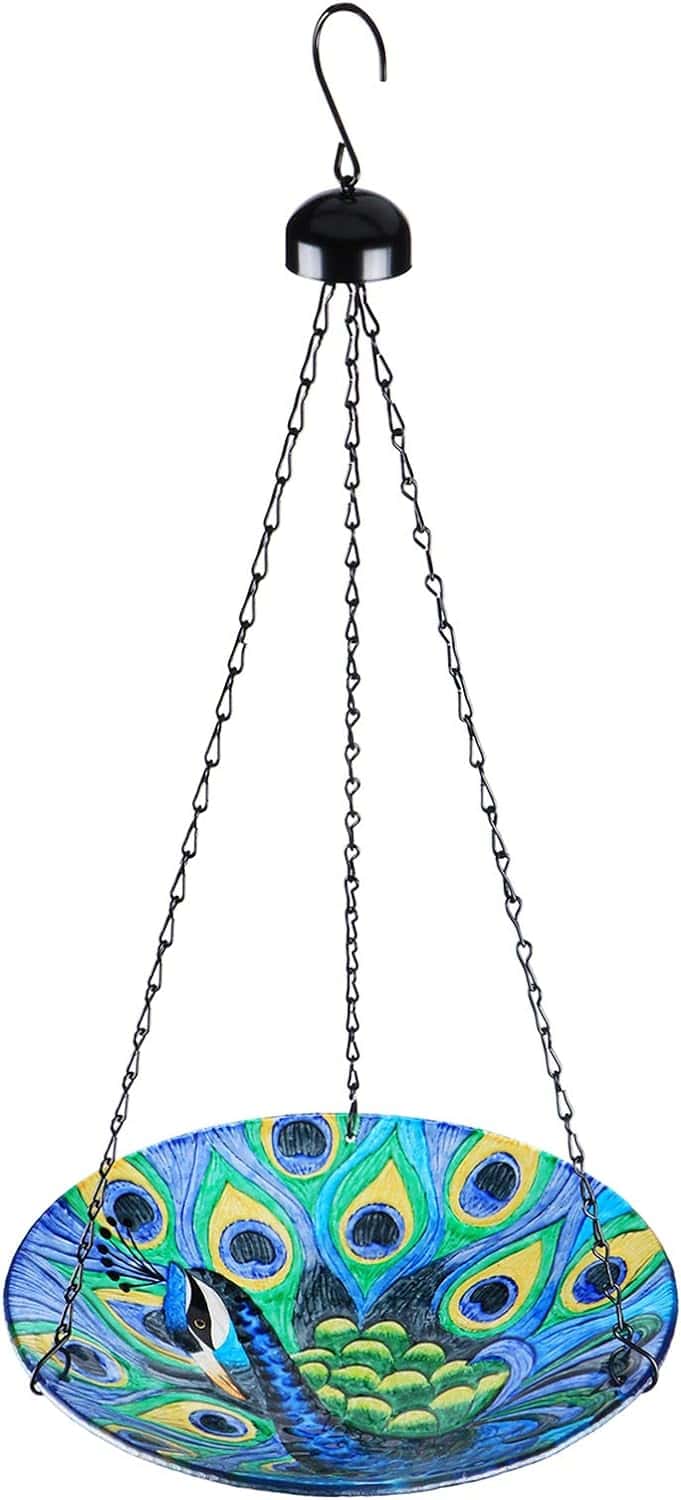 This is one of the more decorative options, as the attractive peacock design will look great as an accent in any backyard. At 11 inches in diameter, it's not a large basin, so you may have to top up the water more frequently. The metal chain is only coated with anti-rust paint, so it will eventually rust.
Pros
decorative
good depth (2 inches)
cheap
Cons
chain only has rust-resistant paint
you have to reach the top of the chain to unhook it to clean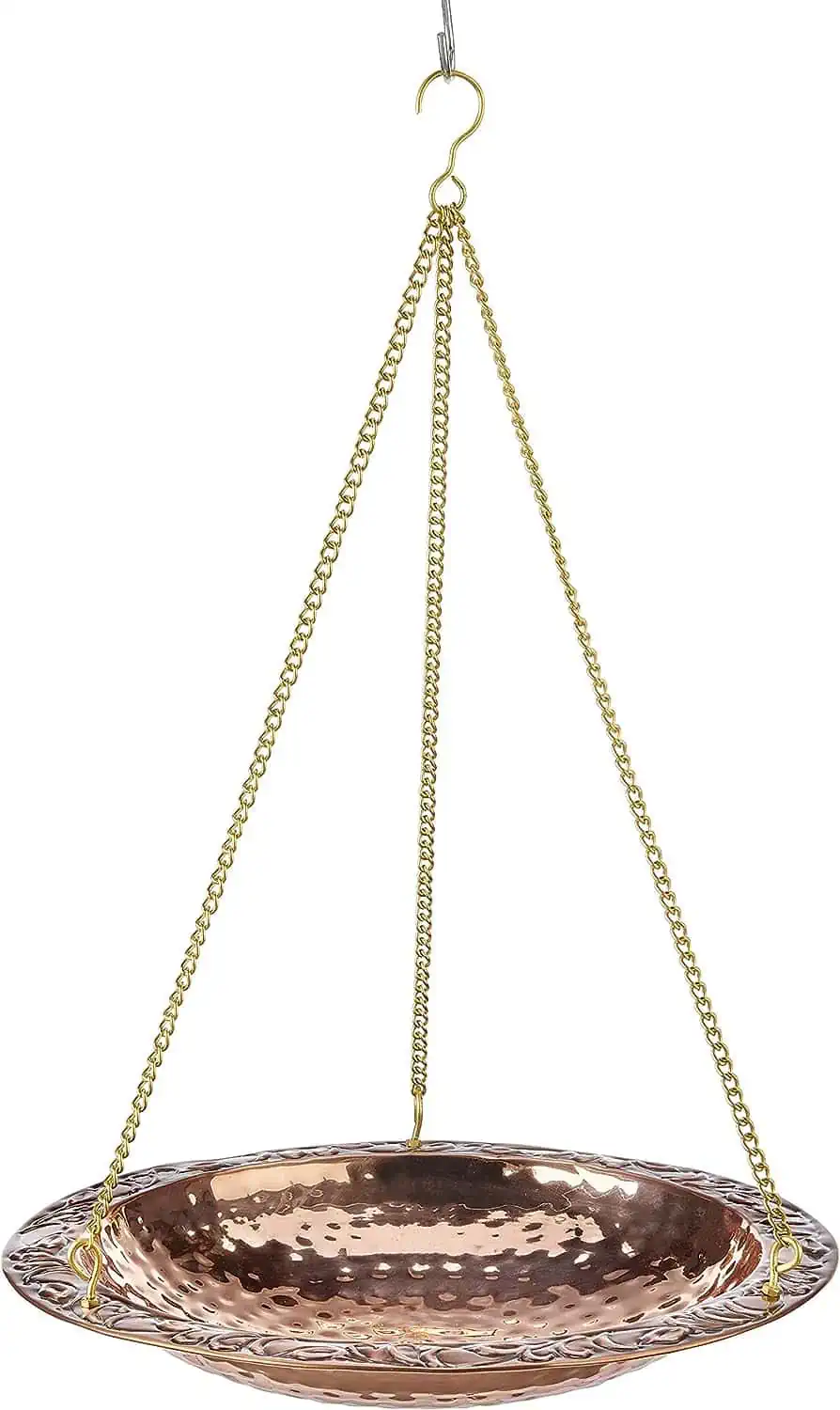 Copper is an excellent material because it naturally resists bacterial and algal growth. There's nothing not to like about this unit, except I wish the basin were a little wider – not counting the edge, it's probably only about 11 inches across.
Pros
brass chain won't rust
made from antimicrobial copper
lifetime warranty
Cons
you have to reach the top of the chain to unhook it to clean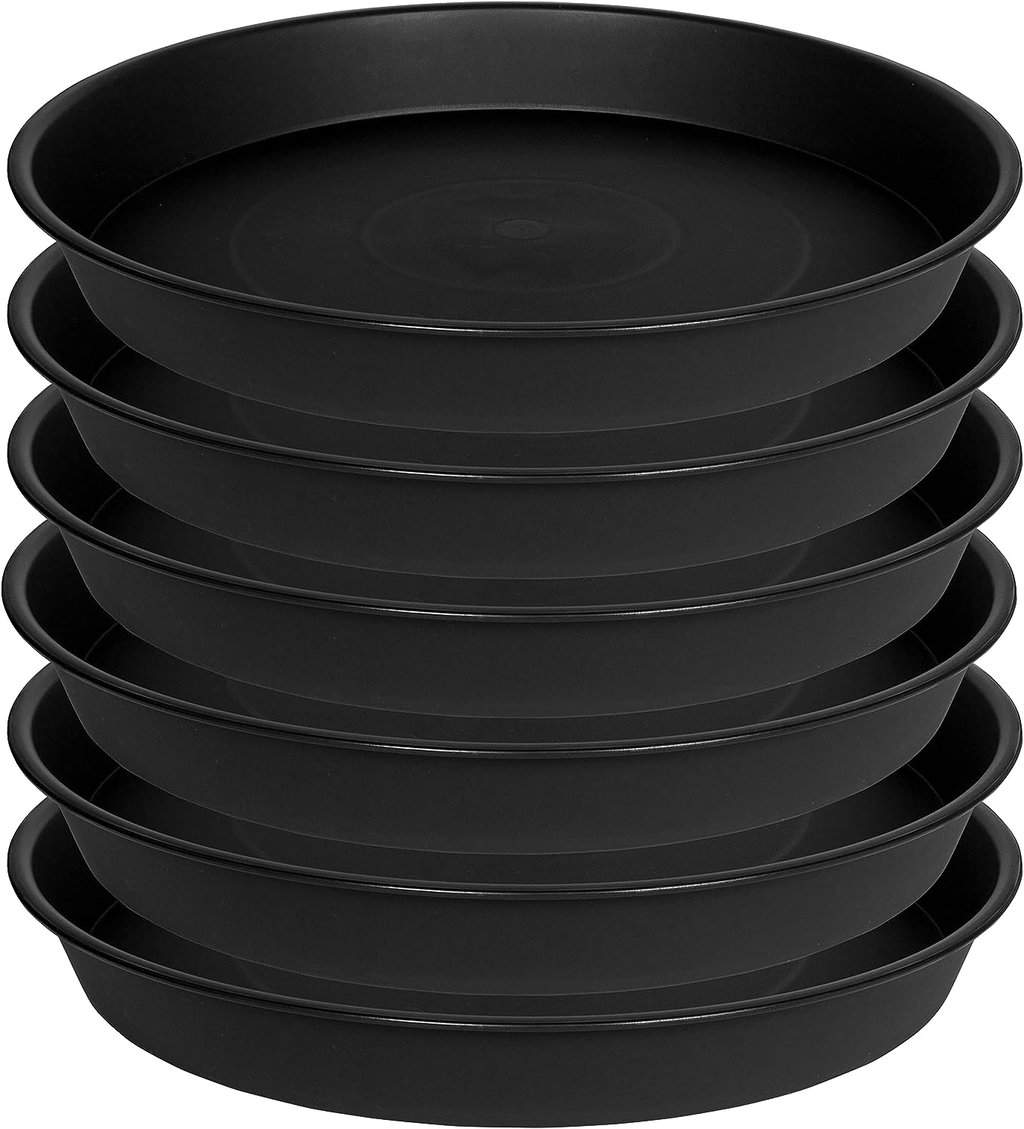 This is as basic as you can get: simply a shallow plastic bowl. You can place it on the ground, on a stump, or get creative and make a support to mount it somewhere else. There are a variety of colors and sizes to choose from as well to match your preference.
Pros
Cons
plastic is harder to keep clean
shallow (1.6 inches)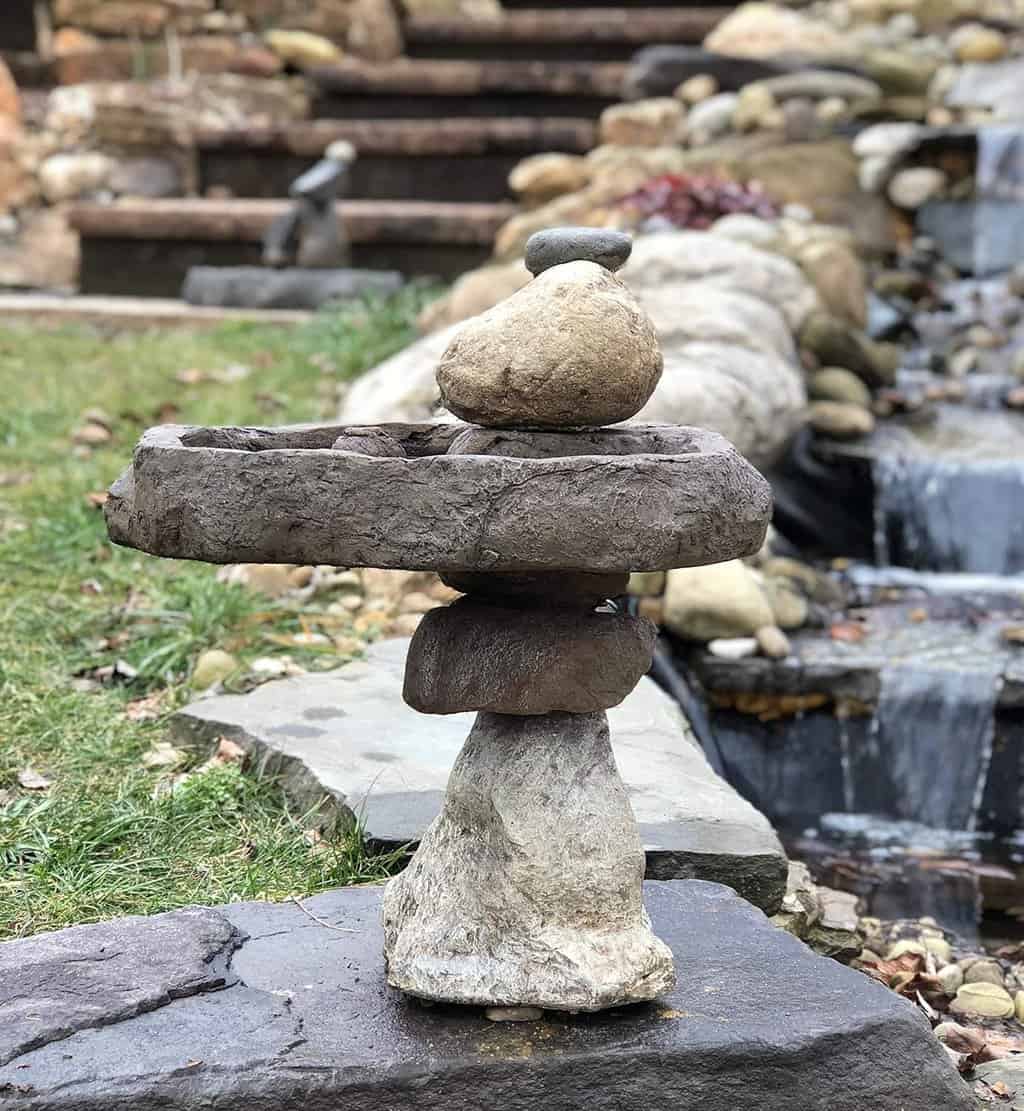 Look no further if you want a bath that completely blends in with the environment. This is the most naturally-looking bird bath available – it becomes part of the surroundings as it's made to mimic stacked stones, making it both a nature-like sculpture and a functional bath. I love the look of it!
It's heavy at about 60 lbs, which means it won't tip over in the wind, but it's also something you won't want to move once in place. It also comes apart into three sections for easier cleaning.
Pros
heavy so it won't tip over
designed to mimic natural stones
Cons
there is no information on the size of the basin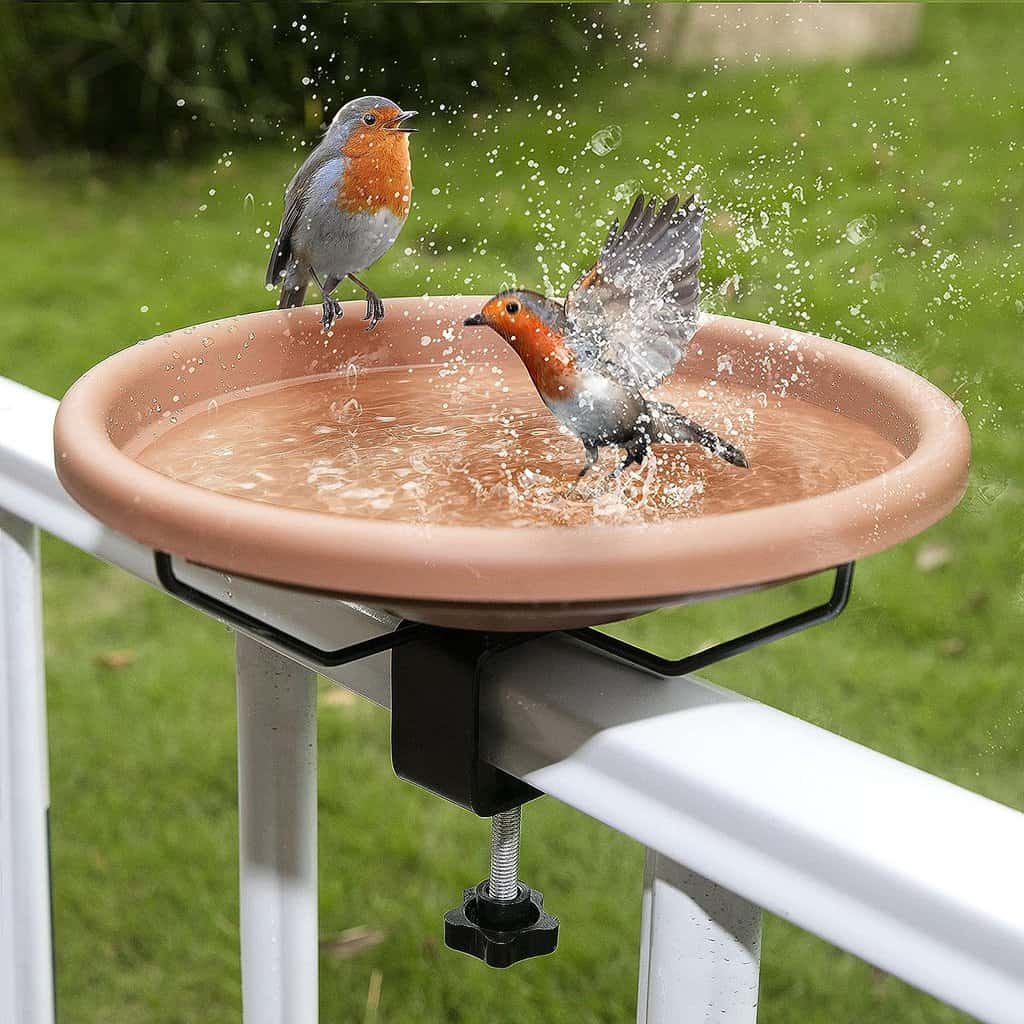 I like that this simple design lets you lift the bowl to clean it. The clamp only fits on railings less than 2 inches high, so make sure yours is within that size range.
The basin has shallower edges and a deeper center, but I couldn't find information on the depth. Still, dual depth is a nice feature lacking in most bird bath designs and may attract more species, though it also makes it unsuitable for adding a fountain.
Pros
easy to remove the bowl
dual water depth
Cons
won't fit railings more than 2 inches thick
plastic can be hard to clean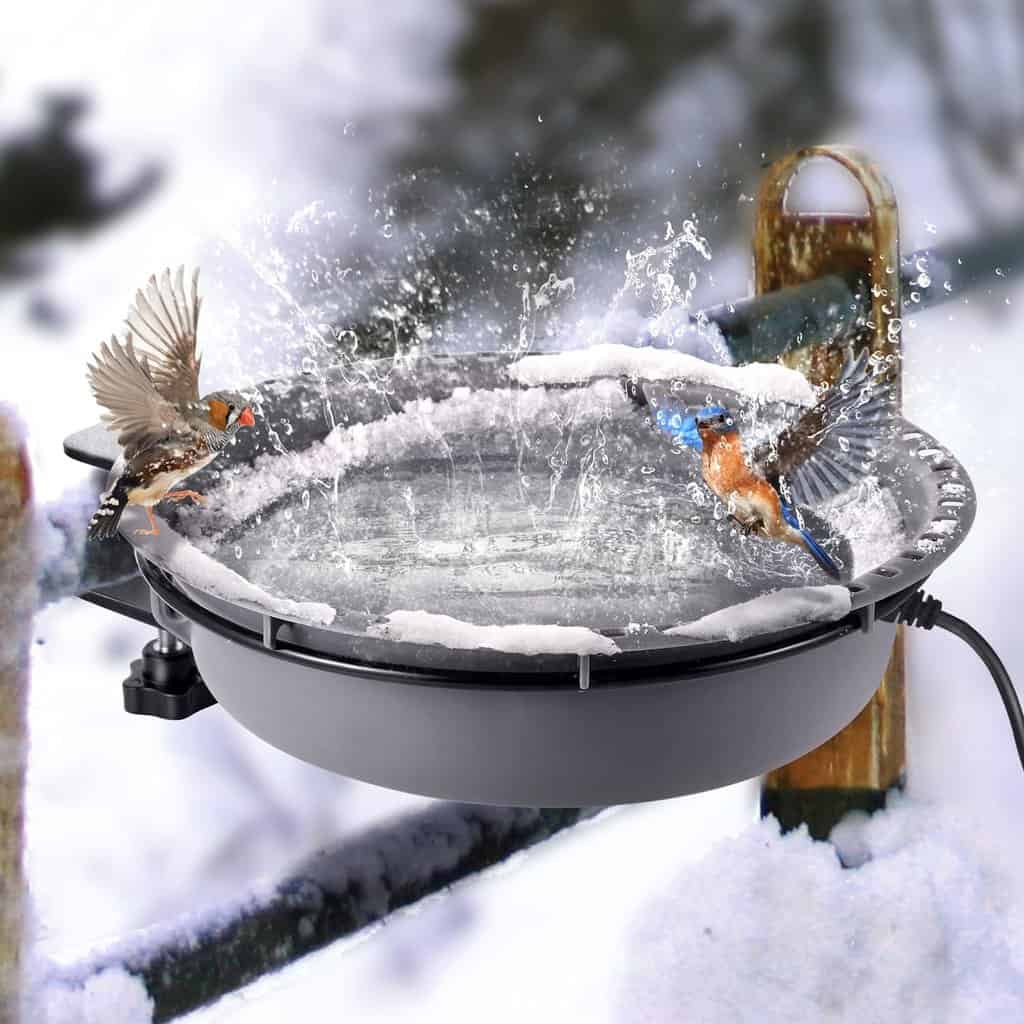 Finding a good heated bird bath can be tricky, as there always seem to be some issues with them. This model appears decent, though some reviewers note that the heater only activates at low temperatures, so the water tends to freeze before it thaws again. Even if it only sometimes provides some unfrozen water in winter, that's important for birds.
The power cord is less than 4 feet, so consider placement near an outdoor outlet, or you'll need an outdoor-rated extension cord.
The manufacturer has used a weird, global mishmash of photo-shopped birds in advertising, which is very off-putting (you won't see Canadian snowy owls, African bee-eaters, and Australian zebra finches on your snowy porch at the same time!). That doesn't detract from product functionality, but is unnecessarily confusing.
Pros
easy installation
easy to clean
Cons
thermostat only comes on at 0 F
fits on deck railings less than 2 inches thick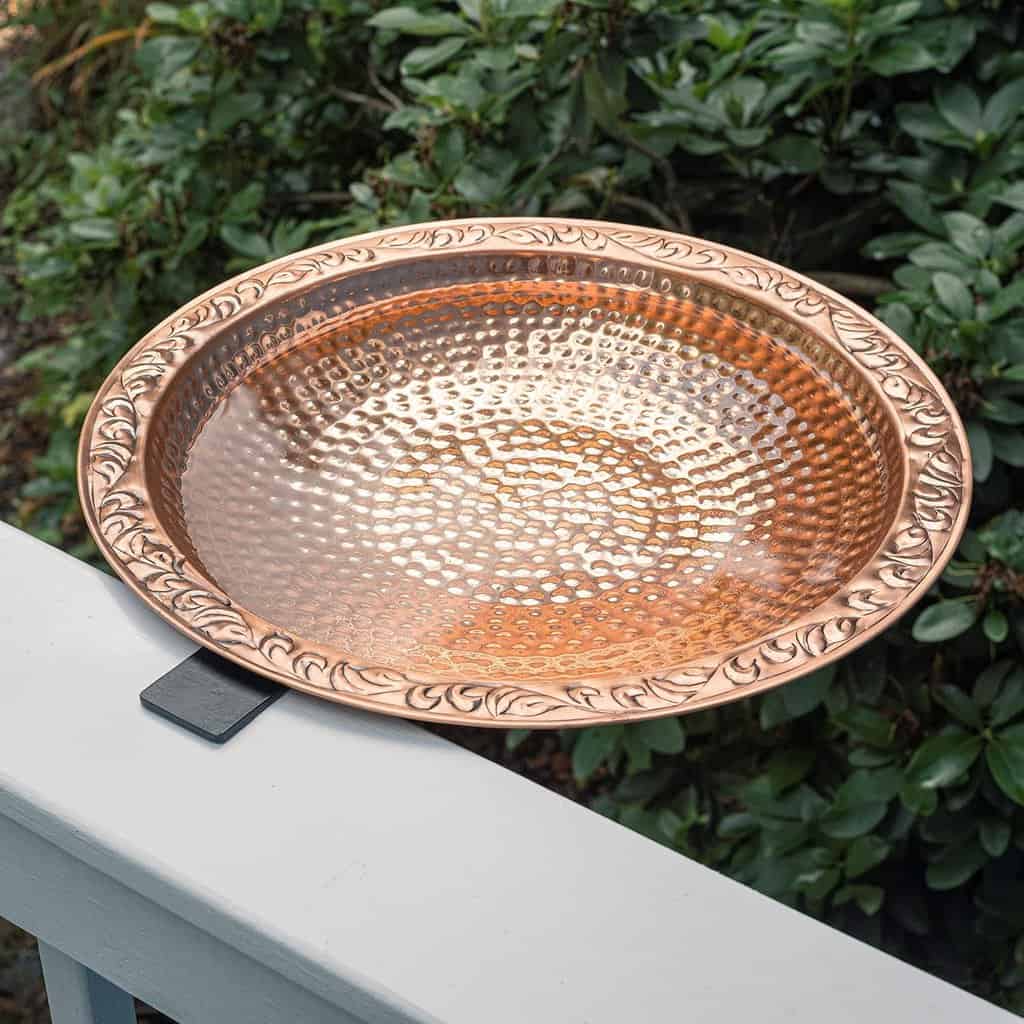 This is one of the larger baths at 18 inches in diameter (including the rim). Of course, copper is a great material because it has antimicrobial properties, so it naturally keeps the water cleaner. If I had deck space, this would be my top choice.
This mounting bracket is slightly taller than others, but it still only fits a railing less than 2.25 inches thick.
Pros
copper has antimicrobial properties
large diameter basin
2.5-inch deep bowl
easy to clean
Cons
some complaints the support ring bends when water is added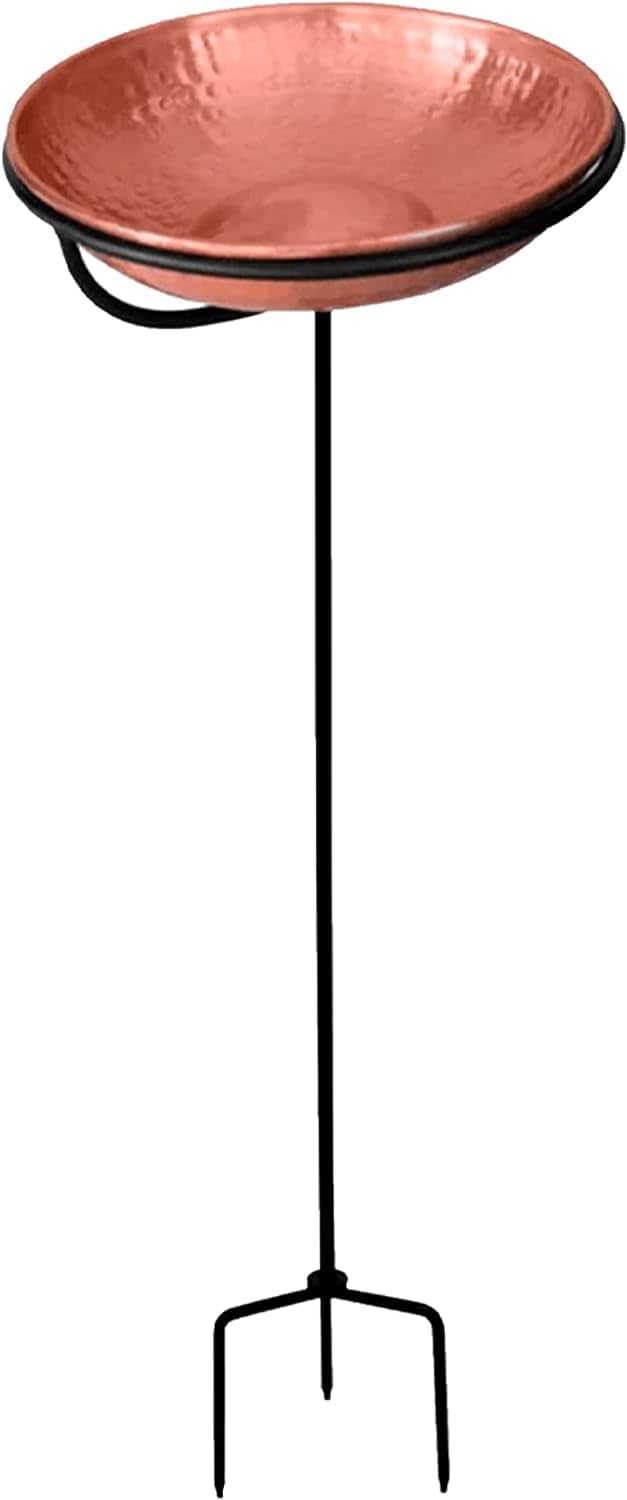 Set on an iron stand, this is a simple, elegant design that will look great anywhere. Since the bowl sits in the iron ring, you can lift it out to clean it. Of course, copper has fantastic antimicrobial properties that help keep the water clean.
Pros
antimicrobial copper
easy to move
easy to clean
Cons
some complaints it's only copper-coated
come complaints the stand isn't sturdy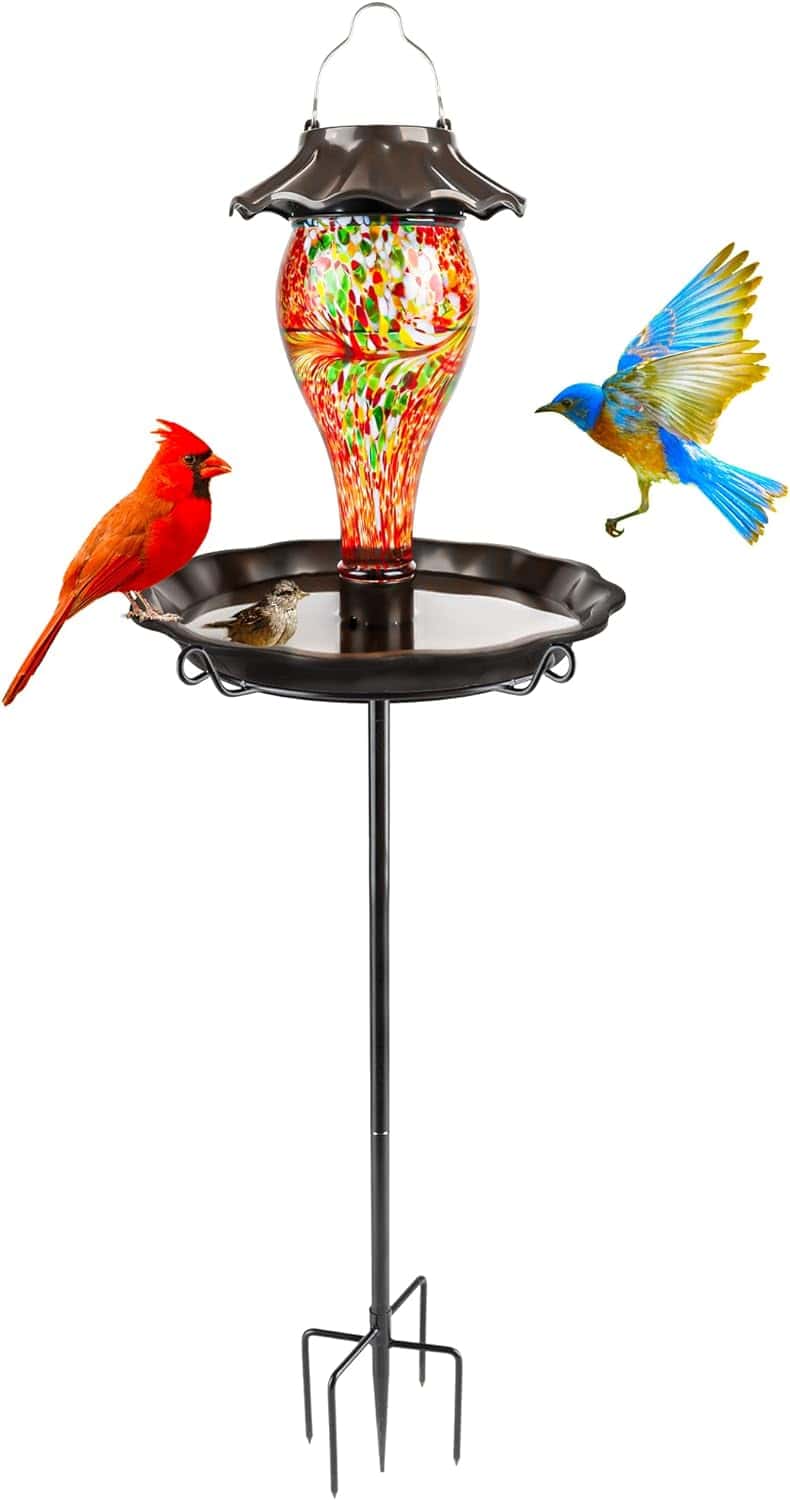 This bath has the unique feature of a reservoir that holds extra water. I like that the reservoir is attractive, made of individually handcrafted blown glass. It also has a solar-powered LED light at the top of the reservoir that points downward, so the glass lights up at night with either a single color or the light can cycle through multiple colors. Obviously, this lighting feature does nothing for birds, but it will undoubtedly be attractive at nighttime in your yard.
Because the water basin rests on the stand, you could also ditch it and use it as a ground bath instead, put it on your deck, or use the hook on top to hang it from a tree or pole. I like that it has such versatility for placement.
Pros
55-ounce reservoir
attractive hand-blown glass
multiple placement options
Cons
cannot fill the reservoir from the top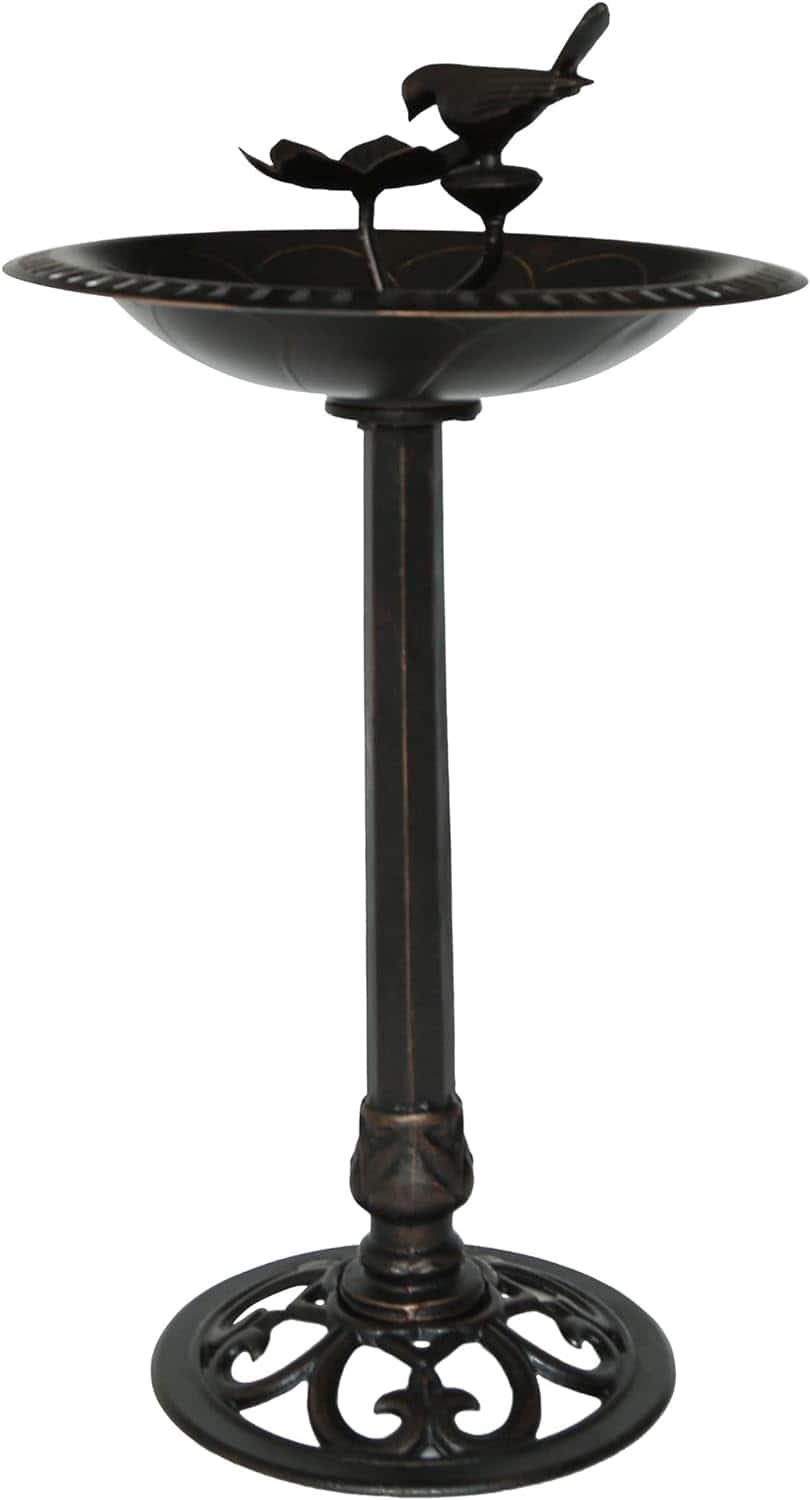 The bowl is aluminum, and the stand is cast iron; they look like a classic understated column pedestal. I like the decorative bird and tiny flower in the middle, as the flower holds a bit of water from which small birds can drink.
Pros
decent weight (16 lbs)
good quality material
Cons
some complaints the screw holes don't align
come complaints it leaks through the basin screw hole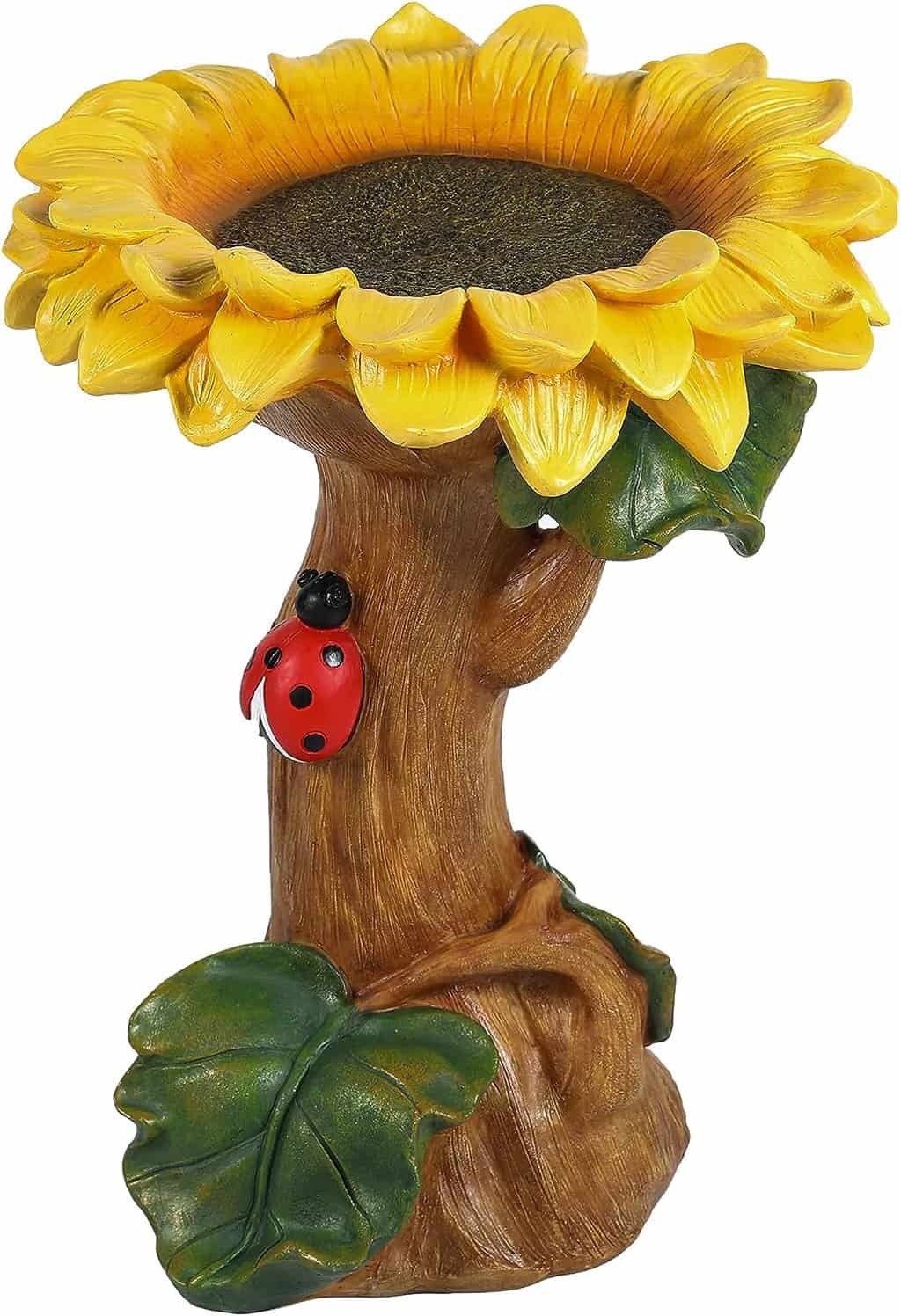 Here, we head into a more whimsical design, combining a functional bath with an attractive sunflower-themed statue. It's a bright spot of yellow that will complement any garden or brighten your yard.
You'll probably have to add water often to this, as it has a small and shallow basin. It's expensive, but resin is durable, so this should be around for many years.
Pros
very colorful
resin is durable
Cons
small diameter basin (10 inches)
basin may be shallower than 2 inches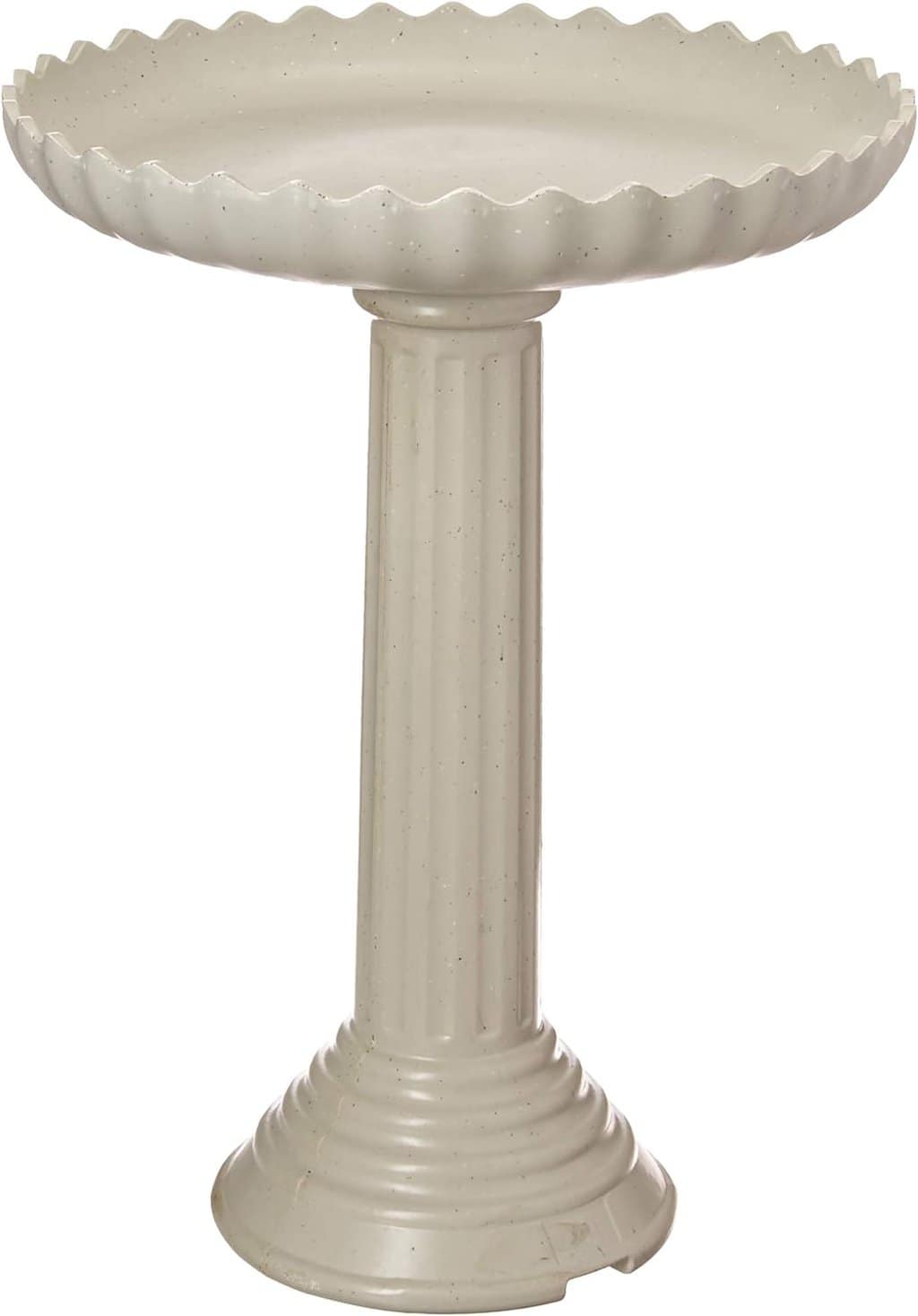 Though it's colored to look like stone, this scalloped bird bath is presumably made from polyresin, but the material is not specified.
You need to have an extension cord as the unit is designed so that you plug the cord in under the base to keep it protected, but the cord is not provided.
Pros
large bowl (18 inches diameter)
easy to clean
durable material
Cons
little information is given on specifications
mounded in the middle, so you cannot add a fountain in the summer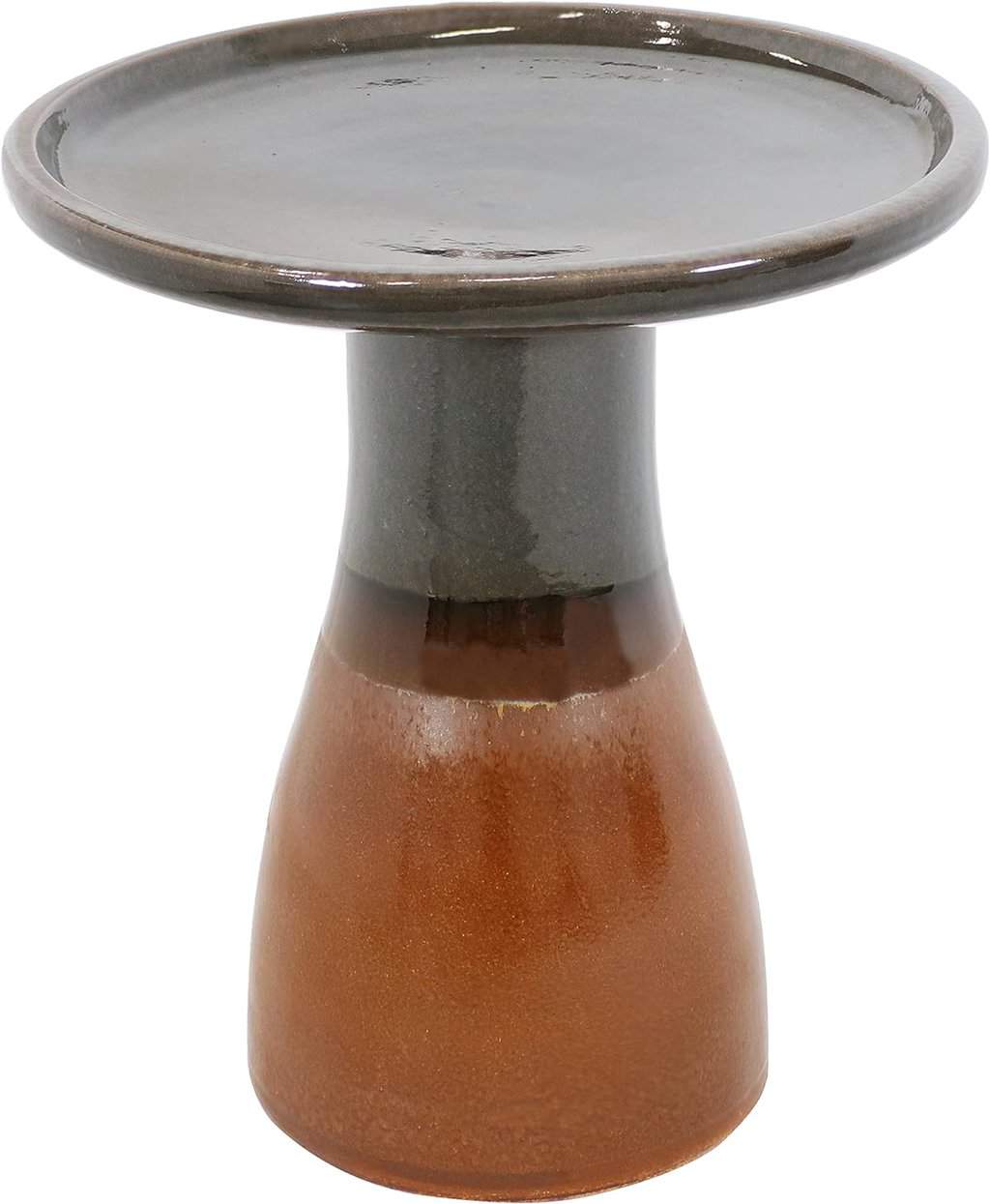 We've headed into expensive territory for this bird bath, but you're buying quality. At 38 lbs, this unit won't tip over in the wind. You can also leave it out into late fall as it won't crack due to frost.
I love the graduated colors used in the glaze, and the elegant shape makes this a lovely addition to any yard.
Pros
large diameter (18 inches)
easy to remove the bowl for cleaning
frost-resistant
one-year warranty
Cons
shallow bowl (1.5 inches)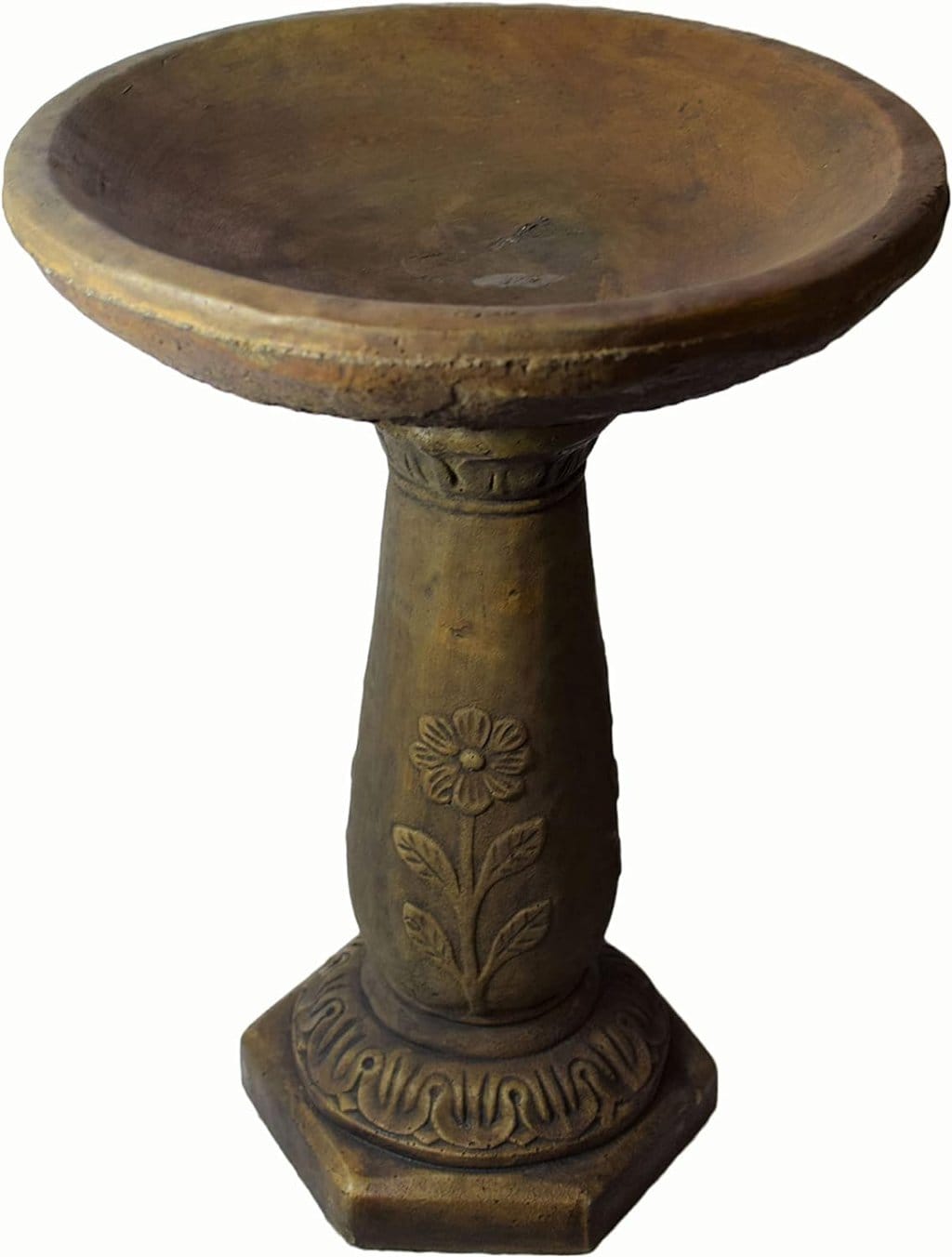 This bath is heavy (86 lbs), so once you have the perfect place for it, you won't want to move it! Concrete is a durable material so that it will last many years. The bowl unscrews from the stand, but it's unclear how heavy each piece is; the bowl may be too much weight for some people to handle to dump water for cleaning. I like the dark stain as it is reminiscent of deep earth colors and feels natural.
Pros
large bowl diameter (19 inches)
high-quality material
Cons
FAQs
Question: Why do birds need water?
Answer: Not all birds get enough water from their diet, especially seed-eaters, so they need to drink. In hot weather or during winter, drinking water is even more critical, especially since a lot of natural sources of water have been drained or paved over in urban environments. Birds also bathe to help keep their feathers clean.
Question: Why aren't birds coming to my bath?
Answer: There are a variety of reasons this could be happening. If it's a new bath, the birds may not have found it yet. Adding a fountain so that there's the sound of running water will help birds locate your bath. Some species seem to prefer specific colors, heights, or locations, so it's possible you still need to find the right combination for the bird species in your area. Finally, ensure your water is clean and that the basin is made from non-toxic material so that birds will be willing to use it.
Question: How deep should the water be?
Answer: Most smaller birds are comfortable with 1-2 inches, but larger birds prefer up to 4 inches deep. It's easy to make a bath safer for the smaller birds by adding gravel for really slippery basins or one to several larger stones so they can perch safely.
Conclusion
You can't go wrong with the concrete pedestal bird bath – it's a bird bath that will last a lifetime and an attractive backyard element. I recommend adding a solar-powered fountain to any bird bath to keep the water moving and attract more birds. I also love the look of the concrete ground bird bath; you just have to ensure that birds aren't exposed to predators like cats that could catch a bathing bird.