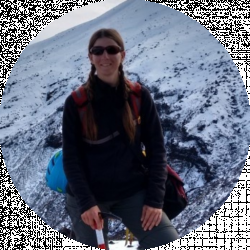 Latest posts by Kathryn Peiman
(see all)
Bird baths are an excellent addition to anyone's backyard. They can attract bird species that won't come to seed-based feeders, so you'll get more species diversity. Birds also need to clean their feathers, so you're providing them with a way to keep themselves flight-ready.
Copper is the best material for bird baths. It's the only solid material the U.S. Environmental Protection Agency classifies as naturally antimicrobial, killing bacteria, viruses, and yeasts on contact. That means your water will stay cleaner for longer, which means it'll be healthier for the birds – and less work for you.
I love the look of copper – it's so shiny and sleek when it's new and has a kind of timeless beauty. It's important to remember that copper naturally ages and changes color as it oxidizes, achieving a 'patina' over time. That means that genuine copper will not stay copper-colored forever!
As a biologist, I know what birds need to stay healthy. As an avid birdwatcher, I know how fun watching birds bathe can be. By reviewing the copper bird baths available, I've combined my knowledge as a biologist and my love of backyard birds to share the best copper bird baths you can buy.
Bottom Line Up Front
My favorite copper bird bath is the Ancient Graffiti model because it has a powered fountain; moving water attracts birds and helps to keep the water from getting stagnant.
It's also an attractive fountain, as the water cascades from a lotus flower, and a leaf covers the pump in the basin. The elegant base has wide-spaced legs for stability, and you can add a flower planter for a splash of color.
Selection Criteria
Copper bird baths come in many varieties, and the first choice you'll be faced with is the type of design – pedestal, hanging, ground, wall-mounted, or railing-mounted. For every option within each type of design, I used the following criteria:
durability;

ease of cleaning;

customer reviews;

cost.
I included both solid copper and copper-coated baths and noted when it seemed the manufacturers were not being honest about their material. I also found it tricky sometimes to make sure the material was made of copper instead of copper-colored – so be careful if you're doing your own searches.
My Top Picks
Pedestal Bird Baths
Pedestal bird baths are a fixed height off the ground, generally ranging from 2 to 4 feet. Unlike baths made from other materials that require thick pedestals, most copper baths are mounted on poles due to the lightweight nature of copper and are secured to the ground with stakes. This generally means they're easy to move to a new location.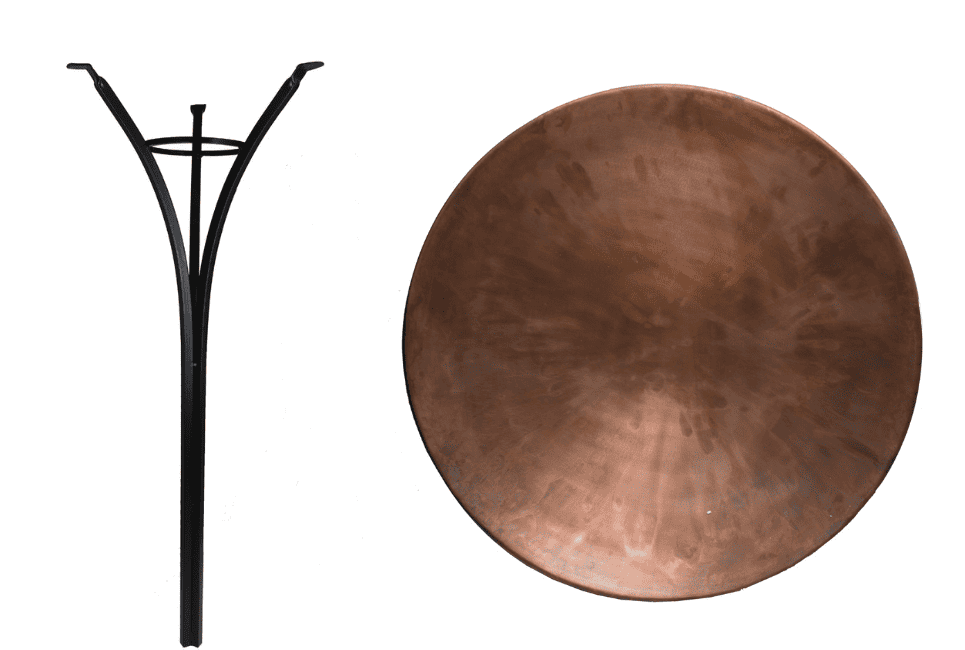 This large, 23″ diameter bowl is shallow. The bowl is not attached to the stand, but it should be very stable with such a large dish. Because it's not connected, it's easy to clean – just lift it off the stand. The stand itself is elegant – but note you have to buy it separately, adding to your cost.
Pros
large basin

easy to clean

four finishes available
Cons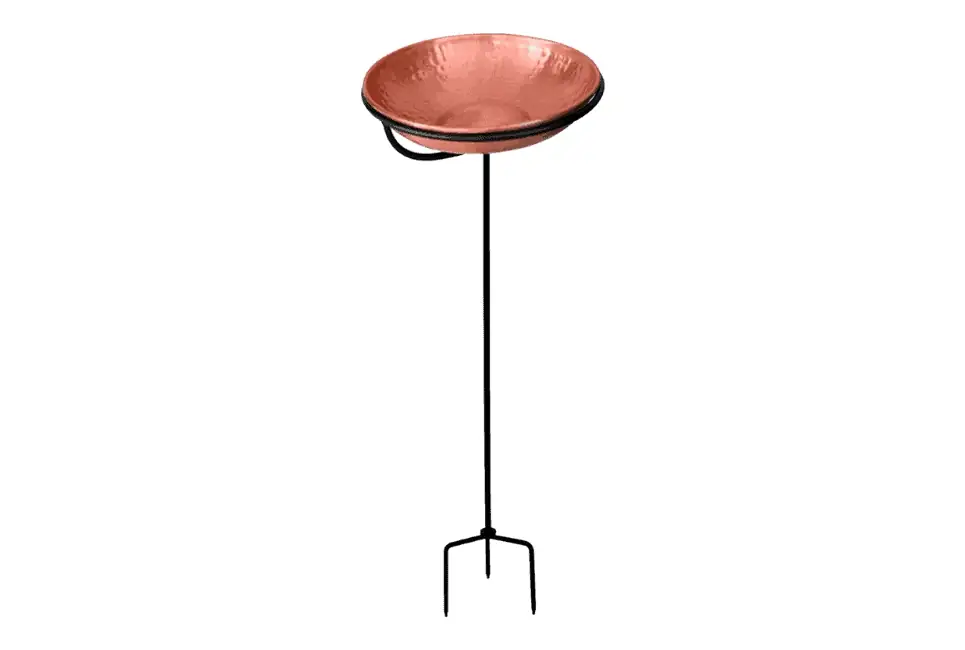 This is a lovely, simple 34″ iron pedestal on which the bid bath sits in a ring. Even though the manufacturer advertises that the stand is 34″, note that height includes the stakes, meaning your bath will be sitting at a substantially lower height. The 11″ bath is 2.5″ deep and is both decorative and stylish.
Due to the raised center of the bowl, this unit won't work if you want to add a solar-powered fountain.
Pros
Cons
customer complaints that it's copper coated, not pure copper

customer complaints the stand is hard to thread together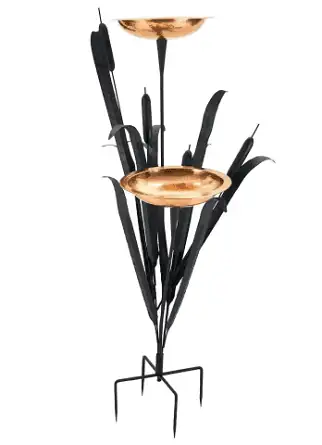 I really like the iron cattails that accompany this as a decorative element. You also get two bowls at different heights, with the tallest at 50″ high, which is one of the tallest pedestal designs available.
Note the bowls are small at 12″ diameter though. It's not cheap but also not the most expensive unit, and with the decorative elements and two bowls, it's a good investment.
Pros
Cons
have to unscrew bowls to clean

small diameter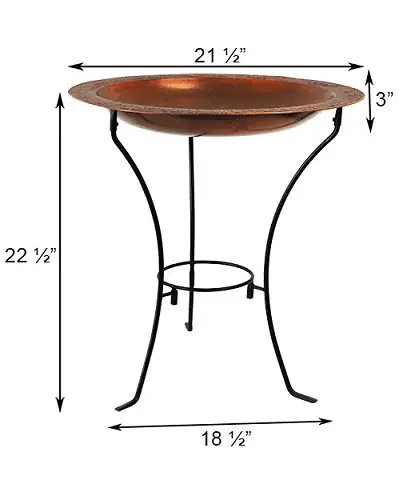 I'm a huge fan of bird baths with fountains, and this one is no exception. The stand is only 22.5″ tall, but the basin is 21.5″ wide. The elegant free-standing base has wide-spaced legs for stability, and you can add a planter in the lower ring for an added touch of color.
The bubbler is not your typical, boring, plain fountainhead; instead, they've made the water cascade from a lotus flower and used a metal leaf to cover the pump in the basin. With a wide edge and a 3″ deep basin, there's plenty of room for many birds to bathe and drink.
It's a little pricey, especially since it's only copper-plated, but I'm giving it high marks for the powered fountain.
Pros
fountain with a variable flow rate

easy to clean
Cons
copper-plated steel, not pure copper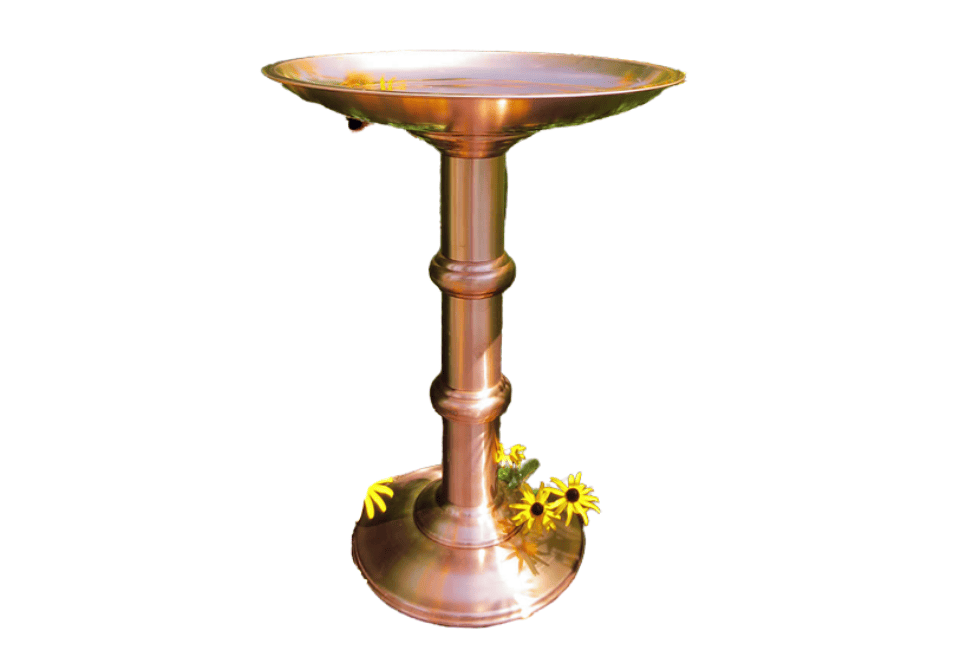 It's rare to find a bird bath where the entire structure is made from copper. Unfortunately, it comes with a very hefty price tag that most people will find out of reach.
However, you're paying for the crafter's skill and the material – it's 20 lbs of copper with a 19″ wide basin – and it's made in the USA. If you can afford it, this is a gorgeous investment and worthy of being the center piece of your yard.
Pros
solid copper

skilled craftsmanship
Cons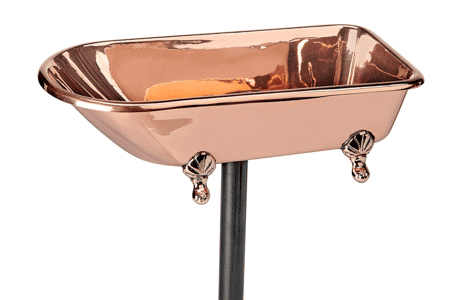 Though unfortunately short on details, I included this one because it's a unique design and also made from solid copper. It will undoubtedly be a conversation starter!
You'll want to add stones to the basin to help birds perch, as the edges are almost vertical.
Pros
solid copper

lifetime warranty

good price
Cons
no information on the size of the unit or height of the pole
Railing-Mounted Bird Baths
Not everyone has a backyard or even a tree to place a bird bath. Consider a bath that mounts onto a balcony or deck railing in that case. Good-quality products won't damage the railing and are easy to move.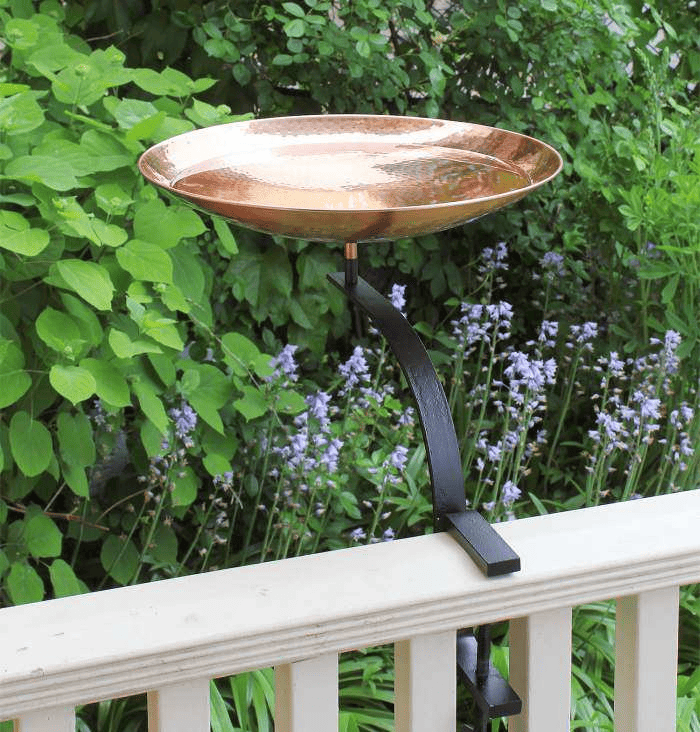 With a basin at 14″ diameter, this unit will fit on a railing up to 3″ high. You can mount the basin hanging over top of or away from your deck.
It's unclear how deep the basin is; one part of the website says 1.75″, but another part says 4″. In either case, due to its smooth sides, I suggest adding stones for purchase.
It's a little expensive, considering it's only copper-plated, but it is a very classy design.
Pros
Cons
have to unscrew the basin to clean

copper-plated steel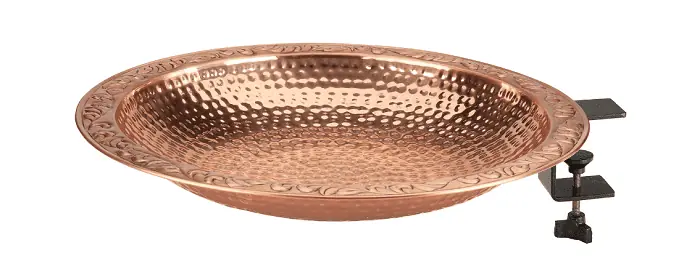 It has a 2.5″ depth, and though the basin is 18″ wide, that includes a large lip. It's large enough you can add a solar-powered bubbler. This is a highly accessible design, as it rests against the railing. You'll likely get other animals using it, which may make the water dirty faster.
There's a lifetime warranty, and it's always a good sign when a manufacturer stands by their product.
Pros
pure copper

easy to clean
Cons
basin overlaps the railing, making it accessible to mammals

some complaints the ring isn't strong enough to keep the basin level when full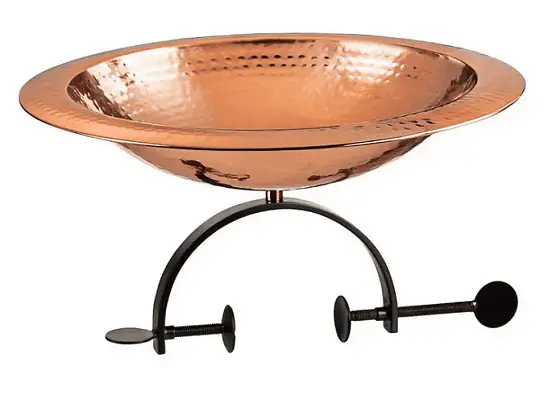 This side-mounted version may do the trick if your railing is too high for a top-mounted bath. Make sure to mount it with the long clamp on the outside of the railing – it would be unpleasant to hit the metal with your hip as you walk by!
It only has a 13″ width basin but doesn't give the depth, but by the looks, it will need rocks added in the basin for small birds.
Pros
Cons
have to unscrew the basin or the mount to clean

small basin

may only be copper-plated
Wall-Mounted Bird Bath
These options are great because you can choose the height to mount your bath. Birds are more likely to use them if there is some tree cover nearby, as smaller birds especially don't like to be fully exposed.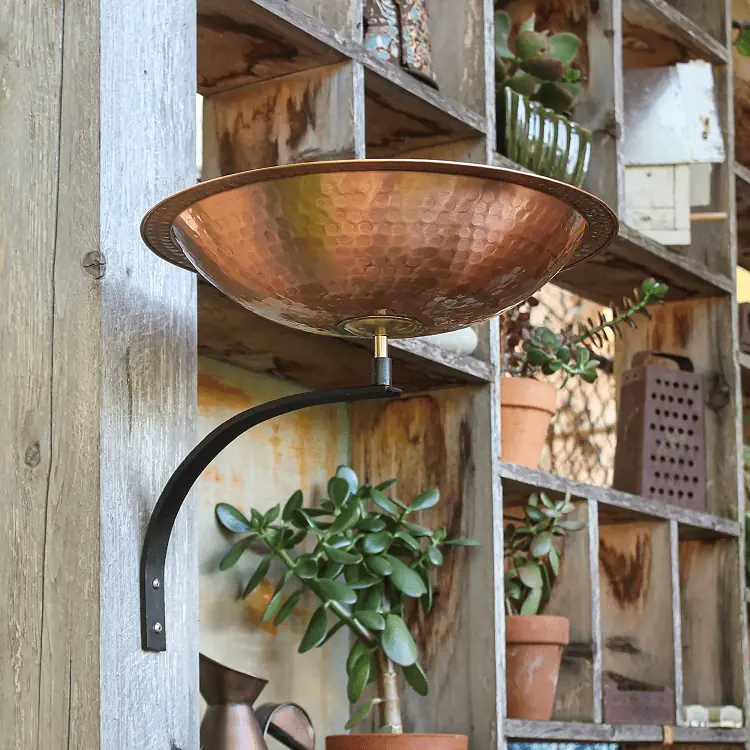 With a 14″ diameter basin that's 3″ deep, this is a well-designed unit that should last for many years. It's simple, straightforward, and has good craftsmanship. It's hard to tell from the photos, but the basin appears to have a rounded bottom, making it unsuitable for adding a fountain.
Pros
Cons
expensive

have to screw basin for cleaning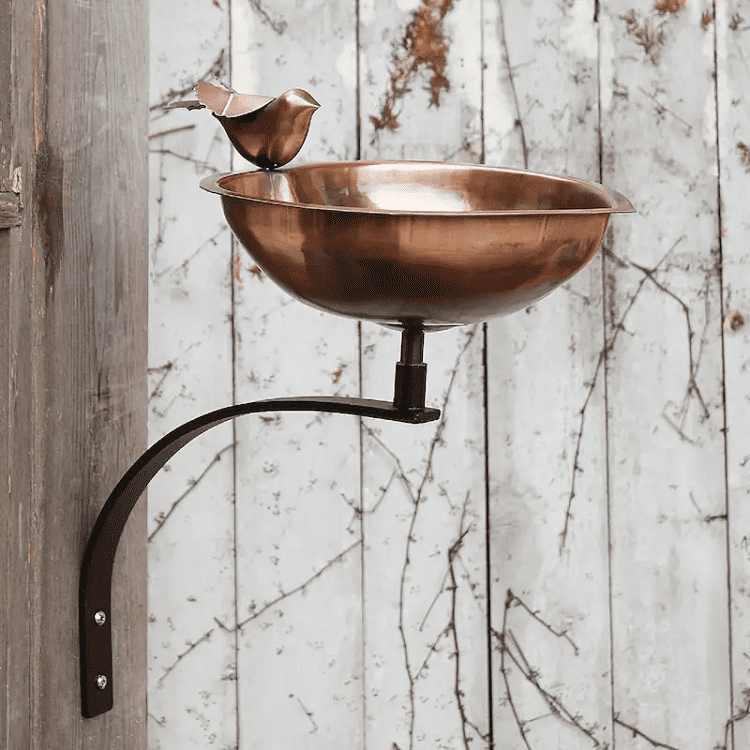 With a 2.75″ deep basin and a bowl about 9″ wide, this bath has more design features than your typical simple bowl, as it's heart-shaped and includes a decorative stylized bird on the edge. It also includes a 90-day warranty.
Pros
more decorative than other models
Cons
copper-plated stainless steel

expensive
Hanging Bird Bath
You can use a hanging bird bath if you have an awning or a tree branch. Keep them sheltered from the wind; otherwise, you'll be filling them regularly as the water sloshes out.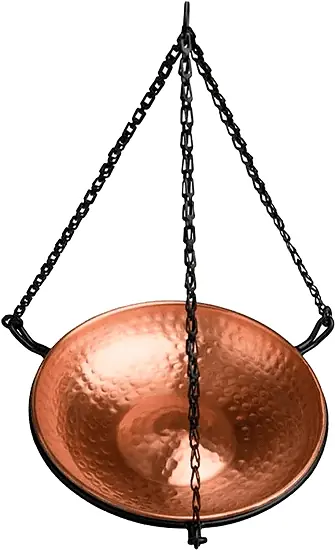 This simple design comes at a pretty good price. The 11″ wide bowl has a 2.5″ depth and would benefit from adding stones. You still need to place a hook on to your attachment location, as the chains end in a hoop, so the unit cannot be secured without a hook to hang it from.
Photoshopped pictures of birds aren't the greatest selling feature – and the manufacturer has used the same two birds pasted onto every picture. This likely reflects laziness on the part of the manufacturer instead of failure on the part of the product.
Pros
Cons
need a hook to hang the unit

customer complaints that it's copper coated, not pure copper
Ground Bird Bath
An advantage to a ground bird bath is that it can go anywhere – but it is not recommended for areas with many predators, especially free-roaming cats.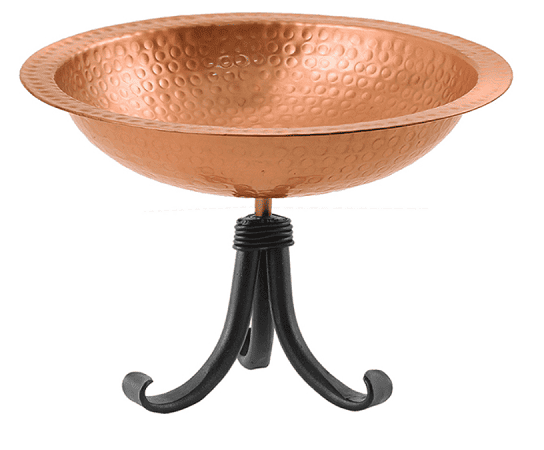 With a 2.75″ basin and a 12.25″ diameter (though that includes the wide rim), this unit is elevated 7″ off the ground by a small iron tripod. Because the stand is small, you don't have to unscrew the basin for cleaning; just tip it over.
Pros
easy to clean

one year warranty
Cons
This is a stunning and unique design that I absolutely love. Each bath is made from teak root, so they're all unique. You can choose from a medium (15-16″) or large (19-21″) diameter size. Honestly, even if the birds never use it, it's a gorgeous piece of art!
Pros
each piece is unique

two sizes to choose from
Cons
FAQs
Question: Can I Add Copper Pennies Instead?
Answer: Yes – if they're real copper. In the U.S., only use pennies dated before 1982. After that, pennies were manufactured with copper coatings over zinc, and zinc is toxic to birds. If you can't afford a copper bird bath or already have a bath made from a different material, adding a dozen pre-1982 pennies is a safe way to help reduce algae growth.
Question: Can I Prevent Copper from Tarnishing?
Answer: Copper tarnishes when exposed to oxygen, turning a blue-green color. You can add wax or a sealant if you wish to maintain the original copper color. Make sure only to use materials that are safe for birds!
Question: Why is Copper so Expensive?
Answer: Copper is used in many applications, including everything from energy infrastructure to cars to computers. It hit its highest value ever in 2022. If you keep an eye on the copper market, you may choose to wait to invest in a solid copper product until prices go down – and that's why many manufacturers choose copper-plating over solid copper.
Conclusions
Even though my favorite bird bath is only copper-plated, the Ancient Graffiti model gets high marks for its attractive, lotus-flower fountain. Otherwise, I'd go for the Good Directions railing-mounted unit, due to its solid copper and lifetime warranty, and I'd add a bubbler to keep that water moving.
Continue reading: