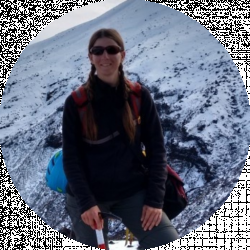 Latest posts by Kathryn Peiman
(see all)
 Birds love to bathe, and watching them do it is relaxing. The combination of decoration and function makes bird baths a great addition to any outdoor space.
Since bird baths are made from several types of materials, you should be able to find one that is aesthetically pleasing and matches your yard décor. You only need a sturdy tree branch, awning, or overhanging structure to hang up your bird bath.
I love watching birds bathe, especially when their wing flicks make water droplets sparkle in the sun – it's a calming experience. It also helps birds keep their feathers clean, and as a biologist who's studied birds, I know that anything we can do to help our feathered friends is good.
Plus, by putting out a bird bath, you may attract additional bird species to your yard, as insect eaters won't come to standard seed feeders.
I recommend that, where possible, you have moving water in your bird bath. You can add a fountain, dripper, mister, bubbler, or wiggler to the bath to decrease algae and bacterial growth, and by creating the sound of moving water, birds can find your bath easier.
Bottom Line Up Front
My favorite hanging bird bath is the lovely blue peacock bowl. The colors just blew me away. I'm generally a fan of having outdoor additions that look natural.
Still, I make exceptions for stunning colors like this one that are elegant. A close second is the black stone basin because stone is a beautiful material, and I can't resist the completely natural look of this piece.
Selection Criteria
The biggest choices to make with a bird bath are the color and the material that it's made from, so ideas made this list if they combined function with aesthetics.
Luckily, there are options to match any backyard and artistic effects you may be looking for. Because the material also affects the bath's weight and breakability, I've broken down hanging bird bath ideas by the material that the basin is made from:
glass;
clay;
wood;
enamel;
metal;
stone.
They're ordered from most to least fragile – glass is obviously breakable, and clay strength varies depending on its density (for example, terracotta, ceramic, or stoneware).
Wood, metal, and stone are all naturally strong but differ in weight. I included different styles and color options within each material category, so you'll be sure to find one that suits your yard. Some ideas include bubblers, but you can add some type of bubbler to create moving water to any of these designs.
Best Ideas for Hanging Bird Baths
Glass
When I saw this, the intense blue blew me away. If I had a backyard, this would be in it. Even if you never see a bird use it, this is still an exquisite decoration for anyone's property. If you like more subdued peacock colors, check out this version.
This is a gorgeous mosaic. Deep blue hues set off the pastel glass pieces, and the basin sits in a solid iron ring with chains; it's outstanding craftsmanship and high-end art. If you're looking for a more colorful mosaic, you can buy one here.
The first two bird baths feature eye-catching colorful birds that will add color to anyone's backyard. The video also features two solid-colored patterned baths that would be more subtle and naturally-colored yard additions. I think the first bath featured, the robin, has the most pleasant color palette, but the choice is yours!
The subtle gradation of colors in both the green or blue version is quite cute. The white flowers almost look like lily pads on the green background, and the black chain on both versions fades into the background to emphasize the nice colors of the basin.
This one reminded me of an acrylic pour painting where the colors blend into each other to create fun patterns. It would look great as a decorative accent if you want some sharp colors like a painting.
I love this idea of a true DIY. Get some chains and a casserole lid, and you're ready! Casserole lids are slippery, so add rocks or other material for birds to perch.
Here's another great example of DIY, where they used the dome of a ceiling light to create the basin of the bath. I can imagine some funky options based on the light fixtures I've seen in vintage stores.
Clay
Here's a basic clay bath – you can't get much simpler than this – though the macramé hanger is a little overwhelming. However, I love that they included a bubbler.
Check out another example of a clay basin with a bubbler here, and if you want to buy a similar type of bath with a bubbler, there's one here. If you want to buy a simple clay bath without a bubbler, look here; for ideas to decorate a clay bath, check out this example.
This is a creative way to make a bird bath look even more natural. They also smartly put stones inside so smaller birds can bathe easier, with the added benefit that stones make the whole bath look even more nature-like.
This beautiful tile mosaic is another lovely piece of art for your backyard. It creates a glass-like effect, but clay and tiles are much stronger than glass. I love the iridescent effect of the bottom tiles – color-shifting purples, pinks, and blues hold a special place on my list of pretty things.
Here's a fun Disney-themed version. I particularly like the decorations around the edges, which are reminiscent of waves. Who wouldn't want some fairy magic for their backyard?
This design gives you a splash of color with cute clay animals on the rim. The overlapping petals are a nice texture element and provide places for birds to perch in the basin.
Here's a spooky idea! It'll undoubtedly be a conversation starter – especially if it's out in the spring. It may not be the design for everyone, but who says you can't have multiple baths, each themed for a special occasion?
I love the floral imprint technique used in these bird baths (there's another version here). It reminds me of the effect you'd get from a botanical press. The pastel colors and use of twine with natural-colored clay make this an understated addition to anyone's yard, where they want their bird bath to blend in with the surrounding environment.
This bath sports adorable forest motifs along the edges of the basin. They look cute and provide needed places for birds to perch on the slippery glazed clay. The only thing I found off-putting is that the water looks cloudy due to the pottery color, but that doesn't affect the functionality of the bath.
I like how unique some of these bird baths are, and this is a great example – the slightly uneven edge ensures that it will add character to your garden.
I'm not a fan of the large-diameter chain, but the silver color does match the bowl nicely. Blue is a popular bath color – check out this lovely leaf design and this blue glazed bowl for additional ideas.
Reminiscent of a swirling galaxy in both shape and color, I adore the color and pattern used here. The muted hues will blend in with any style in your backyard. This is another of my favorites, even down to the long cone-like base, because I think galaxies are fascinating. It's durable and attractive – a win-win.
Only a few fountains are made to hang from the center. The pure white unit makes this look very stylish and contemporary and would look great in a garden with modern motifs. It's a simple, classic design.
I love the deep blues of the dragonflies on this bath. I also like the look of the leather thongs used to hang it, though I'd be tempted to shorten the ends under the knot. It has a charming country feel to it. They also have a version decorated with plants.
I love the understated but rich colors of this bath. It's made to blend in but is distinctive enough to stand out. A similar design that you can purchase can be found here.
Enamel
This simple pot was repurposed as a bath and would be very easy to clean. As they show, you need to use stones in this one because it's deep with steep sides, and enamel is slippery. The basin is rather plain without them, so I view the rocks as both decorative and functional.
Wood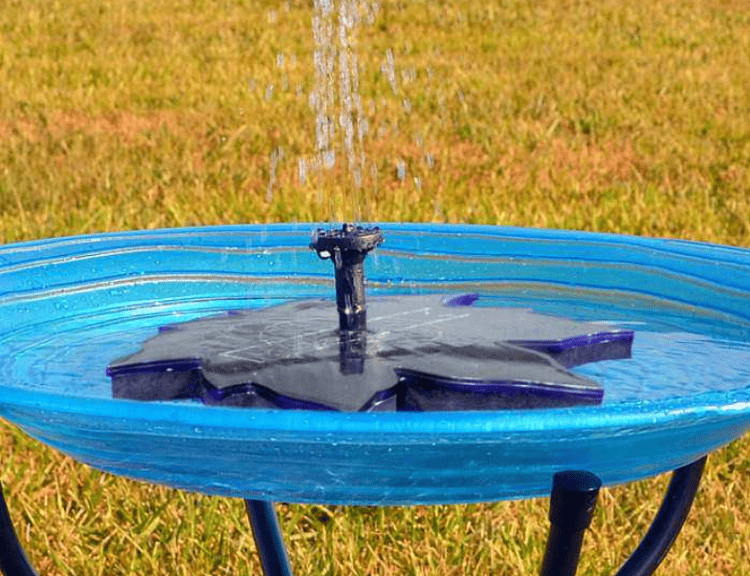 Admittedly, the bath isn't wood in this example, but the wooden frame around the basin is a great touch. I'm always a fan of wood, and here it looks fantastic. The wood and the blue pan remind me of a hot tub!
And this one includes a bubbler to add movement to the water to attract birds. Check out this one for a similar design, or this one if you want an entirely wood design.
Metal
There's not a lot of variety in copper bird baths, but their advantage is that copper naturally resists microbial growth. Copper gleams and can get hot in the sun, so this type of bird bath is better suited to being hung in the shade.
I'm not sure if this is intended to resemble a UFO, but to me, it does! It's certainly a unique design; I'm just not sure how easy it is to clean, and the wide edge may be slippery for birds.
The cage-like hanger will also keep out bigger birds – but that may be a good thing, depending on what type of birds you have around; some people don't like encouraging big birds like grackles to stay.
Here we have a nice, simple, small, shallow bath. This would work great if you only have a small area to hang a bird bath in or perhaps wish to match your modern décor.
Thrifted items can make a great bird bath. I wonder if the chain clasps would move around the base since it's only weight holding them in their position, but that could be easily fixed by attaching the clasps to the cross pieces instead.
Stone
This one is last on the list only because it's the heaviest; it's one of my favorites! I love the black stone with subtle marbling; it looks like an optical illusion floating in the air, and the stainless steel hanger is virtually invisible, adding to the effect. What a gorgeous bath.
FAQs
Question: Why Aren't Birds Coming to My Bird Bath?
Answer: Perhaps they haven't found it yet! You can add a moving water element, and the sound may help them find it. You can also try a different location, as birds are sensitive to predation risk. Make sure to change the water regularly, as birds prefer clean water.
Question: Do Any Bird Baths Come with Lights?
Answer: For added ambiance, some bird baths come with a light to illuminate them at night. Birds won't bathe at night, but it's a fun way to add mystique to your yard.
It's harder to integrate lights on your own, so check out these three options if you're looking for one ready-to-go: a hummingbird flower solar light, an orange solar light, or a concealed solar light.
Question: How Often Should I Clean My Bird Bath?
Answer: Two to three times per week, and especially when it's hot, try to clean every other day. This ensures that bacteria and algae won't accumulate in the water, which could hurt the birds.
Conclusions
There are so many beautiful hanging bird bath ideas out there, and most can be made more functional by adding a device to create moving water.
My favorites are the black stone basin due to the naturally beautiful color and shape of the stone and the lovely blue peacock bowl because of the intense colors and elegant design.
Continue reading:
13 of the Best Concrete Bird Bath Ideas
Best Bird Bath Fountain Ideas: Because Your Feathered Friends Deserve a Water Feature!