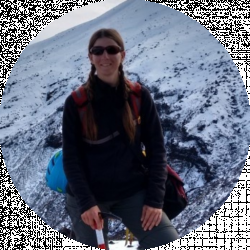 Latest posts by Kathryn Peiman
(see all)
Bird baths are an easy way to encourage birds to visit your backyard, and watching birds bathe can be relaxing for us. Bird baths can be a fun way to add a decorative element to your outdoor environment, either as a natural feature that blends in or as a piece of décor that makes an artistic statement.
Bathing is a way for birds to keep their feathers clean. As a biologist who's studied birds for years, I know bird enthusiasts want to do everything they can to help our feathered friends. I've gone through the bird baths available at Home Depot to help you select the best ones that work both for the birds and for your budget.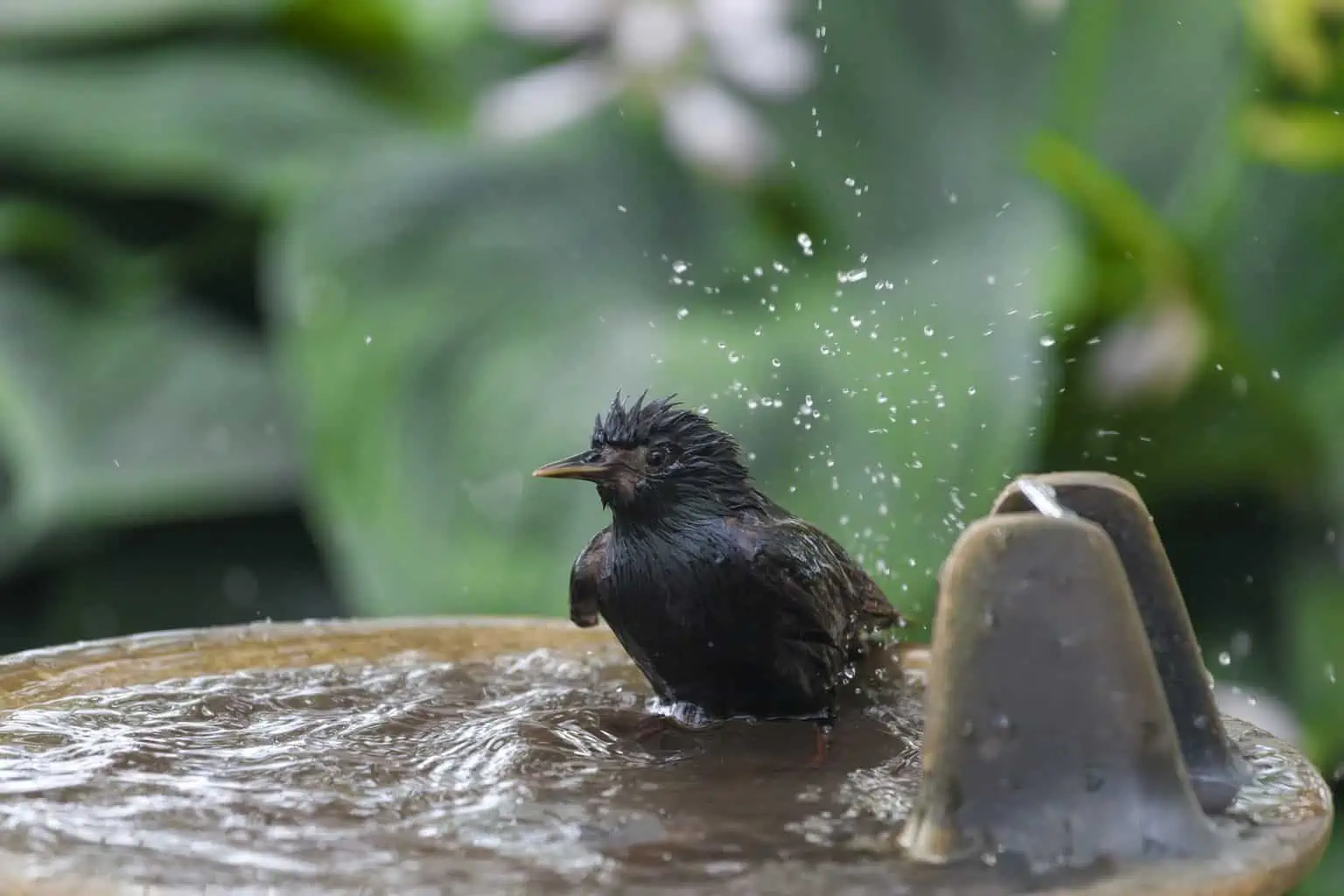 Bottom Line Up Front
Ultimately, my favorite bird bath was the copper cattail design, as it had two separate basins made of antimicrobial copper and an elegant design featuring iron cattails. The two-tiered resin fountain was a close second due to its pretty exterior stone façade made of durable polyresin and the layered fountain effect that should attract multiple bird species.
Selection Criteria
There are many configurations for bird baths – hanging, pedestal, attached to a deck or wall, ground level – and they come in many kinds of material. Depending on your backyard setup, you probably have a particular type of bird bath in mind. I organized my picks by configuration and then gave up to three different options by considering the following:
durability of material;
ease of cleaning;
customer reviews;
price.
I did not include any products with a Proposition 65 warning or customer reviews that said the product came with a warning about lead. Cheap-quality materials that disintegrate quickly or contain harmful chemicals are not good for our health, wildlife, or the environment.
My Top Picks
Pedestal-Base Bird Baths (No Fountain)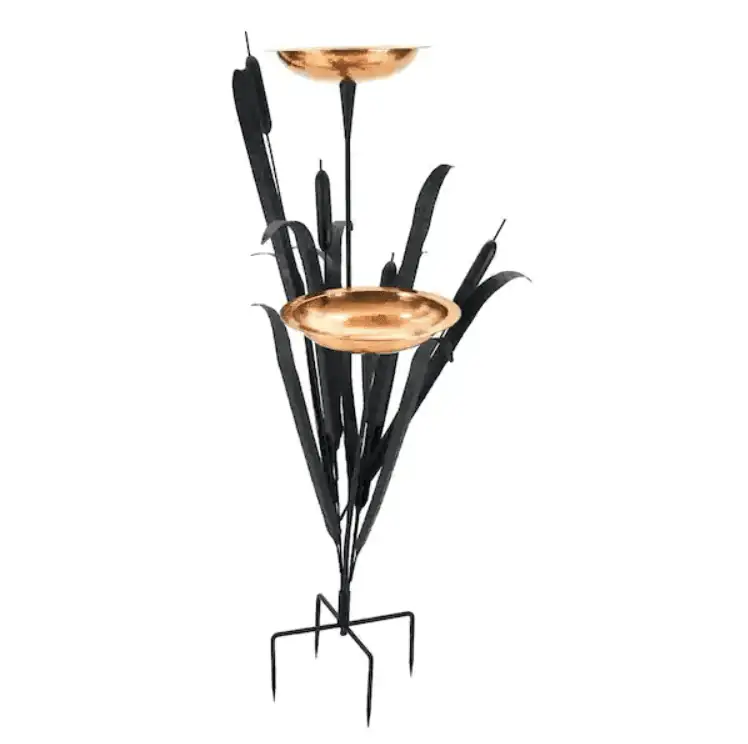 I love that there are two basins in this design, and the iron cattails and leaves also give you an elegant sculptural element. At 50 inches high, it's one of the taller bird baths available.
Copper is an excellent material for bird baths, as it naturally kills algae, thus keeping the water healthier for birds. Copper can also heat up a lot in the sun, so keep this unit in the shade.
This bath has a four-spiked base, making it secure in the ground and easy to move. It's not the cheapest option, but you'll pay for quality. Check out the one-basin version here if you want a simpler design.
Pros
Copper reduces algae growth
Light (16 lbs)
Easy to move
Cons
Not cheap
Have to unscrew bowls to clean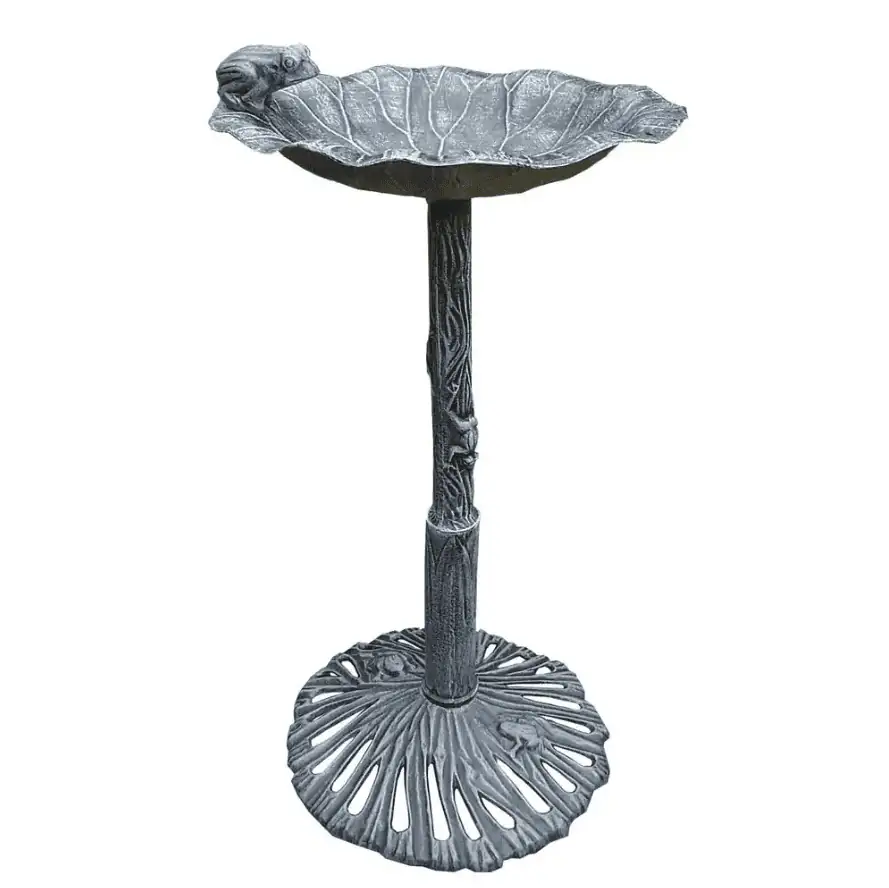 This metal bath has the basin crafted into a lily pad with a little frog on the side and one on the stand and the base. It's an attractive piece that will blend well into virtually any backyard. It's made from cast aluminum, so the unit should last many years.
Pros
Solid weight (20 lbs)
Tip over to empty and clean
Con
Some complaints the screw holes don't line up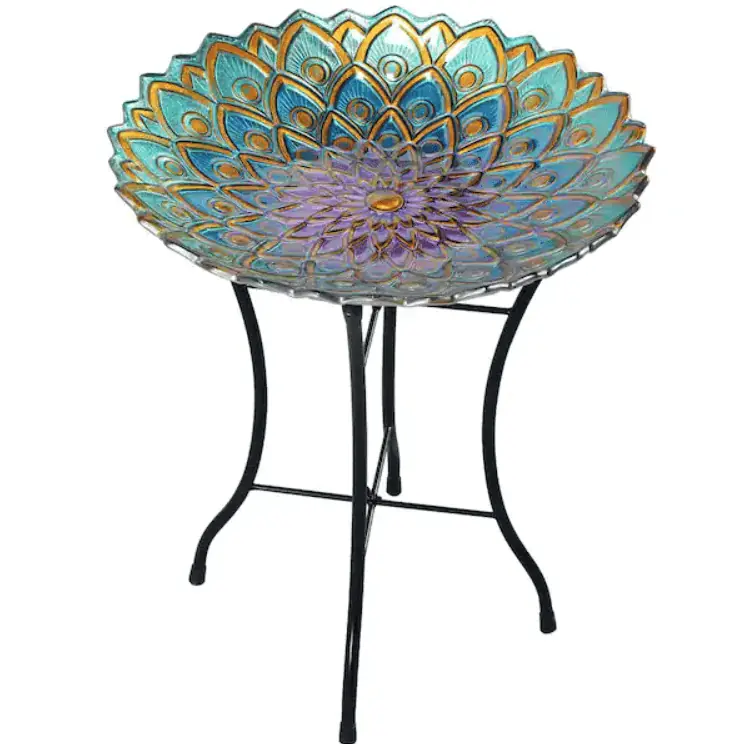 This is a beautifully colored peacock-mosaic glass bowl supported by a metal stand. Consider adding stones to the basin to create perching areas in the bowl. The stand folds up for inside storage during the winter.
Since the bowl isn't attached to the stand, lifting the bowl out to clean is very easy. With a basin depth of 3.5 inches, you could also add a solar-powered bubbler to create moving water.
Pros
Light (less than 7 lbs)
Cheap
Cons
The bowl is heavier than the stand, making it top-heavy
Pedestal-Base Bird Baths With a Fountain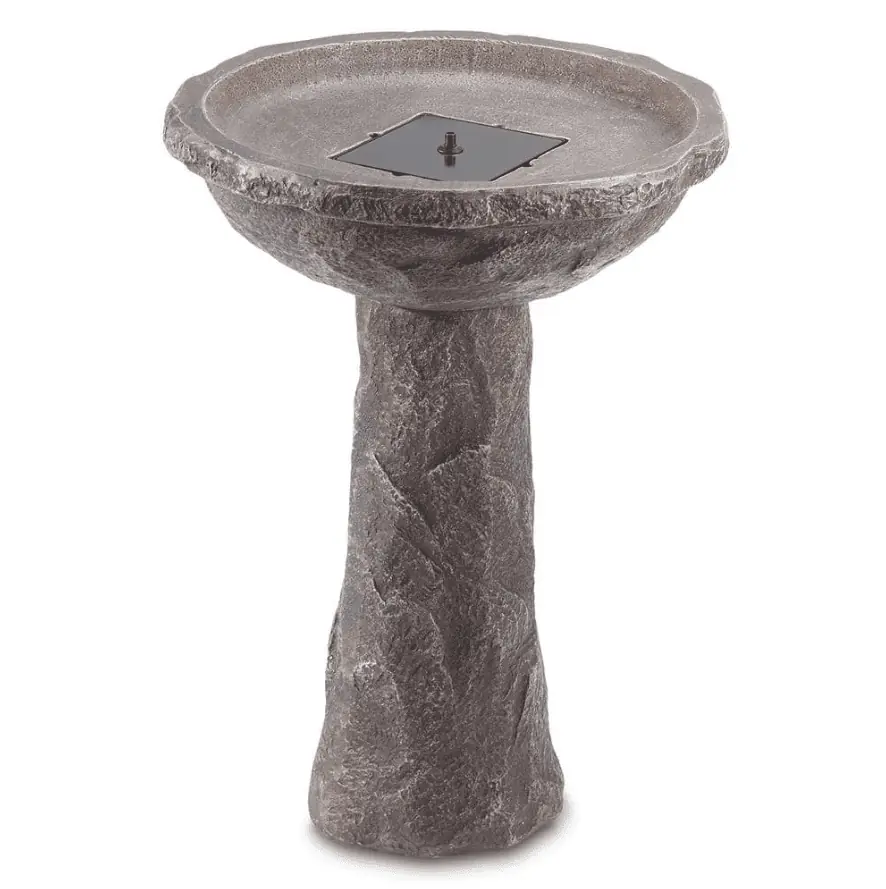 I like the rock-like texture on the outside of this fountain, as it creates a very natural effect. It has a solar-powered pump that requires direct sunlight and comes with two different fountain heads so that you can choose between a spray and a bubbler. Like all solar fountains, it must be stored indoors in the winter.
Concrete is generally a costly material, but it lasts a long time, so that you can view this as an investment.
Pros
Natural texture
Durable material
Cons
Expensive
Some complaints that the fountain's pump is weak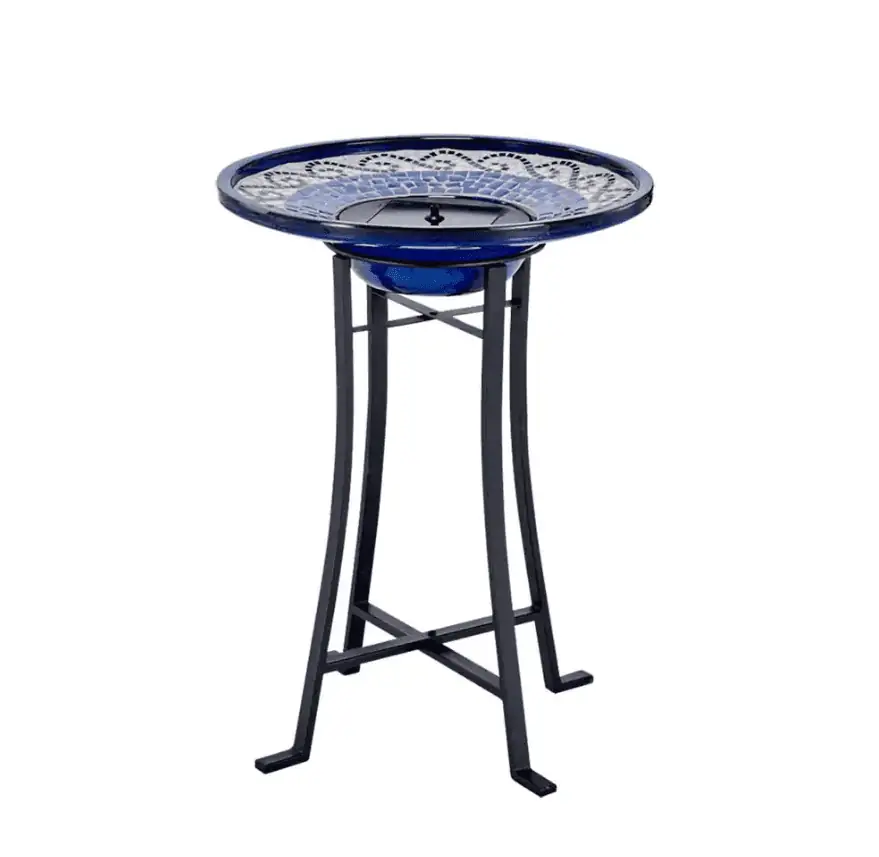 This basin has a stunning, deep blue mosaic tile design. The pump is solar-powered, so it needs direct sunlight to operate, but there's no on/off switch, so you must keep water in the basin; the pump can run dry for a day, but any longer, and you'll damage it.
Remember to take this inside when temperatures drop enough for frost. You can fold the stand for storage.
Pros
Simple assembly
Sturdy metal stand
Con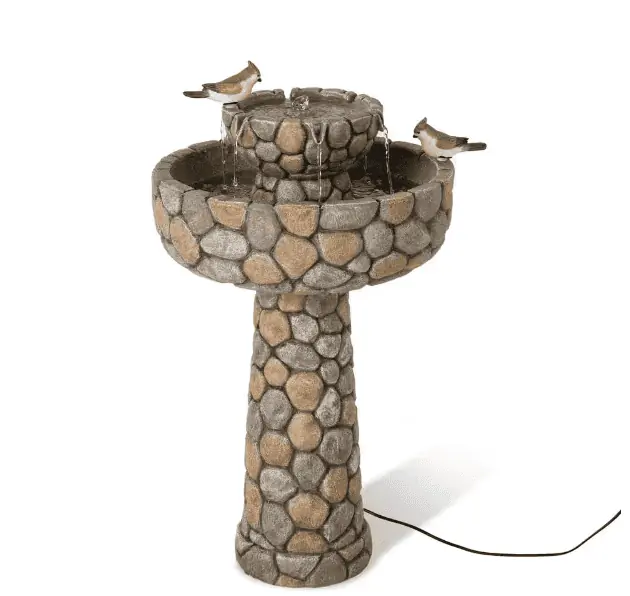 I always find two-tiered fountains attractive since you get more of a waterfall effect. Even though the stones are obviously fake, I really like the effect they create. It's on the pricier side, but polyresin is typically a durable material, and it also uses a powered pump, so you don't need it to be in sunlight for the fountain to work.
The pictures somehow make this unit look large, but it's only 24.5 inches high and just over 15 inches wide, so it's not that big; keep that in mind!
Pros
Two tiers give birds more options
Powered pump works in any conditions
Cons
Need an outlet nearby (6-foot cord)
Contradictory information on winter use
Pedestal-Base Bird Baths with an LED Light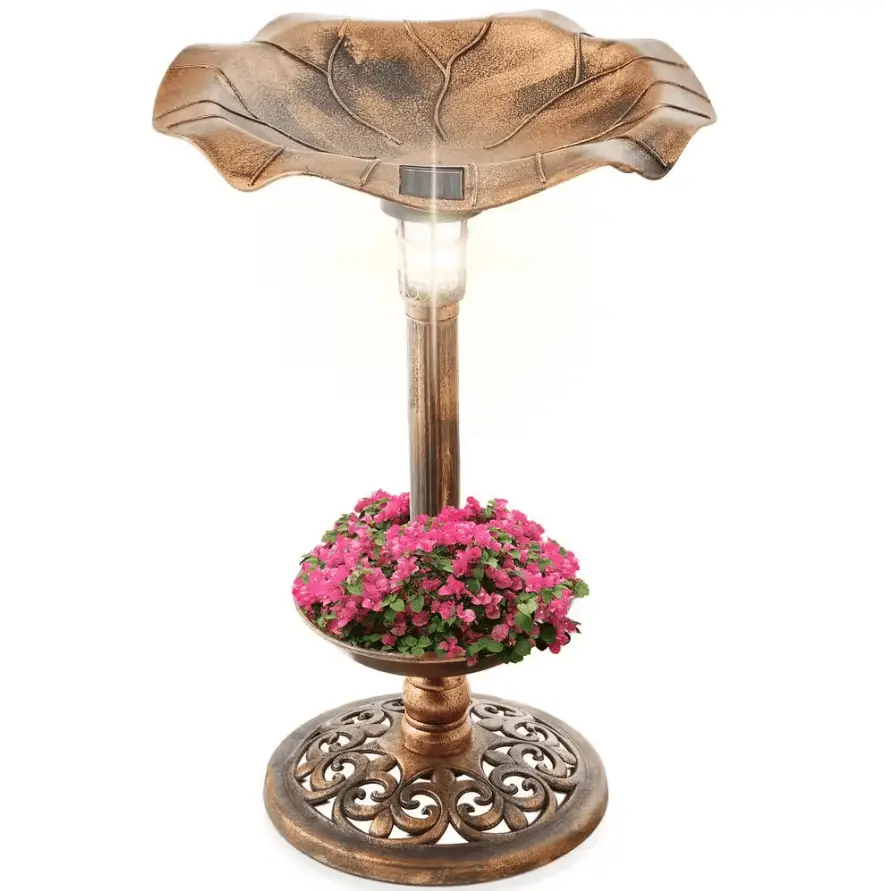 Not only do you get a lighted fountain with this model, but you also get a planter on the pedestal, which is a nice touch. However, I'm not a fan of the false advertising by the manufacturer: they claim attracting birds will help aerate the soil and bring in more water, claims which are not based on biology or ecology.
The unit is only made of plastic, weighing just 3.3 lbs. It has stakes to secure it to the ground, though they look no stronger than tent pegs. I would recommend that you fill-up the pedestal with sand or rocks to add weight so it won't get knocked down in the wind.
There are some customer complaints that the LED does not work. It's a cheap unit made of plastic, so you get what you pay for. Of course, it will still function as a bath, even without the light.
Pros
Low price
Flower planter on the stand
Cons
Lightweight plastic
LED lights up the stand, not the fountain
LED may not work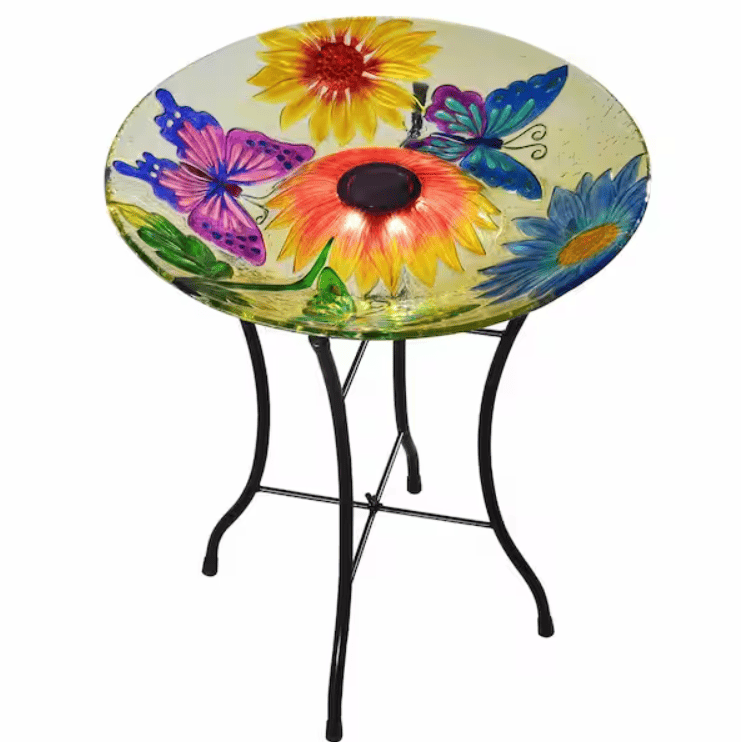 This glass bird bath will add a splash of color to your backyard. I like the basin's bright, colorful style as a focal attraction point, and it will nicely complement a flower garden. At just over 21 inches high, it's one of the shorter pedestal units, which may attract more ground-loving birds.
A potential drawback is that the LED doesn't appear strong enough to light up the whole bath, just the center area.
Pros
Cons
LED only lights up part of the basin
The bowl is not attached to stand
Only 30-day warranty
Heated Bird Bath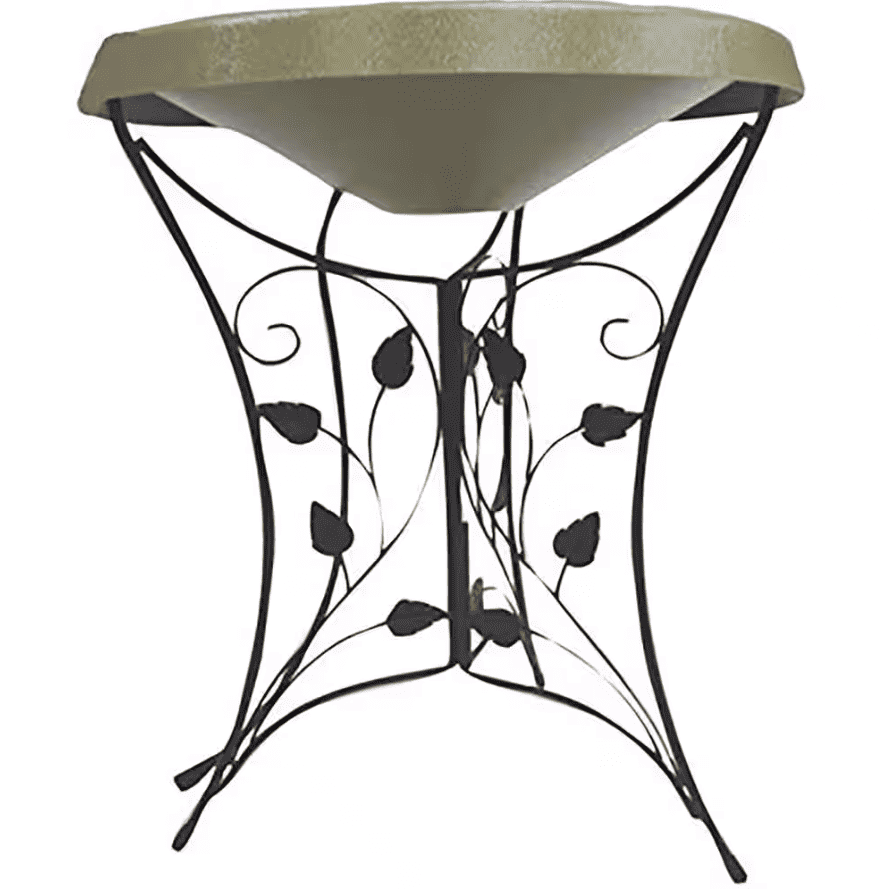 This is the only heated bird bath available on the website, and there's not a lot of information about it. It claims to work to 20 degrees Fahrenheit, which won't do for winters everywhere, so think about how cold your nighttime gets before purchasing.
Pros
Attractive motifs on stand
Cons
Expensive
Short power cord
Ground-Based Bird Bath
This fiberglass dripper is a ground-level unit that hooks up to your faucet and uses pressure, not electricity, to generate water flow. It's made to look like just another rock in your garden and utilizes a great, solid design with many edges for birds to perch. I love that it has an adjustable water flow so you can tailor it to your specific backyard situation. There's no reason this dripper won't last for many years.
Pros
Good weight (10.85 lbs)
Can change the water flow
Includes 50 feet of tubing
Cons
Expensive
Hanging Bird Bath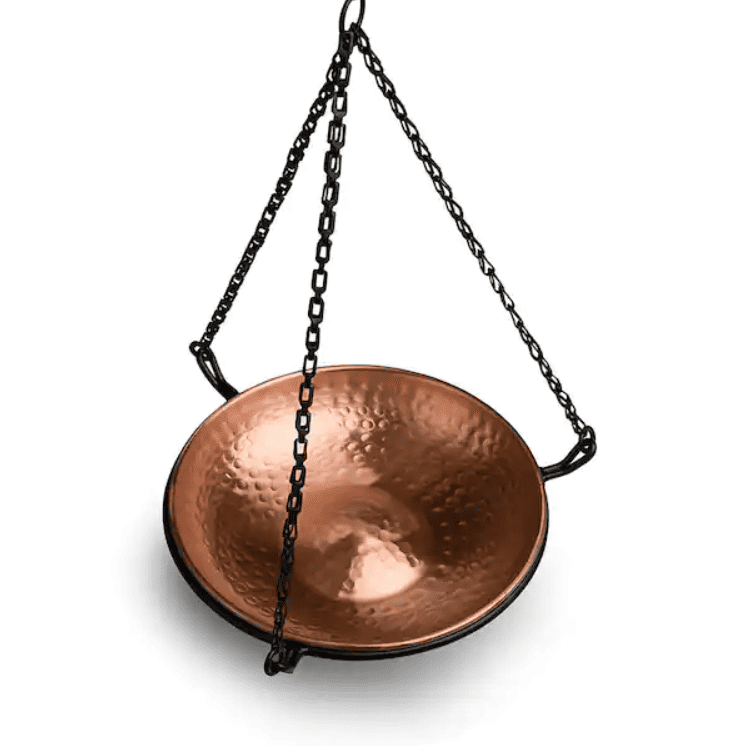 I'm a big fan of copper due to its antimicrobial properties, meaning your water stays cleaner for longer. It's also a nice-looking unit, as copper and black are always an attractive combination. It's small enough to hang from any deck, pole, or branch, and all parts are made from solid metal, so there is no risk of damage in high winds.
Due to the very smooth sides of the basin, I would suggest adding rocks or similar material inside the bowl to allow smaller birds to perch safely.
Pros
Copper prevents algae growth
Durable material
Con
Some complaints that the chain holders aren't equal so the bath hangs crooked
Deck-Mounted Bird Bath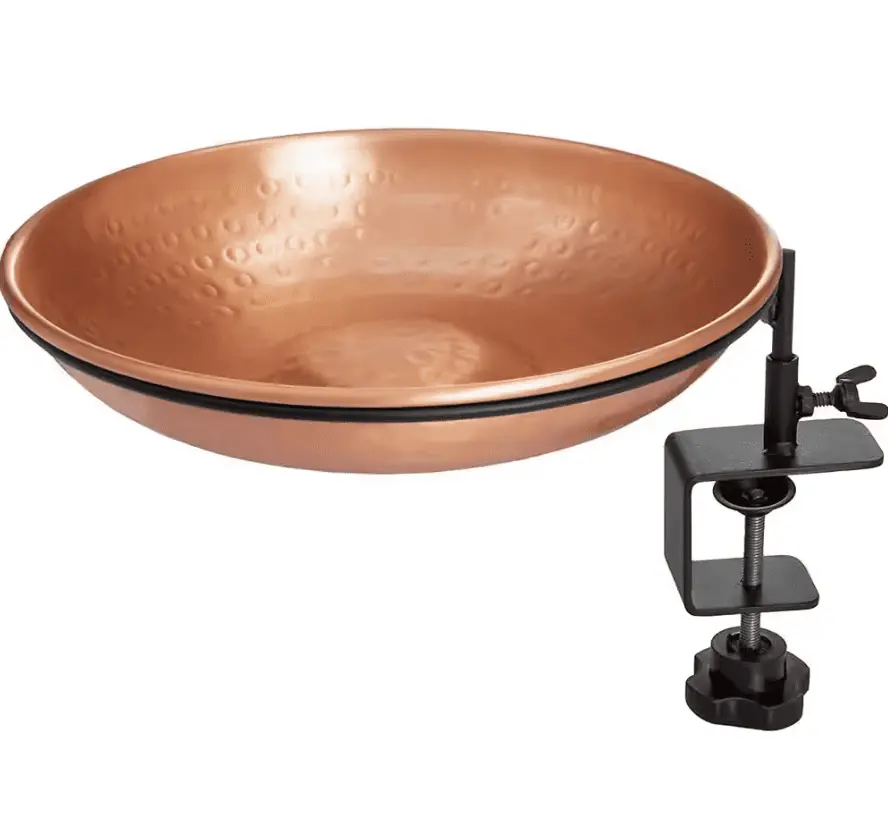 Here is another excellent copper unit. This is perfect if you want birds close by or you don't have backyard space but do have a deck or balcony. As long as your attachment location is less than 1.75 inches thick, you're good to go. Remember that it may take some time for birds to find stand-alone baths without cover nearby, so a bubbler to create the sound of running water could be a useful addition.
You can also mount this either positioned over or away from your porch. If you're getting too much poop on your deck, switch the mount and position the bath outside the railing.
I do wish use manufacturers didn't advertise their units using images with photoshopped birds; if your product is good, you shouldn't have to fake usage.
Pros
Made from antimicrobial copper
Easy to clean
Con
Narrow edge for birds to perch
Wall-Mounted Bird Bath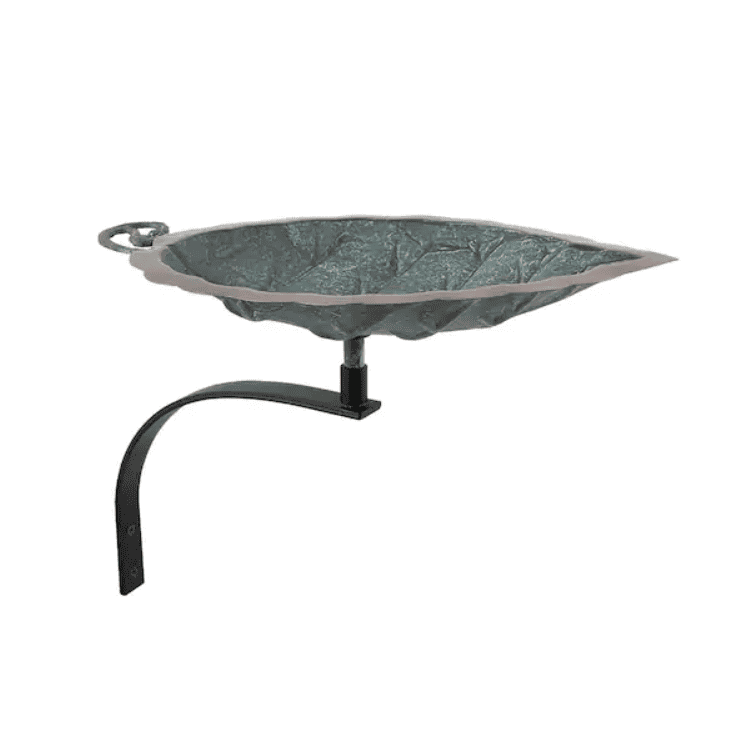 This is an attractive unit, as the interior of the leaf-shaped basin does look like a leaf. The wide edge provides a solid perch, but the smooth interior suggests the need for adding stones.
All you need to do is screw it into a wall, and it's ready to use. You have to unscrew the basin to clean it, so it's a little more work than a hanging unit where you can lift the basin out. These units are nice because you can choose how high to mount the bath and can use a wall, fence, or post.
Pros
Secure
Durable
Can mount at any height
Con
Have to unscrew the basin to clean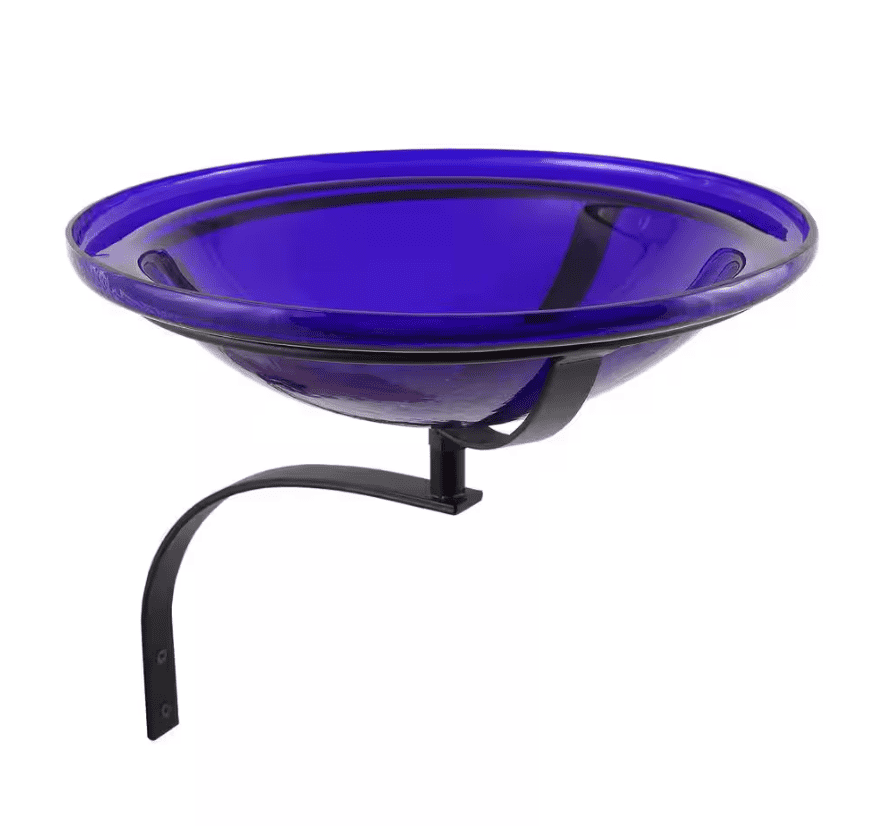 Oddly, the prices are slightly different for the three color varieties available for this model. My favorite is the deep blue, but the green and orange are also nicely vibrant. The bowl is deep and steep enough that you should add rocks to the bottom to help the smaller birds.
Pros
Easy to remove basin for cleaning
Very simple design
Con
FAQs
Question: How often should I clean my bird bath?
Answer: In the summer, 2-3 times a week. Use water mixed with vinegar for cleaning, and rinse thoroughly before refilling with clean water. Copper is a great basin material as it has natural antimicrobial properties but can still get fouled with bird poop.
Question: Are there any problems with low bird baths?
Answer: The main issue is predation, especially from cats that are common in urban areas. To reduce the risk of your birds getting caught while they're distracted bathing, keep baths at least 3 feet off the ground and away from low vegetation where predators can sneak up unnoticed.
Question: Are there risks in having bird baths close to your house?
Answer: Yes, because birds can't see glass. The best practice is to have your bath far from the house – at least 25 feet – or close to your house – less than 3 feet. At 3 feet, birds aren't yet flying fast enough to hurt themselves, and at 25 feet, they have time to avoid windows. Make sure your windows are also visible by adding bird-deterrent decals.
Conclusion
If you're looking for a tall, elegant backyard bird bath, you can't go wrong with the two-basin copper cattail bath. This two-tiered resin fountain is also an excellent option for those wanting a true fountain effect and a nice-looking stone façade.
Continue reading:
27 Best Hanging Bird Bath Ideas
13 of the Best Concrete Bird Bath Ideas
Best Bird Bath Fountain Ideas: Because Your Feathered Friends Deserve a Water Feature!