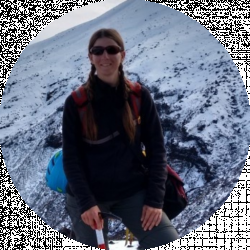 Latest posts by Kathryn Peiman
(see all)
On a hot day, there's nothing better than taking a dip to feel cool and clean. It's normal that we want the same thing for the beautiful birds we see in our backyard. We also want our yards to look pleasing, and bird baths are a way to accomplish that goal. So, how do we incorporate a concrete bird bath in a way that looks good but, more importantly, helps the birds?
As a keen birdwatcher and nature lover, I always want to make sure that human efforts to help our backyard visitors are achieving that goal. Sometimes, the best intentions can go awry, and my goal is always to do right by the birds with which we share this place. I am a biologist and researcher by training. I have spent years studying birds in both urban and rural environments, so I deeply understand what influences their behavior and what we can do to make concrete baths more appealing and safe.
I used my extensive knowledge of bird behavior and ecology and how humans impact these to give concrete (pardon the pun) examples of concrete bird baths that will meet everyone's needs – especially those of our feathered friends. Birds aren't people; they keep clean differently and have different behaviors to consider.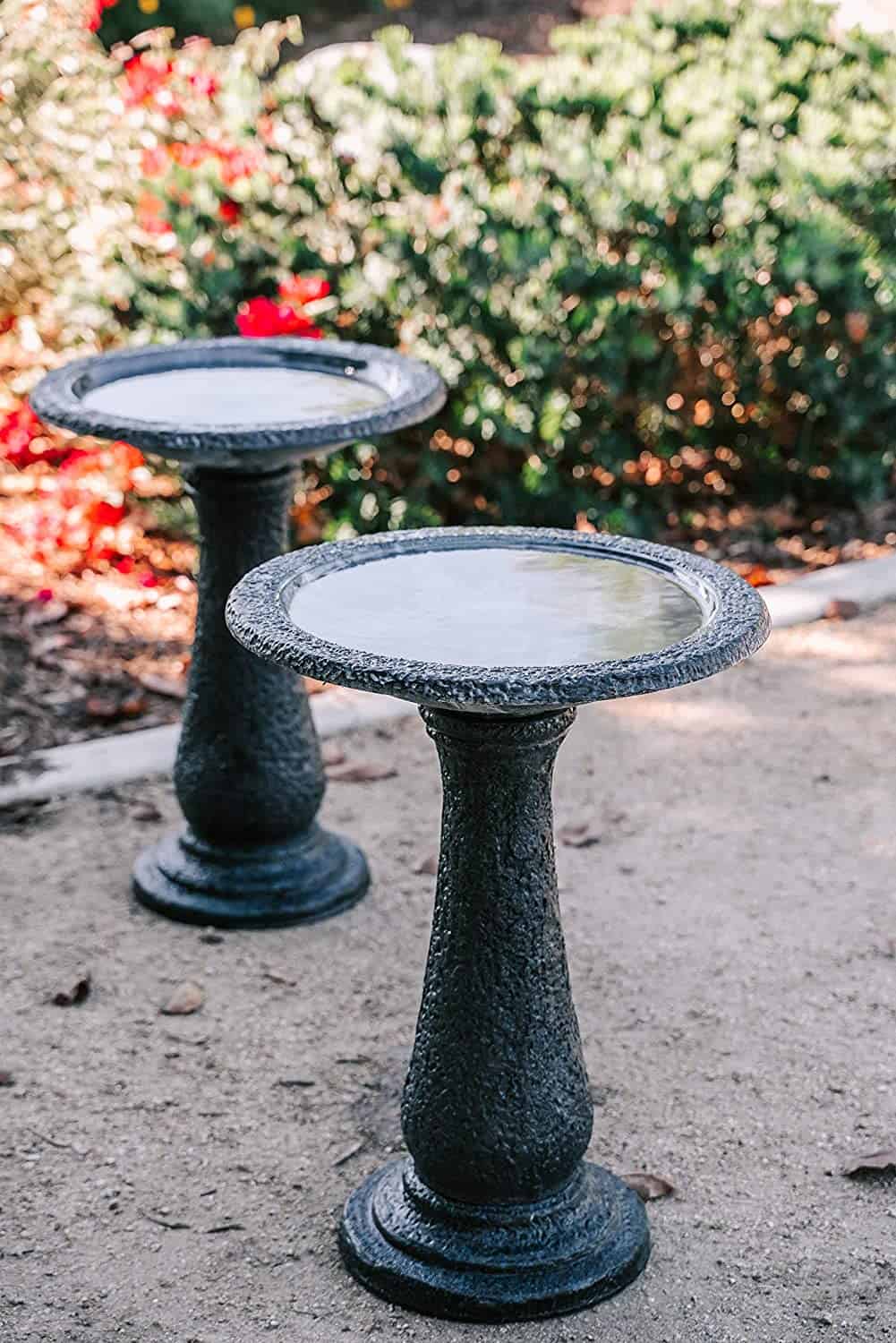 Bottom Line Up Front
Concrete is heavy and expensive (though neither is always true). A concrete bird bath will last a very long time and should be considered an investment that will enhance your yard and attract birds. Though concrete can seem intimidating, don't underestimate your local hardware store or the internet for great tutorials; it'll be cheaper, and you can make your own design.
If you feel that's too much work, never fear; I've shared a lot of great options depending on your preference for height, design, and having a fountain included.
You may ask, why choose concrete as a structural material? In architecture, products aren't made from conventional concrete anymore, but instead from glass fiber reinforced concrete – and that's the type of material used in concrete bird baths. Concrete bird baths are naturally durable, and their weight means they aren't likely to be tipped over in high winds unless the base isn't stable. They should last longer than stone or resin and won't rust like metal ones.
I haven't included any products made of materials other than concrete. If you're searching for concrete specifically, make sure you read product information carefully as often they're made out of cast stone instead – I found several sites that listed both 'concrete' and 'stone' as the construction material in different places. Cast stone can withstand freeze-thaw better than concrete and may be better if you wish to leave your bird baths out in colder climates.
How to Choose a Concrete Bird Bath
Most concrete bird baths are the pedestal type, with a concrete pillar base and basin that may or may not be detachable. Ground-level concrete baths – just the basin without the pedestal – are also available.
Due to some constraints in weight and the nature of casting concrete, there was less variety in the details available with concrete bird baths than with other types. Like other baths, concrete ones come in single-tiered and multi-tiered versions, but because of the heavy nature of concrete, you're more likely to find ones with a single tier.
You can also find concrete bird baths with and without a fountain. Birds are attracted to the sound of running water, so one with some type of fountain may help birds find the bath. Stagnant water runs the risk of growing bacteria and fungus, the exact opposite goal of why the bird is bathing. You still have to clean fountains with running water, just less often.
I've shared examples of both kinds, and some versions without a fountain could be converted with an electrical or solar-powered pump. Just remember that the electrical ones mean you need to figure out extension cords which may require it to be closer to your house, while solar gives you more versatility in placement though it does have to be in direct sunlight to achieve maximum power.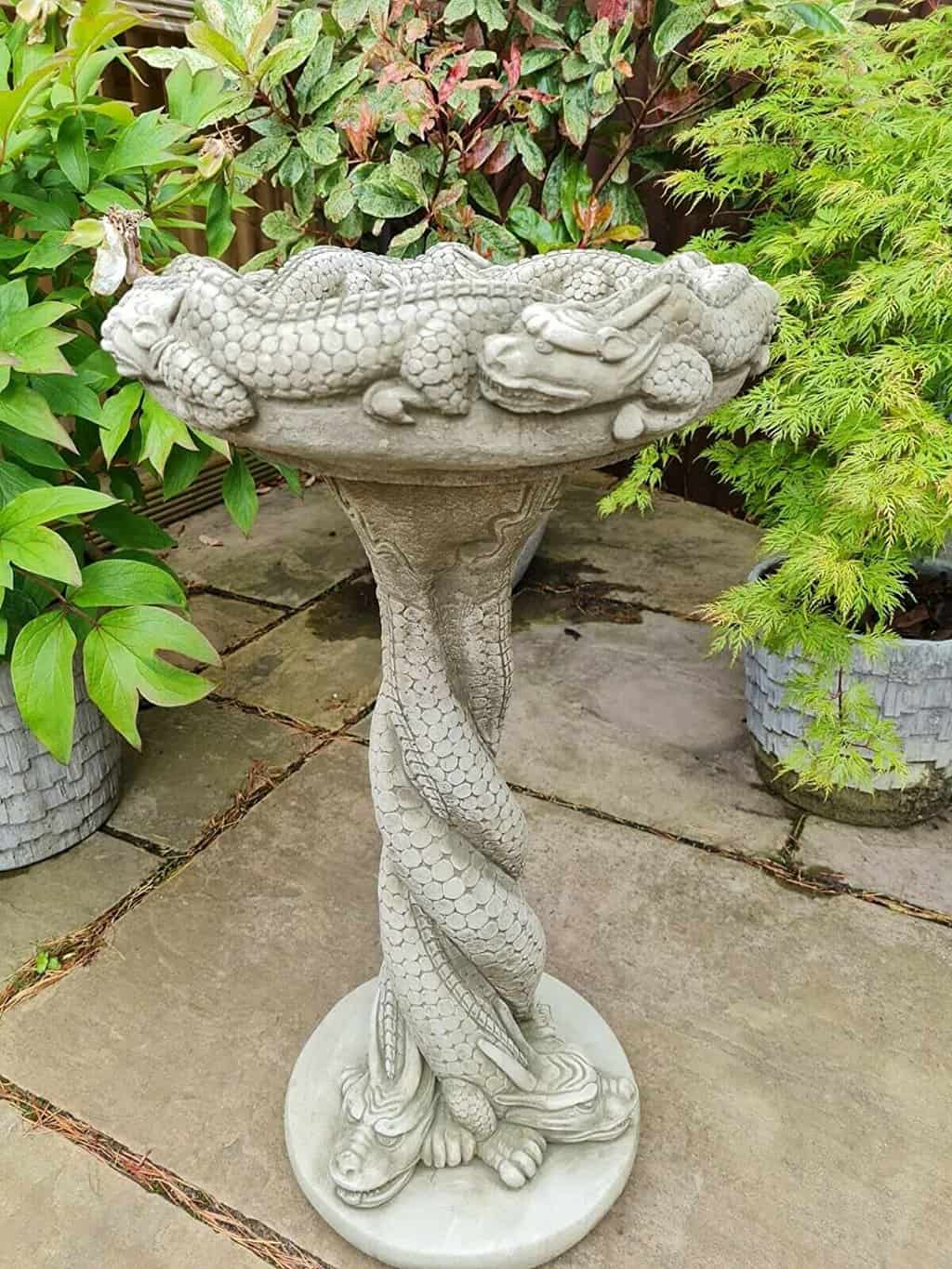 One of the drawbacks to a bath made of concrete is that the bowls can be deep, so you may need to add stones or other materials to bring up the bottom. Remember how birds bathe – they aren't swimming; instead, they're going in chest-deep at most and can easily crouch and flick water over themselves if it is shallow.
I also prefer basins with a gentle slope and minimal lip; ones with a small lip may be fine for birds, but remember that many other animals may be attracted to the water, and some, like insects, need to walk out if they get waterlogged.
Concrete bird bath choice comes down a lot to style. Design elements to consider include:
Pedestal shape

Basic geometric, such as squares and rectangles
Basic rounded, like a column
Styled to resemble ancient architecture (Roman, Greece, etc.)
Styled to resemble nature (vines, leaves, wood)
Artistic or decorative elements

Basin shape

Basic bowl
A fluted, undulating, or scalloped rim
Shell, leaf, or other nature-like shapes
I have chosen specific concrete bird baths based on these criteria:
Ease of cleaning: if they're hard to clean, you're less likely to do it, and stagnant water is not good.
Rim: can the birds easily land and access the water? A wide and rough rim provides the best perch.
Basin depth: small birds like about 2 inches of water, larger birds 4 inches or so.
Weight: concrete is heavy by nature, but you shouldn't need an army to move a bird bath, especially if you want to try different places or change up your backyard's configuration.
Note that I chose not to consider cost. Concrete will last a very long time as long as it doesn't freeze, so these backyard additions are an investment, and I much prefer to spend more money on good quality items that will last. It's also hard for me to report on prices because these items usually don't ship – or if they do, it's really expensive – because they can be quite heavy. Thus you may have to search out your preferred type of bath locally, and prices were quite variable by the manufacturer.
I've organized the examples by size, style, and presence of a fountain.
Top Concrete Bird Baths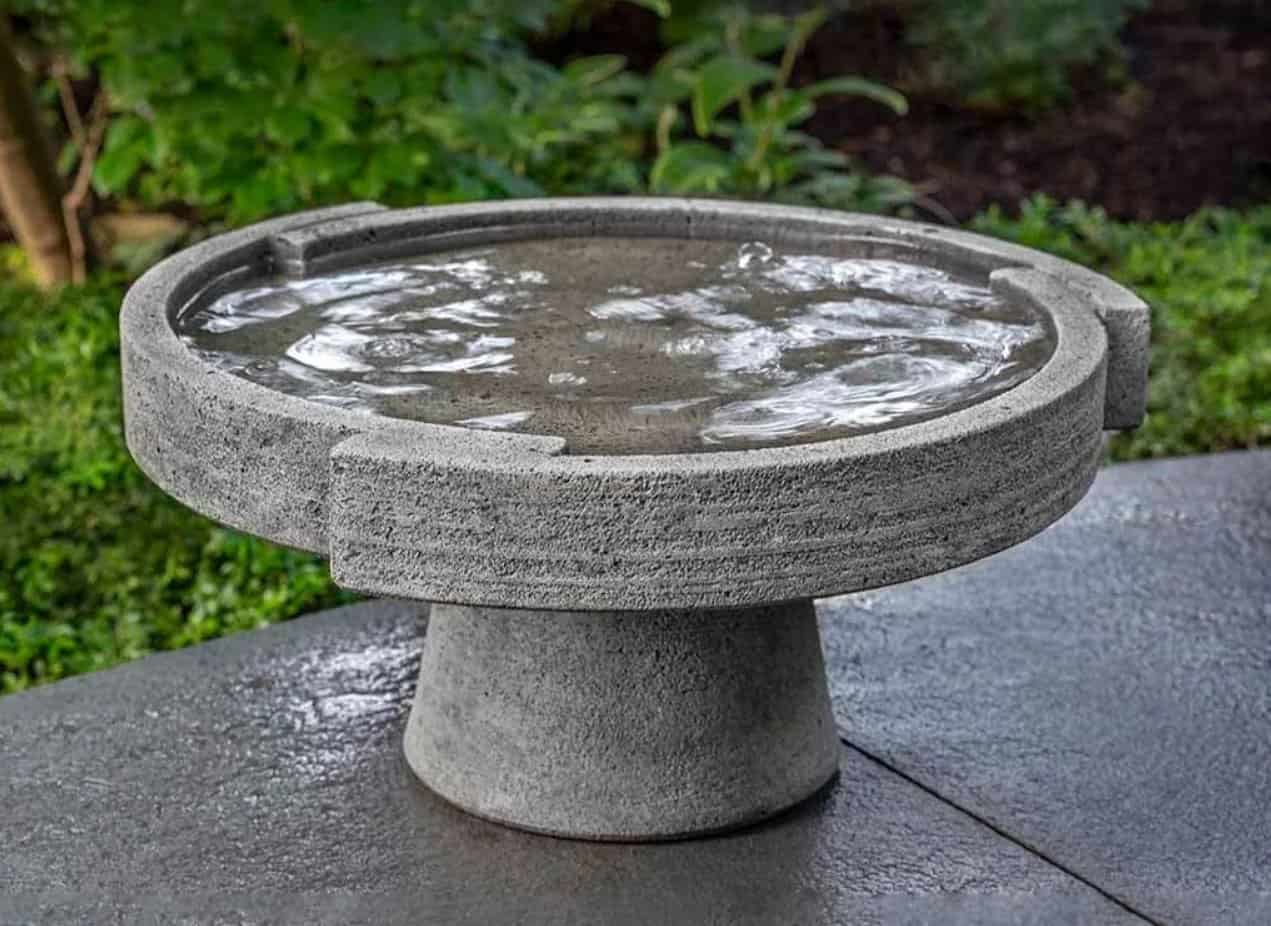 This is a nice short bird bath with a good edge for perching and relatively shallow depth. Because the lip is not sloped, placing a few stones near the edge would be a good idea to help tiny critters get out in case they get wet. The shallow bowl depth also means that larger jays, orioles, etc. may not be inclined to use it but it's perfect for smaller birds.
It's not light, and it's unclear from the description how much the bowl vs. pedestal weighs, so it may not be ideal for someone who can't lift 35 lbs. Some birds may prefer low-level baths, like doves and thrashers, and ground-level water is the natural place for water. However, in our urban environments, remember for any baths low to the ground that birds may be at risk of predation by wandering cats.
Dimensions: 9" high X 19.25" diameter; bowl 1.5" deep; 56 lbs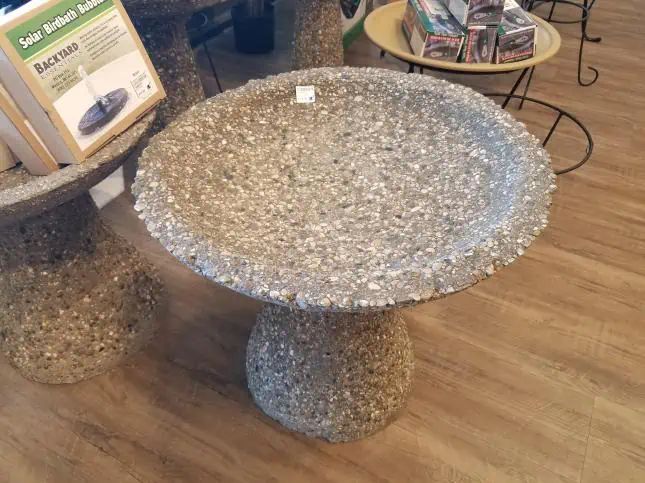 This is an example of aggregate concrete, which contains other materials in the concrete mixture, usually stone or sand. This type of construction usually costs less than pure concrete and is typically stronger. This one is a nice, simple bird bath, and the texture and variety of stones make it look very natural in your backyard.
The roughness of the embedded stones makes the whole bowl easy for birds to perch without risk of slippage. It looks deep enough that rocks will likely be required to bulk up the middle. It should be lighter than concrete, but the weight wasn't given for this example.
Dimensions: 10.5″ high X 14″ diameter; no weight given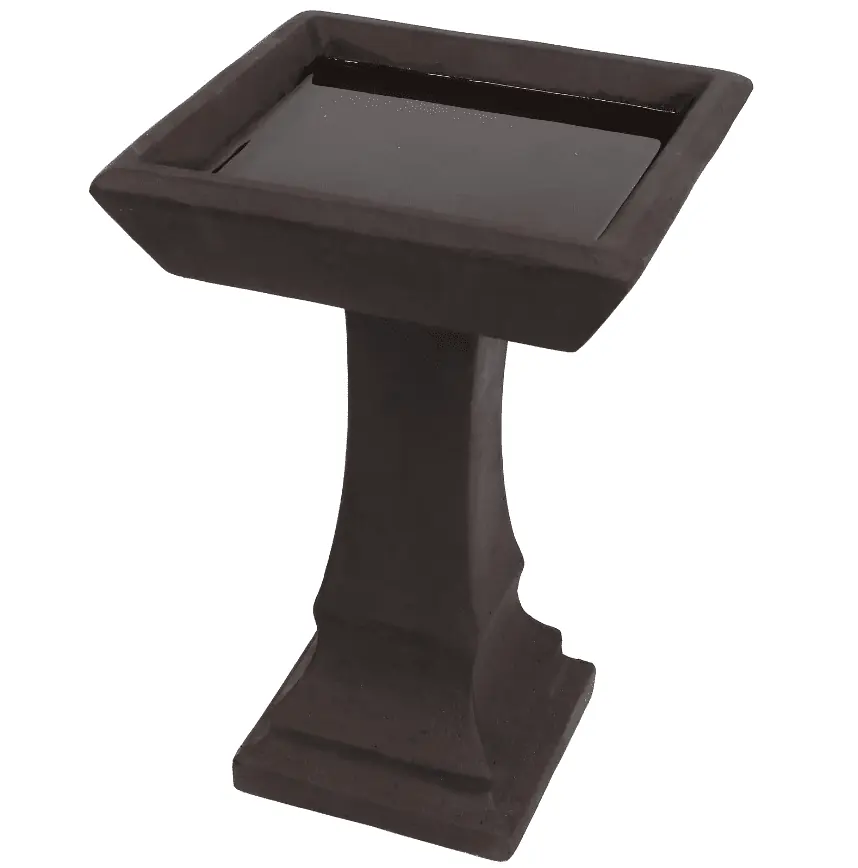 This one has a geometric shape, with square shapes creating a simplistic and elegant design. It's sealed and has a dark finish. A hollow pedestal means this is one of the lighter concrete units I found. Unless it's full, birds may have a problem trying to drink while perching on its edge.
Though not specified, it looks like the bowl has a uniform depth and relatively steep sides. Since it's also sealed, the sides have less purchase for climbing. This one would definitely benefit from added rocks near the edges to help with a gentler transition to the edge, so smaller birds can safely bathe.
Dimensions: 23″ high X 15.25″ across; bowl 2.25″ deep; 20.2 lbs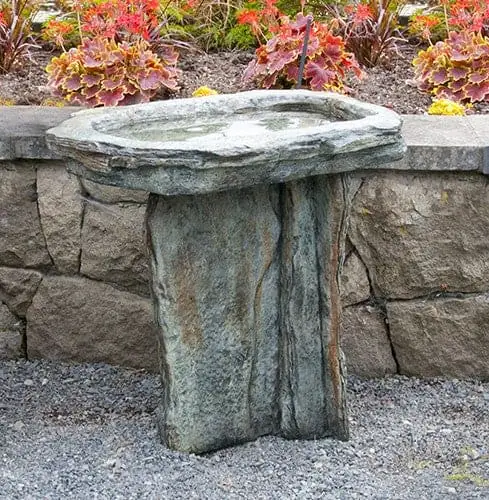 Few concrete bird baths are cast to mimic a natural object completely, which is why this one caught my eye. I love how natural it looks. Though a natural look isn't crucial to the birds, for those that want their backyard to reflect a more natural state, this one will do the trick. It also has a nice flat wide ledge for birds to land on, and the steep edges aren't uniformly straight.
Unfortunately, I can't tell how deep the basin is, so it may need some rocks if it's deeper than 2 inches to help with the steep edge. However, this one is heavy at 100 lbs, and though the basin is separate from the pedestal, it will still be a heavy lift, especially for one person to tip it over and empty the water.
Dimensions: 23″ high X 24″ long X 17″ wide; 100 lbs; 2 pieces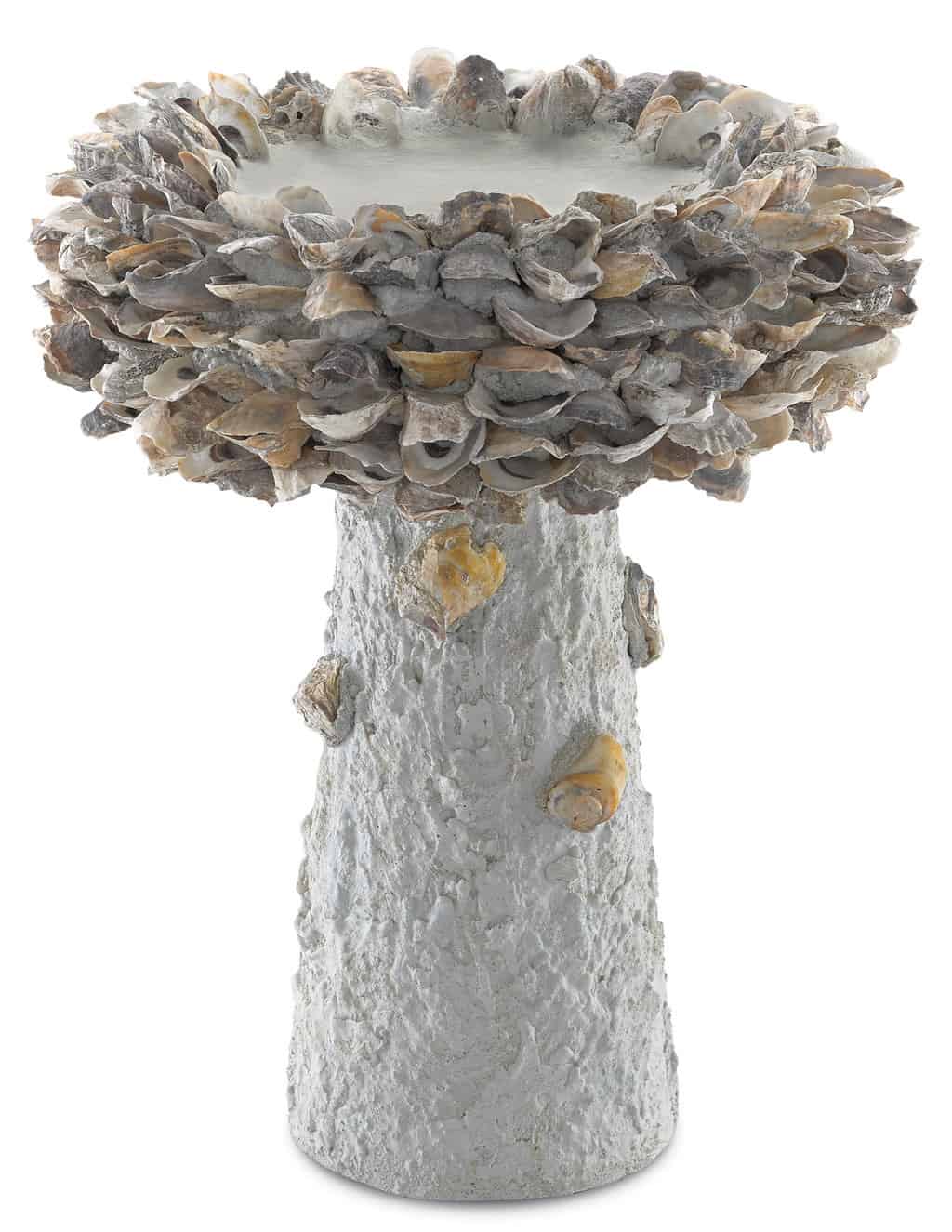 I had to include this one out of its sheer uniqueness. The basin has oyster shells embedded around it, creating quite a varied surface on which birds can perch and a very wide rim. The sides of the bowl look gradually sloped; overall, the bowl doesn't look too deep, though it's hard to tell.
This bath also has a different construction, with iron/steel reinforcing the concrete. Surprisingly, this doesn't make it super heavy, considering how high it is. I suspect the bowl and pedestal are a single unit and cannot be separated.
Dimensions: 21.5″ high X 17.5″ diameter; 60 lbs
This links to a catalog, so look at item 1 PC Flower BB with Bird/B221. I like this one because it cleverly has both a ground-level and upper bath basin and is still only medium height. There's no depth measurement for either basin, but they look pretty deep, so adding some stones would ensure smaller critters can get in and out safely. It is a single piece and presumably fairly heavy; this one could be easier to clean if you had a power washer to force the water out instead of having to tip it over.
Dimensions: 16″ high X 11″ wide; no weight given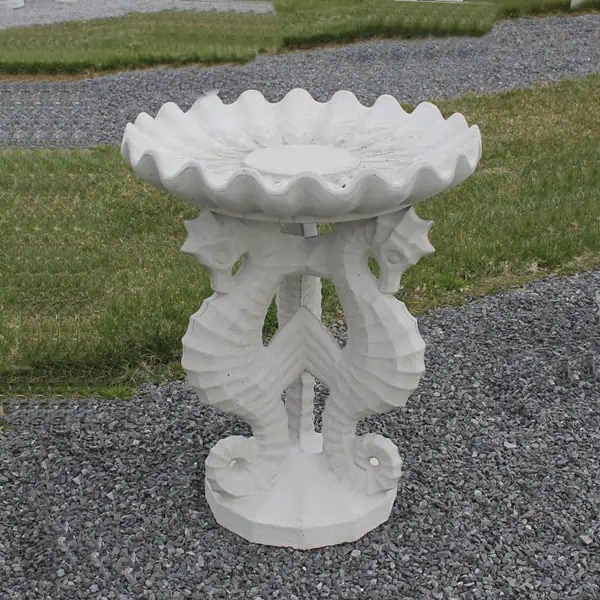 This one may appeal to those who want a bird bath that looks more like a whimsical piece of art. The large bowl has gently sloping sides and a slightly raised inner platform. Three seahorses create the supporting pedestal, so it's also a decorative sculpture for the backyard. I'm not a huge fan of the fluted edges to the bowl, as I don't think it helps with a bird's ability to perch securely.
Still, it creates a wave along the bottom of the bowl, providing shallower and deeper areas that may appeal to a more diverse set of species. Since it's labeled as a set, presumably, the basin separates from the pedestal, but the overall weight is unknown.
Dimensions: 32″ high X 27″ diameter; no weight given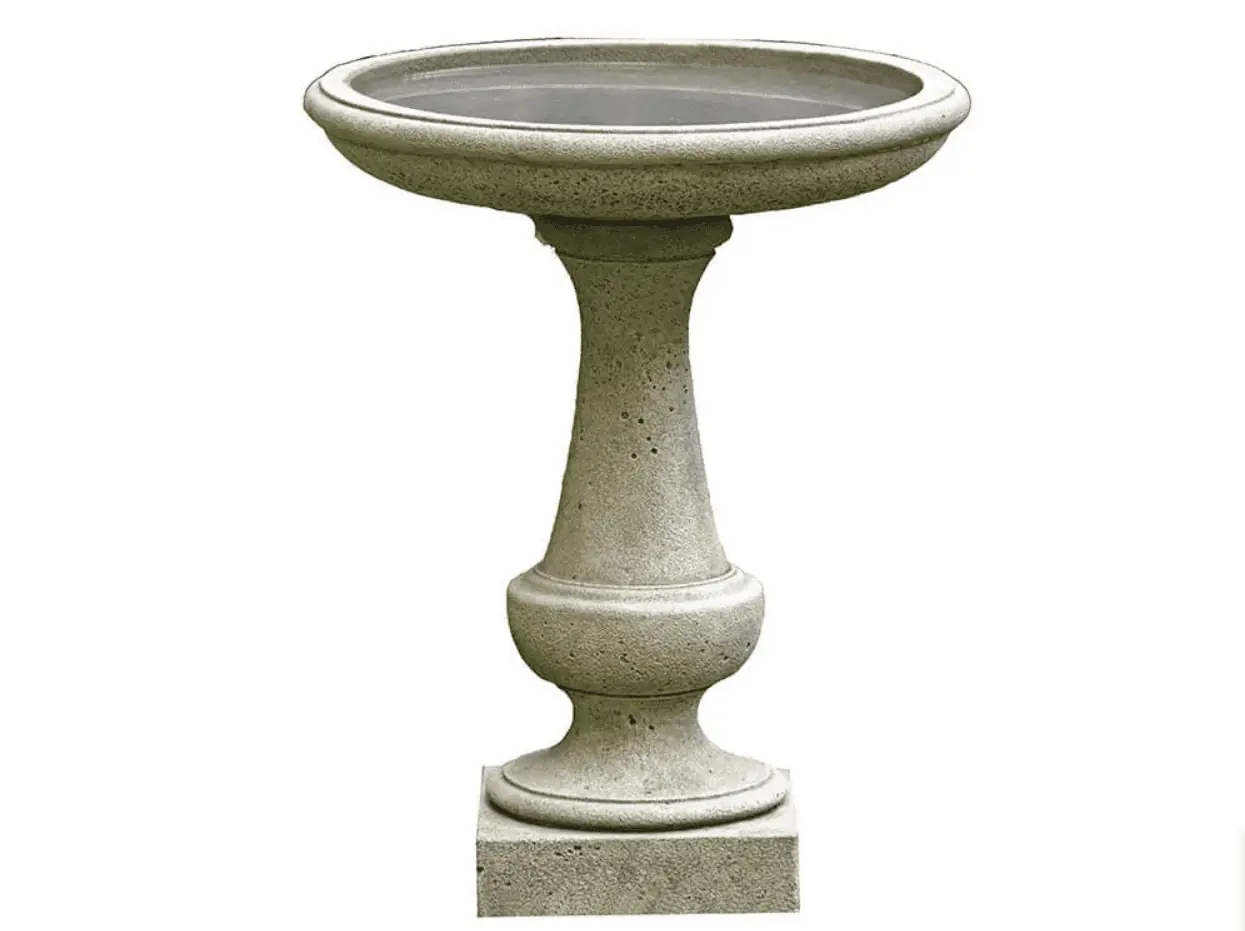 This is a nice clean pedestal design with a simple bowl on top that I assume can be separated into two pieces (it turns out the websites aren't always specific on that detail). The bowl is perhaps a third of the total weight, but that's still 35 lbs to lift and dump during a water change. I'm not a fan of the steep slope and right-angled lip, so I would add some stones to the bowl. The depth is at the maximum for small birds, so those added stones will help attract smaller species as well.
Dimensions: 27.25" high X 21" diameter; bowl 2.5″ deep; 104 lbs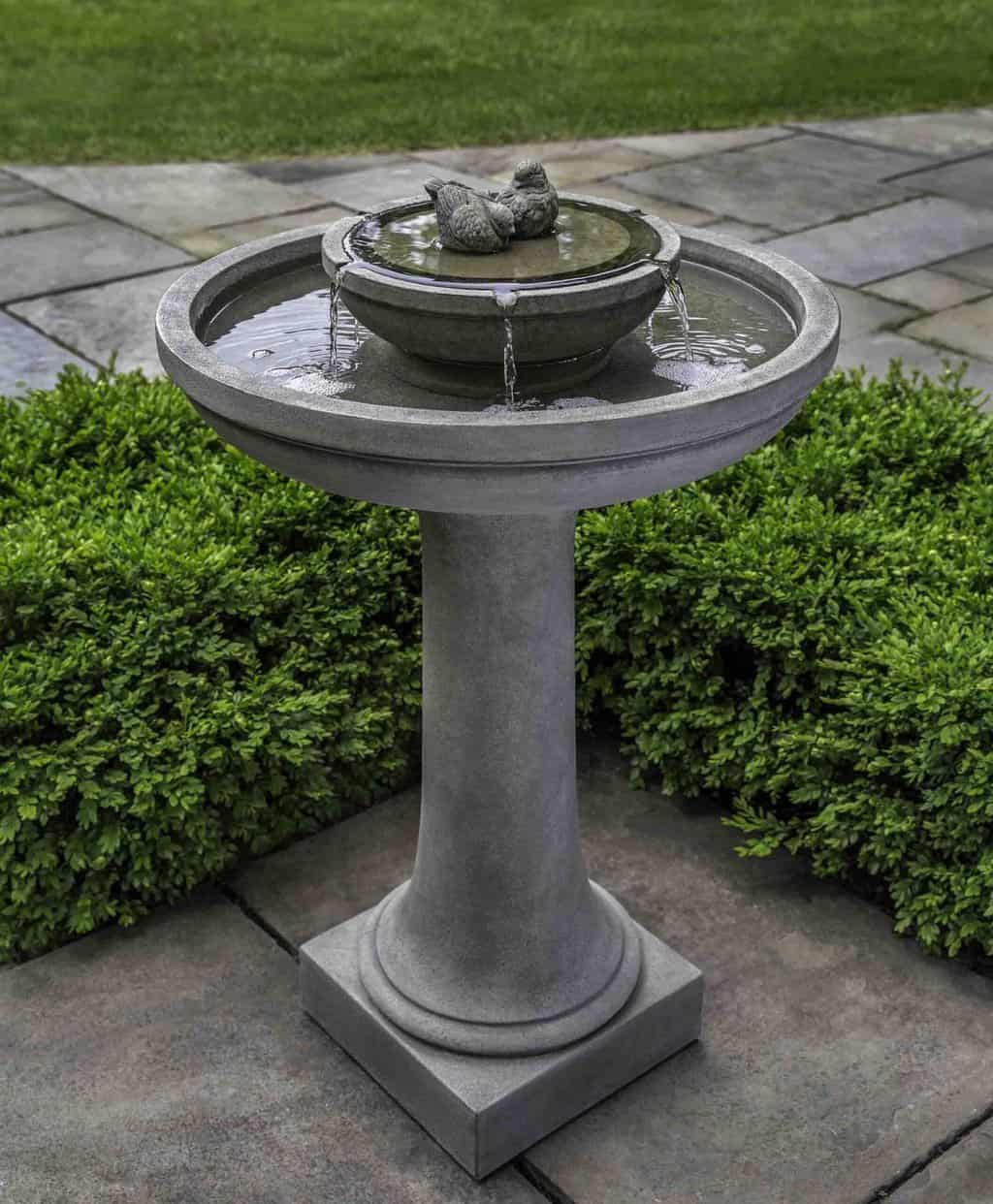 This is a nice example of a two-tiered simple fountain and one of the taller choices. I like the sleek, classical look; it would look fantastic in any yard. The water flows from the top bowl into the bottom via multiple spouts, preventing it from agitating the water too much. I also like that the top bowl is shallower than the bottom to accommodate multiple bird sizes.
The bottom basin has steep sides, so consider adding stones. However, the website doesn't say whether the bowl set separates from the pedestal, or the overall weight, which would affect the ease of cleaning.
Dimensions: 39″ high X 24.75″ diameter; no weight given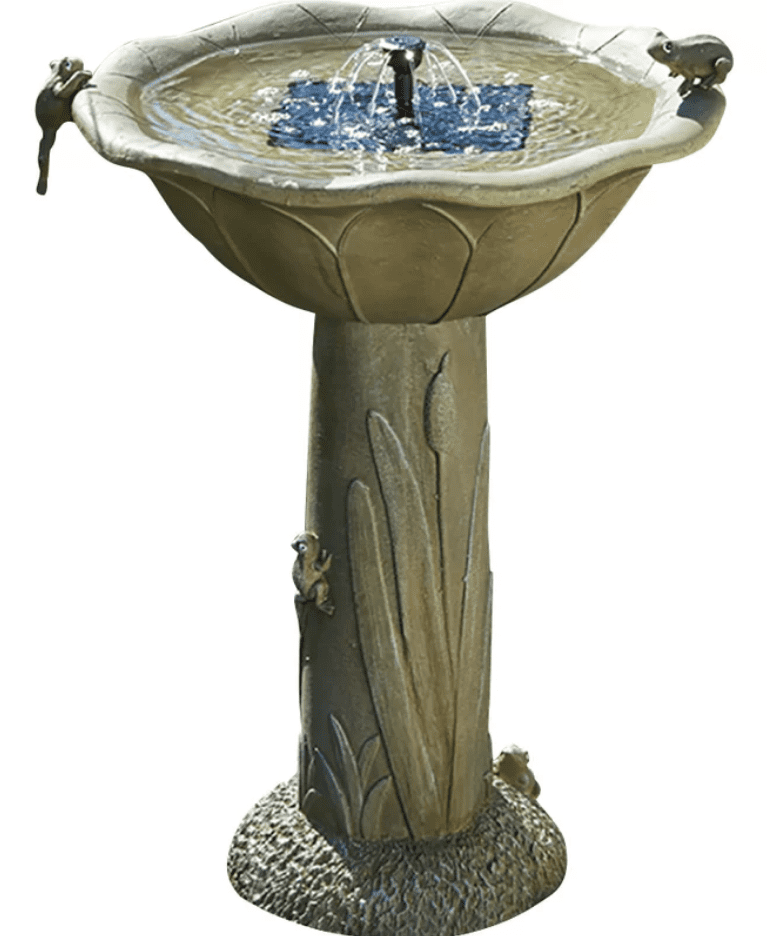 I like this because it's solar-powered: a self-contained, shallow fountain. The water reservoir capacity is 1.5 gallons. It has a hollow stand, making it one of the lighter choices. The decorations – cattails and frogs – are understated and not gaudy. With nice sloping sides, this is a great choice.
Dimensions: 24.5″ high X 18″ diameter; bowl depth 1.3″; 26 lbs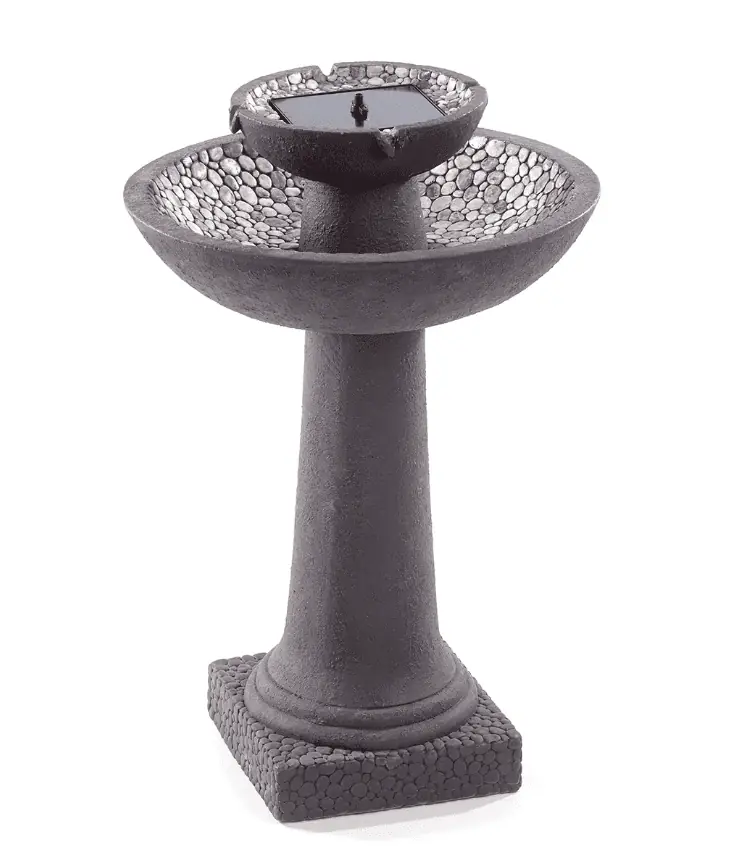 This one has it all – an elegant design, solar powered fountain, and two tiers. The layer of stones inside the larger bottom basin adds a nice decorative touch and provides a better surface to grip, which is important because the sides are reasonably steep. The depth, I presume, refers to the lower bowl, as the upper one looks shallow with the placement of the solar fountain base.
Consider adding stones to the lower bowl, at least on one side, to decrease the depth. With a water capacity of 2.5 gallons and a fountain that runs for 6 hours off of one charge, it's very nice and lightweight enough for easy maintenance.
Dimensions: 23.62″ high; diameter not given; bowl depth 3.5″; 26.45 lbs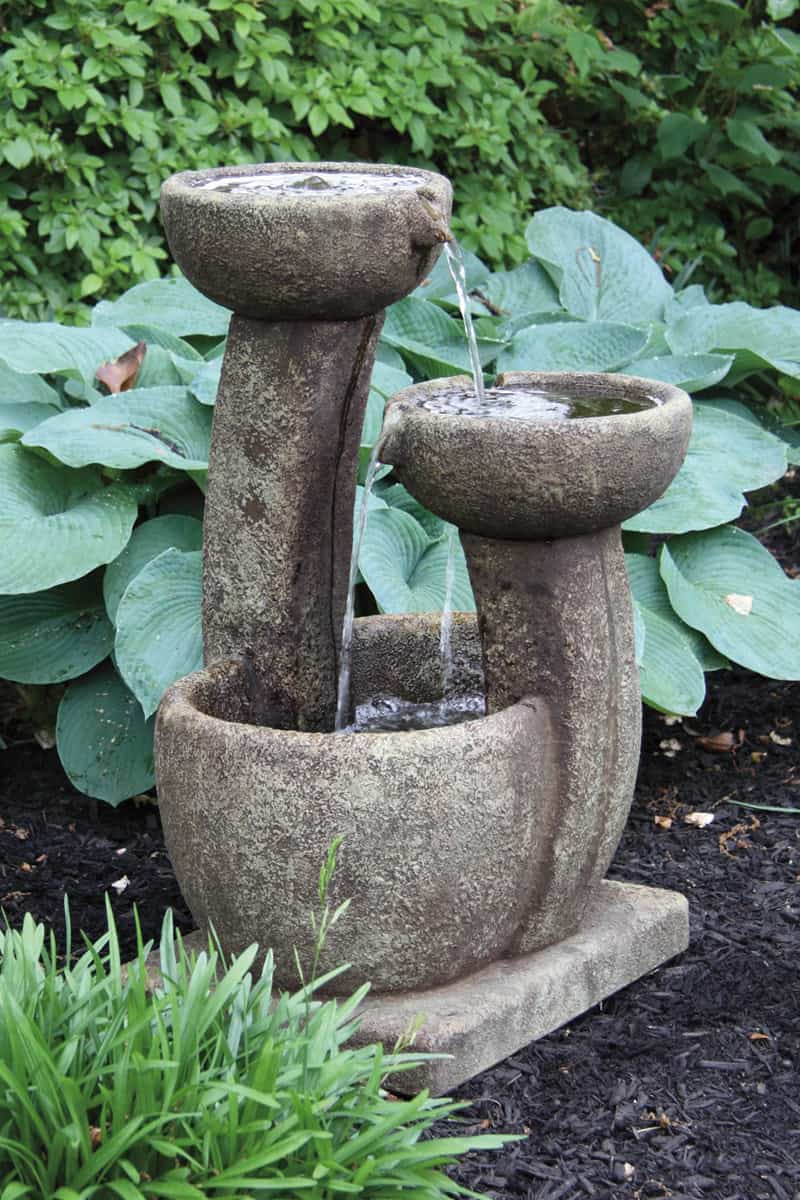 I chose this one because of the simplicity of the design. It looks fairly natural, and I really liked the curving pedestals – there aren't many right angles in nature! There also aren't a lot of three-tiered concrete designs, so there are lots of levels for different birds here. I also liked the single spout in the upper bowl and two spouts in the lower bowl – this creates the water movement but at a single point, leaving lots of room for birds to bathe without getting dunked.
The main thing I worry about is the potential depth of the bowls – especially the large bottom bowl could be fairly deep, so consider adding stones if that is the case. Unfortunately, the website didn't list any details for this particular fountain, so its size and weight are unknown.
Dimensions: unknown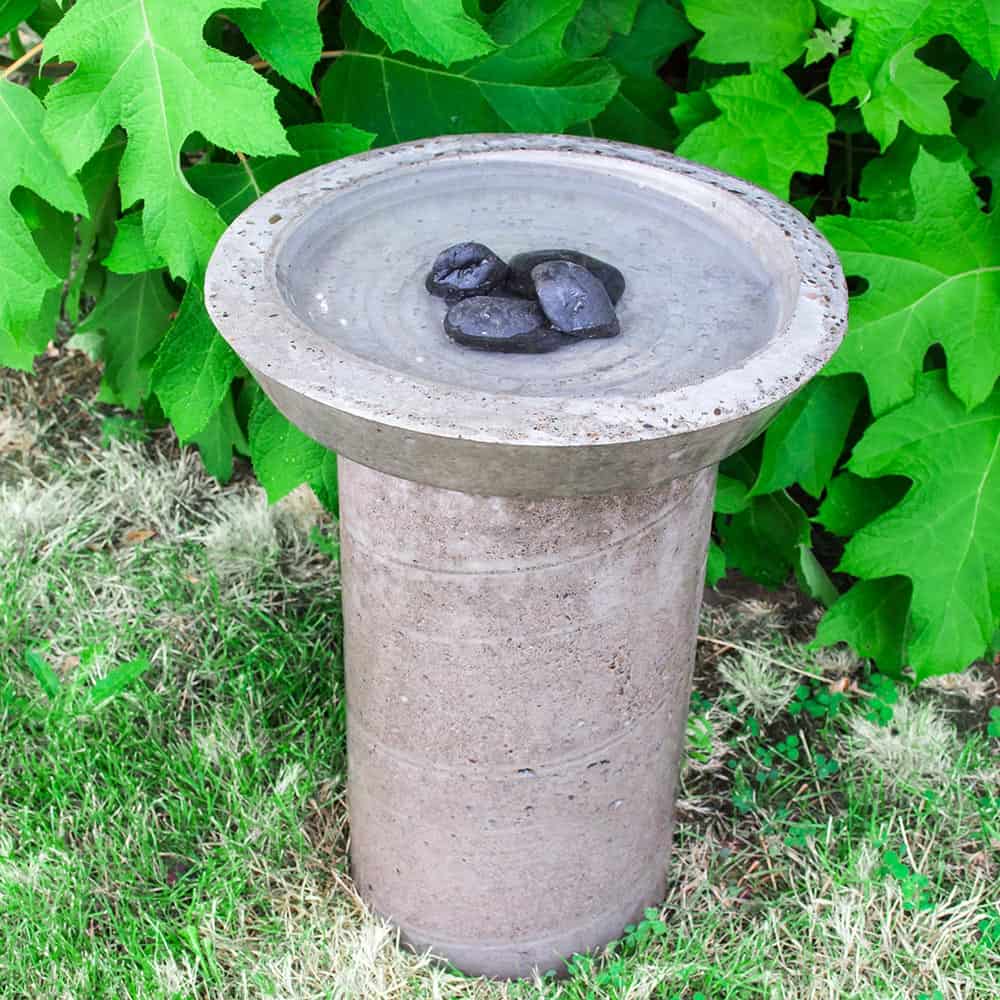 Even though it may seem intimidating, there are many tutorials on DIY concrete bird baths! The advantage, of course, is that you can make one exactly to the dimensions and in the shape you want, and it's likely to be way cheaper than buying one pre-made. You can make some beautiful designs if you're inclined – this one using a rhubarb leaf is impressive!
Remember, if sealing a concrete bird bath, whether you've made it yourself or one that you've bought, make sure your sealer is safe for birds. Most must fully dry before they're safe, but others will continue to leach toxic compounds into the water. The same goes for paint – if you choose to paint your bird bath, ensure the paint is safe for birds. If it doesn't say it's non-toxic for birds, then don't use it!
FAQs
Question: How do I keep mosquitoes from breeding?
Answer: Mosquitoes lay eggs in stagnant water and can emerge in as little as ten days. Thus, moving water and changing the water at least once a week will ensure your bird bath isn't adding to the local mosquito population.
Question: Where should I put the bird bath?
Answer: There are a couple of things to consider. One is windows. Window collisions are a high source of mortality for birds; even when they fly away, they often die later from their injuries. To avoid this, either have the bird bath within 3 feet of your window – so the birds aren't flying fast enough to hurt themselves – or at least 30 feet away – so they can avoid your house.
It's also helpful to add bird deterrents to your windows. You'll also want to consider nearby cover. Birds feel safer bathing if they have bushes or trees nearby to return to.
Question: Do I have to clean concrete?
Answer: Yes, though how often depends on the situation. Concrete is porous, so there are many crevices for algae to grow, especially if it is not sealed. Algae is generally not harmful to birds, but they may avoid the bath if there is a lot of algal growth. The best way to clean is using nine parts apple cider vinegar to one part water.
Conclusion
Concrete bird baths with fountains tend to be much more expensive than those without one. If you want a fountain feature, it will likely be cheaper to DIY for the fountain part – just ensure the bowl is deep enough to accommodate the pump.
There are lots of sizes and shapes from which to choose. Even when you decide what style you want – natural, simple, decorative – and the height and number of bowls, you'll still have many options, even in that narrow category. Though seeming overwhelming, there are also lots of instructional videos on how to make your own concrete bird bath, so don't ignore the possibility of making your ideal creation yourself.
For more interesting readings check out: