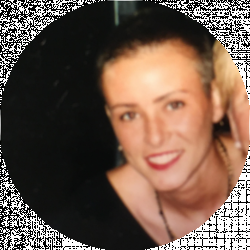 Latest posts by Richelle Tieman
(see all)
Welcome to my guide for the best-heated bird bath choices available for you today! If you are reading this, I already know that, like me, you care about wildlife and know the value of birdwatching for mind, body, and soul! Having a heated bird bath is like having a raised dog food bowl for your Labrador Retriever. It makes the contents more accessible and contributes to the animal's health. Imagine how many different kinds of birds will be at your fresh, cold water bath every day when other nearby options are frozen or covered with snow!
While a bird bath in and of itself is akin to communing with nature, having a heated bird bath symbolizes your commitment to helping Mother Nature provide in times of scarcity! Living in our igloo in Maine (LOL) gave my family a front-line view of wildlife, especially birds.
My grandmother introduced me to birdwatching when I was a child. I remember her filling her many bird feeders and water bowls and telling me which pesky birds were bullying the others! I was fascinated with how many different birds were constantly in her yard – and she had a mobile home on a postcard lot, proving that the size of your yard doesn't matter to birds!
Before she moved south, her northern home would have ice-encrusted bird baths that she would diligently break up and refill several times a day! This was before there were heated bird baths to make the task less burdensome!
When I got my own home up north, I quickly learned that I had neither the patience nor the time to monitor the water content in my bird baths daily. After countless weekends trying to invent creative ways of keeping the water from freezing in the bath, I soon realized I needed to just break down and buy a heated bird bath. (I even tried to use old shingles to build a shack next to my garage, the thought being that the heated garage would help the water not freeze. Didn't work at all!)
Years have passed since my first heated bird bath, and now that I live in a warmer climate, the water doesn't freeze (it might get up to 90 degrees, though!)
Not convinced yet that a heated bird bath is worth it? Check out this video of winter wonderland playtime on YouTube!
Best Heated Bird Bath: Bottom Line Up Front
Before I dive into the aspects that I look for in a heated bird bath and why I chose those on my list, let me cut to the chase. My ultimate best pick for a heated bird bath is the Western Red Cedar Songbird Essentials Heated Bowl with Pedestal. Not only is it a work of art for your yard, but red cedar is one of the most durable materials used in outdoor decor. The 14″ bowl keeps water flowing down to -20 degrees! Built-in thermostat and multiple ways to mount the bowl make this my number one best-heated bird bath pick! I want to run my hands over the cedar wood angles and smell that scent!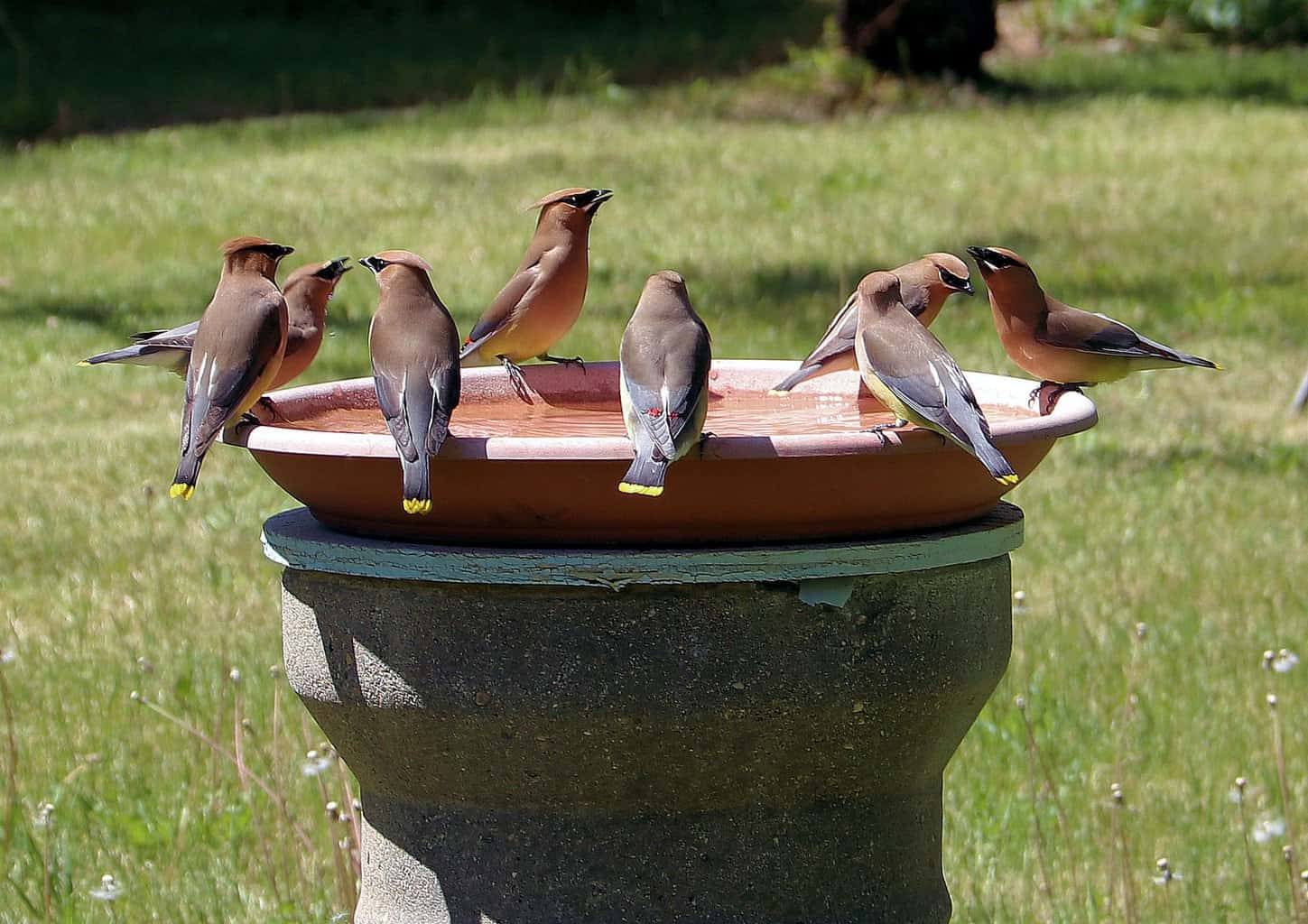 How I Choose My Best Heated Bird Baths
In a nutshell, I ask myself if the heated bird bath is:
Weather-Resistant
Appealing (to both birds and humans)
Long-Lasting
Available from a reputable retailer
Priced Realistically
Available
Quick List of Best Heated Bird Baths
Essential Features of a Heated Bird Bath
Automatic Thermostat
Convenient to Clean
Long-Lasting Construction
Shallow Bowl
Not all bird baths are created equal, and there are some necessary traits that a safe, reliable, and long-lasting bird bath needs to have. These are essential aspects and not optional "add-ons" that I will discuss later.  You want to check these things off your list as you search for your perfect bird bath.
1. Automatic Thermostat (For safety and effective operation)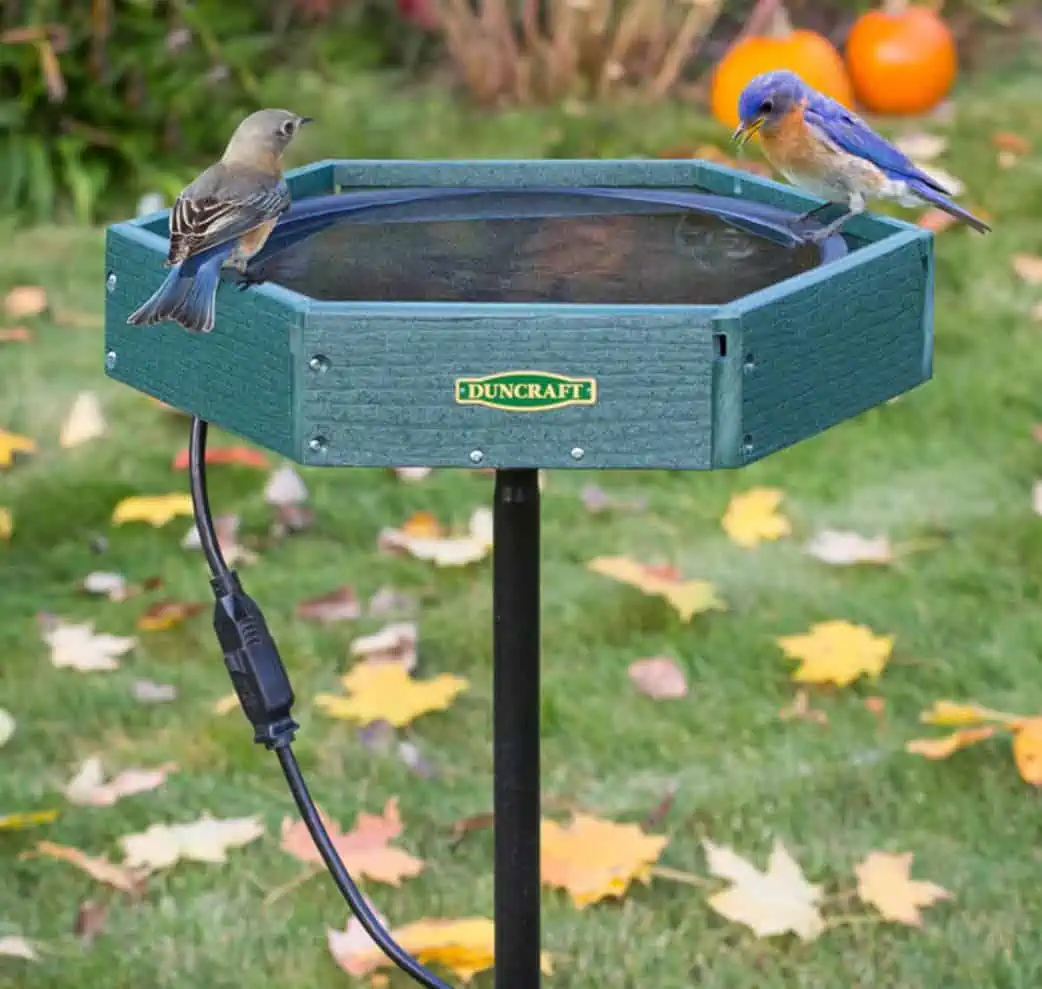 This is important because you want the thermostat to turn on when it drops below 32 degrees to heat the water. Thermostats attached to heated bird baths are made to handle that bowl's size and the style of the bird bath.  I would opt for a wattage of 75 or above if your climate is consistently under the freezing mark for most winters.  Typical thermostats come in 50W to 150W and should have an on/off switch.
The thermostat should also automatically turn off once the bird bath ice has melted. This is important because it's not safe for birds, or the bird bath, to have the water consistently warmer indefinitely!
2. Shallow Bowl
The depth of the bowl is important for the birds' safety, as smaller birds won't be able to land in more than 2 inches of water.  Most bird baths have the ideal sloping sides for a graduated depth, allowing large and small birds to choose their depth. Adding a few small rocks will ensure that all sizes of birds can bathe and drink in safety! The rocks also provide a place for the birds to land if the bird bath's rim is too thin.
3. Long-Lasting Construction
I am laughing as I see ceramic and glass heated bird baths available. Would you leave your porcelain teacup outside in the snow overnight? How about putting a hot stoneware casserole dish in cold water? I did that once to a Pyrex lasagna pan. Shattered instantly. Not a favorite memory.
Metal freezes and can make tiny toes stick to the edge! All my choices are made with high-density plastic or red cedar wood. A fiberglass bird bath is also a good option!
4. Convenient Cleaning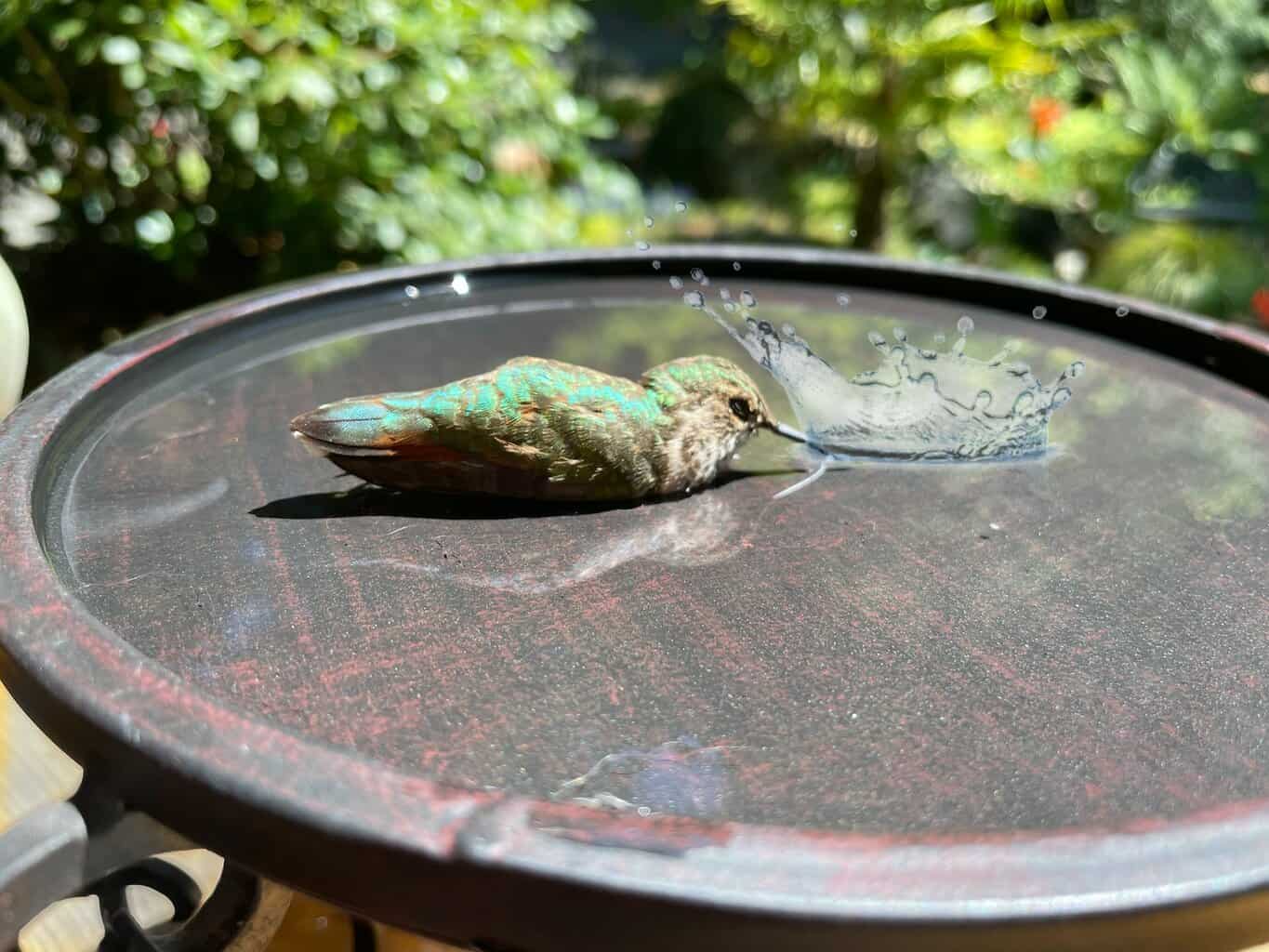 Now that you have this optimal birdwatching assistant (bird bath), you want to clean it regularly to have fresh water! You may need to fill your bird bath every day or so, and after twenty cardinals, bluejays, woodpeckers, and bluebirds have bathed in it, you will want to clean it. Avoid crevices and hard-to-reach places in the more detailed bowls.
A tilting or removable bowl is super-handy for daily wipe-downs, and most heated bird bath bowls will feature this.
Best Materials For Heated Bird Baths
I have the best time shopping for shiny, glazed, artistically innovative bird baths that spout water at varying pressures and play orchestral music (just kidding about that last one!).  But seriously, shopping for a three-season bird bath is going to be much different than choosing a heated bird bath. I'm not sure why heated bird baths have such a limited design choice, but I will say that they are built for one solid reason: to provide melted water for birds. This can only be achieved by constructing an item that withstands blizzards, feet of ice, and hurricane winds. In short, Maine. LOL!
Seriously, can you see your ceramic blue scalloped bird bath sitting pretty in the midst of all that? Or your hanging glass bird bowl with the painted hummingbirds? No. That's why plastic, red cedar, fiberglass, and cast stone materials are the norm for heated bird baths.
Plastic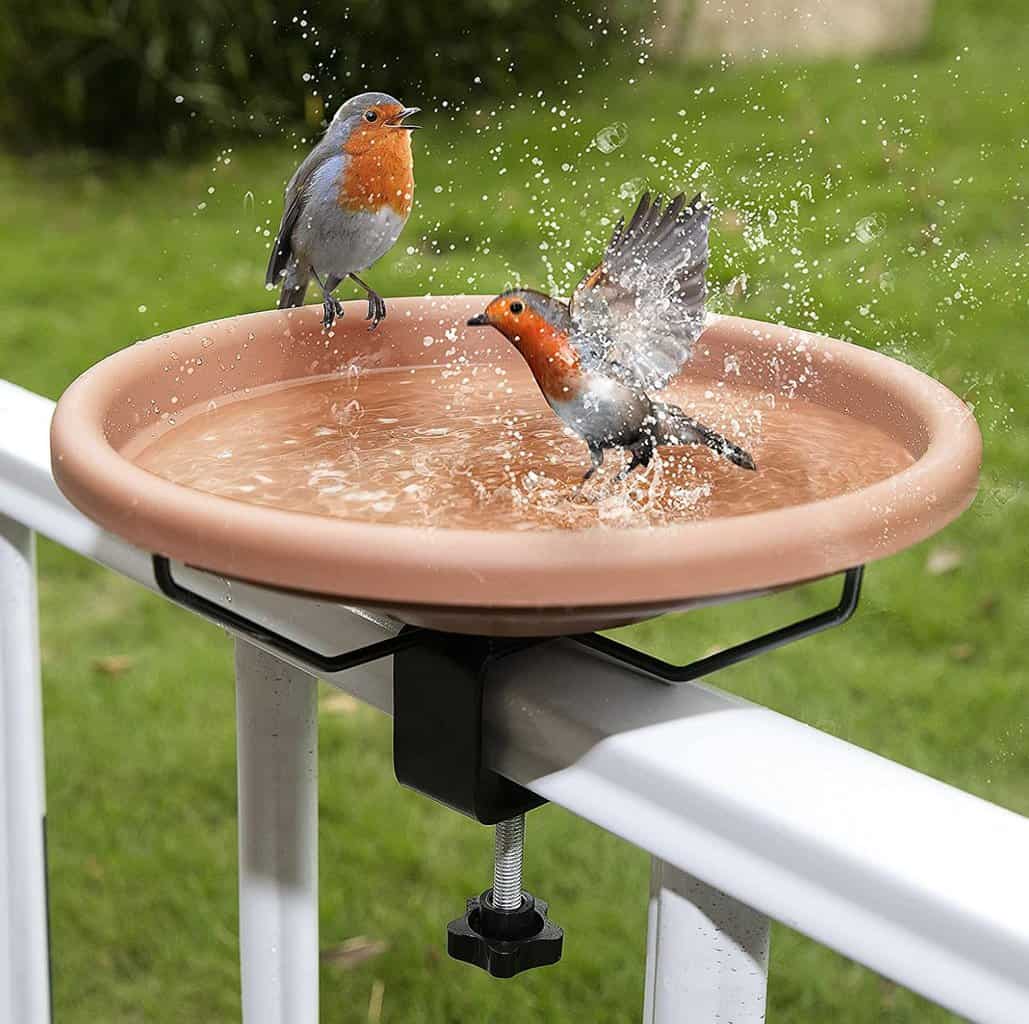 High-density plastic is an incredible material for anything used outside year-round. Poly-lumber, ABS, HDPE, and others typically include a significant portion of recycled plastics mixed with resins to create a waterproof, rustproof, and unbreakable item. Think of the plastic Adirondack chairs. Be sure to read the specifications to determine the quality of plastic used.
Fiberglass
Fiberglass holds up well in any kind of weather and is incredibly durable. Usually mixed with resins for strength, fiberglass won't crack, splinter, or rust, even if left out in the harshest climates! Fiberglass is UV resistant and won't fade in the summer heat, either! The only drawback to having a bird bath made of this material is the lightweight nature of fiberglass. It is incredibly strong and long-lasting but needs to be weighed down in strong winds!
Red Cedar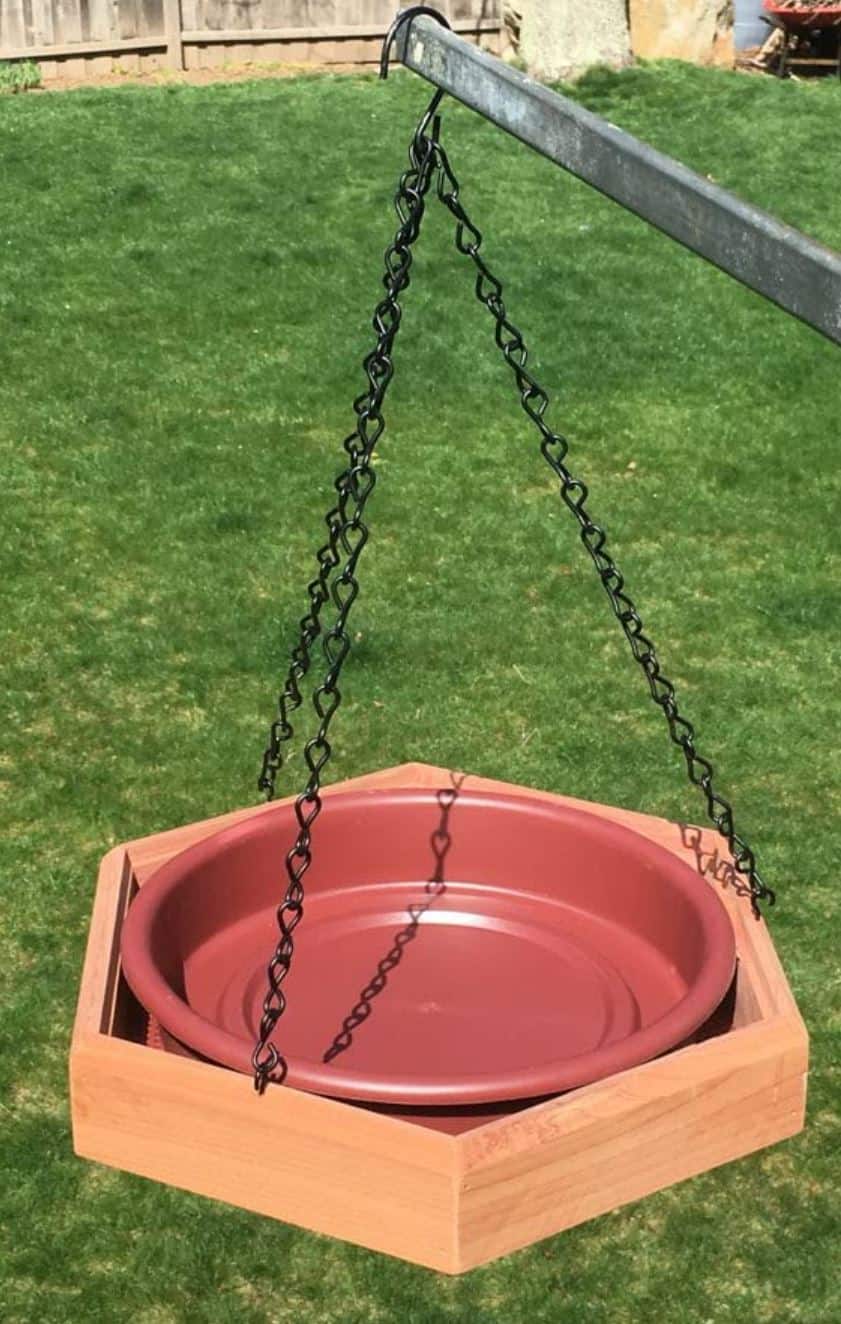 Red cedar is a fantastic material for bird baths and outdoor furniture because of its natural resistance to insects and humidity! It is solid and durable, outlasting other types of wood. For a heated bird bath, red cedar is ideal as it has a "thermal coefficient," which in plain language means it has insulating properties that cause it to hold heat in the winter and stay cooler in the summer. It's much like a Golden Retriever with two coats of fur!
Red cedar also smells wonderful, having a soft, woodsy smell. Sealing red cedar against the weather will extend the life of your bird bath for years!
Ceramic, Glass, Concrete, and Porcelain
These are all no-no's when it comes to being out in freezing temperatures.  It may work with one or two items a few times, but they will certainly crack with the freezing, thawing, and re-freezing cycle, expanding and contracting the tiny air pockets within the material. That is to say nothing of the water or liquid residue in the bird bath. That adds another huge opportunity to break the whole bowl.
The same thing holds true with glass; only I think the glass is a bit more noticeably fragile. Even if you have a hanging bowl bird bath that is free and clear of any objects, a strong wind will turn it upside down or swing all the water out.
Why Is a Heated Bird Bath Important?
Feathers for Flight
You may not think it, but birds are very concerned with their hygiene.  Most birds bathe every day, and not just to look pretty!  Their feathers pick up dirt, insects, and excess oils that get washed away as they dunk themselves in water and shake it out.  Then they fly up to a safe perch to let their feathers align and dry off (fluff out) so that their flight is maximized with speed and accuracy!
The added weight of parasites and dirt adds up to quite a bit for a tiny bird, and in addition to dirty feathers weighing them down, they also decrease the speed of flying!  Oils clump the feathers together and flatten them, creating gaps for air to escape. This makes it harder for birds to quickly remove themselves from potentially dangerous situations.
Feathers for Warmth
In winter, it becomes much more important for them to bathe because of the insulation that clean feathers provide.  Matted feathers mean more heat escapes, which means it takes more effort for the bird to stay warm.
The actual water is important for this same energy conservation reason.  Birds can eat snow and thaw it in their beaks to quench their thirst, but it takes more energy.  When there are no leaves on the trees and birds are in plain sight to predators, the last thing they need to worry about is not having enough energy to escape!
Best Heated Bird Baths Explained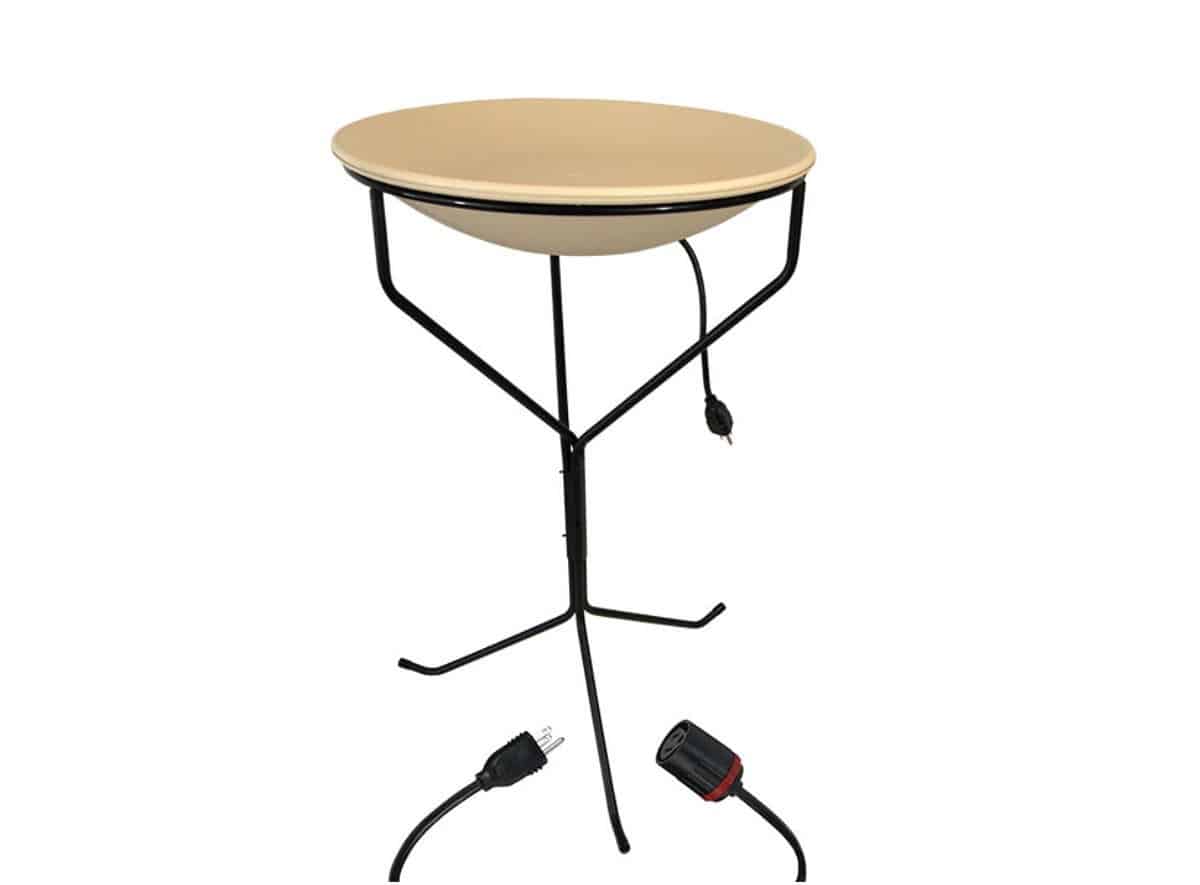 This has everything ideal for a heated bird bath on a stand.  The large 19″ bowl diameter is textured inside to help tiny birds grip securely, and the 1.75″ depth won't submerge even the smallest of your winter friends! I love the 150-watt powered thermostat for extra cold climates with sub-zero weather – ensure thawed water all the time, no bird left behind! The stand sits two feet off the ground, and the included UL-listed "lock dry" cord is 25 feet long! Find this at Best Nest.
Pros
Beautiful, streamlined design
A 25-foot UL-listed specialty power cord is included
Metal stakes are included to secure the stand
Textured bowl to help birds maneuver
150-watt thermostat
Cons
The power cord hangs from the bowl to the ground (for the money, I think they could have created a better system!)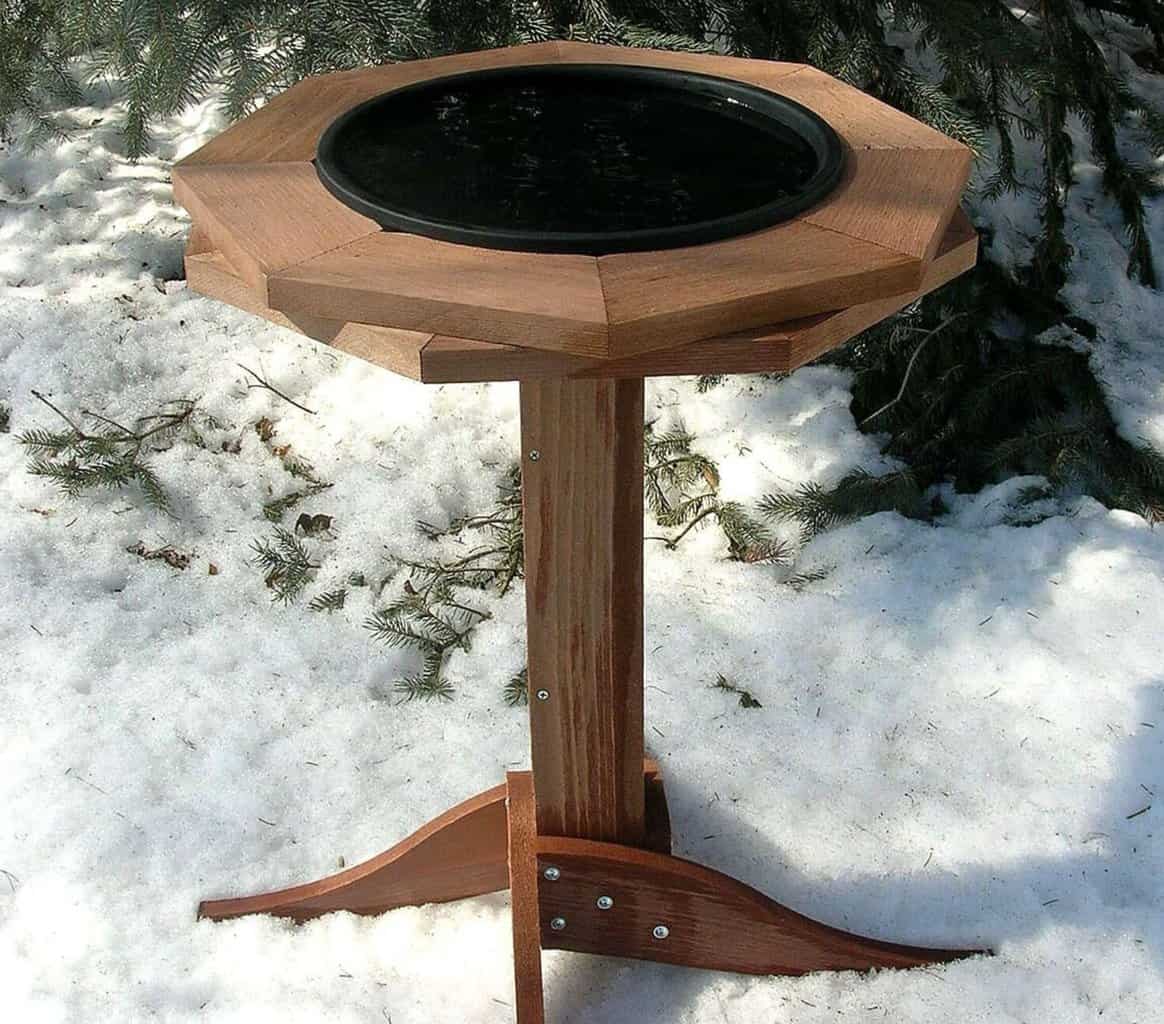 My best pick for heated bird baths is one Alpine-look Red Cedar work of art!  This has to be the most stunning piece of outdoor red cedar decor I have ever seen.  The double staggered angles of the bowl frame provide a huge area for birds to rest while their friends drink and bathe. I feel at ease when I know my purchases will last, and red cedar is known to stand up to the weather for years. Look how sturdy the construction is!  The best thing about this is the versatility of having a pedestal heated bird bath for out in the yard, and then when the snow hides the bird bath, just remove the bowl and double octagonal frame for a stunning piece of art on your deck! I love the 29-inch height that ensures birds are safely off the ground. Find this at Wild About Birds.
Pros
One-of-a-kind red cedar double octagonal bird bath
Constructed to last for decades
Thermostatically controlled
Removable top mounts to rail or deck instead of pedestal
Tall height for bird safety
Stakes included for leg stability
Cons
I wish it came in a larger size (it has a 14″ bowl)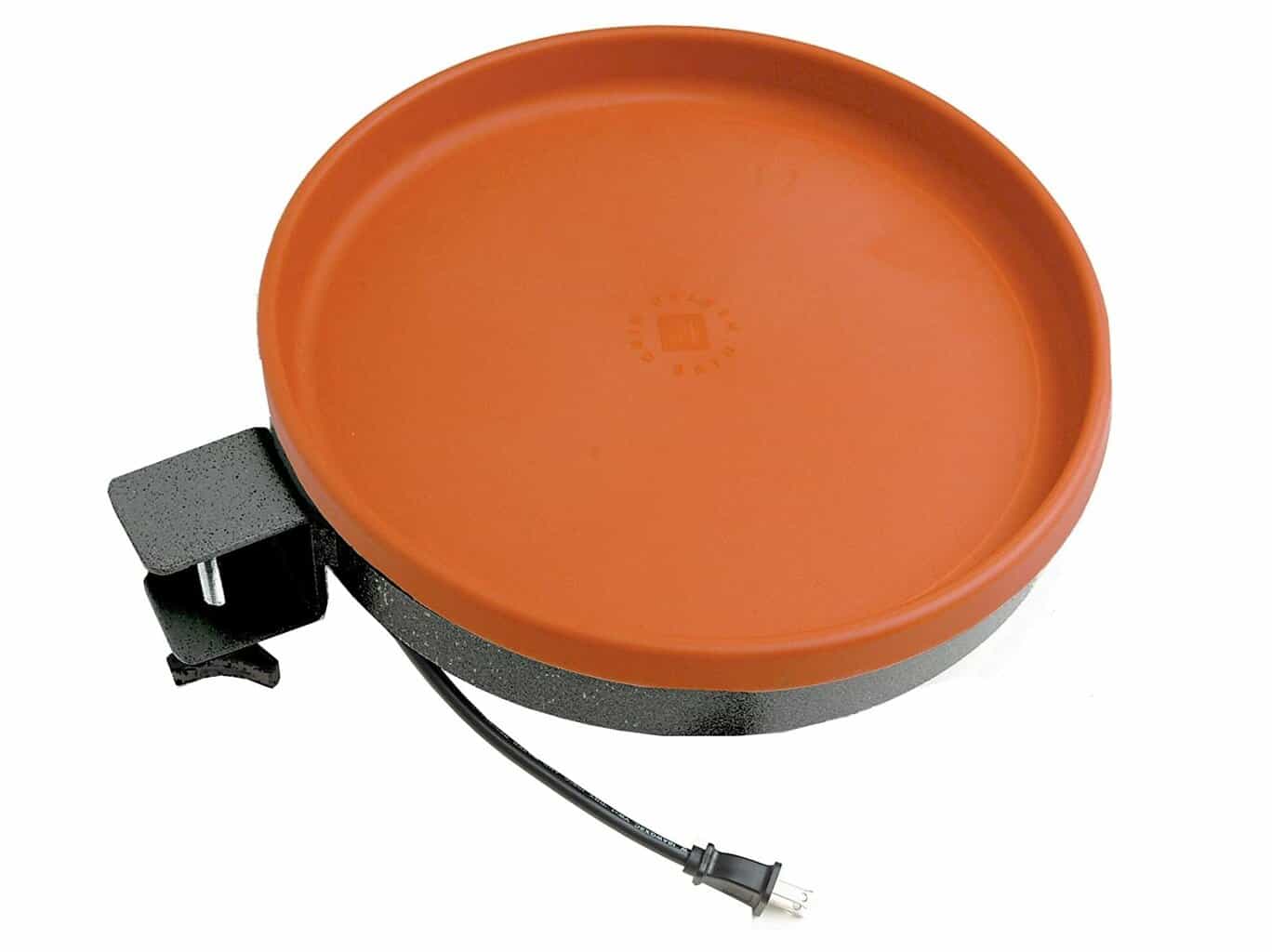 This terra cotta color is inspired by the desert plateaus and setting sun. It blends in with timeless appeal that seamlessly brings nature to your front door! The powder-coated hardware is weather and rust-resistant for long-lasting use.  The automated thermostat shuts itself off when not needed, helping your electricity bill! You can attach this to your deck rail, clamp it on a pole, or place it on the ground. The bowl lifts out for easy cleaning, and the motor is 75 watts. Get this at Home Depot.
Pros
Gorgeous sunset sienna color evokes images of desert plateaus
Comes ready to mount on deck, post, or ground
Powder-coating makes the hardware weather-resistant
The large 15″x2″ size fits most birds
Automatic thermostat
Cons
I wish this had a ground stake for mounting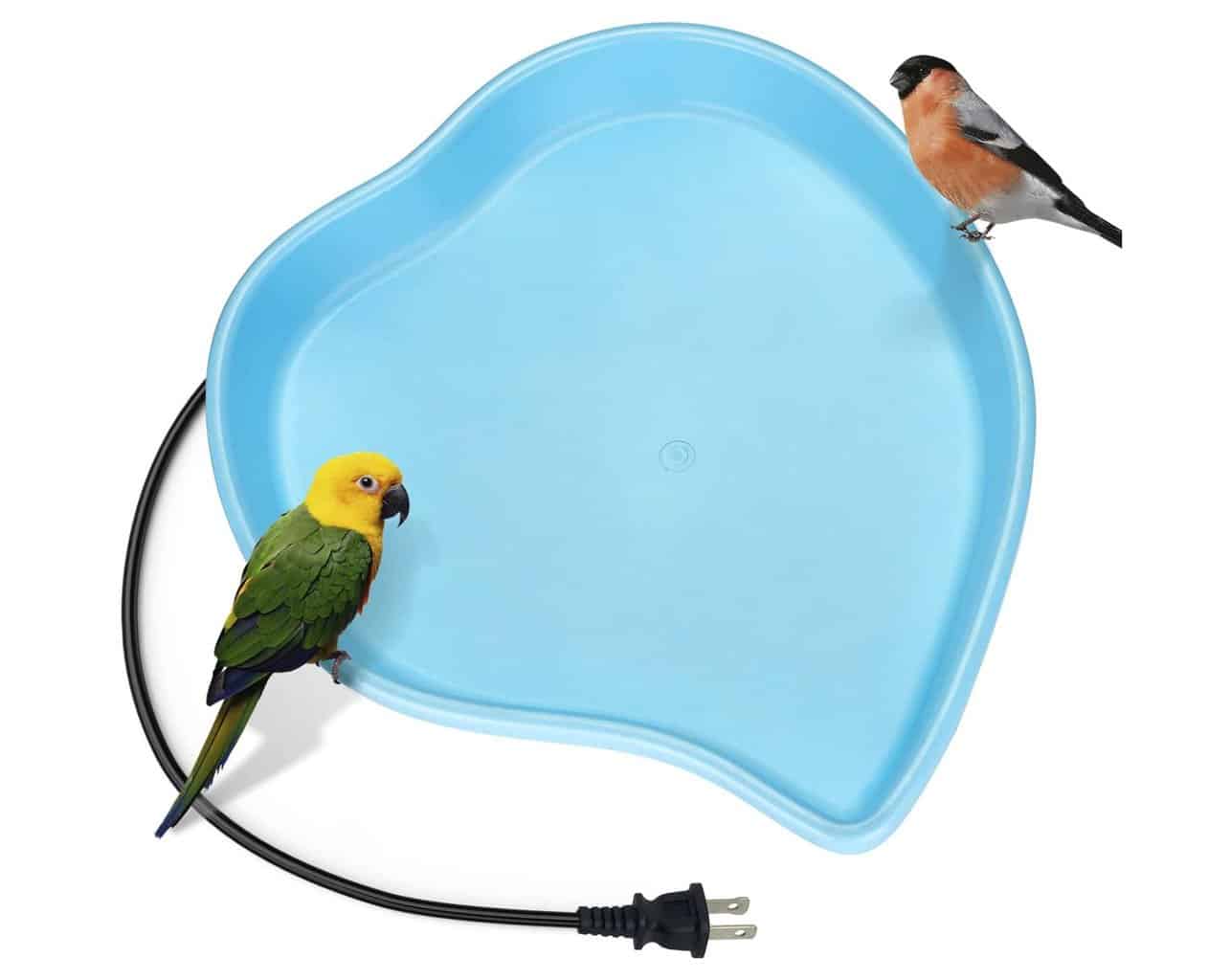 Heart-shaped and light blue heated bird bath bowl – what more could you want in life?  The light blue color mimics the sky and field flowers, attracting birds and making your outdoor space look inviting for you and your feathered friends. I haven't seen this shade of blue used in a heated bird bath before, and I wish more colors would come out to liven up the cold, dreary snowdrifts! This 14″ bowl holds three liters of water, and the staggered curves mean more "shoreline" for the birds to perch on! This comes with five screws that attach to the underside for a 2″ high placement off a table. Find this at Amazon.
Pros
An adorable heart-shaped design in light blue is cheery in winter
It can hold 3 liters of water which means no worries for an empty bowl
The curved shape gives more rim space for birds to perch
Rated a 5/5 for sturdiness
Thermostatically controlled
Cons
Not many details about the plastic material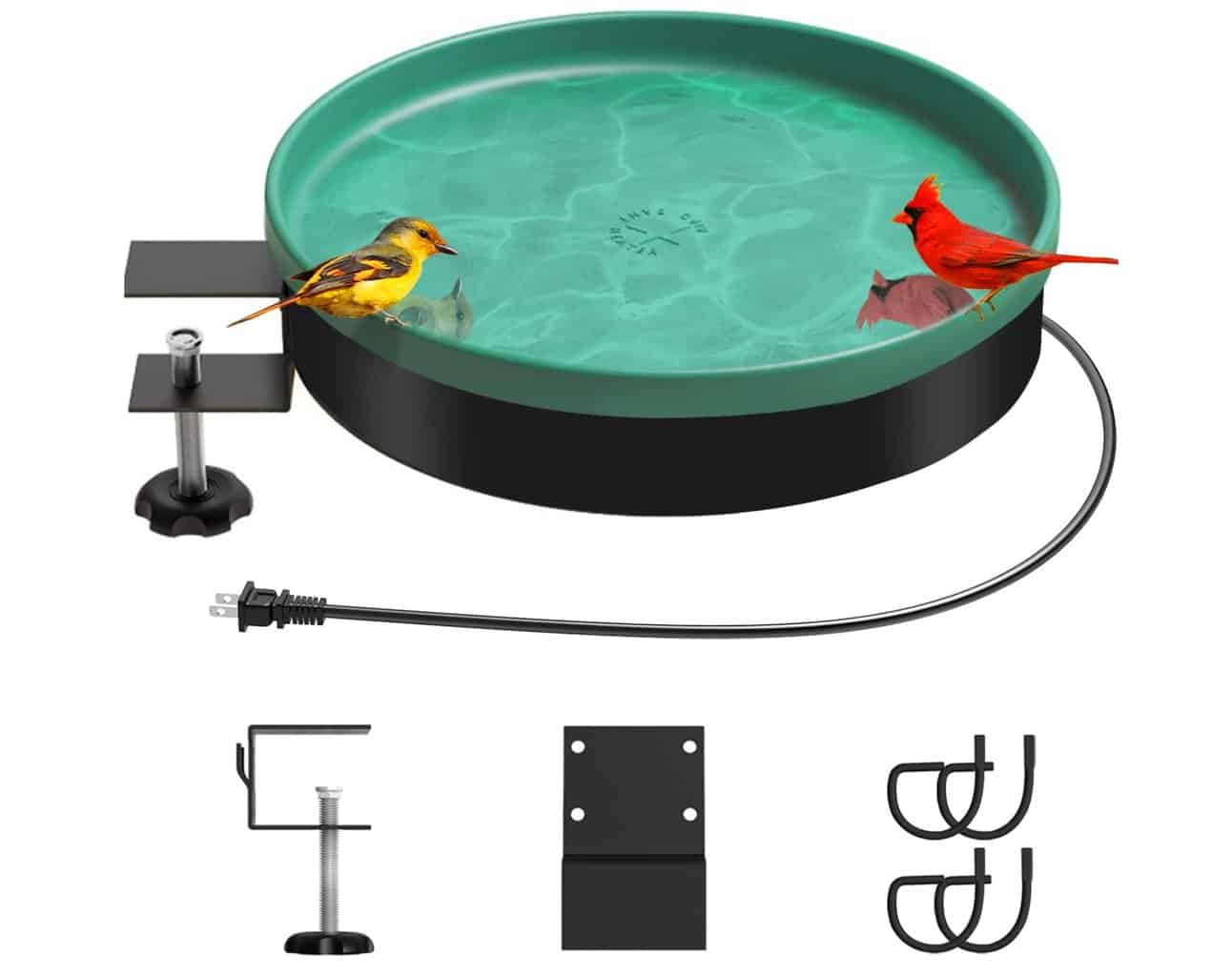 When the birds see this bright green bird bath from the air, they think of foliage and camouflage and will flock to it in the barren winter months!  I wouldn't mind staring at this green bird bath for hours, watching red, blue, and yellow birds flit about! This handy three-way mounting system includes deck, ground, and clamp hardware for personal preference when setting up. Made of high-quality weather-proof material, the rim is designed for maximum grip security. Easy cleaning and filling with the lift-out bowl for speedy refreshers! When the bird bath was placed on an outside table in winter, it snowed several feet, and there was a bowl-shaped hole in the snow with fresh water waiting for the birds! Find this at Amazon.
Pros
The attractive green color looks stylish and catches the bird's interest
Thermostatically controlled
Three-in-one mounting system includes deck, ground, and clamp hardware
Lift-out bowl means easy cleaning
13″x1.2″ dimensions
Cons
The shallow depth may mean filling the bowl more often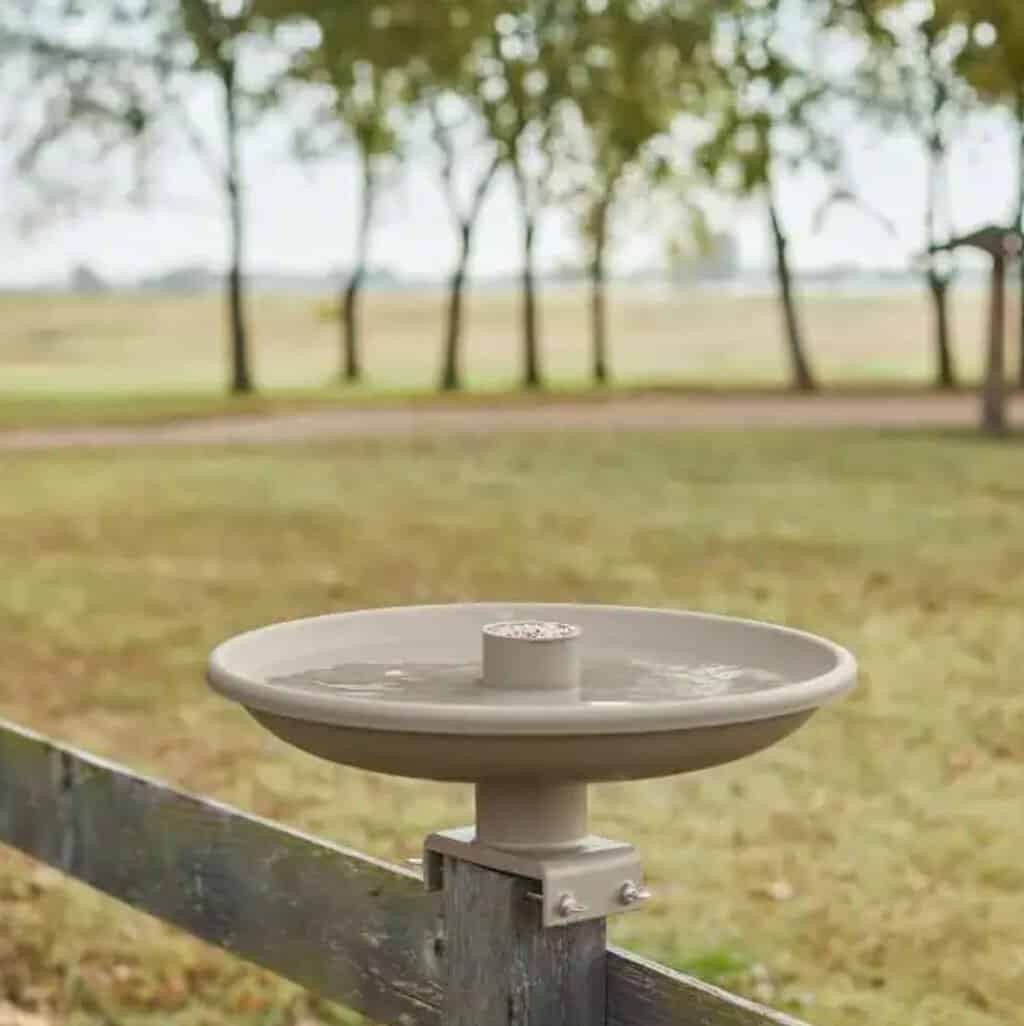 Who thought of putting a built-in perch in the middle of the bird bath bowl?  I have seen them for many unheated bird baths, but it seems the heated bird baths take a back seat when it comes to special features or designs! This is a much-needed innovation and removes the need to put in twigs or stones for the birds to sit on.  The underside of this bowl has a hidden cord feature that keeps things organized and unseen! Easy to clean, this has a twist-off bowl and smooth sides. This holds a whopping 1.5 gallons of water for even your thirstiest friends, and the powerful 150-watt thermostat keeps all that water melted in sub-zero weather. Get this at Home Depot.
Pros
Unique built-in perch design attracts birds
Holds 1.5 gallons of water
150-watt thermostat ensures no fringe icing on the sides
Clutter-free cord hides in the base of the bowl
Twist-off technology for easy on/off bowl cleaning
Cons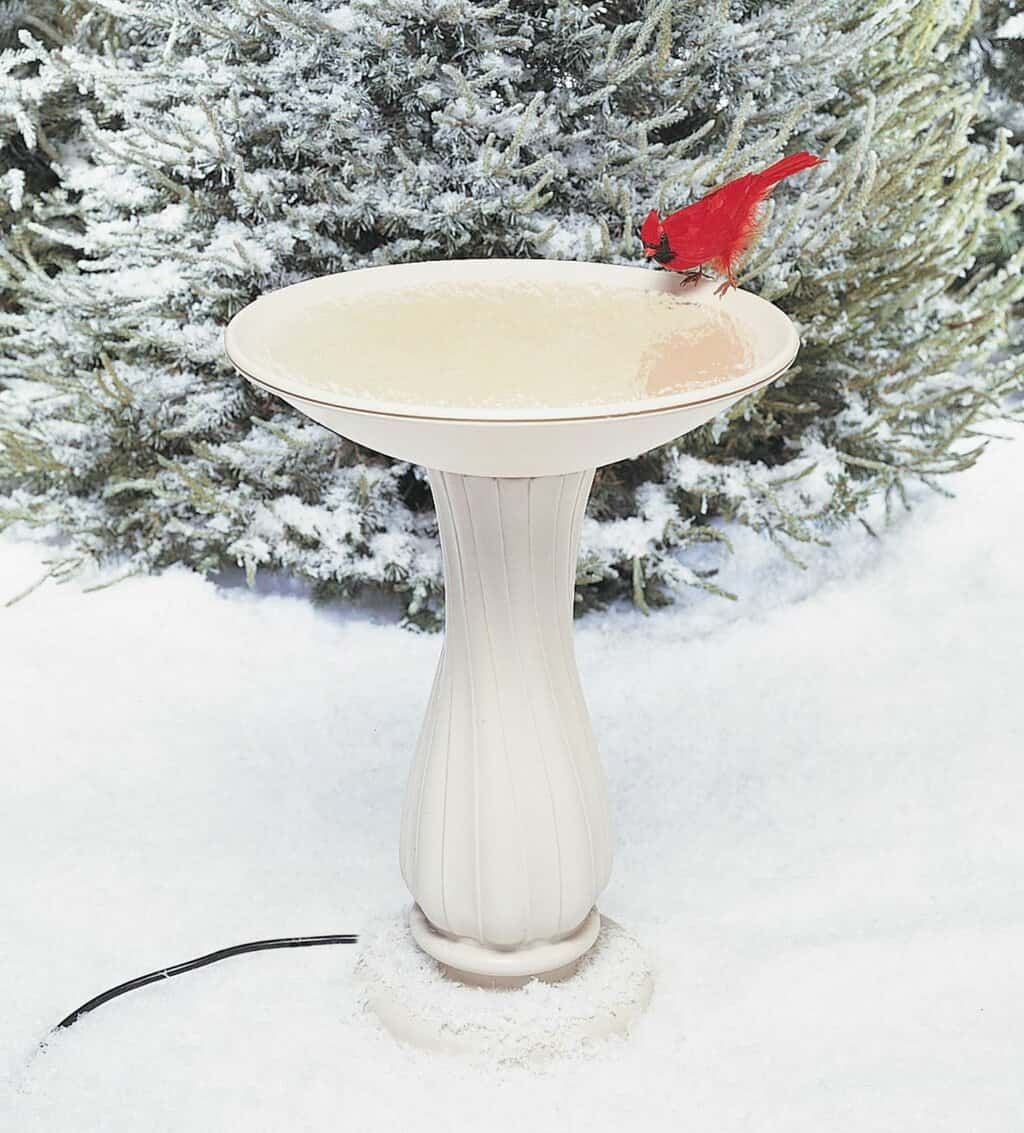 This is as close as you're going to get for the same look as an unheated pedestal bird bath!  I love this design and wonder why there aren't more pedestal-heated bird baths.  I love the perfect 20″ wide bowl that is spacious enough for all interested birds, and the recommended 2″ depth is appropriate for all bird sizes!  The detailing on the rim makes tiny talons grip securely, and the 150-watt thermostat ensures drinkable water in the coldest climates! Find this at the Bird Shed.
Pros
Dramatic swirled pedestal design
150-watt thermostat
A detailed texture on the rim for perching
The roomy bowl is 20″x2″
Cons
Shipping is delayed except at the Bird Shed online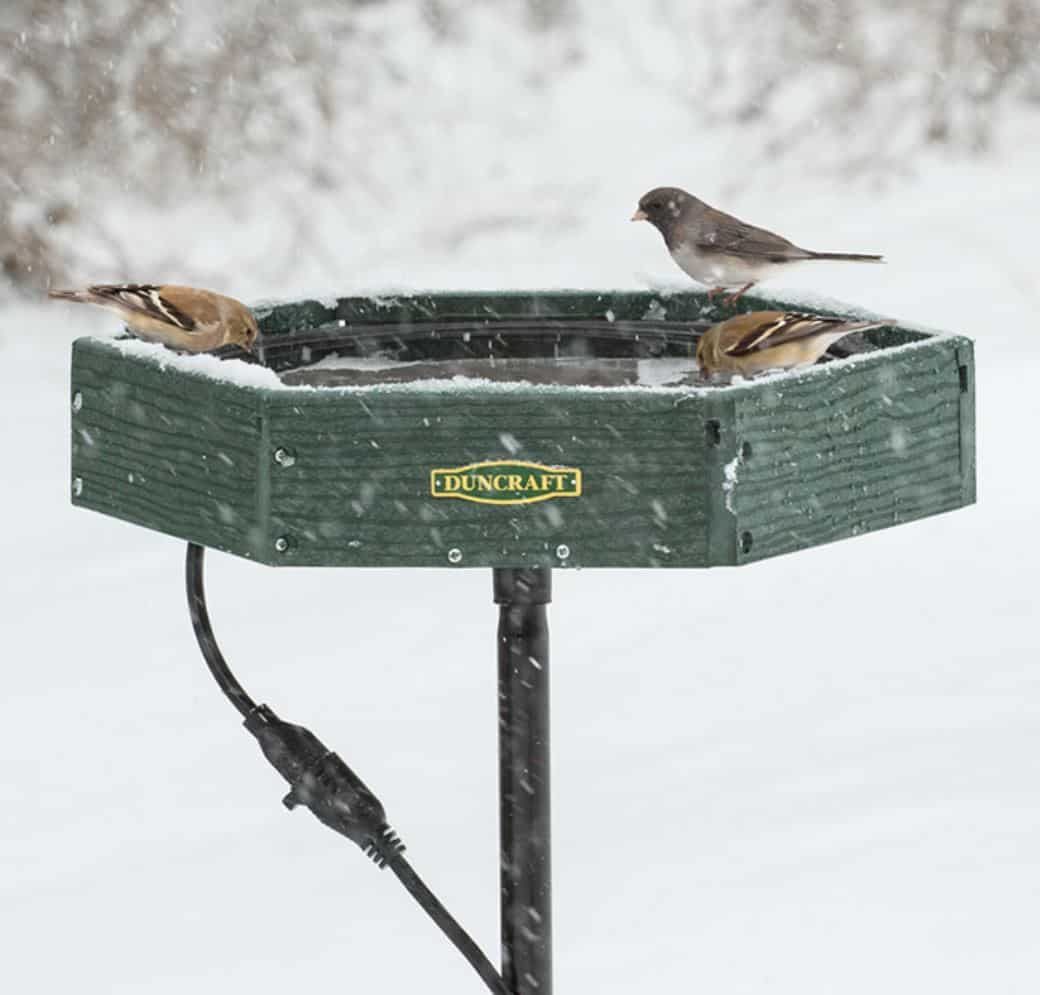 I love the green, recycled poly-lumber used to make this hexagonal bird bath – and the deep green color is very stylish! This is the same material used for poly-wood outdoor furniture like Adirondack chairs!  Tough, impervious to the weather, and long-lasting!  The fully encapsulated thermostat is embedded between layers of polyresin, and it comes with a 43″ inch pole for mounting, which I like because it's high enough to be safe! The depth is 1.25 inches, so it will be great for smaller birds, but larger ones may prefer a deeper bowl. Find this at Duncraft.
Pros
Amazing durability and longevity
Stunning green, the angled design gives multiple perch areas
Thermostatically automated
Comes with a 43″ pole for safety from stalking predators
Made in the USA
Cons
The shallow depth may not be deep enough for larger birds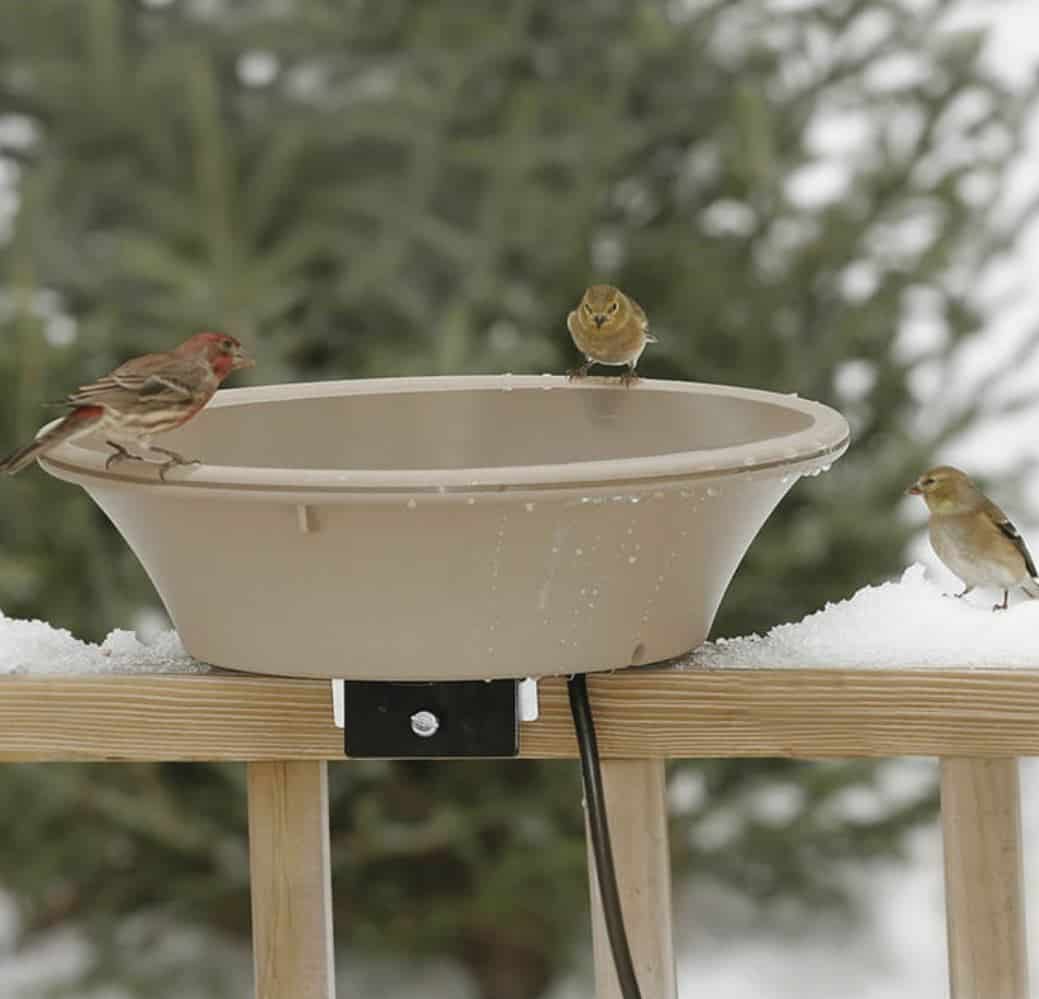 This comes with a handy two-foot pole mount and deck mount hardware to accommodate any placement. I love the textured rim that encourages perching, and the gently sloping sides have the same grainy finish for sure footing!  This is tested to -20 degrees and keeps the water consistently melted.  The best thing about this is the easy tilting action built into the hardware!  You can dump out old water and clean it in seconds! No need to take it out or worry that it will get knocked out of place. The bowl is 14″ and comes with a fifteen-inch cord that clips underneath for storage in the warmer months! Find this at Duncraft.
Pros
Superior cleaning ease with E-Z Tilt hardware
Perfectly textured rim and slope
2″ deep is effective for most birds
Tested to -20 degrees
Fully concealed automatic thermostat
One-year limited warranty
Cons
I wish it came in more colors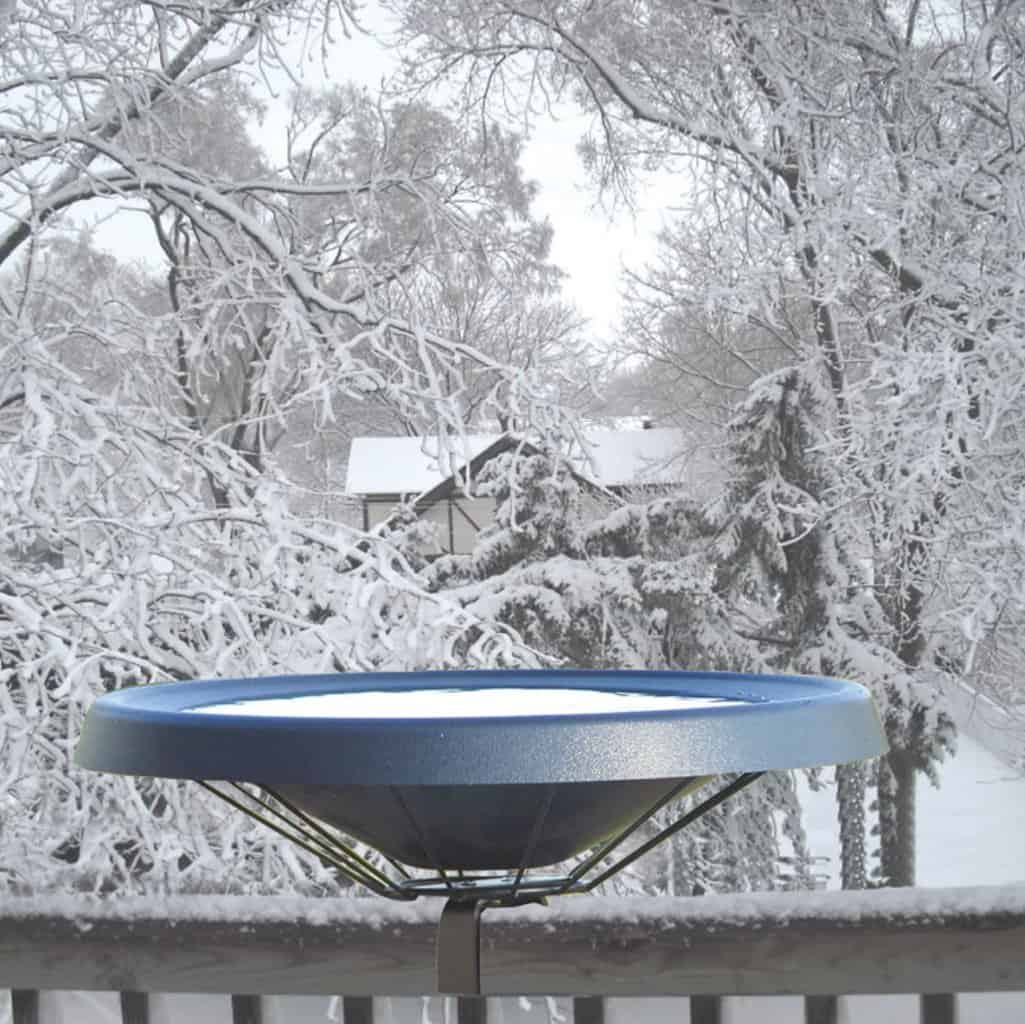 This is a rare and stunning color for a heated bird bath and comes in three colors to attract the birds!  The sides slope down to the middle, which is 6″ deep and features a bumpy texture for better bird grips!  Made of ABS durable plastic with a fifty percent recycled content, this is built to last through many winters.  I love the original shape of this bowl, and the rim is constructed wide enough for all sizes of birds to perch. This includes deck mount hardware and even comes with a four-year limited warranty!  Get this at Walmart.
Pros
Thermostatically controlled
The vivid gray-blue color looks chic and attracts birds
Large enough at 20″ to accommodate all birds
Strong, durable ABS plastic
Wide rim for perching
Cons
Very deep – you will need to put some larger rocks in for most birds
FAQs
Question: Are colored bird baths better?
Answer: According to BirdLife, some colors attract birds more than others. Birds are attracted to red because it symbolizes ripe fruit and flowers in bloom, which means amazing food for insects!  And what is more delightful to a bird than a host of insects buzzing around in one place?  Similarly, yellow is the color of sunflowers, and certain birds covet sunflower seeds like finches, chickadees, nuthatches, grosbeaks, and blue jays.
Brown, grey, and green are great for the winter months when camouflage is low for birds.  These colors symbolize branches, leaves, and bushes that will attract more timid and ground-feeding birds.
Question: Are heated bird baths worth it?
Answer: This all depends upon you and how much you enjoy birdwatching from the comfort of your home.  If you are mostly a seasonal birdwatcher taking walks outside or sitting in your backyard, it may not be worth the daily filling and cleaning of a heated bird bath for the winter months. It also may not be worth the expense of getting a quality heated bird bath.
If you want more opportunities to watch birds throughout the year, and will have the time to monitor the water level and wipe it out, then I would say yes.  When so many things lay dormant in winter, it is like springtime to see a flurry of feathers splashing around in your yard.
Question: How much does it cost to operate a heated bird bath?
Answer: If your heated bird bath uses 75 watts of power, and you are paying seven cents per watt of electricity, it comes out to be about $3 per month (Birdwatching Bliss). Most built-in thermostats have an automated shut-off/on, meaning the power only runs long enough to thaw the water in the bowl, then shuts off.  So it's bound to be just pennies a day for several months a year!
Question:  How do I attract birds to my heated bird bath?
Answer: Attracting birds to your heated bird bath can be as simple as ensuring clean and ample water for them daily.  Much of the water may be gone at the end of the day, which won't keep birds there for long.  One of the best ways to increase your bird activity includes buying a small water fountain inside the bird bath bowl.  Electric and solar-operated options are available, such as this one from Target. Birds are drawn to the sight and sound of moving, dripping water which is why many bird baths have a built-in fountain. Other ideas for attracting birds to your yard can be found at World Birds.
Question: How do heated bird baths work?
Answer: There are two methods for heating bird bath water.  One is with a built-in heating element, and the other is getting a stand-alone heater to put in an existing bird bath.  Both of them are controlled by an internal thermostat that automatically turns on when the temperature approaches freezing (between 32 and 35 degrees). Once the water has reached a temperature above freezing (usually 38 to 45 degrees), the heating element automatically shuts off.
Question: Can I use bleach to clean my heated bird bath?
Answer: To clean a heated bird bath, it's best to use only soap and water, thoroughly rinsing the bowl before filling it for the birds.  Never use chemicals or detergents as these are toxic for birds, and just a small amount is enough to poison them.
Parting Thoughts
It's a safe bet to say no matter what type of heated bird bath you choose, the hours of enjoyment and gratitude of birds will more than make up for the daily filling and cleaning!  Nothing is better, cheaper, longer-lasting, or more thought-provoking than birdwatching year round.  The Western Red Cedar Songbird Essentials Heated Bowl with Pedestal is still my first choice for stylish innovation, spacious perch room for many birds, and mounting versatility.
I hope you enjoy watching the chickadees and cardinals as I do. I feel like I am doing something to help Mother Nature after everything that has been done to challenge her!  This morning, my birds are thanking me for their fresh water by twittering around, playing, and hysterically pecking at each other just for my enjoyment!
Enjoy your birds!
You May Also Like