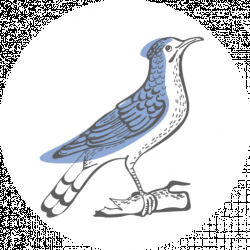 Latest posts by Charlotte Rogers
(see all)
To say that my husband and I are very into backyard birding, would be an understatement. We have had various bird feeders, bird baths, and bird fountains in our garden for the past ten years. A few years ago, we decided to count the number of species we saw in 12 months and we totaled 185! Of course, we are lucky enough to live in Costa Rica, where the bird diversity is insane. But still, we are always fiddling around with the configuration of our backyard bird attractors to make them better.
Bird bath fountains have been one of our most successful additions to our collection. Birds love to bathe, and they are much more attracted to moving water than stagnant pools. It is not properly understood why they like it so much more, but I can personally attest that they do. I hypothesize that it relates to both cleanliness and a more natural feel.
The other thing that I love about our bird bath fountains is that they eliminate any worries you might have about disrupting natural behaviors. With our bird feeders, we are constantly working on creating the most authentic, natural, and healthy diets for our visitors. But bird bath fountains are just water. As long as you keep them clean, there is very little to stress over. Not to mention that moving water will prevent mosquitos from breeding on your property.
There are lots of different types of fountains to choose from. We have three different types at the moment, all with varying results. So, without further ado, let's break down my top bird bath fountain ideas.
The Winning Bird Bath Fountain
Let's start with the bottom line- my favorite of all bird bath fountain ideas is: DIY. You are going to need to purchase several components and put in a bit more legwork. But it's worth it. Nothing beats the versatility of a DIY project. You can use local materials to create the most natural look. You can fiddle around with it to make it best suited to your property and the types of birds in your area. You can also be 100% sure that the materials used are durable, easy to maintain, and budget-friendly. The birds love our DIY bird bath waterfall more than any other kind that we have used. I will go into more detail about how to make one later in this article, but the most important component is the pump. Here are the best ones on the market right now based on durability and ease-of-cleaning:
Best for Small Bird Bath Fountains
Best for Large Bird Bath Fountains
Of course, not everyone has the time for DIY. And there are some great options for those who don't want to go down this route.
How to Choose a Bird Bath Fountain
There are essentially 5 different categories of fountains that will help to attract birds. For this list, I have included a few of each as they all have different purposes and merits.
Wigglers– devices that create pulses or ripples of water in your bird bath
Bubblers- Water is pumped upwards from the base of the bird bath to create either bubbles or sprays.
Cascades- Natural waterfall-style fountains, often with multi-tiered pools
Drippers- Slow dripping or otherwise downward streams of water- like a leaky tap.
Misters- Hose attachments that create a super fine mist for birds to fly through
I have chosen these specific bird bath fountains based on five different categories:
Versatility- It is much better to be able to adapt your bird bath configuration based on your observations of successes and failures. Not all products will work for all environments.
The Vibe- I have found that natural or natural-looking products are much more successful when it comes to attracting birds. You also want your bird bath to be pleasing to your eyes and match your garden well.
Durability- Living in Southern Costa Rica, my husband and I have found that our climate is the ultimate stress test for products. It's hot, it's 90% humidity or more every day, there is salt in the air from the ocean, and there are bugs everywhere. We like to buy "forever" products that can survive a large amount of abuse.
Cleaning- I really, really, really hate to clean. I cannot overstate that. The smell of cleaning products makes me gag. If it has to be done more than once a week, I'm not interested. Ideally, I want something that just requires a bit of a rinse and a wipe.
Budget- You can spend as much or as little as you want on a bird bath fountain. I have tried to keep it budget-friendly, without sacrificing quality.
Top Bird Bath Fountains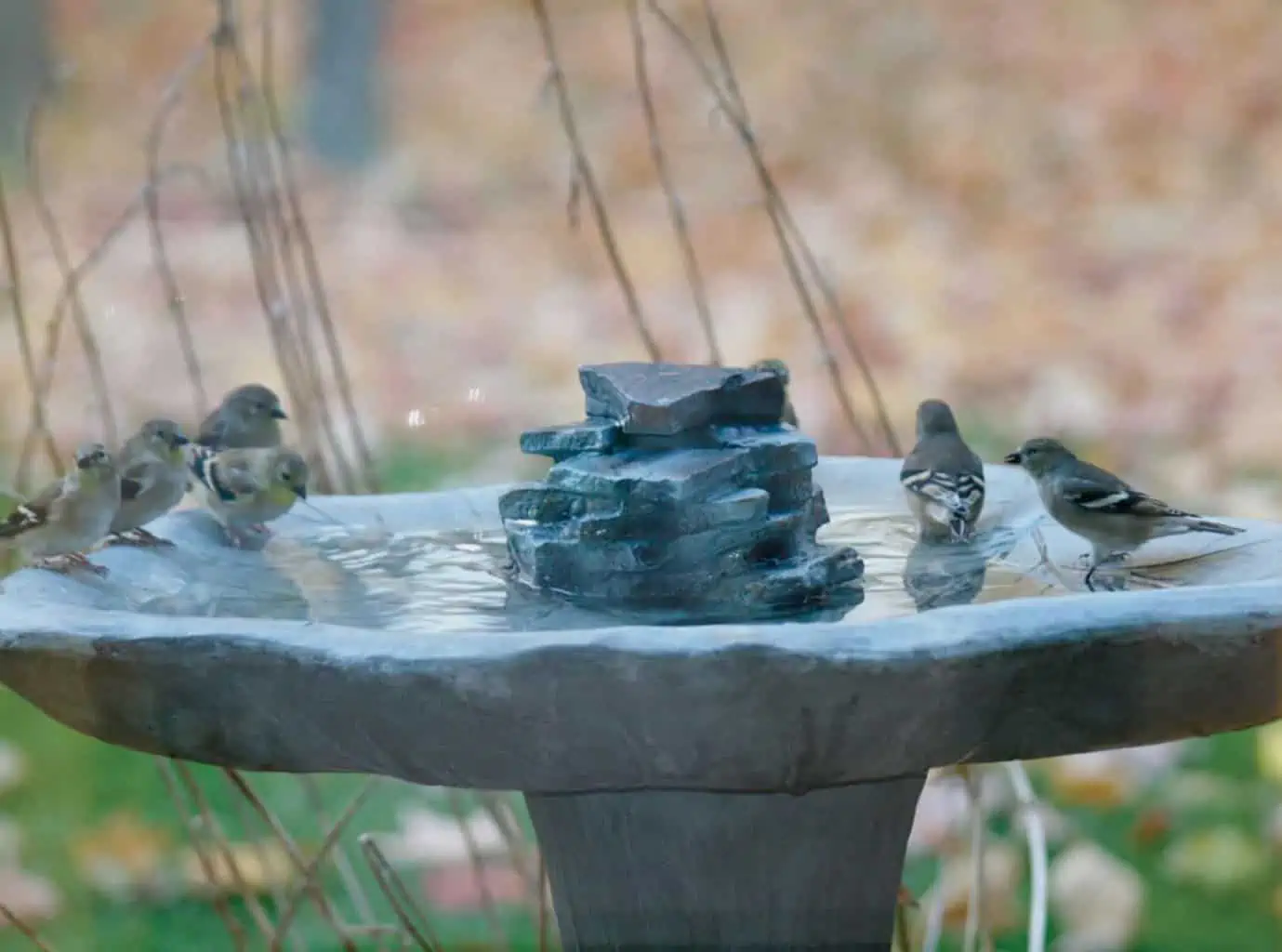 This is an absolute cracker of a bird bath fountain. It is made of grey resin, so it is extremely durable and easy to clean. The pump can be used in bird baths with as little as 1.5 inches of water, so it is very versatile. I also think that it looks surprisingly natural for a plastic/resin product. Another big plus of this bird bath waterfall is that it gives small birds an extra little perch in the "deep end" of your bowl.
What I Like
Can be used in any bird bath
Easy to clean
Durable
Natural look
What I Don't Like
The power cable is a bit ugly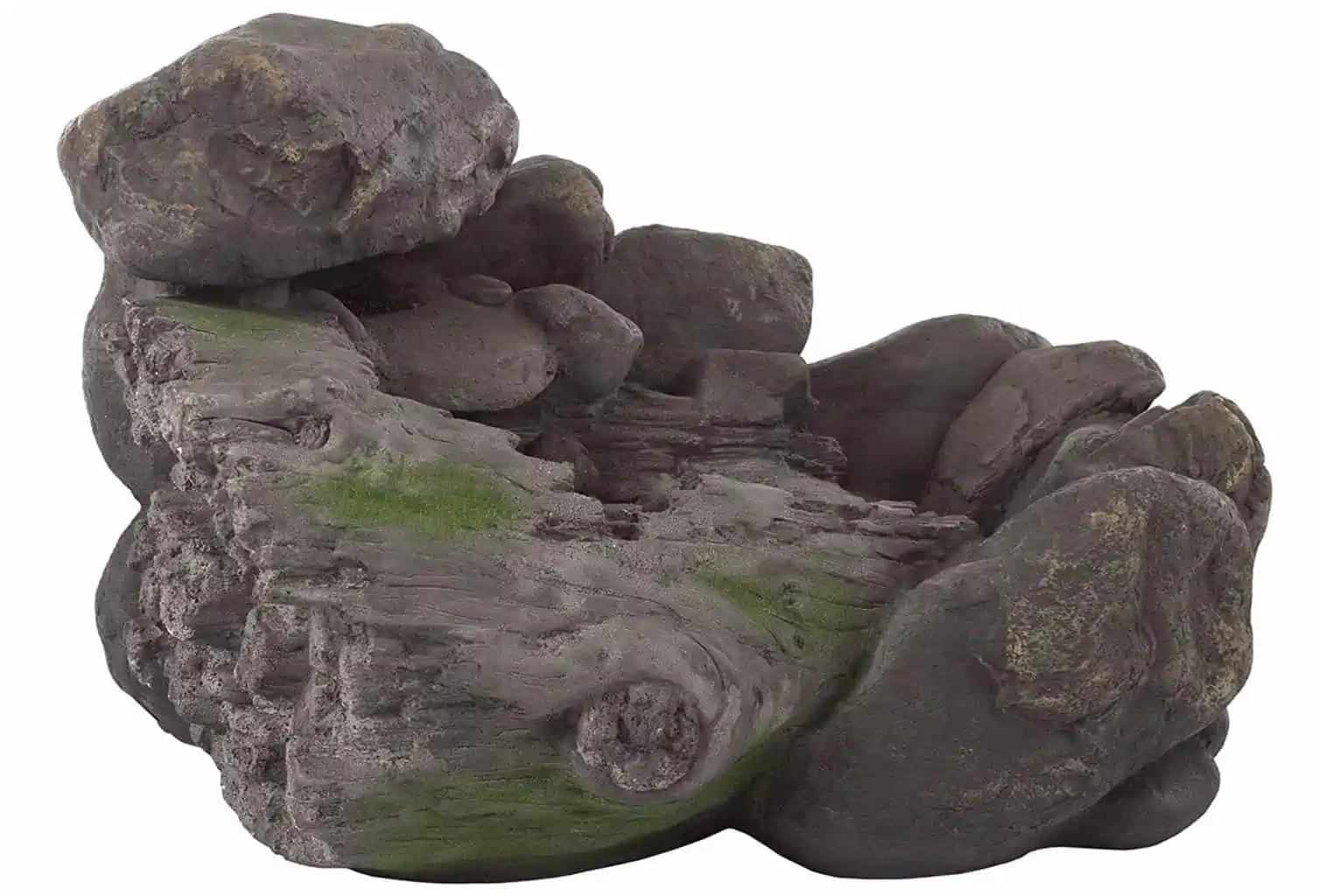 This bird bath fountain comes recommended by Ryan Brady from eBird. It is a multi-layered poly resin rock waterfall that doesn't require a separate bird bath. I love it because of the natural look and ample levels of perching space. It even has patches of greenish colors on it to suggest moss. I have found that the birds like ground-level baths more than any others, so this hits the mark in a big way. The only possible issue with this is that ground-level baths can attract snakes. There are some easy ways to combat this though, which I will go into detail about later.
What I like
Durable
No additional bird bath required
Super natural look
Ground level
What I don't like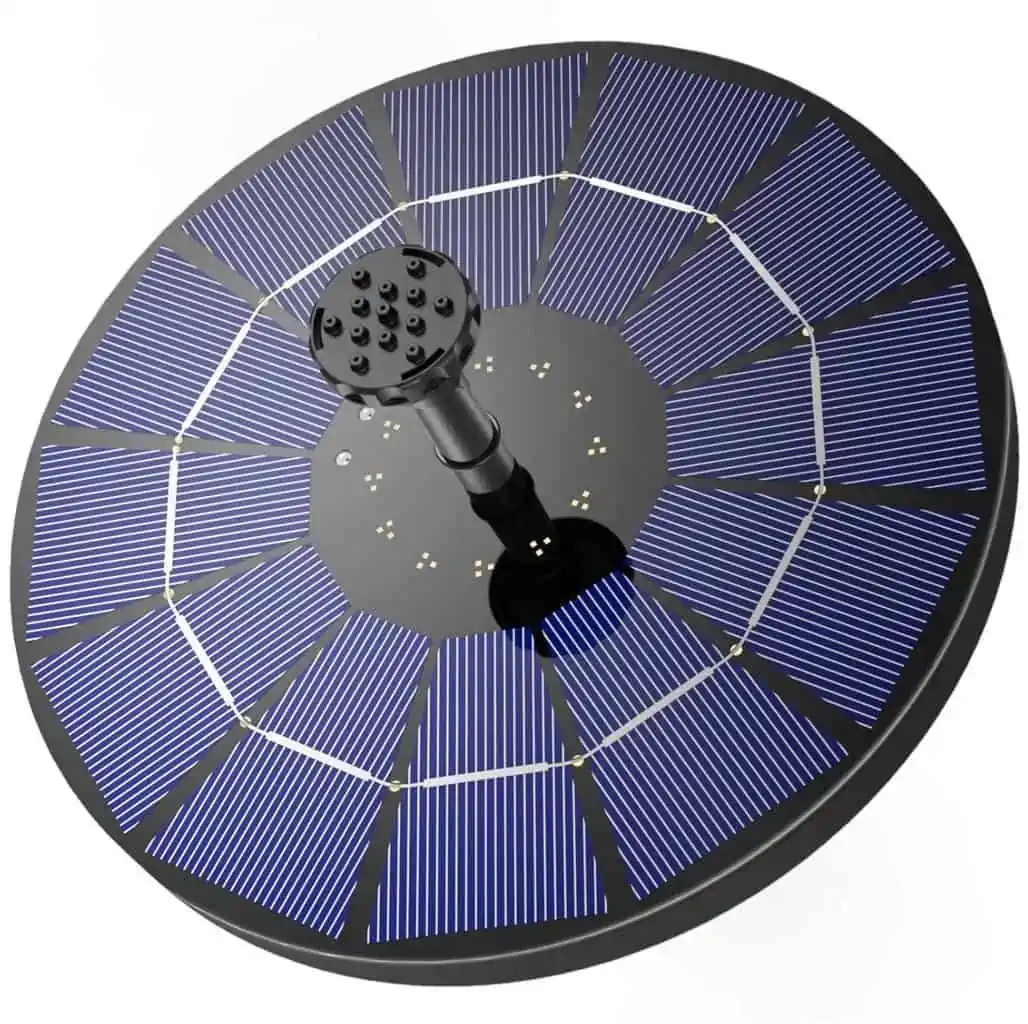 This little gem has been a number one seller since its inception in 2018. It is a completely solar-powered device that also includes a solar battery with about 4 hours of storage time for cloudy spells. It comes with 6 different nozzle attachments so you can experiment with the type of fountain that your local birds enjoy. There is everything from a slow bubble to a vertical jet. You can also choose to let it float freely or suction cup it to the bottom of your bird bath.
What I like
Solar powered
Multiple bubbler and spray nozzle options
Easy to clean
Versatile- use it in any bird bath
What I don't like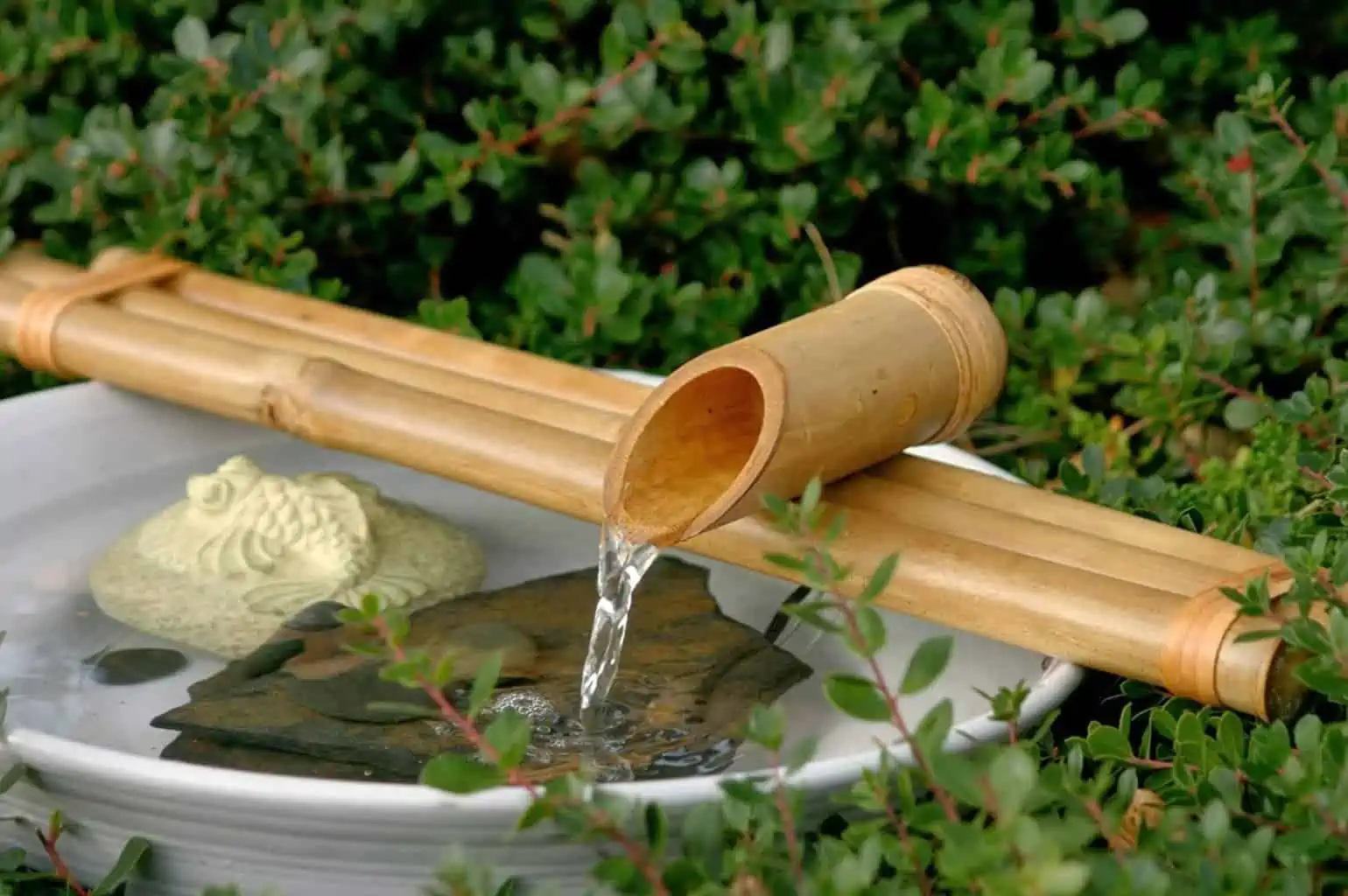 I love the natural and Asian vibe of this bird bath fountain. The Bamboo Accents collection is all handmade in Vietnam using real bamboo. It's sure to give your bird bath an authentic and stylish look wherever you are. If you live in a tropical climate, this is an ideal choice because bamboo is a local plant. I have found bird attractors that blend into the surrounding environment are much more successful. This bamboo drip fountain will fit a birdbath up to 30 inches in diameter. The pump is placed directly into the bird bath, so the water is recycled. The main problem with untreated bamboo is that it can get moldy. You will need to clean it and leave it to dry regularly.
What I Like
Sustainable material
Natural look
Fits large bird baths
What I don't like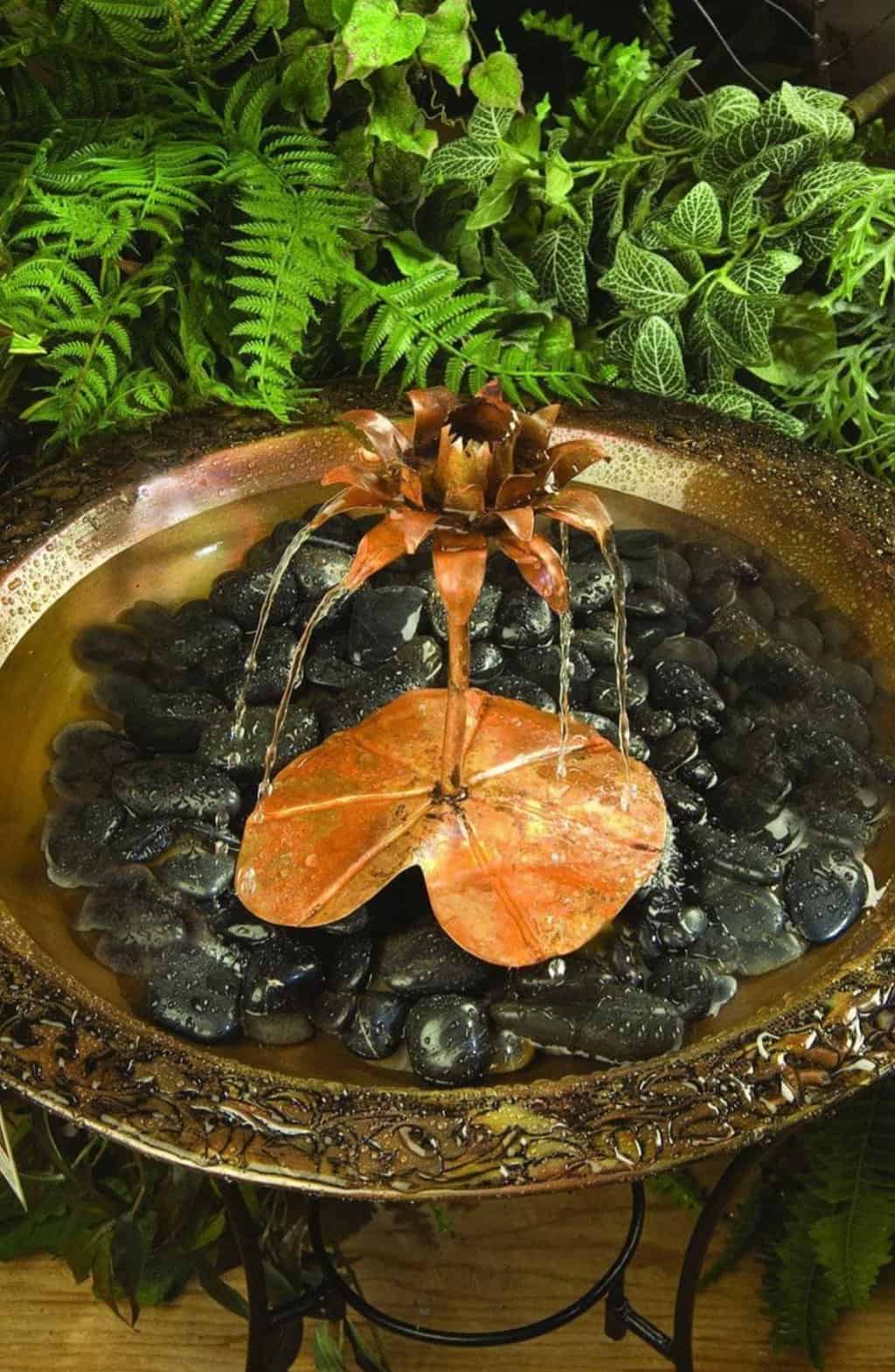 I think that this bird bath fountain is stunning. It is handmade of solid copper which is great because copper is naturally algae resistant. You can use it in any bird bath or water feature, so that's another big tick. It is also one of the only flower-shaped fountains that I have seen that don't look kitschy. The design allows for multiple downwards streams of water, giving your bird friends a lot of space. The problem with the lotus flower is that it's a bit too spiky for birds to use it as an additional perch. Although you can easily compensate for this with your bird bath bowl and surrounding plants.
What I like
Algae and rust resistant
Can be used in any bird bath
Stylish with a natural copper color
Space for multiple birds to have a splash
What I don't like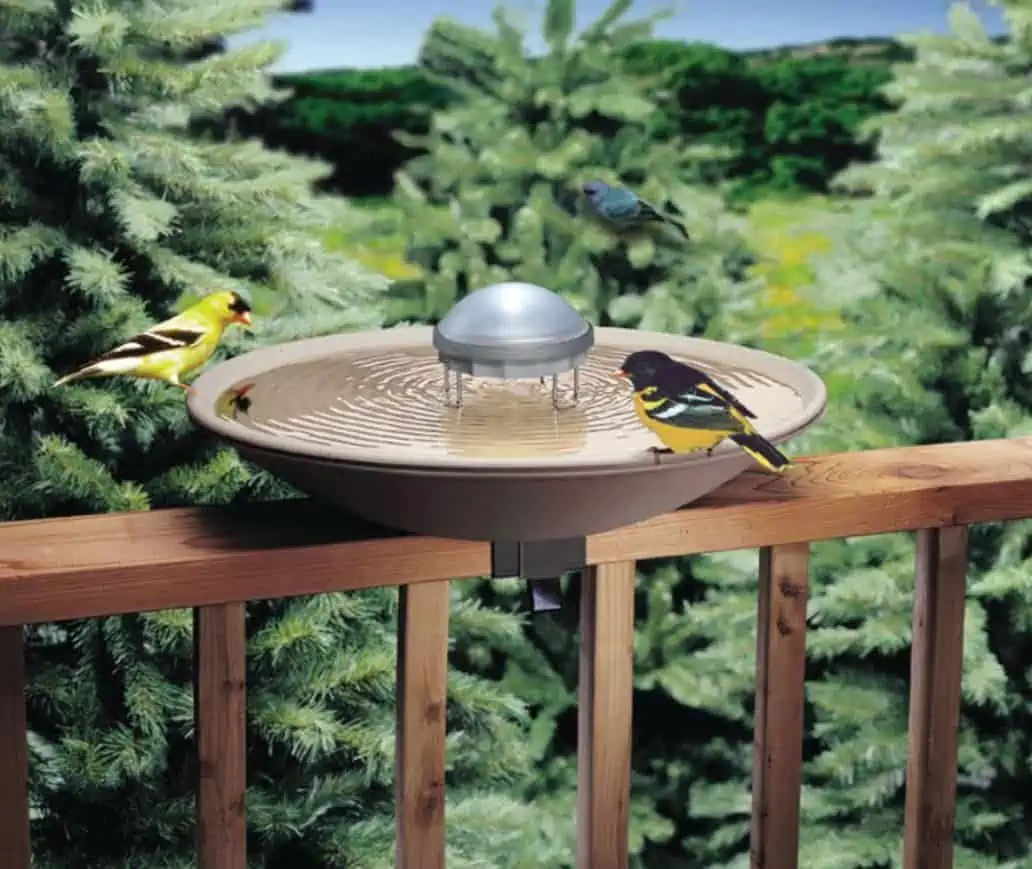 This spacy-looking device can sit in any bird bath or water feature. It creates ripples on the surface of the water to discourage mosquitos and attract birds. I love the fact that it is completely self-contained and solar-powered. No messy cables, and kind to the environment. When fully charged, it will run for up to 24 hours without sun. Because there is no pump or filter, the water wiggler is ridiculously easy to clean. A quick rinse and a wipe-down are all that it needs. The only issue that I have with this product is the look of it. As far as I am aware there are no weird glowing orbs in nature!
What I like
Easy to clean
Solar powered
Super versatile
Durable materials
What I don't like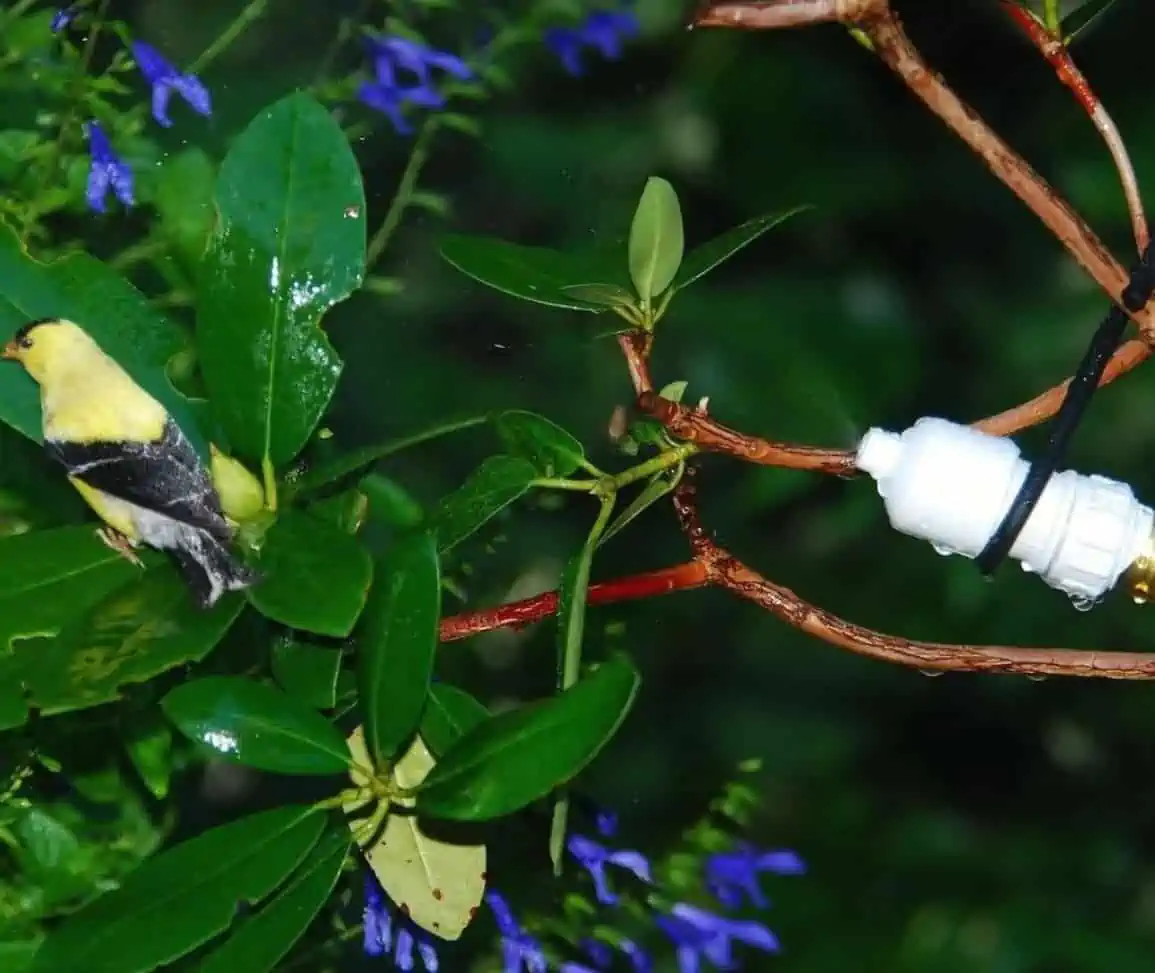 You might not have thought of using a mister as part of your backyard birding apparatus. I'm here to tell you that it works like a charm! You can attach this mister directly to your garden hose and tie it up somewhere. The super fine mist of cool water is a favorite way to bathe for hummingbirds, chickadees, wrens, finches, and even butterflies. You can use this mister in conjunction with a bird bath or completely independently. It is an affordable solution and your plants will thank you as well. You can even use it as a personal sun deck mister for hot days on the front porch. The main issue with this product is that it uses a fair bit of water. It's not something you can have on all the time.
What I like
Simple to install
Affordable
Attracts both birds and butterflies
Multiple functions
What I don't like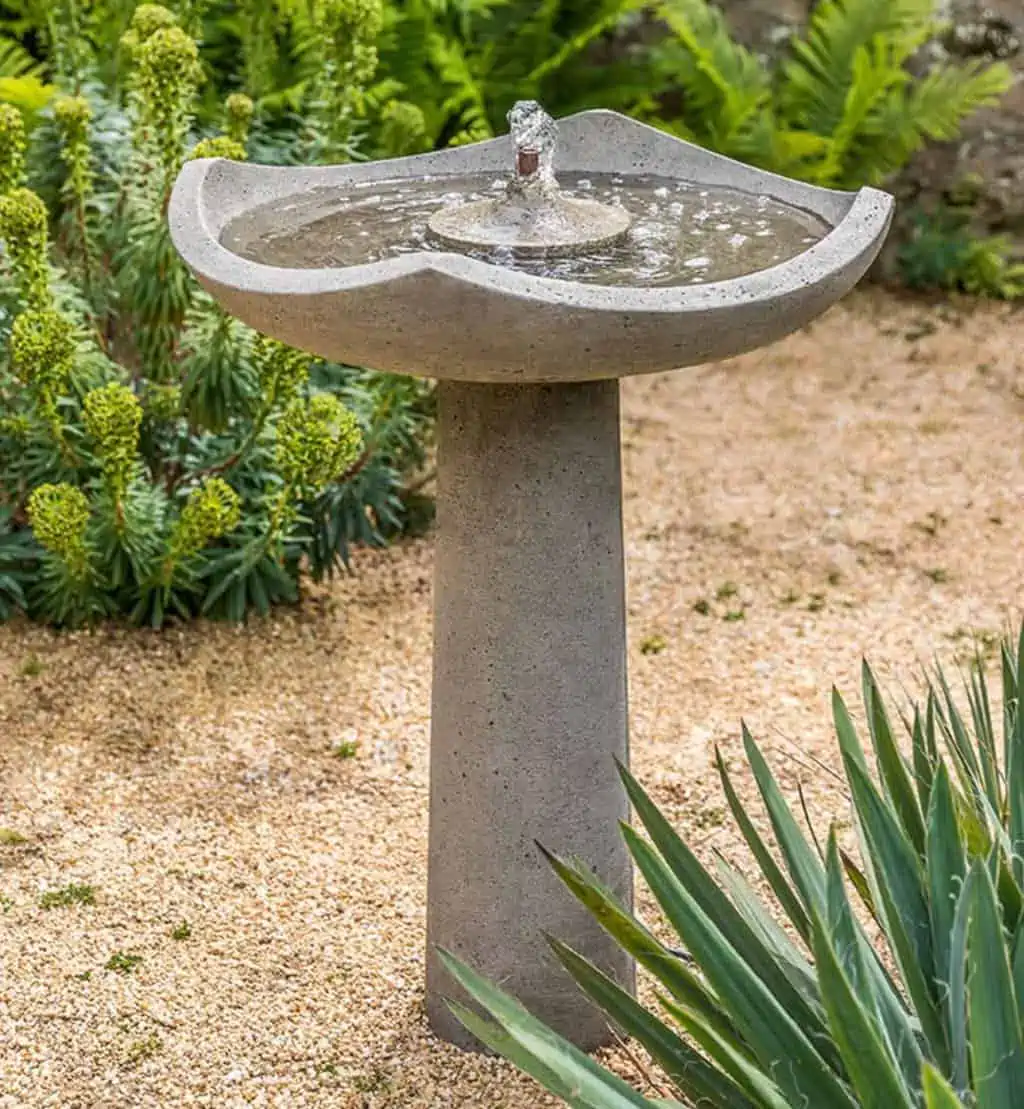 If you are looking to make a lifetime investment in a bird bath fountain, you can't go past Campania. I love this design because it is the perfect mix of modern and traditional. It is also available in lots of colors. I would personally pick the orange or reddish varieties because these colors are going to give you an added boost when it comes to attracting birds. Additionally, the upwards bubbler is more attractive and effective than a simple wiggler. Last but not least, this free-standing bird bath fountain is made from cast stone, which should last forever.
What I like
Modern and stylish
Extremely durable
Multiple colors available
What I don't like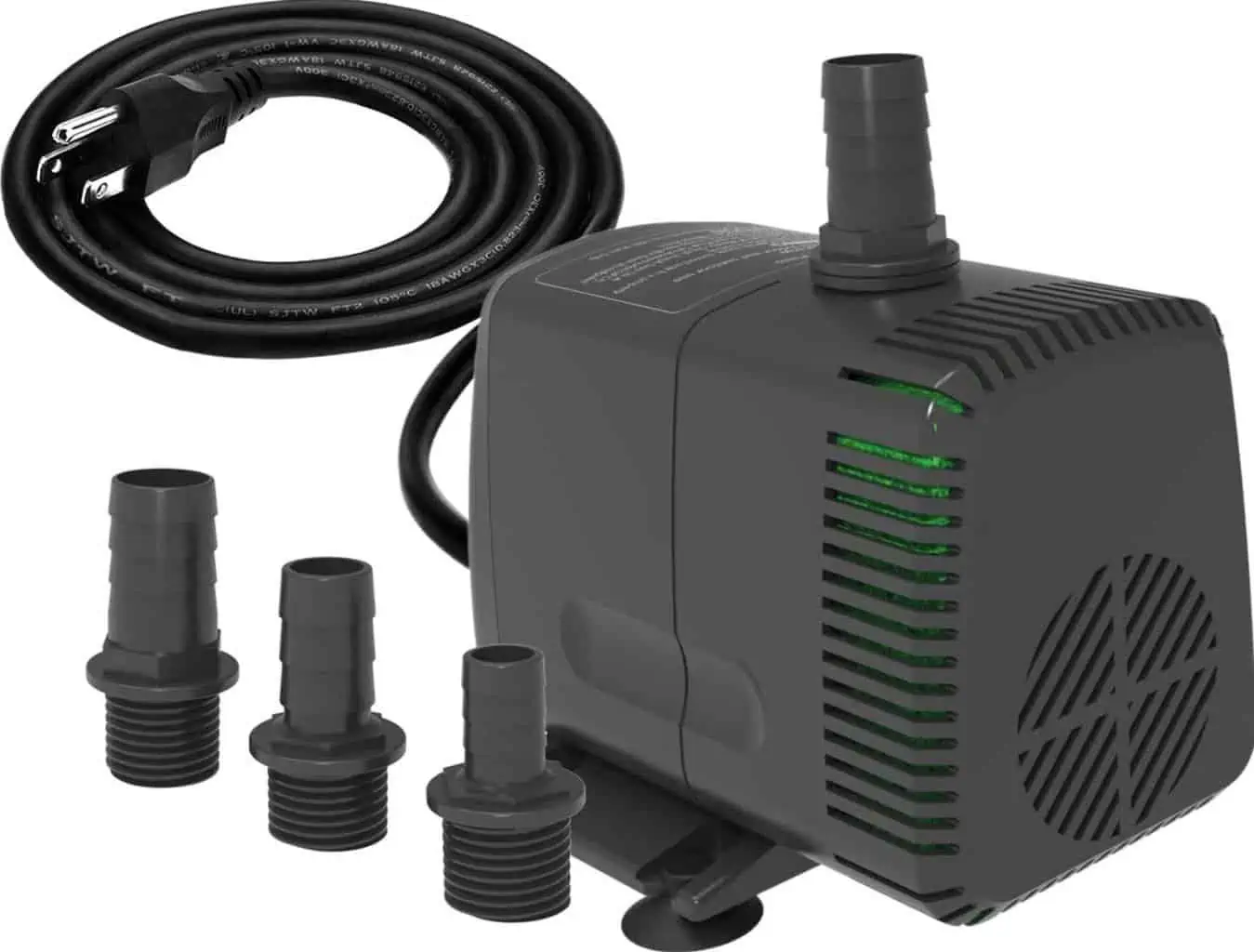 There are endless configurations that you could play around with for a DIY bird bath fountain. You can use natural rocks to create a multi-level waterfall (my personal favorite). You can upcycle old garden pots, watering cans, teapots, sinks, barrels, serving platters- you name it. You can create something large and ground level. You can make mini sculptures for your deck. It is the most versatile option for bird bath fountains.
After you have chosen your materials, you will need to purchase a water pump, some corrugated tubing (non-corrugated tubing can become kinked), sealant for plumbing, and adaptors to attach your pump to your tubing. My top two pumps are chosen based on durability and ease of cleaning, so your DIY project will be as low maintenance as possible.
Best for Small Bird Bath Fountains
Best for Large Bird Bath Fountains
Here are a few of my favorite tutorials for DIY bird bath fountains:
Small Sculpture Bird Bath Fountain
Tiered Bird Bath Fountain
Large Waterfall Bird Bath Fountain
FAQs
Question: Will a bird bath fountain attract snakes?
Answer: Maybe. It depends on the kinds of wildlife you have in your area. Some people seem to have a problem with it, and others have no issues whatsoever. In my area, our ground-level bath started to attract frogs at night, which in turn attracted snakes. Our process now is to turn off the fountain at night and cover it over with plastic sheeting. For pedestal or hanging bird bath fountains, you should invest in some slinkys! Yes, those wonderful 1940s kids' toys are a great way to protect bird baths, bird feeders, and birdhouses from snakes. Get the metal ones (not the plastic) and wrap them around the pedestal, stake, or hanging strings. It won't hurt the snakes, but they will have real trouble navigating across them.
Question: How do I clean a bird bath fountain?
Answer: You should do basic cleaning of your bird bath fountains once a week. If the fountain is removable, just rinse and wipe it down with a vinegar solution. Do not use bleach or commercial soaps as they can be harmful to birds and also degrade the materials of the fountain. You also need to make sure that you change the water frequently, and wipe out the bowl. About once a month, you will need to clean the pump and filter. Instructions for this can usually be found in the instruction booklet of each product. But basically, you need to take the cover off and rinse it through with vinegar solution.
Question: Where should I put my bird bath fountain?
Answer: Birds always like to have an escape route. You want to have a bit of a canopy over your bird bath fountain so that your visitors will have visual protection from raptors. You also want them to have plenty of space to fly away in multiple directions. We have all of our feeders and baths underneath tall trees to accomplish this. You could also put it on your deck under a cloth shade. Shady spots are best for maintaining a nice cool water temperature for the birds as well.
For more interesting readings check out: