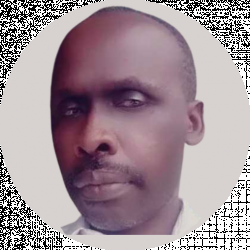 Latest posts by Paul Kirui
(see all)
Birds are fascinating to watch and even more thrilling when it's in your backyard. As I write this article, I'm sitting at my home office window watching them fly around beautifully in my backyard.
And as if to dictate the next paragraph of this article, a chickadee picks up some seeds from my window bird feeder and stares at me briefly before flying away. 
And what better way to watch and photograph them up close and personal than by using the best window bird feeder? I always want the best for my buddies, so I select specific bird feeders. Not just any, but a feeder that will let me, my family, and friends watch them comfortably without leaving my room.
But there are so many window bird feeders on the market that it's hard to tell which one is good. 
That's why I'm here to help you. To help you choose the best bird feeder for windows, you can enjoy watching birds at your leisure. 
Most bird feeders are made of plastic or glass, and a few are brass. Some feeders have perches or platforms on top so birds can sit while eating, while others have a bowl where they must stand. 
But how do you know what's best?
First, I relied on my experience using various bird feeders for years. I also scrapped the internet to review different products. And based on their design, durability, aesthetic, and functionality, I narrowed them down to just a few favorites that are truly worth your time and money. 
The Top Window Bird Feeder
My Top pick window bird feeder is Nature's Hangout window bird feeder. It is a top-notch quality product, yet you can afford it even if you are low on cash. It gives you an unobstructed view of the birds. You can feed multiple birds back to back because it has solid cups to keep it right where you need it.
Factors to Consider When Purchasing the Best Window Bird Feeder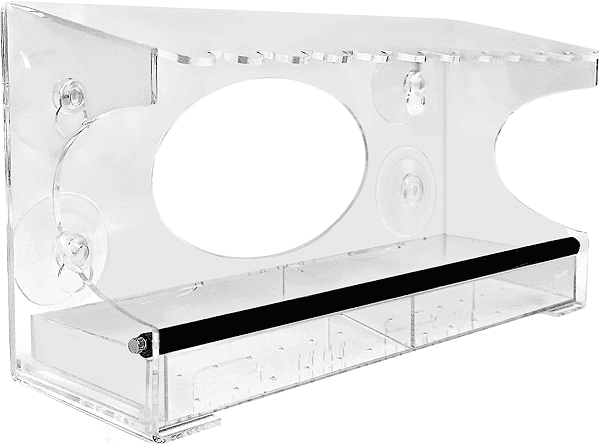 You do not just hop into a store and grab any feeder you can find. You need to consider a few factors before spending a dime on a window bird feeder to ensure it is worth its salt and gives you value for your hard-earned cash. Monitor the following things to make a worthwhile purchase. 
Ease of Filling and Cleaning the Feeder
Setting up a bird feeder is just half the battle; you must keep it clean because harmful microbes multiply in, on, and under the feeder. It takes more than cleaning off the top each time you fill it. Buy a window feeder you can clean and refill with little stress.
I bet you do not want cleaning and refilling the window feeder to be another thing on your already crowded to-do list. The easier it is to clean and fill the feeder, the more likely you'll keep it clean and stocked as required.
See-through Window Feeder, Better Viewing
A clear, see-through window feeder will provide you with the best viewing experience. Always choose a clear window feeder over a translucent one, as it will give you an unobstructed view of different birds feeding from the feeder.
Larger Window Feeder, More Suction Cups
The number of suction cups should be proportionate to the size of your feeder. There should be four or five suction cups on bigger feeders and two or three on tinier feeders. This is critical if you want a large-capacity feeder because you can feed many birds at once without taking it down and refilling it.
The Ravages of Weather
It must be weatherproof for your window bird feeder to withstand the ever-changing weather. Go for a window bird feeder that can take a beating under the scorching sun during summer and extreme cold during winter and still look great for years.
You will know weatherproof window bird feeders, as they have a roof and nice drainage holes in their seed wells. These features are essential for keeping the birds and their food dry and encourage the birds to keep returning for more.
It's also a plus that the feeders are made of weather-resistant materials, such as sun and frost-proof acrylic plastic, meaning you can leave them out all year and not worry about how long they will serve and remain in good shape. A window bird feeder that's not weatherproof will yellow, crack, or rust with time. 
Larger Bird Feeders… Less Refill, More Birds
You need to refill the feeder once a day or when it is almost empty because you do not want your feathered buddies to get to your feeder and go back home frustrated and hungry, regretting why they made the journey after all. Consider how many birds you want to attract to help pick a feeder with a suitable capacity.
Larger capacity feeders will hold more seeds, enabling you to go several days between refills. You'll also be capable of feeding more birds with a single fill-up.
Smaller feeders may be ideal for beginning birdwatchers or guys with smaller windows. It all comes down to your unique situation and space. 
Long Lasting Bird Feeder
The thickness of feeders determines their durability. The ideal thickness should range between three to five millimeters. So, keep an eye on this, and you'll have gotten yourself an excellent window feeder that will stay with you for years. 
A Plastic or A Glass Window Bird Feeder
Window bird feeders must be transparent to let you enjoy watching the birds from inside your house, but you must choose between glass and plastic.
Glass is superior to plastic, but it's more likely to smash if it falls from the windows. On the other hand,  Plastic might not last as long as glass when exposed to the unforgiving elements, but you will have tons of peace of mind if it ever falls.
Because plastic is lighter than glass, the suction cups do not have to work hard to keep plastic feeders in place.
Your Budget
Opt for a budget-friendly feeder. You don't have to break your bank to buy a window bird feeder. Understand that you get what you pay for. Never sacrifice quality for price because high-quality feeders are durable. 
Best Window Bird Feeder Reviews
After spending many hours researching products and fact-checking customer reviews, I compiled a list of different products ideal for every bird lover.
To find the best window bird feeder, I considered these factors  
Outdoor weather resistance

Weight support

Method of attachment

Size and appropriateness of feeding trays

Ease of cleaning and refilling
Here are the top picks 
1. Nature's Hangout Window Bird Feeders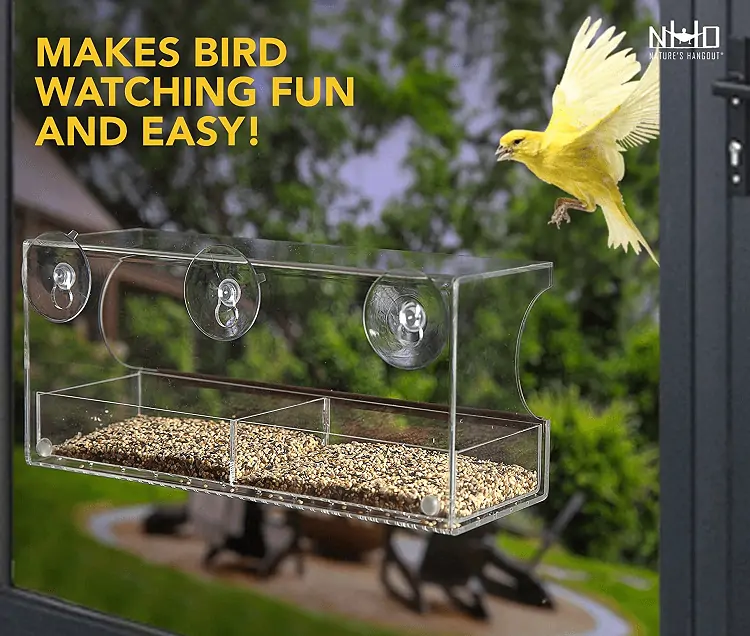 This is the window feeder to go for if you want an unobstructed view of the flinch and other birds when sipping your morning coffee. It does not have a plastic back to obstruct the bird's view.
It costs less than $30 and has roof and seed well drainage holes, plus three solid suction cups to keep the feeder in place. So it will not fall off your kitchen window, and you can afford it even if you are operating on a string budget. On top of that, it comes with three additional cups if you need to replace some.
The seed tray slides out for easy cleanup and refilling without removing the feeder from the window. Although the tray is shallow, it can hold up to four cups of bird seeds. You may fill it up more frequently ( depending on the number of birds visiting the feeder), but it is not something to worry about since it's easy to remove.
You can feed wild birds in style with Nature's Hangout acrylic bird feeder. Use it to feed sparrows, wrens, woodpeckers, goldfinches, chickadees, bluebirds, etc.
What I Liked About the Product
It has no plastic back, so I get hours of unobstructed bird view  

It has four suction cups to keep it safe and secure and won't fall off the window

Its 3.5-inch height from perch to roof accommodates a wide range of bird sizes

The seed tray slides out for easy cleaning and replenishment.
What Could Be Improved
Its tray is shallow, so you'll refill it more often if you're feeding many birds
2. FRKNER Window Bird Feeder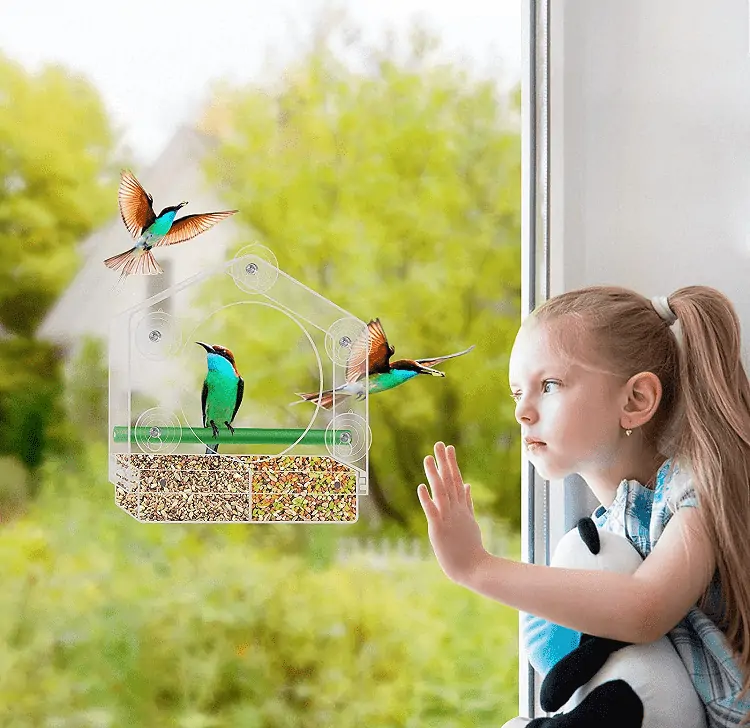 If you are looking for a secure window bird feeder where the seed tray will never fall off, your search could end with this product. The seed tray is fastened to the bird feeder with a magnet, so the tray will stay in place even if the birds' tiny feet keep hitting the seed tray mindlessly when eating. 
It has a hundred and twenty-eight drainage holes suitable for keeping the seeds dry. The holes are tiny, so do not worry about the seeds falling from the tray. This feeder is, without a doubt, an incredible hangout location for all the birds in your locality because it has green branches to attract almost all wild birds. 
If you are a bird lover, you'll never have a dull moment with this window bird feeder in place. You'll watch vibrant-colored wild birds from the comfort of your home, whether working at your home office, sipping your morning coffee, or preparing dinner for the family. 
You'll discover birds you never thought were in your vicinity as they'll flock to the feeder in droves. It'll attract many birds, including woodpeckers, robins, bluejays, goldfinches, etc.
What I Liked About the Feeder
It has a money-back guarantee. So I can return it in case of any eventuality and get an entire refund hassle-free

It is ideal for different species of birds

Its suction cup works like magic 

It has excellent drainage holes to prevent yuck!
What Could be Improved
It's very affordable; people may dismiss it thinking it is a knock-off, which is not the case
3.
Nature Gear XL Window Bird Feeders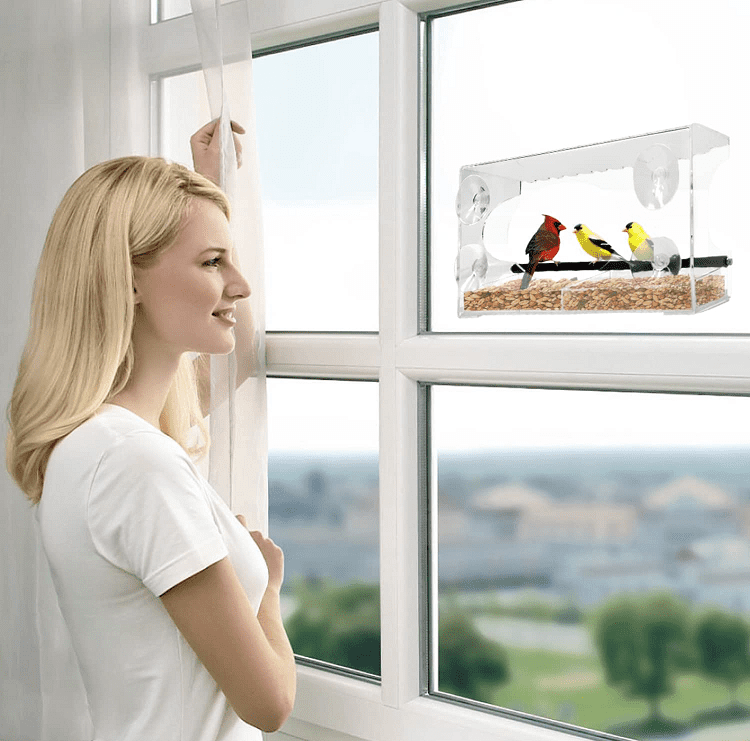 Feeding your feathered buddies throughout the year can be challenging because the wet seeds can get moldy during the rainy seasons and make the birds sick. If you desire to feed the birds regardless of the season, buying this feeder is one of the best decisions you will ever make.
The feeder's innovative design enables birds to feed throughout the day, even in the winter. It has a tall pitched roof that stops rainwater from entering the feeder and a detachable feeder with holes to let any water drain and keep your seeds dry. The product has a wide perch to let you feed several birds simultaneously.
You can refill the feeder from your house. Cleaning it is a breeze. Remove the extra big tray, wipe it with a clean damp cloth, and you will be good to go.
What's more? You do not have to agonize about where to hang the feeder, as you can turn it on any window. Be careful not to place it close to the window ledge or the ground to keep the squirrels away from it. 
The suction cups work well, but you can moisten them with olive oil and let them dry before sticking them to the window to boost the suction strength. Your kids, birds, and cat will thank you immensely for getting it because they'll all love it.
What I Liked About the Product
It's effortless to clean.

The tray has drainage holes to drain water and keep seeds dry even during winter

I  can refill it from inside the house
What Could Be Improved
A squirrel could get to it and eat the seeds or destroy it if you don't get the appropriate height for placing it 
4.
D.F. Omer Weatherproof Polycarbonate Window Bird Feeder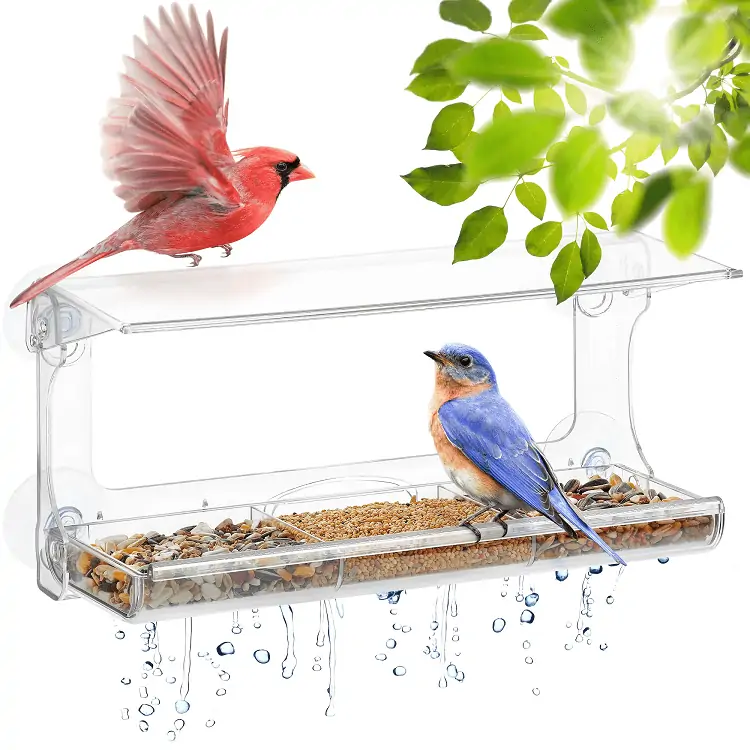 This window feeder lets you take delight in watching the captivating beauty of nature a few inches from your awe-struck eyes.
You just mount the feeder to your window and watch different beautiful birds do their thing through the clear acrylic. Once the window feeder is up, the birds flock to it as it has a divine ability to call each bird by its name.
You'll watch your feathered buddies, whether raining or shining, as the feeder can stand up to the elements. The feeder is weatherproof and resists harsh conditions thanks to four strong suction cups and top-quality acrylic.
You will attract more different birds like never before with this product. The feeder's tray has three sections to place different seed types in each part and entice birds of various songs, colors, and sizes into your windows.
Forget about cleaning up wet bird seed. This feeder has drainage holes to keep the seed dry. You can easily remove and clean trays. This birdhouse is built to last many years and has a two-year warranty.
What I Liked About the Product
It has a rounded and textured perch meant for birds to spend some time on for more bird-watching experience

It has three seed sections to help you attract a broader range of wildlife

It has a four-cup seed capacity to reduce the frequency of refills, allowing you to enjoy your view uninterrupted.

 It has drainage holes to keep the seeds dry and prevent post-storm sogginess.

It has a removable tray that makes cleaning the feeder effortless.
What Could Be Improved
Attracting many birds at the same time could lead to altercations between territorial ones 
5. Roamwild Beautiful Arch Window Wild Bird Feeder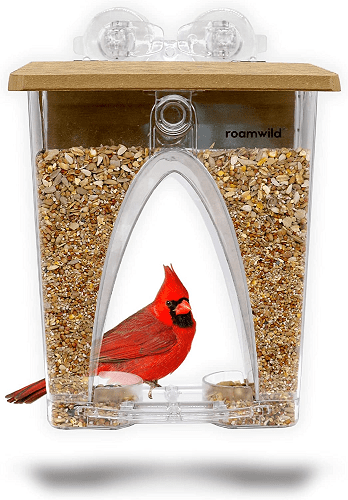 I love this bird feeder because it looks terrific in any window. It is simple to maintain and refill, separating easily for thorough cleaning between uses.
Roam wild The Beautiful Arch window feeder is ideal if you want a feeder that practically refills itself. It can hold up to four pounds of birdseed, allowing you to sit back and relax for days while the gorgeous birds feast.
The unique ornate, and stylish arch design eliminates seed clogging, keeping your seeds fresher for an extended period.
The various perches permit several birds to feed simultaneously without getting in each other's faces. And a purposeful no-mess design prevents the birds from soiling the seeds, keeping them healthier and fresher for longer.
Once you buy this feeder, you'll use it for a long time because it is made from strong polycarbonate plastic. You will get an unbeatable, unobstructed view of the birds.
Using the suction cup properly, it holds well and won't fall off, even if a pesky fat squirrel finds its way to the feeder. The bottom of the window feeder cleans easily in the dishwasher and with a sponge.
What I Liked About the Product
Ease of use

Its durability is second to none

Ability to feed multiple birds simultaneously

It has an enormous capacity, so there is no need to refill the feeder frequently
What Could Be Improved
6. KETTLE MORANE WINDOW MOUNT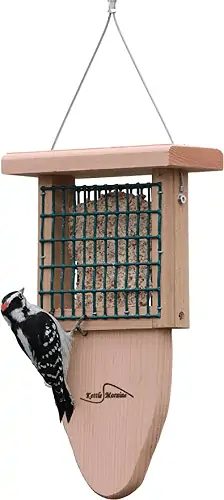 If you and your cat love bird watching up close and personal, investing in this feeder is the way to go. This suet feeder allows you and your furry friend to observe birds from the second floor of any apartment.
The suction cups adhere exceedingly well. You will have no issues with them, even when temperatures dip into the negatives.
This feeder is well made and attracts different birds. It'll still look great even if it falls off your window several times. The secret to making the feeder stick excellently to the window is, to begin with, a lean window surface.
You could warm the suction cups inside the house and apply some oil to the cups to boost the suction power when it is cold.
Mine has fallen out of the window several times and is still in good condition.
Getting the suet feeder to slide on and off the suction cups might be challenging, but it is possible if you have a firm connection to the window. The suction cup tabs are slightly larger than the slots in your feeder, but the feeder can be removed and attached to the suction cups while on the window.
Because of the holes on top of the big holes on the bottom, torrential rain will easily wash away your suet, and chunks fall through quickly. You could take down the feeder when it rains to mitigate the situation.
What I Liked About the Product
It can hold one regular-sized suet cake, but it entices a lot of birds

You only need two suction cups to secure it on the window

It's long-lasting because of the vinyl-coated wire mesh

It attracts different birds who love the suet
What Could Be Improved
Rain can wash away the suet cake and make a mess due to the big holes at the bottom
7. Glass House Bird Feeder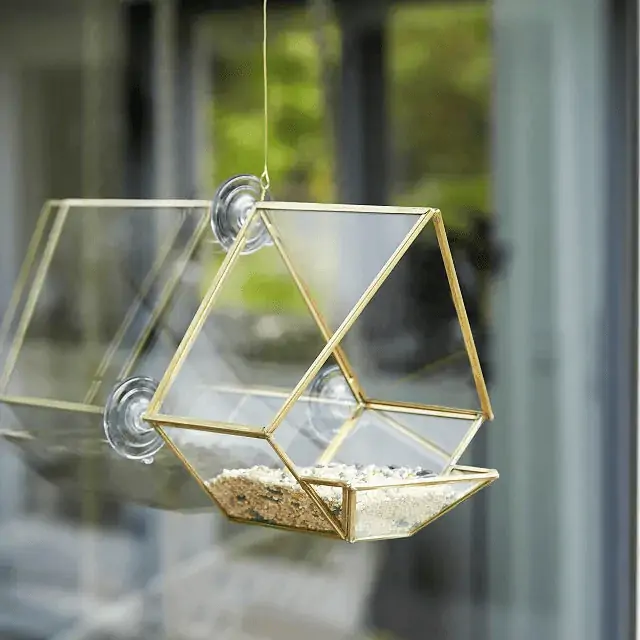 If you want to stay ahead of the pack in your bird-watching escapades, having this feeder in your backyard is a considerable step in the right direction.
This contemporary brass and glass feeder is handmade so that you feel the connection between the maker and the birds. You can hang it on a tree or mount it on the window and bring your favorite birds so close that you can nearly pat them on the head or tail.
Another advantage of mounting this glass feeder is that squirrels and other hungry rodents can't get to the bird food. You could give it to any bird enthusiast, and they will thank you for a lifetime, as you'll enable them to observe their feathered friends nibbling and flying from the comfort of their nest.
If you have a knack for unique things, this is the feeder for you because it combines the beauty of vintage and modern aesthetics for a breathtaking viewing experience. The product is all glass, so you can easily view the birds from a distance.
You'll love the design, solid glass, and gold trim because it is phenomenal and keeps your seeds dry when it rains. When the birdies stop for an elusive snack, you get a bird's-eye view of them without them knowing a thing!
What I Liked About the Product
It makes you stand out

It's easy to clean and fill

It works as marketed

It has a superb design that keeps the seed dry when it rains
What Could Be Improved
It's pricey if you need to save a few dollars
Types of Window Bird Feeders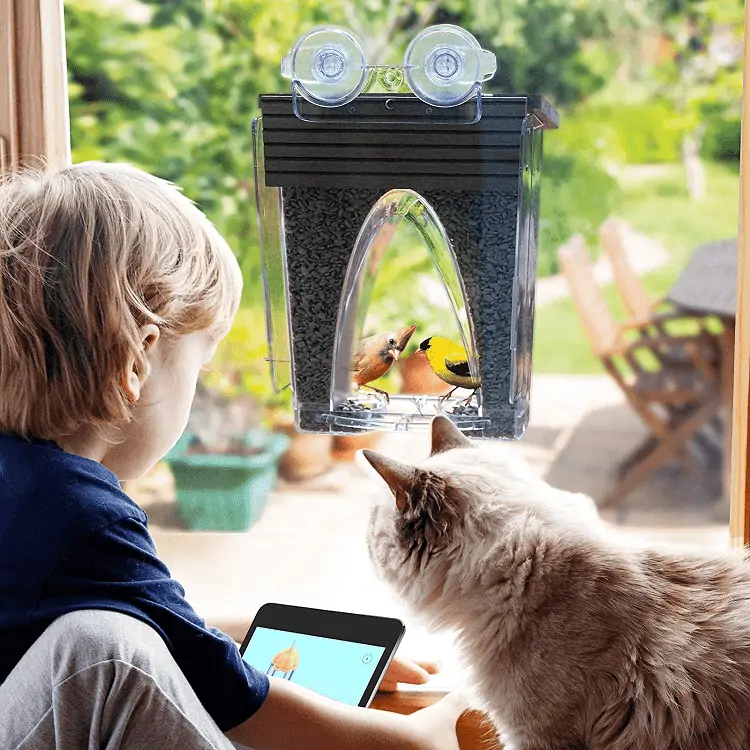 Commercial window bird feeders are glass, plastic, acrylic, or brass. You can use them in the following ways.
Window Mount Feeders
Window mount feeders are standard in most properties. You hang them outside the window with velcro or suction cups.
One advantage of a window mount feeder is that it keeps squirrels, raccoons, and other troublesome creatures out of your bird feeder. These pesky rodents can consume all your bird food or destroy the feeder with weight. 
You can determine your feeder's height and its proximity to trees. Remember that the tree branches could give grey squirrels and other rodents unlimited access to your feeder.
The secret is to place the feeder high enough so that the squirrels can't get to it and far away from the trees so that the raccoons can't reach it from the tree branches. 
Another great advantage of using window mount bird feeders is that you can birdwatch from the comfort of your home, which is therapeutic for the elderly, children, parents, work-from-home guys, and anyone who likes bringing nature views indoors.
Window-mount bird feeders are easier to clean because it is mandatory to keep them clean to stop the birds from consuming moldy seeds, which is detrimental to their health. 
Solarium Feeders
Solarium feeders extend into the house via an open window and sit on the windowsill. It has adjustable side pieces, closing off the open space. A tension pole secures the feeder to the outside of a window.
A solarium feeder enables you to see the birds up close and personal, but you will have trouble closing the window because it won't lock when closed and won't work with casement windows.
How to Clean Your Window Bird Feeder
Moldy seeds and hulls on your feeder trays could make birds ill. 
You should keep your window bird feeder clean as harmful bacteria quickly grow in, under, and on it.
Bird poop and other pollutants can also spread contagious bird diseases. Extensively clean the feeders after two weeks. Do it more frequently during periods of high use or wet rain, or if there have been claims of salmonella in your location or you have seen a sick bird in your garden.
I bet you did not invite them to a buffet, only for them to turn up dead or sickly in your yard. Here's how to clean your window feeder like the pro you are. 
Supplies Needed
Regular household bleach

Measuring Cup

Dish Soap

Tube Feeder Brush

Scrub Brush

Gloves

Tubs/Containers

Rag
Step 1- Put on Gloves
Wear Gloves and Dismantle the Feeder. Use warm water and dish soap to scrub the feeder and thoroughly remove dirt and debris.
Step 2- Make A Bleach Solution
Prepare a regular bleach solution in the ratio of nine parts water and one part bleach. Use the measuring cap to get the proper ratio. Put the parts in the solution and let them soak for a few minutes, rotating to submerge all the pieces.
Step 3- Rinse the All the Parts Extensively
Rinse it thoroughly in clean running water if possible. Place the parts on a clean towel or dish rack, then air dry for hours.
Step 4- Put the Feeder Black Out
Assemble the feeder and refill it, place it in the usual area. Sit back and enjoy the birdies having a field day from right outside your kitchen window.  
Tips for Cleaning the Window Bird Feeder
Check Whether The Feeder Parts are Dishwasher Friendly
Check the packaging box to ensure your feeder is dishwasher friendly before placing the parts in the dishwasher. If it is okay to clean them in the dishwasher, do so as you'll save a lot of time that you would spend trying to get into every little corner.
Sweep the Ground Under the Feeder Regularly
As birds come and go, you'll see piles of seed litter the ground beneath your feeder. Some birds, such as jays, do this on purpose, and they throw away what they do not want to eat while happily savoring those they like to consume.
Sadly, the leftovers draw in rats, mice, and other rodents, which you do not want anywhere near your compound. Sweep the ground under the feeders to stop the buildup of unconsumed eaten seeds, hulls, droppings, and other waste to deter the rodents from visiting your garden. 
As soon as you attach your feeder, it will appear dirty. Unfortunately, birders place these in high-traffic areas to appreciate the visitors, which means the grime accumulates right at eye level.
Don't let that stop you from getting one, though. Have a plan. Pick an easily accessible window that will allow you to clean the feeder as soon as you need to be stress-free. You won't be upset when errant poo winds up in plain sight because you know you'll just wipe it off, and life goes on as usual.
DIY Window Bird Feeder
You can bring birds to your backyard using a window bird feeder without spending a penny. Make a DIY window bird feeder with readily available materials in your home. Here's how.
How to Make A Simple Window Bird Feeder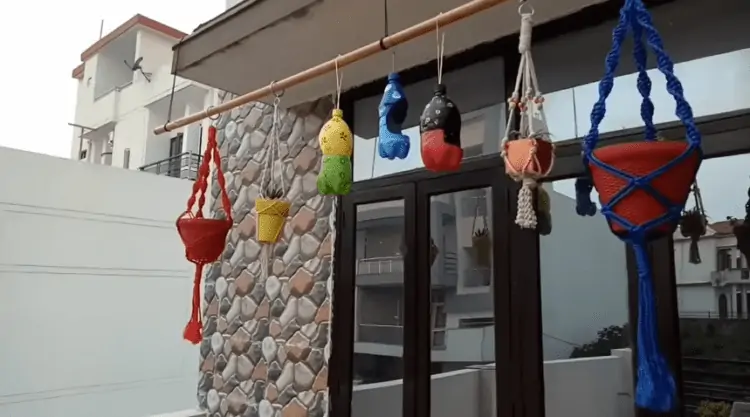 Requirements
Clear plastic bottle

Color markers

Scissors

Cutter knife

Rubber vacuum sucker

Step 1-

mark a line on the upside of the bottle with a color marker

Step 2-

Use the cutter knife to cut the lining area and remove it

Step 3-

Make two dots at the back of the bottle. 

Step 4-

Create holes at the marked points with scissors to make room for suction cups.

Step 5-

Place the sanction caps into the holes and properly position your improvised window feeder in the mirror.

Step 6-

Put bird feed and wait for the feathered buds to flock to the feeder. 
Frequently Asked Questions (FAQs)
Question: How far should a bird feeder be away from a window to Prevent Bird Strikes?
Answer: Position your bird feeders within three feet of the windows or over ten feet away from them to avoid window strikes. It is so sad that according to wildlife research, 39% of bird-window collisions result in death. 
If the birds hit the window from within three feet, they are unlikely to sustain fatal injuries. It would hurt to entice a beautiful bird to your yard only for it to lay dead on your porch because of a bird-window collision. It is advisable to follow the recommended distance to avoid such scenarios.
Question: How Do You Attract Birds to Your Feeder?
Answer: You can do some things to attract your winged guests. Birds adore covers, particularly near feeders. So, plant vines, bushes, and evergreen trees in your compound.
Clean and disinfect your feeder and discard any old or wet seeds. Peanuts are popular among chickadees, nuthatches, and woodpeckers. Mix bird seed with peanut butter, draw more attention to your feeder or hang a peanut feeder.
Also, hang different feeders in your compound and fill them with bird feed, sugar water, or suet to attract different avian visitors to your yard.
Question: Why are There No Birds at My Feeder?
Answer: You set up your window bird feeder, but you are dying a little on the inside because no birds have visited your feeder. Or birds came and disappeared into thin air. What Could be the problem?
There could be various reasons birds aren't visiting your feeder.
Birds may not visit the feeder because they dislike the seeds you serve, or maybe you have placed your feeder in an unfavorable location.
You may not see them because they have migrated. Place your feeders where birds can quickly notice them. Consider the time of the year and do not leave your feeders empty for extended periods.
A New World of Birding Possibilities
The best window bird feeder is the one that maximizes your birding experience from the comfort of any room. 
But the market is loaded with bird feeders for windows, and It's so easy to get lost in the details of choosing the best. But what matters most is getting up close and personal with them.
And when you do it with the best bird feeder like Nature's Hangout Clear Window Bird Feeder, you open the door to a new world of bird-watching possibilities.
Perhaps you prefer to select your best window bird feeder. Either way, it should be affordable, easy to clean, easy to refill, weatherproof, durable, and hold a reasonable amount of bird seeds so that you don't have to fill it every minute.
References:
Looking for more interesting readings? Check out: