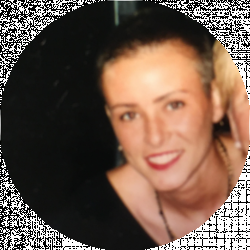 Latest posts by Richelle Tieman
(see all)
The Winner is the Brome Squirrel Buster Standard
Watching those pesky squirrels climb, jump and hang from my bird feeders is as close to a stroke as I've ever been, but if they keep it up, the end is near. I wrote those words to my grandmother decades ago, but the lingering sentiment remains there! By far, the most common challenge with bird feeders is that squirrels want to share.  They want to share YOUR food, not theirs!
Though several methods keep bird feeders squirrel-free, including hot pepper seed mixes and patented baffle poles, this article focuses on the best bird feeders that keep out squirrels. After years of troubleshooting and working on a shoestring budget, I finally got to a place in my bird-watching reverie where I knew what would work and why. Here, I'll share my experiences and give recommendations for the best squirrel-proof bird feeders that are available, explaining the pros and cons of each.
Great expense has been taken by both the consumer (us) and manufacturers to achieve a squirrel-free bird feeding system. Lucky for us, function and form have joined to make some beautiful and hard-working bird feeders.
The Bottom Line Upfront on Squirrel Proof Bird Feeders
While most manufacturers would be hard-pressed to label a feeder as 100%  squirrel proof, I can safely recommend some bird feeders that have always done the job for me and thousands of others. I want a bird feeder that not only keeps squirrels at bay but also lasts for years and is cost accessible. The Brome Squirrel Buster Standard model fulfills all of those and then some. The weight-sensitive perches lower doors over the feeding ports when it feels the squirrel's (or heavy bird's) weight. There's no food from the ports and no seeds to spill out. Once the squirrel leaves, the tension springs automatically pull the shroud up to expose the feeding ports. The ease of use and assembly ratings were 4.8/5 from more than 10,000 reviews! That was the tipping point for me in selecting this!
How I Choose the Best Squirrel Proof Bird Feeders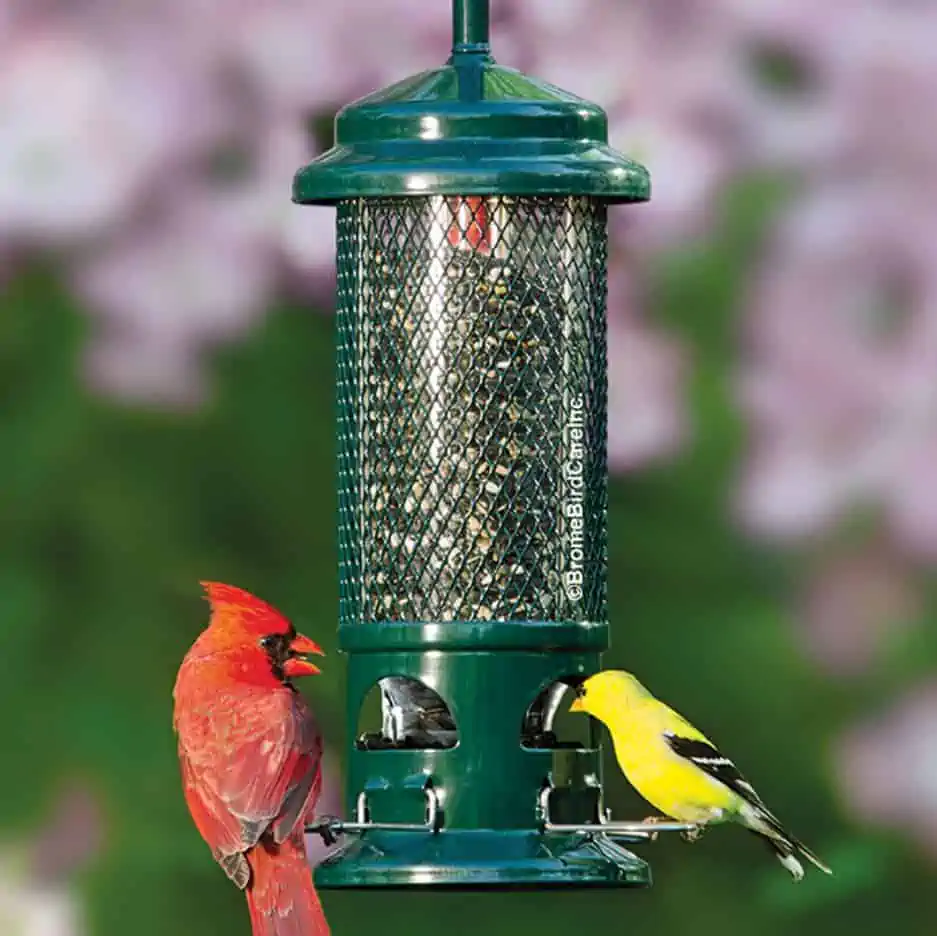 Over time, it becomes easy to spot feeders that stand out in design and quality. Brand names of trusted sources become familiar to us as we become impressed with how well a birdfeeder works. Some of the feeders are built for life, and I prefer those as I like to do the work of vetting an item before I buy it. Once I buy it, I expect it to work and look good for years, if not decades. I have also learned over the years that I don't need to spend a fortune to have a beautiful and squirrel-proof bird feeder!
Quick Criteria List
The birdfeeder itself must be squirrel-proof without adding anything
Must not harm squirrels
Made of chew-proof materials
Sold from a reputable seller
Have at least a 4/5 buyer rating (sometimes I look at multiple sources for a rating)
Must have extra value features such as:

Seed ventilation
Rust-proofing
UV resistance
Weather Guard
Warranty
Best Squirrel Proof Bird Feeders at a Glance
Types of Squirrel Proof Bird Feeders
Once you look for certain birds every morning, you know you are hooked on bird watching and can safely spend more time and energy welcoming your feathered friends. It's impossible to chat about the best bird feeders without deciding how you will keep squirrels off your feeder.
The two main features that keep squirrels out of your birdfeeder are weight-sensitive feeding areas and cages surrounding the feeder. Every birdfeeder that claims to be squirrel-proof is a variation of those two categories.
Weight Sensitive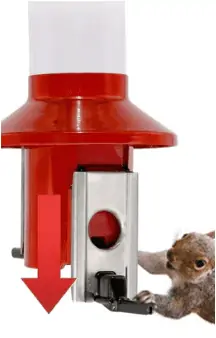 There are three types of weight-sensitive squirrel deterrents. Spring-powered, battery-powered, and slippery slopes. The spring type is my go-to birdfeeder because I don't have to worry about putting up a bunch of baffles attached to my poles and hangers and because it's convenient to have maintenance-free springs rather than charging or changing batteries.
Spring Powered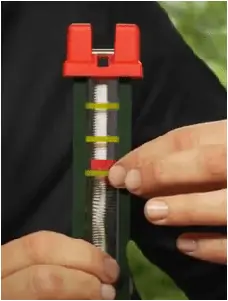 This works on the perches or ledges of the feeder, and once a certain weight has been exceeded, it triggers the feeding ports to close (tube) or moves a shield in front of the feeding area (hoppers).
Usually, there is an adjustable screw that controls how sensitive the perches will be, and explicit directions should be in the retailer's description, as well as in the package.
Sometimes the adjustable weight mechanism is difficult to access, and you may have to disassemble and re-assemble the bird feeder several times before it works for the weight you want. Have the directions handy – you'll be a pro soon!
Battery-Powered Spinning
This function works when a larger bird or squirrel's weight is on the perch going around the feeder's base. This triggers the battery to turn on a rotating device that dislodges any intruder from the perch! Look for videos of these spinning feeders on the retailer's websites.
Important to note that many of the best battery-powered feeders use NiCad rechargeable battery packs, which are supremely finicky when it comes to their charging. They have to be charged at a certain point; you can't just take out the battery when it's still working and charge it up to full. This causes many people to leave reviews stating the batteries don't hold their charge. Remember to read the directions carefully, as using NiCad batteries can be tricky.
Smooth Slide
This type of squirrel deterrent uses gravity and a slippery surface that wobbles and drops the squirrel to the ground. A large dome-shaped piece covers the bird feeder, or a round piece of chew-resistant plastic (think PVC-type) is attached to the bottom where the feeder ports are.  From the top, the squirrel climbs down but can't get a foothold on the dome and slides off. From the bottom, the squirrel can't get a grip to get past the wobbly plate.
Keep in mind that the longer the hanger length, the more success you will have, as the squirrel's length will prohibit it from reaching the seed.
One downfall of this design is that the bird feeder rocks and sways so robustly when a large bird or squirrel lands on it that birdseed tends to fall out quickly. This ground food becomes a positive reinforcement to whatever landed on it, costing you money in the wasted seed!
Cage Feeders

This is just what it sounds like – a cage around a feeder. The space between the cage bars will determine what types of birds are allowed inside access to the food, and many birds will be able to use their beaks to reach the seed. This design keeps out squirrels but may also keep out larger birds you wish to feed. I prefer the cages that give a bit of room between the bars and the feeder to allow for more movement inside. More room also means the food is farther away from the squirrel on the off chance it learns to use its hands!
I have seen small squirrels wiggle their heads between the cage to eat the seeds. This happens when the mesh openings are larger, and the seed tube is closer to the cage. If squirrels are rampant in your neck of the woods, be mindful of how much space is between cage rungs and between the actual food and the cage.
Tips to Consider When Shopping for Squirrel Proof Bird Feeders
I was lucky to have a bird-watching mentor (my grandmother) to explain how everything worked and troubleshoot bird-feeding problems.  Not everyone has that available, and customer service can be less than stellar when ordering online, so often, there's no help. Needing help to operate a bird feeder seems ridiculous, but I was even questioning (euphemism) the design of one squirrel-proof bird feeder when I opened it. I am still convinced that there is a simpler solution. LOL
This brings us to the first consideration.
Ease of Use
If you're like me, I want something intuitive with no maintenance. Convenient is the word. I have to say that watching squirrels fly off a battery-powered spinning bird feeder may be exciting for a time, but having to tape the instruction manual up to disassemble it would dim that light.
When you read the description and look at the pictures or video provided by the seller, it's okay to skip that option and move on to the next. I've done that many times.
Placement of Feeder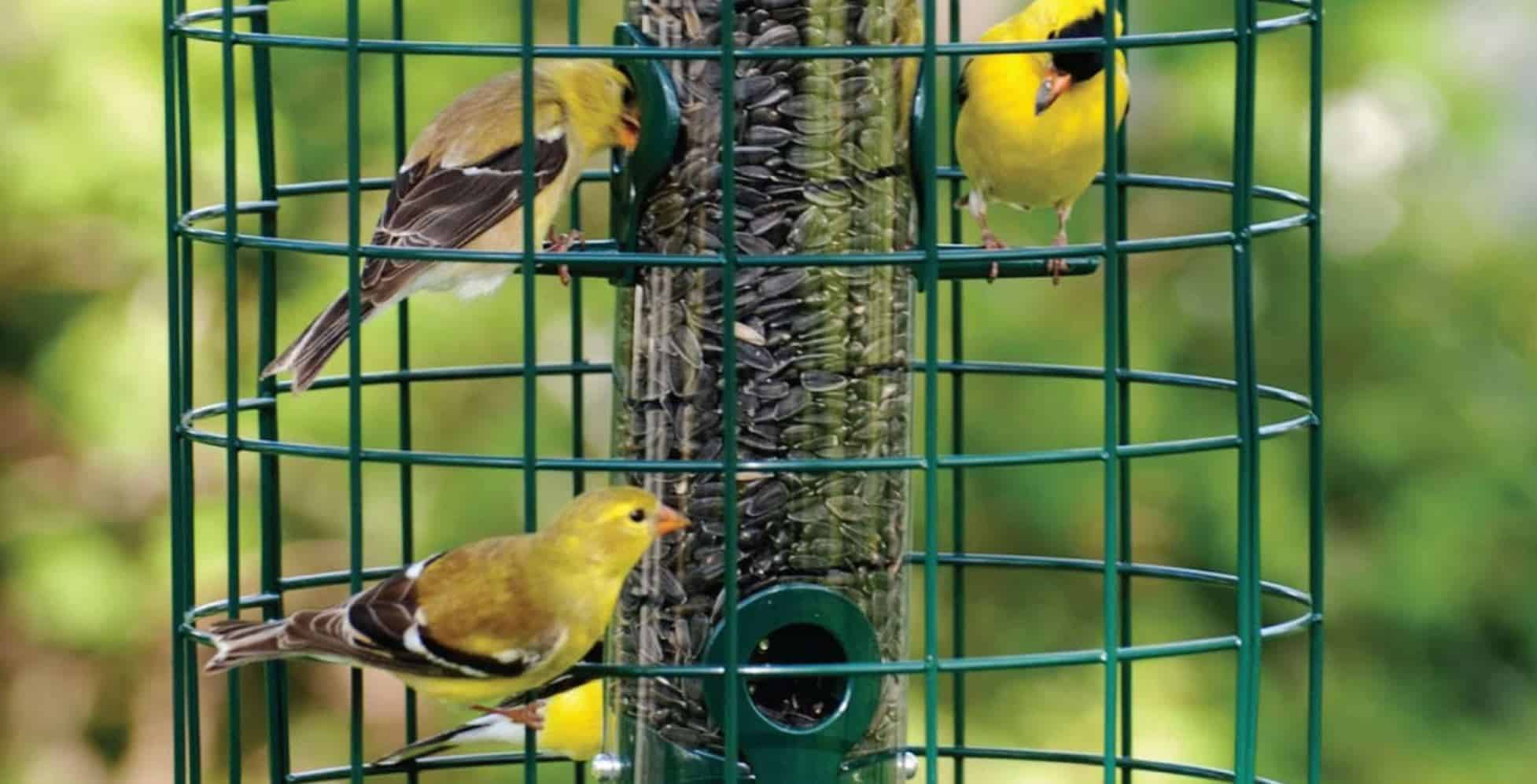 Where you place your bird feeder is important when choosing an effective squirrel-proof feeder. If you hang a weight-sensitive feeder from a tree, it won't matter how easily the doors shut over the feeding ports when the squirrel is on the perch. The squirrel will stay on the tree, reach over and grab the bird feeder and the food!
Caged feeders with a wide berth around the food are the best option for a feeder you can just plop on a branch.  The squirrel can hang from it but won't' be able to get any food. Hanging a feeder in a tree without proper clearance is not my first choice because I have witnessed wily critters outfox supposedly "squirrel-proof" feeders too many times.
I recommend keeping all squirrel-proof feeders at least five feet off the ground and having eight to ten feet of clearance all around the feeder. The hanging wire or hanger should be at least 18″ inches long before the top of the bird feeder so squirrels can't stretch upside down to the bottom and get food.
Tip: Try using fishing pole line to extend the length of your hanger. Squirrels can't get a grip on that and will fall off.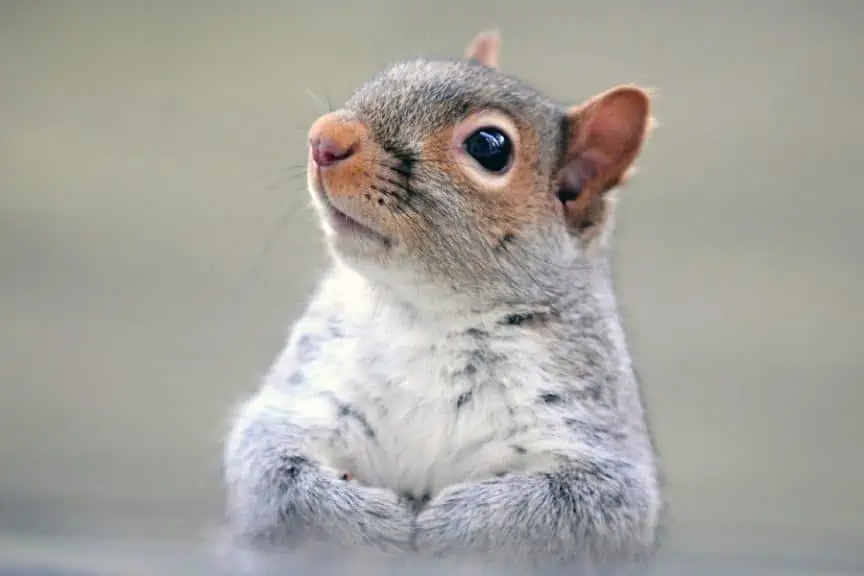 Best Squirrel Proof Bird Feeder Run Down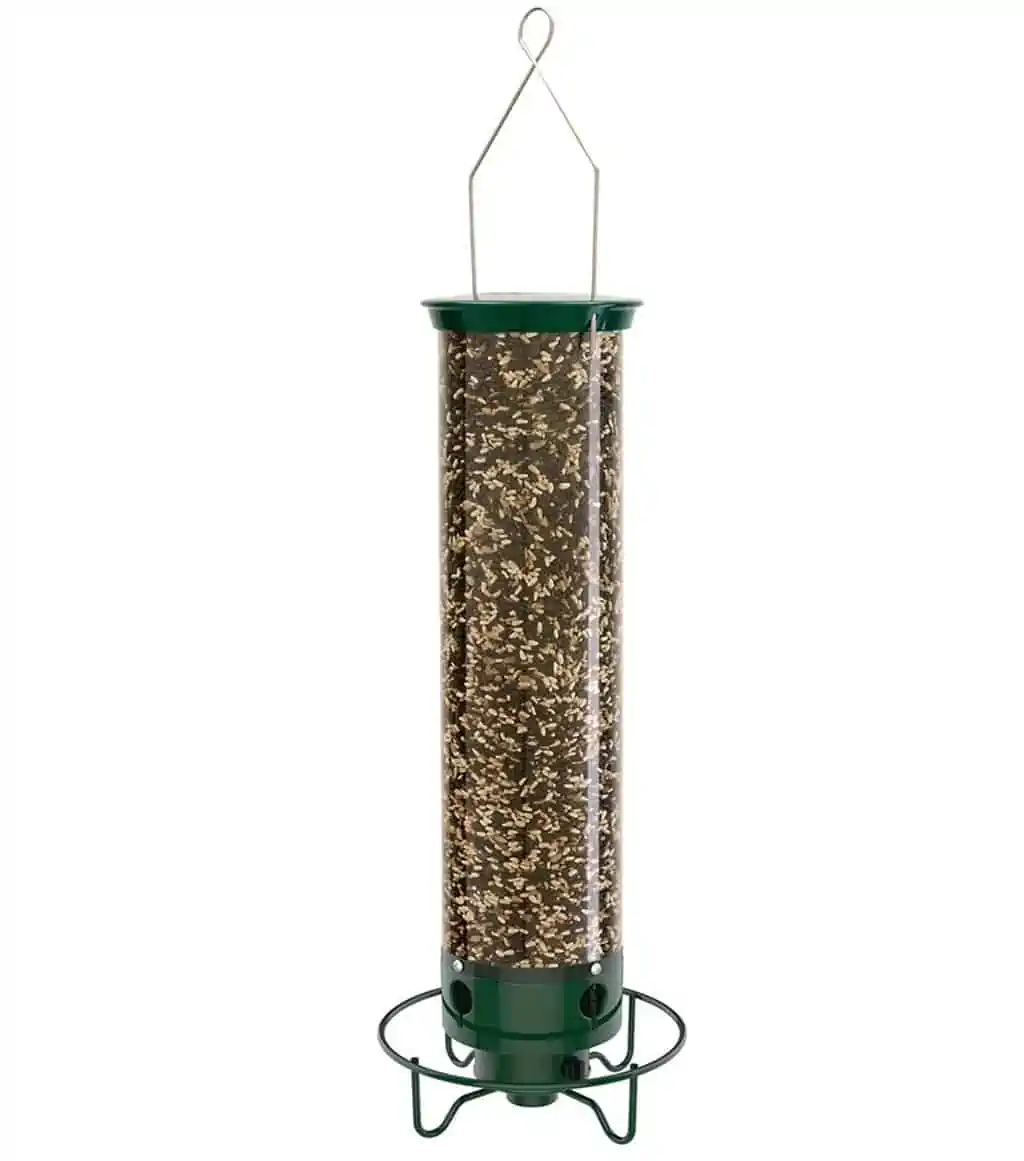 This video that Droll Yankees puts out in their product description is a great testament to how squirrel-proof their feeder is! Check it out at Droll Yankees. This feeder has a base that spins around quite fast when a large bird or squirrel's weight triggers the battery. It's impossible for anything to stay on! The base and cap are heavy metal, and the tube is UV-resistant polycarbonate. A large internal baffle keeps the seed moving to each of the four ports, and a NiCad power stick and recharging base are included. This is beautifully crafted by one of the most reputable retailers you can find.
Dimensions: 9″x9″x28″
Seed Capacity: 5 pounds
Material: Metal and Polycarbonate
Pros
Lifetime quality
Incredibly effective weight sensitive, battery-powered spinner
The internal baffle prevents seeds from clogging
Cons
Expensive
Battery requires recharging
Yankee Whipper by Droll Yankees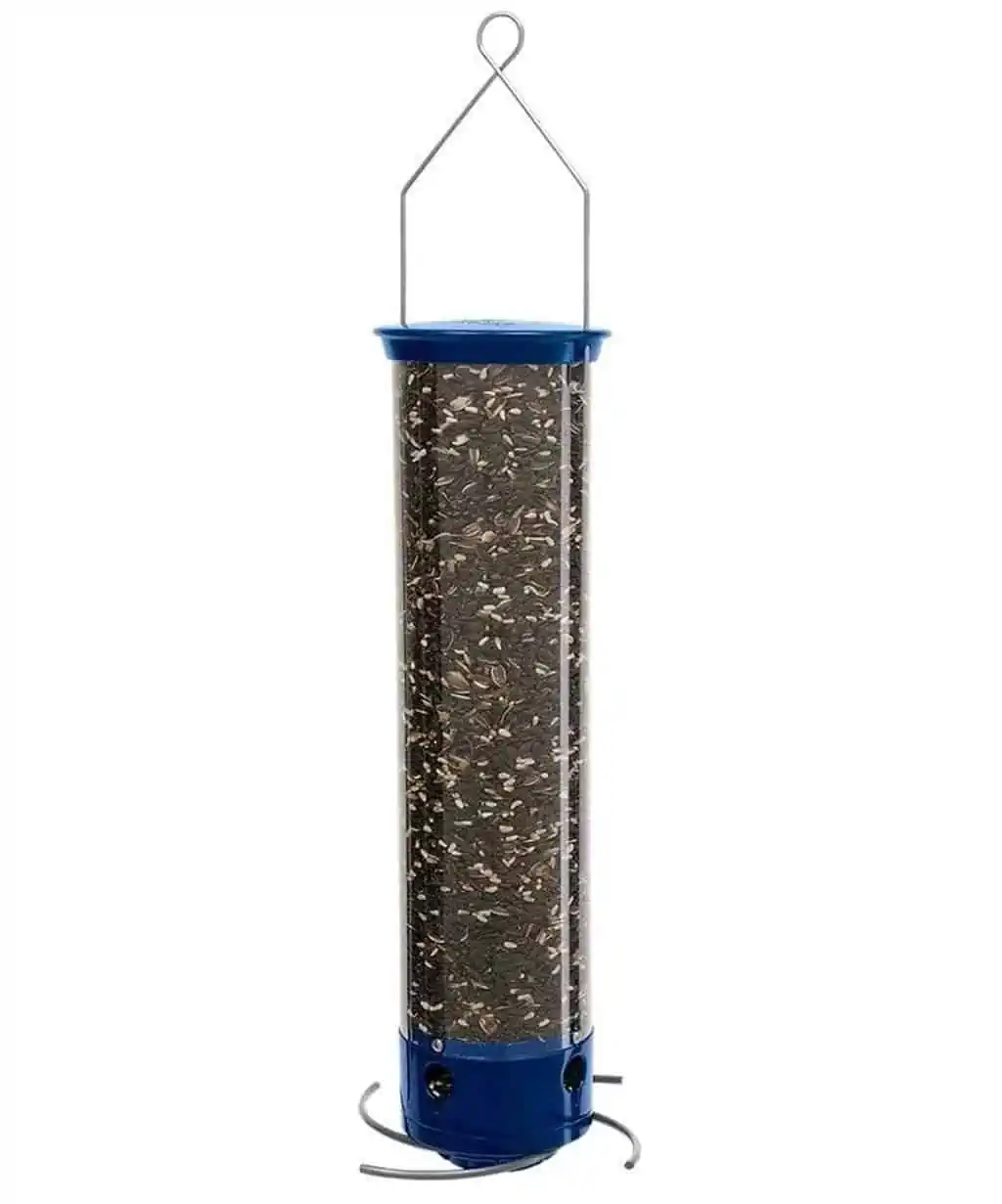 This is my favorite squirrel-proof bird feeder, and except for the price, it would have made my bottom line! The curved perches are calibrated to fold and drop anything over 2 ounces which takes care of both young and old squirrels and larger birds. Droll Yankees is known for making products that stand the test of time and offer a lifetime warranty and superior customer service. The feeder is made to be too long and too wide for squirrels to straddle or stretch around, and the metal top and base are powder coated for weather and rust resistance, which also protects the blue color. An internal baffle ensures seeds don't get jammed at the bottom.
Dimensions: 9″x9″x28″
Seed Capacity: 5 pounds
Material: Metal and UV resistant polycarbonate
Pros
Individually calibrated perches collapse under the weight
Heavy-duty polycarbonate is chew-proof
The internal baffle directs seeds and prevents clogging
Cons
Squirrel be Gone Flexport From Perky Pets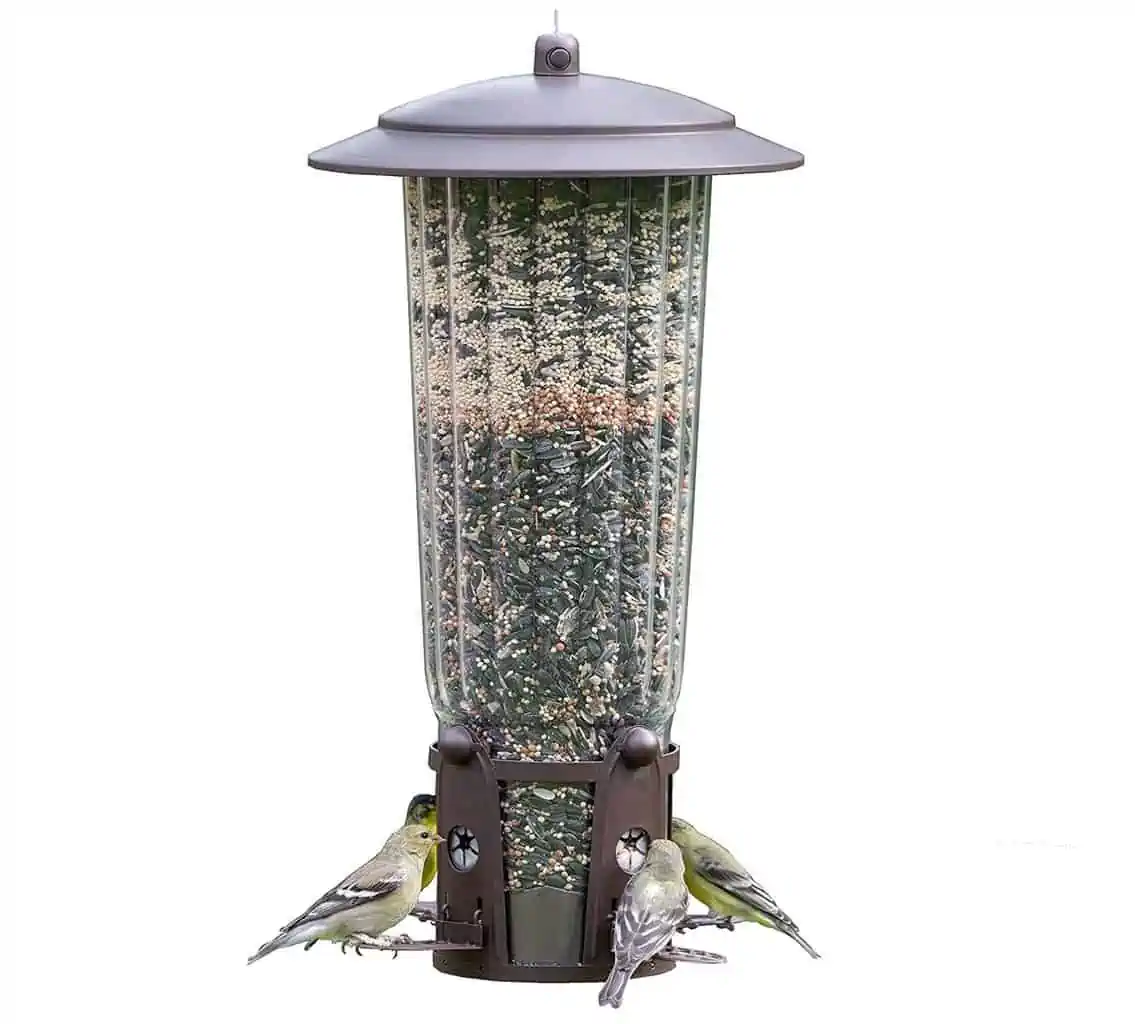 This feeder features wonderful rubber flex tabs on the feeding ports to hold the seed in the tube longer and make it harder for squirrels to shake it out. Meanwhile, the birds can push past them with their beaks as they lean in to get the food! In addition, the wide oval perch pads are designed larger than usual to accommodate more birds and provide sure footing. The perches are weight sensitive, and a shield closes off the feeding ports when squirrels trigger them. The lid is a twist lock design to keep squirrels out! This is a great value for the money, and the patented flex tabs keep out much of the weather while still providing ventilation.
Dimensions: 9″x9″x18″
Seed Capacity: 4 pounds
Material: Metal and plastic
Pros
Weight-sensitive perches close off feeding ports
Flex rubber tabs prevent seed spillage
Large perch pads are super comfortable
Cons
Seed may become stuck at the bottom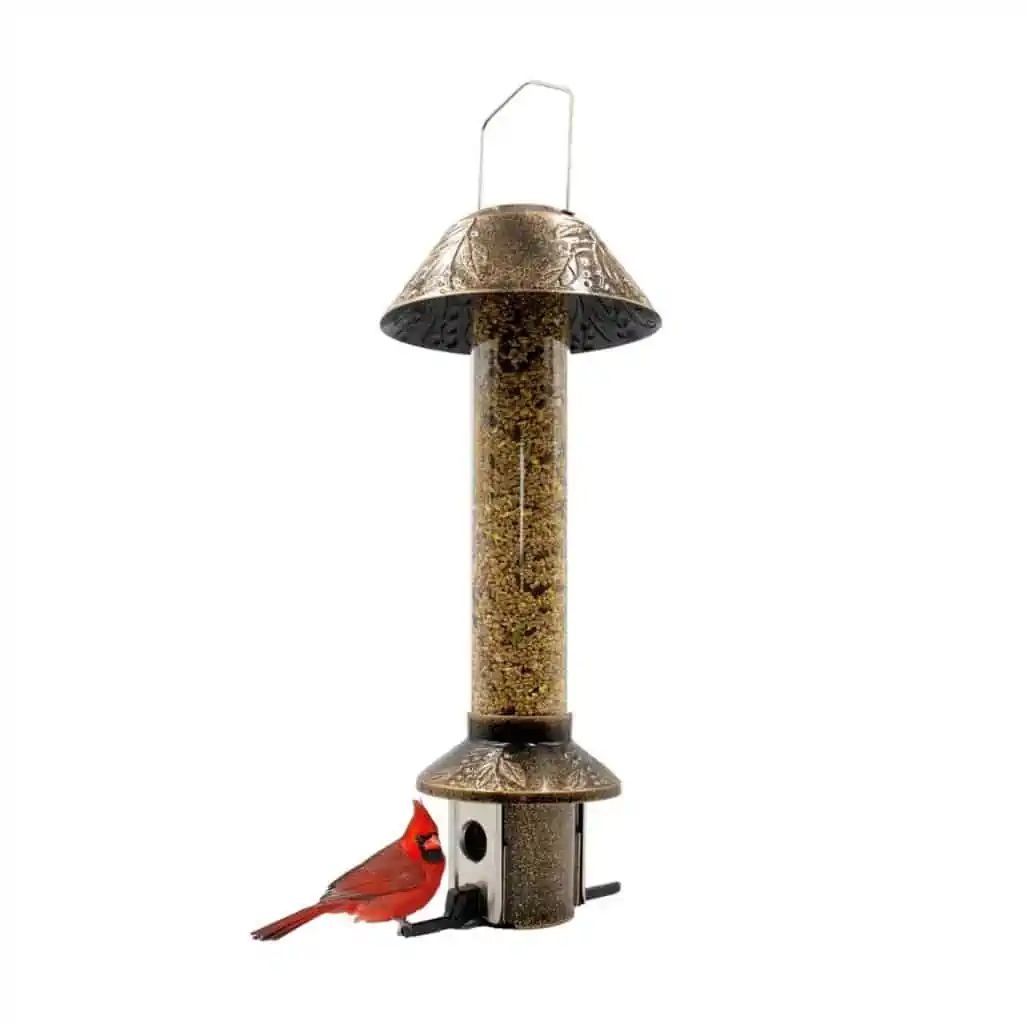 This RoamWild feeder uses riot-shield grade plastic for its tube and its chew proof. The metal frame has baffling at the top and is guaranteed to keep seeds dry and squirrels out. I love this feeder's coppery finish and embossed decorative style; it adds charm to any yard. This features a built-in rain guard, and each perch is calibrated for only songbirds to access – all larger birds and wildlife will trigger the port closures. This has only three parts, making it easy to take apart and clean, which is a huge plus.
Dimensions: 7″x7″x18″
Seed Capacity: 3 pounds
Material: Riot shield grade plastic and metal
Pros
Ready to use out of the box, gorgeous design
Guaranteed 100% squirrel proof
Two weather baffles
Cons
Bronzed Cage Bird Feeder From Duncraft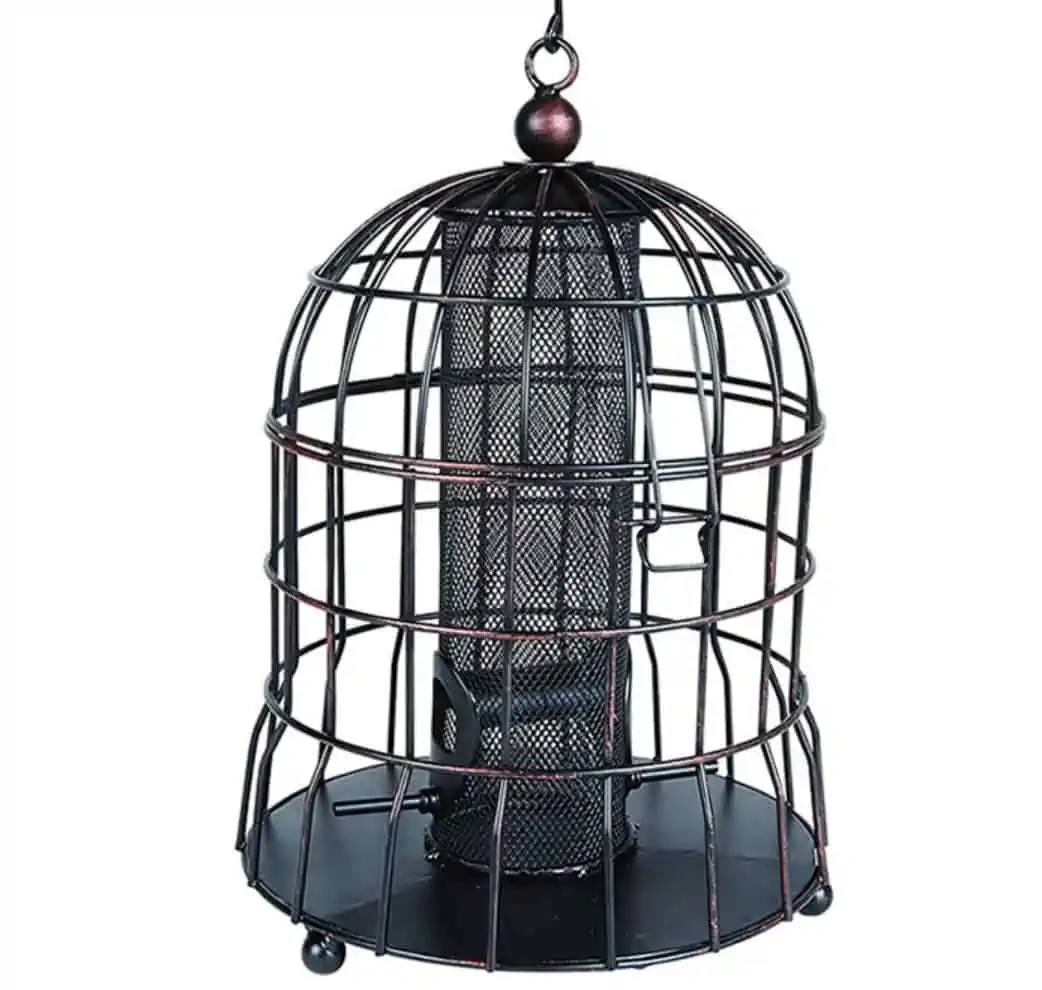 Duncraft is one of those brands that has been around forever, always offering high-quality and effective products with great customer service. I love this caged feeder style because of its elegant and pinched waist design. It has three ball feet and a top ball finial with all metal construction. Rust and weatherproofed with a bronze finish, it comes with either a seed tube with two ports and perches or a smooth mesh tube for peanuts. An added benefit for this feeder is the Biocidal coating which kills all bacteria on contact yet is safe for the birds!
Dimensions: 7″x7″x20″
Seed Capacity: One pound
Material: Biocidal coated metal
Pros
Plenty of room for perches and birds
Sturdy and durable all-metal design from Duncraft
Brushed with anti-bacterial non-toxic coating
Cons
Only holds one pound of seed
Squirrel Buster Plus Feeder by Brome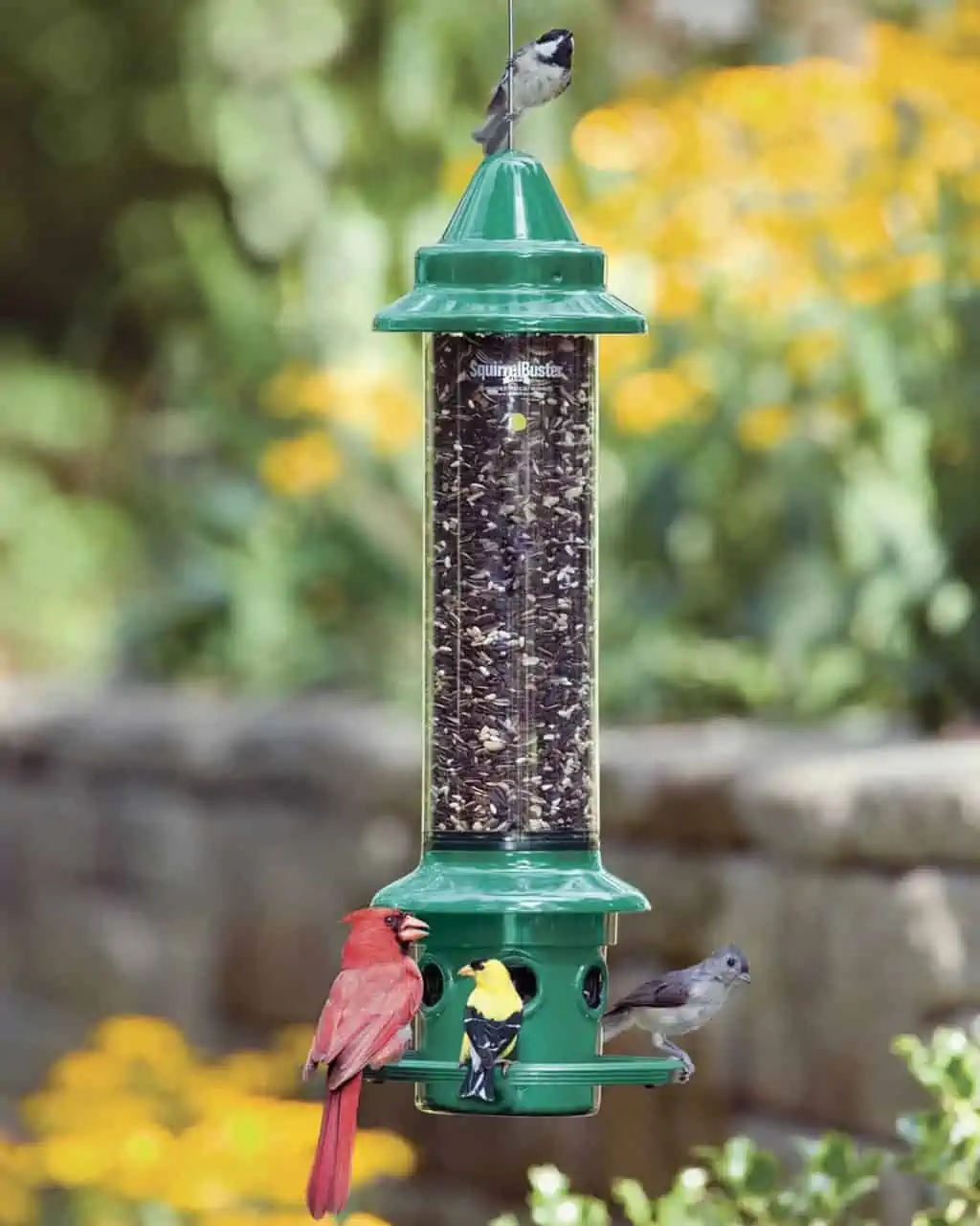 Duncraft and Brome have done it again! This brand's most popular bird feeder model features a weight-sensitive 360-degree round perch that drops and shuts off the feeding ports when a squirrel lands on it. I love that there are six feeding ports, as opposed to many that only have two or four. This has a lifetime guarantee, and a special feature is the cardinal perch that allows that type of bird to face its food when it eats (when it eats, it must face the food). The perch also has a gripping texture for a steady hold.
Dimensions: 6″x6″x23″
Seed Capacity: 5 pounds
Material: Polycarbonate and Metal
Pros
Chew Proof quality construction
Six feeding ports
Metal shield closed food ports when squirrel lands
Cons
Squirrel X-8 Bird Feeder by More Birds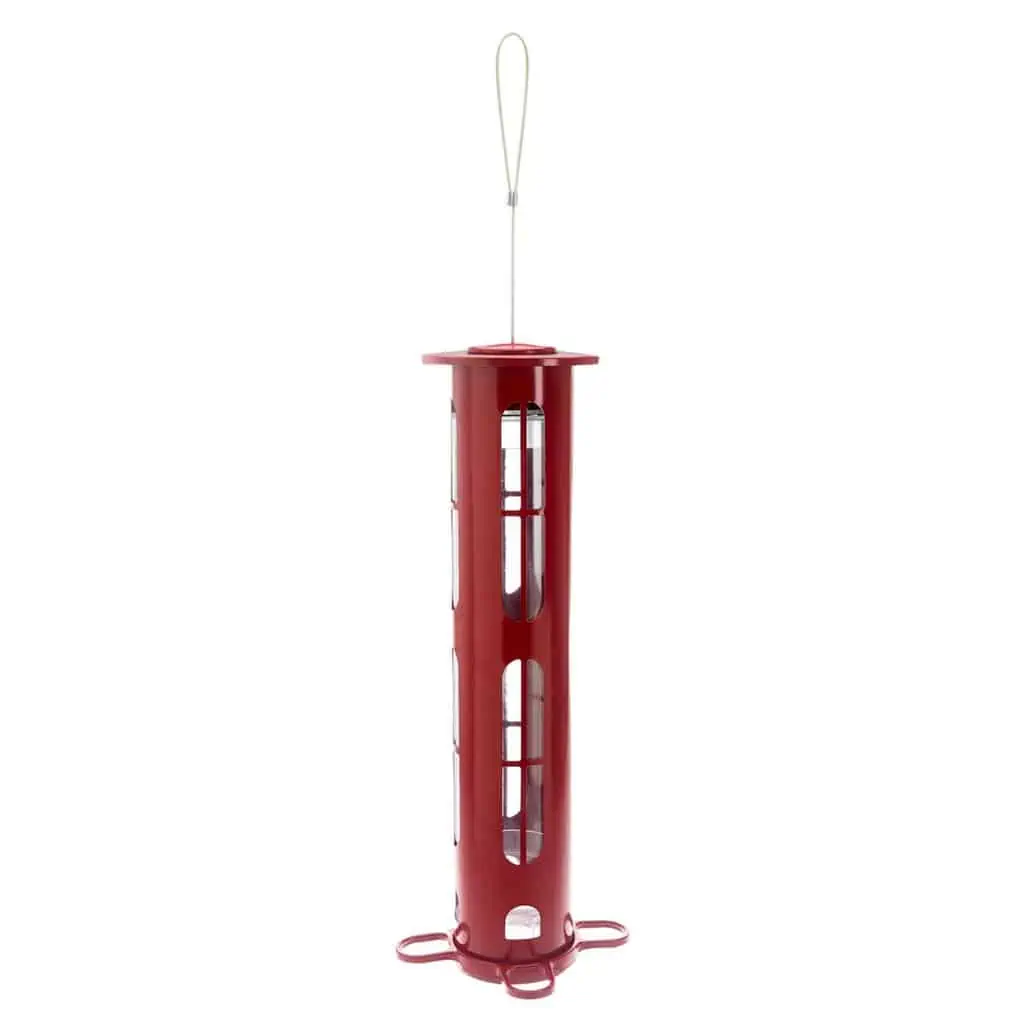 This nifty red feeder has both the top and the perches spring-loaded to close the feeding ports when a squirrel lands! No more losing seed because the critter is upside down and doesn't sit on the perches! Once that squirrel lands on the top, all the ports are automatically shut. I like all the red on this feeder because birds will notice it, and it looks decorative and retro in the yard, but it still has a large viewing area to monitor seed levels. An added value feature is the lid goes inside the tube and is fully encased by it, ensuring no squirrels will take the top off.
Dimensions: 7″x7″x18″
Seed Capacity: 2.5 pounds
Material: Plastic
Pros
Weight-sensitive top and bottom perches
Hidden Lid
Inexpensive
Cons
Caged Six Port Feeder by Woodlink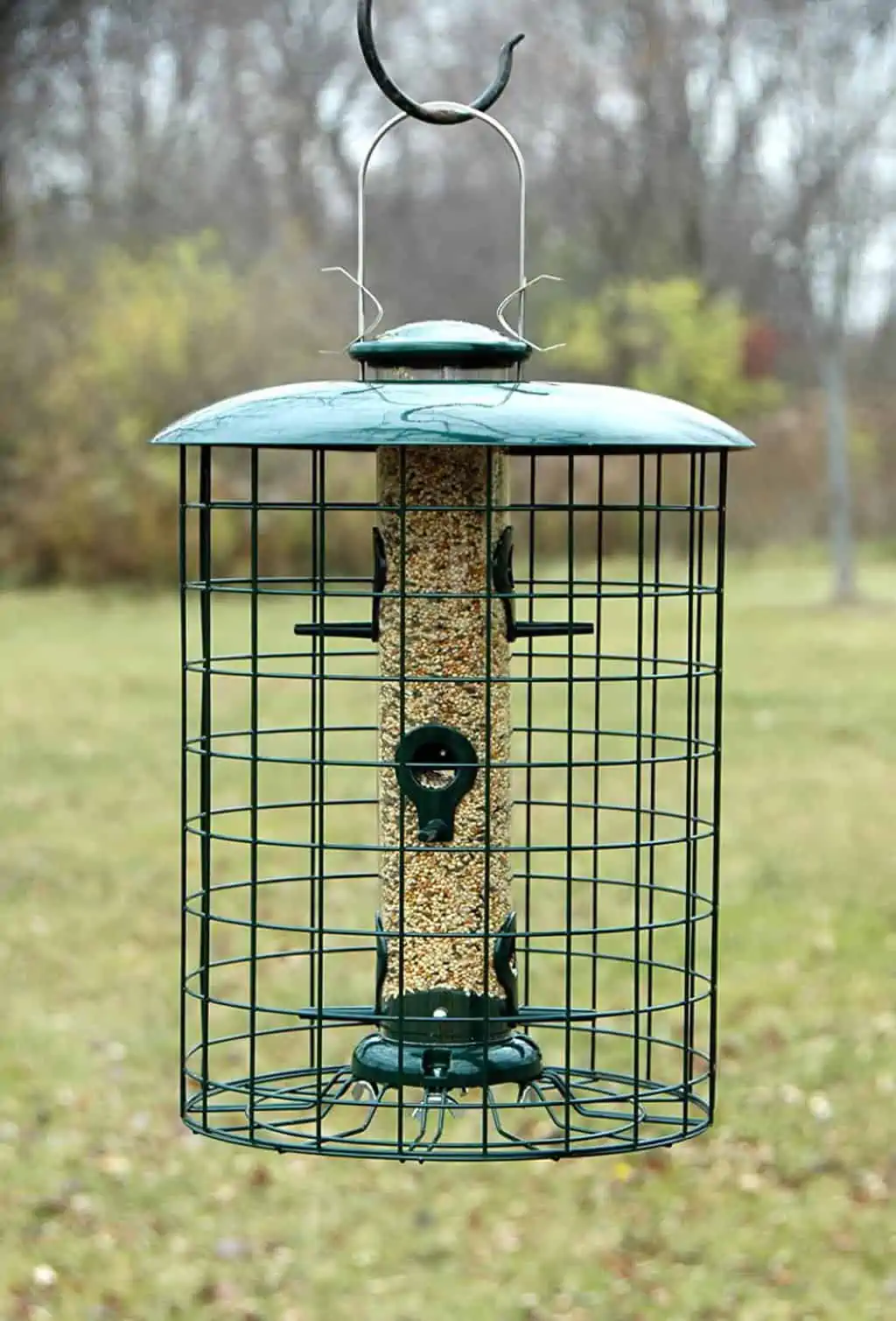 This symmetrical six-port cage feeder offers all-steel construction with a powder coating for rust and weatherproofing. An easy clean feature that I like called the EZ Clean Pop Out base allows you to remove the tube easily for cleaning. Another feature is the slide-up lid that makes refilling it a pleasure! The cage spacing is 1.5 inches, which is great for keeping larger birds and squirrels out. This weighs a hefty four pounds, so you know it's durable!
Dimensions: 11″x11″x17″
Seed Capacity: 1.25 pounds
Material: Steel and polycarbonate
Pros
Quality steel and polycarbonate materials
Easy Cleaning with pop-out base
Cage spacing deters larger birds and squirrels
Cons
Only holds about one pound of seed
Absolute II Feeder by Woodlink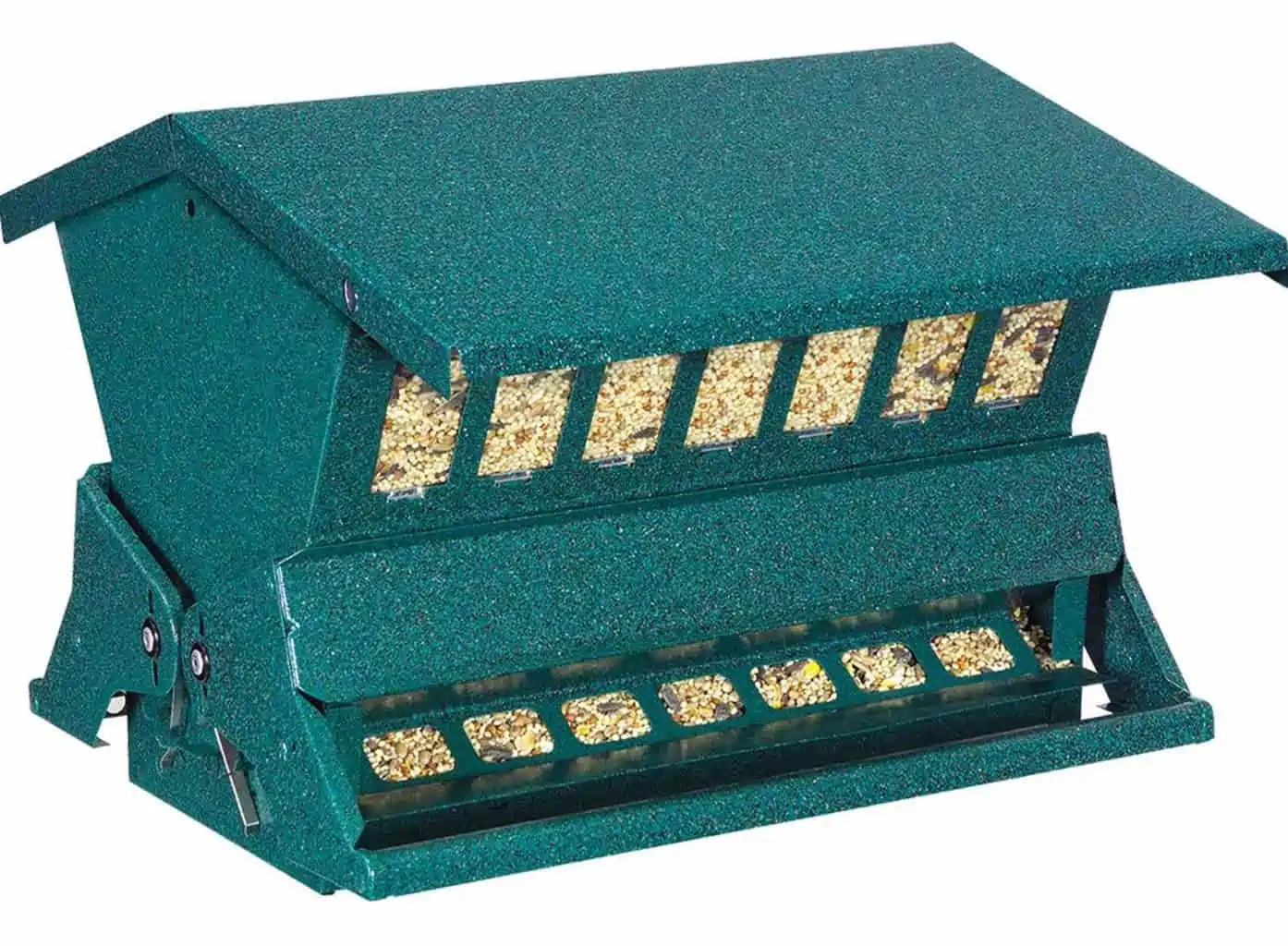 This heavy-duty feeder from Woodlink holds a whopping 12 pounds of seed! It has a locking top that overhangs the double-sided perches to protect the seed from the weather. The major draw here is the dual spring-loaded feeding ledges that rotate to completely seal off the food ledge when a squirrel or large bird lands on it. This is ten pounds of powder-coated steel and has a one-year limited warranty. This is weather-proof protection for the seed and has three settings for weight limits on each side of the feeder that make it easy to customize what type of birds feed!
Dimensions: 10″x13″x11″
Seed Capacity: 12 pounds
Material: Powder coated steel
Pros
Made entirely from powder-coated steel
Wide ledges for feeding automatically close with weight
One year warranty
Cons
It will weigh over 20 pounds with seeds in it
Big Top Squirrel Resistant Feeder by Droll Yankees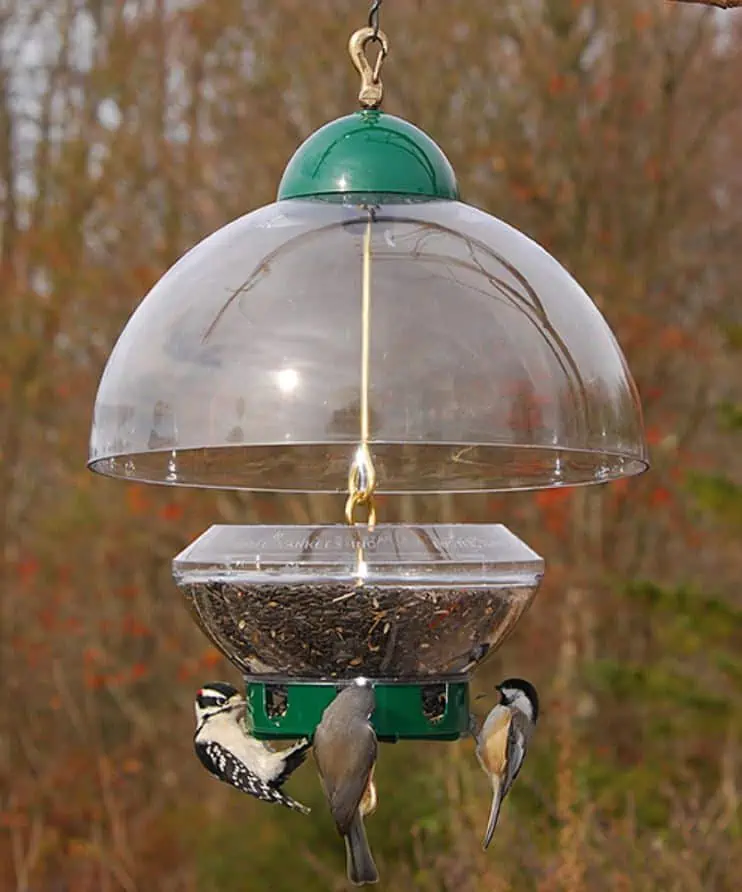 I love this sleek feeder's eight feeder ports, with the 15″ polycarbonate dome keeping out the weather and squirrels! The dome's height is adjustable depending on how big you want the bird to be at your feeder. The great feature of this is the top of the seed vessel is open, which makes it very appealing to a wide variety of birds.  Another unique benefit is the adjustable seed valve on the base, which accommodates most seed sizes and reduces spillage. Super easy to clean; you just unhook the reservoir from the hanging pole. This has a lifetime guarantee and still looks elegant with its clear dome and green accents!
Dimensions: 15″x21″
Seed Capacity: 4.5 pounds
Material: Polycarbonate
Pros
A huge dome protects seed from weather and squirrels
8 feeder ports plus open top reservoir
Adjustable seed valve
Cons
I wish the open top was a bit higher
Brome Squirrel Buster Standard (Best Overall Choice)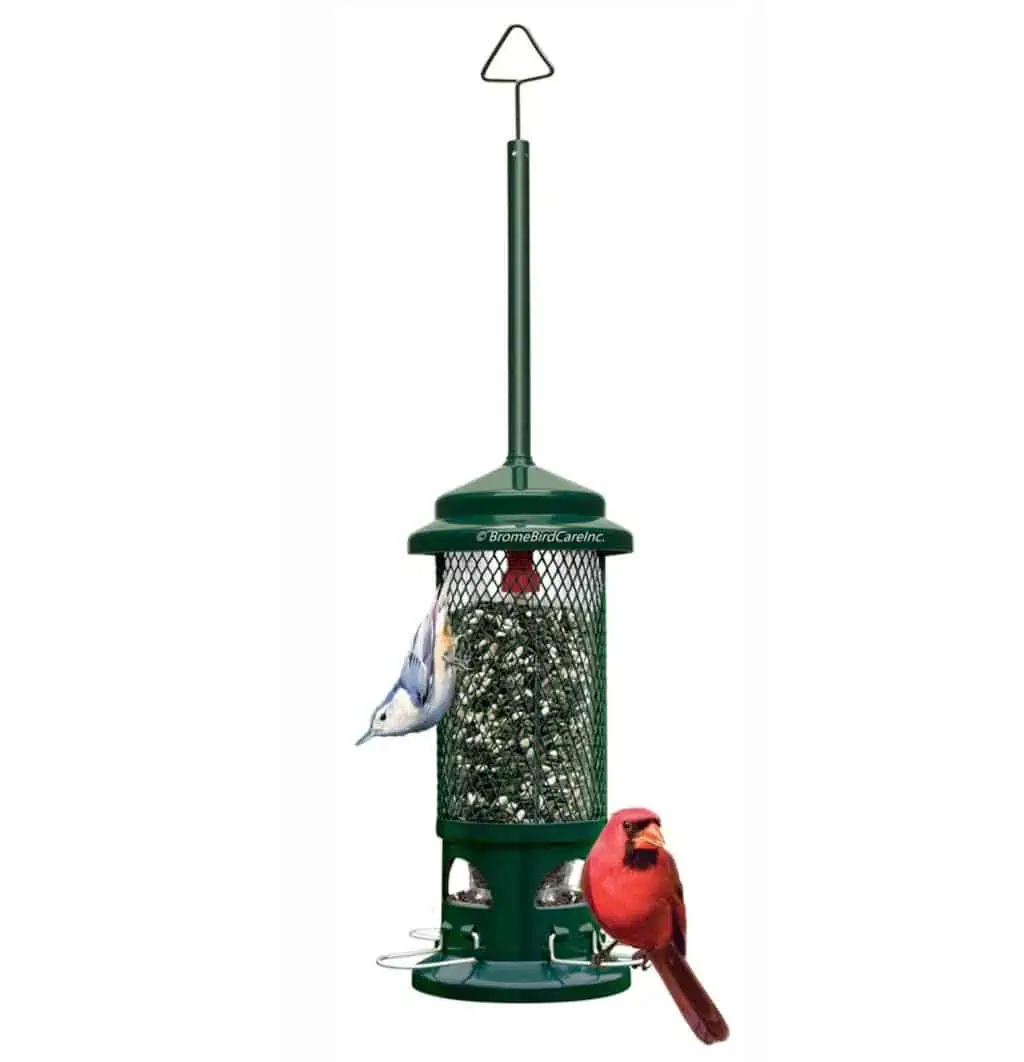 I like this compact weight-sensitive feeder because it's made by Brome, which has a patented Squirrel Buster technology and a lifetime commitment to customer service. An eco-friendly company that offers free shipping for replacement parts under warranty. The cage grid on the tube attracts clinging birds and provides ample space for multiple feeders at one time.  The ports have weight-sensitive perches and automatically closes the feeding holes once a squirrel steps onto them. Brome has constructed a negative grip design on the mesh that prevents squirrels from gripping it!  Ventilation keeps the seeds fresh and dry, and the entire feeder is made of RoxResin, which is waterproof, rust-proof, and dishwasher-safe!
Dimensions: 8″x10″
Seed Capacity: 1.3 pounds
Material: RoxResin
Pros
The patented design is weight sensitive and automatically closes ports to squirrels and large birds
Extra room for birds to perch and cling to the mesh
Negative grip technology prevents climbing squirrels
Cons
FAQs
Question: Is There a Bird Feeder That Squirrels Can't Get Into?
Answer: When looking for the most effective squirrel-resistant bird feeder, the features that will be most important are a closed-off feeding port, chew-proof feeder material, and a tightly screwed-on lid. Some of the most reputable bird feeder companies offer feeders that shut off the entrance to food and drop squirrels to the ground every time they stand on the perch. Look for weight-sensitive perches or caged bird feeders from brands like Droll Yankee, Duncraft, Perky Pet, and RoamWild.
The squirrel-proof bird feeders are only as good as their placement in the yard. If you put any feeder in a tree close to the trunk, the squirrels will find a way to get the seed. It's important to read all the instructions in the package and follow distancing guidelines for clearance around the feeder. Every feeder will be more effective if it is at least five feet off the ground and ten feet away on all sides from any buildings, trees, bushes, telephone poles, or fences.
Question: Are Squirrel-Proof Feeders Also Raccoon-Proof?
Answer: Not all squirrel-proof bird feeders will be raccoon-proof, but most (if not all) raccoon-proof bird feeders will be squirrel-proof.  You also have a better chance if the feeder has weight-sensitive perches or ledges that shut off the feeding ports. The tricky part is when you have a pole or shepherd's hook supporting your feeder. The baffle you will need to put around the pole is smaller in diameter and length for squirrels than for raccoons simply because squirrels are smaller and shorter. The baffle will keep wildlife from crawling up the pole to the feeder. The other consideration is the lid or top of the feeder. Raccoons are very ingenious when it comes to getting lids off of anything. Check out this raccoon guard at Duncraft.
Question: Do Caged Bird Feeders Work?
Answer: The short answer is yes. Cage bird feeders work for feeding smaller birds, and they work for keeping out squirrels if there are at least 3 inches between the cage and the food. Most cage feeders have spaces between one and a half inches, letting songbirds and smaller birds in, but won't allow larger birds like grackles, pigeons and starlings, or squirrels to get close to the food. A benefit of caged feeders is not having these large birds feeding and throwing seeds on the ground, which attracts wildlife. Another benefit is having so much grid space the birds can use as perches while waiting their turn to feed.
Question: What Keeps Squirrels Out of Bird Seed?
Answer: Hot pepper will keep squirrels out of birdseed but won't harm birds.  Mix in three tablespoons of hot pepper for every pound of seed. Cayenne pepper (the Capsaicin compound that makes your mouth get hot and tingle) only affects mammals, and once wildlife invaders smell and taste it, they won't return.  An alternative is to provide bird foods that squirrels don't like, such as proso millet seed, nyjer seed, and safflower seed.
Final Thoughts on Squirrel Proof Bird Feeders
I hope this article has given you some good ideas or at least nailed down some "must-haves" for your next feeder. There are definitely a few exceptional choices for bird feeders that keep the squirrels out, and the amazing number of features for the feeders that are patented is truly impressive.  I wouldn't wager my paycheck that you won't ever have another squirrel partake of your bird seed, but I would insist investing in a well-made squirrel-proof bird feeder like the Brome Squirrel Buster Standard will relieve most of the problem! However, there's always that one squirrel that has to prove the exception, and this video will demonstrate that.  Enjoy your birds!
You May Also Enjoy Reading