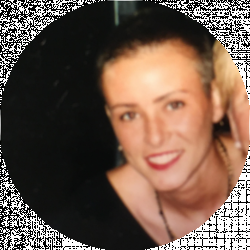 Latest posts by Richelle Tieman
(see all)
I remember being a child and seeing a hummingbird for the first time. I thought it was a dragonfly, with its tiny body, ultra-quick wings, and iridescent colors! I didn't believe my mother when she told me it was a bird!
These days, seeing these miniature creatures darting, dodging, and diving makes me feel like I have witnessed a glimpse into nature's perfection.
Hummingbirds have unique qualities that other birds don't, and the Smithsonian Institute says they can recognize different people! Doesn't that make feeding them much more interesting when you know they will truly see you?
Specific qualities attract Hummingbirds to feeders, and Amazon Hummingbird feeders cover every feature and style you can imagine. I like Amazon's huge spectrum of choices because I know I can choose from the least expensive, basic hummingbird feeder to a fancy, feature-laden pricey piece of feeder art.
Knowing what works and what doesn't, brands that satisfy, decades of personal experience, and Amazon to buy from – I am guaranteed success with my Hummingbird feeders.
The Bottom Line Up Front
Hummingbirds are a special breed with insect-fast wings and less than an ounce of weight.  Seeing them in a dead sleep hanging upside down from a tree branch is fascinating enough, but knowing that they need to eat every 12 minutes around the clock just to survive will surely motivate you to increase their food source!
My Amazon best overall pick for these dainty airborne creatures is the Amazon Perky Pet 8 oz. Window/Hanging Feeder.
This feeder has a super strong suction cup that it hangs from, and you can take it off for easy cleaning and refilling. This style can also be hung from a hook for different placements.
I love this because when I lived in apartments with no yards, I lived by the windows to get a breath of fresh air and a glimpse of the birds! This is great for people with just a tiny window, a postcard-sized yard, or acres of green everywhere!
Best Amazon Hummingbird Feeders Quick List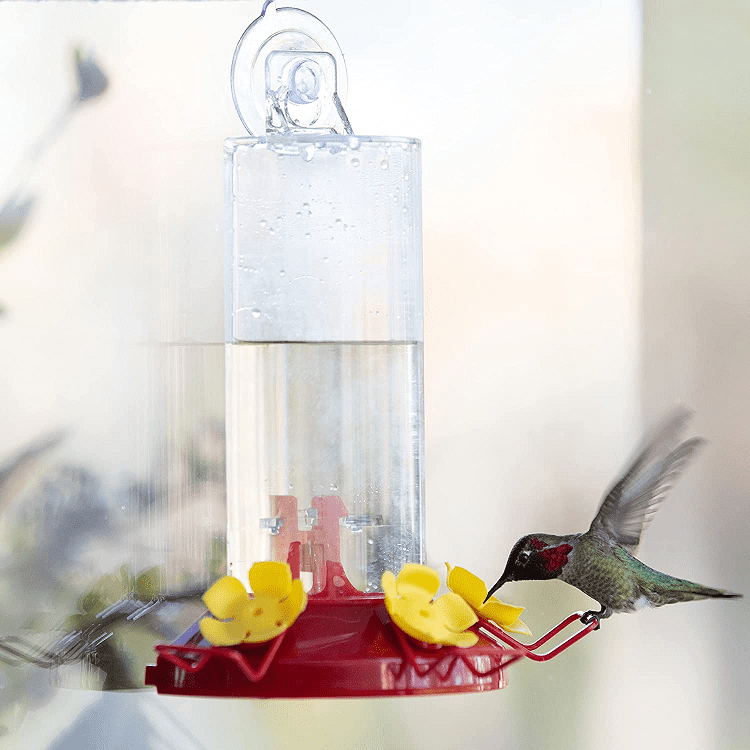 I have broken up my picks in two ways so you can easily find what you are looking for. There is a chart breaking it down by price and then a chart breaking it down by the feeder's nectar capacity.
Best Hummingbird Feeders By Price

Under $25

$25 to $35

Over $40
Best Hummingbird Feeders by Capacity

3 to 13 Ounces

16 to 20 Ounces

25 to 40 Ounces
Selection Criteria for Best Amazon Hummingbird Feeder Choices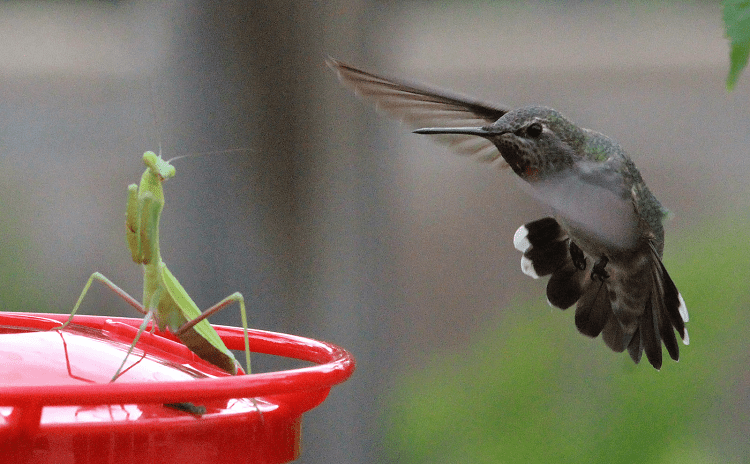 Hummingbird Feeders have their own guidelines regarding must-haves and preferred features. Unlike seed and suet feeders, these species-specific feeders cater to a niche of the bird world that needs all the help it can get.
A praying mantis can kill and eat these birds; that's how vulnerable hummingbirds are! If you see a praying mantis hanging out by your hummingbird feeder, gently relocate it to another area!
I focused my selection on feeders that hummingbirds find appealing since it won't matter what style you get if there are no birds! My experience with hummingbird feeders played a large part in my selection process, with my pet peeves providing guidelines for my choices.
A reputable seller is important for quality concerns, questions, and returns. Getting what you ordered is important, also!
Feeders with at least 4/5 stars with thousands of buyers speak to the general quality; however, it also raises some common problems. If the feeder was a 4/5, but all the negative feedback was around leaking, it didn't make the "best" list.
Must-have Criteria
Reputable seller
Leak-proof
Sold on Amazon
At least a 4/5 rating
Secondary Considerations
Visual appeal
Built-in features (gaskets, perches, moats, bee guards)
Ease of cleaning
Types of Hummingbird Feeders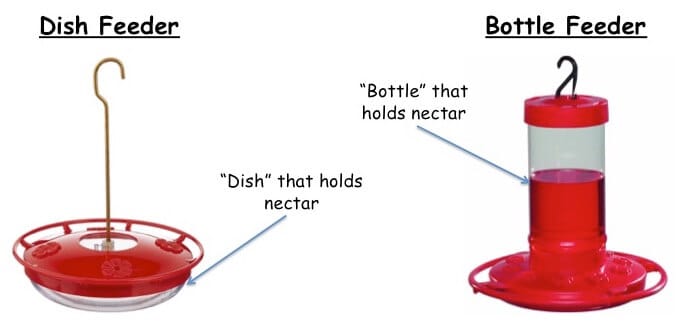 There are essentially two types of Hummingbird feeders, with other feeders being variations of these two.  Bottle feeders and dish feeders. They are both simple to use but differ in styles available, capacities, ease of cleaning, and challenges.
Bottle (Inverted) Feeders
This feeder holds the liquid in an upright container and sits in a larger bowl-shaped bottom. The nectar fills the bottom dish, where the hummingbirds feed through tiny openings called ports.
Trapped air creates a vacuum seal that ensures the nectar stays inside the container and only replaces nectar as the birds feed.
Pros
Bottle feeders have large capacities
Many styles and colors are available
Glass is used more often
Cons
Leaking is a common complaint
Harder to Clean
Examples of Hummingbirds Bottle Feeders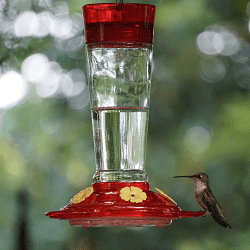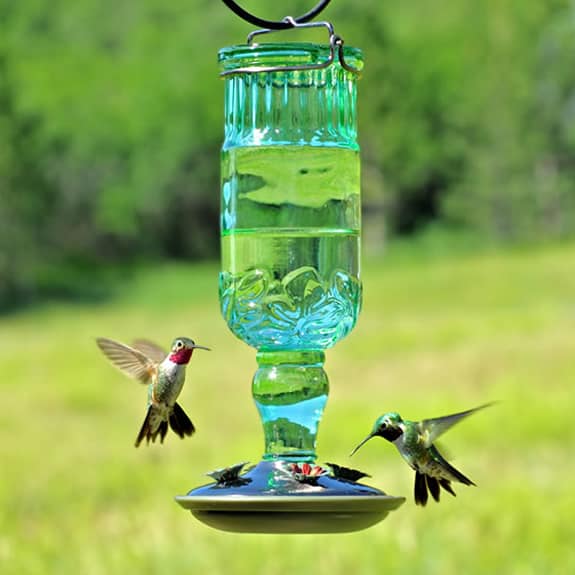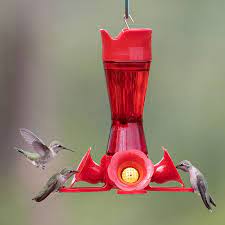 Dish (Saucer) Feeders
A dish or saucer hummingbird feeder consists of a bottom dish or container that holds the nectar at the bottom of the feeder.
It has a snap-on or screw-on lid with feeding ports, and many times the lid will also have a center-indented ant moat that you fill with water to trap ants before reaching the nectar ports. This style can be hanging, window mounted, or on a stake.
Oftentimes there will be flower inserts that you push into the feeding ports to add decoration and protection.  For refilling and cleaning, you just take off the top part, and voila – a nice, shallow basin that's easy to clean!
This style of feeder is also leakproof, which is something many bottle feeders claim, but few deliver! The only drawback is its small capacity.
Pros
Leakproof
Easy to clean/refill
Simple to use
Cons
May need refilling/cleaning daily
Examples of Dish Feeders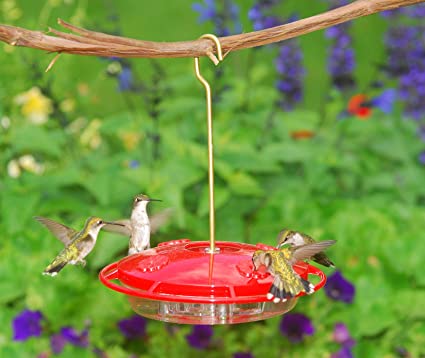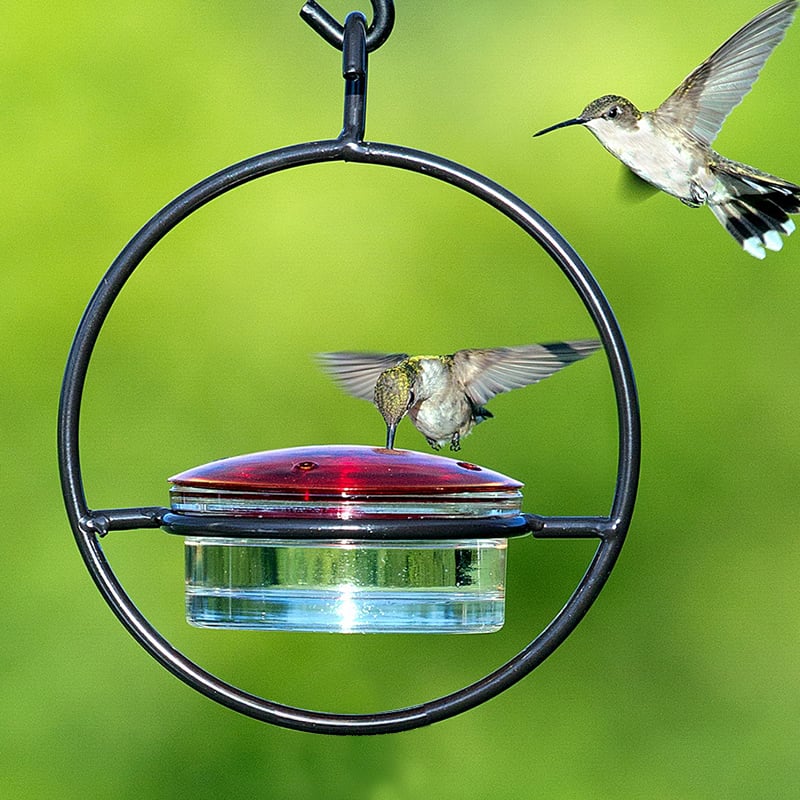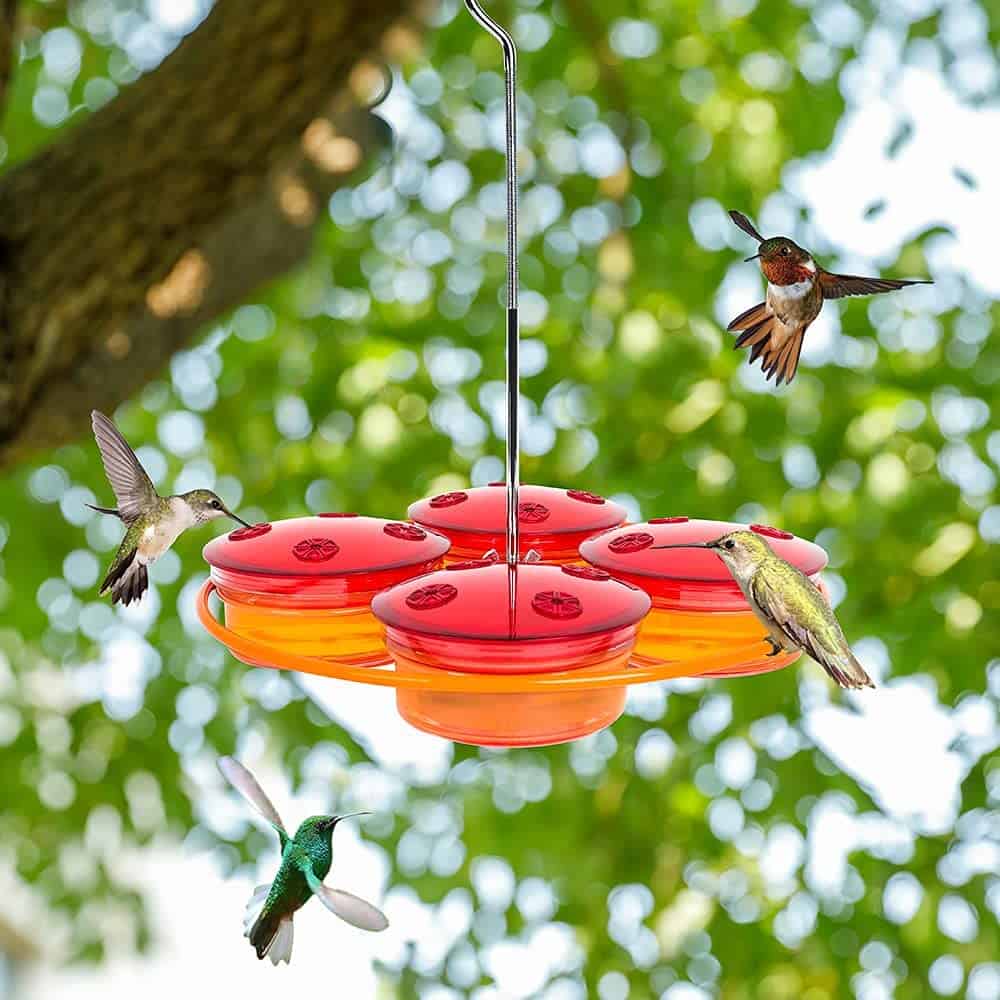 In-Depth Look at Best Amazon Hummingbird Feeders
Best Overall Hummingbird Feeder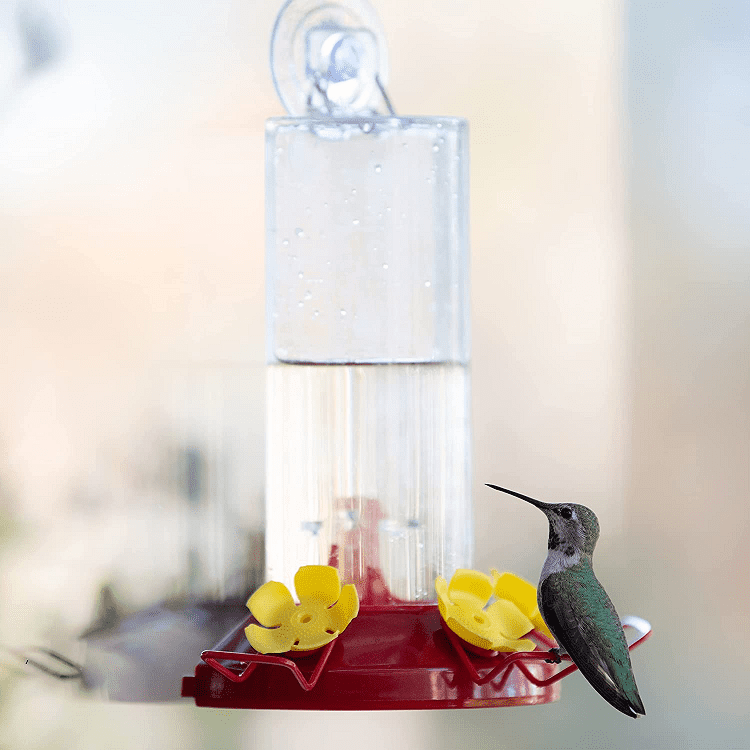 I love the versatility of this window feeder, as you can also hang it from a shepherd's hook stake or a hook on a tree limb.  That enables anyone to use this even if they don't have a yard. The price point is great, accessible for everyone, and the extra-strength suction keeps this feeder steady.
The whole thing comes apart for easy cleaning, and it pops off the suction cup to refill, so you don't have to break the sturdy seal. Feeding ports are colorful to attract Hummingbirds and are tapered to ward off insects.
If you use a hook to hang it, you will want to get an ant moat to hang above it, as it doesn't come with one.
| | | |
| --- | --- | --- |
| Material: Acrylic | Dimensions: 6″x3″x9″ | Capacity: 8 ounces |
| Ant Moat: No | Bee Guard: Yes | Perch: Yes |
What I Like
Easy to remove for refilling
Comes apart for easy cleaning
Has removable perches
Multiple ports
Versatile mounting
Inexpensive
Not so Much
Doesn't have built-in ant moat
Best Window Hummingbird Feeder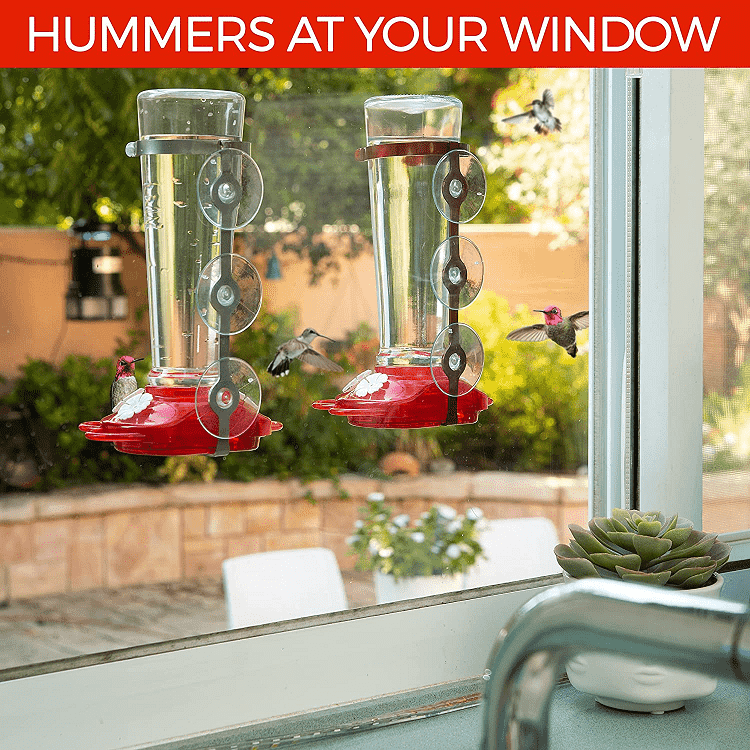 This delightful duo features three industrial-strength suction cups with an attached metal frame that holds the feeder in place from top to bottom! With the security of a firm grasp, there is no need to worry that the 16-ounce capacity will weigh it right off the window!
It has a gasket that makes it leakproof, large perches for the birds to rest, and is made of durable polycarbonate. Easy to take out of the frame for refilling and cleaning, this is quite robust at almost two pounds.
| | | |
| --- | --- | --- |
| Material: Polycarbonate | Dimensions: 10″x9″x6″ | Capacity: 16 ounces |
| Ant Moat: No | Bee Guard: Yes | Perch: Yes |
What I Like
Easy to remove for refilling and cleaning
Secure metal frame with 3 suction cups
Featured on CBS, NBC, and Fox
Large perches
Lifetime warranty
Guaranteed leakproof
Not so Much
Doesn't have built-in ant moat
Best Audobon Hummingbird Feeder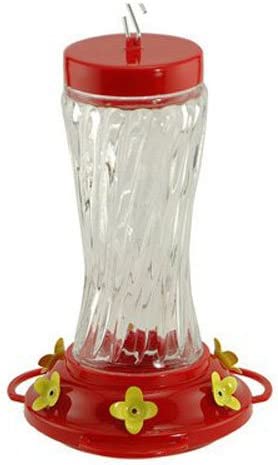 This optical glass-swirled feeder has a wide-mouth twist-off plastic top and base for easy cleaning/refilling. The crystal clear glass lets you monitor the clarity and level of the nectar, while the three perches and six ports attract multiple hummingbirds.
This is classy but simple, with convenience being number one. It is officially licensed by the Audobon Society.
| | | |
| --- | --- | --- |
| Material: Glass and plastic | Dimensions: 6″x6″x9″ | Capacity: 16 ounces |
| Ant Moat: No | Bee Guard: Yes | Perch: Yes |
What I Like
Classic design
Time tested and tried
Clear glass for viewing nectar levels
Widemouth lid and base for easy cleaning
Bright, vivid colors
Not so Much
Doesn't have built-in ant moat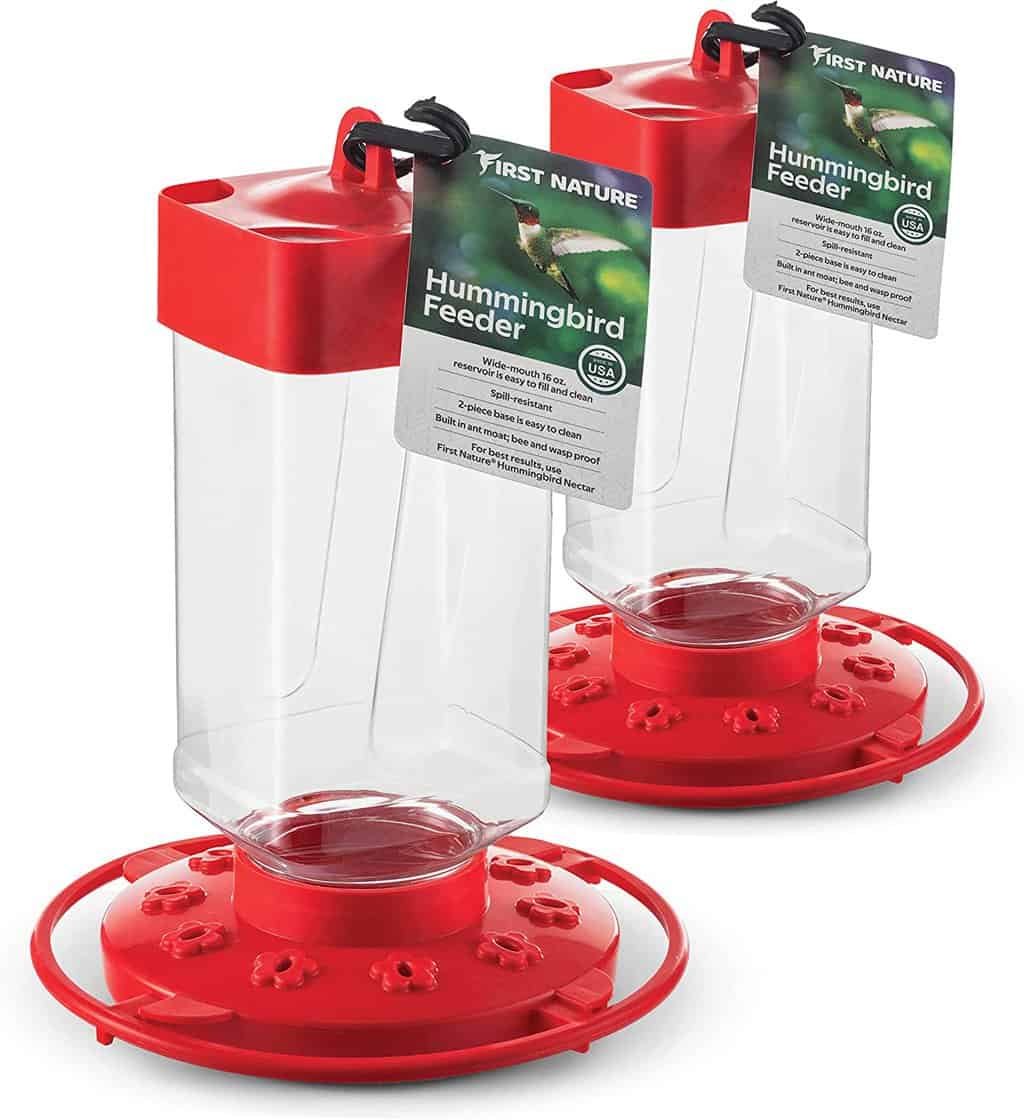 This is one of my favorite feeders, and it comes in sets of 2 or 6. Super easy to clean, high-quality twist in/out with leakproof guarantee.
The total perch area allows birds to rest and spend more time at the feeder, so you can snap a pic! The ten ports mean more birds can access this while still having elbow room. Bee guards, moat, and bright red color make this a great choice.
| | | |
| --- | --- | --- |
| Material: Plastic | Dimensions: 11″x10″x7″ | Capacity: 32 ounces |
| Ant Moat: Yes | Bee Guard: Yes | Perch: Yes |
What I Like
Easy to clean/refill
Leakproof
360-degree perch with ten feeding ports
Made in the USA
Set of Two
Not so Much
Best Small Dish Hummingbird Feeder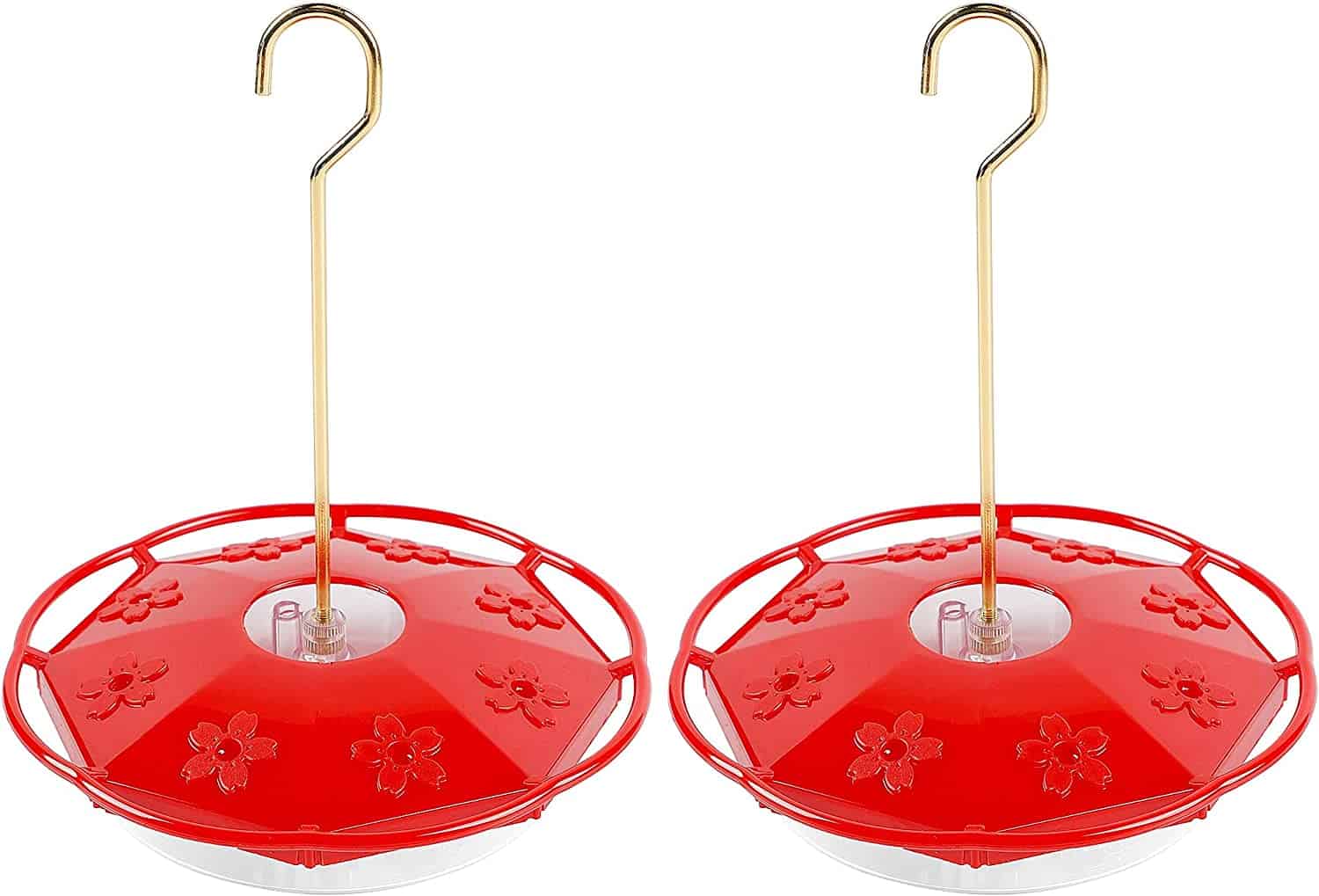 These feeders work so well that they are one of my favorite hanging dish feeders. They're compact and easy to clean and have a built-in ant moat larger than most.
The 360-degree perch is helpful to watch the Hummingbirds for a bit longer and watch them as they are still – which is not very often!  This doesn't leak and has 8 feeding ports for plenty of space.
| | | |
| --- | --- | --- |
| Material: Acrylic | Dimensions: 8″x10″ | Capacity: 12 ounces |
| Ant Moat: Yes | Bee Guard: Yes | Perch: Yes |
What I Like
Easy to clean and refill
360-degree perch
Eight ports
Leakproof
Ant Moat
Not so Much
Doesn't have flower insets for ports
Best Mushroom Art Hummingbird Feeder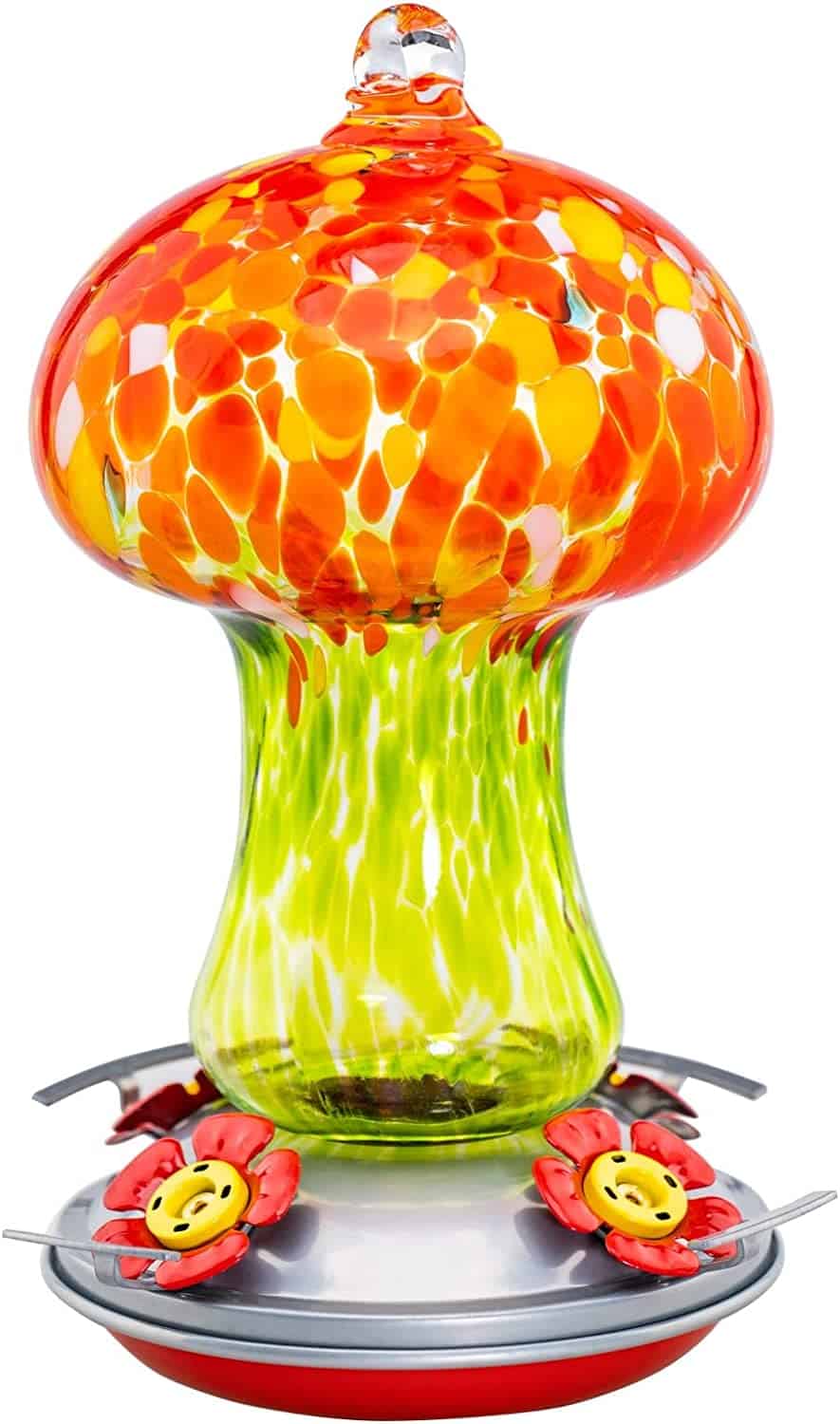 This goes so well with a mushroom-themed garden and may even steal the show with its blown glass bulb and deep orange colors.
I love the large flower ports with extended size petals of red and the red base for attracting hummingbirds. The base is rust-proof metal with copper protection for the ports.
It comes in seven colors and includes a cleaning brush and ant moat. It holds 28 ounces of fluid, so you won't have to refill it daily!
| | | |
| --- | --- | --- |
| Material: Blown glass and metal | Dimensions: 6″x6″x9″ | Capacity: 28 ounces |
| Ant Moat: Yes | Bee Guard: Yes | Perch: Yes |
What I Like
Gorgeous piece of yard art!
Sturdy glass and rust-proof metal
Comes with brush and ant moat
Multiple ports
Durable perches
Not so Much
I wish the perches were 360-degrees
Best Curio Jar Hummingbird Feeder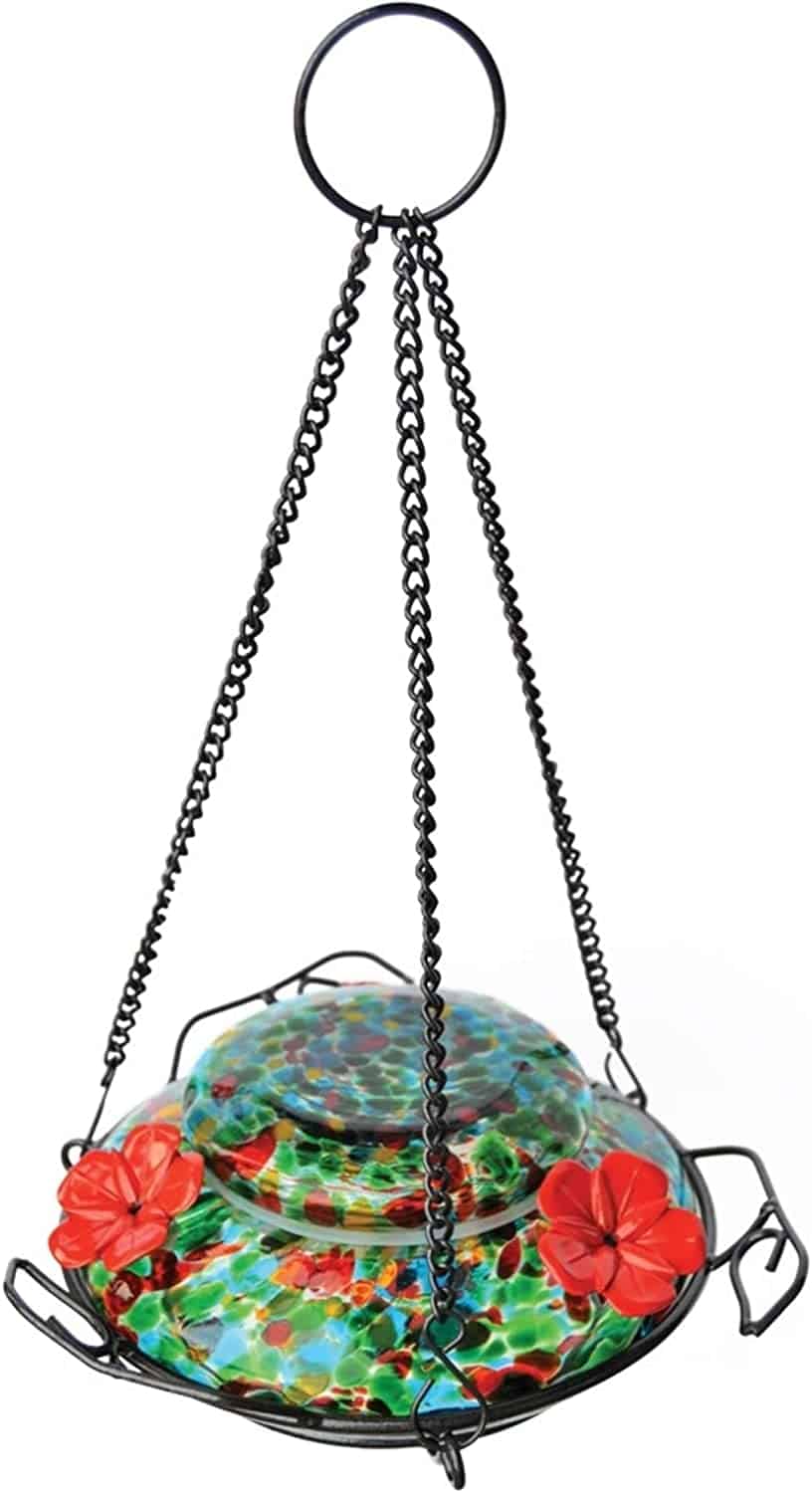 This has a tight silicone gasket preventing leaks and keeping the nectar fresh. The feeding ports have silicon insets around the openings for smooth edges; these flower insets are the prettiest molds I have seen.
The glass is thick and mottled with greens, blues, reds, and yellow. I like the cute compactness and the way it fits inside the metal frame like a bug in a rug!
| | | |
| --- | --- | --- |
| Material: Glass and metal | Dimensions: 8″x4″x8″ | Capacity: 16 ounces |
| Ant Moat: No | Bee Guard: Yes | Perch: Yes |
What I Like
Thick blown glass is dishwasher safe
Leakproof gasket, large opening for ease of refilling
Flowers, gaskets, and metal frame all comes apart for thorough cleaning
Three ports and three perches
Statement art for your yard
Not so Much
Doesn't have built-in ant moat
Best Glass Stake Hummingbird Feeder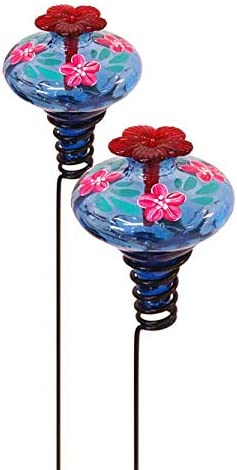 I love the hand-painted flowers on these glass feeders. They pop out of the contrasting blue of the vessel, and with the large red top port flowers, they command attention!
So pretty, and the metal stakes can go anywhere in your yard for versatility.  I like the screw-in feature of the feeder's base into the coiled metal stake that ensures a sturdy placement.
These would look great in a flower bed! There is no ant moat, so you will want to visit your hardware store and get the ant-repellent gel.
| | | |
| --- | --- | --- |
| Material: Glass, Metal | Dimensions: 4″x4″x24″ | Capacity: 4 ounces |
| Ant Moat: No | Bee Guard: Yes | Perch: No |
What I Like
Metal stakes for easy and versatile placement
Screw-in feeder stays securely at stake
Beautiful hand-painted blown glass
Amazon's Best Nest store offers different colors and sizes
Not so Much
Doesn't have a built-in ant moat or perch
Best Teahouse Top Hummingbird Feeder

The beautiful brushed copper finish on the base and top makes this glass feeder stand out from the rest. This elegant feeder has crystal clear glass and shiny red flowers to complement the tasteful copper design.
Cleaning and refilling are easy with the wide-mouth base and top. This is made in the USA and weighs 1.5 pounds.  It is not dishwasher safe, so you will want to get a long brush.
| | | |
| --- | --- | --- |
| Material: Glass and metal | Dimensions: 6″x6″x11″ | Capacity: 13 ounces |
| Ant Moat: No | Bee Guard: Yes | Perch: Yes |
What I Like
The gleaming copper design is elegant
Made of glass for clear nectar views
Durable metal top and base
Perches and bee guards
Multiple ports
The wide ends of the feeder make cleaning easy
Not so Much
Doesn't have built-in ant moat
Best Retro Hummingbird Feeder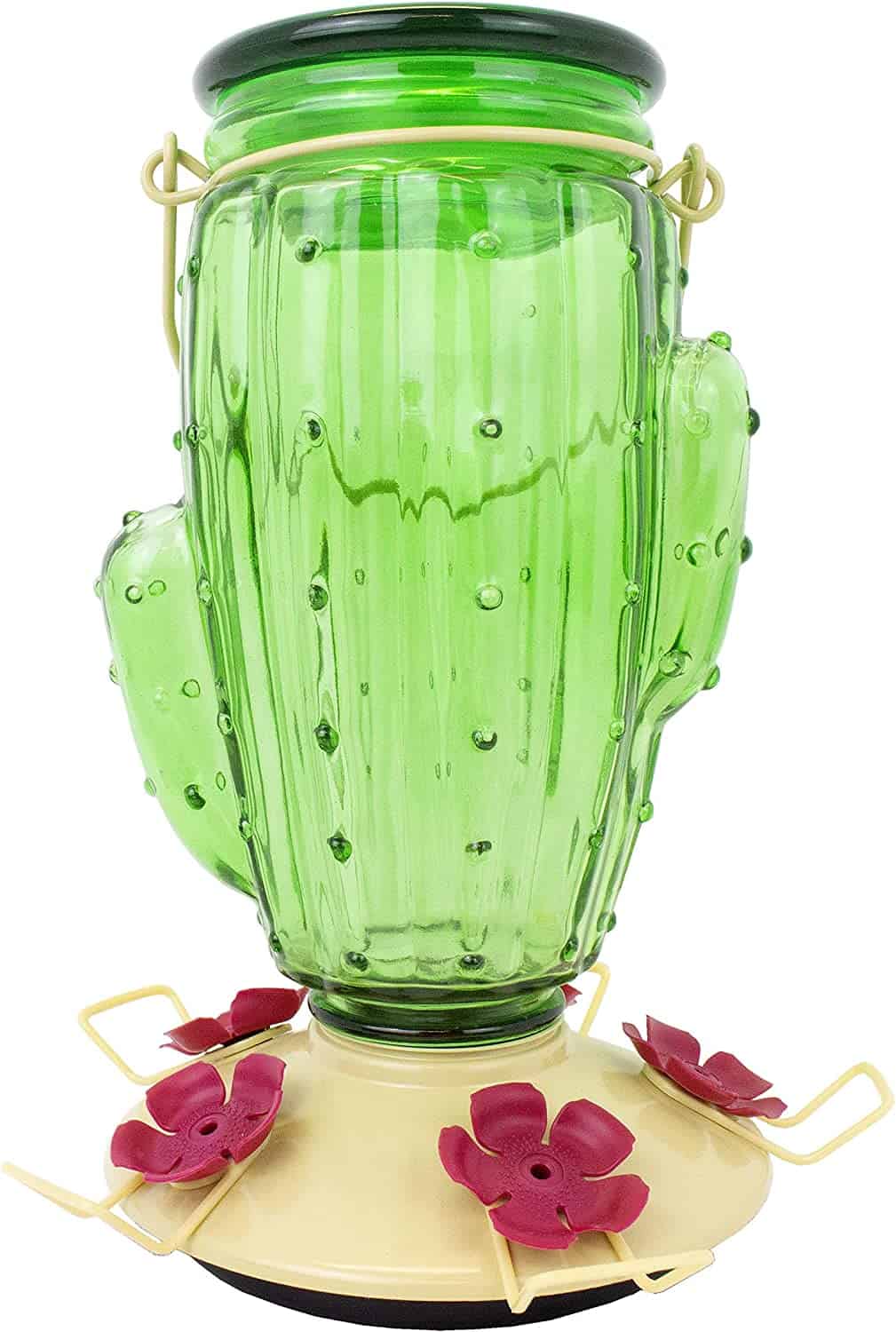 Amazing is the only word I can think of for this mid-century modern whimsy! Not only is this unique, but it comes in a green cactus or yellow pineapple design.
The attention to detail in this glass feeder is second to none, and the gasket seal is patented for no-leak peace of mind! The red rubber flower ports are soft and pliable, resembling real flowers!
This gives protection and comfort to the beaks of the birds! What company thinks of this? LOL. Removable perches and an extra wide top make cleaning and filling easy.
| | | |
| --- | --- | --- |
| Material: Glass and plastic | Dimensions: 6″x6″x9″ | Capacity: 32 ounces |
| Ant Moat: No | Bee Guard: Yes | Perch: Yes |
What I Like
Disassembles for thorough cleaning
Flexible rubber ports for soft feeding
Removable perches
Amazing unique retro design
Patented no-leak gasket closure
Glass for easy viewing
Not so Much
Doesn't have built-in ant moat
Best Circular Art Hummingbird Feeder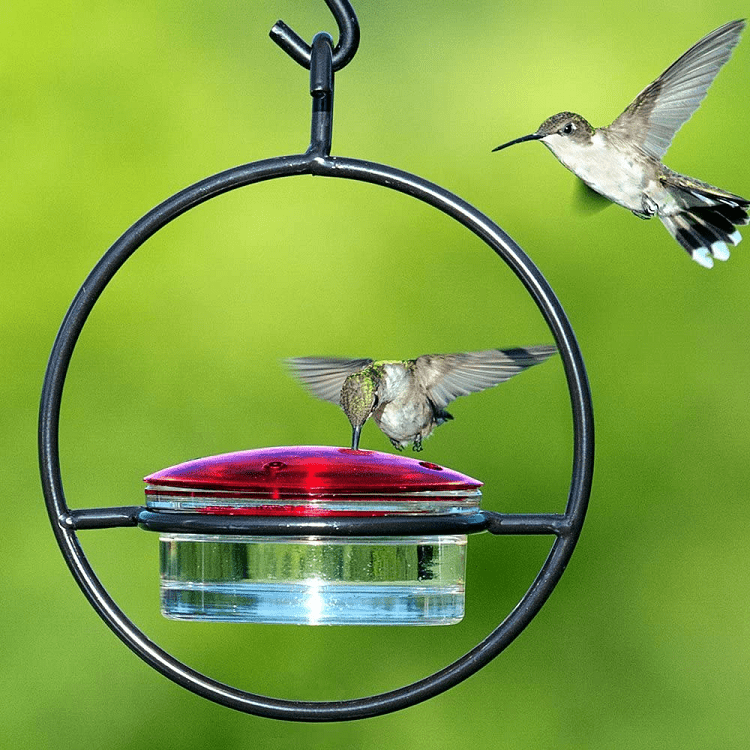 I love using recycled glass for this feeder, with an eco-friendly design and open, airy concept. The metal frame is powder coated for rust resistance and durability, and the wide hook is convenient for hanging multiple feeders together!
All glass lids and bowls mean fresher food and easier viewing for refills. When the hummingbirds migrate south, you can take off the lid and use this for mealworms or suet!
| | | |
| --- | --- | --- |
| Material: Glass and metal | Dimensions: 6″x4″x7″ | Capacity: 3 ounces |
| Ant Moat: No | Bee Guard: Yes | Perch: Yes |
What I Like
The bright red lid attracts birds
Recycled glass construction
Rust-resistant metal frame
Only two pieces to wash (lid and bowl)
The beautiful abstract art style
Can hang multiple feeders together
Comes apart for easy cleaning
Not so Much
Doesn't have built-in ant moat
Best Value Set Hummingbird Feeder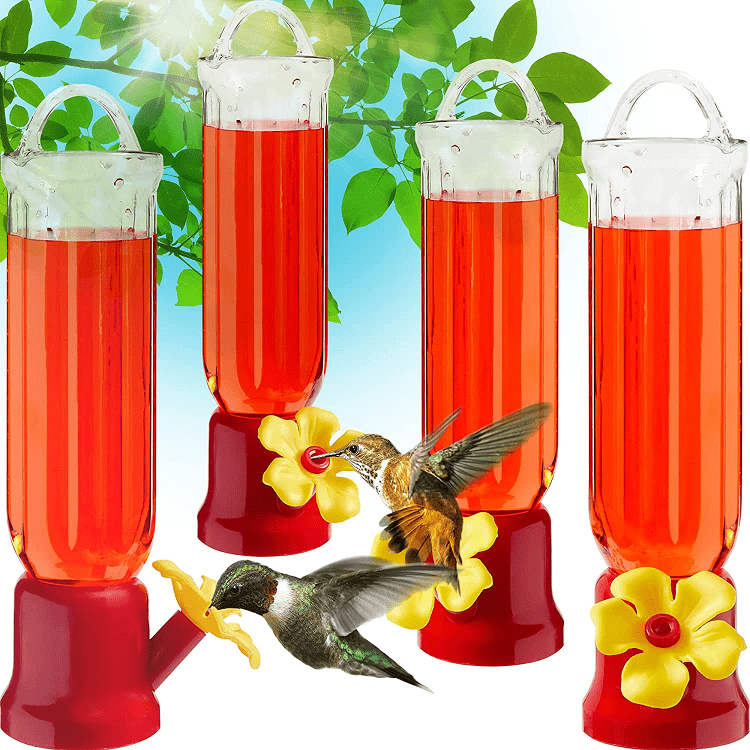 I like this set of 4 mini feeders to place in different parts of your yard for privacy when the territorial hummingbirds come to eat! Made of hard plastic with a screw-in no-leak update on the design, these handheld feeders come with their own wire for hanging.
They hold 2 ounces of food and are made with extra long ports for keeping insects out. Gray Bunny company offers a year refund policy and a commitment to customer service. You will need to buy an ant moat with these, but this set of four is still a great value.
| | | |
| --- | --- | --- |
| Material: Premium Grade Plastic | Dimensions: 6″x5″x3″ | Capacity: 2 ounces |
| Ant Moat: No | Bee Guard: Yes | Perch: No |
What I Like
The bright red and yellow base attracts hummingbirds
High-quality hard plastic and long bee-guard ports
Screw-in threads for leakproof design
Easy to clean
Can be hung from anything, anywhere
Great price point
Not so Much
Doesn't come with an ant moat
No perch
Best Red Glass Hummingbird Feeder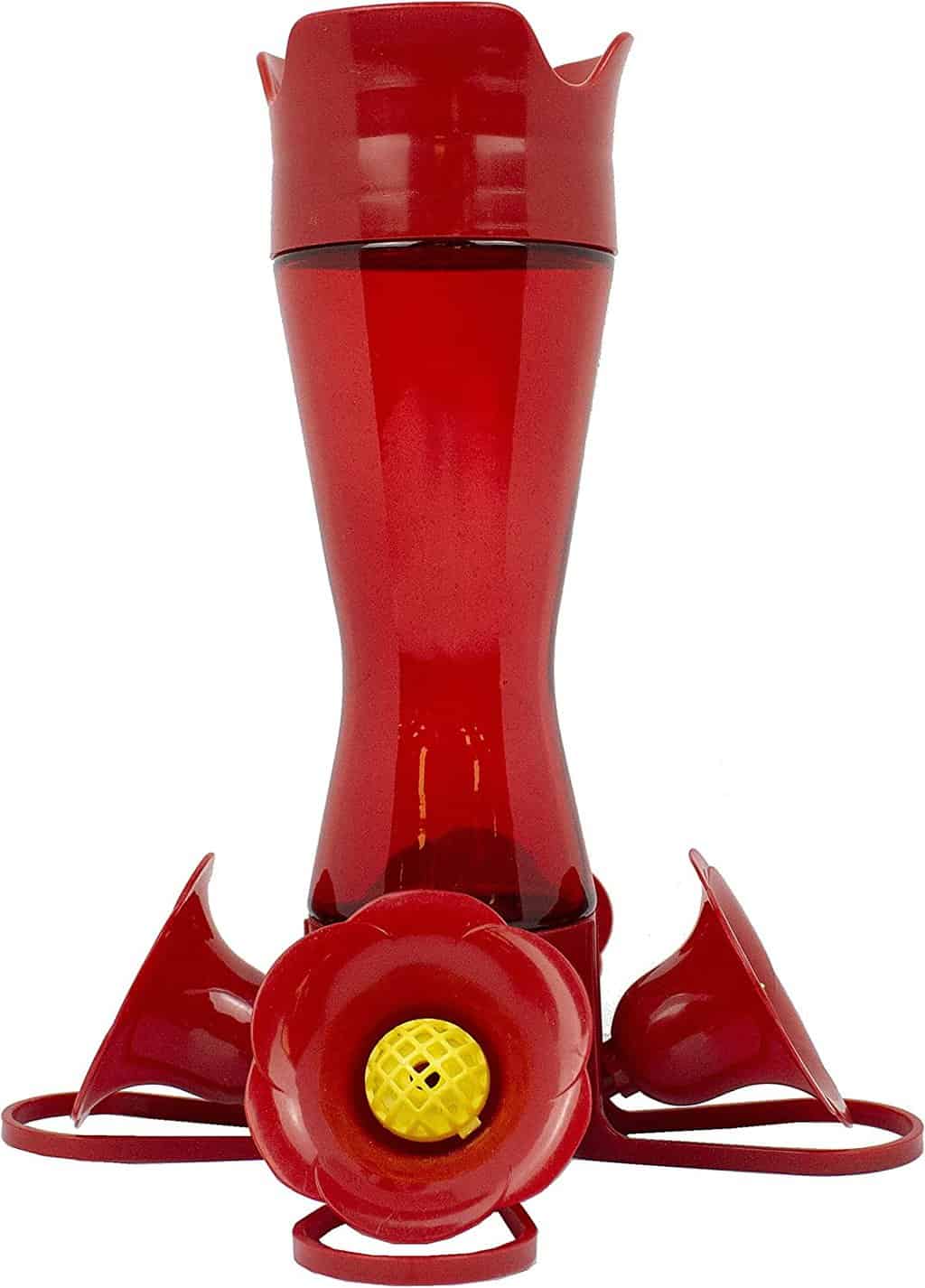 I love all the features of this gorgeous glass feeder! The oversized flower ports have removable netted bee guards, and the large size means the tiny solitary birds will have lots of personal space!
The red coloring of the glass bottle means the entire feeder is red, which hummingbirds can see, and there are perches under every port. The entire thing comes apart for easy cleaning, and the base has threading for a leakproof connection. A large ant moat is incorporated into the lid, as well.
| | | |
| --- | --- | --- |
| Material: Glass and plastic | Dimensions: 7″x7″x8″ | Capacity: 8 ounces |
| Ant Moat: Yes | Bee Guard: Yes | Perch: Yes |
What I Like
The bright red glass looks glamorous
All over coloring attracts hummingbirds
Screw-in threads for leakproof design
Easy to disassemble and clean
Extra large ant moat
Insect Guard with netting
Oversized flowers for feeding
Perches
Not so Much
The hanging loop is small
Best Sure Grip Hummingbird Feeder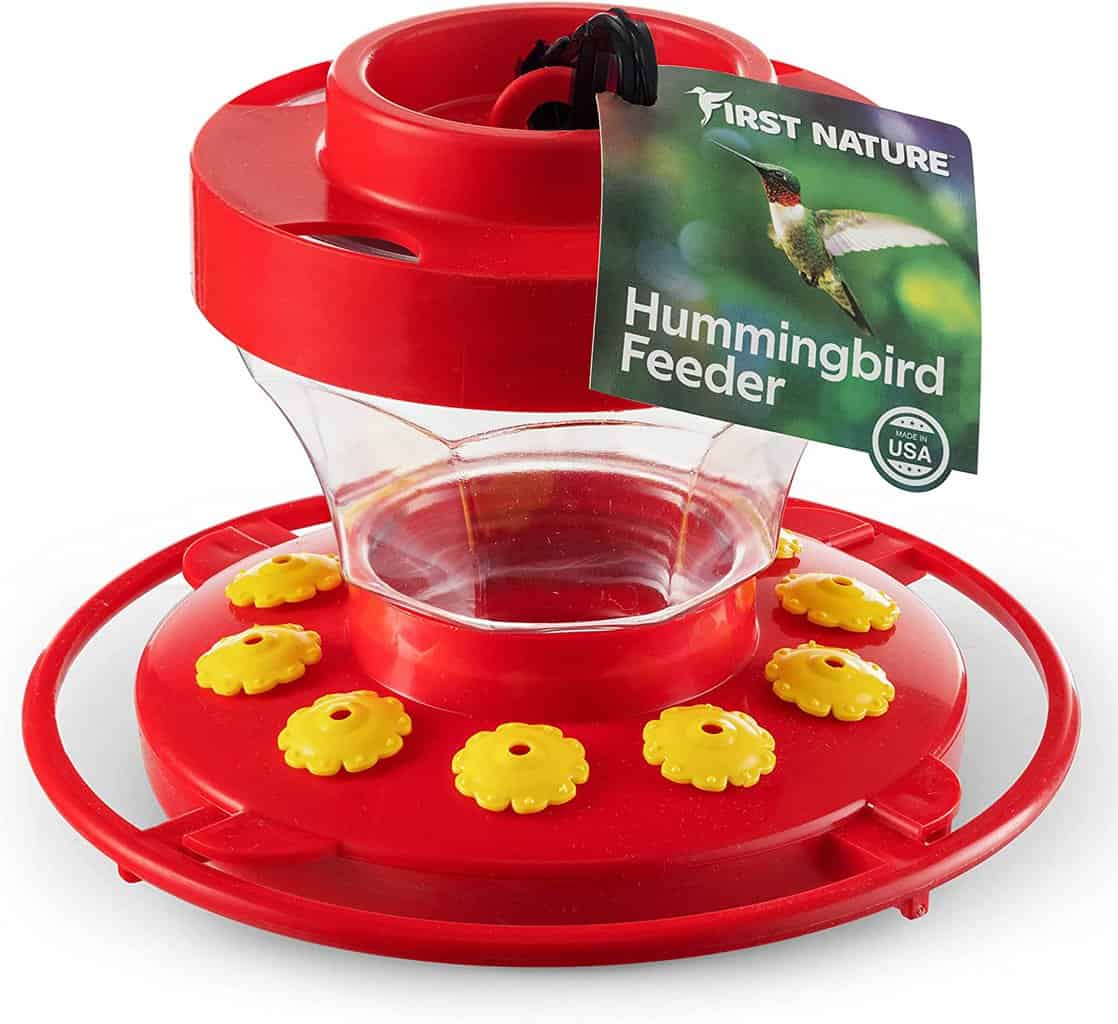 I love this feeder's squat form and extra wide mouth because you can grip it easily when dismantling and cleaning. Great for those of us with arthritis or tremors, there's no steady hand needed to fill this.
Extra large ant moat is built-in, and flower bee guards keep insects out. Circular perch lets birds rest, hard plastic design resists cracks, and 16-ounce capacity means no daily filling! The leak-proof hermetic seal is patented, and satisfaction is guaranteed from First Nature!
| | | |
| --- | --- | --- |
| Material: Premium hard plastic | Dimensions: 17″x12″x6″ | Capacity: 16 ounces |
| Ant Moat: Yes | Bee Guard: Yes | Perch: Yes |
What I Like
Easy grip size
Wide mouth for easy filling and cleaning
Wrap around perch
Bee guards
Ten feeding ports
Inexpensive
Not so Much
Hummingbird Feeder Essentials from Amazon
Cleaning Brush
Since nectar has a high percentage of sugar, it is prone to mold, bacteria, and fermentation, especially if you live in a warmer climate.
At the minimum, a hummingbird feeder needs to be cleaned twice a week, and some may need it every other day. A brush is necessary for bottle feeders with no removable top, and a small feeding port cleaner is needed to fit into the narrow openings.
Port Brush for Hummingbird Feeders

Ant Moat
Due to the sugar in hummingbird food, ants are a huge challenge. Many hummingbird feeders conveniently have a built-in ant moat that you fill with water, so the ants get stuck on their journey to the nectar, but even a few of the best ones don't.
Many types of stand-alone moats are inexpensive, and I prefer the Droll Yankees brand.
Droll Yankees 3/4 Cup Lifetime Ant Moat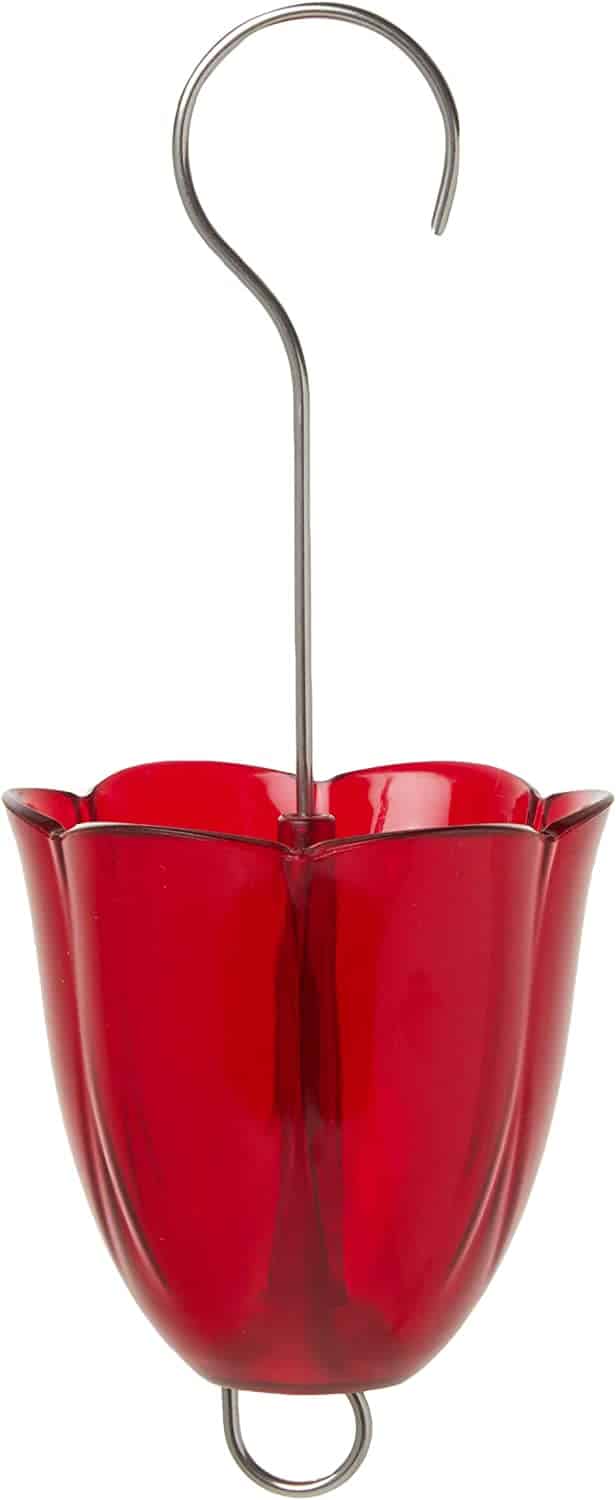 FAQs
Question: Why Does My Hummingbird Feeder have the Same Two Birds, but My Neighbors have Many Hummingbirds?
Answer: Considering how small hummingbirds are, they can be quite territorial, especially about their food sources! Not particularly social in nature, these birds will engage in a high-speed chase if their food is threatened. I have seen Hummingbirds using their long beaks like weapons!
More than for any other bird, consider choosing two or three Hummingbird feeders so that all the birds have a chance to drink.
Question: Why Do Hummingbirds Eat So Often?
Answer: Their metabolism is so high that they must consume half their body weight every day just to survive! Hummingbirds can reach speeds of 45 mph when flying and have a resting heart rate of 225 beats per minute.
While flying, their heart rate jumps to 1,200 beats per minute, with their wings moving 100-200 times per second.
Question: Why are So Many Hummingbird Feeders Red?
Answer: Hummingbirds have keen eyesight and can see the color red and shades of orange and yellow.
The Audobon Society has found that the retinas of the hummingbird's eyes have a dense concentration of cones with pigments and oils in shades of red to yellow. It makes sense to focus on feeders that include red, yellow, and orange colors.
Question: Is Plastic or Glass Better for Hummingbird Feeders?
Answer: Generally speaking, glass is better. Glass isn't absorbent and won't emit chemicals.  It will remain crystal clear for viewing and keep liquid fresh. It depends upon the thickness and quality of the glass, however.
Glass bottle feeders featuring an inverted antique bottle embossed with writing and lettering will be thicker and heavier than some blown glass artistic styles. Having the glass in hand to determine the durability is important if you think your feeder will be exposed to high winds or a fall. 
Plastic tends to develop a "cloudy" coloring over time, especially in the heat, and the softer plastics may have toxic chemicals that will leach into the liquid.
Plastic is harder to clean because of these factors. You will want to ensure the plastic is shatter-resistant, has a heavy material to sustain drops, and banging against poles and trees.
Question: Should I Keep My Hummingbird Feeder Up Year-round?
Answer: No, because hummingbirds migrate south during the winter. There are some parts of Texas, Florida, and Arizona that see hummingbirds all year, but for the rest of us the hummingbirds will be with us roughly from March to November.
If you live in New England or some parts of very northern states, you may only see hummingbirds from May until October.
Wrap Up
If you choose any bird to focus on, the hummingbird couldn't be a better or more deserving choice. Working extra hard every day just to eat half its weight, it will deliver endless amusement with its mid-air acrobatics and dainty speed-racing.
Watching hummingbirds slow down and rest on the feeder's perch after drinking nectar is like a gift thanking me for helping to sustain them. I love window feeders, especially in my bedroom.
Having the Perky Pet Window Feeder in several bedroom windows ensures I can watch the daily habits of hummingbirds from my bed or couch morning or night! I don't have to go downstairs or to another room to enjoy my favorite relaxation technique.
It makes me think of my apartment days when I tried to cram as many widow feeders as possible on my two tiny viewing portals my landlord called "windows"!  See you in the backyard!
You May Also Enjoy: