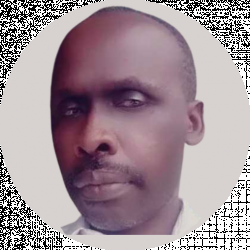 Latest posts by Paul Kirui
(see all)
Of course, we have all done it, looking for a blip of inspiration in the most unlikely places. And so I sat in front of my laptop. My face glows as I follow the content creator. I can't recall his name, but he is excited about making Christmas frills from gourds and melted crayons. And as he winds up with a call to like and subscribe to his channel, a new idea rises in my mind: Gourd birdhouse ideas.
I'm a nature lover, and I've used gourds to attract birds to my garden for decades. I tried the craft with my gourd birdhouses. Woo hoo! I liked the results. Since then, I've attended workshops teaching various gourd crafts and took a carving class in 2018.
Gourds are an excellent way to bring magic into your home. They're also a perfect way to attract birds to your yard. Not only do they shelter the birds, but they also add joy and beauty to yards. It's no wonder Native Americans have been building birdhouses out of gourds for centuries.
I spent hours on the internet scrapping for ideas. Some are good; others are not worth your time. Since the birder in me wanted the best, I interviewed bird and art experts for rare ideas. Whether you are looking for a functional or decorative one, I compiled a list of 25 unique ideas for you. You will surely get at least one to spice up your yard or as a gift for a bird lover. If you prefer a custom birdhouse, I have also included ideas for decorating and painting gourds.
Bottom Line Up Front
Here are the best gourd birdhouse ideas
Pour Painted Purple Martin Gourd Birdhouse

Heath Purple Martin Single Room Gourd

Purple martin birdhouse apartment

Heath Deluxe Purple Martin Gourds, Pack of 4

Unfinished Apple Gourd Birdhouse

Fun Apple Gourd Birdhouse

Craft gourd birdhouse

Apple with Hat Gourd Art Birdhouse

Stick N Burn Gourd Birdhouse

And 16 more ideas
These gourds are not only beautiful but also serve a practical purpose. They are a favorite roosting and nesting spot for birds. Best of all, they come in various shapes and sizes, so you're sure to find something that fits your needs.
There are several varieties of gourds that make excellent birdhouses, including purple martin, apple, dipper, and bottle gourds. Birds will use them, provided the entry hole and mounting height are just right for them.
Selection Criteria
For a bird, a house is a safe place to roost and raise its young. It is a safe place from predators and icy winters. That's all they care about. But to you, it's a chance to create something beautiful. Something that will inspire you every time you look at it.
Since you deserve the best experience, I considered these criteria.
Shape and Texture Matter
Mother Nature doesn't standardize her designs, so each gourd birdhouse is unique. They come in various shapes and sizes, with smooth or rough textures. I love the rugged types with their natural colors.
There is always something that will capture your eyes and captivate your mind. And it's always exciting to have something unique.
Different Entry, Different Size, Unique Bird
Birds are picky about the entry hole's shape and size. In addition, they are particular about the size of the gourd or bulb. Birds will occupy a specific birdhouse based on the size of its entry hole. In part, this is because of security concerns. Small birds prefer small-sized holes. Small holes will prevent invasive birds like starlings from entering.
Most species prefer specific gourd sizes and entry holes. Bluebirds like 1.5″ entry holes; purple martins love crescent-shaped pickles in a 9-inch-diameter gourd, while wrens prefer 6-8″ gourds with 1.25″ entry holes.
Knowing what bird species you wish to attract before purchasing or making gourd birdhouses is essential. You can determine which birds will visit your yard based on your birdhouses' shapes, sizes, and locations.
The Aesthetic Appeal of a Gourd Birdhouse Draws People In
Gourds have something unique about them. Most have texture and rustic colors that blend well with nature. They're just perfect for those who love nature.
You can also express your artistic side with painted birdhouses. It's easy to do: paint the gourd birdhouses, and they'll look amazing. You can add patterns and images to make them more unique and personal.
The beauty of nature lies in its simplicity. You get gourds for building birdhouses in different sizes, shapes, and colors. Therefore, no two gourd birdhouses are alike.
Types of Gourds You Could Use to Make Birdhouses
Gourds are great for making birdhouses but come in all shapes and sizes. For making birdhouses, you can use the following gourds:
Purple Martin Gourd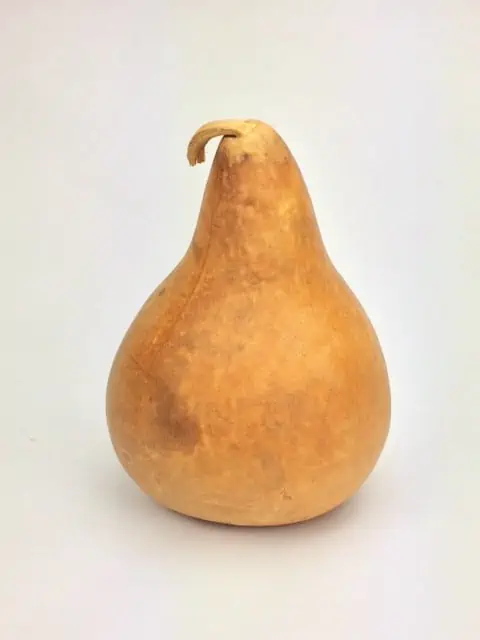 Purple martin gourds are also called birdhouse gourds, kettle gourds, or martin gourds. It is the most common type of birdhouse gourd. 
Martin gourds are pear-shaped, ranging from 6″ to 12″, making them suitable for larger birds. For instance, the purple martin prefers a 9-10 inch kettle gourd. A 6 to 8-inch gourd in diameter works for wrens, chickadees, and other small birds.                 
Apple Gourd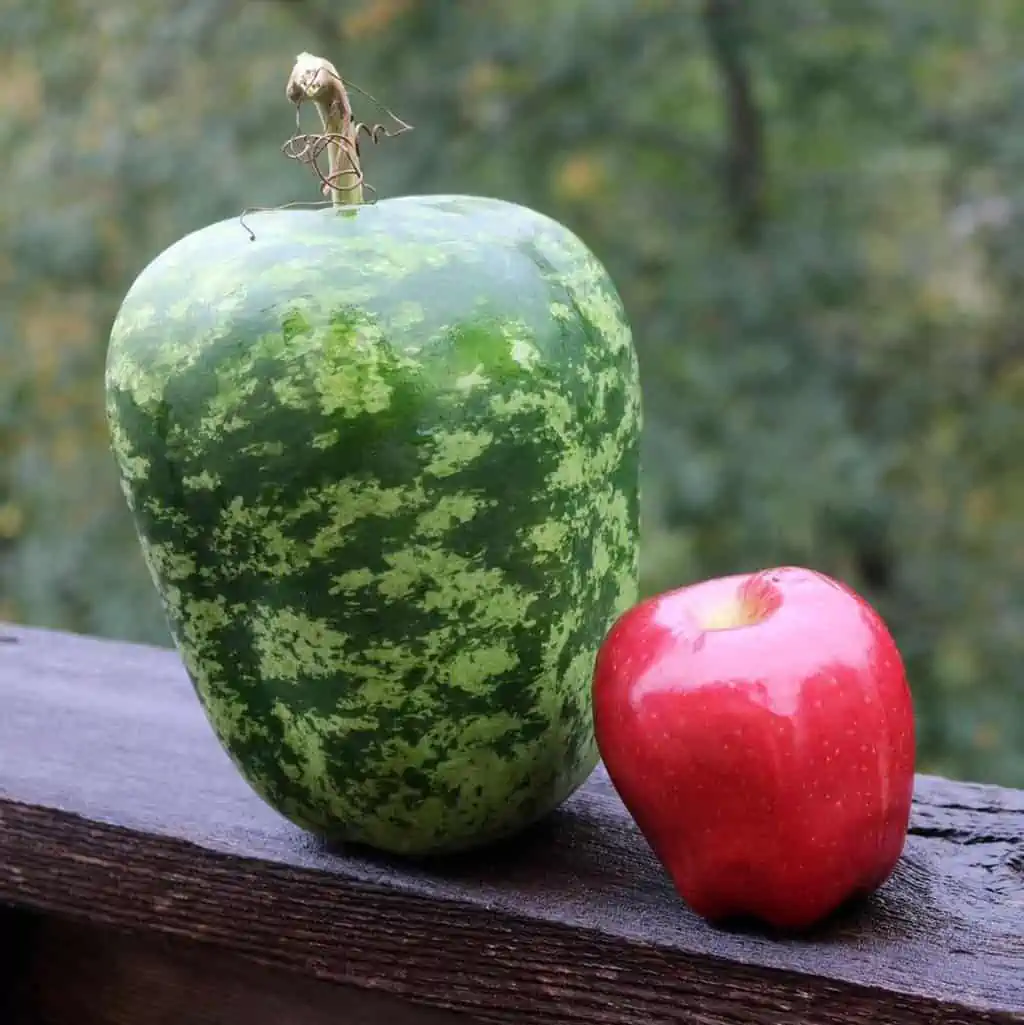 Also known as the Indian round gourd, the apple gourd is common in Pakistan, India, and sections of Afghanistan. It looks like an ordinary green apple but tastes like squash. 
Indians use it in their dishes as it combines well with spices and is very nutritious. Its seeds make a delicious snack when roasted. You can use the juice extracted from the apple gourd as a detoxifying beverage.
You can also use it to make a cool birdhouse. To make one first, dry, clean, and dry it again. Then drill an entry hole, decorate and hang. 
Dipper Gourds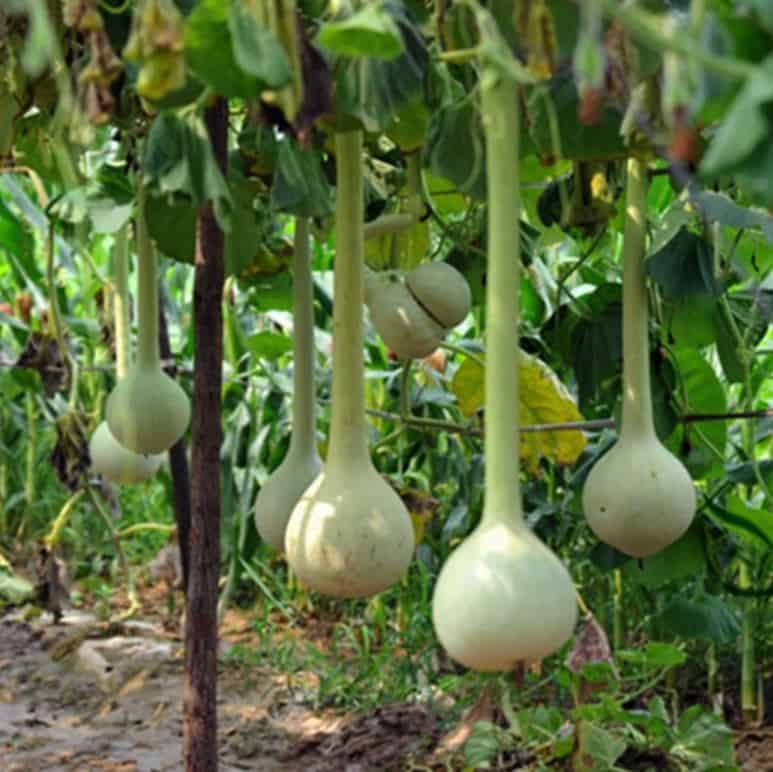 Dipper gourds are fruiting plants that produce massive amounts of fruit throughout the season. They make a gourd measuring 12″ long and 5″ in diameter. It grows in summer, and it does not tolerate frost.
They have long, thin, curving necks with round, bulging ends suitable for creating a birdhouse.
Besides making a birdhouse, you can use it as a dipper or spoon. You can also use it to create drinking vessels and other decorative items. It grows well on a trellis and produces a long, beautiful handle.
Bottle Gourd
The bottle gourd or Lagenaria siceraria is a vine in the Cucurbitaceae family. You can use it as a vegetable in squash recipes when it's green. 
It is one of the world's first and most cultivated plants. In other places, it's called Long melon, calabash, Opo, or Cucuzza.
Besides being a vegetable, the bottle gourd has other uses.
First, you can use it to make utensils and musical instruments. And most importantly, you can make a beautiful birdhouse out of it
You may wonder why bottle gourds would make beautiful birdhouses.
First, bottle gourds differ in size and shape. Size and shape depend on how and when they're harvested. They might be short, round, uniform, bent, bulbous, or long and thin. Some have smooth skin coated with tiny hairs.
Second, they come in attractive natural colors. Their hues range from light green to chartreuse and dark green. These colors will blend in well with your flower garden and trees.
All these attributes–colors, sizes, and shapes–make it ideal for creating birdhouses. Dry it, make an entry hole, and hang it in your backyard. Backyard birds will love it this way.
25 Best Gourd Birdhouse Ideas
So you want to attract birds with unique gourd birdhouse ideas. Not a problem. Here are some designs from which you could borrow a leaf.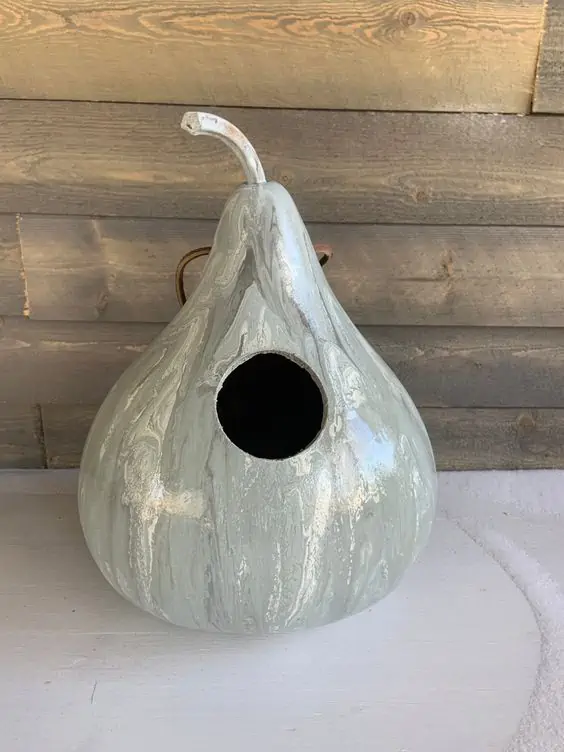 This unique birdhouse could host birds in your yard if you have a knack for outstanding, handmade, pour-painted gourds. It is beautiful and made from a natural gourd. Further, you can finish it with a transparent coat to use it outdoors. It is the perfect gift to thrill your loved ones.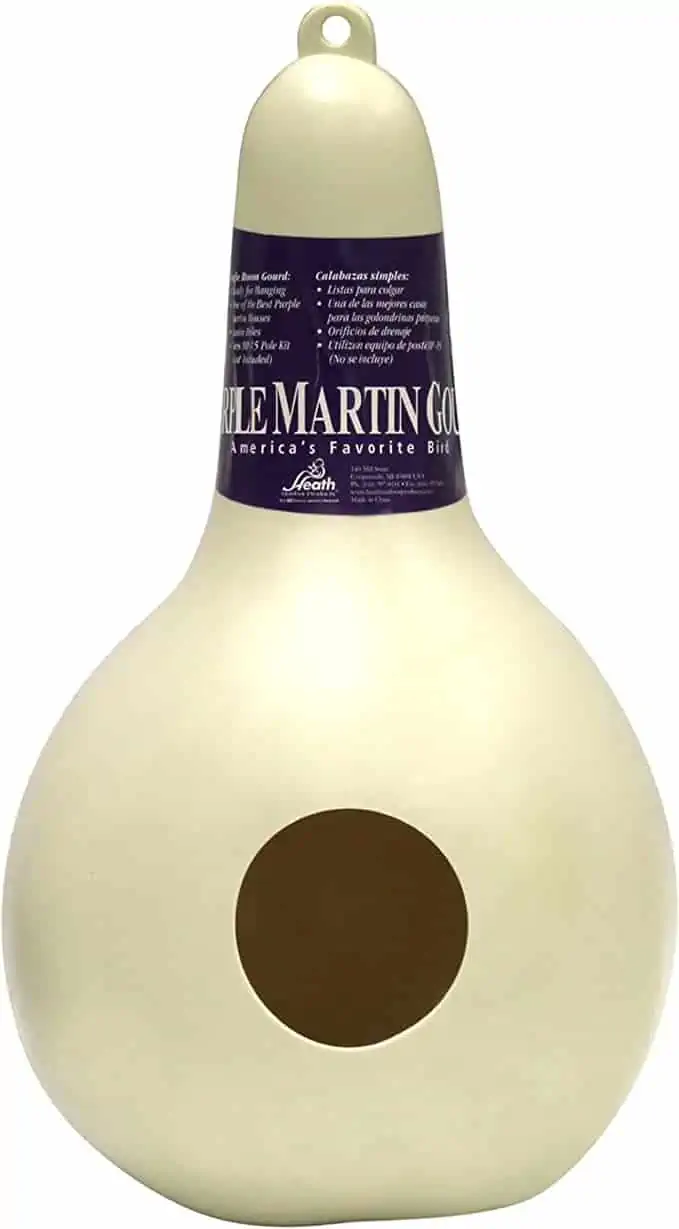 This beautiful plastic gourd birdhouse blows the natural, rotting gourd birdhouse out of the water. It's made from sturdy plastic to resist the elements while still being lightweight. Its white hue keeps it cool in the summer. And with its anti-starling entry and rain deflectors, birds will move mountains to get to it.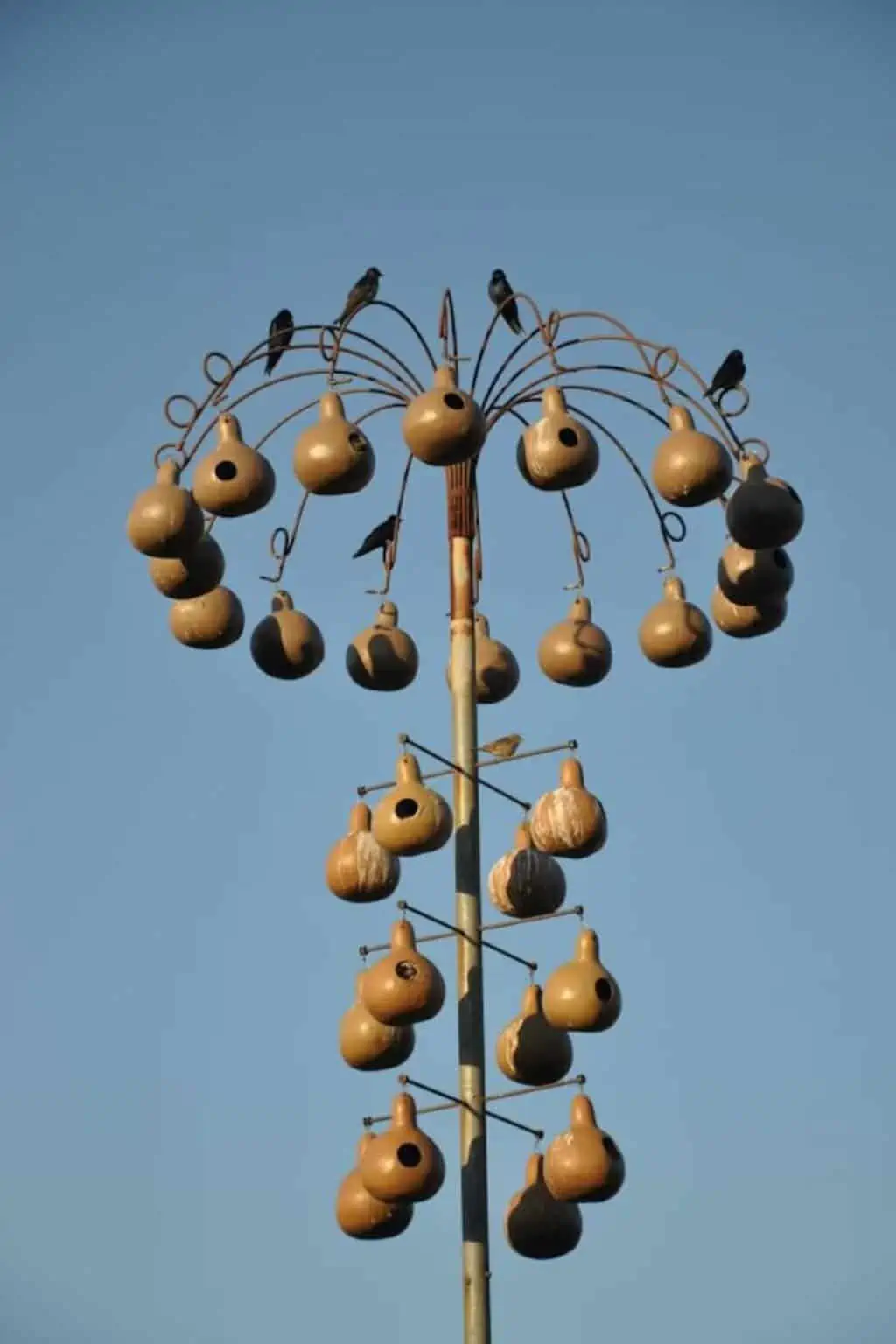 Purple martins are social birds, and with an apartment-like design on a pole, you can't go wrong. It has all the features to support a colony of birds, especially in a small space, while adding beauty to your yard. A metal pole and brackets to hold several gourds ensure it will house many birds.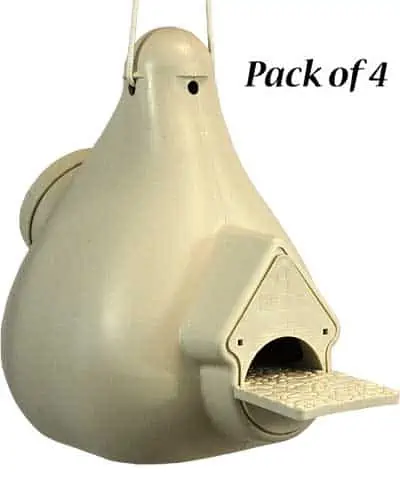 The deluxe purple martin gourd has all the features to ensure your birds have a strong start in life. First, it comes in a pack of four sturdy molded plastics that are easy to assemble. Second, a 9-inch deep cavity provides birds plenty of space to nest. And third, a crescent-shaped entry hole and peaked roof keep the bird safe from predators and weather elements.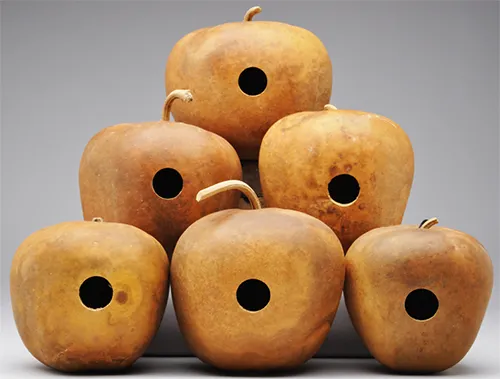 At 6-7.9 inches wide, this natural pack of apple gourds will spice up your home. You can use them as art on tabletops to spice up your interior decor. You can also use them as focal points for attractions in your yard—downy woodpeckers, wren birds, nuthatches, chickadees, and bluebirds love this type of gourd house. The entry hole and gourd size are perfect for them.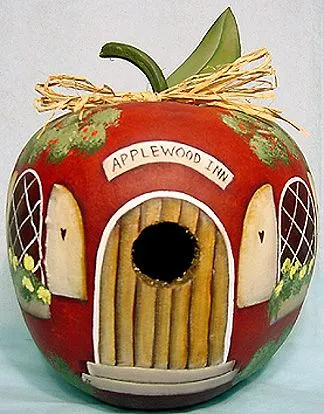 Now your kids can join the fun too and express themselves. This aptly named birdhouse does precisely that. The artwork that transformed a simple apple gourd into a great birdhouse will inspire them. It's quite an adorable home for birds, which can be ornamental or functional.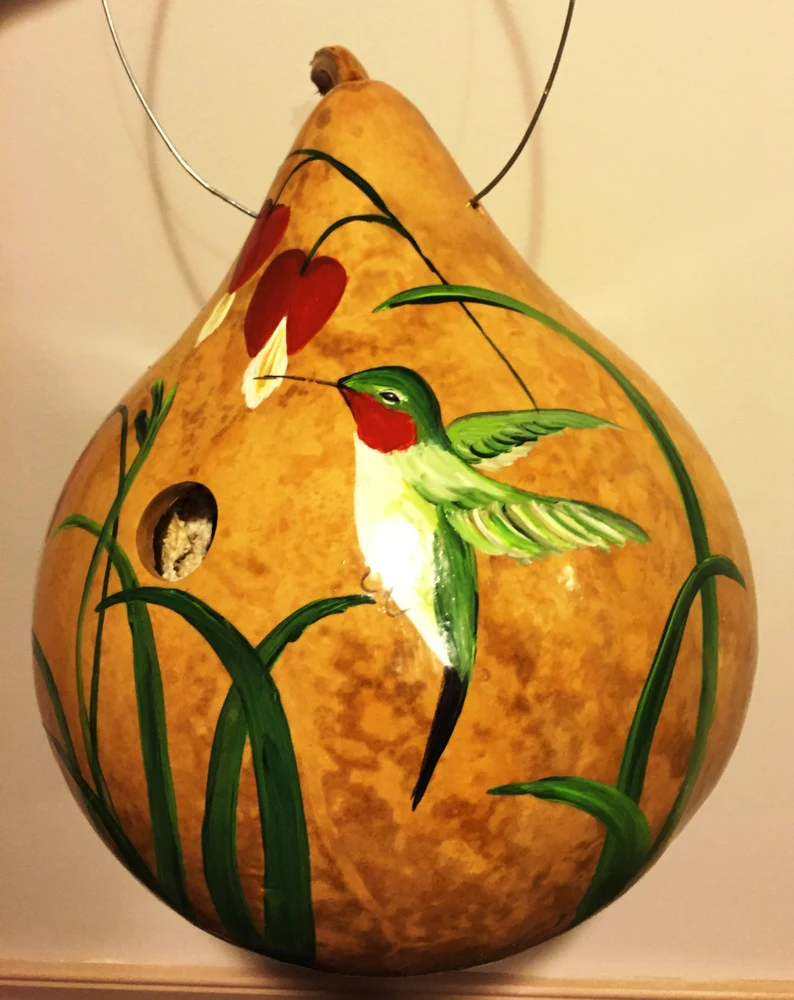 This birdhouse is an excellent addition to any garden or yard. It features a lovely design of a gourd and colorful stickers you can add to it. Most adorable are the birds that will flock to it!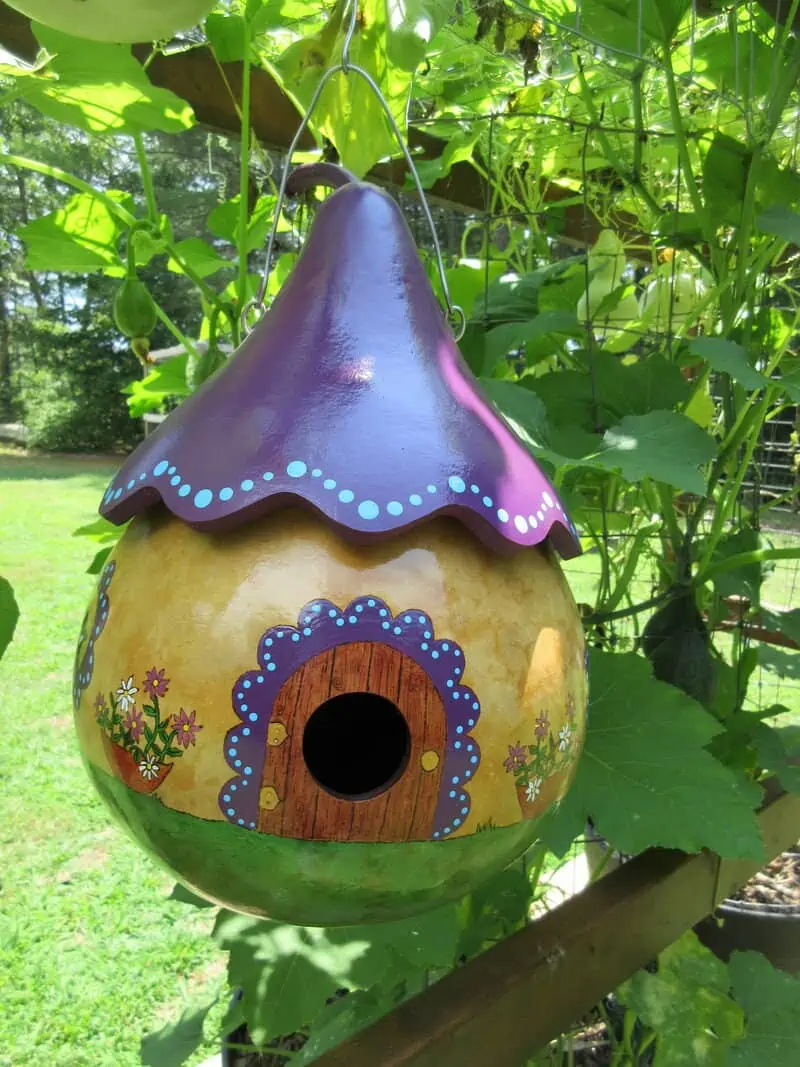 Here is another great birdhouse made from apple gourds with an adorable roof. Designed to attract small birds like wrens, it has a 1.5″ entry hole, is seven inches in diameter, and stands ten to twelve inches high. Its polyurethane coating makes it a great addition to any backyard.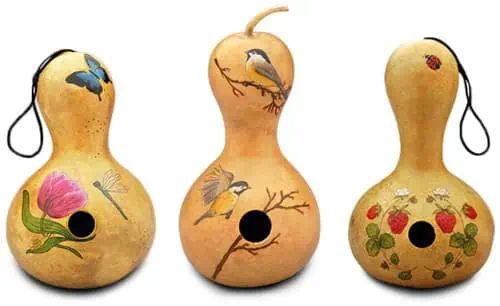 This bottle gourd birdhouse comes with paint and stickers to decorate it. Kids will have all the fun decorating it, of course, with your help. Unlike other paint kits, this one has pretty images that add a fun element. With birds, flowers, pollinators, snails, cute ladybugs, and even caterpillars to decorate, your family will have all the fun creating designs.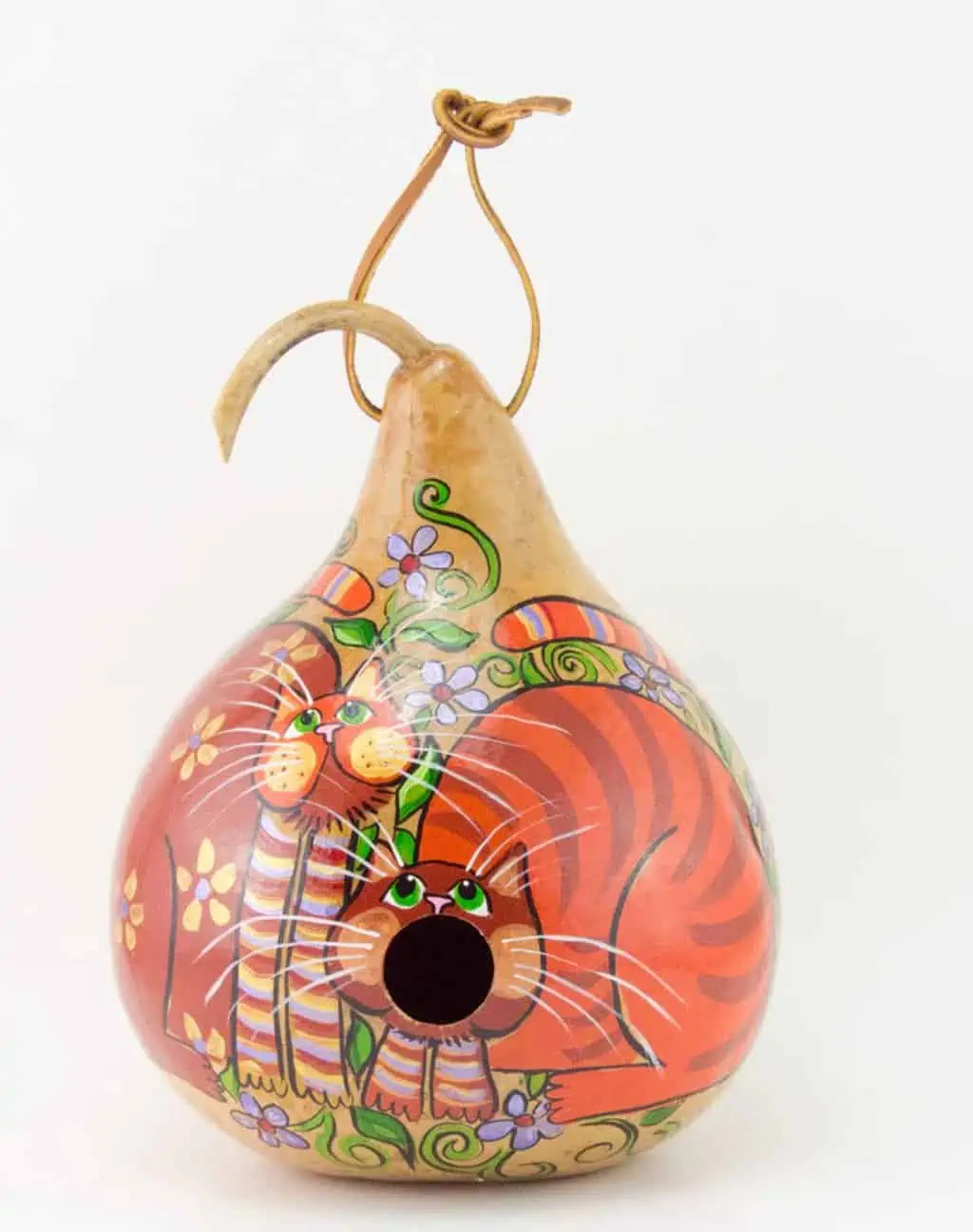 This isn't an ordinary gourd birdhouse. It's spacious, and birds fly from miles to roost and raise chicks in it. Besides, its simplicity and the colors on a red-dyed gourd will blow your mind.
11. Ice Cream Cone Gourd Birdhouse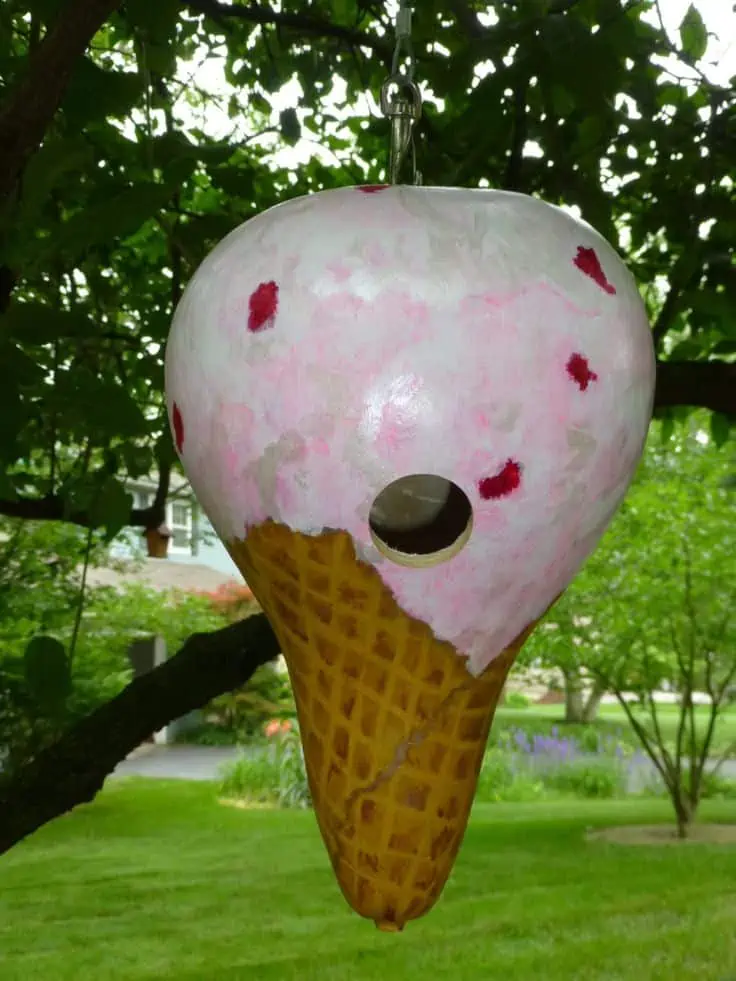 You can enlighten your guests' moods when they visit your home by decorating your birdhouse to look like an ice cream cone. Nothing takes the place of a scoop of ice cream on a hot summer day. I love it because it resembles my irresistible favorite treat.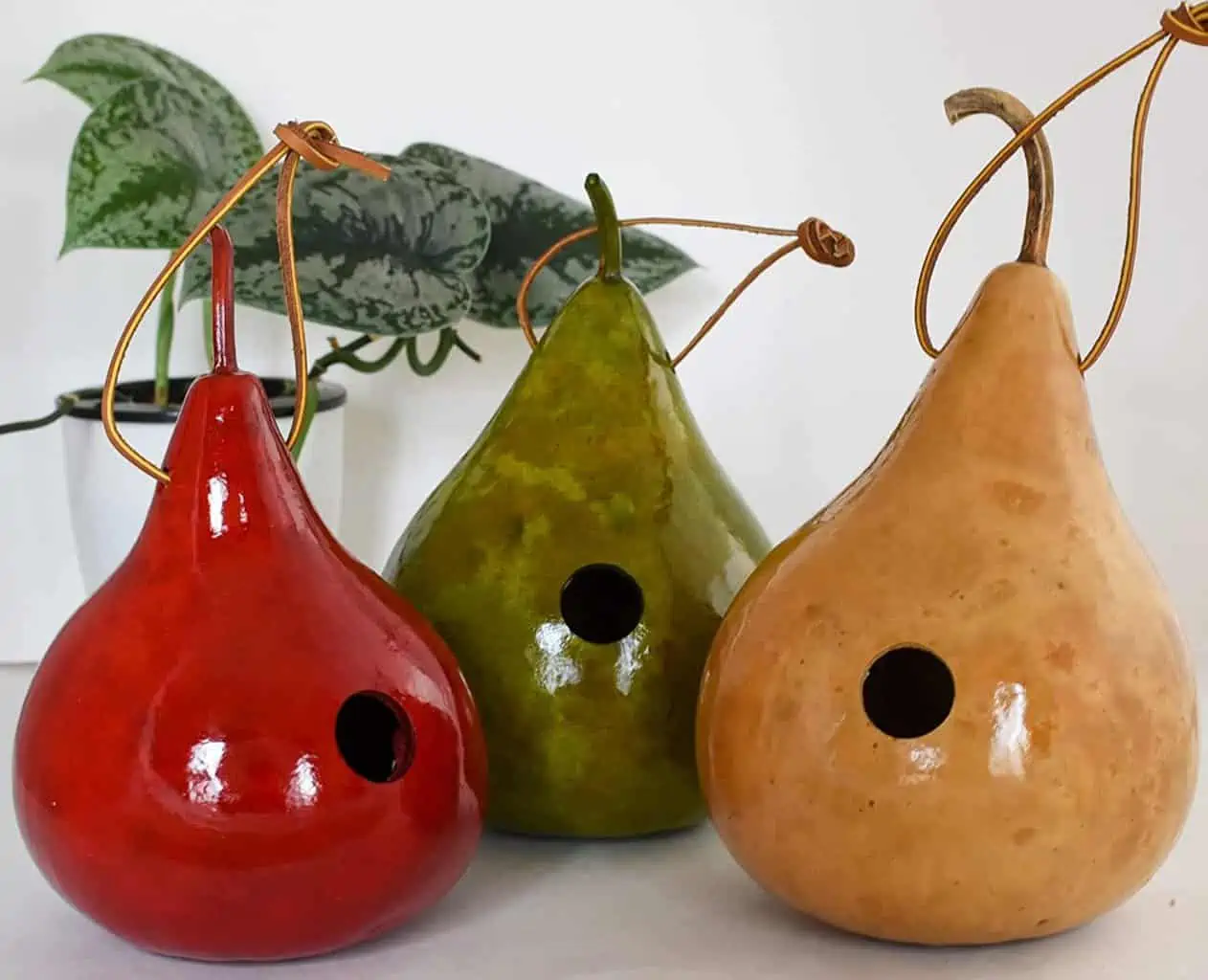 Good things in life come in numbers, and this set of gourd birdhouses is no exception. They come in three leather dye colors: light green, red, and natural, and they're finished with an outdoor varnish. They are suitable for smaller birds because of the small entry holes.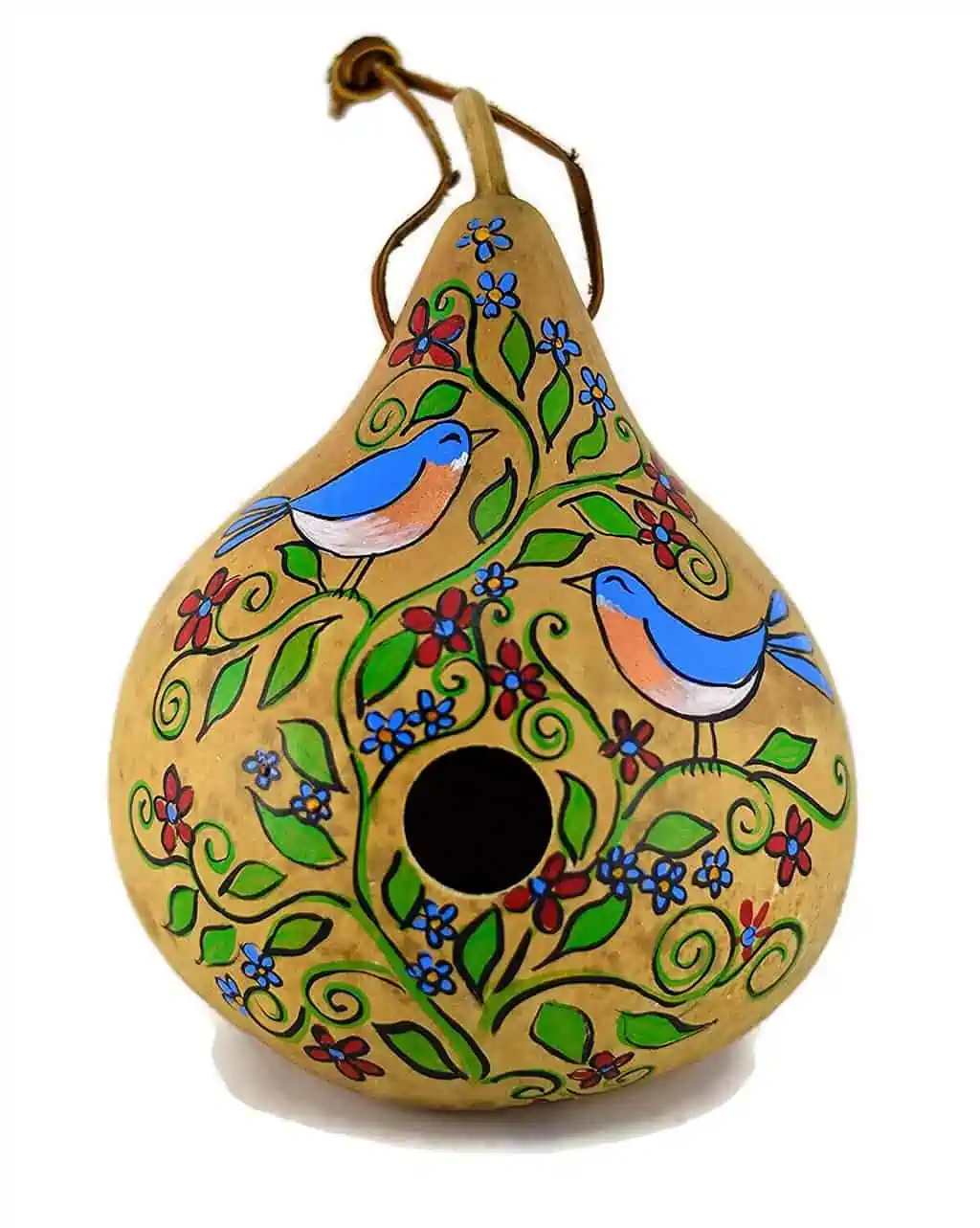 Beautiful colors, design, and shape make this birdhouse a perfect gift for yourself and others. Not only does it bring joy through patterns and design, but it also attracts birds. Bluebirds and other small birds will love the 1-1½ -inch entry hole.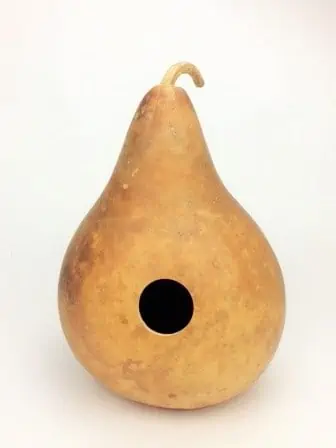 If there's a birdhouse that native Americans used to attract birds, it's this natural gourd birdhouse. The rustic look blends with the woods. The birds love it that way. After all, they just need a place to roost and raise a family.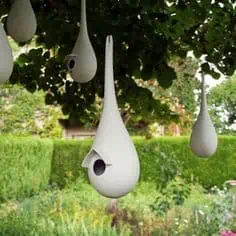 Entice the birds to your yard with this gorgeous dipper gourd birdhouse. The birds will love the long neck and bulbous end, which provides more space. Hang it in your yard; they will soon move in and get busy in no time. It's lovely and fitted with a wire for hanging.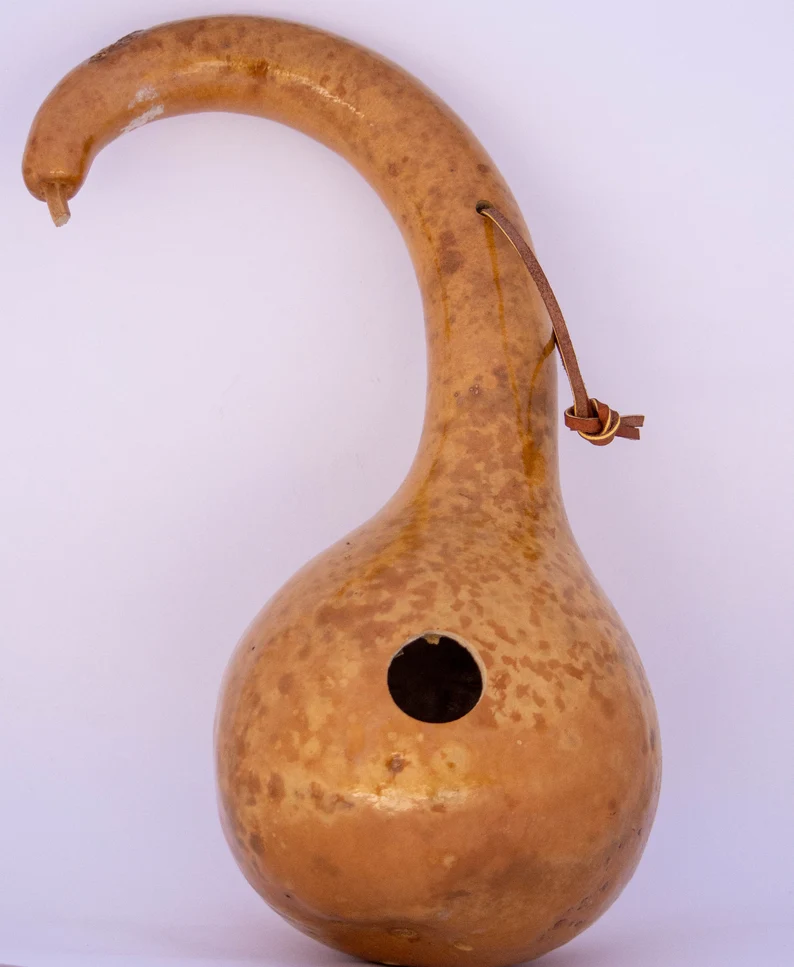 This long and curvy birdhouse resembling a swan attracts birds in droves. It's spacious to provide more room for the bird. It also has a leather strap for hanging and a 1 to 1 ½ -inch entrance hole.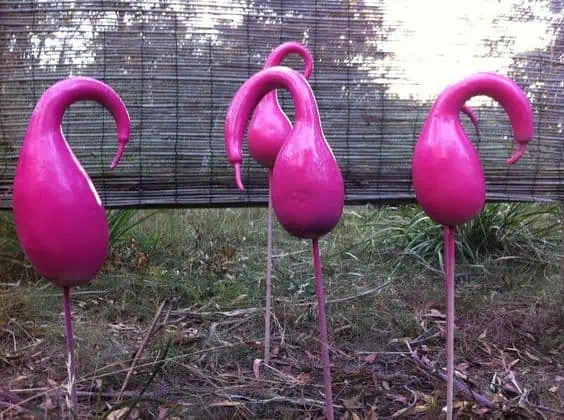 You could transform your painted gourds into pink or white flamingos. They can add a pop of color to your garden or porch. You use modeling clay for beaks and dowel rods for legs. Paint a wooden base blue and add water lilies to take the decoration a notch higher.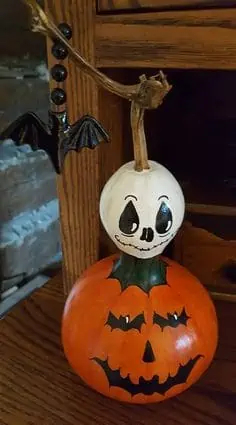 If you love nature and are a Halloween fanatic, you can make a spooky gourd birdhouse and scare the hell out of someone dear to you. Here's an idea to spice up your creativity. You won't toss aside your Halloween gourd birdhouse after the festival. Hang it in trees, on your porch, or on iron rods outside your house. You could also use it as decor inside your home.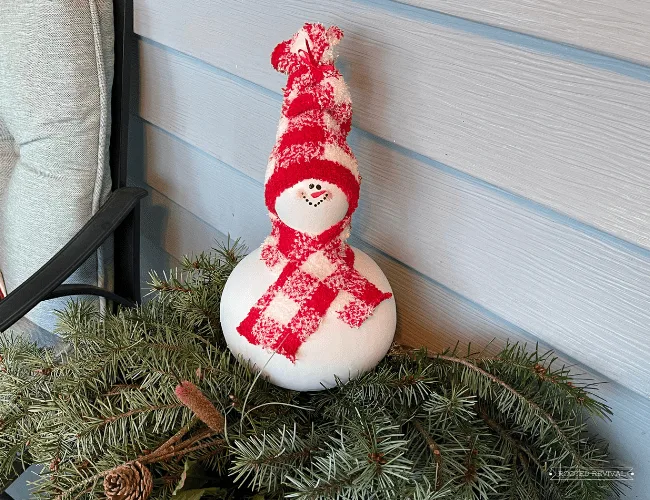 If you are creative, you can always develop ideas with a gourd. Why not try to build a snowman gourd birdhouse? For this idea to work, you need a hard shell gourd, white paint, a sock, ribbon, acrylic paint, glue, scissors, and a fine-tip paintbrush. Spray your snowman gourd birdhouse with lacquer, paint, or clear sealer to protect the color and the gourd from the elements.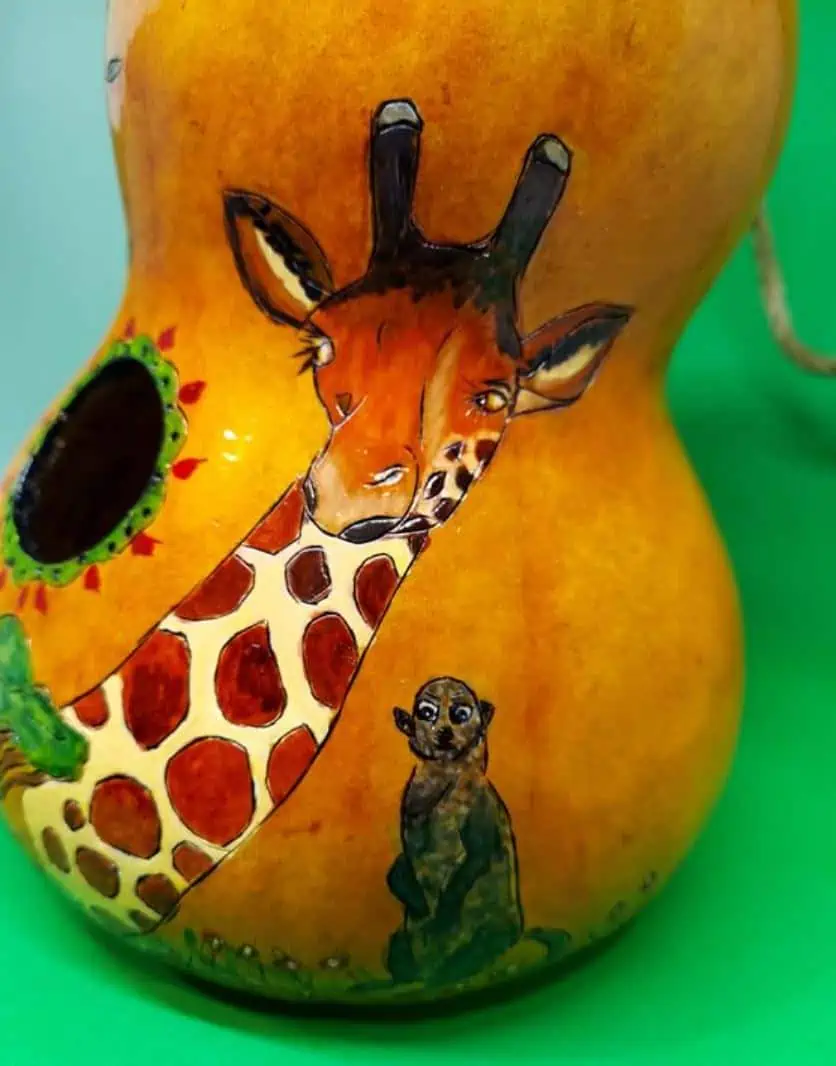 If you love wildlife and dream of going on safari, you could engrave your desire in your gourd birdhouse by painting the African animals you want to see. Who knows? Maybe the animals will conspire with fate to make your dreams come true!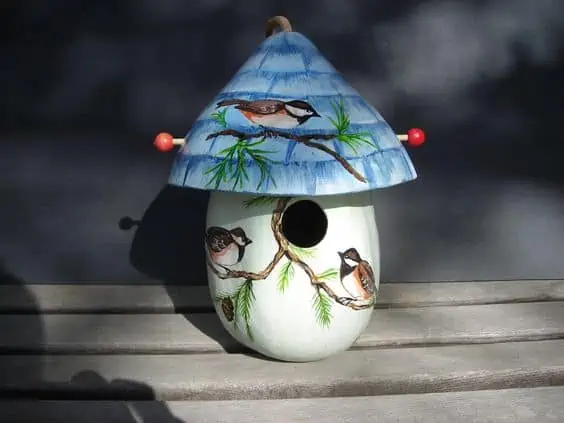 My editor will agree with me on this one. This birdhouse offers an incredible mix of creative art and utility. It comprises two parts: a removable upper part for quick cleaning and a bottom part for the bird to nest and roost.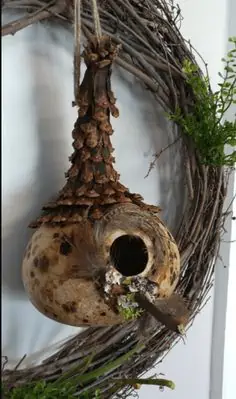 Make a statement with this birdhouse. The design and mounting are so cool; it will catch all your neighbors' eyes. The decorations blend in well, and the bright colors will brighten your day!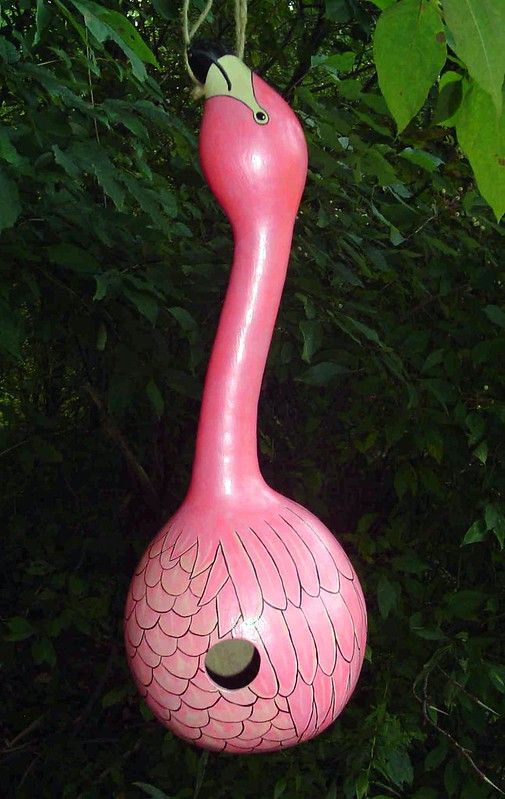 Despite lacking legs, this flamingo-inspired gourd birdhouse will brighten your garden. It's made from a dipper gourd with a long neck and bulging end, making it perfect for birds to roost and nest in. Your visitors can't fail to spot the striking pink color and the long neck from a distance.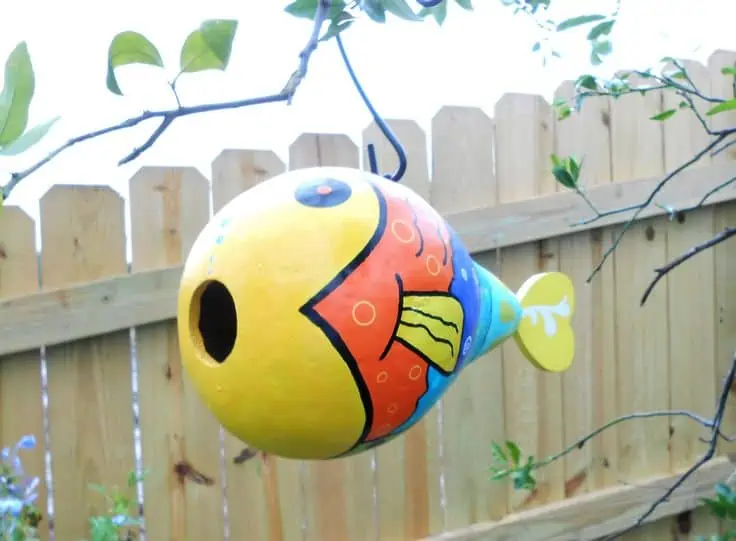 Do you know aquarium watching lowers anxiety and stress? It makes you feel more relaxed. You can improvise your little "aquarium" by designing your gourd birdhouse to look like a big fish.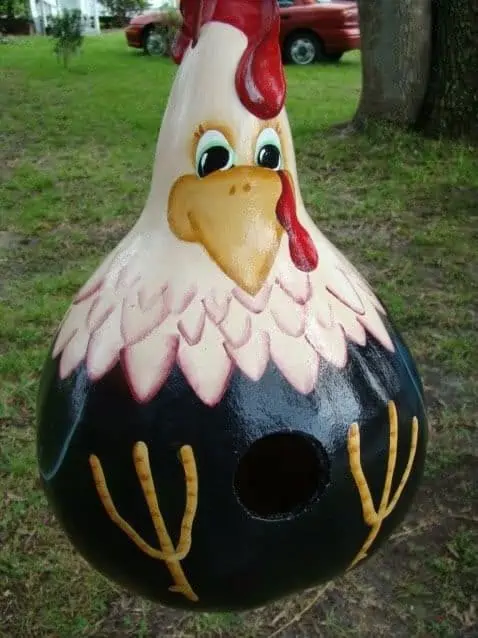 The beauty of working with gourds is that they allow you to test the limits of your creativity to the maximum. You could make your feathered buds feel like they live inside a hen, enjoying the warmth and protection of a mother hen. What a feeling! 
How to Decorate a Birdhouse Gourd
Making your gourd birdhouse is better. You can customize it to your preferences. Below are some methods of decorating a gourd birdhouse.
Pyrography, also known as Wood Burning.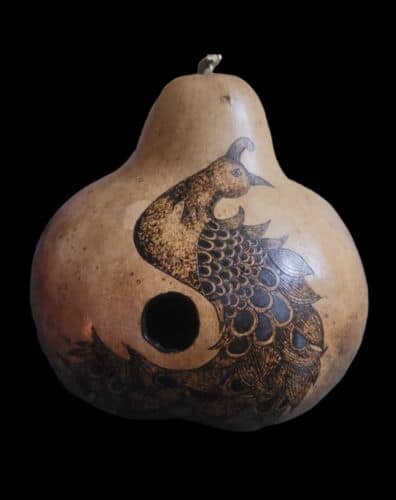 Making your gourd birdhouses is fun since you can customize them to your preferences. Why not try your hand at wood burning if you have an artistic eye?
Materials Needed
pyrography pen

A piece of softwood

Assorted pyrography tips

Sandpaper for polishing
Pyrography is the practice of engraving wood with burn marks. You can create burn marks with a heated item, such as a metal pen. The term means writing with fire and comes from the Greek words "pur" and "graphos."
You use different tips on pyrography pens to create different brushstrokes and effects.
Different pressures let you achieve different color tones.
Gourds burn like ordinary softwood, leaving complex art on your gourd's surface.
Gourds get squirrelly. They roll around when burning, making you chase them. I use bean bags to hold them in place. Shading on a gourd is challenging but achievable. It takes more time and effort. 
Gourds are smoky. Burn them outside or work in well-ventilated spaces. 
The trick with wood burning is knowing when (and where) to stop to avoid ruining the gourd. Begin by tracing a stencil onto some scrap wood. 
When combined with paints or alcohol inks, you get lovely effects.
Pyrography fades in the sun, so if you use it outside, cover it with a UV protection sealer. 
I use natural shoe polish to preserve my gourd art. It is not UV resistant but enables my gourd shell to contract and expand without splitting the finish.
Alcohol Inks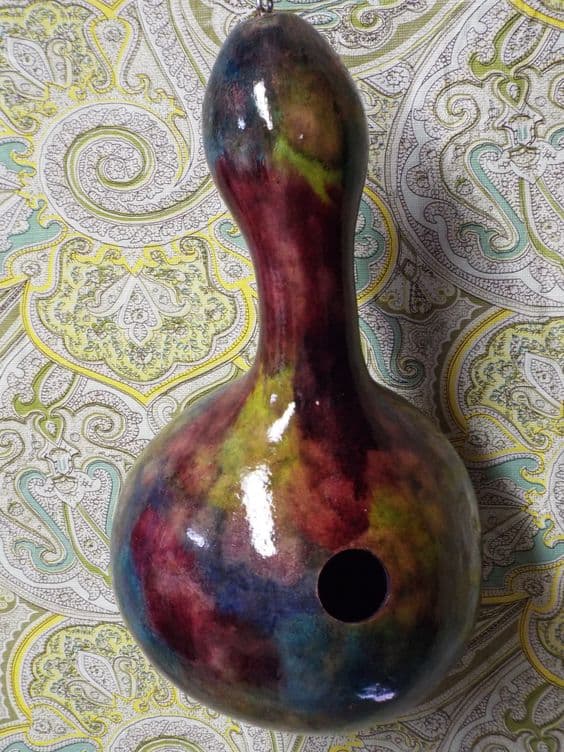 Alcohol inks are an excellent medium for decorating gourds. It's a simple and enjoyable approach with limitless artistic possibilities. Gourds adorned with alcohol inks keep their color for a long time, even when used for an exterior gourd.
Alcohol inks are alcohol-based transparent pigments. They come from the same ink found in permanent markers. The ink is diluted and placed in a bottle to let you drip, splatter, or drop it to create many beautiful patterns.
You apply them by rubbing them on a gourd. After applying it, you can move and mix the ink using rubbing alcohol to create artistic effects. 
Spray Paint Stenciling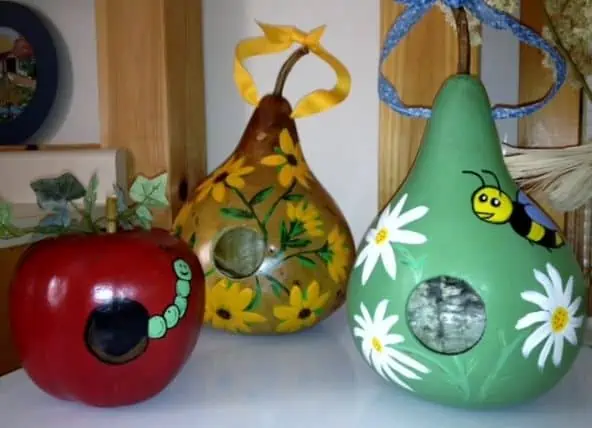 Spray paint stenciling looks fantastic on gourds. Spray paint is waterproof and available in different colors. Its way of adding depth and texture to the gourd is second to none. I enjoy using dollies and lace for my stencil, and I get terrific results.
You could try even homemade stencils, and you may love the results.
Because the gourd has a rounded surface, getting the stencil to sit firmly is challenging. This challenge enhances the effect. You have no option but to go with the paint's foggy quality and elevated stencil. The approach is simple and enjoyable and lets you exercise your creative muscles.
Painting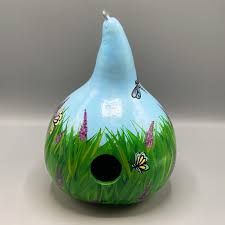 Painting is another excellent way of decorating a gourd.It is advisable to paint a gourd birdhouse as it prolongs its life. Paint the exterior white or a light pastel.Light colors ward off the summer heat and attract the martins like crazy. Purple martins prefer light-colored gourds and dark entrance holes.First, apply a good coat of latex (water-based) primer to seal your gourd and let the paint adhere. Then apply two coats of high-quality latex paint. I prefer white since it helps the gourds stay cool in the summer.
Be creative and have fun as you paint flowers, animals, cartoons, or landscapes. Studies have shown birds will always choose those with the natural colors of a gourd. They will only move into decorated gourd birdhouses as a second choice.
Frequently Asked Questions (FAQs)
Question: How do you keep birdhouse gourds from rotting?
Answer: Harvest the gourds when the vines and the stems are dry and brown. Dry them out in sunlight for a week before bringing them indoors. Continue drying them in a well-ventilated space. Turn them once a day to ensure they dry evenly. Throw away any gourds with soft rotten spots.
Question: Where should I put a birdhouse gourd?
Answer: Hang the gourd birdhouse outdoors at the beginning of the spring. Secure it to a tree or sturdy post. Ensure there's a lot of space between your houses. Also, ensure the houses are firm and won't swing a lot when blown by the wind. Keep them indoors and bring them outdoors only during the nesting season.
Question: What birds like to nest in gourds?
Answer: Gourds are ideal for a variety of cavity nesters. Birds that like to nest in gourds include bluebirds, swallows, chickadees, screech owls, wrens, woodpeckers, great crested nuthatches, flycatchers, titmice, and kestrels.
Conclusion
I hope this list of 25 gourd birdhouse ideas will spark the bird enthusiast in you. This list is only a start. Ideas are many, but hopefully, you've gotten some inspiration. There are many ways you can personalize your birdhouse.The birds may not appreciate the difference between one house and another, but you will. They need a safe place away from predators and the elements and a warm place to roast at night and raise families.While the birds will appreciate the gourd birdhouses, you can choose to be imaginative. Imagine how much fun it would be to see birds dive into your gourd birdhouse or a gentle breeze swaying it.
Gourds are easy to decorate, and birds also naturally love them. They also come in different colors and textures, so you can find one that speaks to your style and personality. You can leave them natural or express yourself with unique designs and colors.You may want to surprise your friends with a new design they've never seen before. For me, purple martin birdhouse colonies are always the best.
References