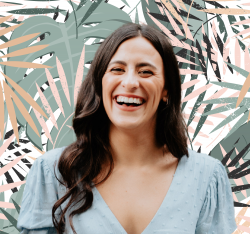 Latest posts by Reina Esser
(see all)
Birdhouses are magical additions to any backyard, whether it's heavily wooded or a lush floral paradise, don't underestimate the joy a birdhouse will bring you, the birdwatcher, and the essential shelter they provide to our beloved feathered friends looking to grow their family.
There's only one problem…have you ever gone to the big box hardware store and perused the birdhouse selection only to think, "how do they sell this junk for $40?!" If you're anything like me, your next thought is "I'll make one myself!" and get only partially over your head during the level one DIY project.
Luckily, the internet has given us the means to pick and choose which part of the DIY we feel equipped to take on. Either gather plans to build your birdhouse or purchase a pre-made birdhouse that is prime for a personalized design. 
Creativity always needs an outlet, whichever option you choose, and channeling it into your passion for birdwatching is a win-win. You get to be artsy, and your birds get free housing. If I say artsy too soon, don't let it scare you. So many painted birdhouse ideas require minimal creativity or artistic flair.
This guide will suggest ideas ranging from kindergartener-friendly to creative wizard. There is no reason to limit your imagination (except for a few safety reasons I will address later), so let your inspiration run wild and see what you're capable of. 
As an avid birder and artist, I've spent hours pondering ideas and attempting to paint the perfect birdhouse. Once I let loose and allowed myself to have fun, I was reminded of how rewarding and fun painting a birdhouse is supposed to be. It's a joyfully creative activity that lets you add a personal touch to your backyard bird oasis, not one for overthinking or perfectionism. Letting yourself have fun and learning how to safely accommodate our feathered friends is the key to creating the best birdhouse ever.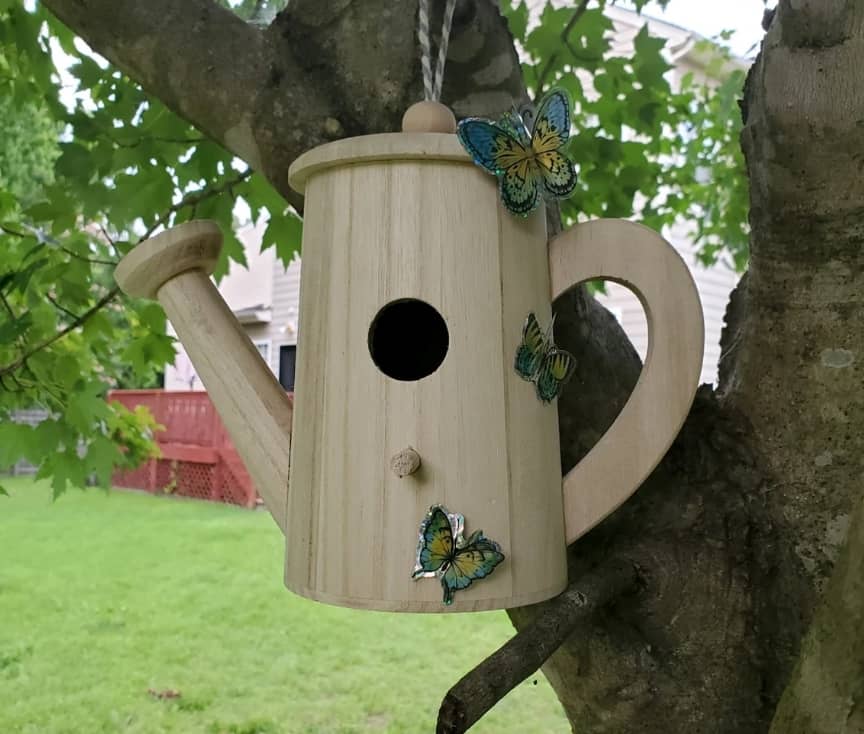 Bottom Line Up Front
My favorite painted birdhouse from this list is the Mushroom Birdhouse. It's adorable and neutral and will keep your flying friends safe. To make the ideal nesting location and living quarters, use water-based latex paints in neutral colors to ensure birds stay hidden from potential predators. Don't paint over ventilation holes or around entry points. Once you've got those top tips committed to memory, the fun part may commence.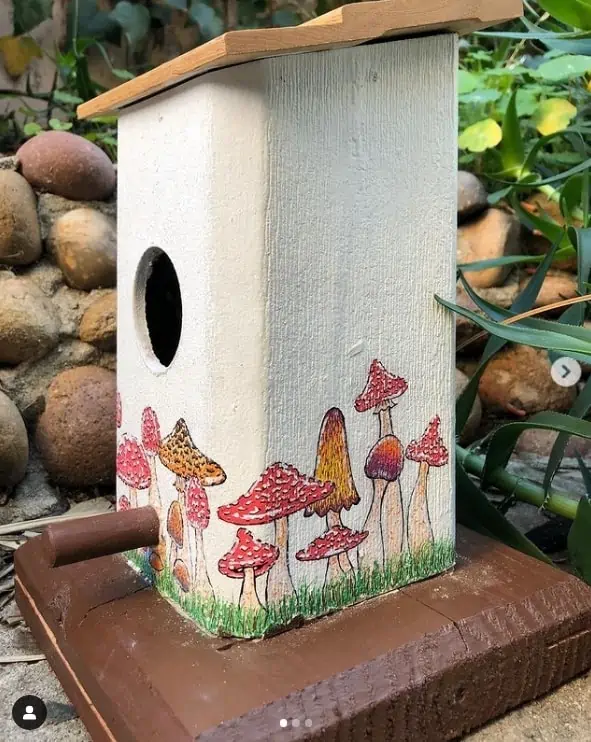 Imagine a birdhouse adorned with painted mushrooms and bits of moss or an enchanted cottage birdhouse decorated with stones and twigs. I love options that incorporate more than just paint and allow the birdhouse to blend effortlessly into the nature surrounding it. A floral pattern, monstera leaves, birds on a wire, or an intricate mandala make great painted birdhouse ideas for beginners and advanced artists alike!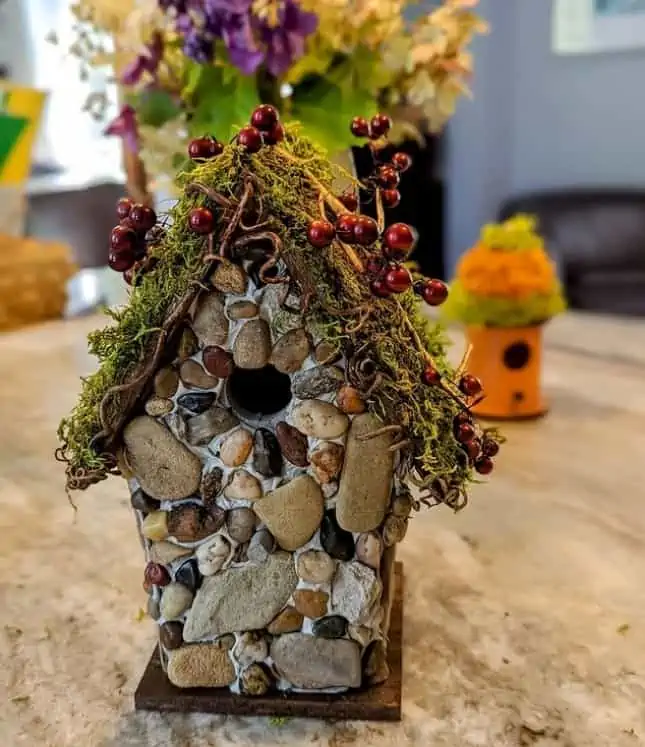 Buying vs. Building a Birdhouse
The options for birdhouse DIYs are endless. Whether you have an entire carpentry workshop or can hardly hammer a nail, the internet caters to all, and I've compiled a variety of options that will "suet" all skill levels. Choose which option works best for you or rehab one of your existing birdhouses that have seen a few breeding seasons.
When giving an old birdhouse new life, clean it thoroughly. Hose it off and scrape away flaking and peeling paint. Sand any areas that will be difficult to paint over for a smooth finish. Use a bleach solution of one part chlorine bleach to nine parts warm water to kill bacteria and remove any dust and paint chips left behind. Let the birdhouse dry completely before painting.
Pre-Built Birdhouses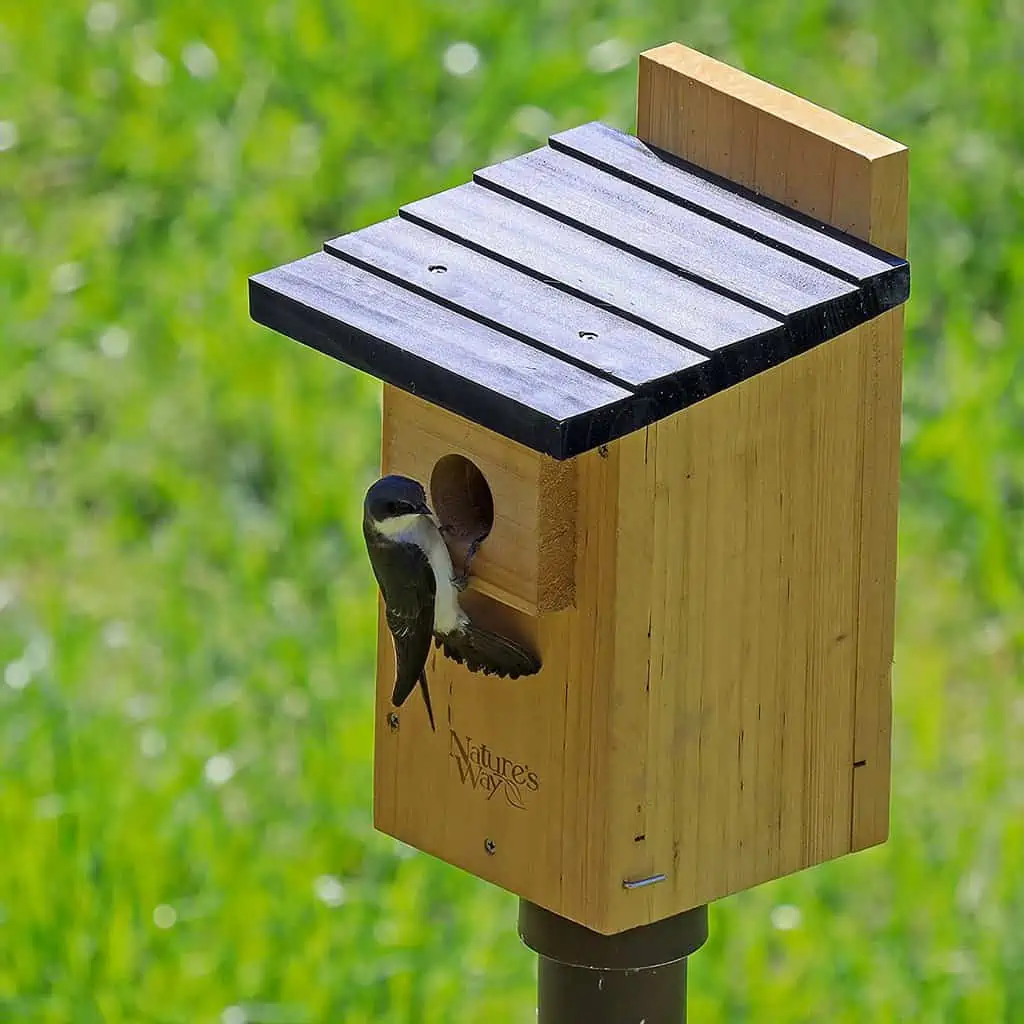 If you're here because you want to paint a birdhouse, purchasing any of these pre-made options is a great place to start. Most of us birdwatchers are environmentally conscious folks, so if you're looking to reduce, reuse, or recycle, think about scanning the shelves at your local thrift store for a birdhouse that didn't get a chance to see its full potential.
Birdhouse Assembly Kits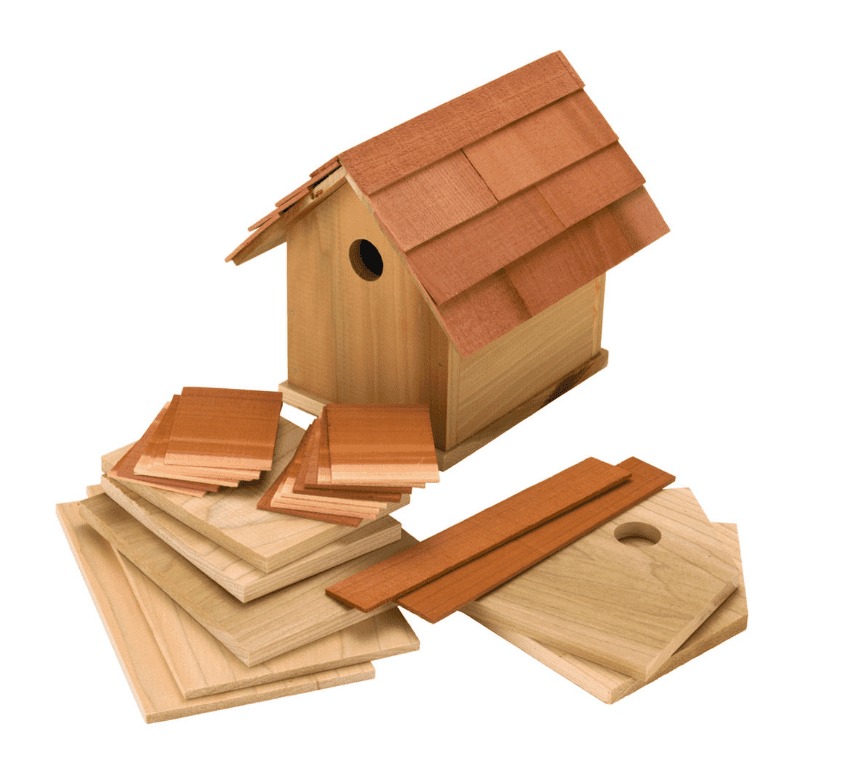 If you don't want to build one from scratch but are confident you can master the assembly, check out these kits that only require a hammer or screwdriver. This middle-of-the-road option is a great activity to do with friends or family and will leave you with a sense of accomplishment every time you see your masterpiece hanging in the yard.
Build a Birdhouse From Scratch (with free plans!)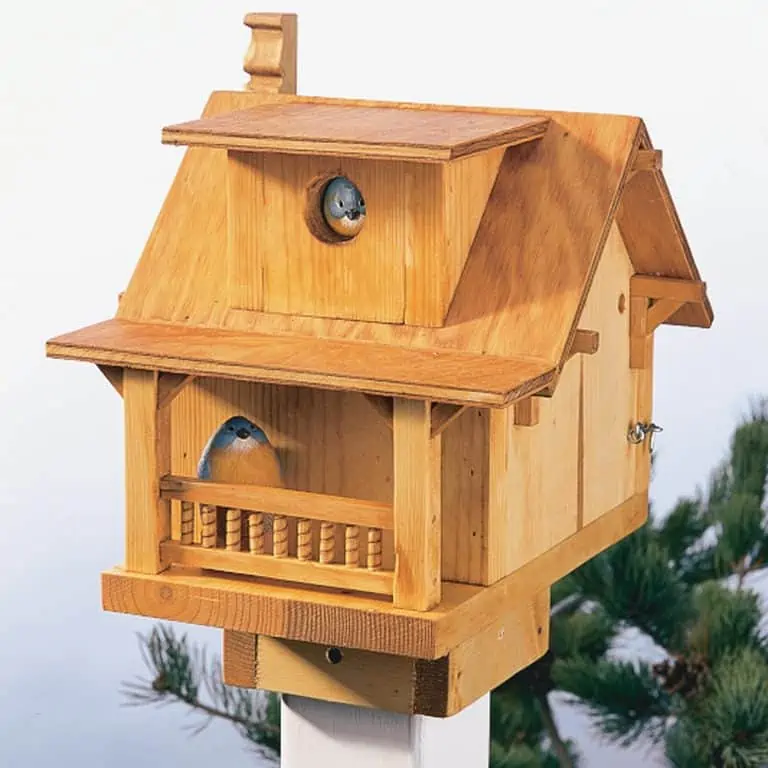 These easy and free plans provide shopping lists and step-by-step instructions. This option is excellent for the person looking to purchase a few essential workshop tools or who already has a few on hand. Maybe a birdhouse building e-shop is in your future, or perhaps you want to teach the grandkids how to use their hands for something other than holding their phone.
This birdhouse is likely to attract the backyard regulars such as house wrens, bluebirds, chickadees, and tree swallows. I would avoid the addition of the perch on this birdhouse. Birds don't need them,  and it makes them vulnerable to predators and gives unwanted guests easy access.
If you want more advanced plans, Etsy is a great place to purchase the woodworking plans of a fellow carpenter:

How to Safely Paint a Birdhouse
Before browsing the ideas below, let's go over a few safety concerns that bird lovers should be aware of. It's important to share that in most cases, birdhouses should be painted in relatively earthy colors that will not bring unwanted attention to the house inhabitants. Birdhouses built of cypress or cedar wood do not need to be painted, but if you choose to, the best colors allow the birdhouse to blend into the natural environment. The following neutral colors are great options:
Gray
Sky Blue
Dull Green
Brown
Tan
White
Paint colors that should be entirely avoided are fluorescent, metallic, and iridescent. Additionally, avoid dark colors that will cause a birdhouse in direct sunlight to absorb heat. Birdhouses made of plywood or pine will be less durable without weatherproofing. A coat of decent outdoor paint will extend the life of the birdhouse or allow a well-used birdhouse to provide shelter for many more birds.
If you're dying to decorate your birdhouse with an extravagant design or bright colors, be aware that a predator may be more likely to notice the birdhouse and attack. You can always add a predator guard to any birdhouse to deter crows, squirrels, cats, bluejays, raccoons, and other animals from interfering but blending it into the natural background of your yard are best.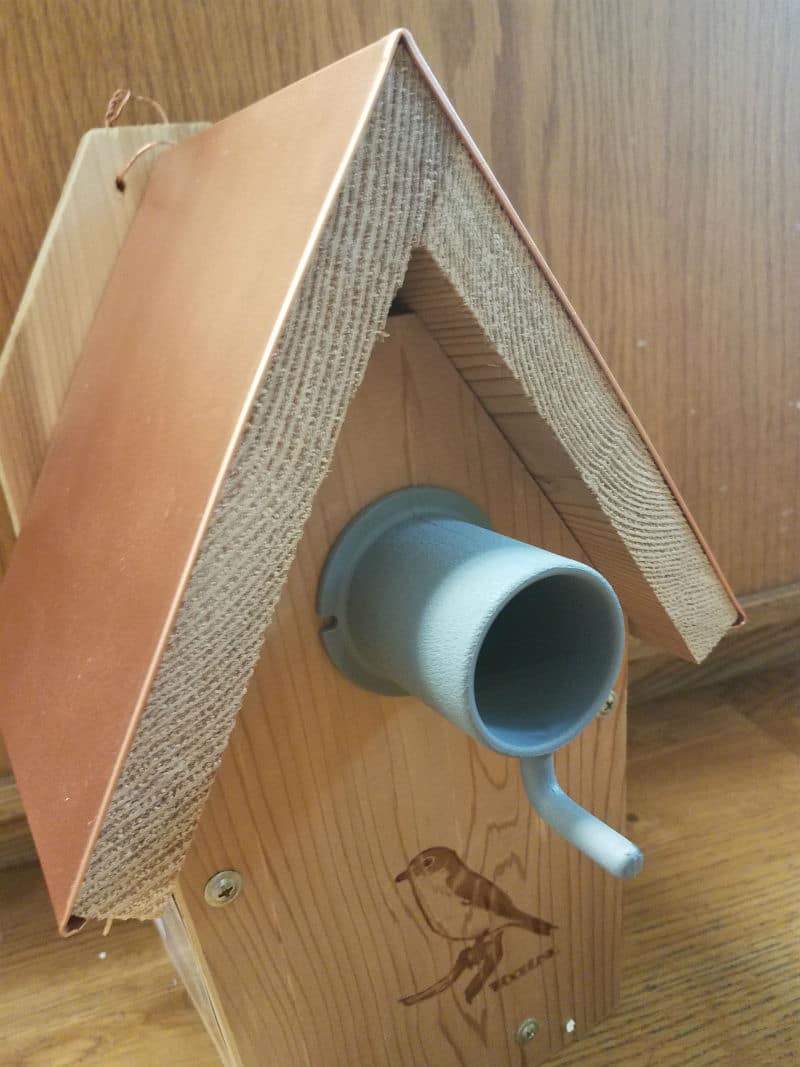 Do's and Don'ts of Painting a Birdhouse
Do use water-based latex paints.
Do allow the paint to dry before mounting the birdhouse fully
Do clean and disinfect the birdhouse after the breeding season
Do repaint chipped and peeling areas.
Don't use lead-based or creosote paints.
Don't paint the inside of the birdhouse or the entrance hole
Don't paint over ventilation and drainage holes
Painted Birdhouse Ideas
I hope I haven't ruined the pleasure of painting a birdhouse with all this safety talk, but protecting our feathered friends is always the top priority. There are still a handful of ways to incorporate fun and creative ideas into your birdhouse art project while keeping the colors relatively neutral. If neutral is killing your vibe, aim for a less flashy approach when using other colors. The birdhouses on this list are all beautiful and creative, but they will still keep your feathered friends safe.
Wildflower Inspired Birdhouse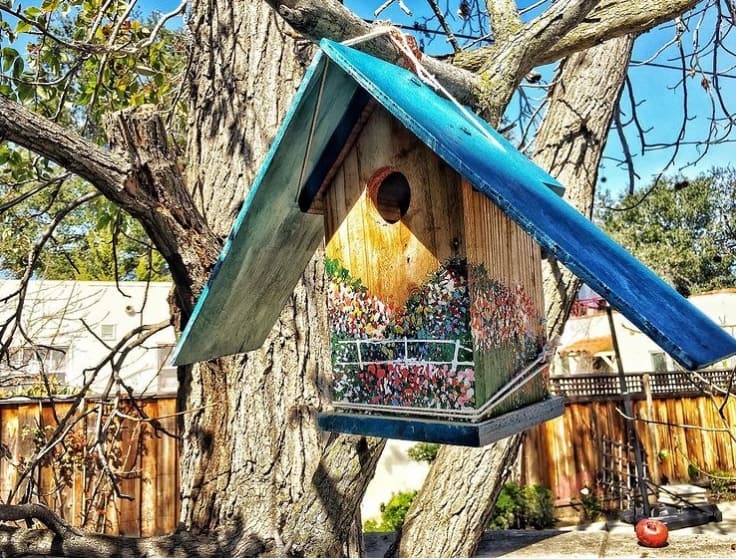 Use the natural essence of your lovely backyard to inspire a floral birdhouse design that blends into the beauty of your flourishing garden. Use a neutral base color and add floral accent colors already in your yard. If you want to be more intricate, add tall grasses and vines to your design. Use a series of small dots to create the look of flowers without needing to paint in great detail, or use a small round piece of sponge to dab textured floral shapes, adding in the details once they've dried.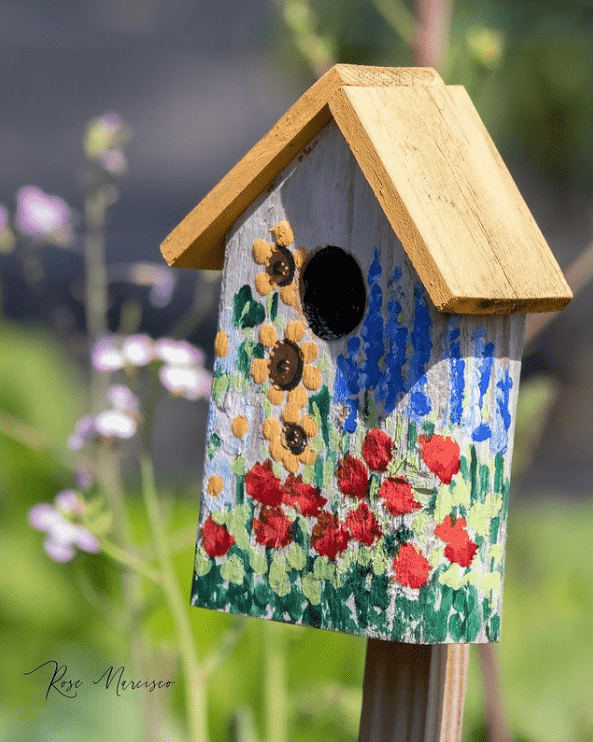 Hydrangea Birdhouse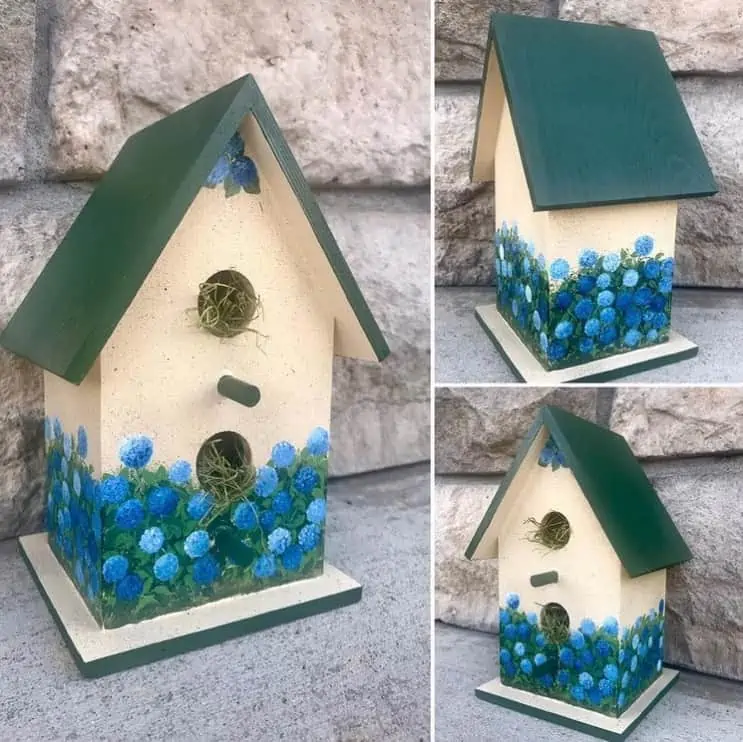 Use green, blue, and white hues to create a hydrangea-themed birdhouse. A box of cotton swabs will help paint perfectly round dots. Blend them with a few dabs of white paint, and the illusion will come to life.
Simple Distressed Birdhouse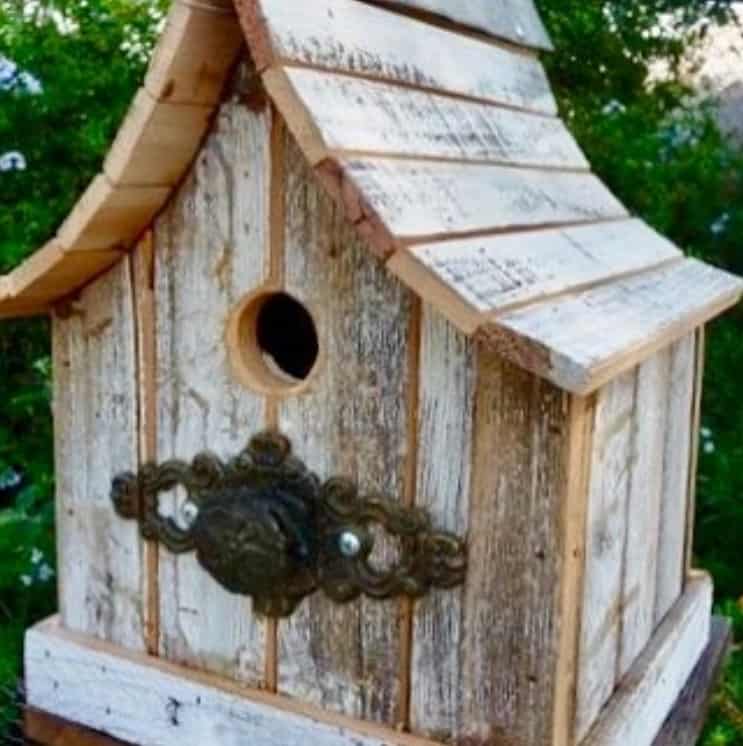 Turn a birdhouse into a beach-inspired paradise. Give the birdhouse a whitewashed weathered look and add a distressed gray roof. You can also try this with sky blue or a muted green. Once the base coat is fully dry, use fine grit sandpaper in random areas to complete the look. Paint an anchor on the front or side in gray!
Daisy Birdhouse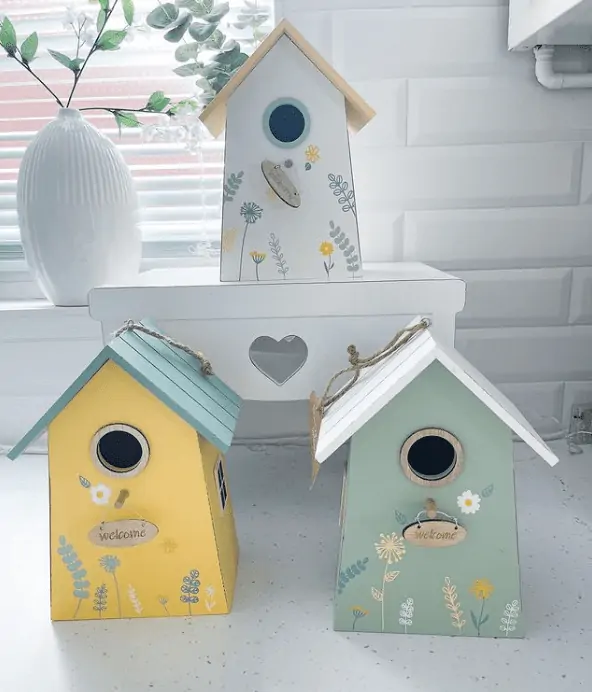 After painting a birdhouse white, beige, dull green, or sky blue, add a few tiny light yellow daisies that look like they're springing up from the bottom of the birdhouse. Leave the natural cedar or cypress roof for a rustic look, or paint it green to compliment the daisy design.
Cottage Birdhouse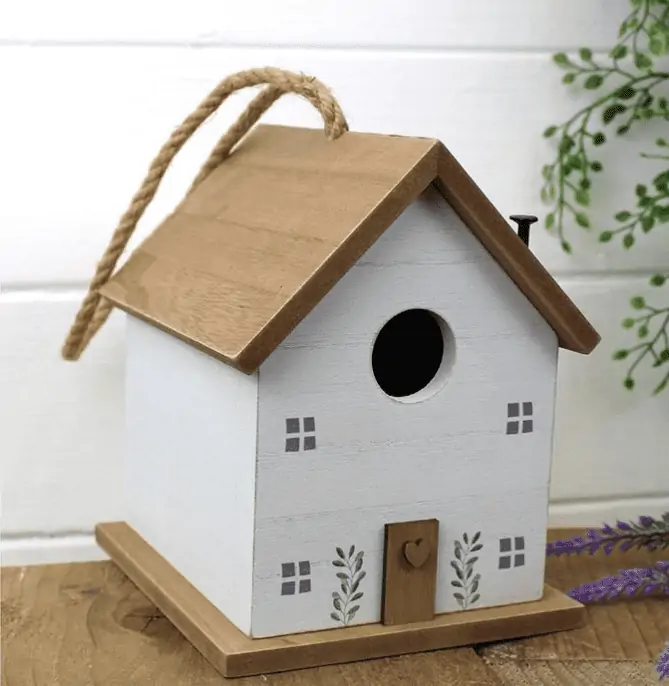 Cottage-inspired birdhouses are always the cutest. Paint a few topiaries, windows, a trellis, and a door against any color birdhouse. Create a replica of your home or imagine the perfect cottage in a fairy garden.
Geometric Birdhouse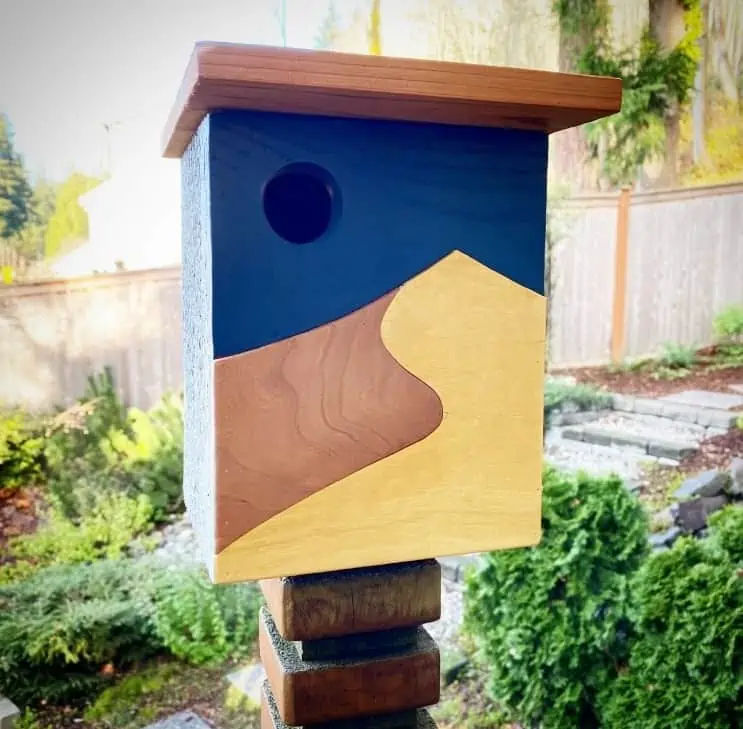 This simple geometric design complements the natural woodgrain of birdhouses constructed using cedar or cypress. Use painter's tape to ensure neat lines. Create any geometric design you'd like and select a few colors. Highlight the wood by leaving some areas unpainted.
You Are Weaving Branches Birdhouse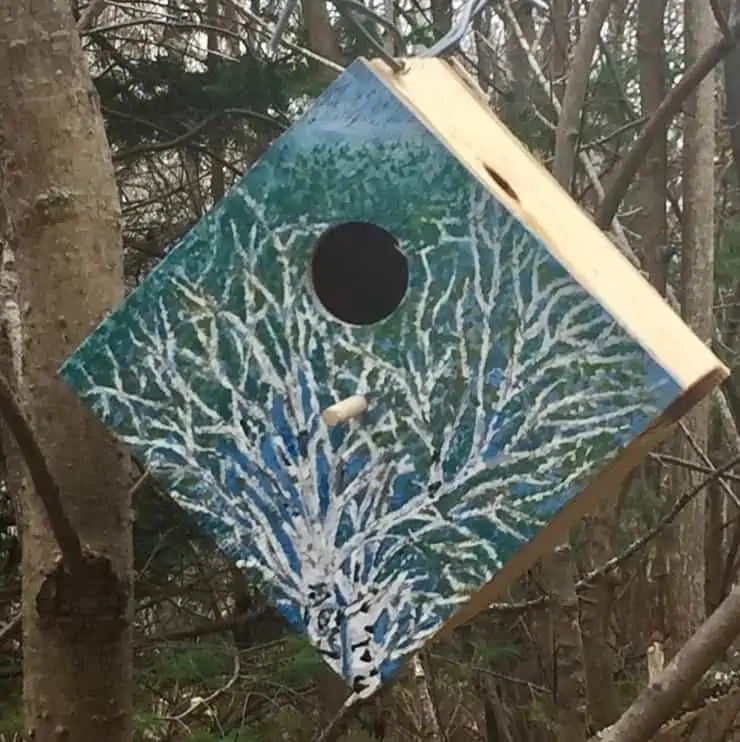 Paint tree limbs and twigs using brown or gray against any neutral background to create a camouflage effect. Add a canopy of leaves if you feel so inspired! Let branches wind and weave through each other for a realistic effect.
Rustic Embellished Birdhouse
Instead of making a mess with paint, consider adding embellishments like stones and sticks. Embellishments can be shells, twigs, moss, bark, or rocks. Glue accents using waterproof glue like Titebond II or epoxy. Be sure to glue items firmly to the birdhouse.
Love Birds Birdhouse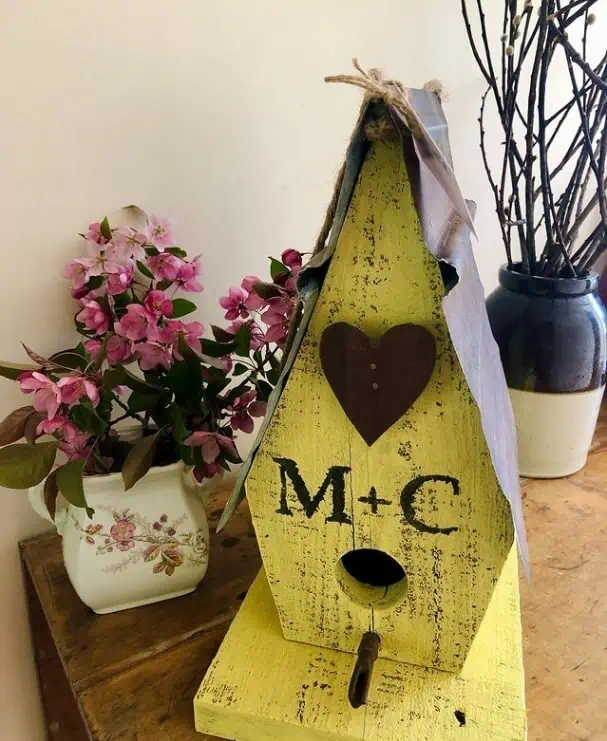 A painted birdhouse with you and your partner's initials is a cute way to incorporate your love into your garden or yard. It also makes a lovely housewarming gift or gift for newlyweds. Choose any base color and use a pencil to create to draw each initial lightly. This will give you a guide to help keep things tidy.
Birds on a Wire Birdhouse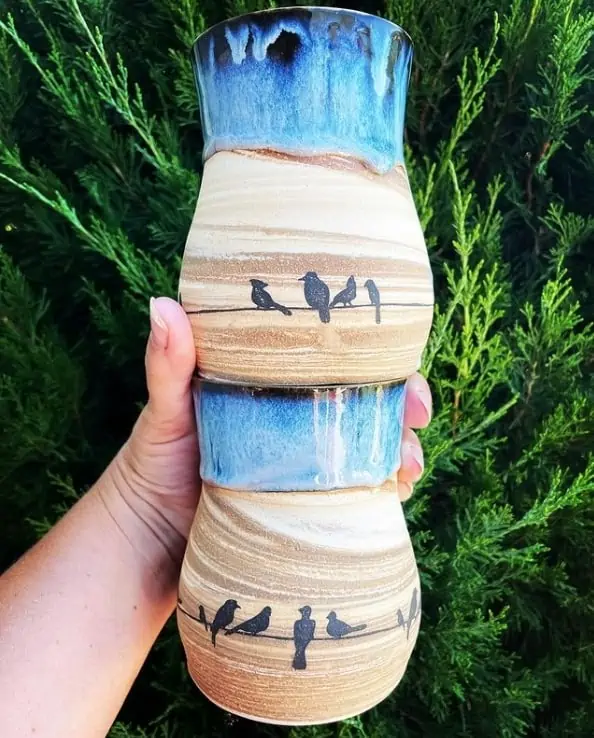 Take a well-known silhouette and delicately paint it around a background of sky blue and white clouds.
Mushroom Birdhouse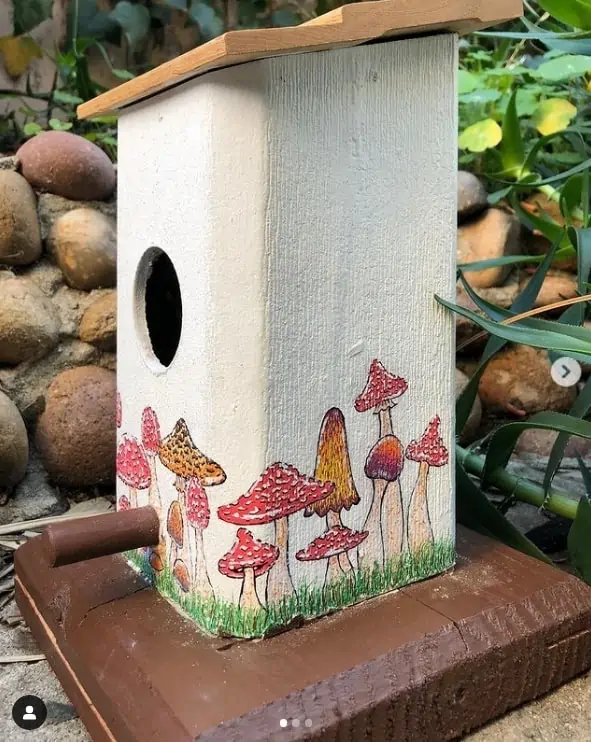 My favorite idea on this list is a mushroom birdhouse! This design is the perfect union of safety and creativity in a birdhouse. Add your flair by varying the types of mushrooms like toadstools, chanterelles, enokitake, and oysters.
Local Watering Hole Birdhouse Replica
Have a favorite bar or restaurant? Paint a bird-sized replica that allows you to share your go-to spot with your new backyard residents.
Tropical Plants Birdhouse
Bird of paradise on a birdhouse? I dig it! Incorporate all of your favorite tropical plants like monsteras, anthiriums, orchids, and hibiscus. If it blends into a flourishing garden, even better!
Mandala Birdhouse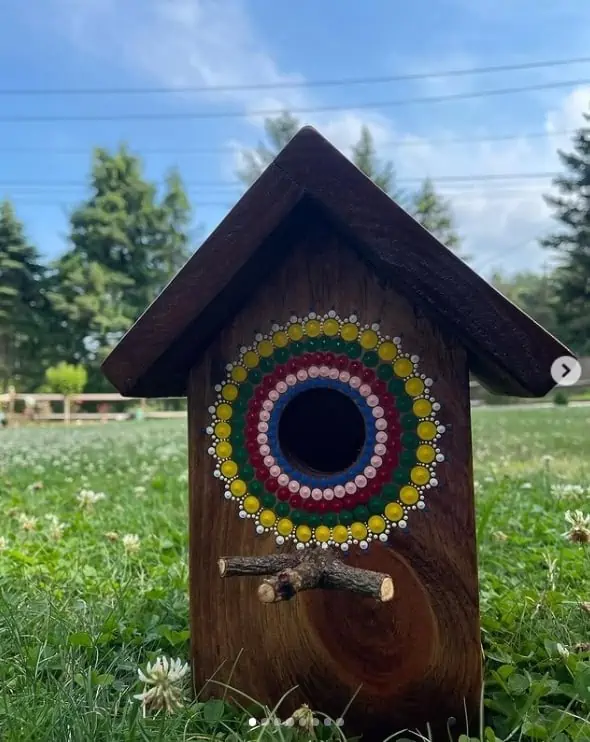 Don't let this one scare you! It doesn't need to be intricate to look amazing. Check out this simple mandala birdhouse idea.
These delightful ideas will bring life to a plain birdhouse and make for a fun afternoon DIY. Keep reading to find out what to do once you've painted your birdhouse and are ready to accept tenants.
FAQs
Question: What is the best color to paint a birdhouse?
Answer: To deter predators and keep birds safe, neutral colors like white, gray, tan, brown, or green allow a birdhouse to blend into its surroundings.
Question: Do birds not like painted birdhouses?
Answer: Birds may choose to live in birdhouses regardless of color, but generally, they steer clear of dark colors. Dark-colored birdhouses absorb heat and can create a death trap during warm months. Always drill ventilation and drainage holes in any colored birdhouse.
Question: Do I need to seal a painted birdhouse?
Answer: Sealing a painted birdhouse with a weatherproof coating can extend the life of the structure and artwork. Be sure the birdhouse is completely dry before sealing and hanging.
Question: Can I paint a birdhouse with acrylic paint?
Answer: Yes. A birdhouse may be painted with acrylic, oil-based, latex, or watercolor paints. Do not paint the interior, entrance holes, or over ventilation holes.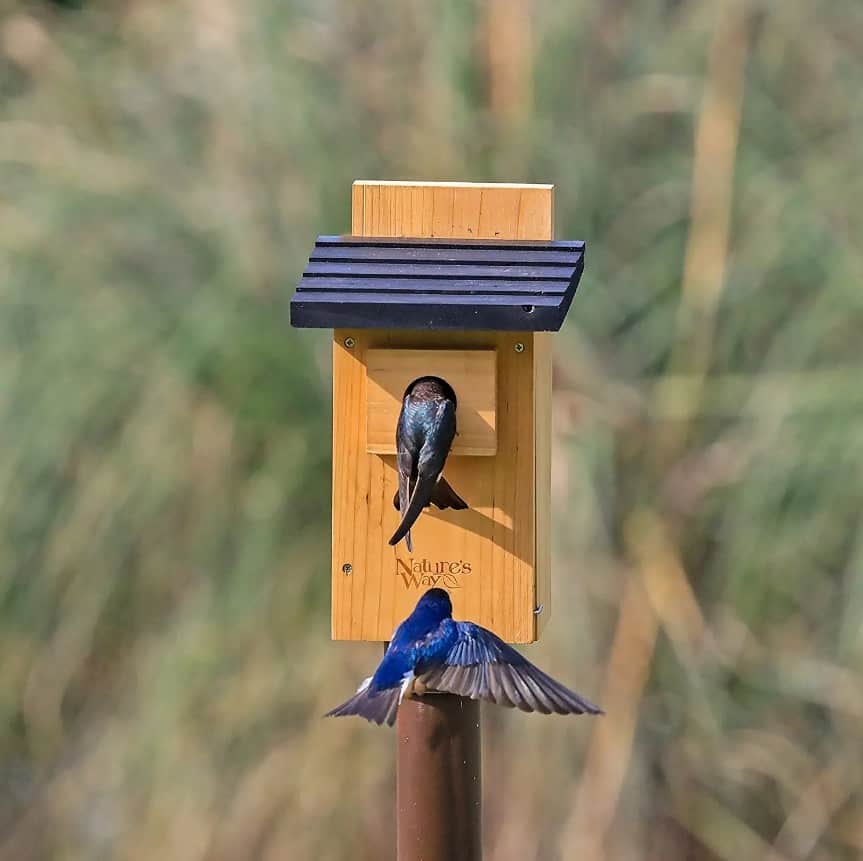 Resources
Looking for more interesting readings? Check out: