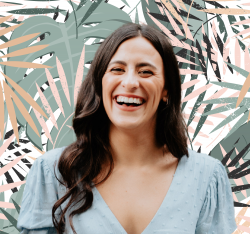 Latest posts by Reina Esser
(see all)
As we level up our bird-watching game by incorporating feeders and creating a special ecosystem in our backyards, the bills can pile up like the shells of black oil sunflower seeds. It's a harmless thought, "I'll start feeding the birds!" When you waltz into a grocery or pet supply store, you quickly notice that the price tag associated with that harmless thought is higher than anticipated, and once the birds find your freshly filled feeders, they'll start gobbling down your hard-earned cash quickly. Granted, that's what you wanted, right? But to see your recent purchase disappear so rapidly means you're getting in the car and headed to buy another bag of seed.
If you have children, this sentiment is probably a normal and routine feeling you addressed long ago. You learned to shop in bulk and stretch your dollar. Much like your children depend on you to provide for them, the birds begin to rely on the feeders in your yard, especially in the winter. Additionally, it's a simple fact that larger families cost more. Similarly, the cost of a bird-feeding hobby increases depending on how many feeders you regularly fill.
There are many perks to buying bird seed online instead of in-store. When you peruse the limited selection of bird seed available in retail stores, you'll notice a few five-pound bags labeled with something like "classic blend." When you inspect the ingredients list, notice that these "blends" are really 80% millet and various grains that birds don't particularly care for. They will spill most of this bag all over the ground attempting to reach the one sunflower seed in the feeder. Instead, when you choose a trusted online retailer, you can find bird seed with the good ingredients birds like!
Online retailers have a wide variety of options available. From specialty seed blends, dried insects, no-melt suet, bird jelly, and more, the choices are indeed extensive! But how do you know where to start looking, which seed to buy, and how much? Buying in bulk can be an intimidating commitment, and you'll need to ensure you can use it quickly enough and store it properly. This article will cover all of those concerns and share the best websites, seed options, and storage methods.
The Scoop on Bulk Seeds
When buying birdseed in bulk online, it's important to look at product availability and shipping times. You're not always better off buying online, although it can be much more convenient. Depending on freight costs and seed availability, you might be better off visiting a big box store like Walmart or Tractor Supply. When running this errand, I check the stock of the item I need online first to ensure I don't need to head to a hardware store or a different location. I choose to purchase my bulk seed from Duncraft for their amazing seasonal sales and free shipping promotions. I also purchase smaller bags from Wild Birds Unlimited. WBU has a great membership savings club, and I can always make any returns or exchanges in person at a local storefront. I've shared the perks of their Daily Savings Club below.
Should I Buy Bird Seed In Bulk Online or In-Store?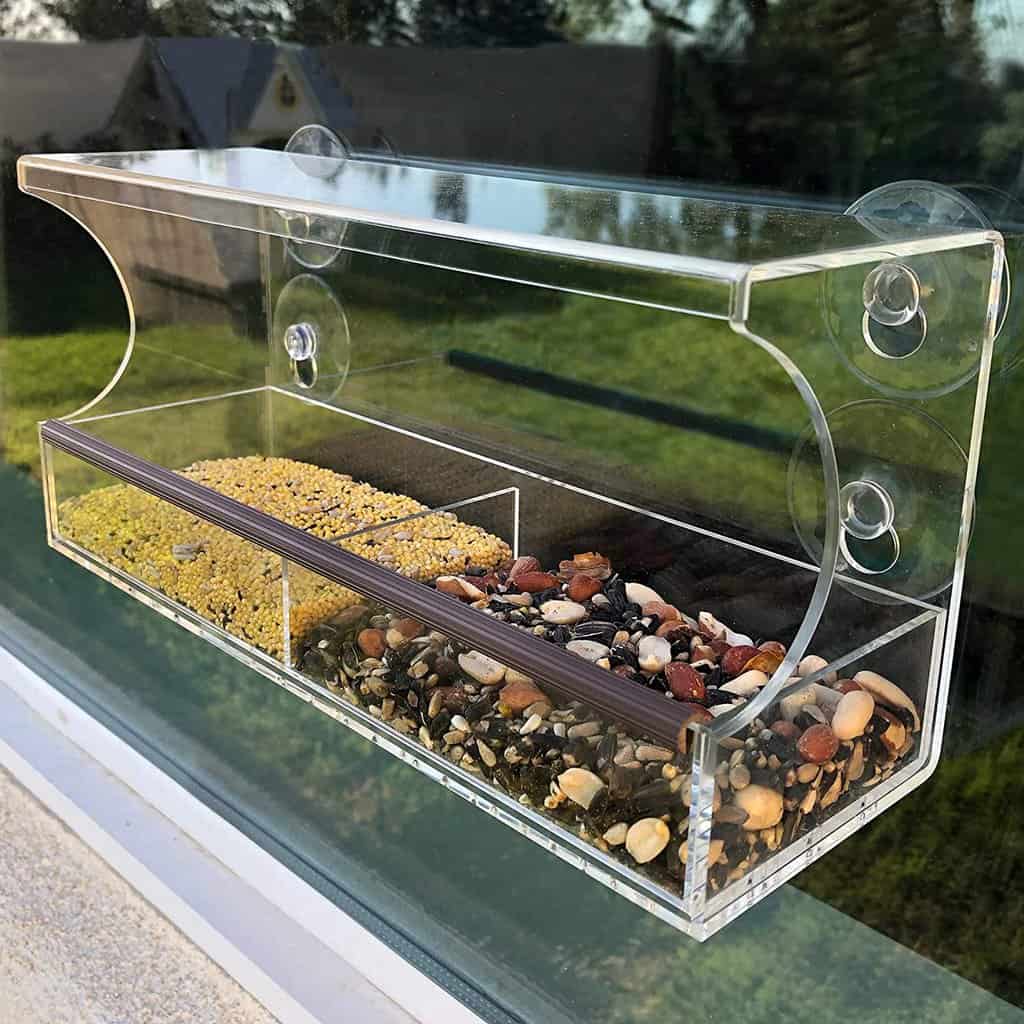 Buying bird seed in bulk can save you time and money, two of your most valuable resources! Add in direct-to-your-door delivery, and this is an especially advantageous option for busy birders who would rather capitalize on their time at yoga or in a pottery class rather than hustle from errand to errand. This was reason enough to get me on board with online buying.
As I began adding more and more feeders to my backyard, I quickly realized that even the 15-pound bag of bird seed was not enough to keep up with demand. I bought bird seed more frequently than milk and eggs, which seemed a bit "crazy bird lady" to me. Now, I'm a "responsibly crazy bird lady" who buys in bulk both in-store and online.
You will quickly burn through your bird seed supply if you enjoy feeding everyone who comes to your feeders, like squirrels, deer, raccoons, chipmunks, and opossums. If you want to avoid feeding any creature that stops by, consider purchasing a squirrel-proof bird feeder to reduce their attempts. A squirrel-proof feeder may make your bird seed last longer, and you might not need to purchase bird seed in bulk.
Purchasing in bulk from a reputable online retailer that is known for offering quality bird seed will also spare you from moving large bags that have holes and are in bad shape sold by the grocery and hardware stores. Looking at options online also educates you on what is available elsewhere and what other offerings birds benefit from so you are better equipped next time you shop in-store. I look back on the first year I had birdfeeders and wish someone at the store had stopped me and told me that nearly the entire bag of seed I had selected would be wasted, but I didn't realize I should be inspecting the ingredients list and googling which seeds birds like best. That seemed like a huge hassle when my brain was preoccupied with figuring out which check-out line to get in. Now that I'm as seasoned as a sunflower seed (don't feed birds seasoned sunflower seeds!), I've learned to invest in large quantities of black oil sunflower seed or safflower.
When buying in bulk online, you have time to scan ingredient lists, read reviews, and search for trusted advice from birding insiders.
Where To Buy Bulk Bird Seed Online
If you've decided that bulk and online shopping is the direction you need to go, this list of online resources is your new best friend. Check out the options below, compare prices, and see which makes the most sense for your specific needs.
Tips and Considerations for Online Buying
Take advantage of purchasing bird seed online by subscribing to marketing notifications so you always know when to expect a sale. When you store your bird seed in a dry and cool place, it will last for months, allowing you to buy an ample supply when prices are at their lowest. Remember that some stores offer promotions and deals for first-time customers that can increase savings.
If you have a neighbor that might enjoy getting in on the savings, consider placing an order together and splitting the cost.
Research savings programs like Wild Birds Unlimited's Daily Savings Club. These memberships can save you tons over the course of a year. For example, Wild Birds Unlimited requires a $25 annual membership fee, but the perks include:
15% OFF regular prices of all bird food every day.
Additional 5% off bird food sales prices.
$10 Bird Buck coupon for every $200 purchased throughout the store.
Exclusive members-only promotions.
Free gift at signup and renewal.
Online stores to buy bulk and wholesale bird seed, supplies, and storage solutions include: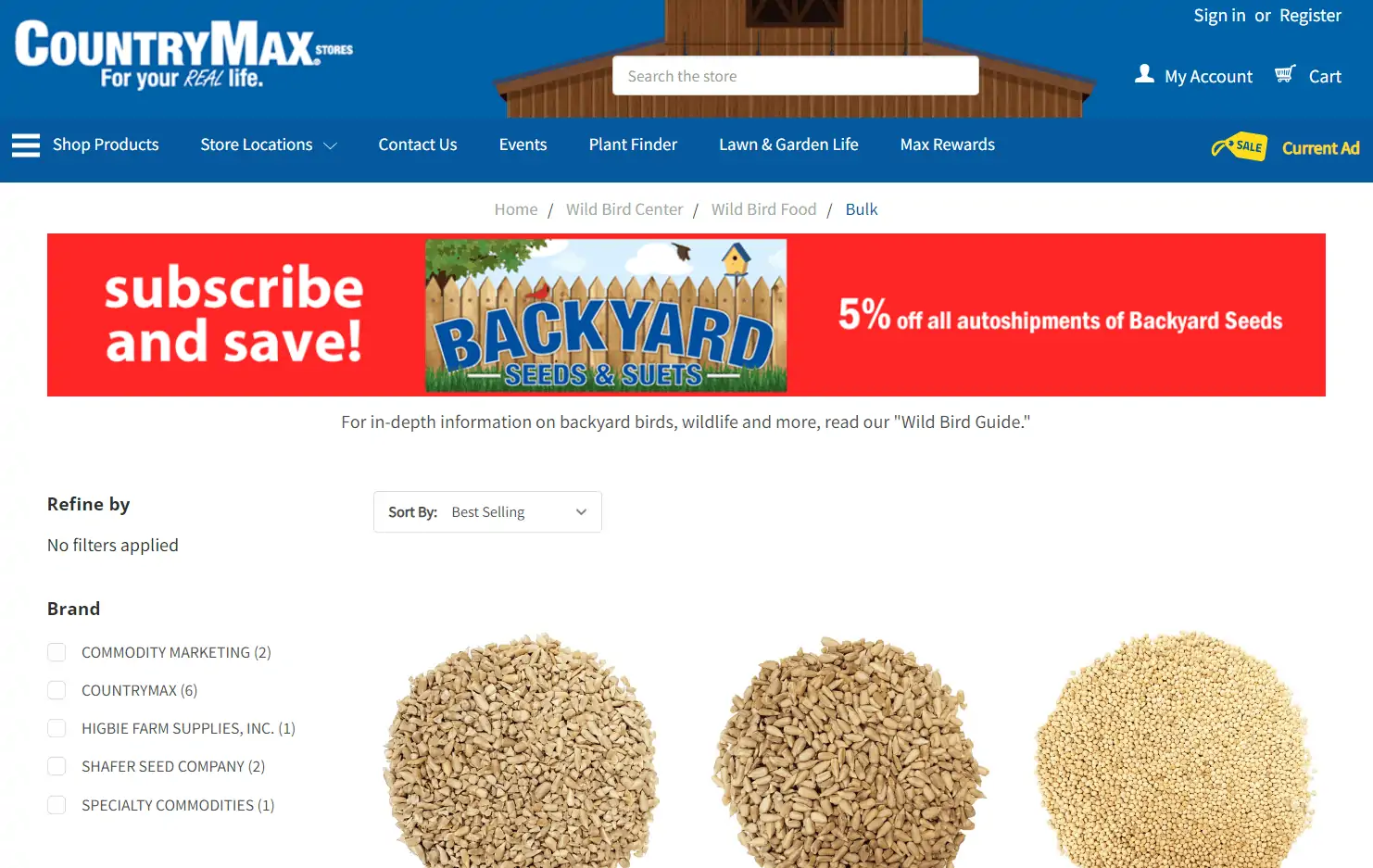 Large online selection with bulk discounts.

Ex. Buy 10-45 pounds and pay $2.40 each (Safflower)

Great place to order bulk whole and cracked corn.
It can be expensive, depending on which seed you're buying.
You can set up recurring orders to ship every two weeks to every three months.
Join Max Rewards for exclusive in-store deals (18 stores in New York State)
UPS Standard Shipping is available based on location, ~2-7 days.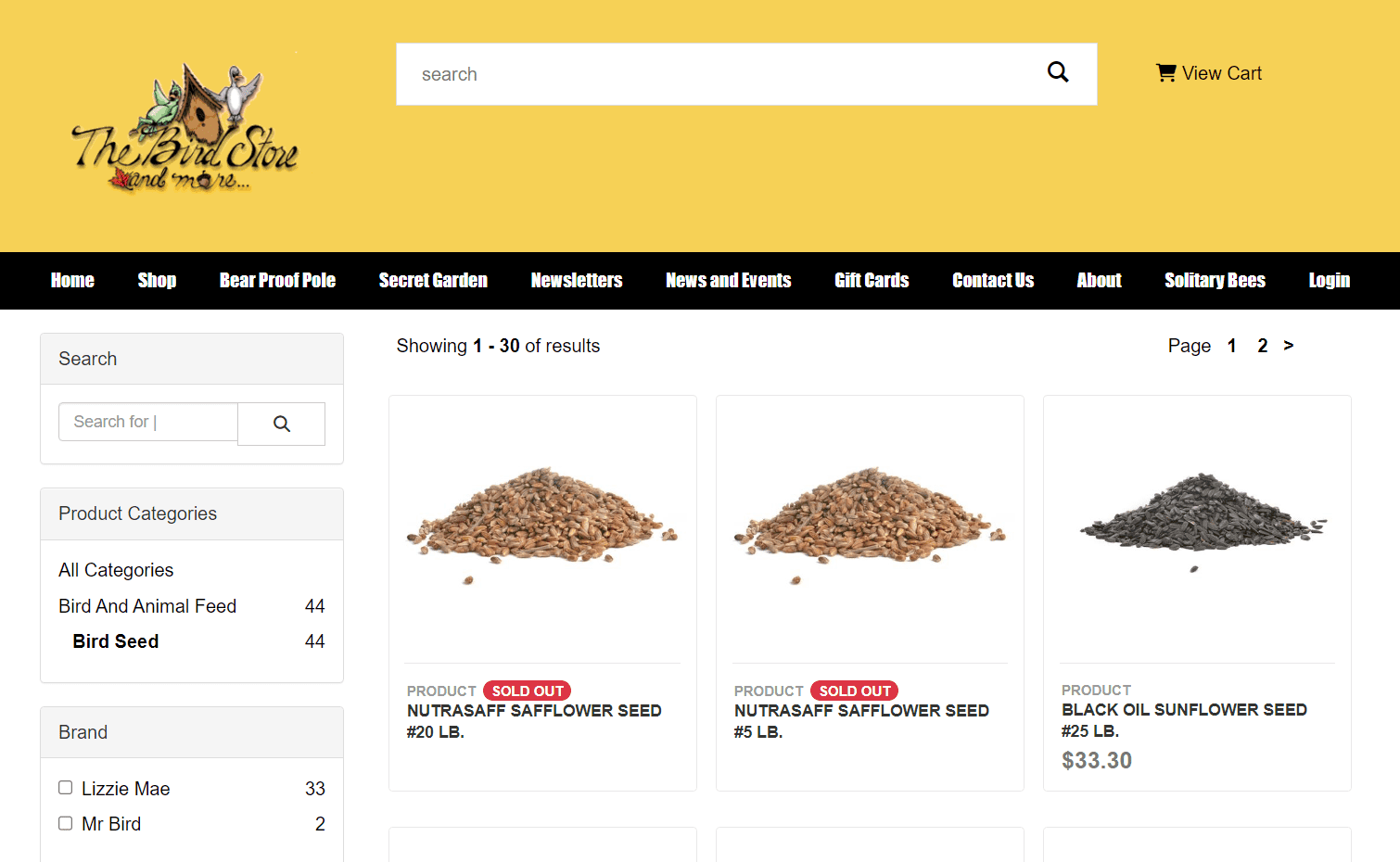 Good deals on black oil sunflower seed, $63 for 50 pounds.
Standard shipping costs for 50 pounds are ~$89, depending on zip code.
Specialty blends like Hot Pepper Seed Mix

Coarse Sunflower Chips, Safflower Seeds, Rendered Beef Suet, Roasted Peanuts, Raisins, Corn, Oats, Cayenne Pepper

Nyjer seed is typically in stock. $99 for 50 pounds.
Reasonable prices and a wide variety of products.
Great for bulk nyjer seed, $20 for 50 pounds.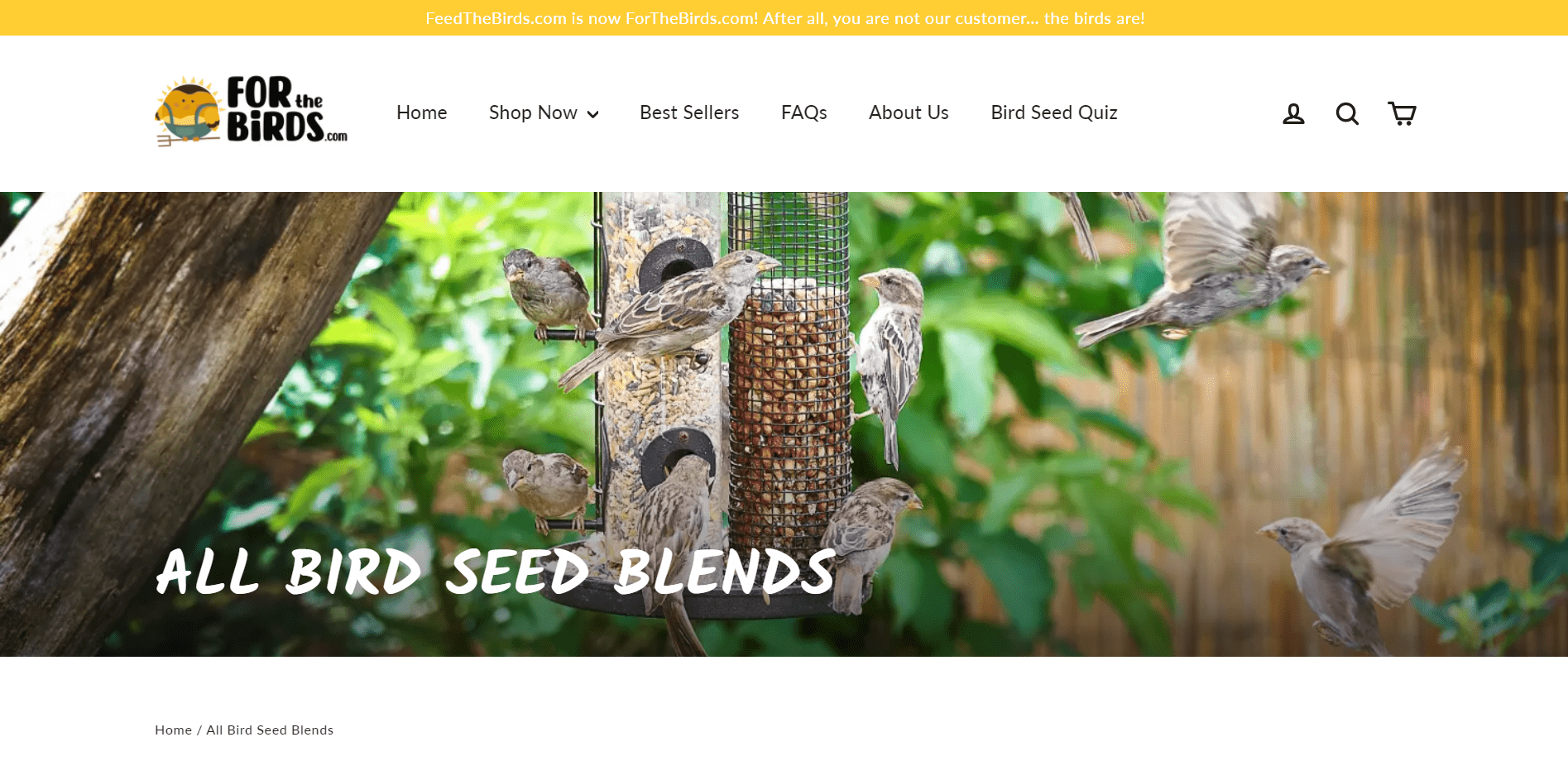 Offers subscribe and save for recurring purchases.
New site, not many reviews.
Take their bird seed quiz to determine which seed is right for you.
Responsibly sourced and locally blended.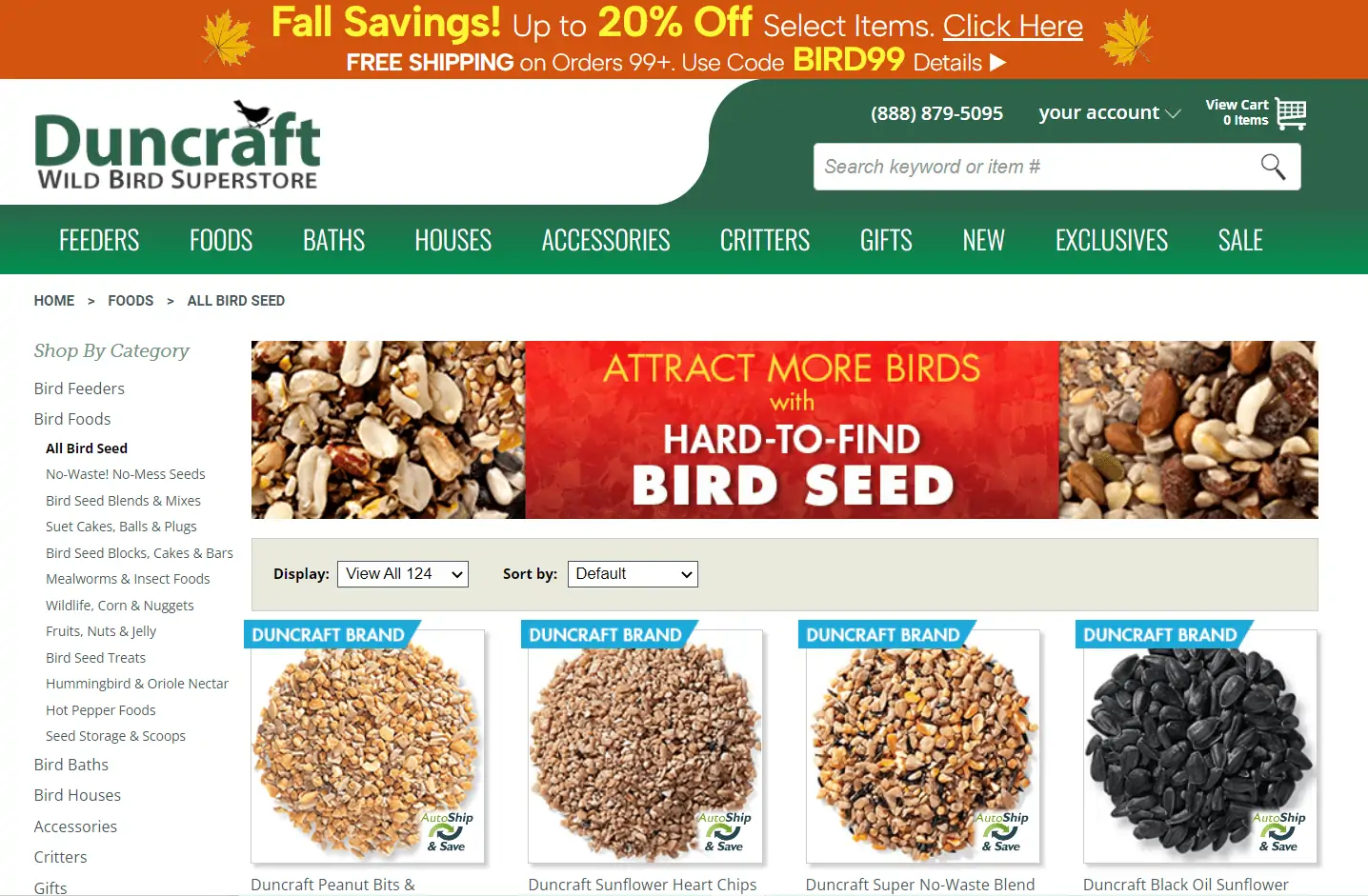 Seasonal sales and free shipping promotions

Currently, save 20% and get free shipping on orders over $99 with BIRD99

Autoship and save %10. Update, cancel or reschedule shipments at any time.
Duncraft brands and specialty products

Woodpecker blends, high-energy blends, hot pepper mixes, chickadee blends, seasonal feast blends, etc.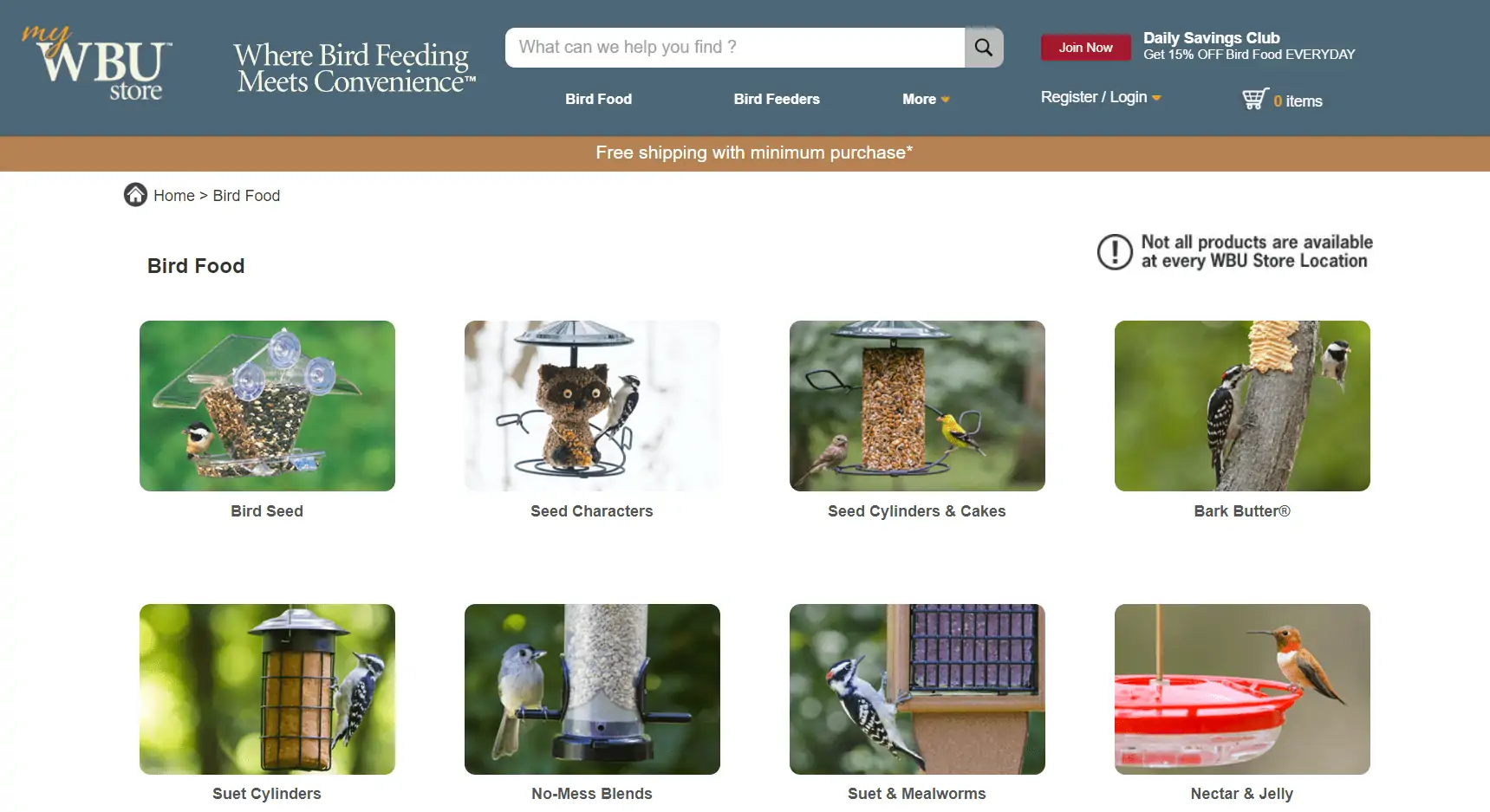 Only bags 20 pounds and under are available.
15% off bird food when you join their Daily Savings Club
Free shipping with minimum purchase.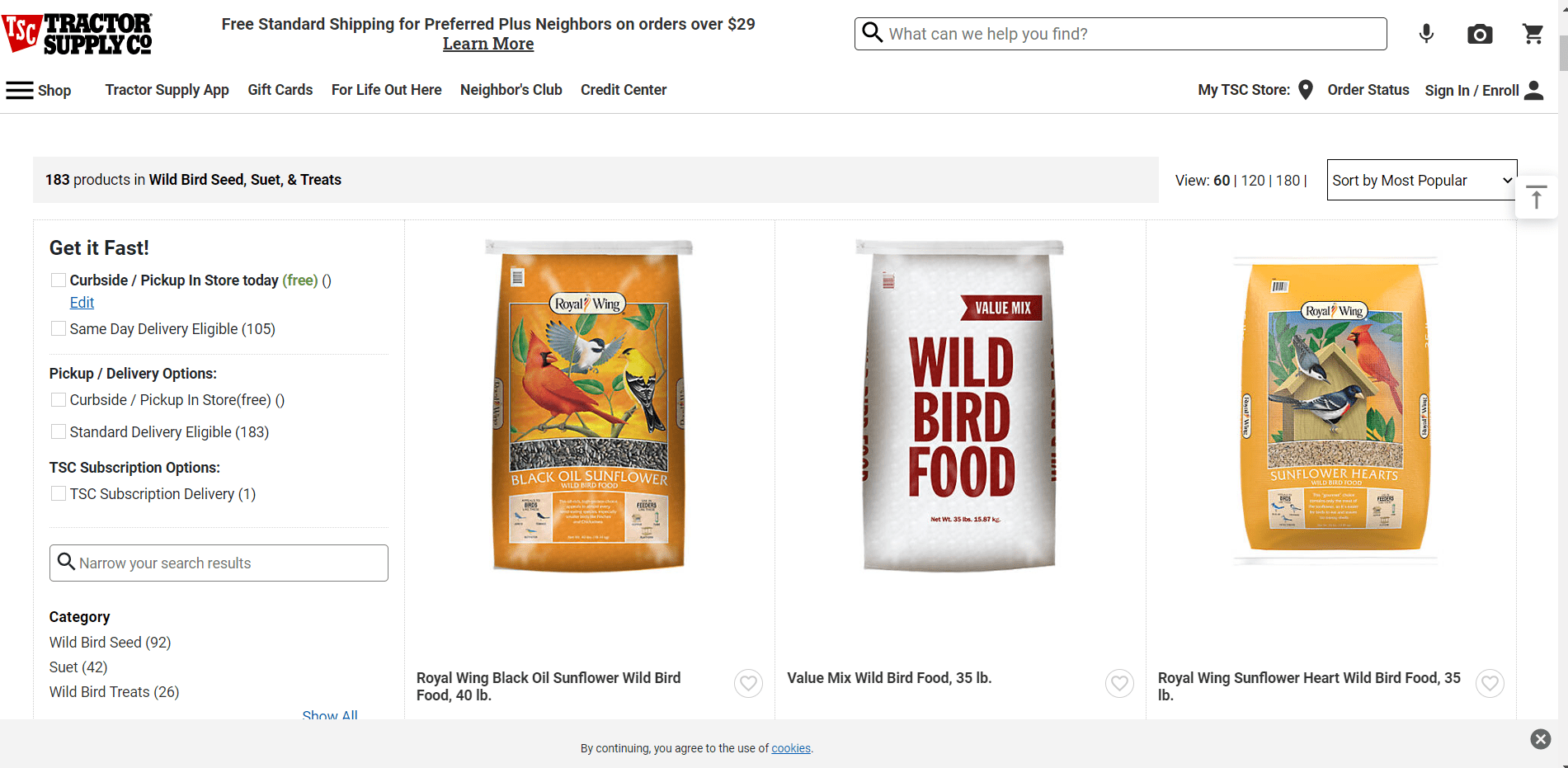 Great deals on Black Oil Sunflower Food, $33 for 40 pounds.
Does not carry a wide variety.
The largest bag available is 40 pounds.
Convenient curbside pick-up for online orders to avoid shipping costs.
Retail Stores Still Serve Their Purpose
I enjoy ordering in bulk from Wild Birds Unlimited and Tractor Supply because they also have retail stores nationwide where I can see products in person or purchase them in a pinch if delivery timelines are not working in my favor.
The price of bird seed fluctuates all of the time, so keep an eye on prices and compare online prices to your local or big box retailers to ensure you're still getting the best deal. Bird seed prices are currently very high because freight costs have spiked, and extreme drought has led to a decrease in crops. Due to these circumstances, you might notice a lack of bird seed on the shelves, so the internet is a great place to turn.
Bulk Bird Seed Storage Tips and Information
The most important part of buying bird seed in bulk is storing it properly. The whole point of purchasing in bulk is to save money and time, so you want to ensure it stays fresh and organized to keep you and your backyard visitors happy and carefree.
Common Bulk Bird Seed Mistakes, Problems, and Solutions
Bird seed is just as susceptible to mold as any food in your home. If you had a loaf of moldy bread, would you still want to eat it? Probably not. Well, the same is true for birds. Bird seed that has mold or mildew is harmful to birds and should be thrown away. Storing seeds in a dry, cool place is the best way to avoid this issue and protect your investment.
In addition to storing it in a cool, dry place, you'll need to secure your seed from being accessed by birds and rodents. Any animal that can get its beak or paws (I'm looking at your Ms. Raccoon) into your glorious and massive bag of bird seed certainly will. And why wouldn't they? Opt for durable storage containers with rounded corners and lids that lock or latch shut. When it comes time to refill, I keep large cups in mine and bring my feeders to the storage containers.
Proper Storage Techniques and Practices
I used to keep my bird seed in a flimsy plastic bin on a shelf near my garden shed. The lid did not latch firmly to the container, and some kind of critter was wise enough to chew the entire corner of the lid and access all of my brand-new bird seed and suet. Whatever they didn't eat went moldy since rainwater could pour in. With that loss of dollars and my new gained sense, I quickly enhanced my storage game by getting a heavy-duty solution and moved it to the interior of my enclosed garden shed.
If you're looking for a seed storage solution that is a bit easier on the eyes than a giant plastic bin, a galvanized steel can with a lid is a wonderful option. Always make sure any metal container is galvanized so it will not rust. Some animals may be able to open these trashcan-style lids, and additional precautions must be taken. You won't know until you try! Enlist the help of bungee cords if this occurs.
Location
Most of us don't want to keep bird seed in our homes, so a covered patio, garage, or shed is best. Any dry and shaded area will extend the bird seed's life, and the more enclosed the area is, the less likely rodents are to invade.
Organization and Cleanliness
Even if you think leaving the bag in the garage is a good idea, think about this scenario: You're casually scooping bird seed from the bag to refill your feeder when the scoop suddenly tears the bag from the inside. Next thing you know, 50 pounds of safflower is covering your garage floor. Now, if you had placed the bird seed in a storage container and this happened, no big deal! Just toss the lid back on, and no crisis has occurred.
If you have many feeders filled with various types of seeds, you will want a specific container for each type. Add some labels to your feeders and storage containers, or enlist the help of a Sharpie. If filling bird feeders is a weekly chore given to someone in the family, this can also be a helpful method to avoid screaming from the garage, "which seed goes in the cottage feeder?!"
Shelf Life
If you've followed all of the storage guidelines, then your bulk birdseed could last for a year or longer, depending on the birds' appetites. If you've worked in the food service industry, you know that FIFO is LIFE-O. FIFO stands for First In, First Out, meaning whatever supply was first purchased should be the first to be used and emptied. This rule also applies to bird seed.
We've already discussed where to keep your bird seed, but how do you know if your storage solution is working out? The birds will tell you. Watch birds daily or weekly and monitor activity levels as you finalize your storage setup. If feeders are full for days at a time with no visitors, your bird seed has probably gone bad.
How To Tell if Bird Seed Is Spoiled
Aside from watching the birds, filter through the bird seed to check for insects and larvae. Bugs in your bird seed is a bad sign!
Look for clumps or wet spots where water may have gotten in. Throw away wet seed and look for the source of the moisture if stored indoors.
Mold, mildew, and fungus should never be present. If your bird seed smells off, toss it.
If you experience any of these issues, be sure to throw away bird seed and thoroughly wash the storage container. If rodents, pests, or moisture were the issue, consider relocating your next bulk seed container to a new spot.
Seeds To Take With You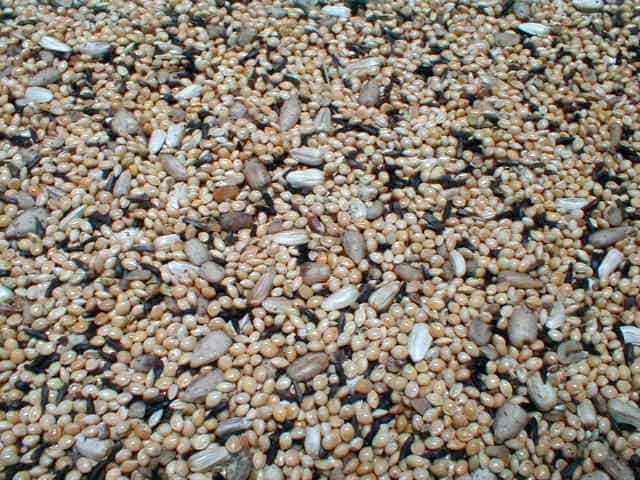 Buying bird seed in bulk online is a great solution for many, but it all depends on your needs. If a 10-pound bag is enough to last until your next grocery store run, and you don't mind the errand, then live your life! If you're a big-time bird feeder guy with a high demand for a wide variety of seeds, then buying in bulk online is a simple one-and-done solution that can keep you errand free for many months or even a year!
Once you've chosen a bird supplier from the above list, be sure to check other sites periodically to see if the offerings or prices may have changed and could better "suet" your needs 😉
FAQs
Question: Is it cheaper to make your own bird seed?
Answer: Making your own bird seed blends and treats can be an easy way to lower the cost of this hobby. Organic peanut butter and a blend of unseasoned sunflower seeds can be a tasty snack for birds along with fruit scraps and organic jellies.
Question: What is the cheapest way to feed the birds?
Answer: Buying bird seed in bulk can save consumers a lot of money when the right retailer is chosen. Look for membership savings and yearly sales offered by both online and in-person retailers.
Question: What bird seed attracts the most birds?
Answer: Black oil sunflower or shelled sunflower seeds will attract almost any bird or critter, for that matter. The shells are easy to crack, but offering shelled sunflower seeds in the winter is a kind gesture that allows birds to conserve their energy.
Question: Why are bird seed prices so high?
Answer: Bird seed prices are subject to fluctuation due to environmental conditions and transportation costs. Extreme drought and increased freight costs have driven the price of bird seed to astronomical amounts. These conditions have also led to shortages in some markets.
Resources
Looking for more interesting readings? Check out: