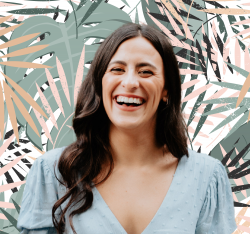 Latest posts by Reina Esser
(see all)
Whenever I go shopping, whether it's for furniture, clothes, or garden supplies, I am always torn between style and function. Would I rather have the flimsy flower-patterned gardening gloves or opt for the durable but unattractive option?
Hummingbird feeders are no different. When scrolling through the immense array of feeders available online, the options can be very overwhelming. From ferris wheels, hanging baskets, and glass-blown birthstone globes, it starts to feel like you're shopping for a work of art more than a bird feeder. The most important question we can ask is, "which best serves the hummingbirds and me?"
There are three different kinds of hummingbird feeders that I will cover in this guide, so keep reading to find your ideal match for both style and functionality. If you're looking for a quick recommendation, my overall top pick is the Perky Pet Pinch Waist Glass Hummingbird Feeder. This hummingbird feeder is attractive, durable, functional, and affordable. Although it only has a $15 price tag, this feeder will surely make hummingbirds happy for many seasons.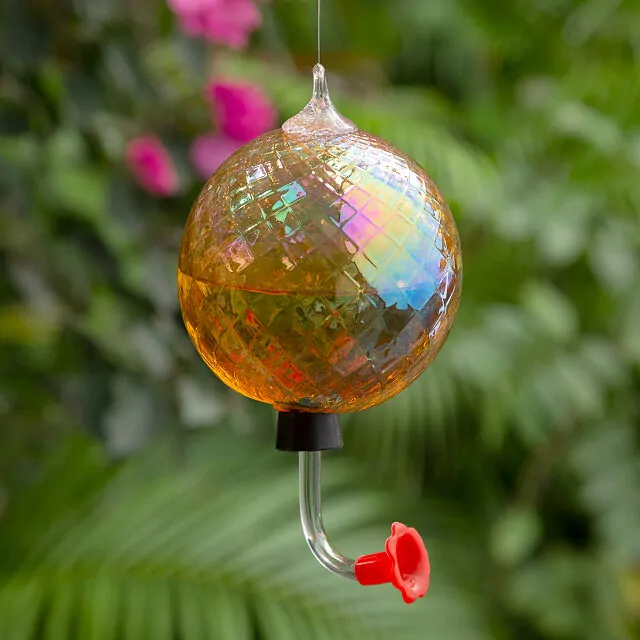 3 Types of Hummingbird Feeders
Hummingbirds have an extremely high metabolism, and feeders filled with nectar help them supplement the calories needed to keep their busy bodies effortlessly suspended in mid-flight. Hummingbirds feed 5 to 8 times per hour and aim to consume half their body weight in insects and nectar daily, so you really want to make sure the feeder you buy is suitable and comes backed by other happy customers.
While artisans and bird enthusiasts are getting extremely creative regarding the design of hummingbird feeders, there are three basic classifications of hummingbird feeders that you'll want to take note of when you're shopping for one that meets your needs.
Inverted Feeders or Bottle Feeders
Inverted feeders, often called bottled feeders, are the most popular type of hummingbird feeder. Inverted feeders utilize a plastic or glass bottle that holds between 16 to 20 ounces. The bottle screws into a base with four or more feeding ports, and the feeder is hung upside down after being attached to its base.
To hang it, you have to flip this feeder upside down (invert it), which can sometimes cause a bit of a mess. Once hung, hummingbirds access the nectar or sugar water from feeding ports below the plastic or glass bottle. As the birds drink from the feeding ports, gravity does the work to ensure nectar is continually released.
Let's look at the pros and cons of inverted feeders:
Inverted Feeder Pros
Hold the most nectar
Easy to check the fill level
Can feed multiple hummingbirds at once
Inverted Feeder Cons
Prone to leaking
Attracts ants, bees, and wasps
It can be cumbersome to clean
My Top Choice: Although there are a few cons, the inverted feed is my preferred choice of all the hummingbird feeder types. I like that I can monitor the nectar and keep it full and fresh. I also like that I only have to replenish it a few times a week instead of daily. While inverted feeders are more prone to leaking, thus attracting ants and other insects, many styles have incorporated ant and insect guards to keep harmful bugs from interfering with feeding hummingbirds. Keep reading to learn care safety tips.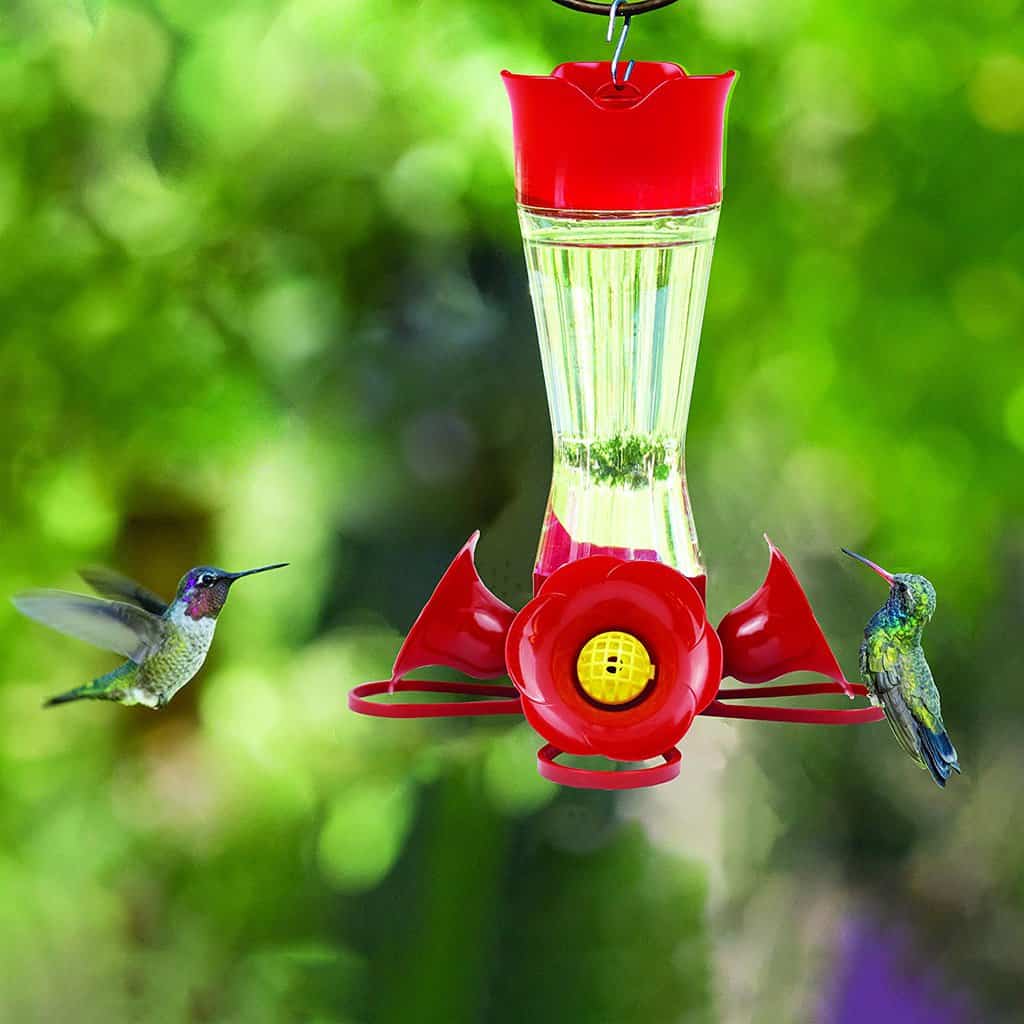 Saucer Feeders
A saucer feeder is exactly what it sounds like. A small saucer dish with feeding ports on the lid of the nectar reservoir. When it comes to saucer feeders, nectar reservoirs are small and need to be refilled often to ensure the birds can get an adequate snack. These feeders are very functional and make a great option for those of you who consider leakage a deal breaker. Since you do not have to invert the feeder to fill it, you're less likely to walk away with sticky fingers.
Saucer Feeder Pros
Less prone to leaking
Easy to hang
Easy to clean and fill
Saucer Feeder Cons
Small reservoir
Harder for hummers to spot
Decorative Feeders
Decorative feeders may be inverted or sauces feeders, but some take on new styles chosen mostly for their aesthetic appeal. Decorative feeders are delightful and most likely to draw you in at the hardware or birding store. A simple internet search for "decorative hummingbird feeder" will result in hundreds of overwhelming options.
The styles and creative options are nearly endless from artificial flower stakes, handpainted saucers, three-tiered feeders, cute pagodas, and cottages. While each decorative hummingbird feeder presents its own set of pros and cons depending on its design, the general ones to consider are:
Decorative Feeder Pros
Decorative Feeder Cons
Hard to monitor nectar levels
Difficult to clean
More Expensive
The 6 Best Hummingbird Feeders
Now that we've learned a bit about the advantages and disadvantages of the different styles let's look at the top hummingbird feeder recommendations so you may find your ideal option!
While I know style ranks high for some, the hummingbirds truly show no preference and are just happy to get extra calories wherever possible. When compiling this list, I considered various factors such as effectiveness, maintenance, safety, cost, and style. No matter which you choose, the below-included feeders are sure to delight your busy visitors.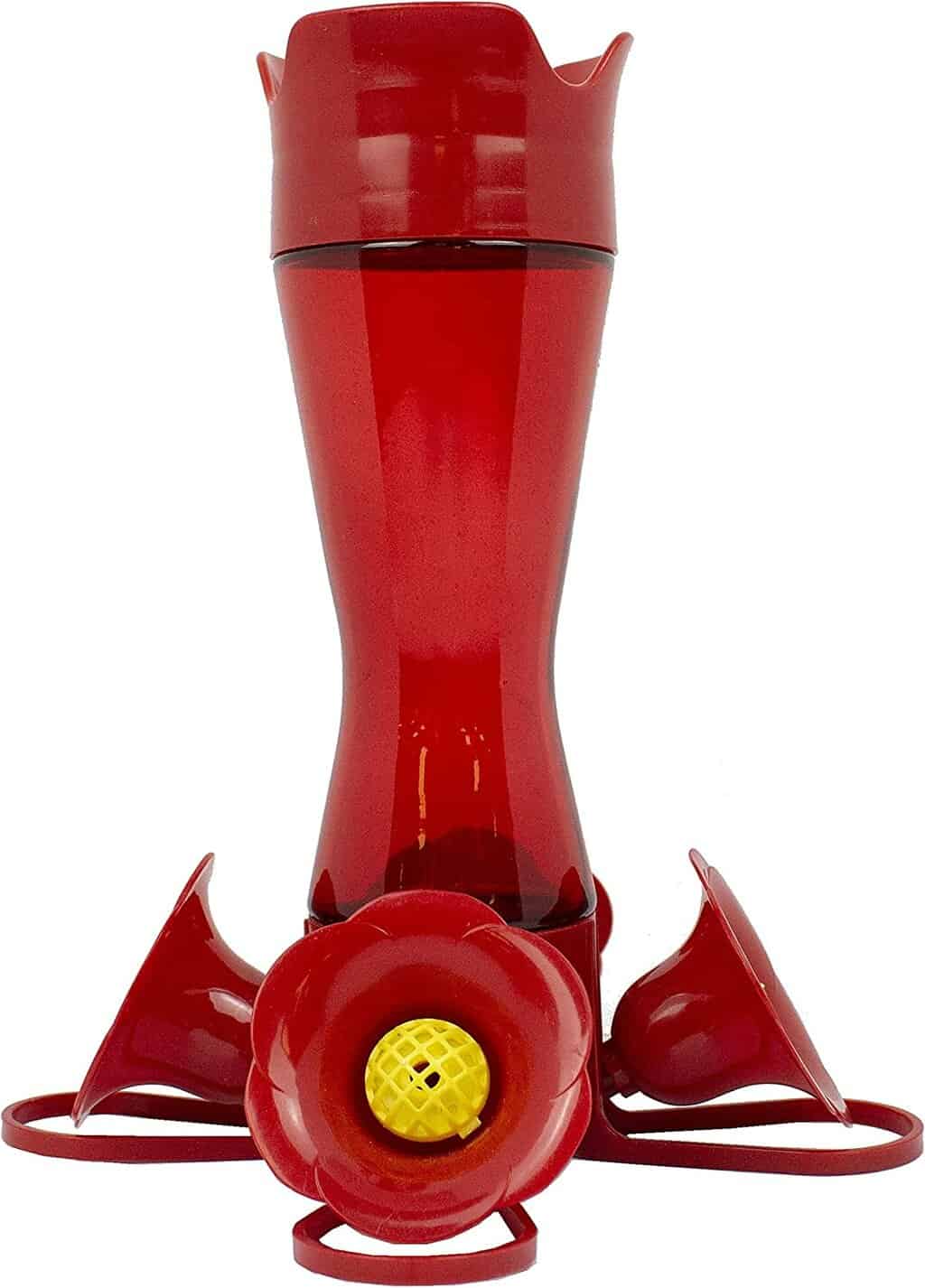 Type: Inverted Feeder
Capacity: 8-ounces
Material: Glass
Price: $15
Straight to the point, this effective and affordable hummingbird feeder ticks all the boxes for me. While I normally opt for feeders that hold 12 to 16 ounces of nectar, the glass exterior of the 8-ounce Perky-Pet Pinchwaist Hummingbird has won me over. This feeder can be completely disassembled, making it extremely easy to clean.
In terms of safety, it has yellow built-in bee guards that deter bees, wasps, and other insects from accessing feeding ports. The Perky-Pet Store also sells replacement bee guards if yours become overly dirty or broken over time. This feeder also has an ant moat on its top to ensure other little critters stay out too.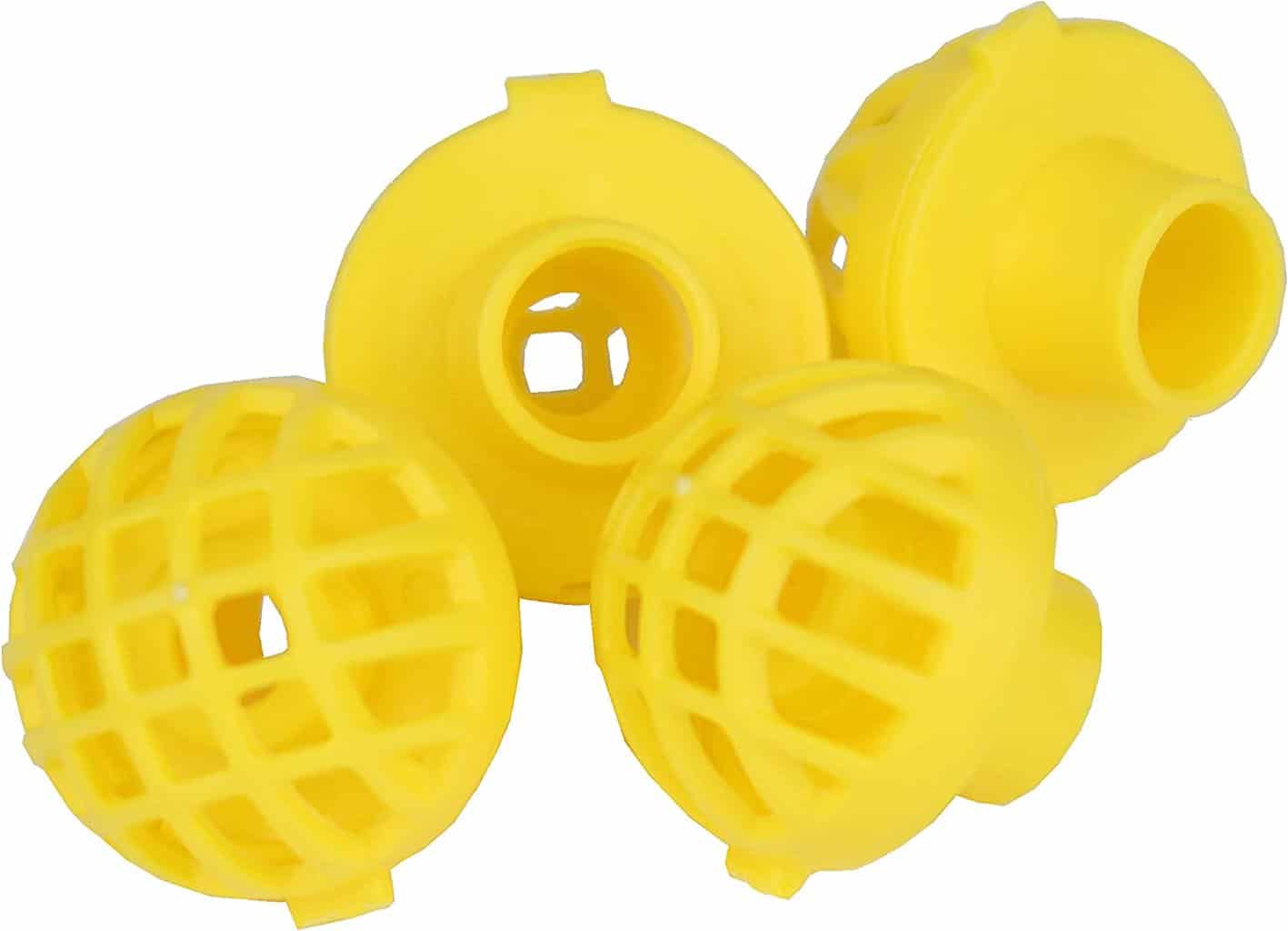 At an affordable price of $15, this feeder is an "add to cart" no-brainer that will last for years. I will say that I prefer the clear glass option to the red one. The clear glass makes it easier to monitor nectar levels and ensures I've left no spot unwashed when it comes time for the weekly feeder scrub down. There are plenty of red accents on the feeder to attract hummingbirds, but it really comes down to which color you prefer.
What the Reviews Say
"They are easy to assemble, easy to fill and hang as well as easy to clean. The Hummingbirds love them so much that we have to refill them every other day, and we have 3 of them!"
"This feeder has been all the rage with the local hummingbirds for the past couple of months."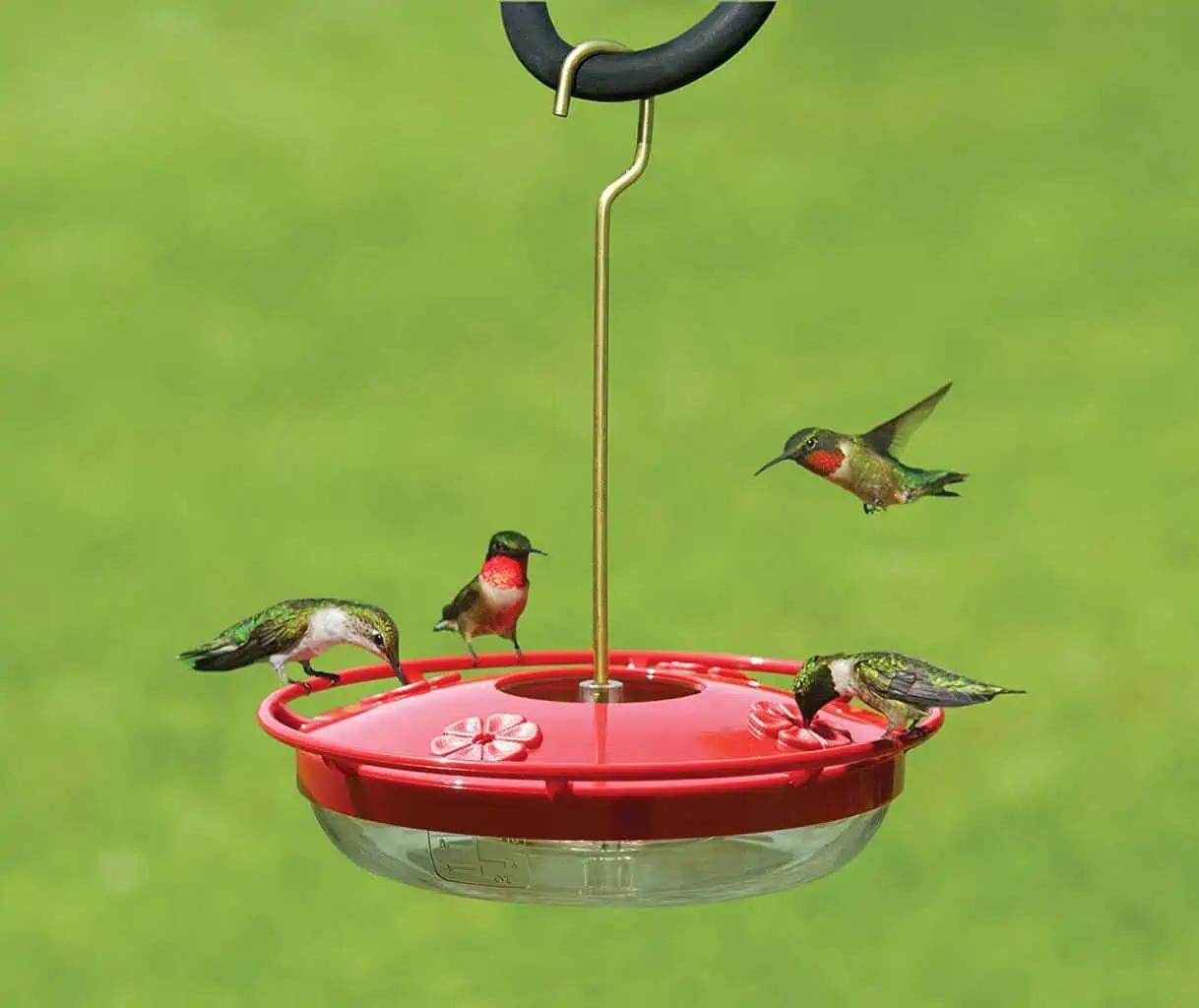 Type: Saucer Feeder
Capacity: 12-ounces
Material: Plastic
Price: $20
The Aspects HummZinger saucer feeder is a wonderful option for folks who wish to avoid the potential possibility of leaking nectar which may occur with inverted bottle feeders. It may not look it, but the 12-ounce nectar reservoir is indeed larger than that of the Perky-Pet Pinchwaist Hummingbird Feeder. While it is technically made of plastic, the UV-stabilized polycarbonate is unlikely to break. Regular cleaning and delicate handling should ensure years of adequate use.
This hummingbird feeder has an ant moat that sits just above the nectar. Ant moats keep insects from reaching their goal of taking a dip in that sweet nectar. To effectively use this feature, you must fill the ant moat with regular water before hanging it. It also has a HighView perch around the feeder's lid, so swift-moving hummingbirds can relax while they take a drink. The perch also gives you a brilliant view of the birds, making for picture-perfect moments.
What the Reviews Say
"Wasps are not a fan of this"
"The feeder is very easy to clean, and the slightly raised ledge on this one means you can easily observe the birds feeding. The hummingbirds seem to really like feeding from this feeder! Highly recommended!"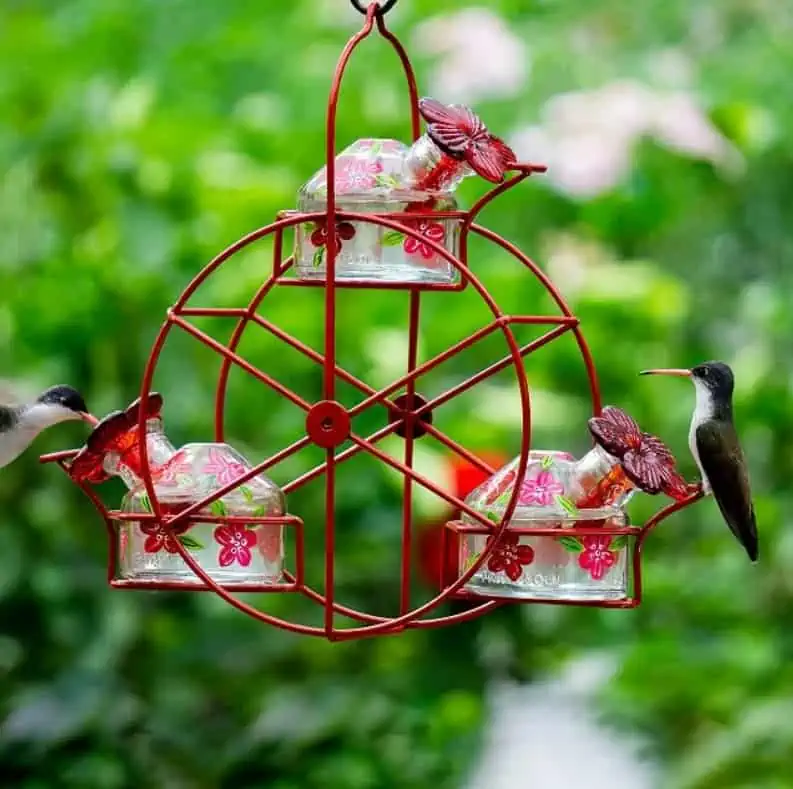 Type: Decorative Feeder
Capacity: 12-ounces
Material: Glass and Metal
Price: $68
Seriously, it does not get any more creative than this. To be clear, this feeder does not spin. The Ferris Wheel Hummingbird Feeder from Uncommon Goods is surely something no neighbor has.
The reviews are glowing! A few here and there mention it may be more for looks than function, but this is to be expected when you choose a decorative feeder. The feeder is composed of three handblown glass bottles that are held by a powder-coated metal frame. Polycarbonate flower feeding tubes are placed into the glass bottles so hummingbirds can slurp up the nectar. Birds can perch on their Ferris wheel "seat," and best of all, no admission ticket is necessary!
When choosing a decorative feeder, remember that filling and washing are typically more difficult. That also seems true for this feeder, but darn, it's cute.
What the Reviews Say:
"If you hang it, they will come."
"Easy to set up and clean, very attractive."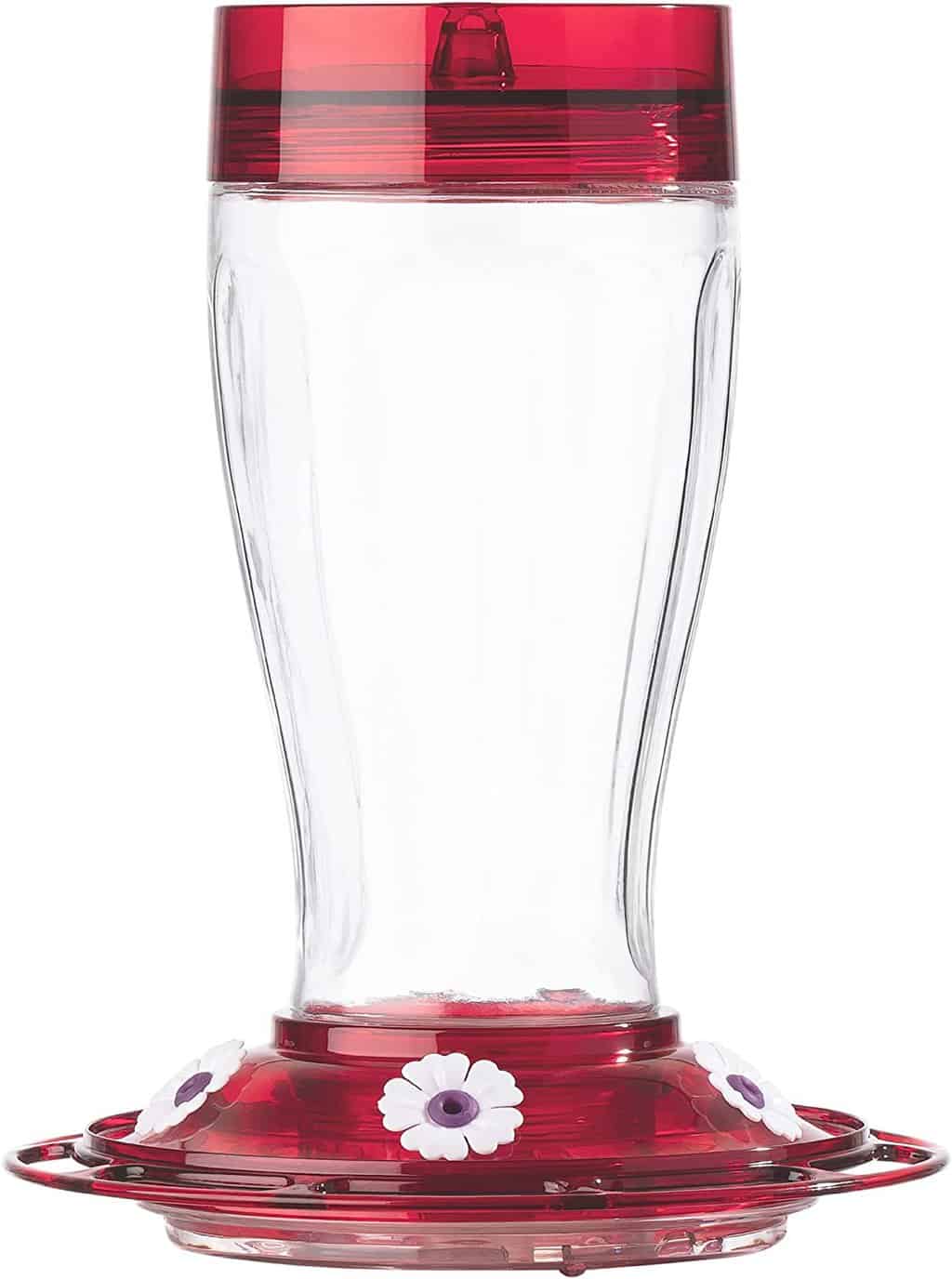 Type: Inverted Feeder
Capacity: 40-ounces
Material: Glass and Plastic
Price: $26
If you've got more hummingbirds stopping by for a drink than you ever anticipated, then upgrading your traditional 8-ounce feeder to a 40-ounce feeder will make your life significantly easier. Now get out the stockpot and whip up a huge batch of sugar water!
While this feeder can hold a high volume of nectar, it should be monitored and replaced if the nectar appears cloudy, was in direct sunlight all day, or has insects and debris floating in it. There are pros and cons with feeders of this size. It makes a big difference for those of us who have become around-the-clock nectar slingers, but it can also lead to wasted nectar if you see a decrease in visitors or the batch goes bad.
The More Birds Big Gulp feeder has a glass bottle that screws into a plastic base. It has an integrated ant moat in the lid that will deter insects looking for a free drink. Overall, users are very happy with this product. The most obvious negative feedback concerns upgrading the plastic base, but you'll have to make your own call. If serving up large quantities of nectar is your main goal, this is your hummingbird feeder.
What the Reviews Say
"The soft silicone purple centers of the flowers don't withstand the summer heat and/or washing them in warm water. The outer top ring disintegrates in the heat, making it unable to hold the white flower in place."
"This is the best hummingbird feeder I've owned."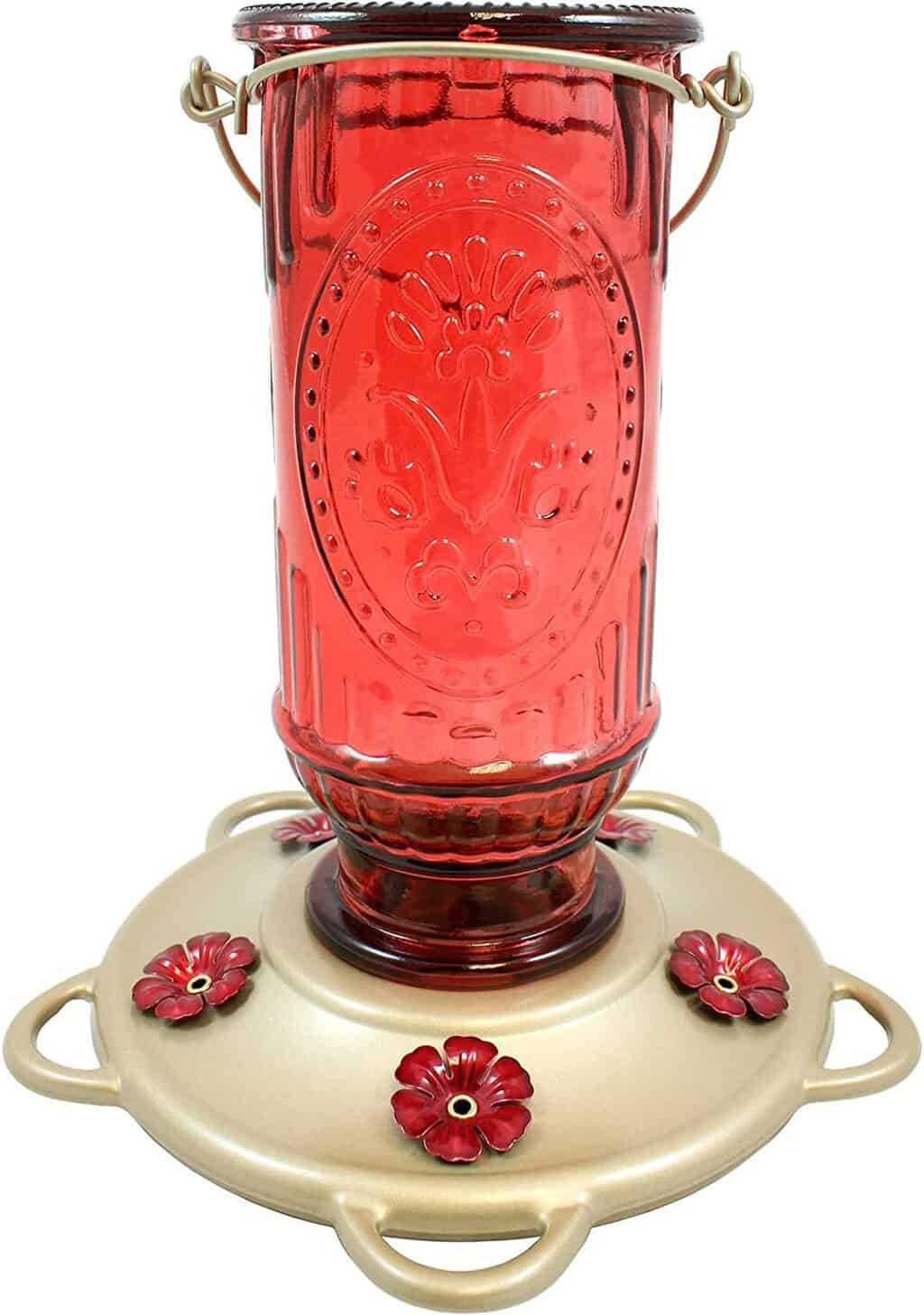 Type: Inverted Feeder
Capacity: 20-ounces
Material: Glass and Plastic
Price: $17
The More Birds Red Vintage Hummingbird Feeder has been a favorite of mine over the years, but it has one glaring flaw: its lack of an ant moat. Its redeeming qualities are that its vintage style is attractive and it has a large 20-ounce nectar capacity. It's well made and has a lovely glass bottle that is easy to clean with any bottle brush.
The base is made of plastic which has not been an issue for me, but some reviewers dislike this quality. You get what you pay for, and $17 is a deal. This inverted hummingbird feeder offers the perfect balance between style and function.
If you really want to know, my ugly plastic $4 hummingbird feeder is the most popular with hummingbirds in my area and gets the job done well, but it does leave you wanting for something a bit more elegant in your garden, and this vintage feeder fills that need for me.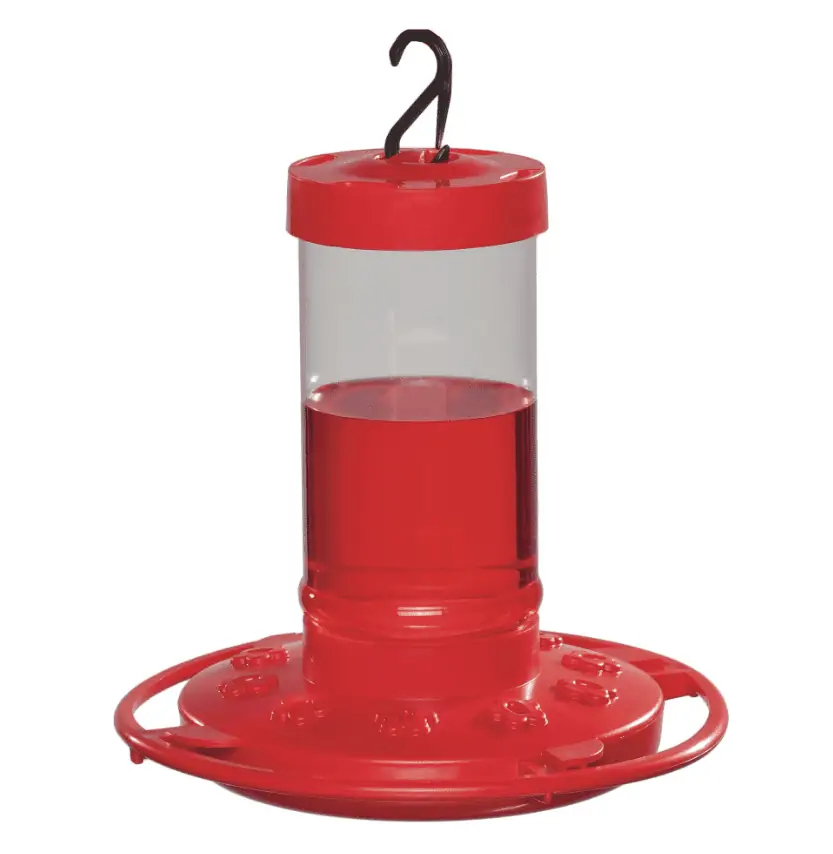 What the Reviews Say
"I love this feeder! It's super easy to clean and refill, and I think the hummingbirds love it, too!"
"This is a beautiful, sturdy hummingbird feeder, and it keeps the birds coming back for more feedings than any other feeder I've used."

Type: Inverted Feeder
Capacity: 20-ounces
Material: Glass and Plastic
Price: $17
If you're always missing out on the action, consider purchasing this window hummingbird feeder, and the hummingbirds will bless you with their presence while you do dishes, make the bed, or are even watching TV! I chose to include a window feeder with a smaller nectar capacity after many bad experiences with other styles. When I purchased saucer-style window feeders with an 8-ounce capacity, they constantly tipped or fell over due to the nectar reservoir's weight or lack of suction cups.
The Sweet Feeders Two Station Wide Perch hummingbird feeder was a great solution. Although I have to refill and clean the tiny test tubes frequently, they are located right outside my window, and I can monitor them easily while I marvel at the hummingbirds who visit.
The feeder features glass tubes that can be cleaned with a small bottle brush and powerful suction cups that sturdily hold the feeder. You can choose between a copper or aluminum tube wrapping and perch. Sweet Feeders also sells a nectar pump which makes refilling mess-free and additional bottles, so you can always keep a few backups in the refrigerator.
What the Reviews Say
"No plastic! Easy to clean. I put mine in the dishwasher, including the rubber tips."
"I put this on the window, and less than an hour later, I had a hummingbird feeding. It's fun to watch them so close."
The Buzz on Hummingbird Feeders
Whether you're looking for something decorative, durable, or a little bit of both, the above-recommended hummingbird feeders are all wonderful options. You have to consider what type of hummingbird landlord you'd like to be and be honest about how much time you can commit to maintaining your bird feeders.
If you're new to supplying nectar for hummingbirds, start with something as basic as this plastic option and upgrade to something nicer once you've proven to yourself that you can keep your feeders clean and filled with fresh nectar regularly. It might not seem like the smallest birds could drink 16 ounces of nectar daily, but I've lived it, and it can be a demanding job to keep the nectar flowing.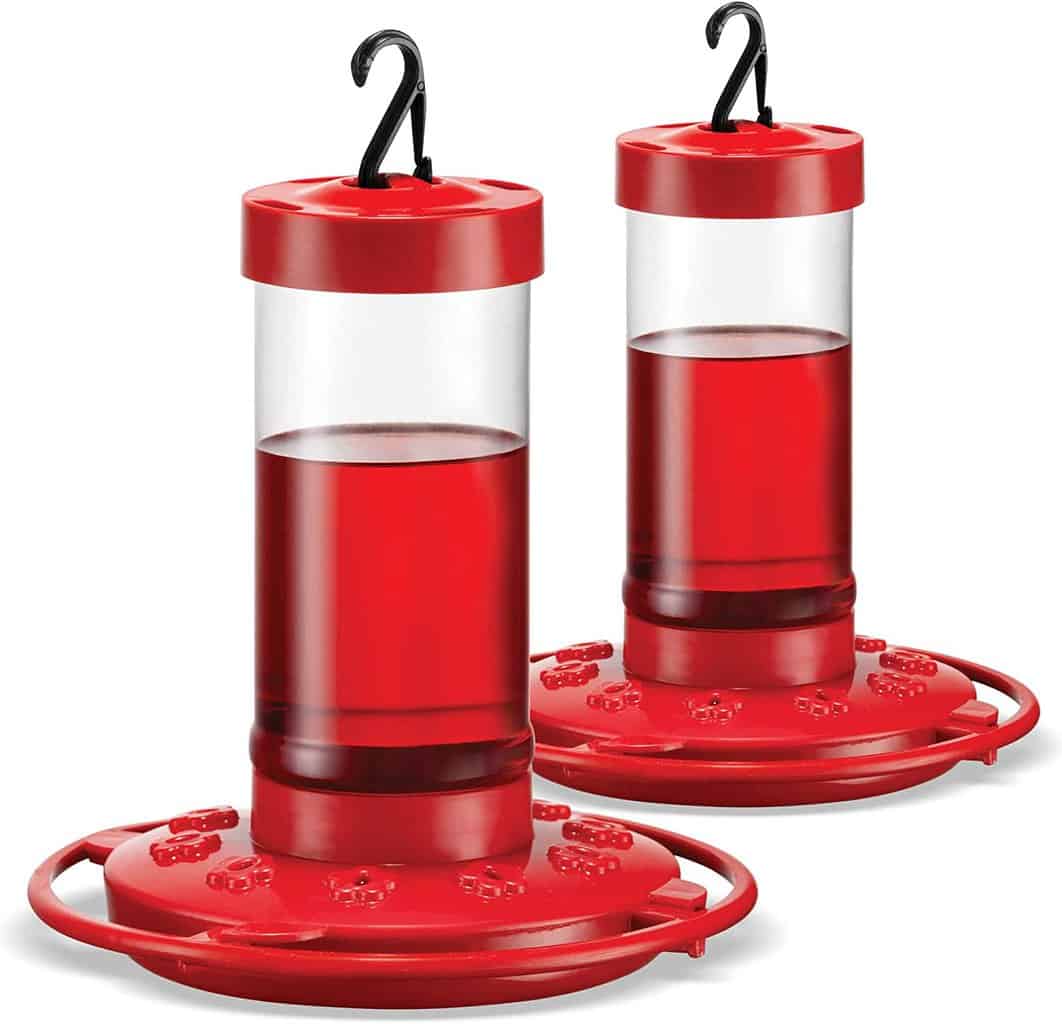 Nectar Tips & Safety
Now that you're at the stage where you understand your feeder needs and the differences in style, there are a few nectar rules and tips we should cover.
Buying Nectar vs. Making Your Own
Don't be fooled by the big plastic jug of red or clear hummingbird food that is being sold on the shelf at your big box store or on Amazon. While some brands add vitamins to the mixture, they also add unnecessary preservatives and additives that can harm hummingbirds. Not only that, but the first two ingredients on the side of the plastic jug are water and sugar. So, instead of purchasing a plastic jug full of sugar water for five dollars, you could make dozens of servings with just one bag of sugar.
Does Nectar Need To Be Red?
As you've probably learned, hummingbirds are drawn to drink from red, orange, pink, and yellow flowers. Contrary to products on the market and red-filled feeders in spotted in your neighborhood, hummingbird nectar does not need to be red. Adding red food coloring to nectar is harmful and can cause disease and even death in hummingbirds. Worry not; almost every hummingbird feeder on the market will have red on it to catch the attention of hummingbirds passing through your yard.
Homemade Nectar Recipe
All you need is a bag of refined white sugar and water to make your own nectar supply. It's important to note that you do not use sugar substitutes, brown sugar, raw sugar, honey, corn syrup, or powdered sugar.
Mix four parts water with one part refined white sugar.

Example: 1 cup of sugar to 4 cups of water.

Stir the mixture until all of the sugar is dissolved.

Bring water to a boil, remove from heat, and stir in the sugar.

Let nectar reach room temperature before filling feeders.
Store any additional nectar in the refrigerator for 7-10 days.
Stick to the 4:1 ratio, and never ever add more sugar.
When I notice my supply is running low, I make a large batch of sugar water and store it in a plastic tea pitcher for easy and mess-free refills.
Feeder Maintenance & Nectar Safety
Who knew that sugar water could turn to poison when incorrectly prepared or left unmonitored? Let's get down to the sticky-sweet details about feeder maintenance and nectar safety. Always double-check the ratio with a quick google before making a potentially deadly concoction.
Once filled and ready to debut, aim to hang your feeder in a partially shaded spot. Direct sunlight and high temperatures can lead to spoiling or fermentation, turning nectar into poison in hours. Bring feeders in during extreme heat or place them in the shade.
Since nectar is susceptible to spoiling or fermenting, changing the mixture often is the best practice. If you've noticed your feeder has sat full for a while, change it. If the hummingbirds came a few times but stopped, change it. It's a good habit to practice!
Keep an eye out for insects and move feeders around if you notice they can easily access them. Use bee guards, ant moats, and avoid yellow feeders. Hang your feeder away from deck railings or easy-to-scale spots. Insects will deter hummingbirds and can hurt them.
Hummingbird feeders should be emptied and cleaned once to twice per week. During warmer months, opt for twice. Bring feeders inside, empty, disassemble them, and wash thoroughly with a bottle brush, warm water, and vinegar. Be sure to remove bee guards and ant moats, scrubbing small crevices thoroughly to ensure any trace of mold and/or bacteria is addressed. Rinse the feeder until any trace of grime is gone, and allow it to air dry before refilling it with fresh nectar.
Feed On!
You're now ready to open a hummingbird cafe of your very own. It's not as daunting as I may have made it sound with all of the above tips and guidelines, but they are important to understand to ensure you keep your local population of hummingbirds happy and healthy for years to come. Once you start supplying hummingbirds with nectar, you will become enthralled by their presence and demanding appetites buzzing about your yard.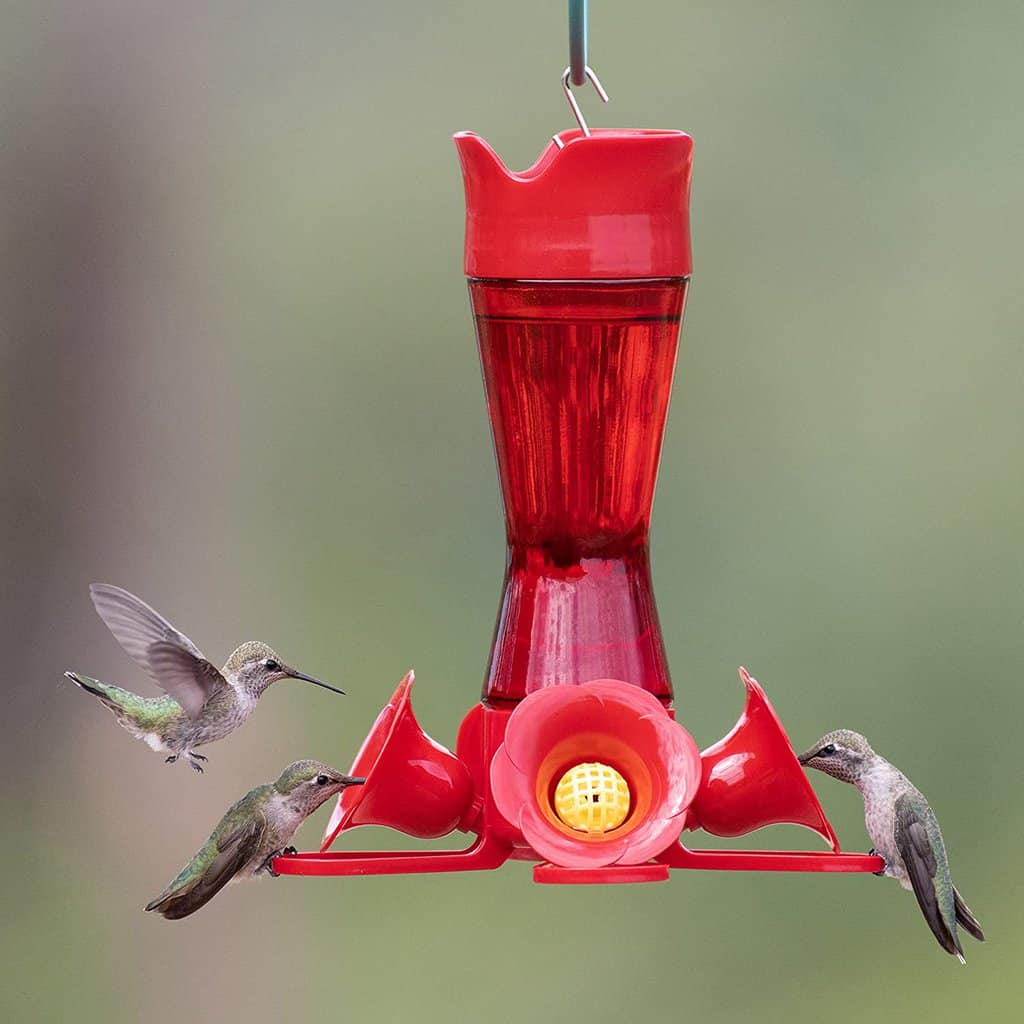 FAQs
Question: What is the most effective hummingbird feeder?
Answer: Many birders swear by saucer-style feeders since they are typically less appealing to insects. Ultimately, the decision is yours! It may take some trial and error, but placement and visibility are important. The hummingbirds don't really care what the feeder looks like, just that it has a fresh and safe nectar supply.
Question: Which is better for hummingbird feeders glass or plastic?
Answer: Plastic feeders are fine as long as they do not contain BPA. Always check the packaging to ensure they are BPA-free before purchasing. Plastic feeders are more likely to warp, crack, and fade, while glass will stand the test of time.
Question: What should I look for when buying a hummingbird feeder?
Answer: Insect moats and bee guards are key features to look for when buying a hummingbird feeder. Additionally, the less yellow, the better. Yellow accents are highly likely to attract wasps and yellow jackets.
Question: Do hummingbirds prefer homemade nectar or store bought?
Answer: Avoid supplying hummingbirds with commercial mixes. These contain additives and preservatives that are harmful to hummingbirds. Always opt to make your own nectar, and check out the recipe included in the article. Never add red food coloring or dye to your nectar!
Resources