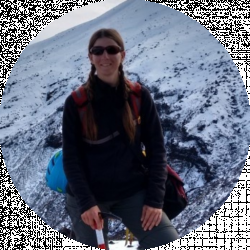 Latest posts by Kathryn Peiman
(see all)
It's time to go shopping for a new bird feeder! If your shopping location is Home Depot, let's learn about the best bird feeders you can get there. Whether you're looking for a specialized feeder for hummingbirds or goldfinches, a squirrel-proof feeder, or a general feeder, you'll find what you need at Home Depot.
I love feeding birds. I grew up with grosbeaks, chickadees, finches, and hummingbirds gracing our backyard feeders. The design of bird feeders has mostly stayed the same since then, and after years of testing for functionality, the best bird feeders have risen to the top.
Bottom Line Up Front
The best bird feeders combine a practical design for the target bird species with durable materials, so you're not wasting money. The Steel Suet/Block Multi-Bird Feeder Station has both these features – and not only do you get five different feeders, but you can mix and match depending on the bird species in your backyard.
Selection Criteria
I broke down bird feeders into several categories, as most birdwatchers are searching for a feeder that works for a particular species or has a specific function. For each type of feeder, I picked the top three most practical feeders by considering the following:
functionality for target bird species;

ease of refilling and keeping clean;

quality of material;

customer reviews.
My Top Picks
Best Hummingbird Feeders
A suitable hummingbird feeder should have red-colored material somewhere (never use red food coloring in the sugar solution), as hummingbirds are attracted to red flowers. The next most important feature is ensuring the feeder is easy to clean, as sugar water spoils fast in the summer.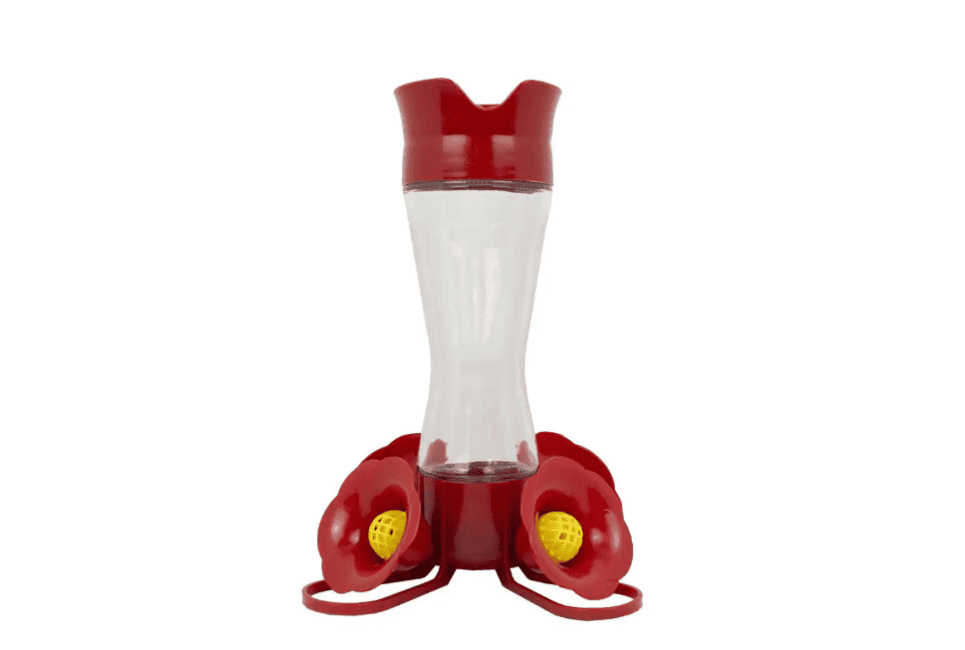 This is the feeder I had in my backyard growing up, and I remember it fondly: the hummingbirds liked it, and it was easy to clean. You can't go wrong with this classic hummingbird feeder.
Pros
inexpensive

ant moat on top
Cons
need to hang it out of the wind

will leak if not attached properly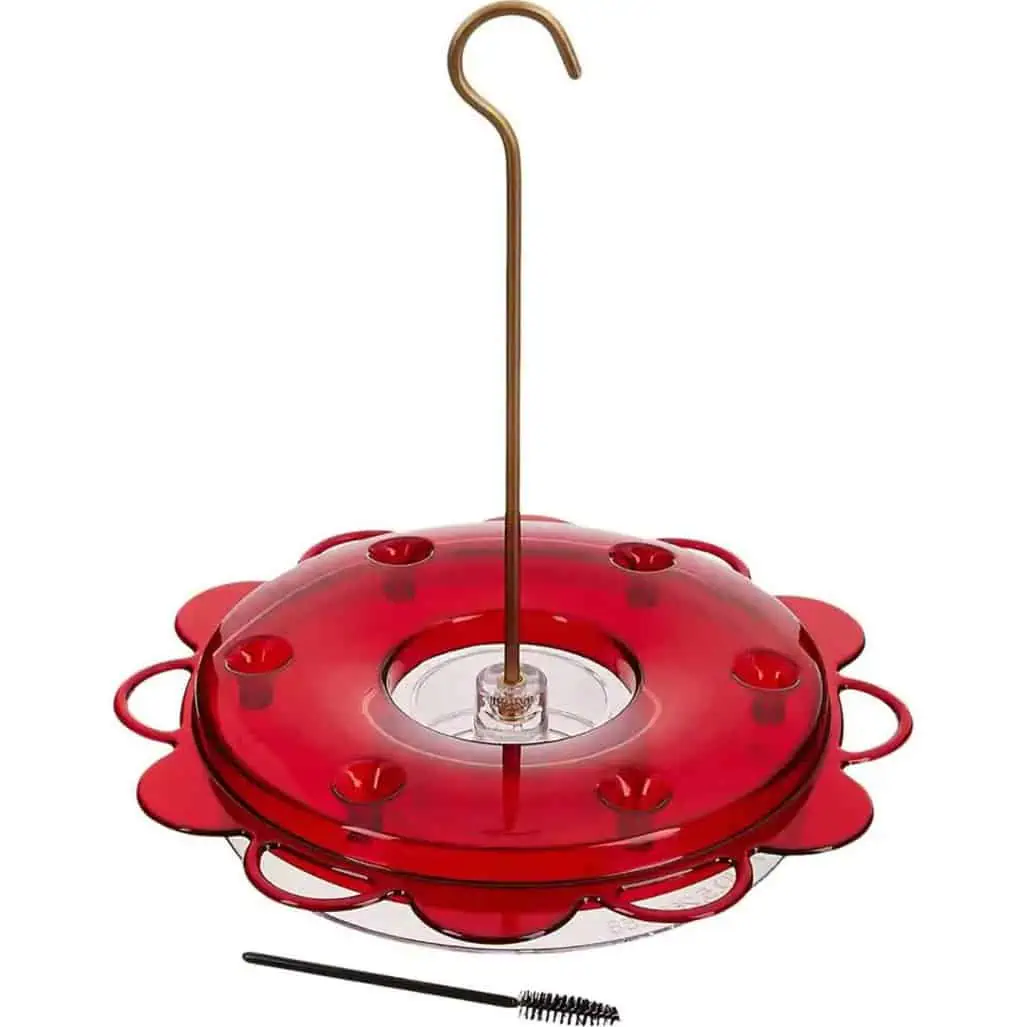 I love that you can see all the hummingbirds perching simultaneously on this feeder since there's no tube to block your view. I also like that the feeder is made from polycarbonate, so it's virtually unbreakable. My only issue is that the position of the holes forces the hummingbirds to drink with their head pointed straight down, in contrast to their natural position, which is more horizontal.
Pros
six places for hummingbirds to feed

ant moat in center

shatter resistant
Cons
easy to lose small cleaning brush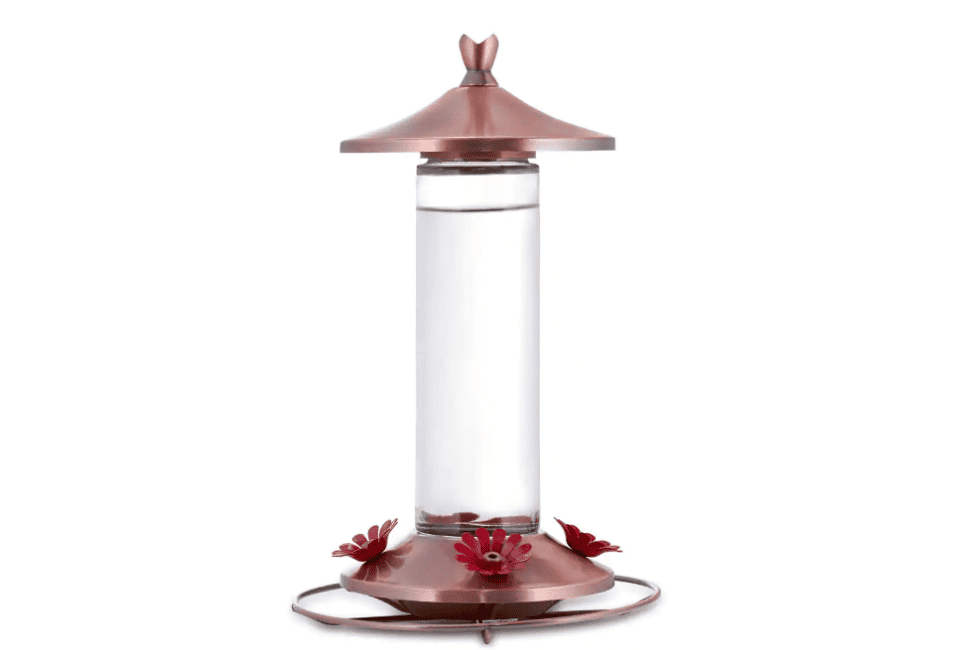 The copper finish on the top and bottom of this feeder is very visually appealing to me. It also means there's less visible red to attract hummingbirds, as it's restricted to the plastic feeding flowers. Still, hummingbirds have evolved to find lone flowers, so this shouldn't affect their ability to find the feeder.
Pros
Cons
watch for signs of rust

no ant moat
Best Window Feeders
The goal of window feeders is to give you up-close looks at the birds, so a suitable window feeder will provide you with an unobstructed view of the birds while they're feeding.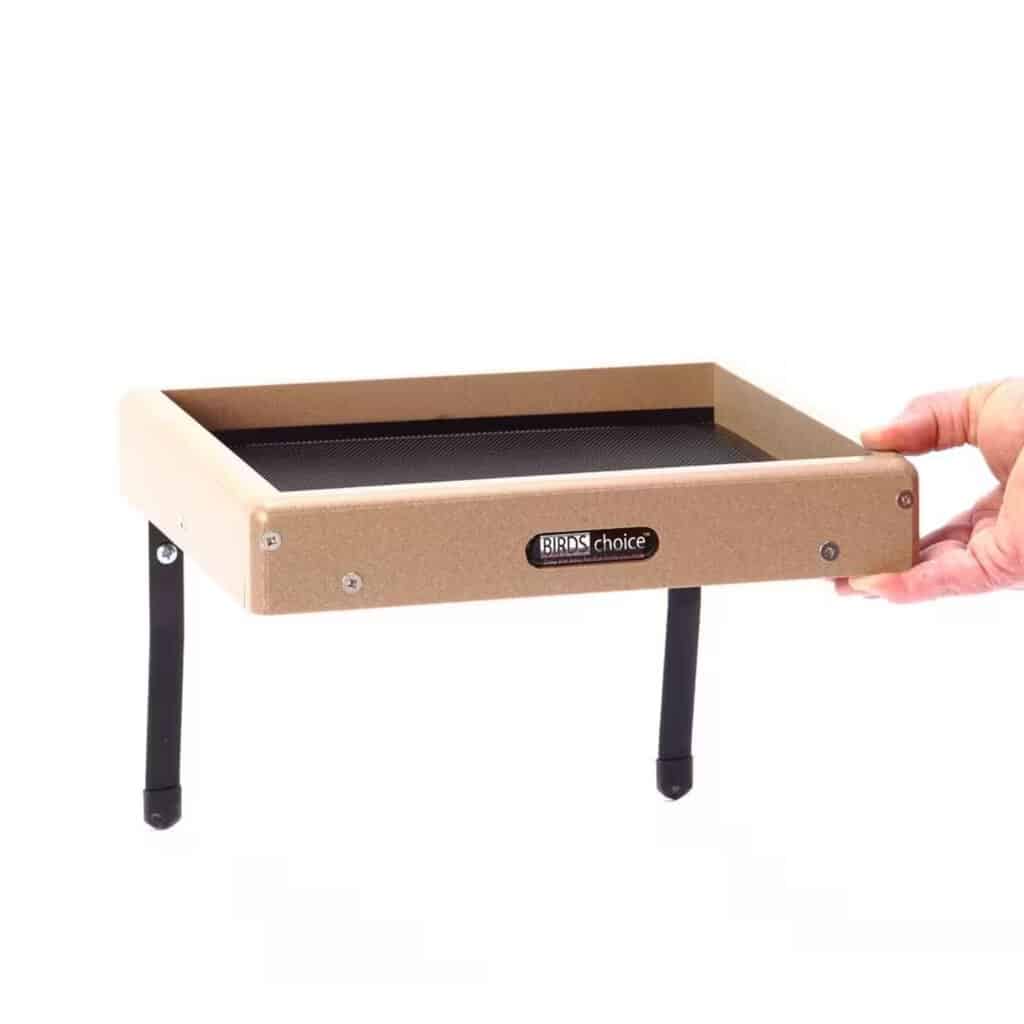 This model deviates from the traditional window feeders because it is only a platform, not an enclosed feeder. However, a platform will attract many species of birds, and nothing is blocking your view of them feeding. I like how the base is simply a mesh sheet that is easy to remove and clean. Ensure your porch is well covered so the seed doesn't get wet.
Pros
made from recycled poly lumber, which will last forever
Cons
expensive

only two suction cups for attachment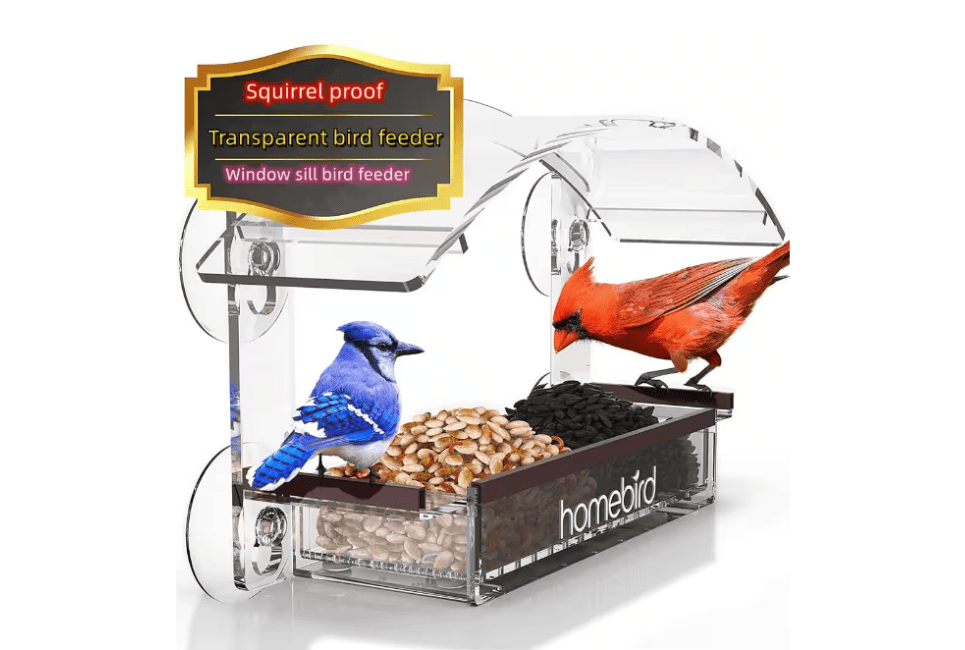 It's rare to see bird feeders with a lifetime warranty, so this feeder gets full points for backing their product. For that reason, I'm not deterred by the expensive price tag – this is quality that you'll own forever. The design is superb, with an elegant curved plastic roof, narrow sides that provide a large obstruction-free viewing area, and a seed tray that lifts out for cleaning.
Pros
lifetime warranty

large unobstructed view
Cons
very expensive

solid-bottomed seed tray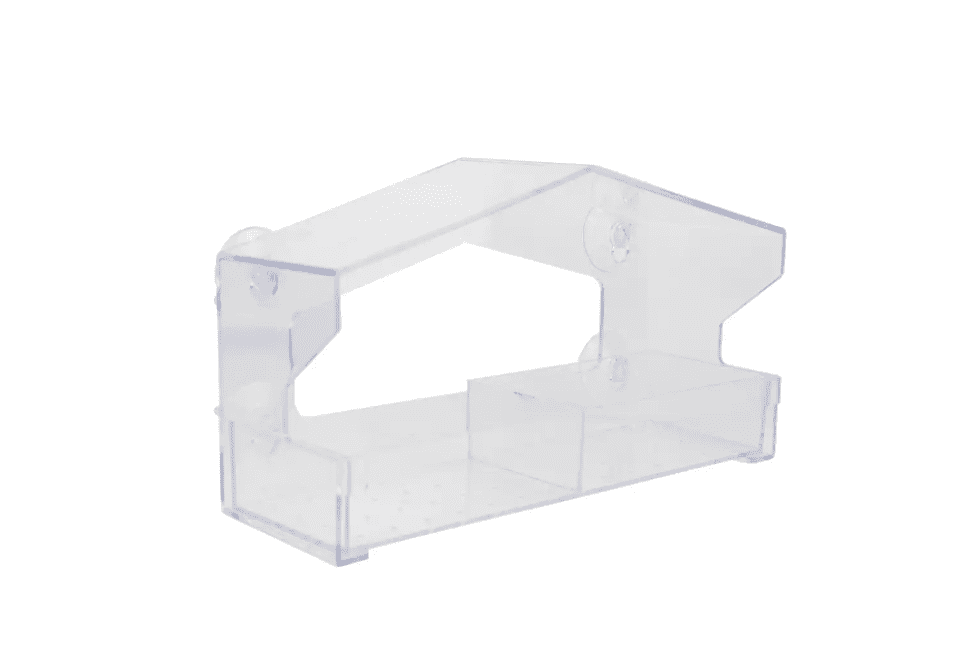 I like the simplistic design of this feeder, and it works well for small birds. You won't get a completely unobstructed view since the clear plastic frame will affect your line of sight for larger birds. Still, this model will do quite well for watching birds while sitting at your kitchen table.
Pros
inexpensive

four suction cups for attachment

removable tray
Cons
squirrels could chew through plastic
Best Nyjer Feeders
Nyjer seeds are small and so present a unique challenge for bird feeders. Goldfinches love nyjer seeds, so this type of feeder will mainly attract finches.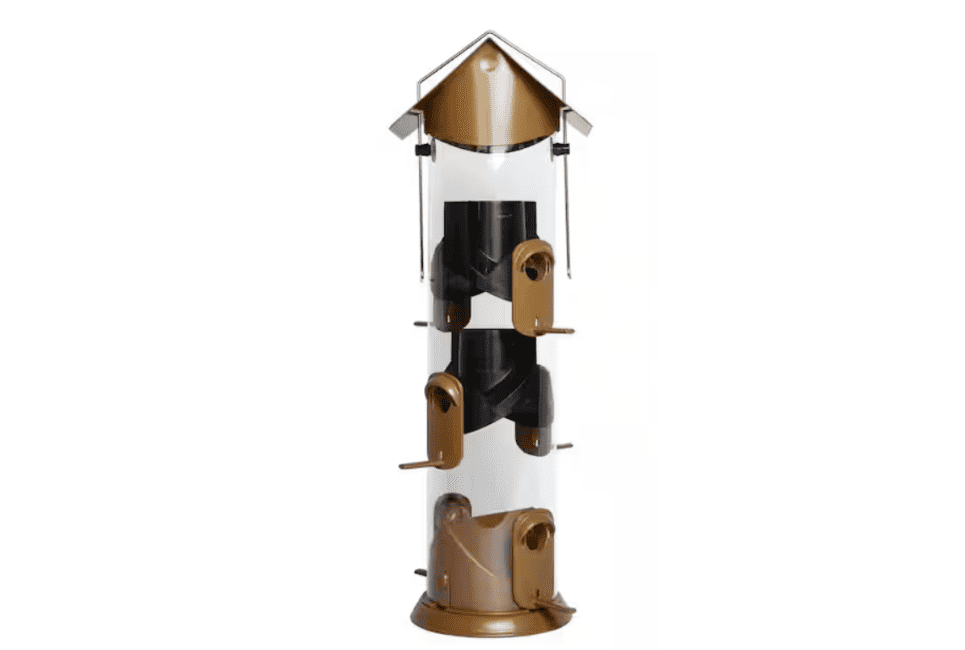 This model is a great all-around feeder and has inserts for nyjer seeds, making it an excellent nyjer bird feeder. I remember my old-style nyjer feeder, which was simply a tube, which meant as the seed was depleted, the upper feeding ports couldn't be used. It's great that they've overcome this limitation by using baffles to keep seeds at each port.
Pros
six feeder ports

can be converted to a regular bird feeder

good price
Cons
small inserts for nyjer seed are easy to lose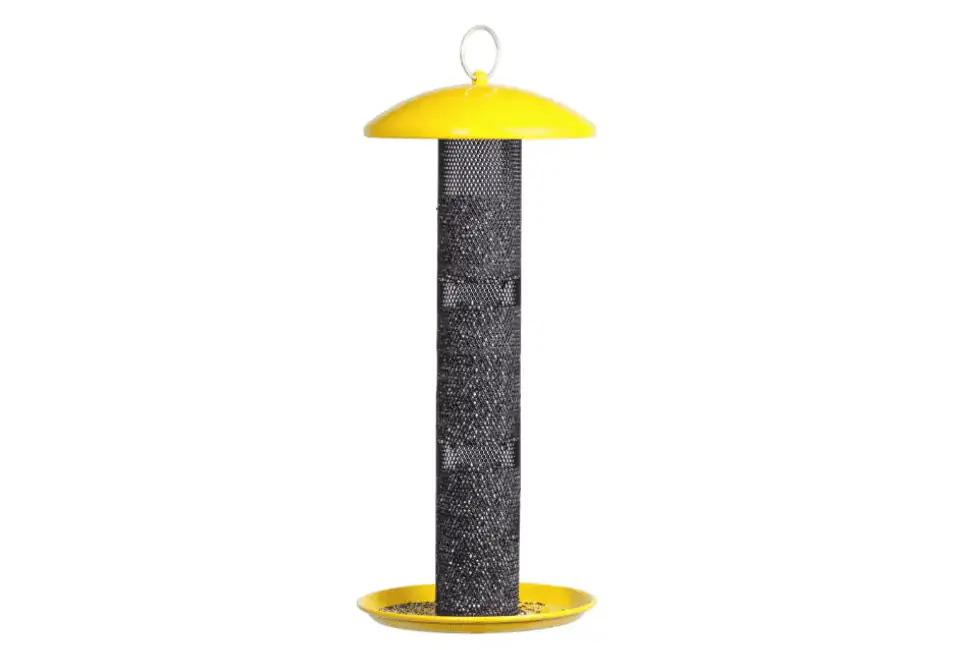 I like how this fine-mesh feeder lets the birds choose where to feed from. The drawback to an open design like this is that the seed is exposed to the elements, so check the seeds regularly for evidence of mold.
Pros
birds can feed from anywhere on the feeder

baffles to keep seeds at three levels in the feeder
Cons
seed likely to get wet

some complaints that the piece holding the top ring breaks off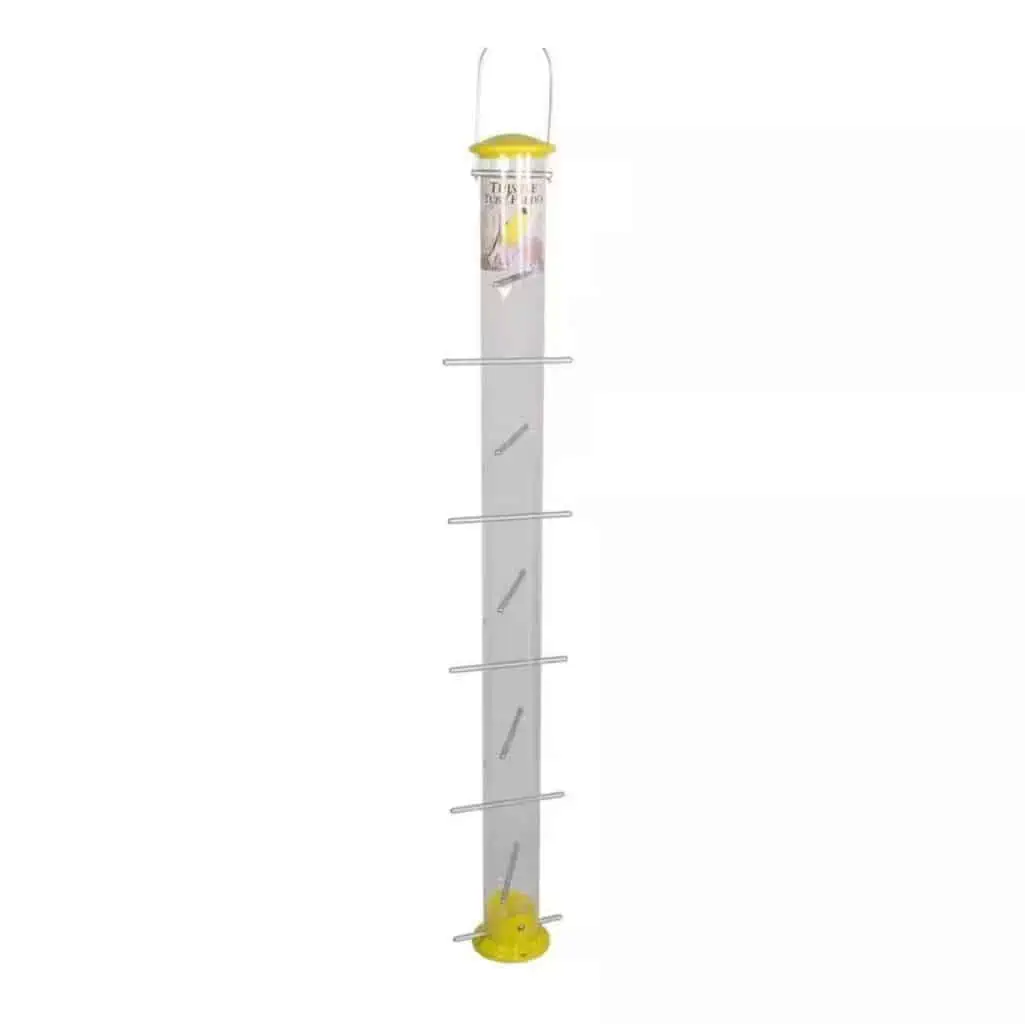 This tube nyjer feeder is an example of the most basic, though longer, form. It's a plastic tube with 20 perches so a flock of birds can feed simultaneously. Of course, since it lacks baffles, the upper ports will be useless when the seed level is lowered. But the functionality is there – this is taller but otherwise similar to the ones I grew up with, and the goldfinches loved it.
Pros
can feed 20 birds at a time
Cons
Best Squirrel-Proof Feeders
If you want to avoid feeding squirrels or larger birds, here are a few designs that limit the ability of heavier animals to access the seeds.
The idea is simple – heavy birds or mammals cannot feed because their weight elongates the spring, and the feeding port becomes blocked. The manufacturer included a video showing a squirrel unsuccessfully trying to access the seeds, and it's a compelling selling tactic.
I'm annoyed by some false advertising by the manufacturer – they have a picture of a bluebird, but bluebirds eat insects, not seeds – and one of their graphics has switched the 'port open' and 'port closed' images. However, these errors don't interfere with the actual functionality of this feeder.
Pros
easy to fill

ports are independently activated
Cons
only two birds can feed at a time

seeds come out of the holes if the feeder is tipped to the side

no tension (spring) adjustment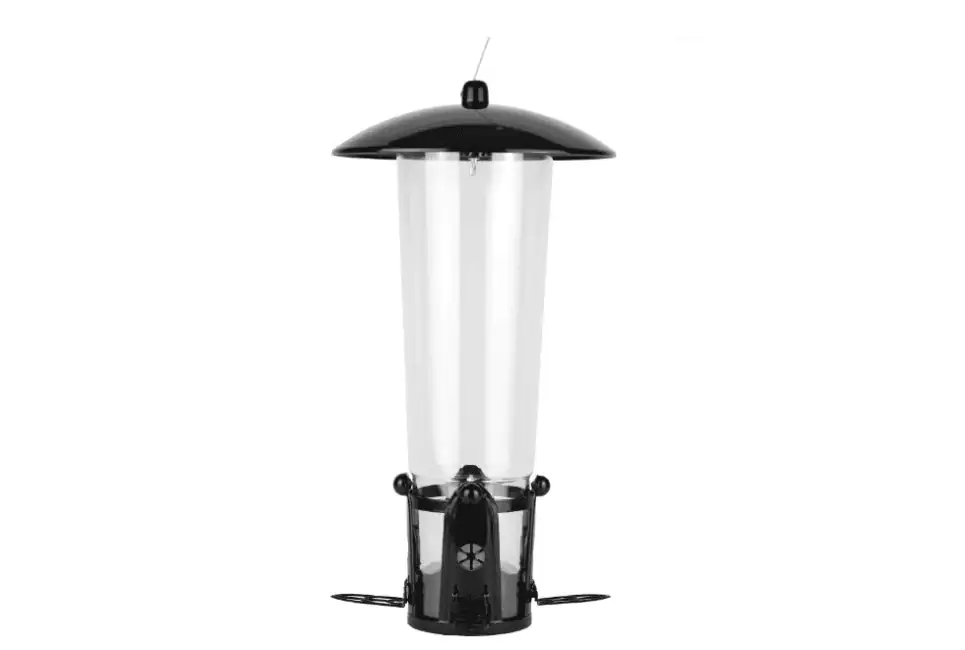 This is a great no-mess feeder. I like that they tried to prevent seeds from falling out of the feeding ports by using rubber stoppers called 'flexports' to keep seeds inside while still allowing birds to grab the seeds, a great way to reduce waste.
Pros
four birds can feed at a time

rubber 'flexports' help keep seeds inside

easy to fill
Cons
when activated, all ports are blocked simultaneously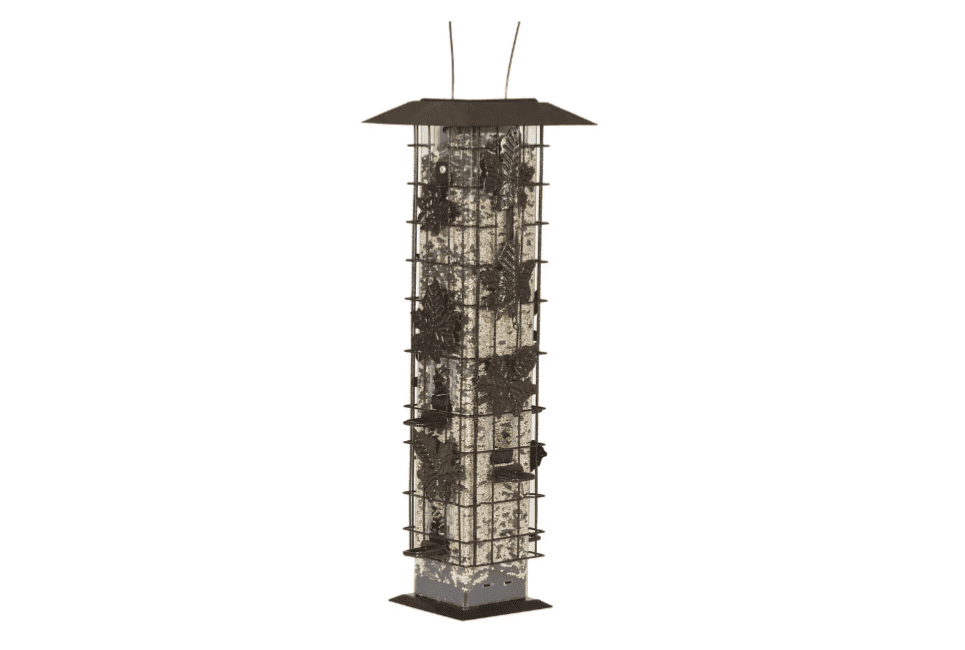 Instead of relying on the squirrel's weight on the bottom of the feeder to close the ports, this feeder has a metal cage around the whole unit so that a squirrel can't avoid activating the springs that close the ports. The metal leaf motifs that adorn the cage are both functional – they are what blocks the ports – and attractive, fitting into any backyard decor.
Pros
attractive design

six feeding ports
Cons
not resistant to chipmunks

comes with a Proposition 65 warning (materials cause cancer/reproductive harm)
Best General Feeder
If your goal is to hang a feeder to attract a variety of birds, these choices – paired with a mixed seed or sunflower seed – will get you avian diversity.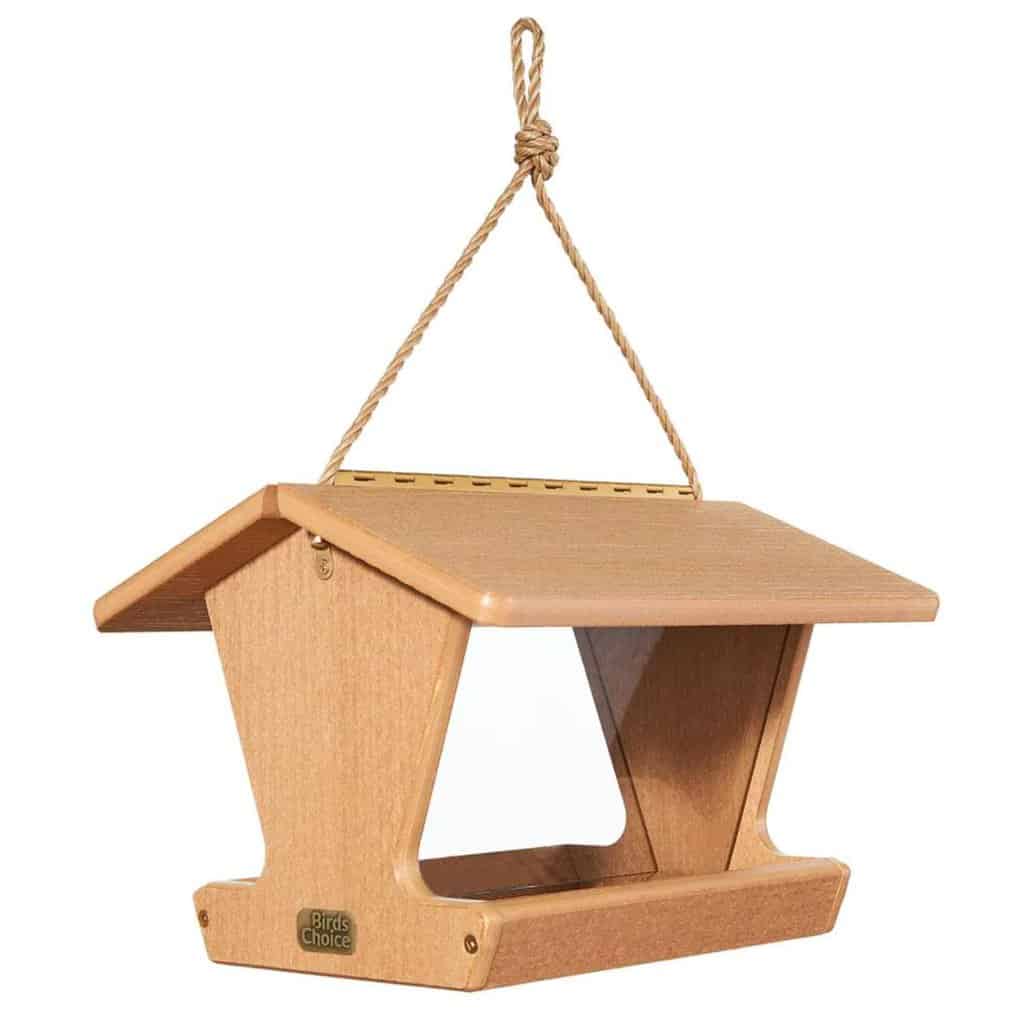 I love this feeder because it looks very similar to the one I had in my backyard growing up, and we never had a shortage of birds visiting it. It's such a simple, uncomplicated design. There's nothing wrong with it – my only sticking point is the price, but it's made from recycled plastic so that it will last a long time – you're getting your money's worth.
Pros
made from recycled plastic, so it will last a long time
Cons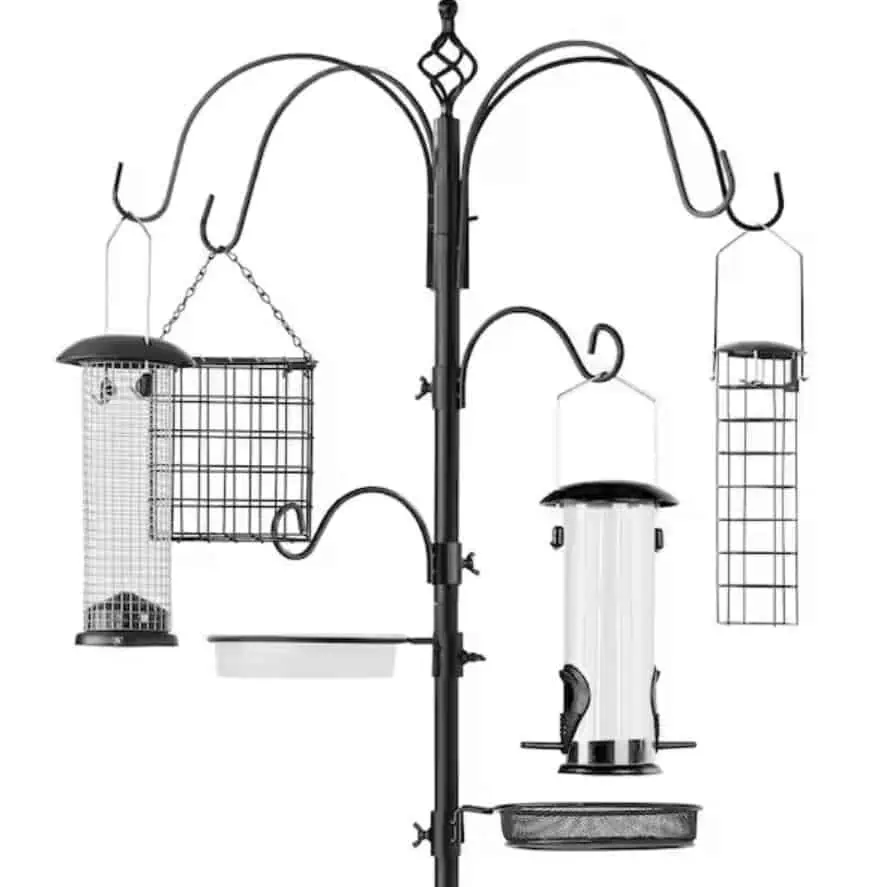 Why only offer one type of bird feeder when you can have a multi-station? This station provides five different seed presentations to entice all different species of birds: a suet feeder for woodpeckers, wrens, and nuthatches; a wire tube for woodpeckers; a peanut feeder for bluejays; a plastic tube feeder for chickadees, bunting, finches, and cardinals; and a tray for doves. You can even mix it up and put oranges on the tray for orioles or add a hummingbird feeder. You'll almost definitely also get squirrels enjoying the buffet.
It's also a simple, elegant design that will fit right into any outdoor space.
Pros
will attract many species
Cons
seed tray not protected from rain

the water tray needs to be cleaned regularly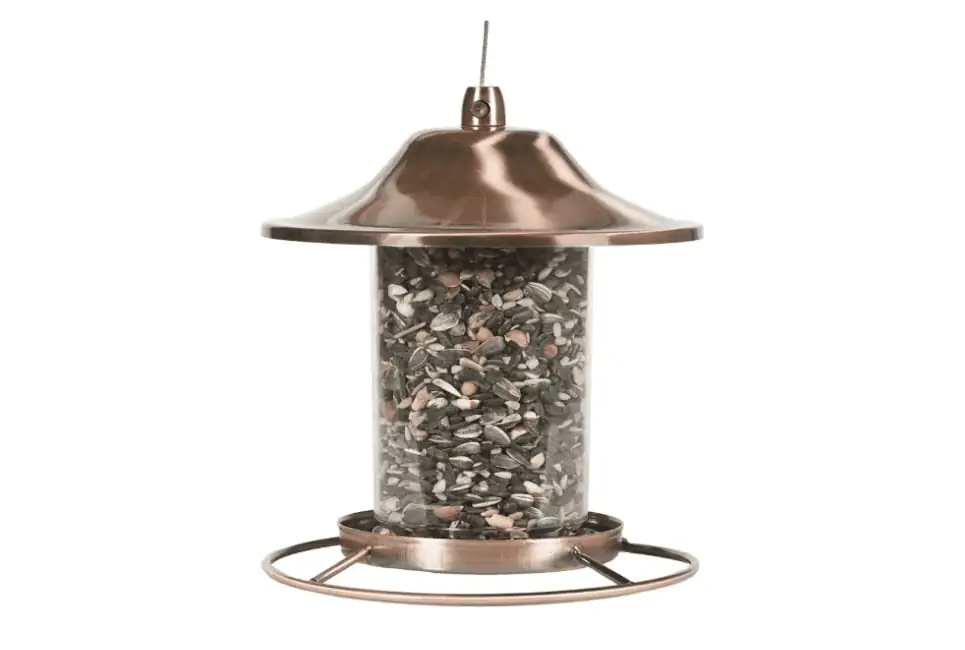 This is a great basic feeder that will work for most seed types, and it's great for viewing because birds can feed from anywhere on the circular perch. You also have four colors to choose from to match your backyard decorations.
Pros
multiple color choices

easy to fill
Cons
parts are made from plastic

the seed tray is fairly shallow
FAQs
Question: Does Home Depot provide free shipping?
Answer: All options have free in-store pickup, so if they're not in stock, you can have them shipped to your local store. Most also have free home delivery, but a few do not.
Question: Does Home Depot sell birdseed?
Answer: Absolutely. Home Depot has various kinds, from mixed seeds, sunflower seeds, safflower seeds, corn, and nyjer, to suet.
Question: How often do I need to clean bird feeders?
Answer: It depends on the feeder. You should clean hummingbird feeders every other day in warm weather and 1-2 times a week in cooler weather. Clean open trays immediately after it rains or twice weekly in dry weather to remove bird droppings. Visually check enclosed feeders after rain, and you should empty all the old seeds before refilling.
Conclusion
If my goal were to feed as many birds of as many species as possible, I'd go with the Steel Suet/Block Multi-Bird Feeder Station for the flexibility of having five different feeders, especially since you can mix and match feeder types depending on the bird species in your backyard. If I wanted a single general feeder, I'd choose the BIRDS Choice Hopper Feeder for durability and practicality. You should get many different species using this one feeder, which will last forever.
Continue reading:
Types of Birdhouses – Increase Your Backyard Birds