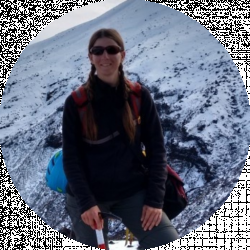 Latest posts by Kathryn Peiman
(see all)
When birds nest, they are trying to hide their offspring from predators. That means bird nests are often hard for us to find (a good thing for the birds!). Additionally, some species nest in cavities where we can't see inside.
Bird watching is a great way to engage with nature, and we naturally want to experience the wonder of seeing baby birds grow up. Luckily for us, the age of camera technology has enabled us to do that without risking the safety of our feathered friends.
However, many types of cameras are available for bird feeders and birdhouses. As a biologist and bird lover who's passionate about bird watching and bird photography, I'll lead you through the best camera models available for birdhouses.
The three things you'll have to think about are how far the birdhouse will be from your house (this determines wifi vs. wired), whether you can have a wire enter your home (for power or data), and whether you want just a camera or a birdhouse as well.
Bottom Line Up Front
My top pick was a camera with the highest quality video recording and a high-capacity SD card to store video files to let you mix and share your footage at any time in the future, plus a secure wired connection.
The Green Backyard Bird Box Camera HD Network Cable Connection is a great choice, with high-quality video stored on a 128GB memory card and the security of wired data and power – it has everything except for a birdhouse.
The best bundle (camera with birdhouse) is the Green Backyard Wifi Bird Box Camera Bundle which gives you good quality video, large data storage capacity, and, as long as you have an outdoor plug, doesn't require cords to enter your house.
Selection Criteria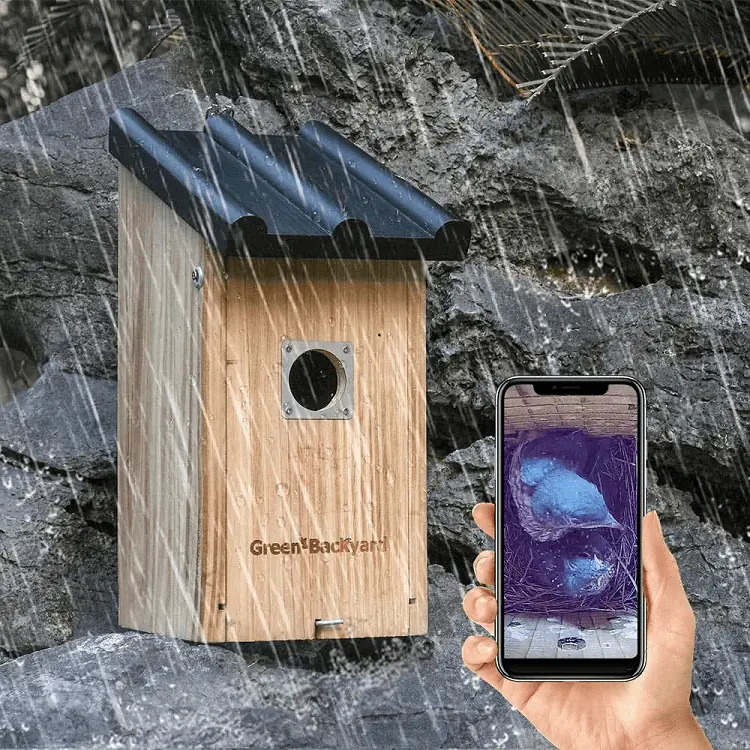 To decide on the best birdhouse camera, I looked at the following:
video quality

power and data flexibility

data storage
All cameras I reviewed had live streaming and a microphone to capture audio.
Top Picks at a Glance
Here's a summary table of the most important specifications for easy comparison:
Green Backyard Bird Box Camera HD Network Cable Connection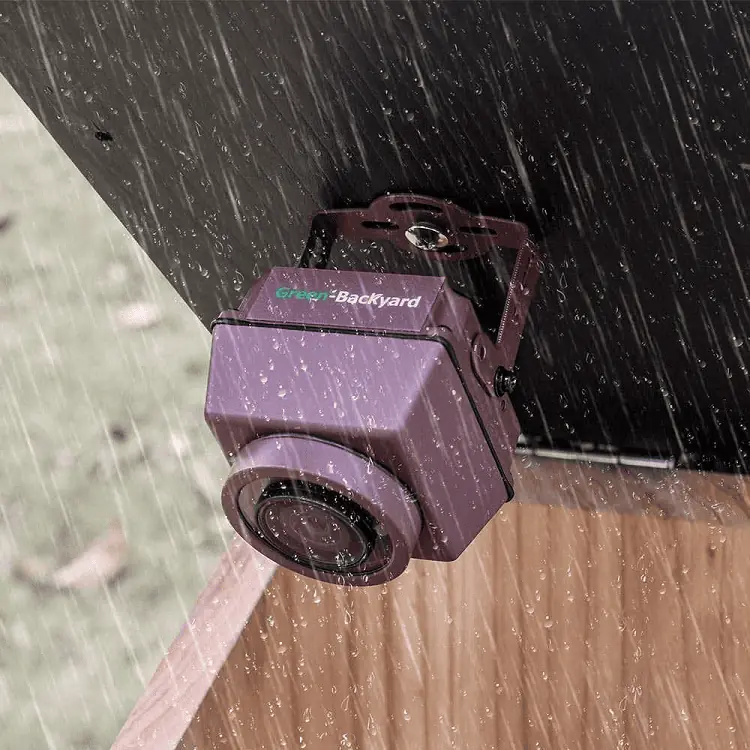 This is a camera-only option, so you will need a modified birdhouse to fit a camera. But the camera itself is probably the best on the market.
You will get outstanding image quality with this camera's large field of view and 3K resolution; add a 128GB memory card, and you'll have high-quality footage to share with everyone.
Another advantage is that you only have one cord to worry about, as it uses 'power over ethernet' to transmit both power and data. 
If I had a backyard, I'd go with this camera. Since it's waterproof, you could also easily use it as a bird feeder camera or even a trail camera.
Pros
high-quality video recording

large memory card capacity

wired data, so no connectivity issues
Cons
cable has to enter your house

need to buy the longer cable separately if desired
Green Backyard Wifi Bird Box Camera Bundle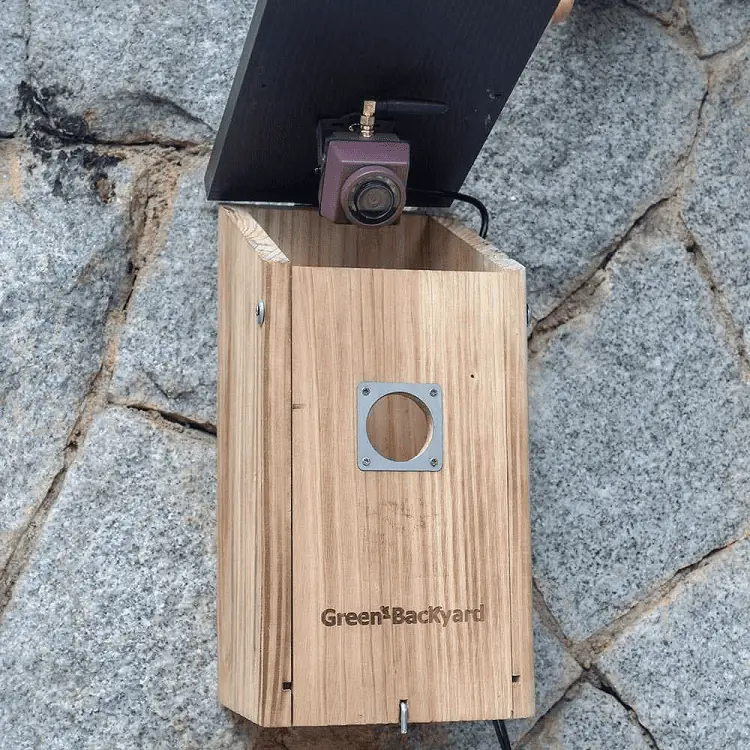 This nest box camera also produces excellent video quality, especially if you record at 25fps instead of 15fps. 
I love that this camera unit allows you to use wifi or a wired connection because it increases how far away you can mount the nest box. 
The birdhouse is perfectly made with a camera in mind. With an added window covered in a translucent material to let in light but not predators or rain, and daytime LEDs for cloudy days, this camera bundle is a bird enthusiast's dream. 
Pros
great video quality

high data storage capacity

daytime LEDs

birdhouse included
Cons
short power cable

wifi range restricted to <15m
Green Feathers Wifi Side View Bird Box Camera Bundle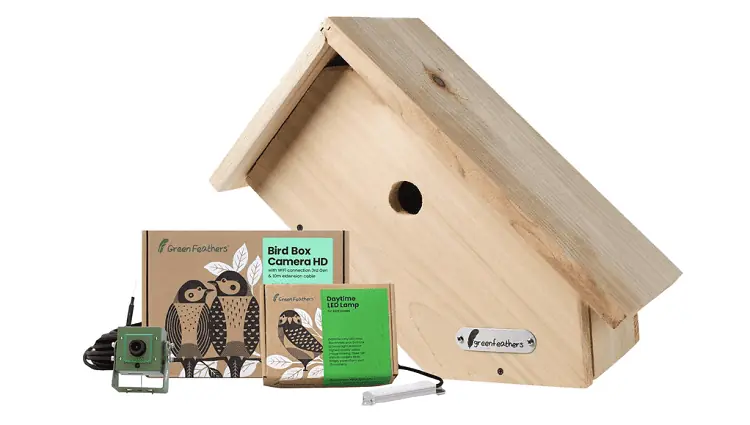 This bundle also includes a birdhouse, but the structure differs from typical models. It's constructed on an angle, which means the camera captures more of a side view than the top view of traditional birdhouses. It's a great choice if you want unique footage. 
Pros
good quality video

birdhouse provides a unique side angle for viewing

daylight LED to increase light levels
Cons
customers outside the UK will need an adaptor and possibly a converter for the plug

short power cable
Nestera Wifi Birdhouse Camera System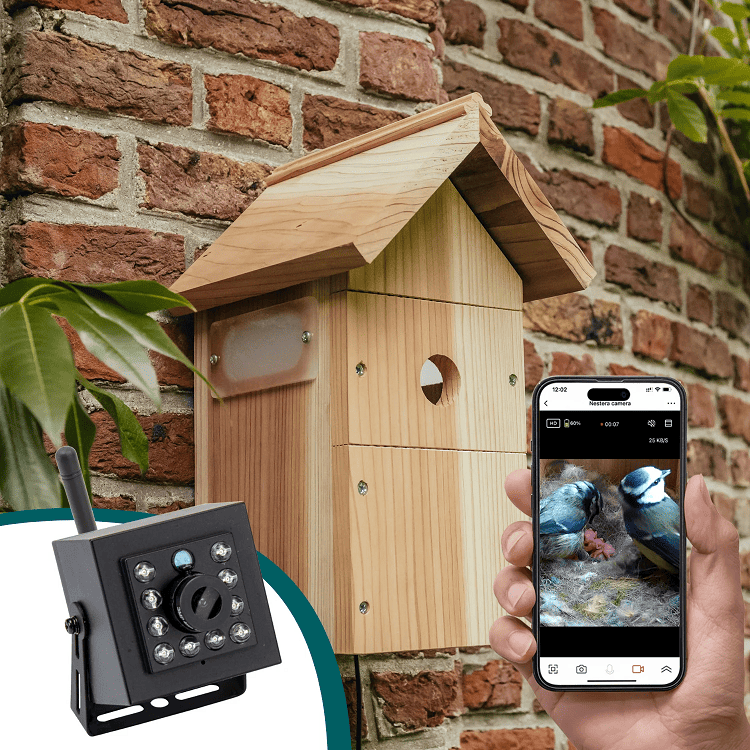 The birdhouse included in this bundle has a removable front panel, which means the house can also be used by bird species that require a slightly more open entrance, and you'll get more variety. 
This model is intended to operate on wifi, but the camera has an attached adapter if you want a wired internet connection for data stability or increased distance. The option for using either data source is an intelligent design.
Pros
the flexibility of using wifi or a wired connection

great quality camera

birdhouse suitable for many bird species
Cons
low data storage capability

short power cable included
Green Feathers Solar Powered Wifi Bird Box Camera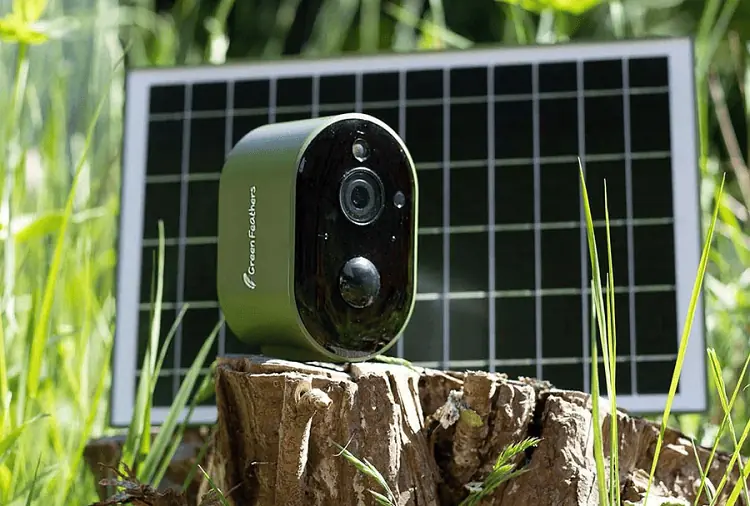 This Green Feathers unit is a camera-only option that includes a solar panel for power; both the camera and the solar panels have batteries. The big benefit of this unit is that you don't have any cables to worry about: power is from solar panels, and data is transmitted over wifi.
Yet you still have the option of switching to direct power; cameras with dual options are such a smart design that it's too bad more companies don't make them.
I loved how honest this manufacturer was about the limitations of solar power and battery life. Check out their website for a handy chart that compares the charge you'd get based on camera use.
There are many add-ons you can choose with this camera, including a custom-made birdhouse. The birdhouse is almost half a meter high, which may deter some from purchasing it.
Pros
no wires to your house

solar panel's battery can also be charged inside via USB

the motion sensor has an adjustable sensitivity and detects heat

add-ons available (memory card, power cable)
Cons
lower end camera resolution
Green Backyard Long Range Wireless Outdoor IP Bird Box Camera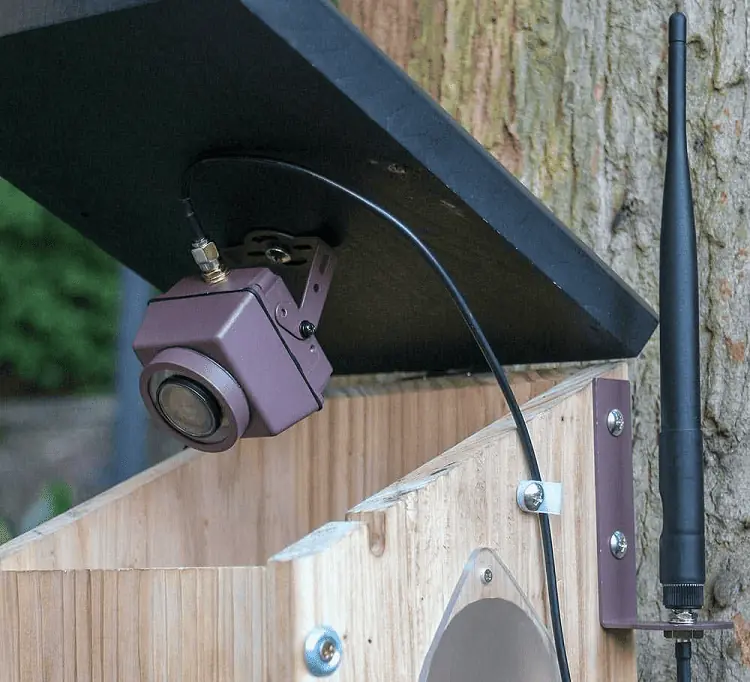 This is another camera-only option. The unique feature here is that it has a built-in transmitter to increase the wifi range of this camera to a maximum of 600 feet (200 meters) along a straight line of sight.
This gives this camera the longest range on the market, as data cables usually max out at 100 meters, and regular wifi is substantially less. This Green Backyard unit should be your choice for secluded nest boxes in the back reaches of your property.
I was disappointed that the included power cord appears to be short. Since the whole idea of this unit is to be able to install it far away from your house, you're likely going to either invest in an external power supply (batteries or a solar panel) or buy a longer power cord.
Pros
Cons
lower frame rate at higher resolution

short power cord

may not have motion detection
Nestera Wifi Battery Bird House Camera with Solar Panel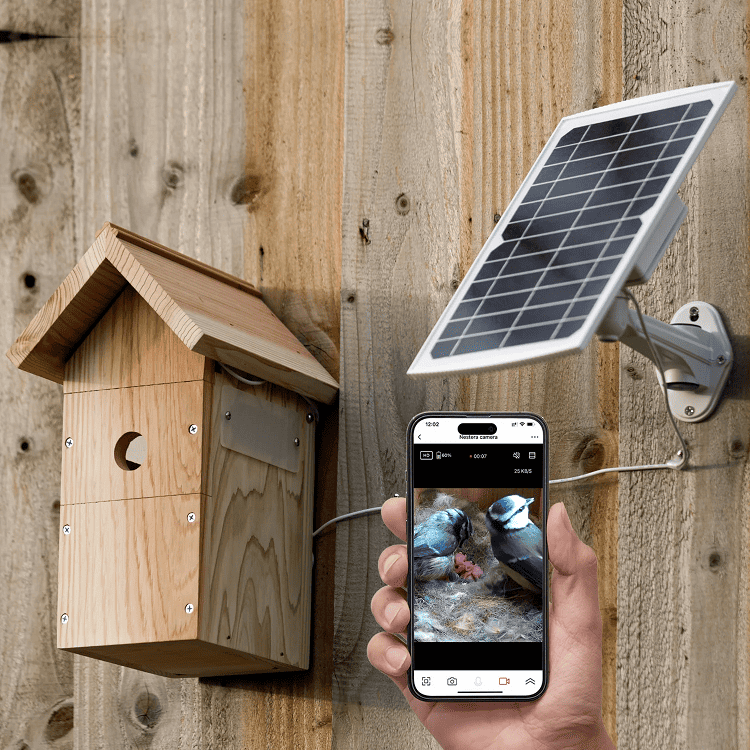 This model includes a birdhouse and solar panels, with a 15-20m wifi range. You can take the solar panel's battery inside and charge via a USB if the sunlight doesn't keep up with the camera's needs, a smart compromise due to the limitations of solar power.
This birdhouse also has a removable middle front panel to convert the birdhouse from a full cavity to a partially open structure. I'm a big fan of these convertible models so that you can film more bird species. If it weren't for the low data capacity of the camera, I would have liked this kit more.
Pros
good quality video

no cables going to your house 

convertible birdhouse
Cons
Nestbox Live Smart Nest Box
This nestbox is an entirely integrated unit: unlike other models, it has LEDs, a camera lens, and a circuit board built directly into the top of the nest box. I love that this unit lets bird watchers participate in community science.
Because this box has a temperature sensor, an intelligent image recognition system that can identify bird species, and it collects data on activity patterns, you can share this important data with scientists and help monitor bird populations. I wish it recorded footage on an SD card, though.
Pros
single power/data cable reaches up to 100m

collects additional information to support researchers
Cons
only 1080p video

cable has to enter the house

no data storage
Hawk Eye HD Nature Camera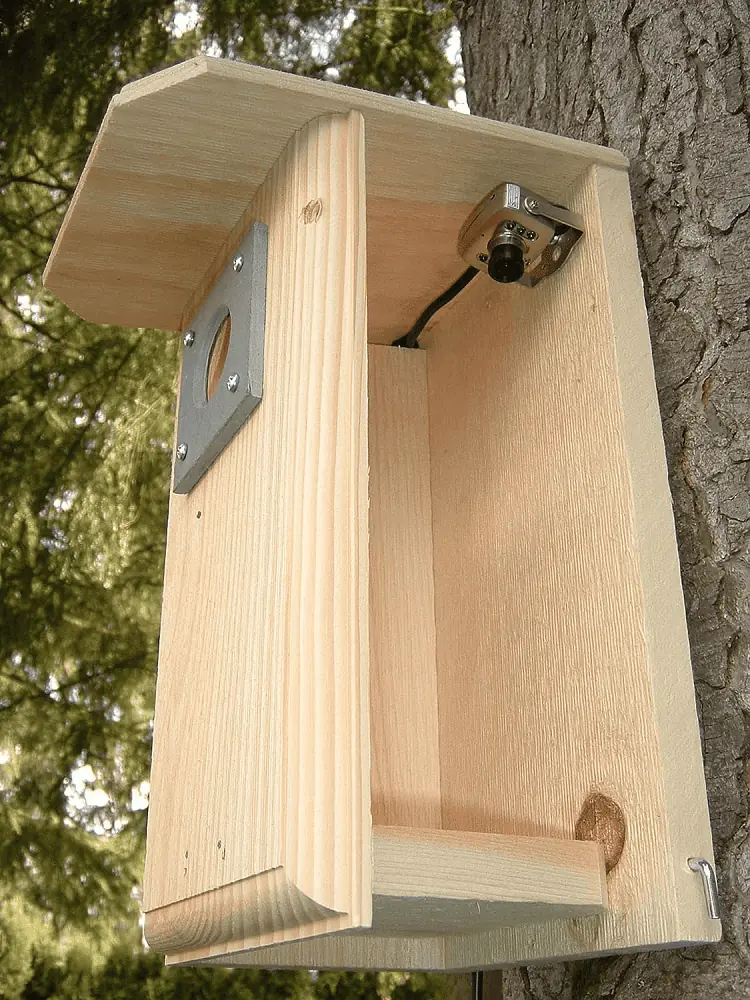 This non-waterproof camera is a simple, relatively cheap solution if you already have a birdhouse and want to add a lower-end camera. I wouldn't buy a low-resolution camera (it's not specified, but it is likely less than 1080p), especially with the additional annoyance that you need a TV with RCA plugs to watch the live stream.
Pros
relatively low price

small camera
Cons
does not record video (live-stream only)

your TV needs to have RCA plugs (not HDMI)

lower video quality

need to get the cable into your home
LoveNest Dual Camera Wifi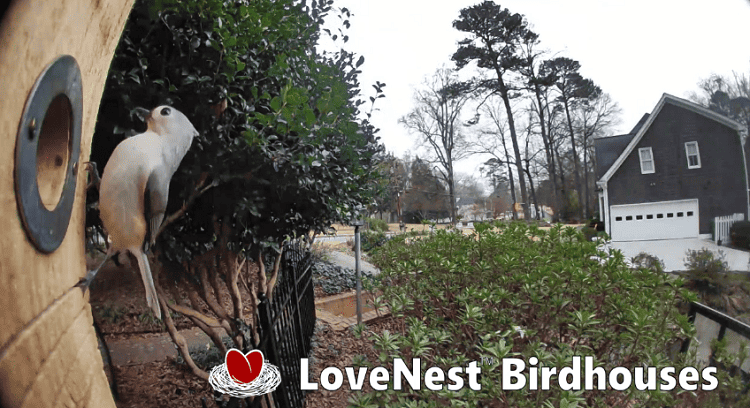 The standout feature of this model is the placement of a second camera outside the birdhouse, so you also see the birds as they fly in, perch, and enter the box.
There's no picture showing the birdhouse with the second camera outside, so judging how ungainly it may look is impossible. The video clips show a fisheye lens effect, meaning the sides of the video are distorted by curvature, which I dislike.
This company uses a subscription service to allow you to record the video (viewing is free). To be fair, it's a cheap service (listed as $3/month or $30/year), but I never like extra ongoing costs. 
Pros
outside camera to also catch the action of birds entering

can choose the appropriate power cord length
Cons
a paid subscription is required to record video

advertises digital zoom, but no details are given

may not have infrared LEDs, meaning no nighttime videos

the outside camera has a strong fisheye effect
FAQs
Question: Doesn't Light at Night Disturb the Birds?
Answer: Not if you use infrared lights, as all night cameras should use. Birds can't see in the infrared spectrum, so it doesn't affect their behavior. Never use any other wavelength of light at night, as you will disrupt the natural behavior of the birds.
Question: Can I Record a Color Video at Night?
Answer: No. Cameras should only use infrared LEDs at nighttime. These wavelengths are invisible to birds but only allow the camera to record in black and white. 
Question: Can I Use other Types of Cameras in a Birdhouse?
Answer: Absolutely. Just keep in mind the minimum focal distance of the camera, which dictates how tall you'll have to make the birdhouse to house the camera safely.
Use a waterproof camera or ensure your birdhouse is watertight where the camera is installed and that all connections are rated for outdoor use.
Conclusion
There are many high-quality cameras and camera-ready birdhouses on the market today. For bird enthusiasts, go with the Green Backyard Bird Box Camera HD Network Cable Connection.
If you want to avoid the hassle of modifying a birdhouse, you won't be disappointed with a Green Backyard Wifi Bird Box Camera Bundle kit, which gives you good quality video and large data storage capacity.
Looking for more interesting readings? Check out: